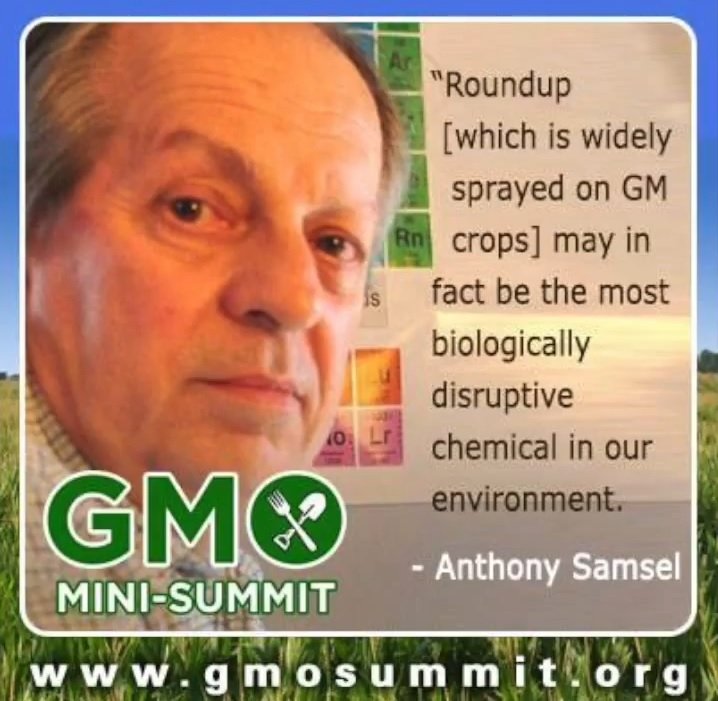 by Brian Shilhavy
Editor, Health Impact News
In 2015, Dr. Anthony Samsel was interviewed by Tony Mitra, where he discussed certain documents he has in his possession from the Environmental Protection Agency (EPA) that allegedly show Monsanto knew about research connecting glyphosate to cancer since the 1970s.
Dr. Samsel is a research scientist and consultant who has been studying the toxicity of glyphosate, the world's most prevalent herbicide used in commercial agriculture on GMO crops, for many years now. He has authored several papers with Dr. Stephanie Seneff on the toxicity of glyposate, including:
Anthony Samsel and Stephanie Seneff. "Glyphosate, pathways to modern diseases III: Manganese, neurological diseases, and associated pathologies." Surgical Neurology International 2015, 6:45.
Anthony Samsel and Stephanie Seneff, " Glyphosate, pathways to modern diseases II: Celiac sprue and gluten intolerance." Interdiscip Toxicol. 2013; 6(4): 159-184.
Anthony Samsel and Stephanie Seneff, "Glyphosate's Suppression of Cytochrome P450 Enzymes and Amino Acid Biosynthesis by the Gut Microbiome: Pathways to Modern Diseases" Entropy 2013, 15(4), 1416-1463; doi:10.3390/e15041416
The biotech agricultural community has laughed off these studies primarily by attacking Dr. Samsel and Dr. Seneff's credentials on this topic.
However, they are not laughing anymore.
In March of this year (2015) the International Agency for Research on Cancer (IARC), which is part of the World Health Organization (WHO) released a report listing glyphosate as "probably carcinogenic" in causing non-Hodgkin lymphoma and prostate cancer. The news made headlines in most of the major mainstream media outlets.
Dr. Samsel states that glyphosate is not a "probable" carcinogen, but it is a carcinogen, based on studies that were hidden for years as they were classified as "trade secrets." Here is the trailer for this interview:
In this interview, Dr. Anthony Samsel states that he now has documents received from the EPA which are "trade secret" documents belonging to Monsanto. These documents allegedly are safety studies about glyphosate from the late 1970s to the early 1980s, and others beyond those dates.
The documents reference animal studies, according to Samsel, with short-term and long-term studies conducted on mice, rats, rabbits, and dogs. Monsanto allegedly asked the EPA to seal these documents as "trade secrets" so no one else could review the data from these studies.
Samsel discusses one particular study on rabbits that looked at the effects of glyphosate on the skin. They monitored the rabbits' blood chemistry, and one of their findings found an increase of lactate dehydrogenase, an enzyme in the blood related to tissue damage.
Another study, according to Samsel, showed that glyphosate went right into the animal's bone marrow. Samsel claims this is dangerous, because new cells are born in the marrow and pass on to the thymus gland, where T-cells and white blood cells are eventually formed. Samsel considers this significant, especially in light of the recent WHO report that listed glyphosate as "probably carcinogenic" in causing non-Hodgkin lymphoma and prostate cancer.
Next Samsel discussed long-term studies conducted in rats that lasted 26 months. He considers those studies very significant. The reason they are very significant, is because they used a control group and much lower doses of glyphosate. Most people believe that the higher the exposure to the herbicide, the greater the effect. Samsel stated that glyphosate has an "inverse dose response relationship," and that this is clearly shown in the Monsanto "trade secret" studies.
According to Samsel, these studies from 1978 to 1980 by Biodynamics in New Jersey clearly showed tumor growths in many organs at low doses of glyphosate. These studies were submitted to the EPA in 1981. The studies showed significant tumor growth in organs such as the kidneys, but these studies were dismissed as "not significant," primarily by allegedly manipulating the control groups.
Here is Part 1 of the interview:
In Part 2, Dr. Samsel explains how one of the ways Monsanto was able to dismiss results of their studies was by using a standard lab animal feed supplied by Purina, which is known to increase carcinomas. This animal feed was in the "control" animals, to minimize the effects of the results in animals exposed to glyphosate. Samsel states that he has "several studies" that show this link between the lab feed and cancers.
Dr. Samsel returns to the topic of the enzyme lactate dehydrogenase, which was found in animal studies among the sealed documents. He states that this particular enzyme can induce cancer, and that significant lactate dehydrogenase increases were confirmed in more than one animal study.
Dr. Samsel stated that he is still sifting through all the data from these sealed documents, and that he is about to write a paper on glyphosate and cancer. He states that these "trade secret" documents are documents that Monsanto had the EPA seal so that nobody could revisit the data. According to Samsel, these documents show:
unequivocally, that glyphosate causes cancer.

Should it be on the market? No. Should it be in our food? No.
He states that taking glyphosate off the market will not necessarily solve the problem if they substitute it with another herbicide.
No herbicide belongs in our food.

Whether it is 2,4-D, Dicamba, Glufosinate…. there should be no herbicides in our food because it disrupts our bacterial homeostasis, and it disrupts our immune system. When we disrupt our bacteria and the microbiota within us, disease ensues. Disease begins with the destruction of our microbiome.
Listen to Part 2:
Published on May 29, 2015