COVID Plandemic Revealed
[Health Impact News]
Please Share!
by Spiro Skouras
Excerpt:
In this report we take an inside look at Event 201, which took place in NYC on October 18 2019. Event 201 is a high-level pandemic exercise hosted by the Johns Hopkins Center for Health Security in partnership with the World Economic Forum and the Bill and Melinda Gates Foundation.

This is extremely fascinating because this pandemic simulation exercise of coronavirus took place about 6 weeks before the first illness from the coronavirus was actually reported in Wuhan China!

That is one hell of a coincidence if you believe in that sort of thing. Another fascinating connection, is the fact that not only did the Bill and Melinda Gates Foundation participate in and help set up the pandemic simulation of a coronavirus outbreak, but they just so happen to fund the group who owns the patent to the deadly coronavirus and are already working on a vaccine to solve the current crisis. Again an incredible coincidence…

In this report you will see footage from inside the event as the members of the emergency epidemic board in this simulation, which consists of representatives from major banks, the UN, the Bill and Melinda Gates Foundation, Johnson and Johnson, logistical powerhouses, the media as well as officials from China and America's CDC just to name a few.

This simulation also includes news reports that were fabricated just for this exercise, please keep that in mind because they are eerily similar to reports we are currently seeing regarding this real world coronavirus outbreak.
Ground Zero in Wuhan: What Really Happened that Caused the World to go on Lock Down?
by Jon Rappoport
Excerpt:
If you are a regular reader of Health Impact News, by now you should be aware that the narrative being given to the public regarding COVID-19 just does not add up, and earlier today I published the article:

Not a Single COVID-19 Test is FDA Approved – Do We Really Know Who has COVID-19 and Who Does Not?

What really happened in Wuhan at the end of 2019 and the beginning of 2020 that started this whole pandemic? Was COVID-19 something that escaped a laboratory that was being developed as a weapon? Or was it something that developed out of Wuhan's live markets?

Or was it something else, like the roll out of 5G in the city? Wuhan is one of the largest cities in China with a population of over 11 million people. It is also one China's most polluted cities.

According to Jon Rappoport, a veteran journalist with over 38 years of experience and an expert on pandemics, none of these things are responsible for what is happening today.

It was the fact that the Chinese Government was able to convince over 50 million people to stay home, voluntarily, with no protests, no demonstrations, no resistance. Previously, thousands of people had protested in Wuhan for lesser causes, such as the city's terrible pollution problem.

But when 50 million people were convinced to stay home over a FEAR of something called a coronavirus, the World Health Organization and other global medical leaders cheered, and it became the blueprint for the rest of the world.
by Filmmaker Mikki Willis
Excerpt:
Filmmaker Mikki Willis has released the first trailer on his upcoming film: PlanDemic.

The trailer is already being censored on YouTube where some copies have already disappeared.

In this first trailer, Mr. Willis interviews Dr. Judy Mikovits whom we have featured many times here on Health Impact News.

Dr. Mikovits is a whistleblower who was arrested and held without a warrant, and then silenced for 5 years with a gag order.

The man who directed the smear campaign to try and silence her was Dr. Anthony Fauci, currently on President Trump's Coronavirus Task Force.

Dr. Mikovits claims other heads of the Department of Health and Human Services (HHS) colluded to silence her and suppress her research.

Willis: "Apparently their attempts to silence you have failed. And I have to ask, how do you sit here with confidence to call out these great forces and not fear for your life?"

Dr. Mikovits: "Because if we don't stop this now, we can not only forget our Republic and our freedom, but we can forget humanity, because we'll be killed by this agenda."
Read the full article and watch the video.
by Filmmaker Mikki Willis
Excerpt:
The full feature film "Plandemic" was released online today, despite tremendous efforts to stop it and censor it.

It being called "Plandemic Part 2" by many, because in May, 2020, filmmaker Mikki Willis released a "teaser" trailer of the film which featured an interview with whistleblower Dr. Judy Mikovits, who exposed the fraud of Anthony Fauci exposing him for who he truly is, a mass murderer.

This "trailer" soon went viral and the deep state went into over-drive to try and contain the damage and censor it, which only made things worse for them. It is estimated that close to 1 billion people have now viewed that clip, which is now being referred as "Plandemic 1" by many.

The full feature film just released today has a follow-up interview with Dr. Judy Mikovits that you most definitely are going to want to watch.

The full feature film released today (August 19, 2020) gives clear evidence that everything unfolding today has been planned since the late 1990s when massive amounts of patents were filed on coronaviruses in 1999, according to National Intelligence Analyst David E. Martin, PhD.

The medical tyrants such as Anthony Fauci and the leaders of the CDC discovered a "gold strike" in 2003 with the first SARS Coronavirus outbreak in Asia.

Led by Anthony Fauci, they patented the SARS coronavirus and proceeded to develop an empire. As Dr. David Martin reports:

"They saw that a virus that they knew could be easily manipulated, was something that was very valuable.

In 2003 they sought to patent it, and they made sure that they controlled the proprietary rights to the disease, to the virus, and to its detection and all the measurement of it.

From 2003 to 2018, they controlled 100% of the cash flow that built the empire around the industrial complex of coronavirus."
Read the full article and watch the film.
by Brian Shilhavy
Catherine Austin Fitts is the president of Solari, Inc., publisher of the Solari Report, and managing member of Solari Investment Advisory Services, LLC.
Catherine served as managing director and member of the board of directors of the Wall Street investment bank Dillon, Read & Co. Inc., as Assistant Secretary of Housing and Federal Housing Commissioner at the United States Department of Housing and Urban Development in the first Bush Administration, and was the president of Hamilton Securities Group, Inc.
Catherine has designed and closed over $25 billion of transactions and investments to-date and has led portfolio and investment strategy for $300 billion of financial assets and liabilities.
Catherine graduated from the University of Pennsylvania (BA), the Wharton School (MBA) and studied Mandarin Chinese at the Chinese University of Hong Kong.
She was recently interviewed for the coming documentary "Planet Lockdown" where she discussed how the Globalists are using the COVID lockdowns and other measures to move the world to a replacement of all currencies as we know them, where the Globalists seek to control every aspect of our lives with a "social credit system," much like what exists in China today.
She reveals the transhumanist agenda for the "Great Reset," which is to make slaves of all of us, and then explains how we can all stop the Globalist agenda.
Her interview is the perfect first article for Health Impact News readers as we begin 2021 to understand what the Globalists have in store for us, and what we need to do to stop it. I will interject some of my own comments as I transcribe some of her comments.
This may very well be the most important video you watch in 2021. It was recorded less than two weeks ago, and already has more than 1 million views on YouTube.
Read the full article and watch the interview.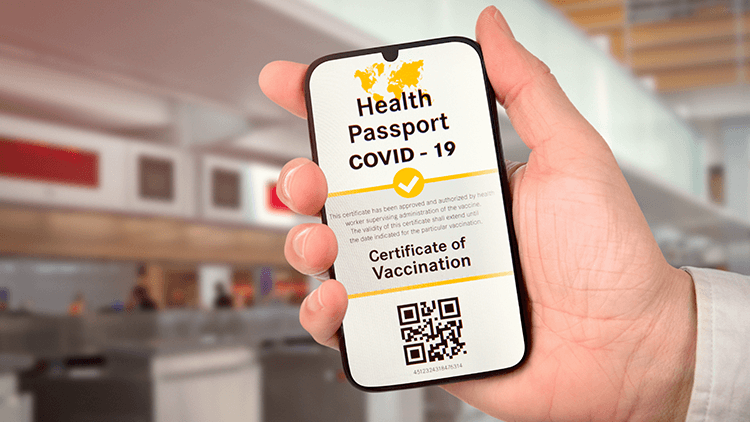 by Brian Shilhavy
The rationale currently being used by government bodies and health agencies to prepare the public for COVID-19 "Vaccine Passports" is that they are necessary due to the current COVID-19 "pandemic," and that without such passports life cannot return to normal.
Of course anyone who is intelligent enough to turn off their corporate media news long enough to search for the truth in regards to these experimental injections that are illegally being called "vaccines" will soon learn that Big Pharma and their corporate media puppets are lying to us.
They have no intention at all of letting people "return to normal," as these "vaccine passports," if the people comply and allow rules to be implemented to require these passports to be used to participate in society, will just result in even more loss of privacy and greater government over-reach and loss of liberties to further the tyrannical medical police state.
People who have already been vaccinated are being told to continue wearing their masks and practicing social distancing, and every day we are reading more and more reports of fully vaccinated people being tested positive for COVID-19.
That is, if they survive the shots, as now thousands have died following experimental COVID injections, and hundreds of thousands have been injured, according to multiple government reporting systems around the world tracking adverse reactions following vaccinations.
Paul Anthony Taylor, writing for the Dr. Rath Health Foundation, is reporting that the 'European Commission' – the executive body of Europe – first published a proposal for vaccine passports on April 26, 2018, and that there was also a 'Global Vaccination Summit' hosted in Brussels, Belgium, on September 12, 2019, for vaccine religious zealots, just 36 days before Event 201.
If you think I am being facetious for calling attendees to a Global Vaccination Summit "religious zealots," then take a look at the titles of their three round table presentations that the Summit was based on:
In Vaccines We Trust
The Magic Of Science
Vaccines Protecting Everyone, Everywhere
Those are statements of faith, not scientific statements.
Anyone choosing to get one of these experimental COVID injections and then proudly carrying your ID card to prove your participation, is participating in a religious cult, not in science.
For these religious fanatics, those of us who refuse to participate in their cult are labeled as "vaccine hesitant," and we are the "unbelievers" that need to be attacked and silenced.
This is the new religious persecution of 2021, and these religious zealots are found in all spheres of our society, including many Christian churches which are now becoming "vaccine clinics."