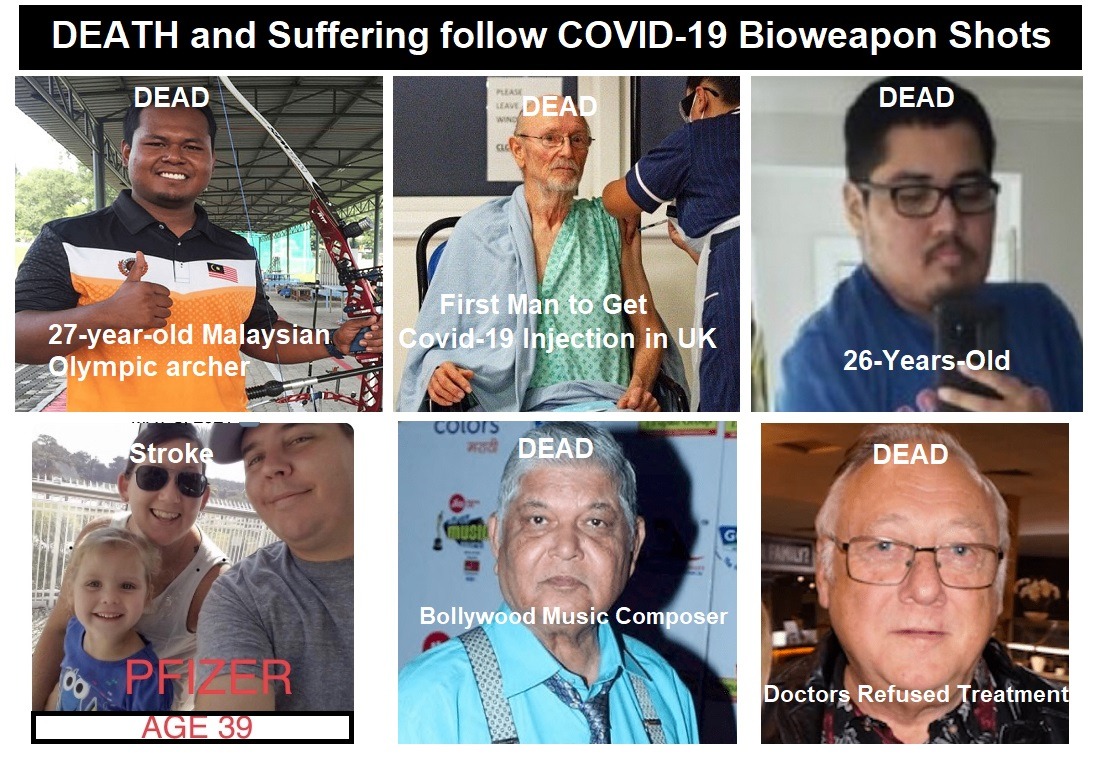 by Brian Shilhavy
Editor, Health Impact News
If you are new to Health Impact News, please understand that I do not use the term "bioweapon" glibly, nor is it my intent to sensationalize the mostly censored information regarding these non-FDA approved experimental shots.
"Bioweapon" is the term now being used by many doctors and scientists, most of whom are censored by the corporate media with their massive Big Pharma funding. Please click on some of the links at the end of this article to educate yourself on the wealth of information that is criminally being censored by Big Tech and the corporate media.
Because as the stories we bring you today illustrate, and these stories are quickly increasing in frequency and will soon include children, those who do not do their own independent research on the COVID-19 shots are putting their lives at great risk.
Here are six more stories in our long list since the experimental shots were issued emergency use, showing how lives are being destroyed by these eugenic population-reduction injections.
Haziq Kamaruddin: 27-year-old Malaysian Olympic archer develops blood clots, dead 10 days after second Pfizer mRNA shot
KAJANG, SELANGOR — A 27-year-old competitive archer was training for a chance to represent Malaysia in the 2021 Tokyo Summer Olympics.
He is now dead and Malaysian officials are calling it a coincidence.
Mr. Haziq Kamaruddin received the first dose of experimental Pfizer mRNA on April 13, the second day of Ramadan in the country. He received the second dose on May 4. He shared photos of the first dose on Instagram.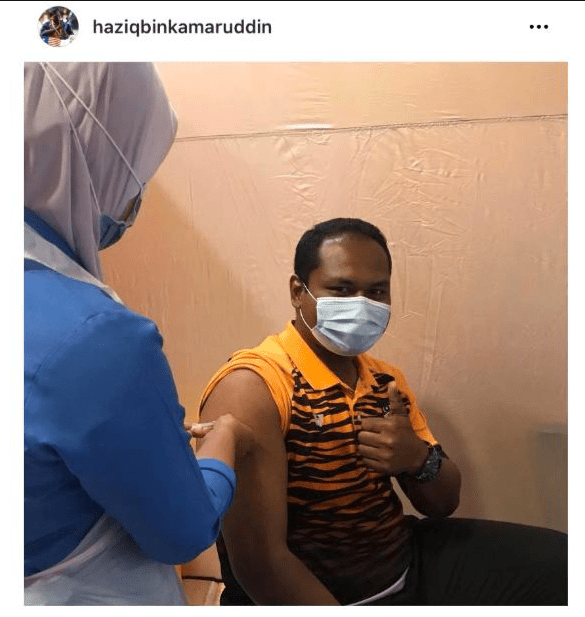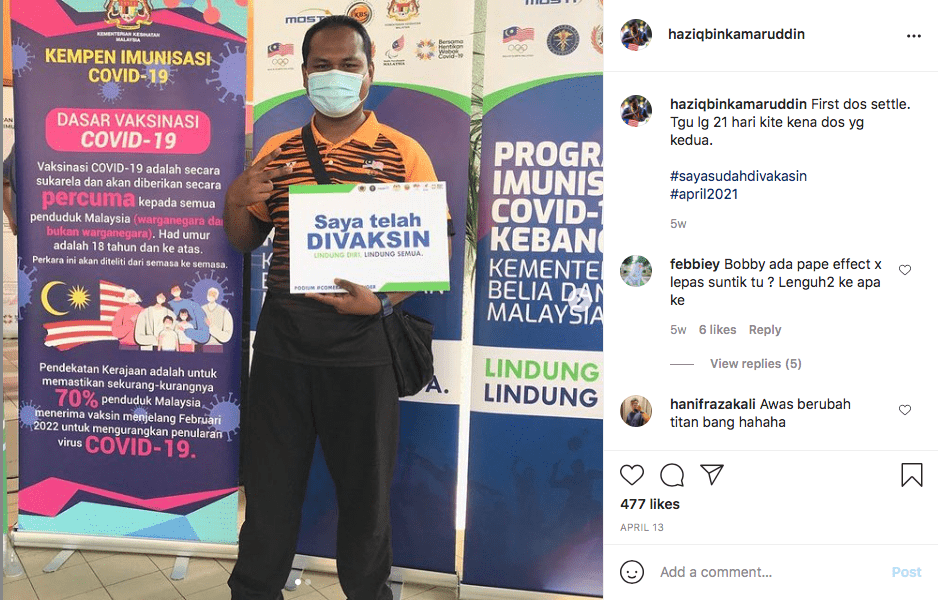 The sign translates roughly to "I've been vaccinated." All Malaysian athletes who wished to compete internationally were forced to take the shots on these same dates.
Mr. Kamaruddin apparently suffered no immediate side effects. Hari Raya Aidilfitri (Eid al-Fitr) commenced on May 12. It is a two-day Muslim religious holiday marking the end of Ramadan.
A family member told the Malay Mail that Mr. Kamaruddin performed Fajr (Subuh), the first Muslim prayer of the day, on Friday morning, May 14 after Hari Raya Aidilfitri ended.
He went to the bathroom after the prayer, came out, and suddenly collapsed. Mr. Kamaruddin died less than two hours later at his home.
Aftermath
An autopsy found blood clots in his heart. Minister of Youth and Sports Reezal Merican Naina Merican immediately downplayed the role of the experimental Pfizer shots. He said that 242 other athletes all took the shots at the same time, insinuating that none of them suffered any adverse effects.
His statement to Free Malaysia Today sounded like something written by Pfizer public relations, the World Health Organization, or the Centers for Disease Control:
I know some people have linked Haziq's death to the Covid-19 vaccination. This is an irresponsible act. I urge everyone not to spread news that is not true."
Mr. Kamaruddin has been a competitive archer since age 17. He represented Malaysia in the 2012 Summer Olympics in London and the 2016 Summer Olympics in Rio de Janeiro. Mr. Kamaruddin was a member of the Malaysian recurve team that won a silver medal at the 2014 Asian Games in Incheon, South Korea. His most recent competition was at the 2020 Asia Cup in Bangkok.
He was preparing for the 2021 Tokyo Olympic qualifiers in Paris from June 19 to 21. Further tests are being performed to conjure an "official" cause of death.
Read the full article at The COVID Blog.
First Man to Get Covid-19 Vaccine in UK Dies of 'Unrelated Illness'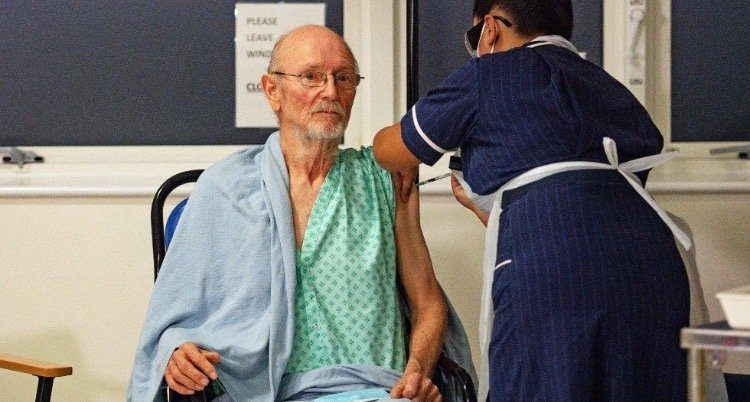 By Cristina Laila
Gateway Pundit
Bill Shakespeare made headlines in December for being the first man to get the Covid vaccine in the UK.
Shakespeare, 81, died of an "unrelated illness" 5 months after receiving the Pfizer-BioNTech jab.
According to British media, Shakespeare died of a stroke and it had nothing to do with the experimental Covid jab. Case closed.
BBC reported:
The second person in the world to get the Pfizer-BioNTech jab has died of an unrelated illness.

Bill Shakespeare, 81, received his first Covid vaccine in December at University Hospital Coventry shortly after 91-year-old Margaret Keenan.

The 81-year-old, who had served his local community in Allesley for more than three decades, died of a stroke, University Hospitals Coventry and Warwickshire NHS Trust said.

In a tribute, released through the trust, his wife, Joy, said: "Bill was so grateful for being offered the opportunity to become one of the first people in the world to be given the vaccine.

"It was something he was hugely proud of – he loved seeing the media coverage and the positive difference he was able to make to the lives of so many.

"He often talked to people about it and would always encourage everyone to get their vaccine whenever he could."
We're sorry to hear of the death of Coventry Labour stalwart Bill Shakespeare. Bill made global headlines as 1st first man to have Covid vaccine. His decades of service to the party were recently recognised by @Keir_Starmer. Our thoughts are with Joy and Bill's family & friends. pic.twitter.com/ANCTeGFYEs

— West Midlands Labour (@WMLabour) May 24, 2021
Read the full article at Gateway Pundit.
26 Year Old Chance Sula Died Two Weeks After Moderna Vaccine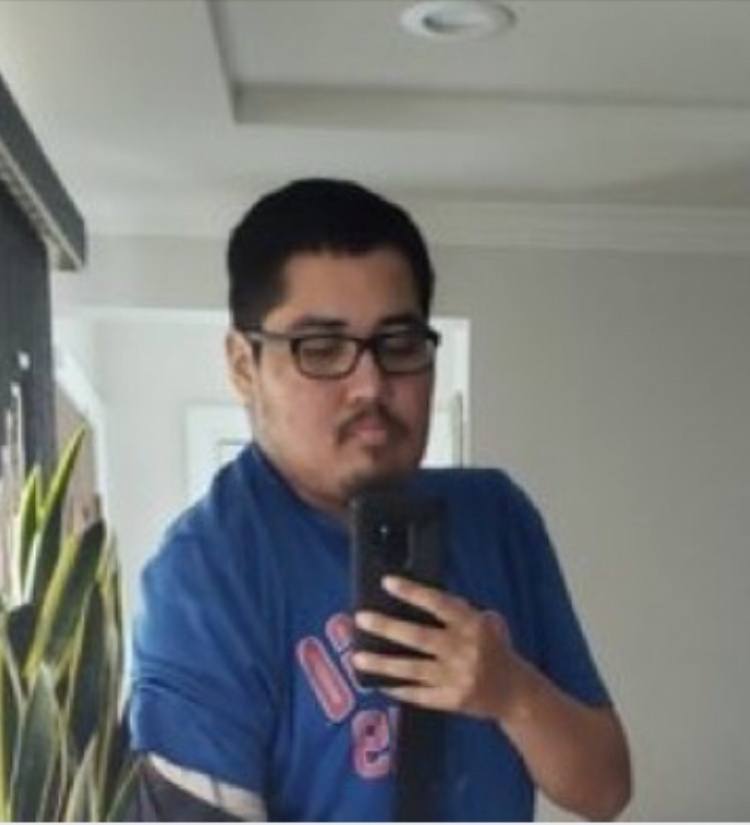 Chance "Florexic" Sula passed away two weeks after his first dose of the Moderna vaccine. It has been said that he developed blood clots that led to a seizure, and then a heart attack.
News broke out across social media on behalf of Chance's family members. They would like others to be made aware of potential consequences of these experimental vaccines.
Friends and family of Chance Sula are currently raising money to cover funeral expenses. Their goal is to raise $10,000,00. As one friend announced the fundraiser on Facebook, a sibling of Chance also posted on twitter:
"At 26, my older brother Chance, died 2 weeks after his first dose of the Moderna vaccine. The doctors called it coincidence."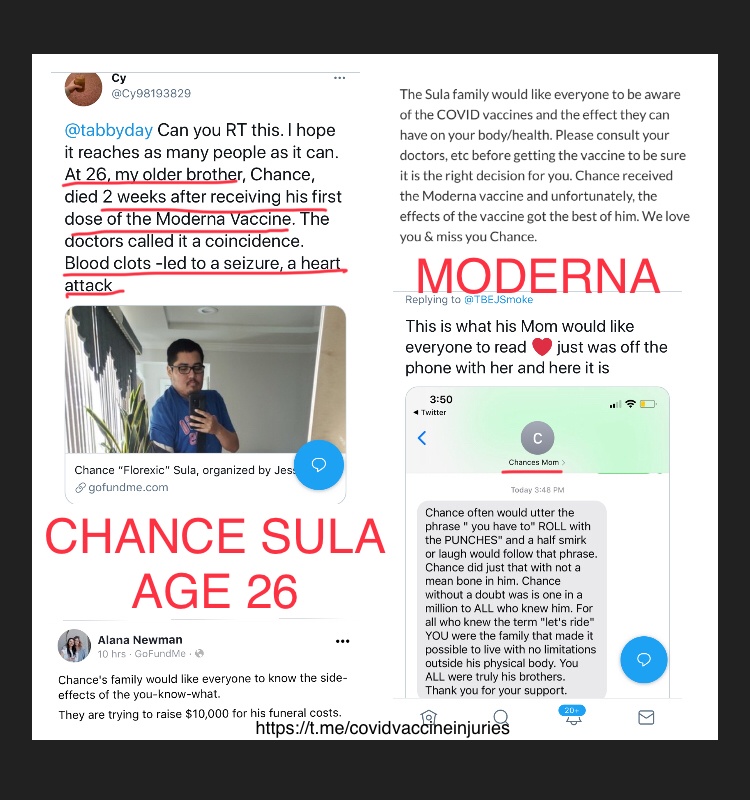 The following statement was made on the fundraiser page:
"The Sula family would like everyone to be aware of the COVID vaccines and the effect they can have on your body/health. Please consult your doctors, etc before getting the vaccine to be sure it is the right decision for you."
Read the full article at The Empowerer.
39 Year Old Jennifer Appolloni Has A Stroke 4 Days After Pfizer Vaccine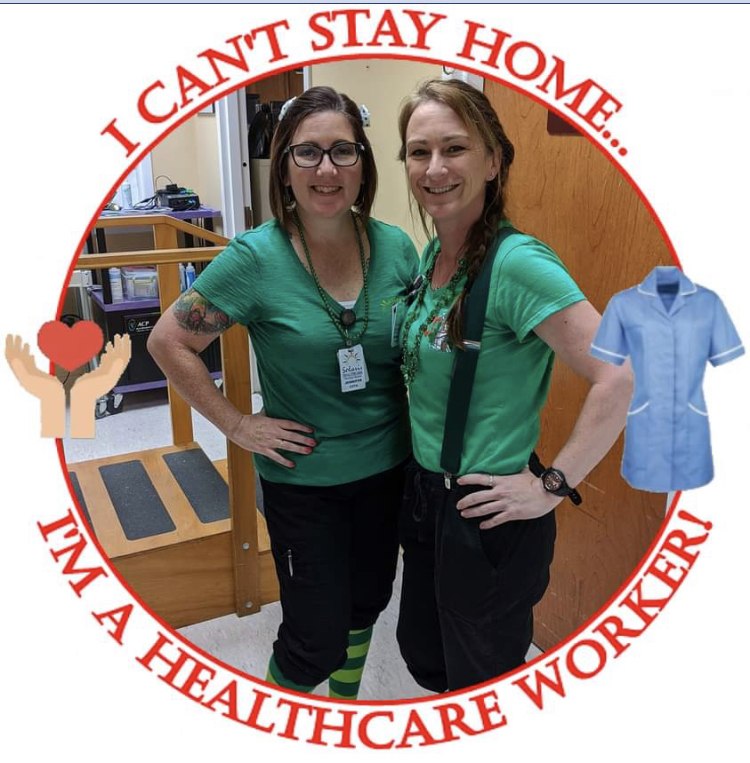 Jennifer Toole Appolloni's stroke story was first brought to light on social media on April 18, 2021.
Tiffany Toole, Jennifer's sister, had posted the information on Facebook. That same day, @angelaisawake tweeted the information on twitter.
News that Jennifer suffered a massive stroke five days after her Pfizer vaccine, began to spread quickly.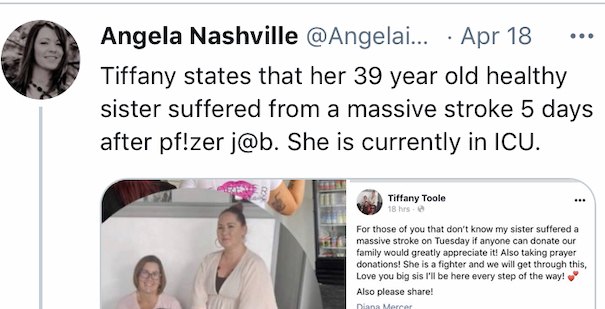 A gofundme fundraiser was created and the initial fundraiser statement says:
"Jen wasn't feeling herself,  she had a bad headache but wanted to get the girls ready for school then go to an urgent care later. Jen  wasn't able complete what she wanted to do that morning and collapsed on the floor. Her husband, Aaron called 911 – Jen was rushed to the local hospital stabilized then transported to the Orlando Health ICU."
On May 13, 2021 Aaron Appolloni, Jennifer's husband, had updated the fundraiser and let everyone know that Jennifer was finally off the ventilation. She was ready to begin her next phase of treatment, which would consist of a lot of therapy.
Unfortunately, Jennifer had another recent setback. May 23, 2021 a new update was shared on gofundme. In the update it states:
"Jenn was readmitted to the hospital from her therapy location last Wednesday night due to a complication with her surgery. She has since been reevaluated and had to have some additional surgical procedures which will delay her a few weeks and then she will be back into full rehab."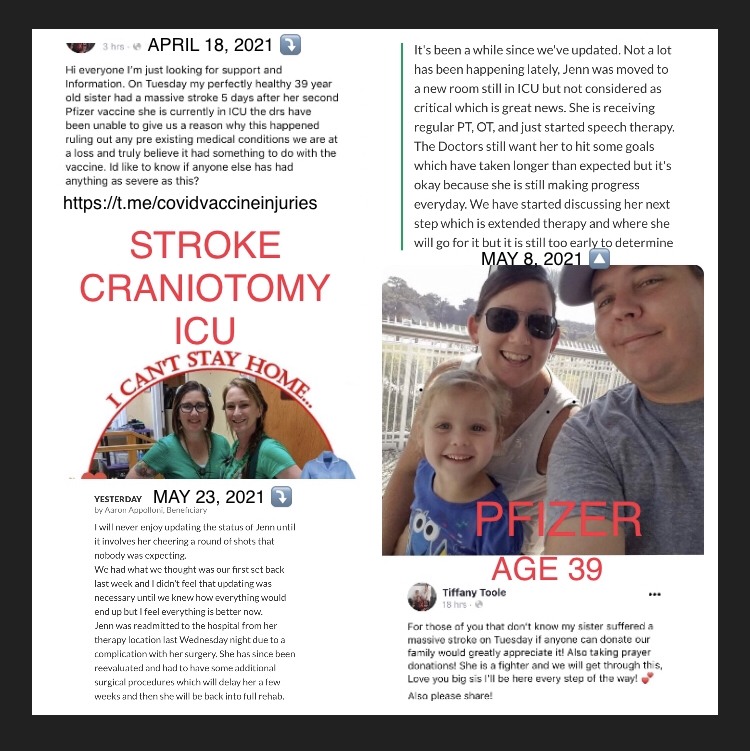 Our thoughts are with Jennifer and her family as she continues to fight this battle. She has no insurance coverage and has accumulated six weeks worth of medical bills thus far. She still has many more weeks to go in effort to make a full recovery.
The fundraiser for Jennifer and her family has generated almost 25k of the 100k goal.
Read the full article at The Empowerer.
India: 78-year-old Bollywood music composer Raam Laxman, aka Vijay Patil, dead six days after second Covishield (AstraZeneca) shot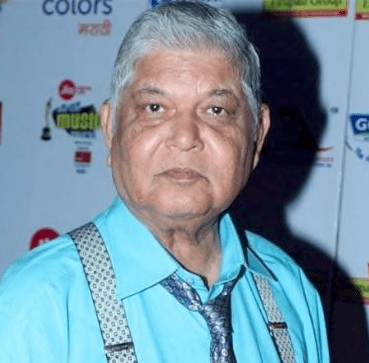 NAGPUR, MAHARASHTRA — A 78-year-old iconic music composer is dead, sending shock waves across the Bollywood film industry.
Raam-Laxman was the name of a 1970s music duo. Vijay Patil was 'Laxman, while his partner Surendra was Raam. Surendra passed away in 1976 almost immediately after the duo signed a contract with Rajshri Productions to compose the musical score in the 1977 movie "Agent Vinod." Patil adopted the full stage name Raam Laxman (also spelled Raamlaxman and Ram Laxman) for the rest of his career.
Mr. Patil ("Laxman") received the second dose of experimental Covishield viral vector on or around May 16, according to Press Trust of India (PTI). Covishield is simply another brand name for the AstraZeneca shot that is manufactured in India. Vaxzevria is yet another name for the AstraZeneca shots.
Amar Patil, Laxman's son, told the news agency that his father immediately felt weakness and general illness when he got home from receiving the shot. Doctors cared for Laxman at his Nagpur home. But the adverse effects were too much to overcome. Amar said Laxman died of a heart attack early Saturday morning.
His cremation and last rites took place yesterday in Nagpur. Thus no autopsy will be performed.
More on Raam Laxman
Laxman's career spanned four decades. He is best known for his work in the films "Hum Aapke Hai Kaun," "Hum Saath Saath Hain," and "Maine Pyar Kiya." Laxman won the Filmfare Best Director Award for the latter movie. He composed music for at least 150 movies throughout his career.
Some of the biggest names in the industry paid tribute to the veteran film composer.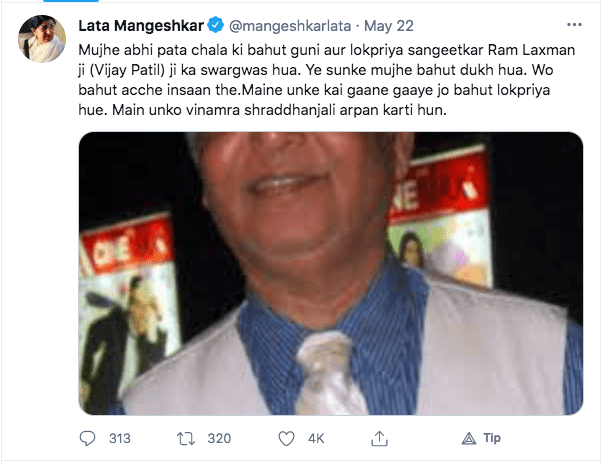 Lata Mangeshkar is a singer and music director whose career started in the 1940s when she was a teenager. Her tweet roughly translates to, "He was a very nice human being. I have worked with him on many songs which were very popular. I offer him my humble tribute."
Read the full article at The COVID Blog.
Clive Haddon: 74-year-old Australian man dies in hospital after doctors refuse to treat him for AstraZeneca blood clots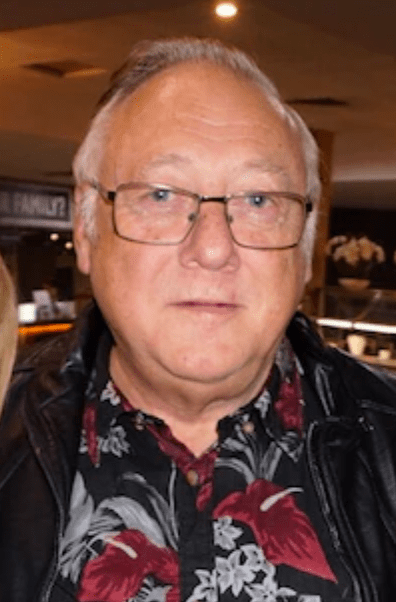 ADELAIDE, SOUTH AUSTRALIA — A 74-year-old man is dead after Australia doctors literally watched him suffer and die without intervening.
Mr. William Clive Haddon received the experimental AstraZeneca viral vector shot on or around May 1, according to ABC (Australian Broadcasting Corporation). His daughter, Michelle Haddon, aka Lexi Logan on Facebook, tells the story from there – a story that sounds like a real-life dystopian novel.
Mr. Haddon experienced severe abdominal pain and had blood clots in his urine on May 13. An ambulance took him to Modbury Hospital. But doctors dismissed his condition as a simple urinary tract infection, gave him antibiotics and sent him home.
Mr. Haddon continued bleeding and suffering for the next 24 hours. He went back to Modbury Saturday morning, May 15.
This time they removed blood clots from his urinary tract, meaning it was blocked completely and he was enduring excruciating pain. Doctors refused to give him pain medication.
He was transferred ("handballed [off]" as Michelle described it) to Lyell McEwin Hospital later that evening. A nurse gave him what amounts to Tylenol when he was suffering excruciating pain and obviously needed something stronger. No test were performed to determine the cause of the bleeding. When Mr. Haddon asked when tests would be done, the nurse, according to Michelle, said "don't cause any trouble" and that he'd be tested "maybe tomorrow, maybe Monday, who knows, it's the weekend."
Michelle told the nurse that her father received the AstraZeneca shot a few weeks prior. The nurse shrugged it off and said she had the shot too and nothing was wrong with her.
Nightmare continues
The hospital ordered Michelle and Mr. Haddon's wife to leave because visiting hours were over. Mr. Haddon suffered a stroke at Lyell McEwin thereafter, but received no treatment until hours later. He continued bleeding profusely and enduring excruciating pain.
Mr. Haddon was transferred yet again to Royal Adelaide Hospital. Doctors discovered more blood clots in his brain and performed emergency surgery that uncovered brain damage from the stroke.
But the surgery failed to clear the blood clots and improve his condition. Michelle again told the nurses that her father received the AstraZeneca shot. They, again, shrugged it off as nothing.
Mr. Haddon was moved to the intensive care unit on Monday, May 17. Michelle spoke to the ICU doctor, and he had no idea what was going on with her father. Modbury Hospital sent no information to Royal Adelaide and the entire communication chain with all of the hospitals was a complete failure, deliberately or otherwise.
Mr. Haddon was placed on a ventilator that afternoon. He passed away last Thursday or Friday.

Watch a report from 9News in New South Wales. Pay attention to when Michelle tells the nurse her dad had the AstraZeneca shot; and the nurse shrugs it off.
Aussie Auschwitz
This is perhaps the most horrifying story we've covered on this blog, and that's saying something. But it should not come as a surprise as Australia is fast-becoming the epicenter for blatant genocide related to these experimental shots.
We just wrote about 18-year-old Ellie Peacock last night. The Queensland woman literally had to beg medical personnel to test her for blood clots after her AstraZeneca shot. Fortunately she survived what is apparently, to put it mildly, substandard government healthcare in Aussieland.
Further, it is literally illegal for Queensland doctors to prescribe hydroxychloroquine for COVID-19, despite 219 peer-reviewed studies showing its effectiveness as both a treatment and prophylaxis.
Doctors can be sentenced to six months in jail for prescribing the drug. There's also Professor John Hayball, who Sky News called a "leading South Australian immunologist." He told Australians to take the shots and "don't ask any questions really, please take it."
Things are going to get worse here and abroad. Virtually all U.S. colleges and universities are mandating experimental mRNA and viral vector shots for all students in the Fall 2021 semester.
It'd be great to see mass protests and huge drops in enrollment as a result.
But unfortunately a whole lot of young Americans, Aussies and everyone else are completely indoctrinated and lack the ability to think for themselves. All you can do is stay vigilant and protect your friends and loved ones.
Read the full article at The COVID Blog.
See Also:
Over 11 MILLION Views!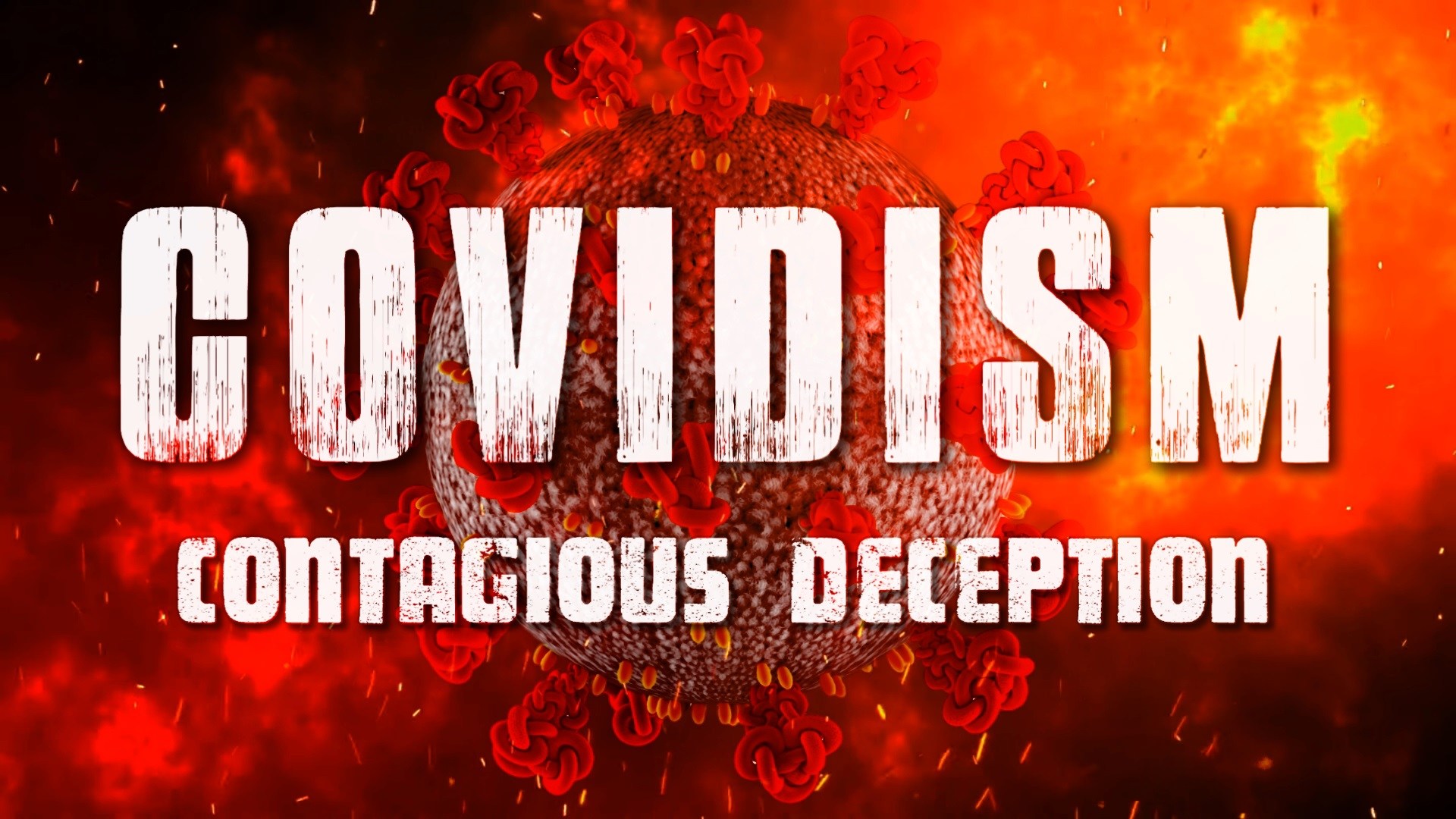 COVID-19 "Vaccine" Casualties List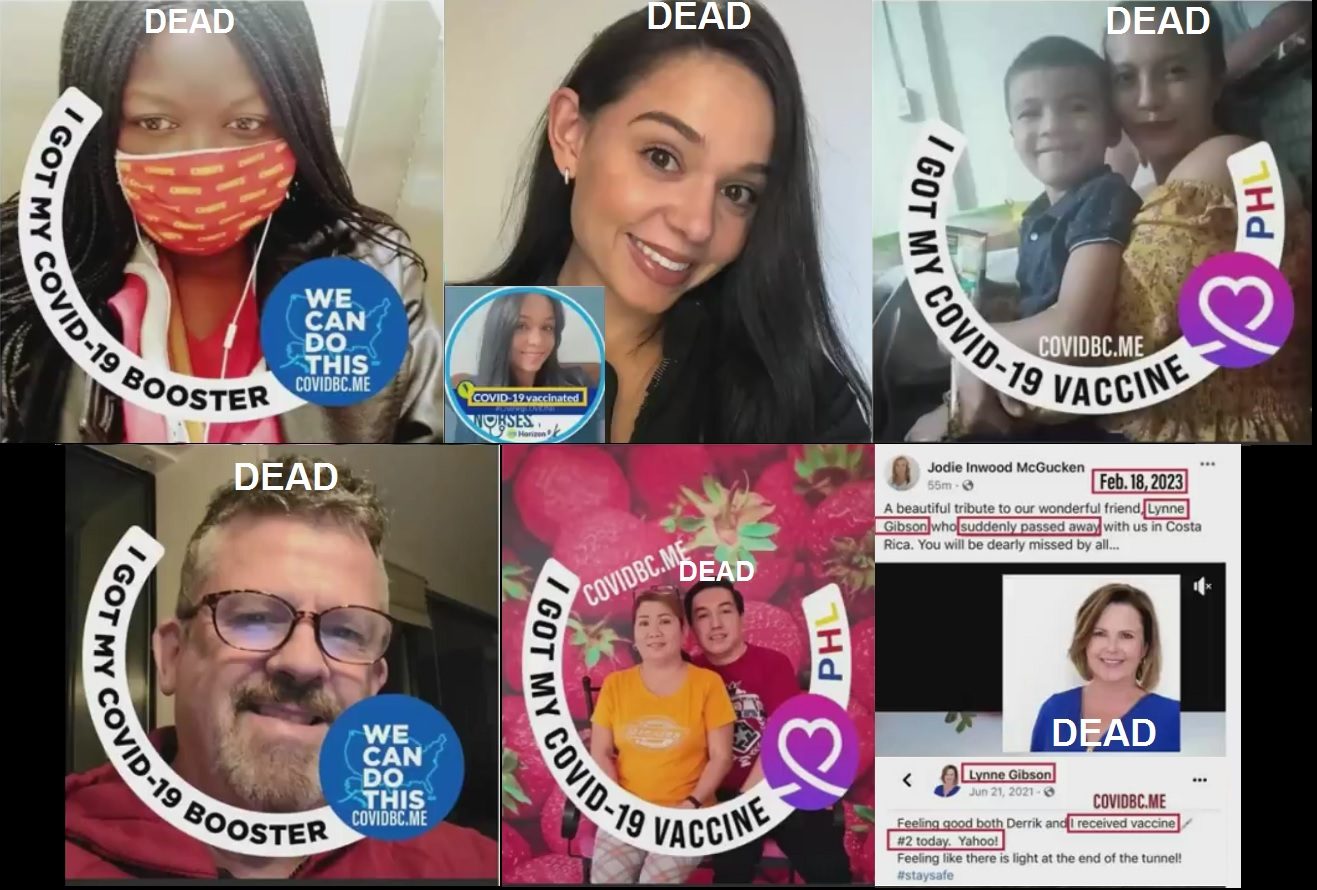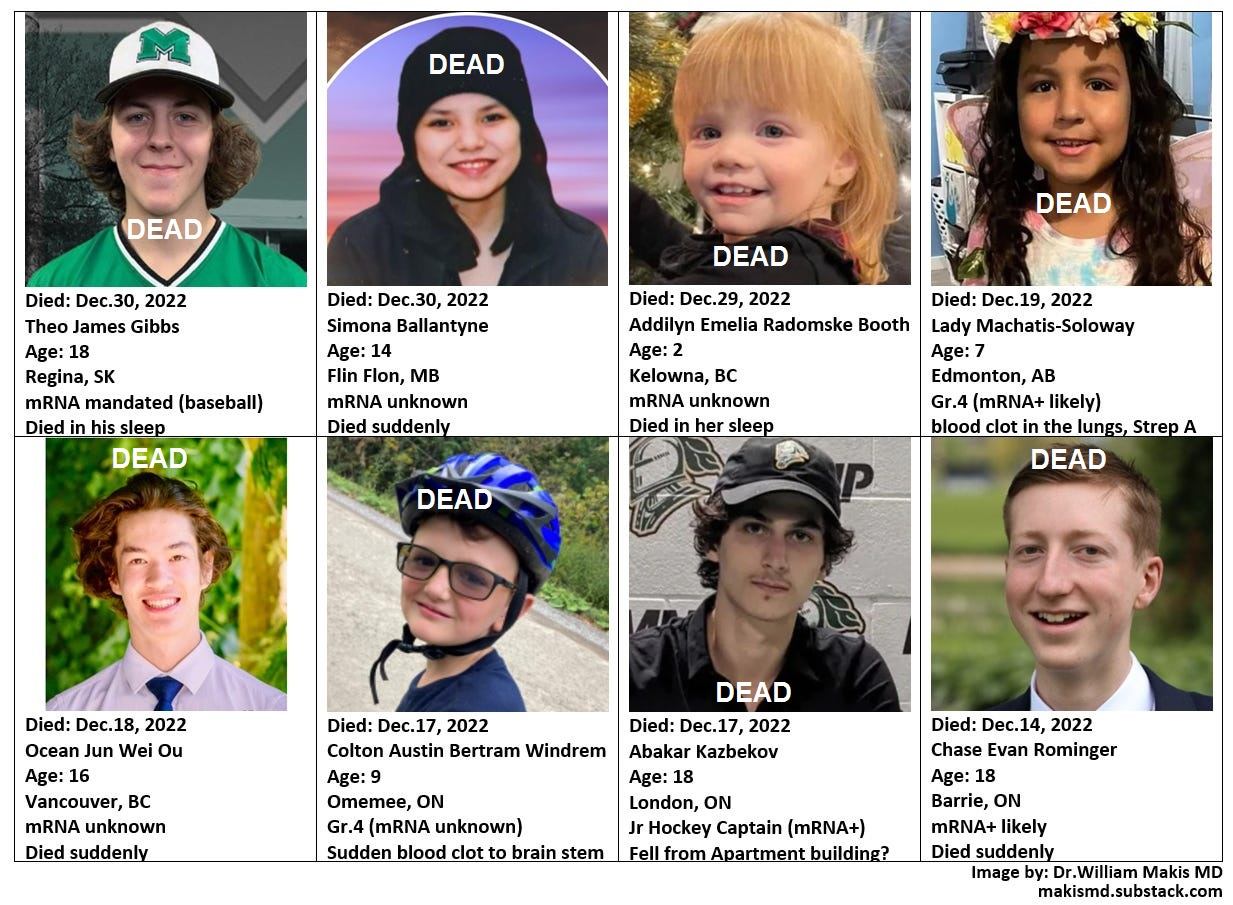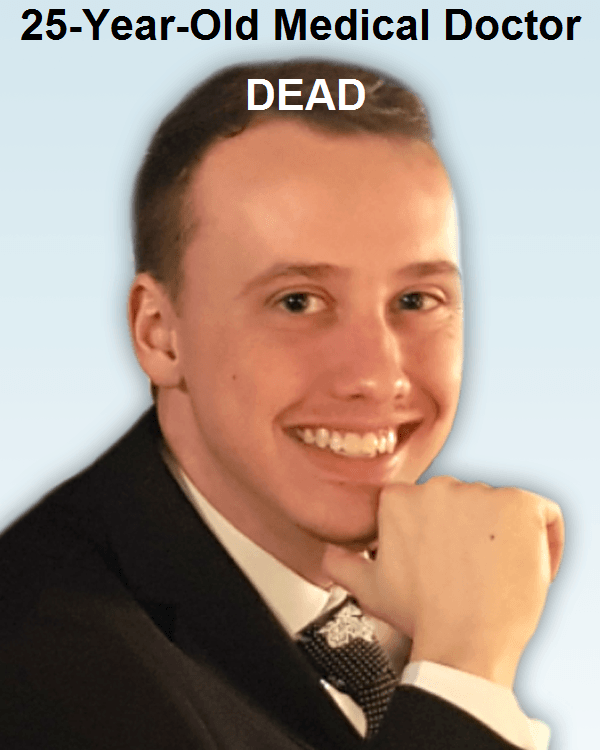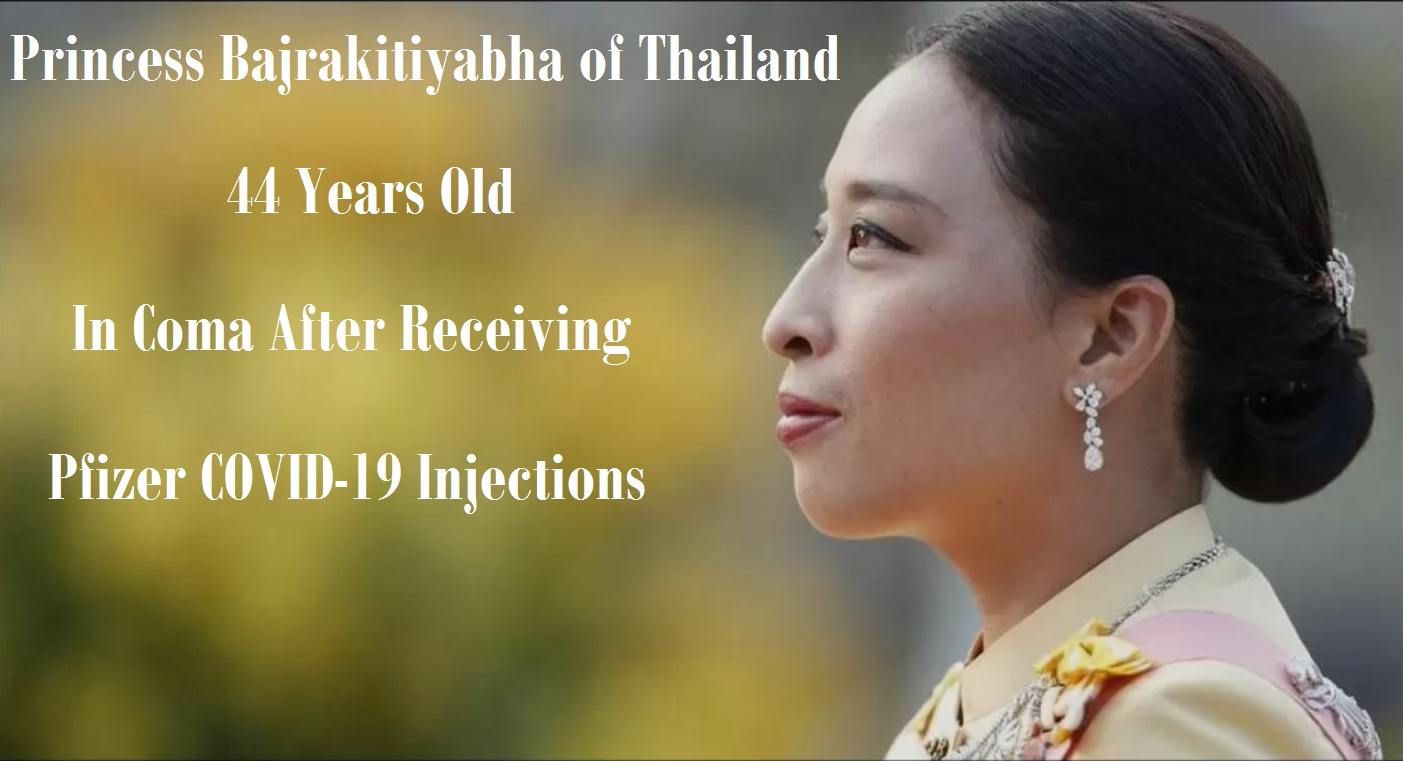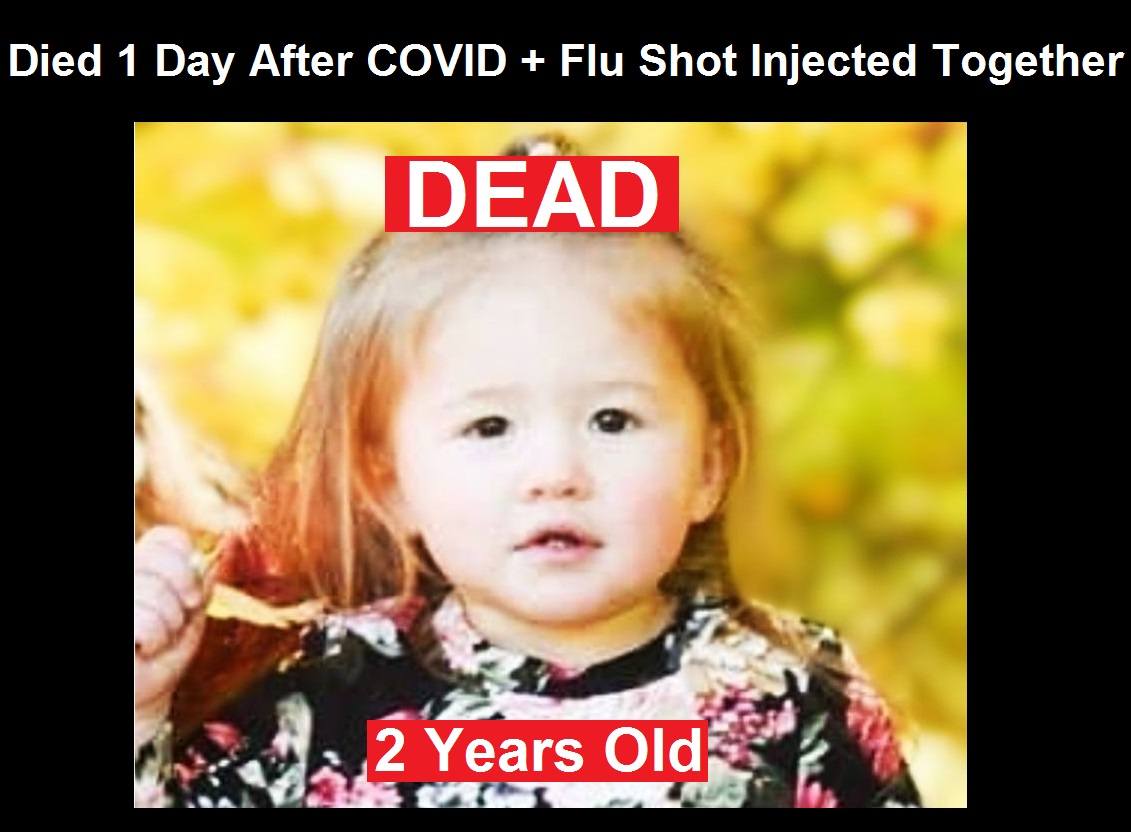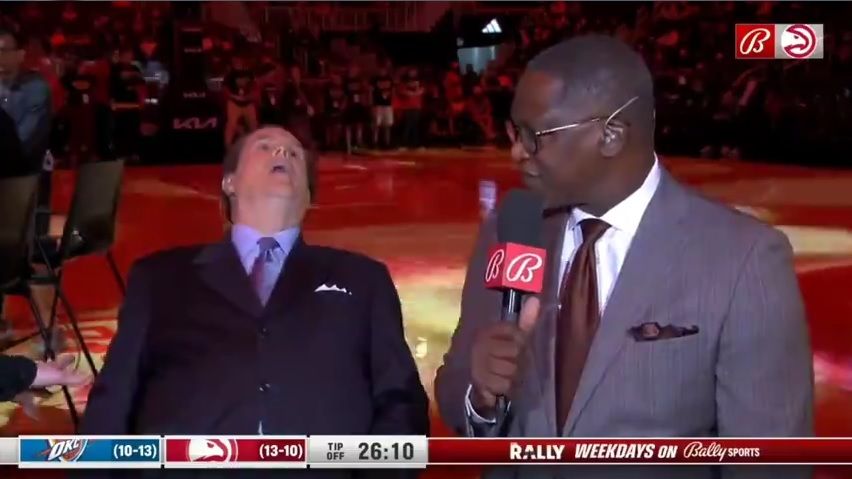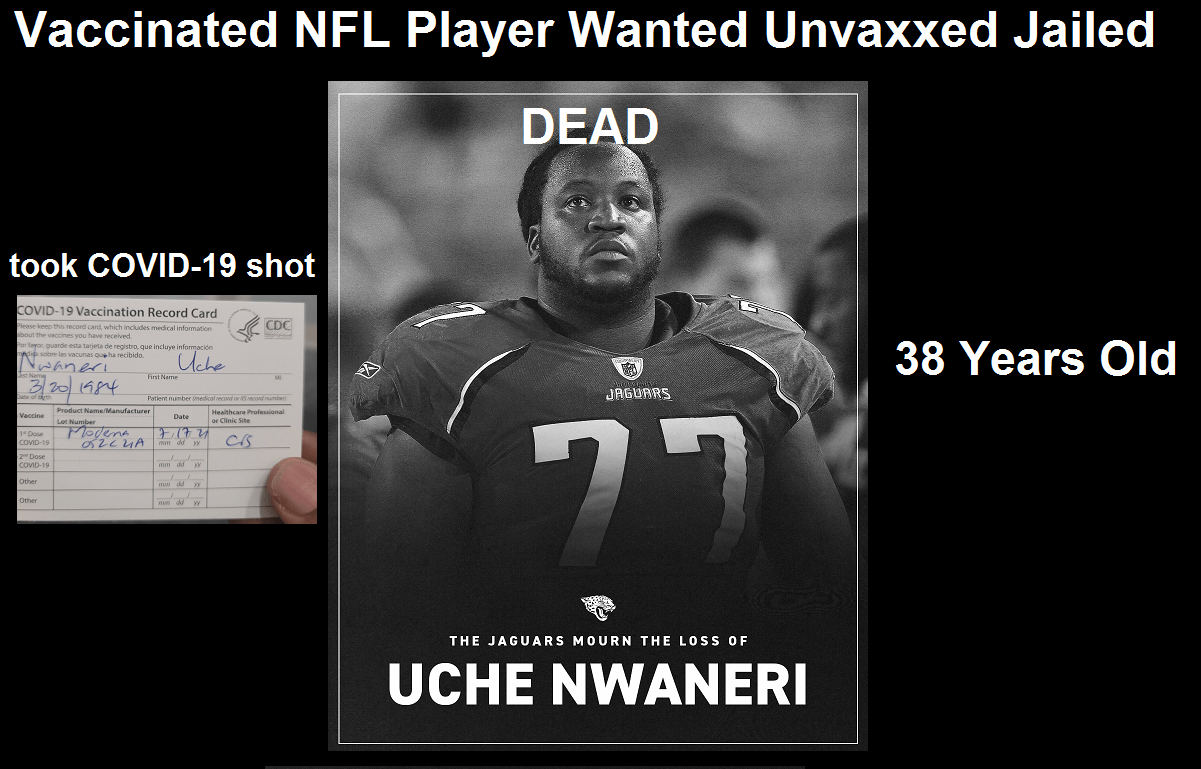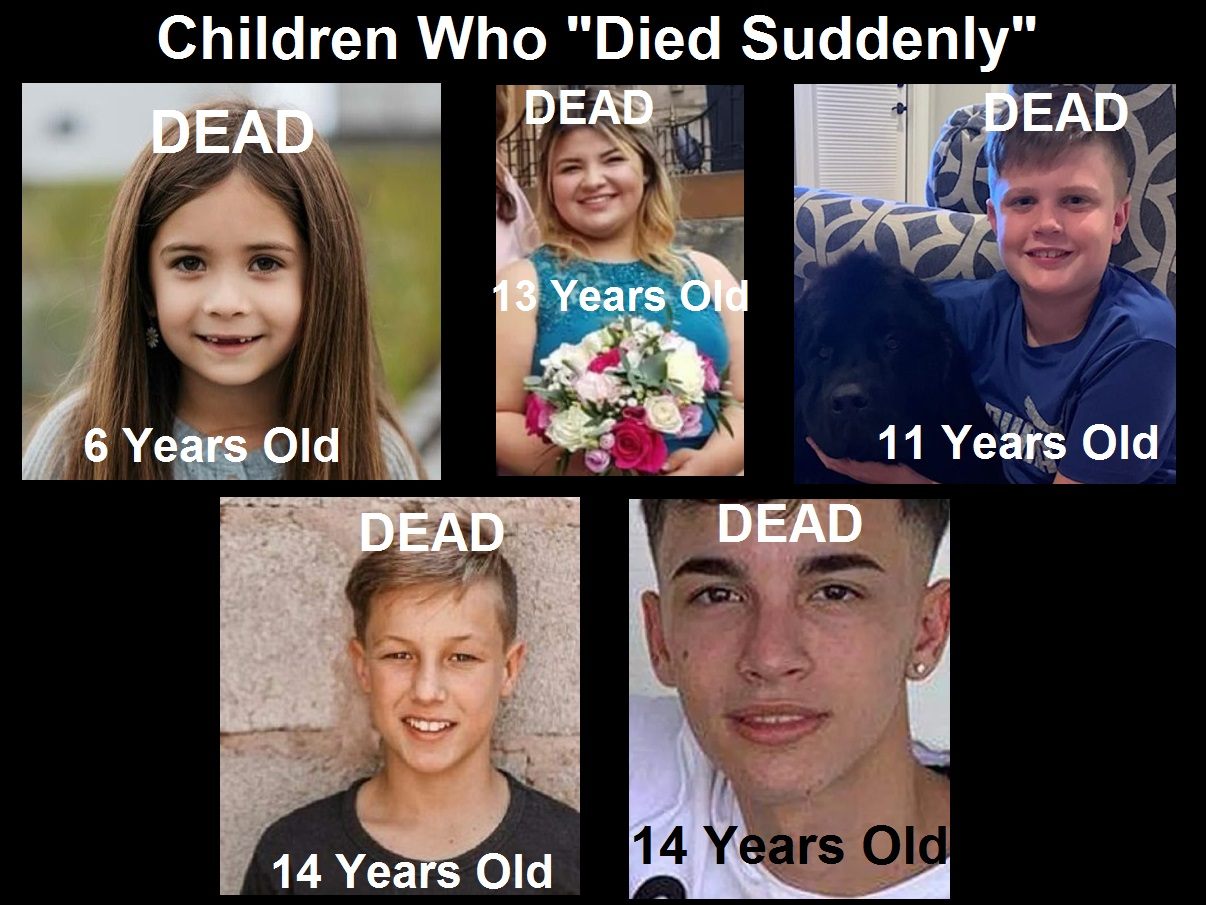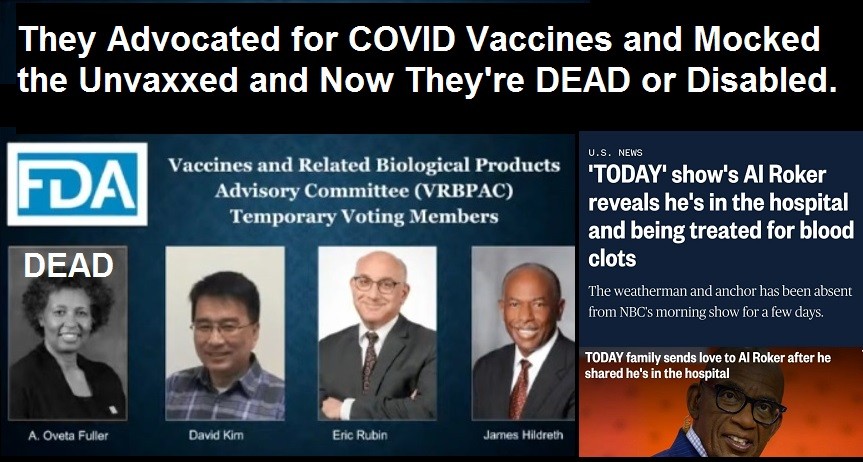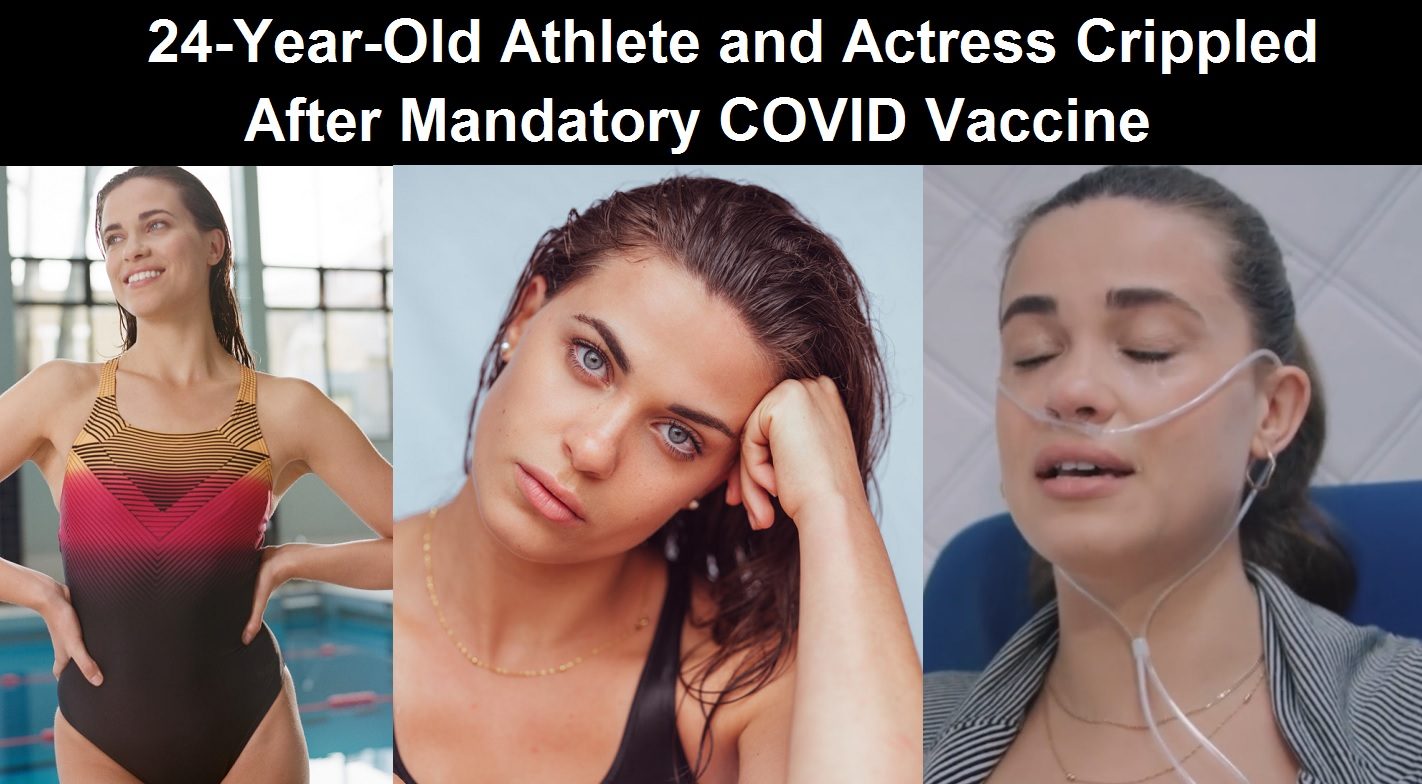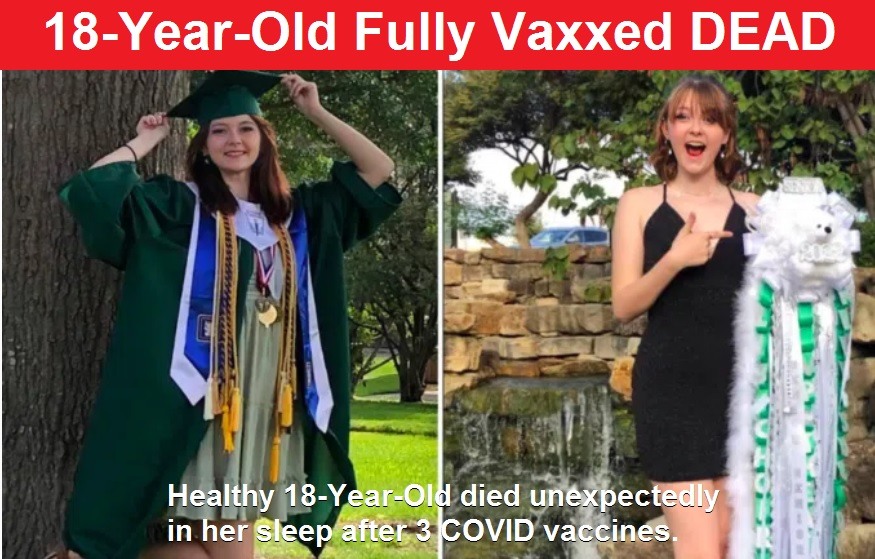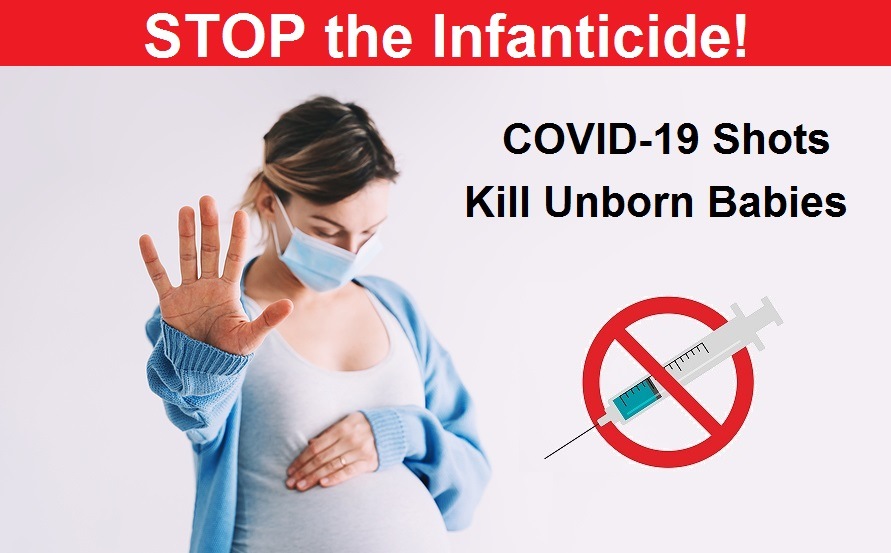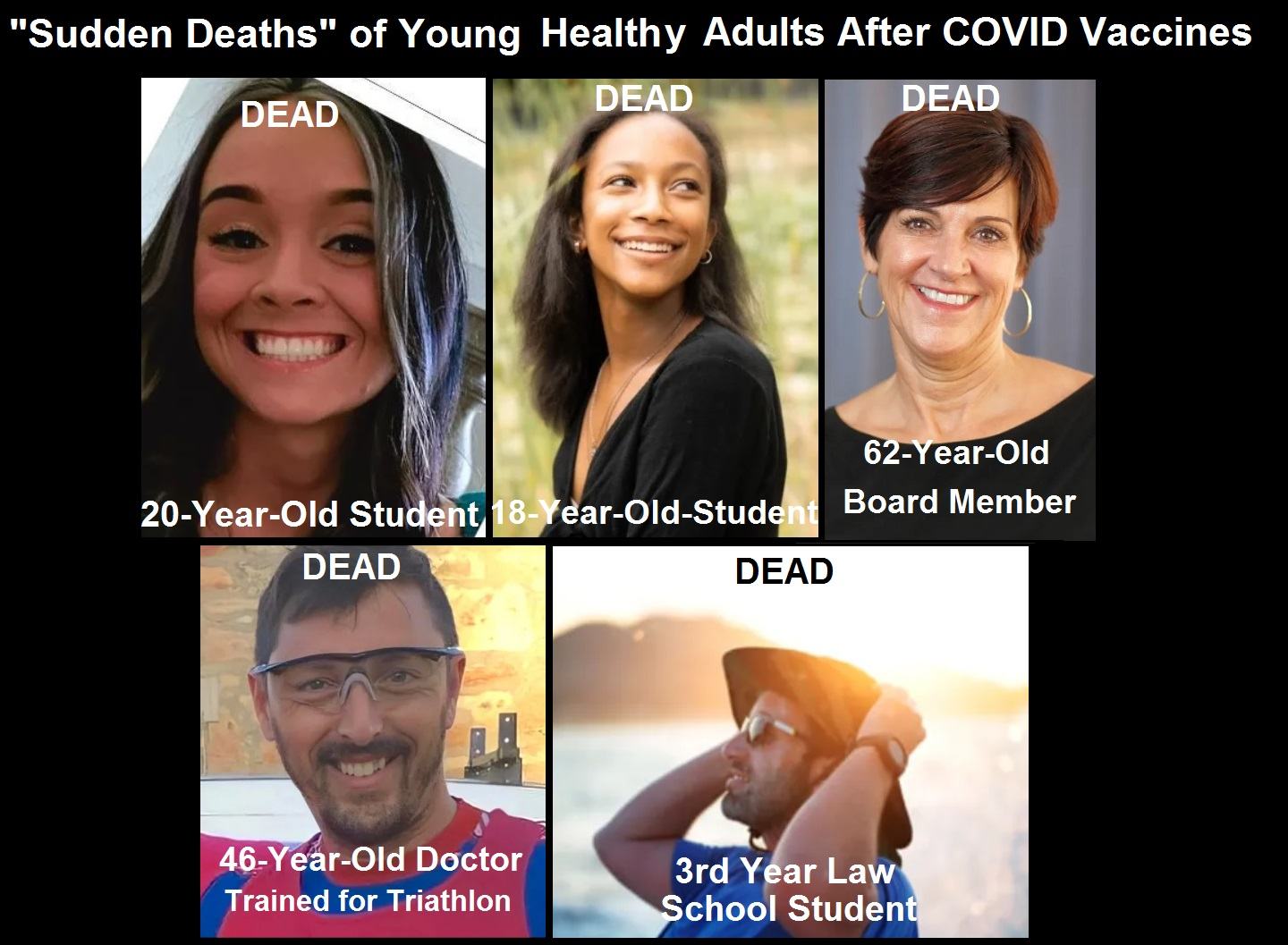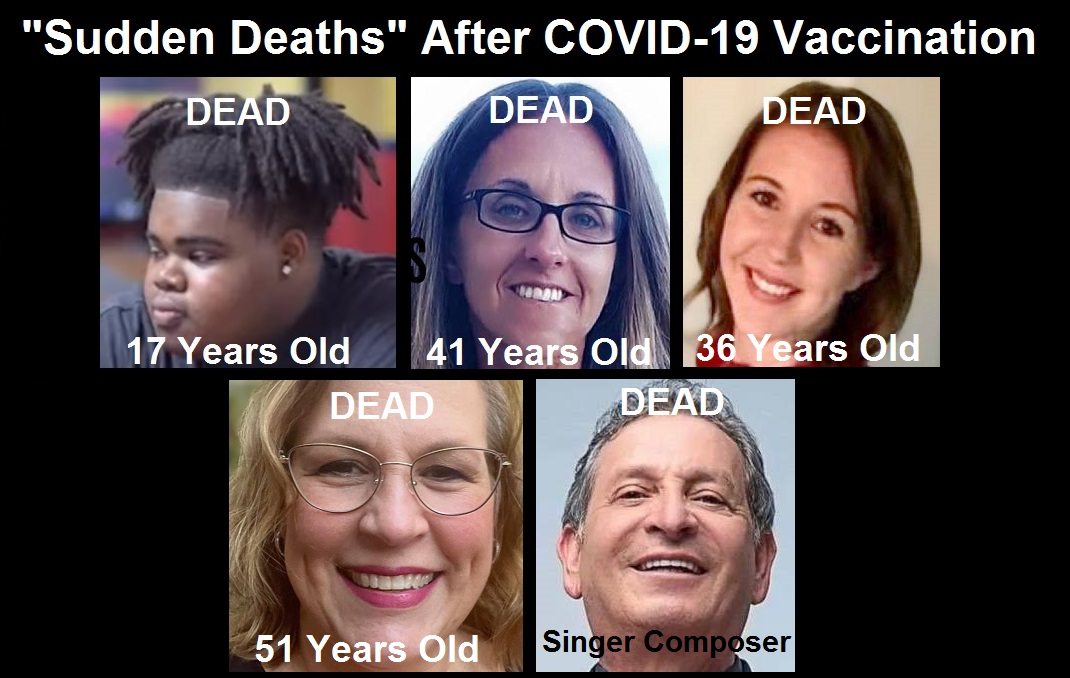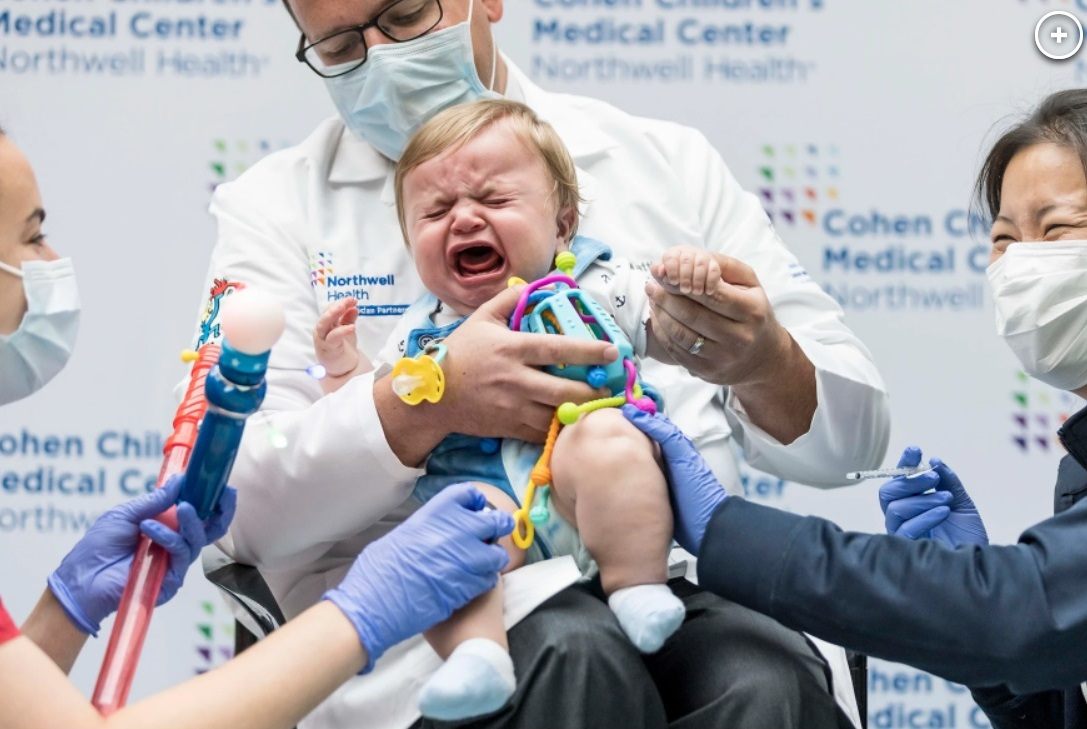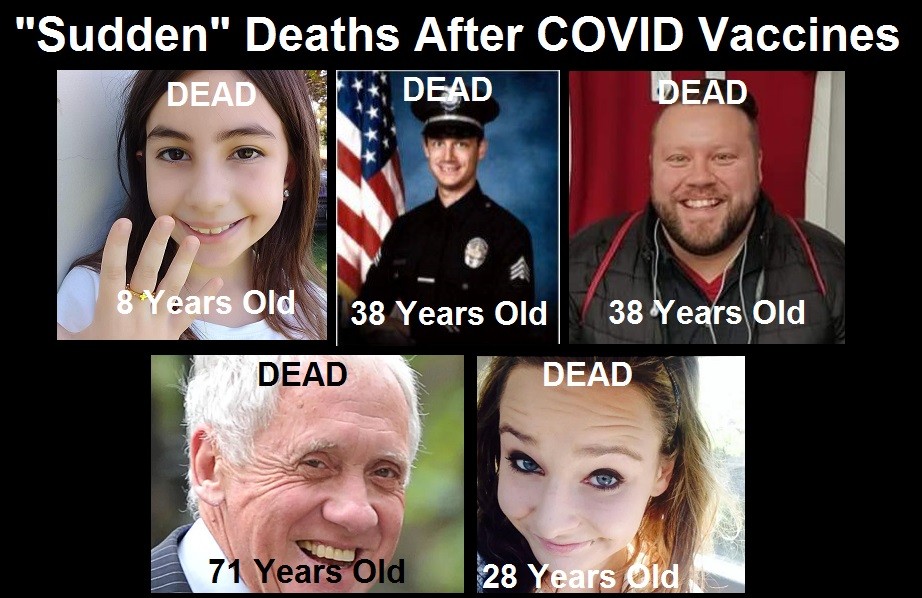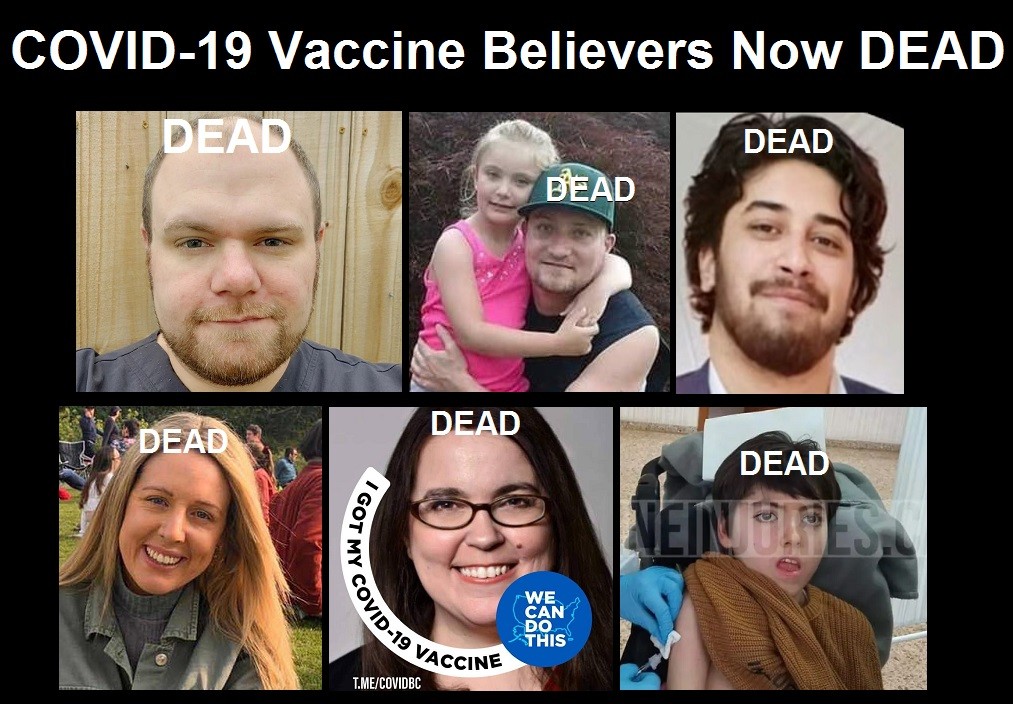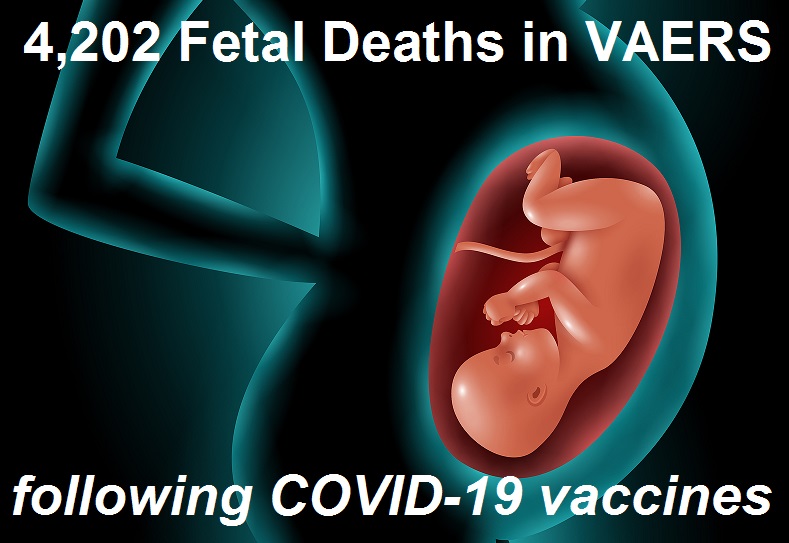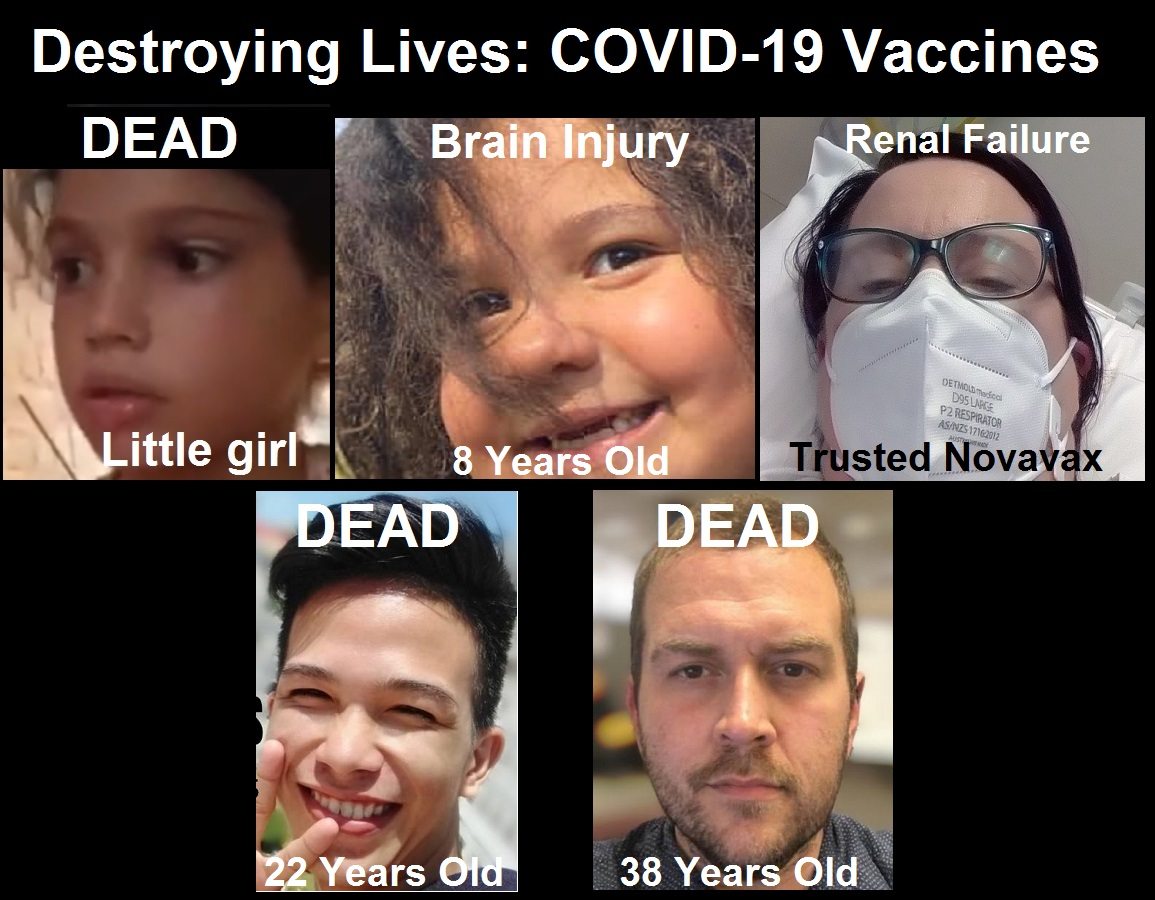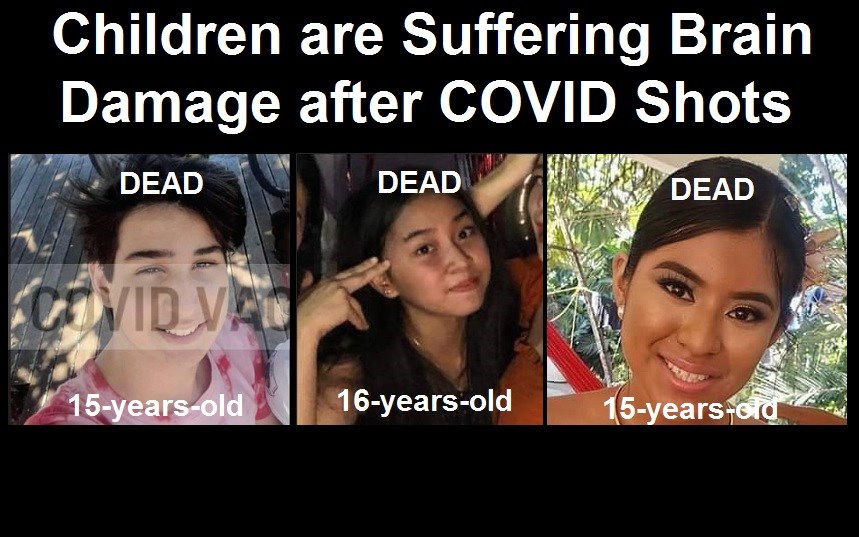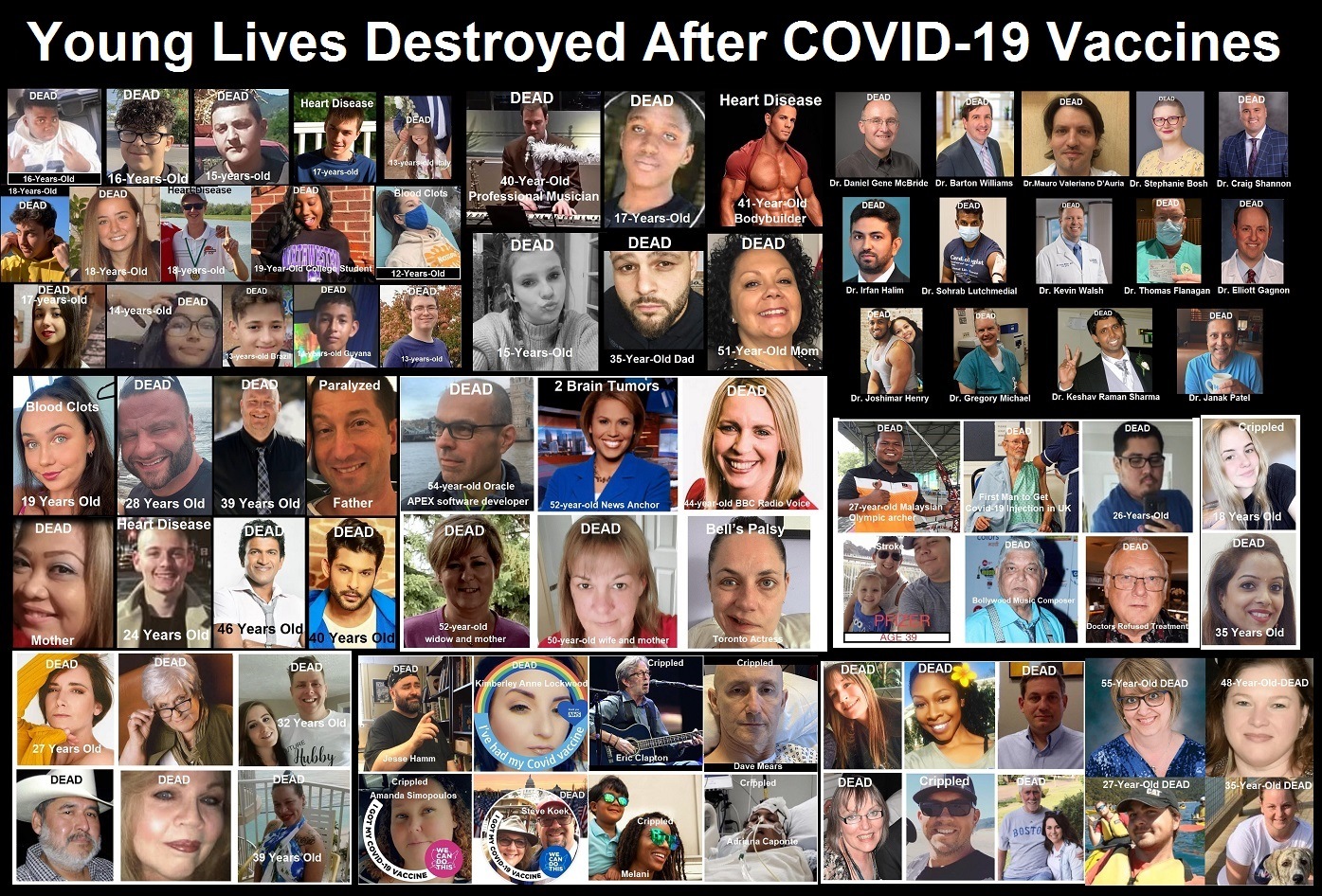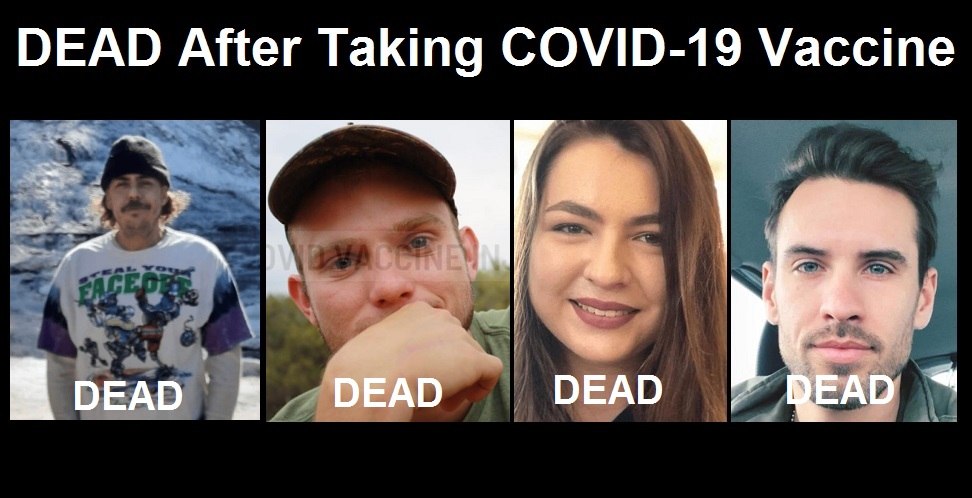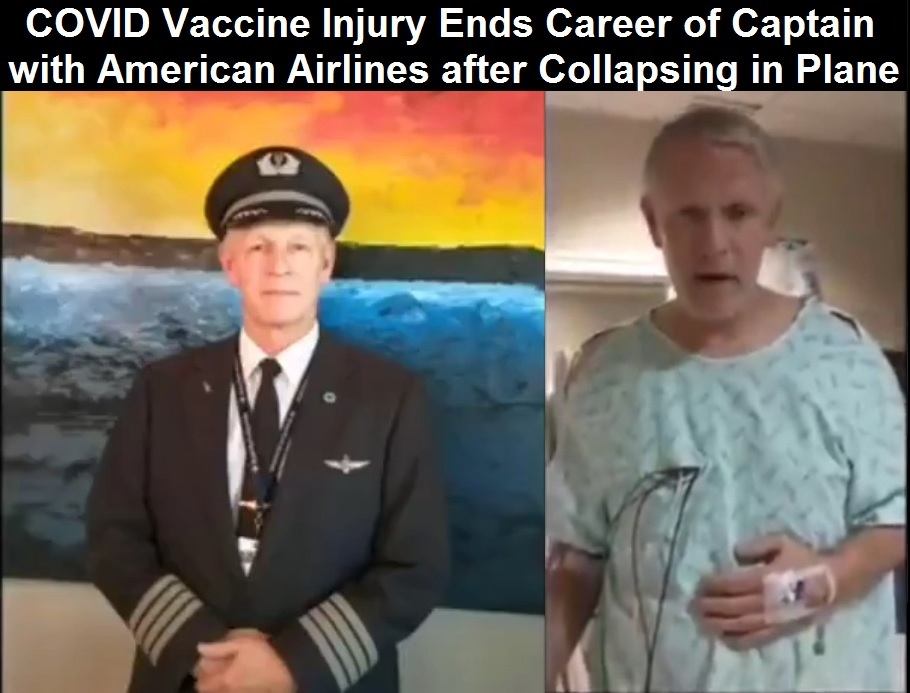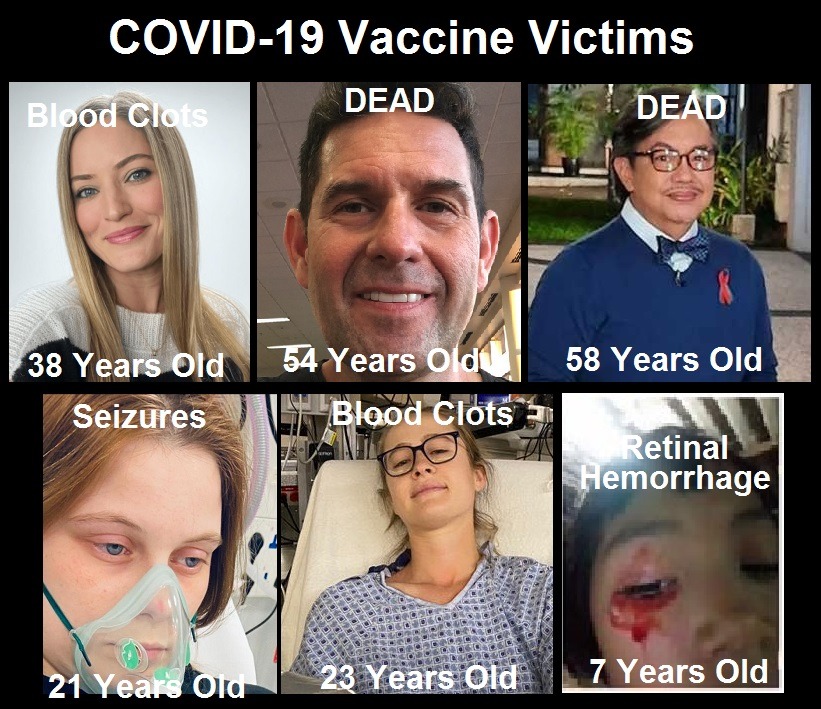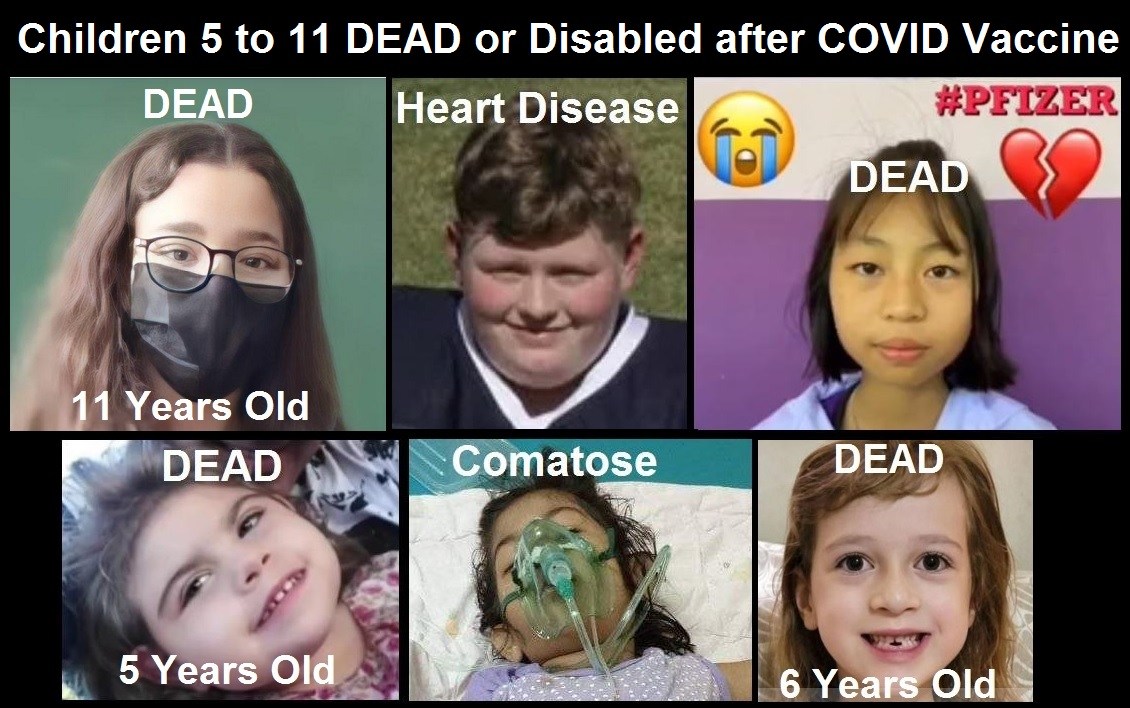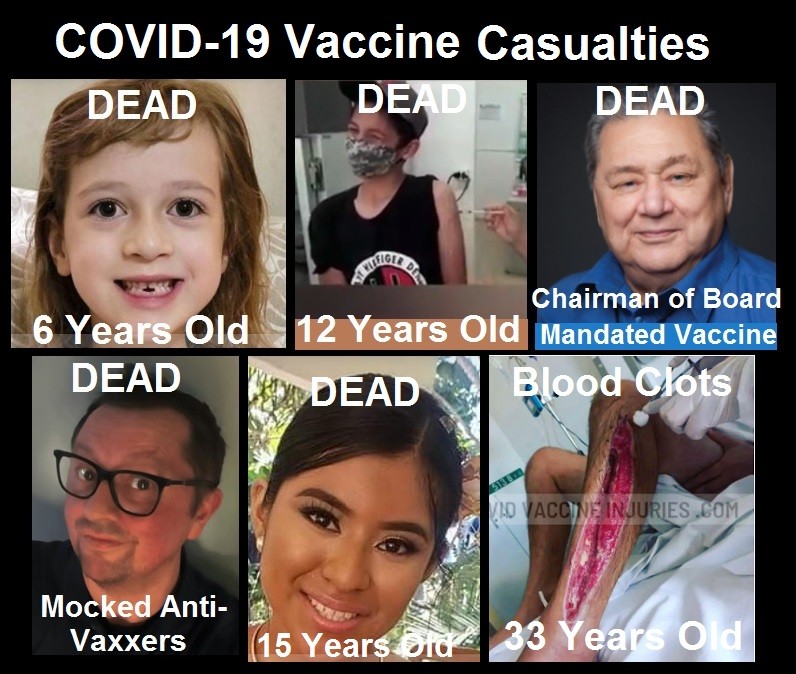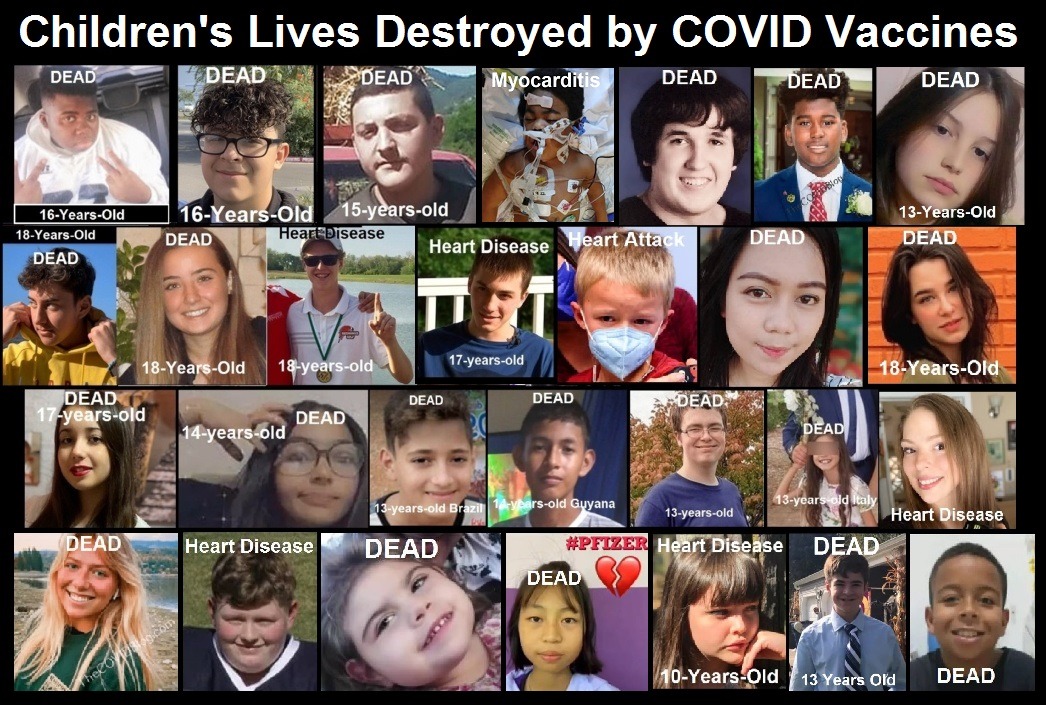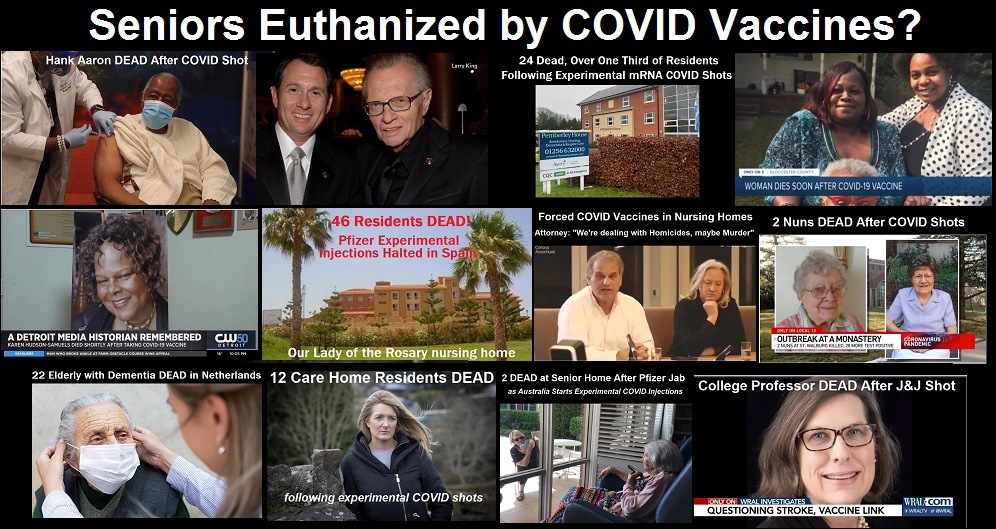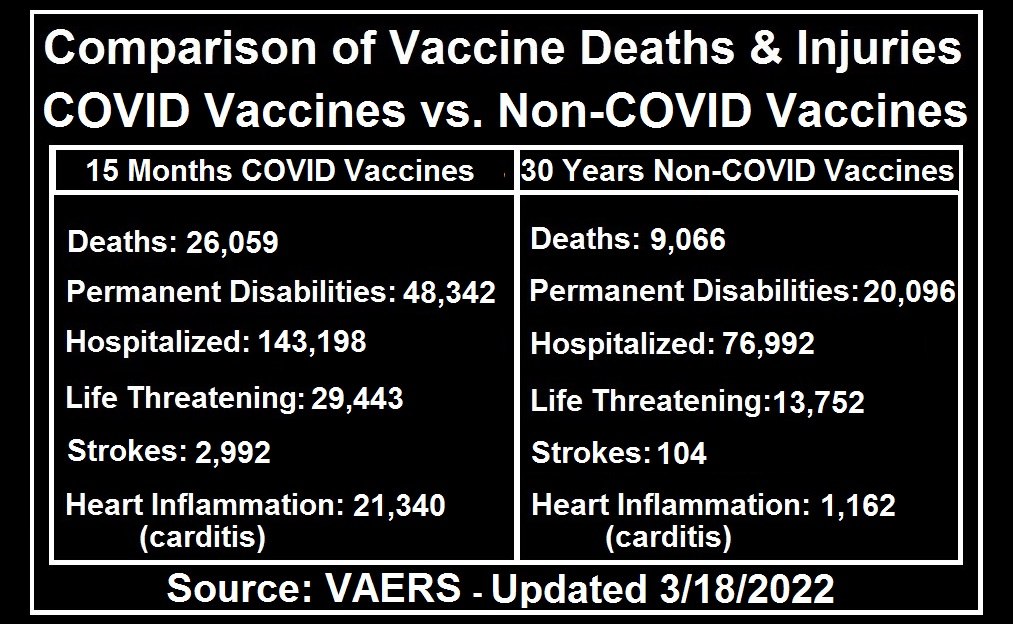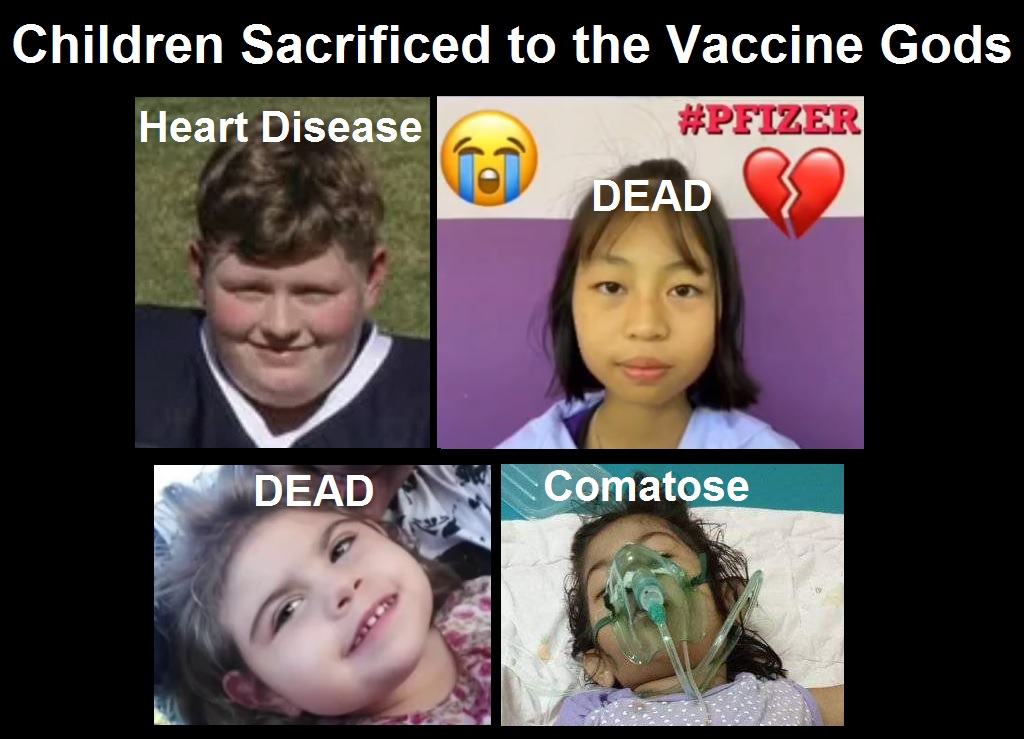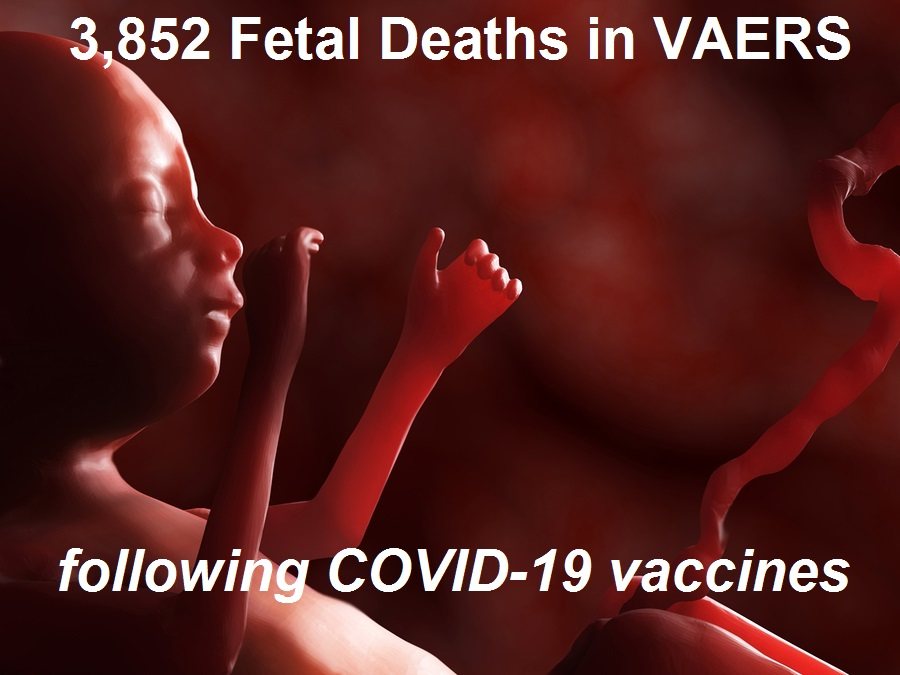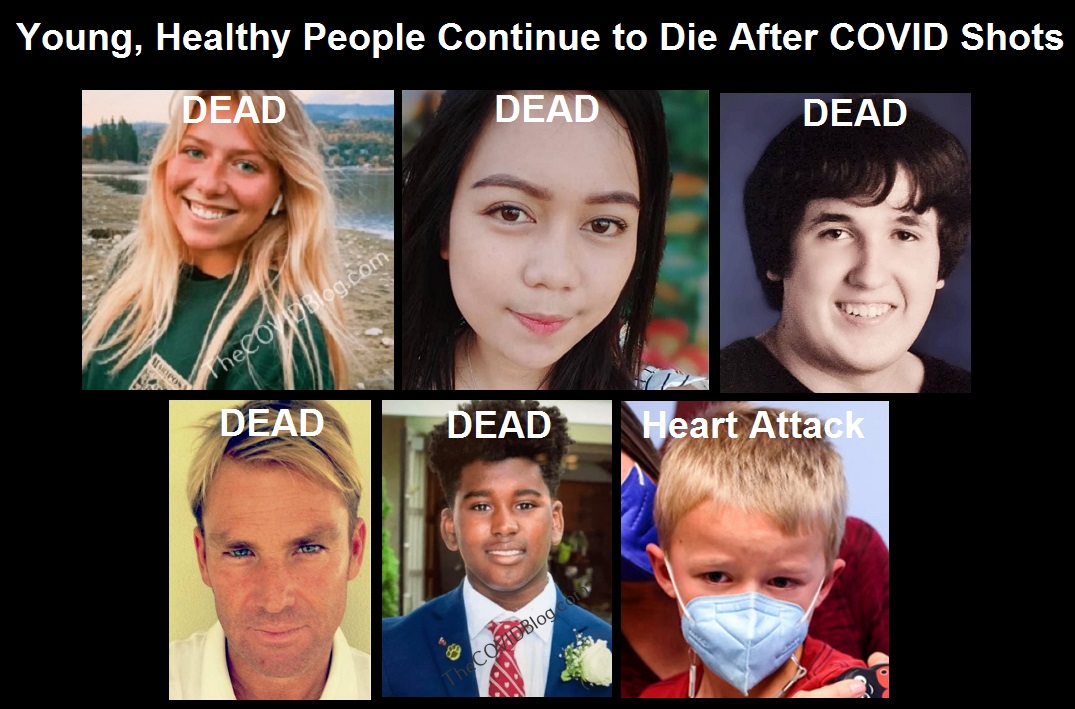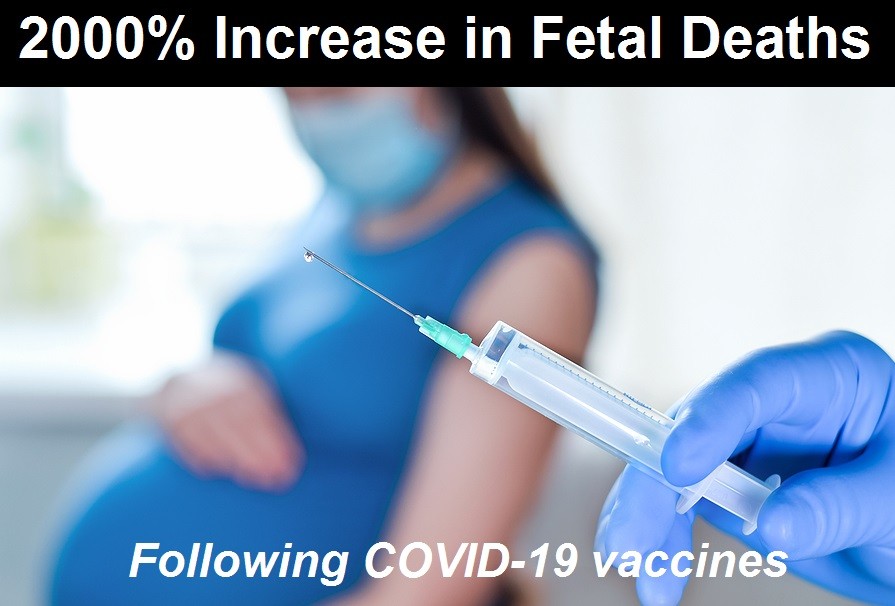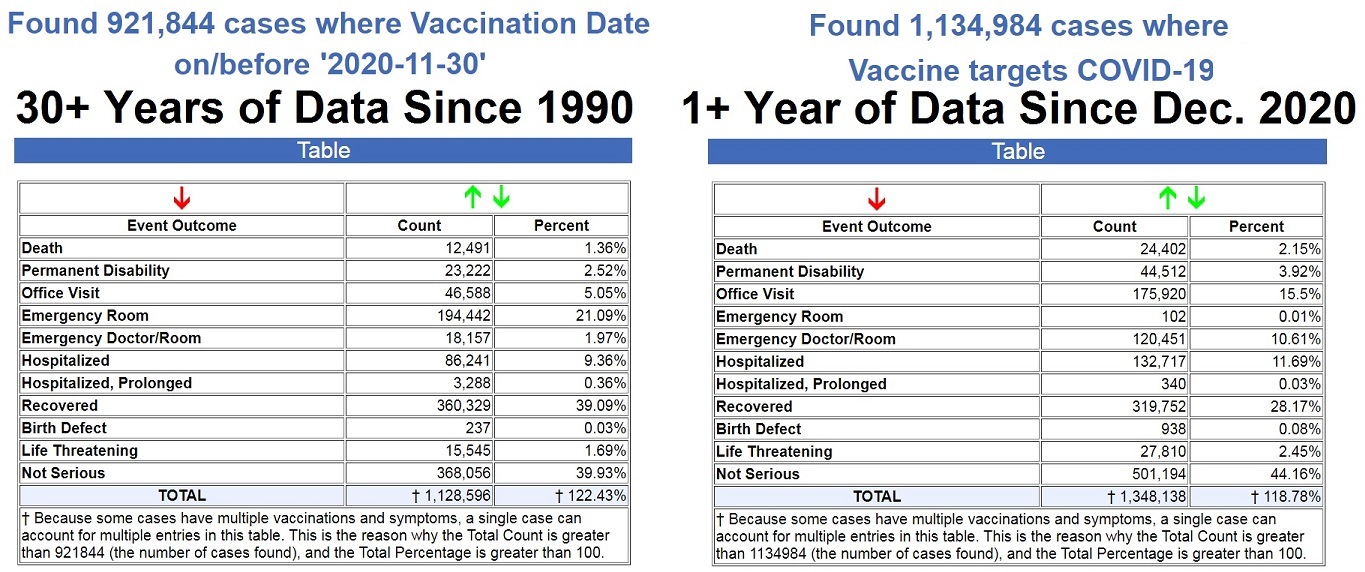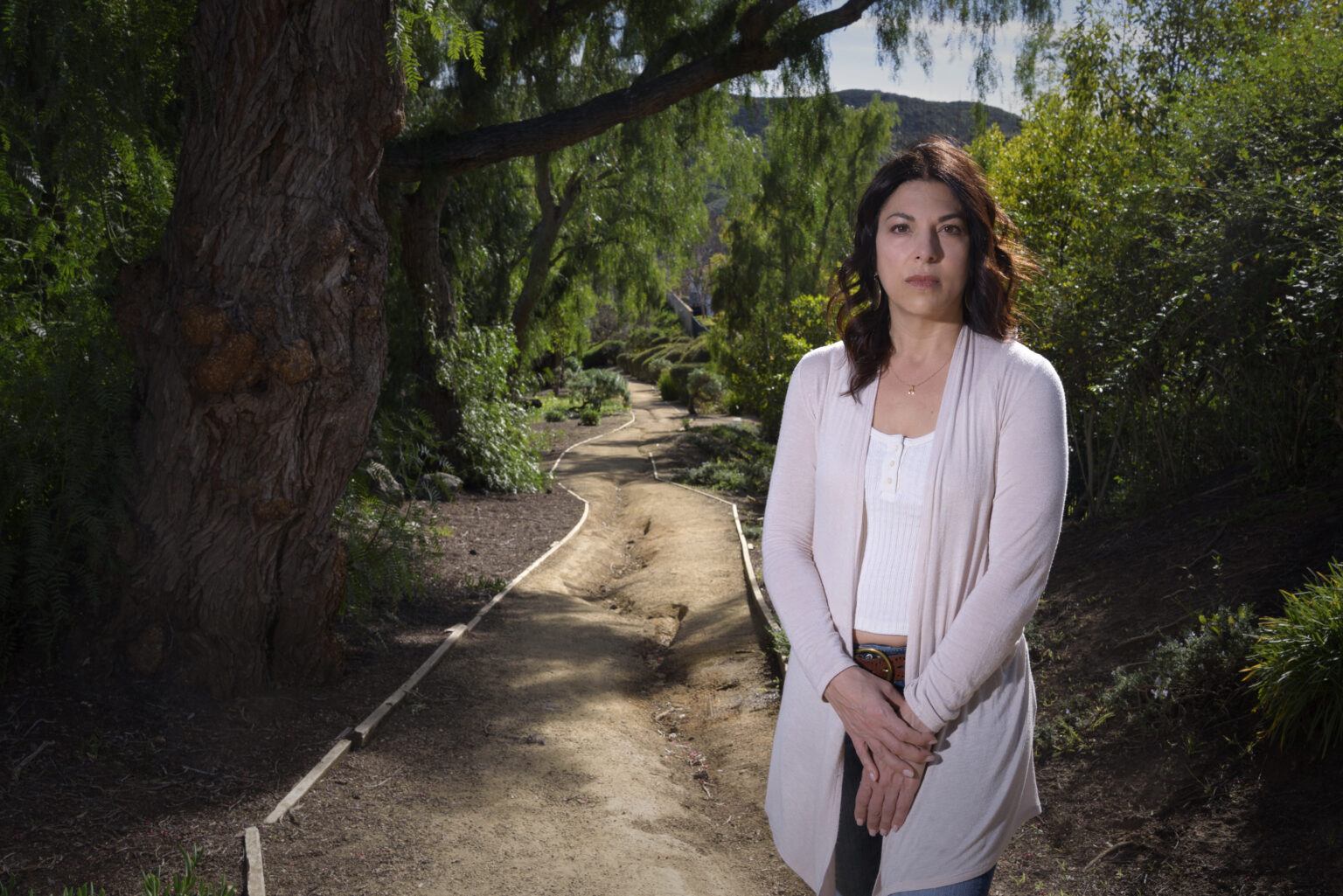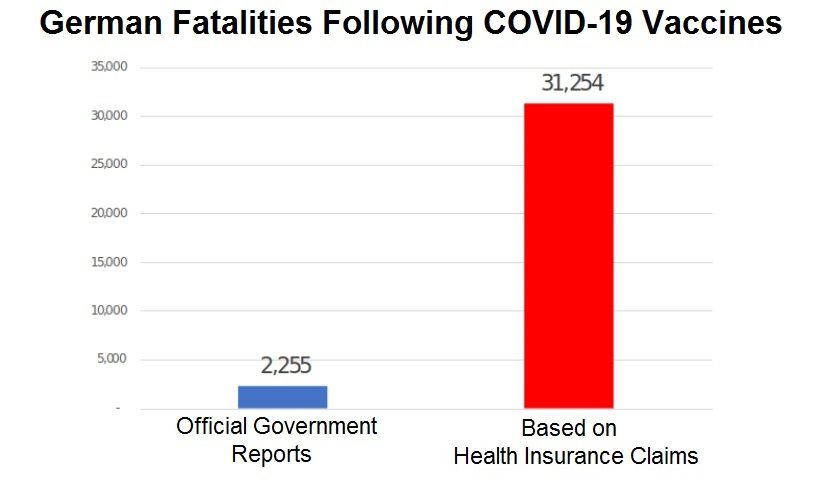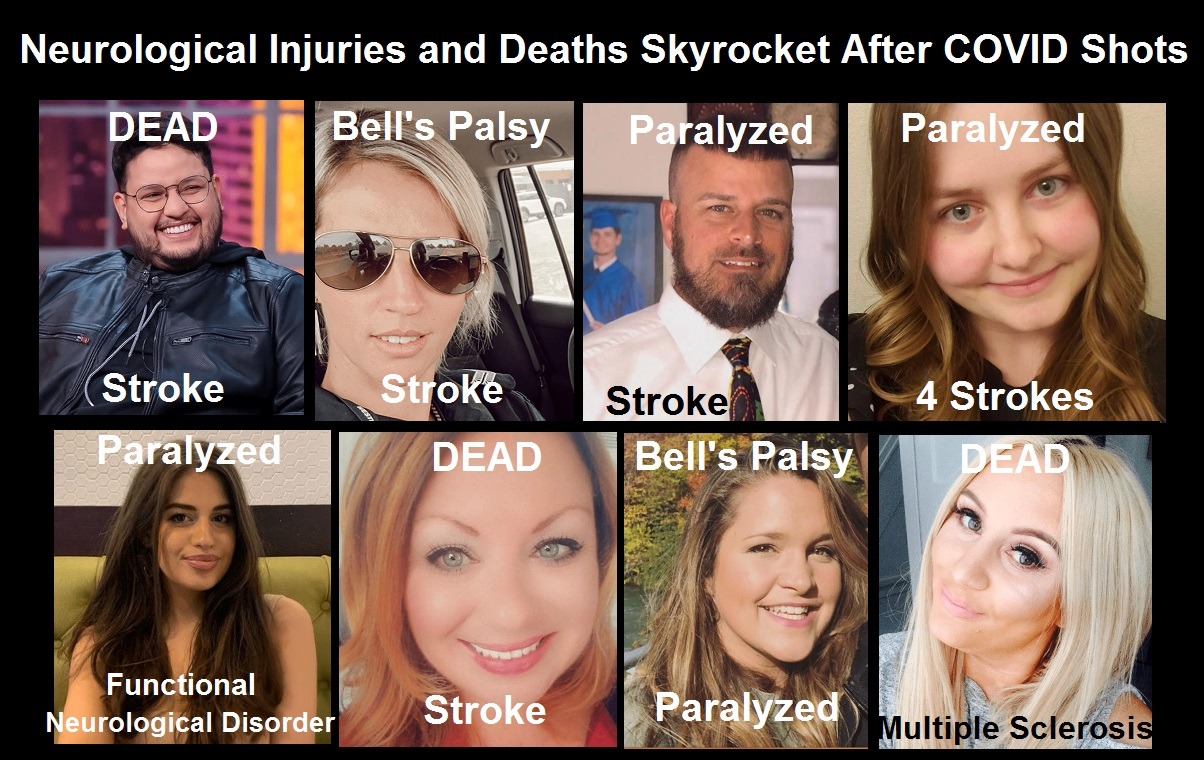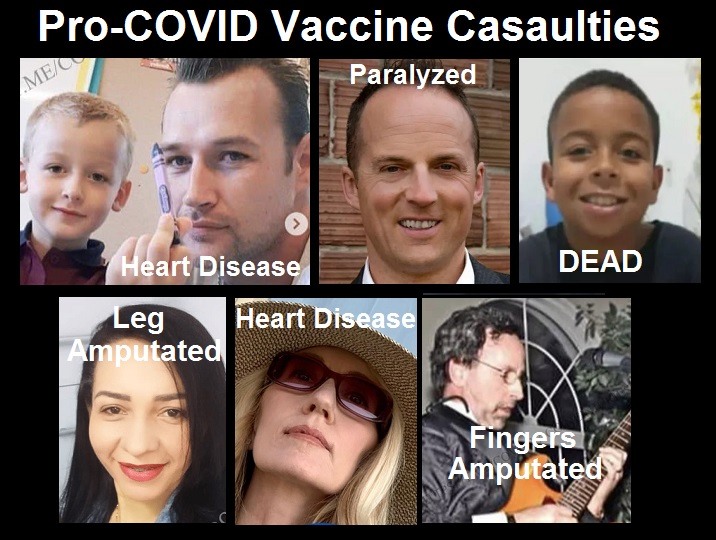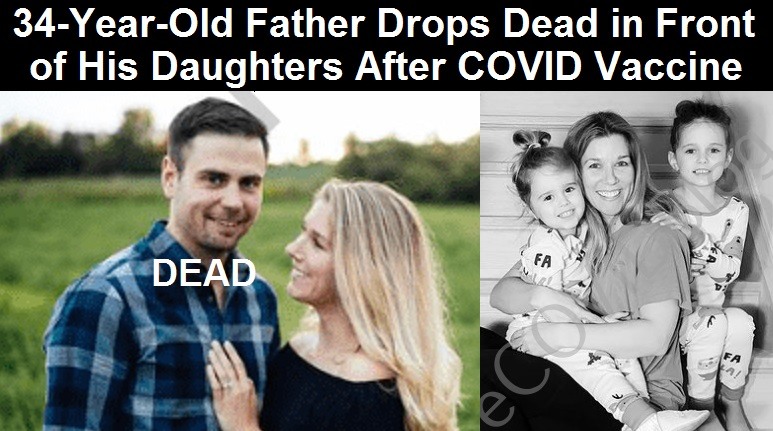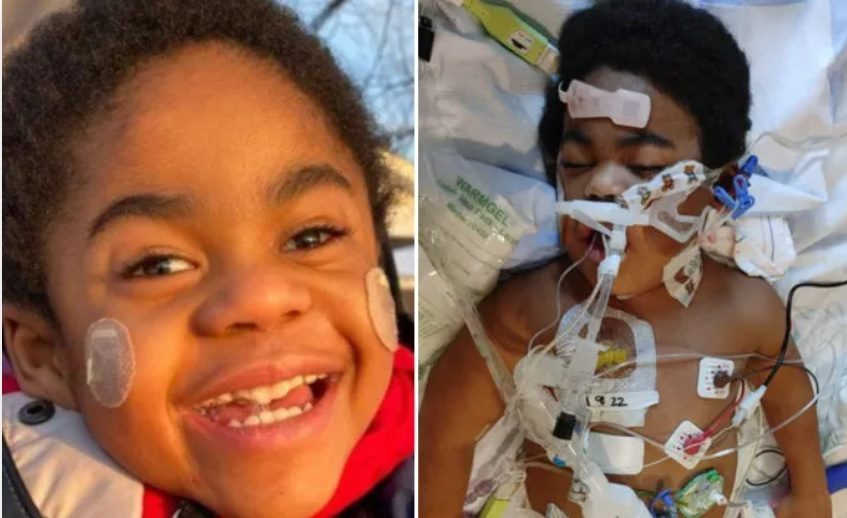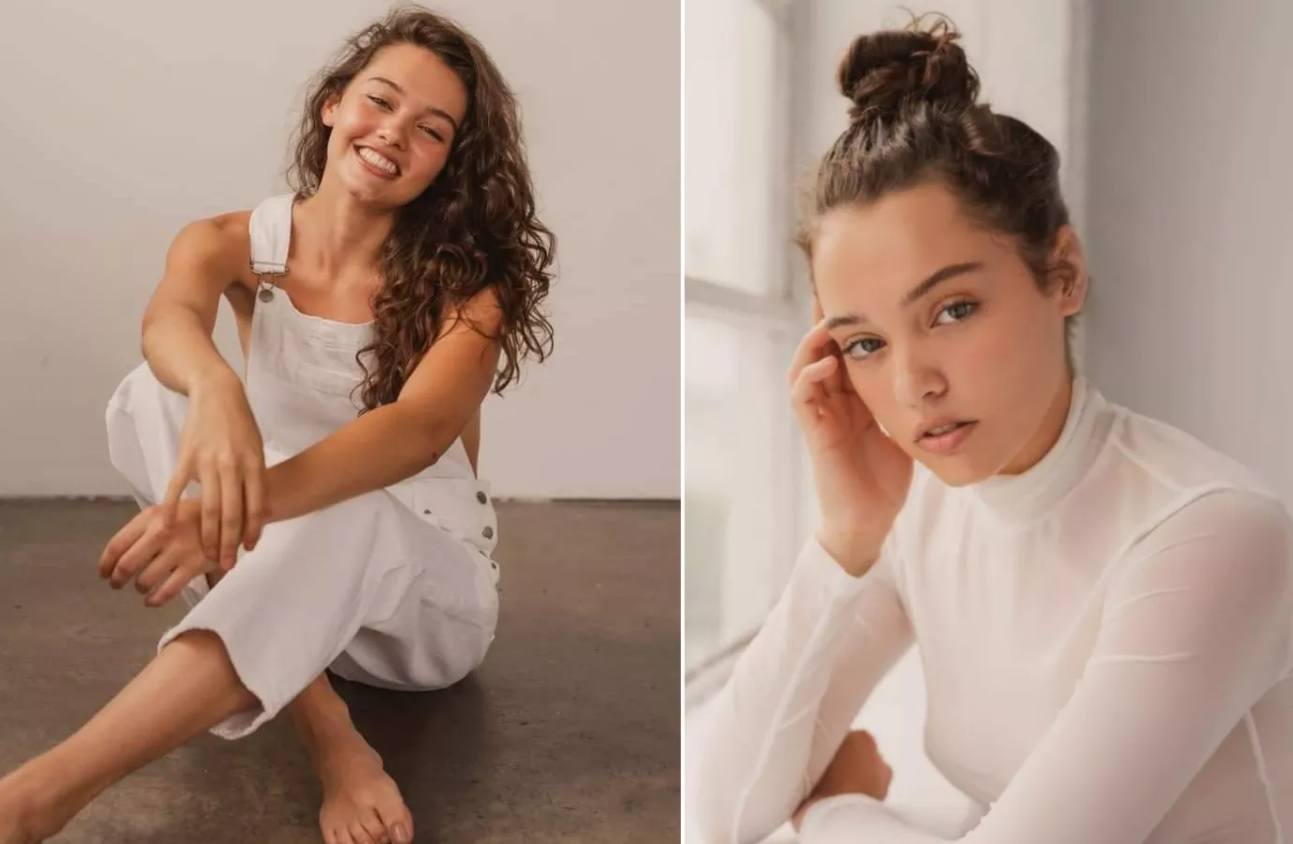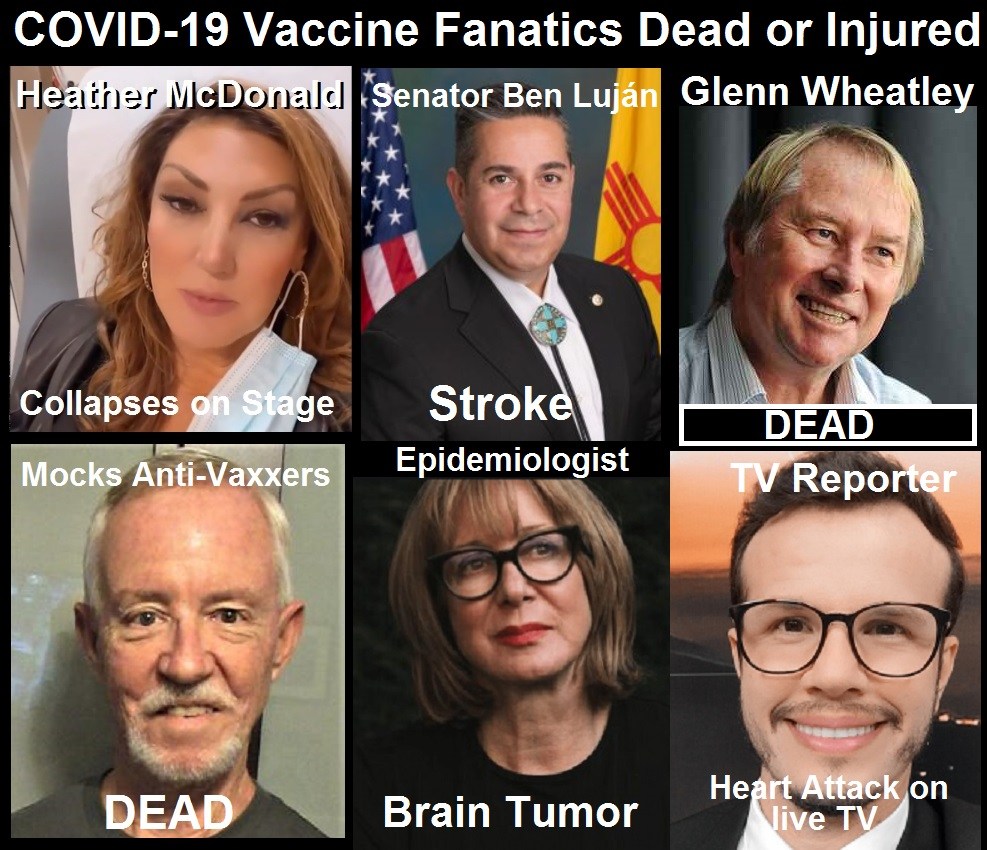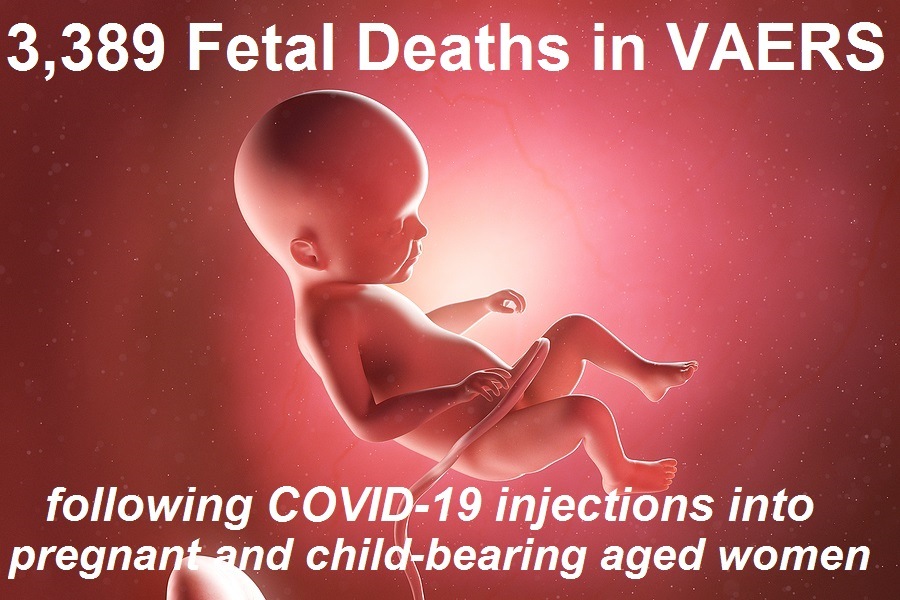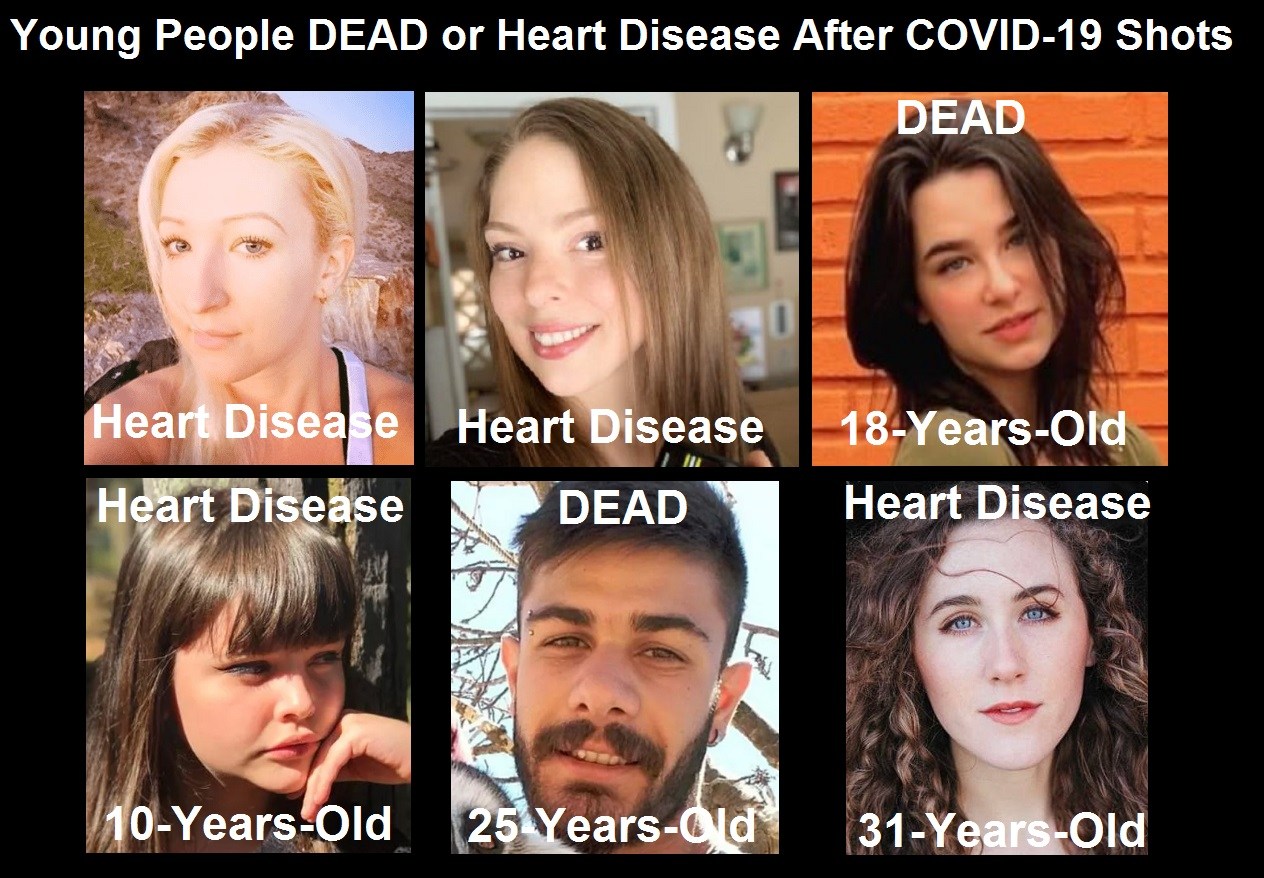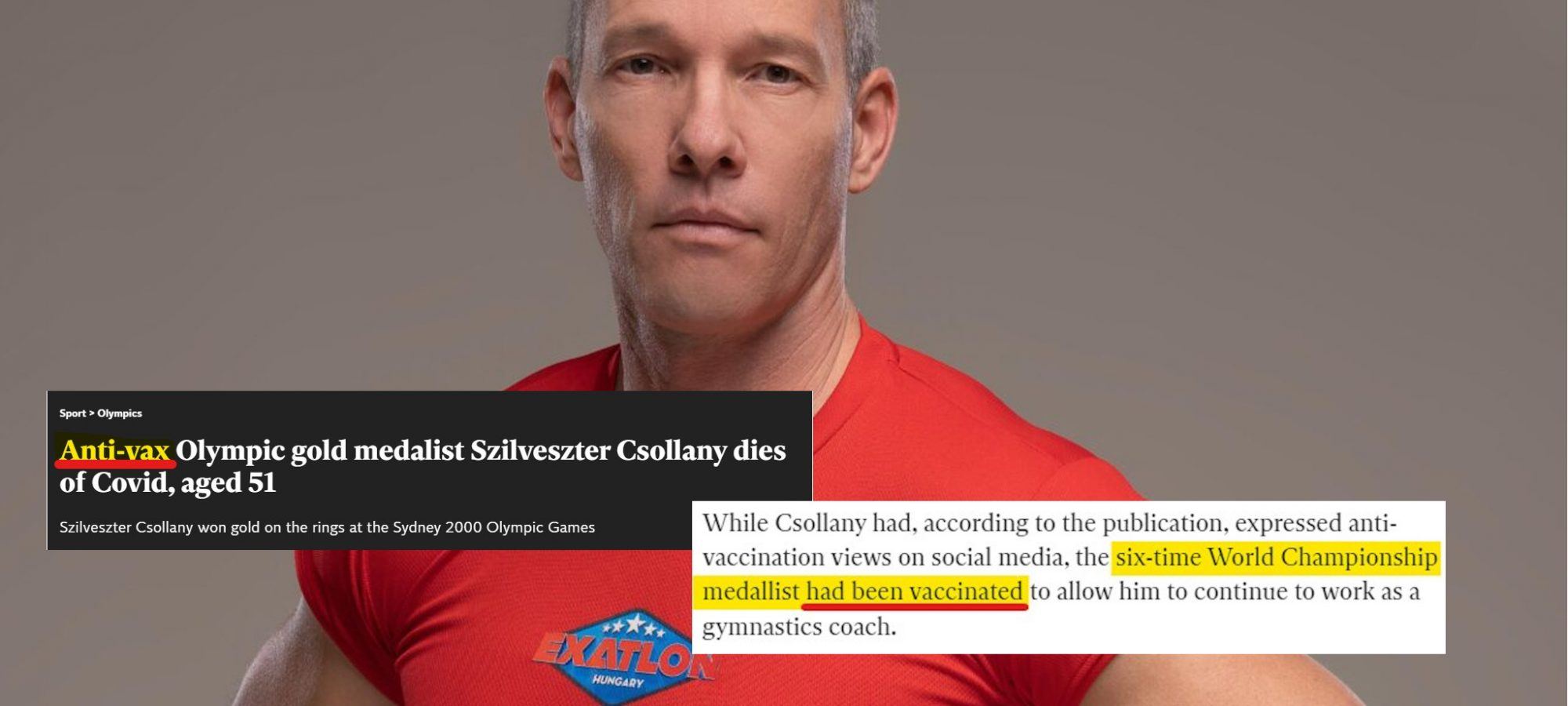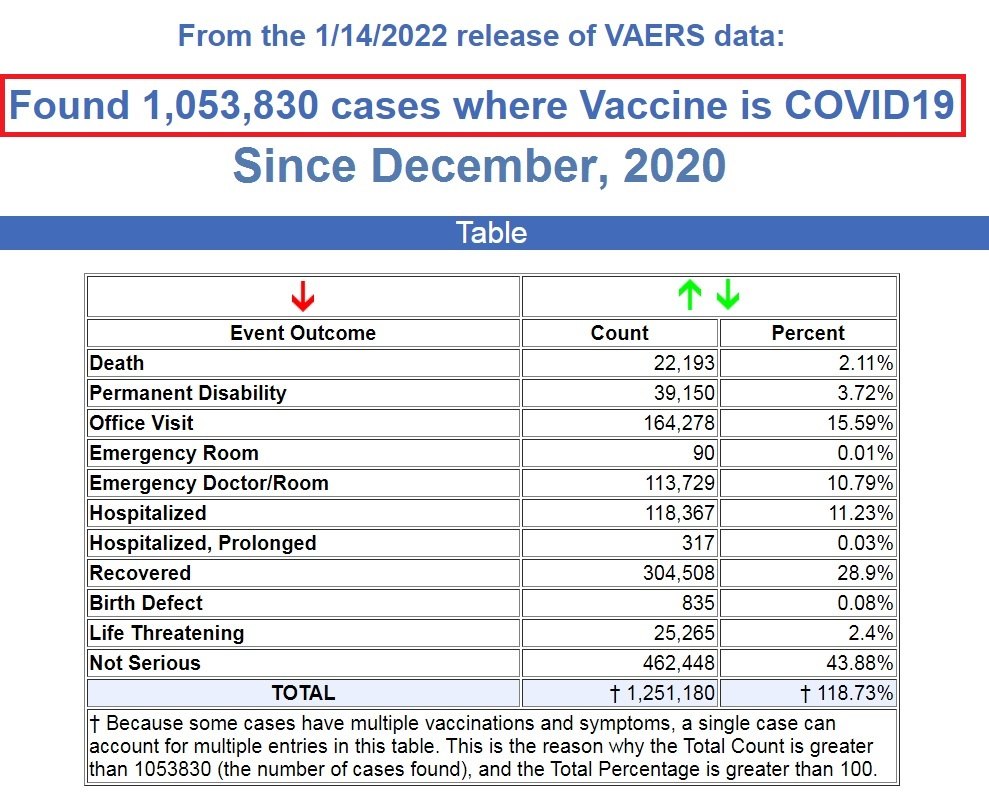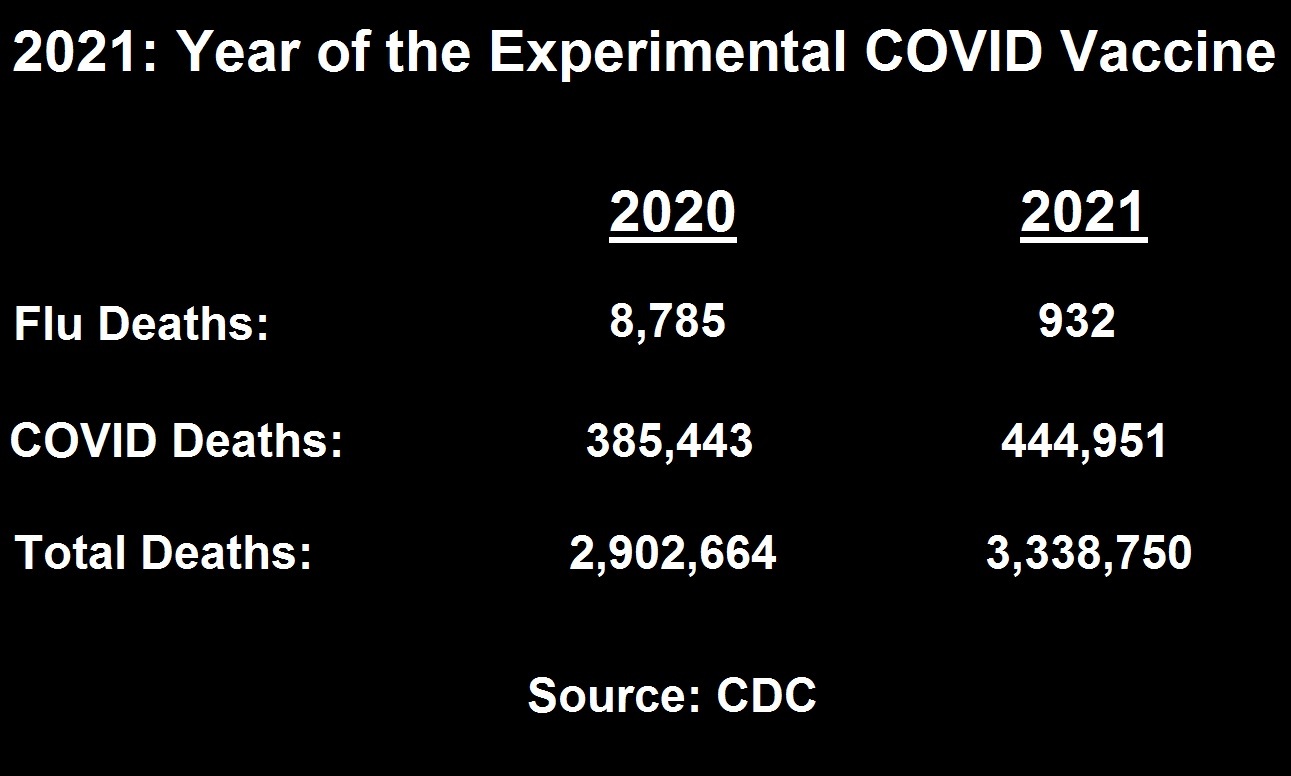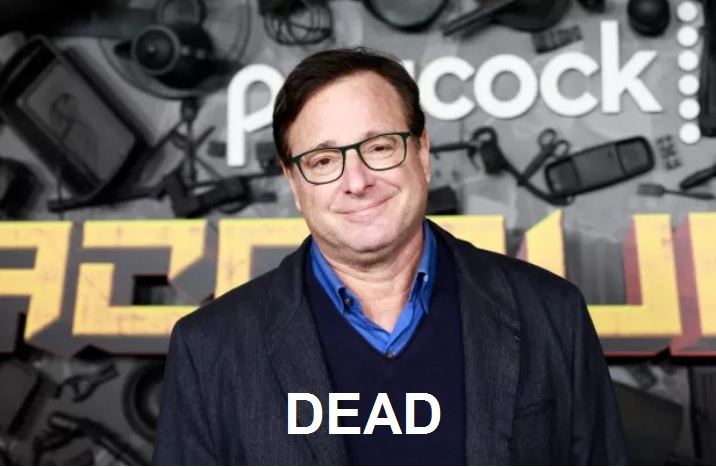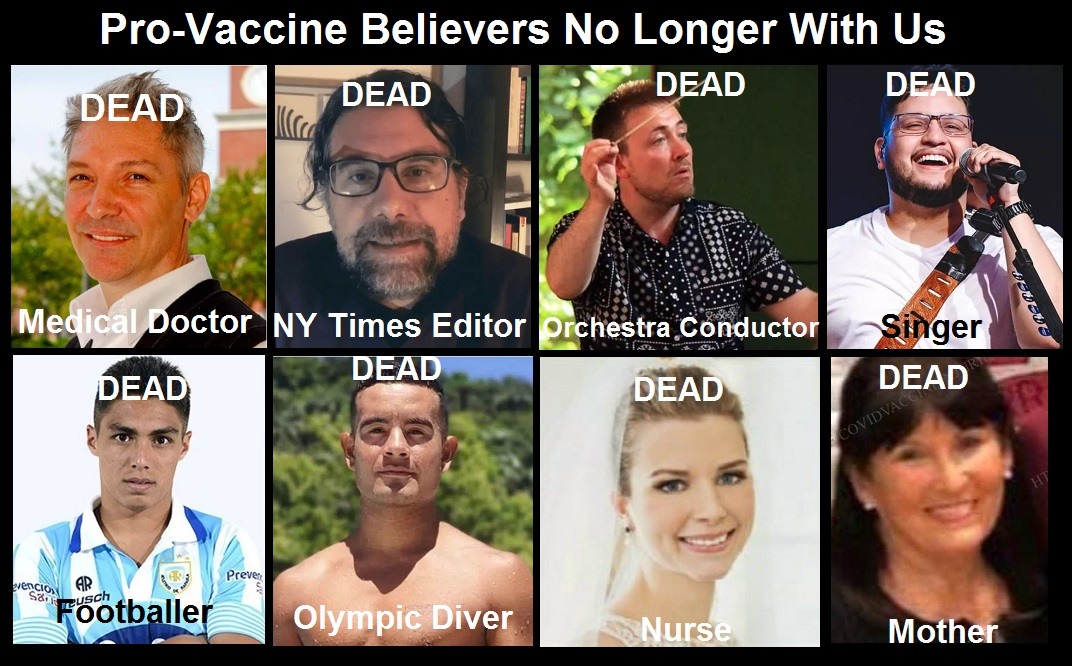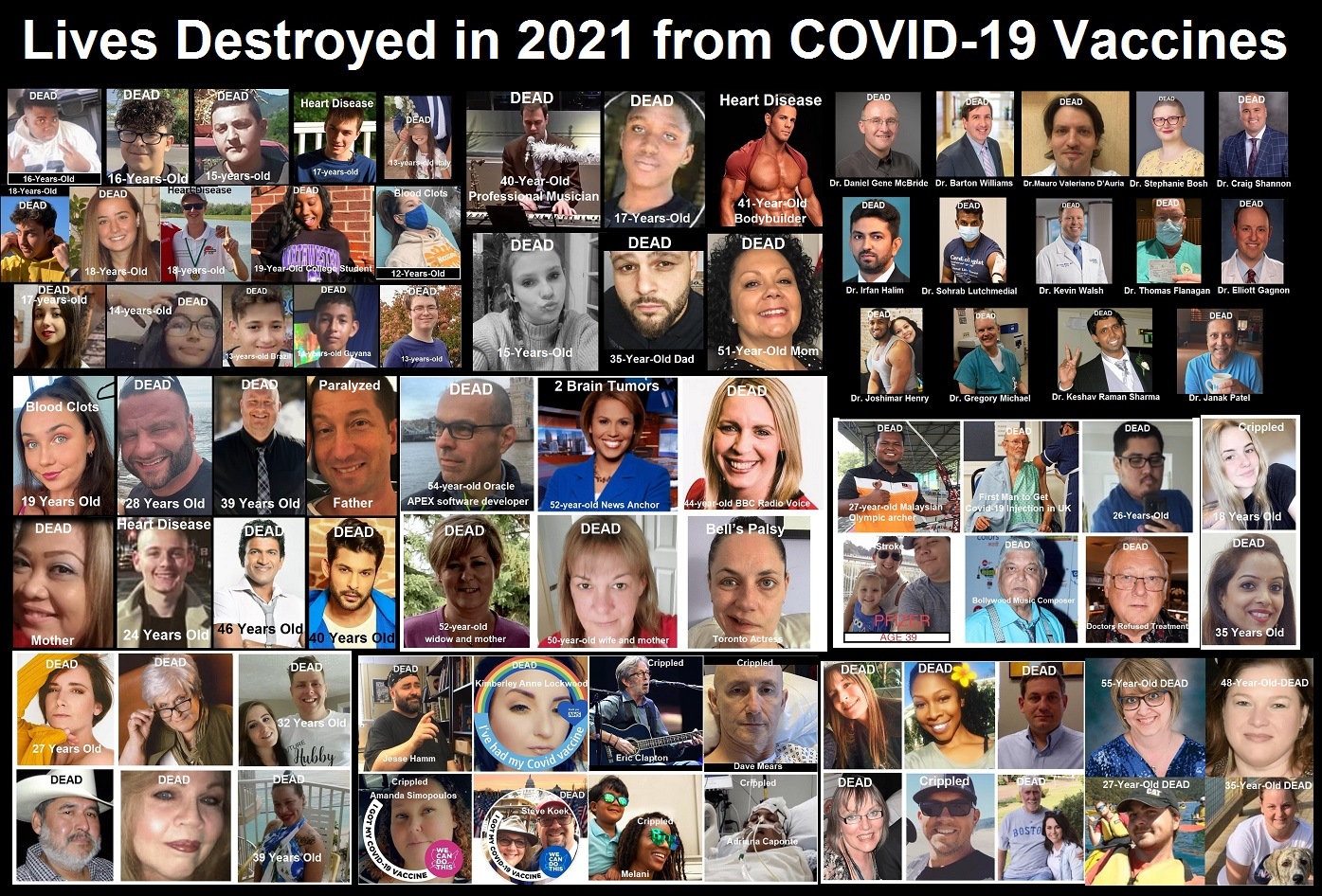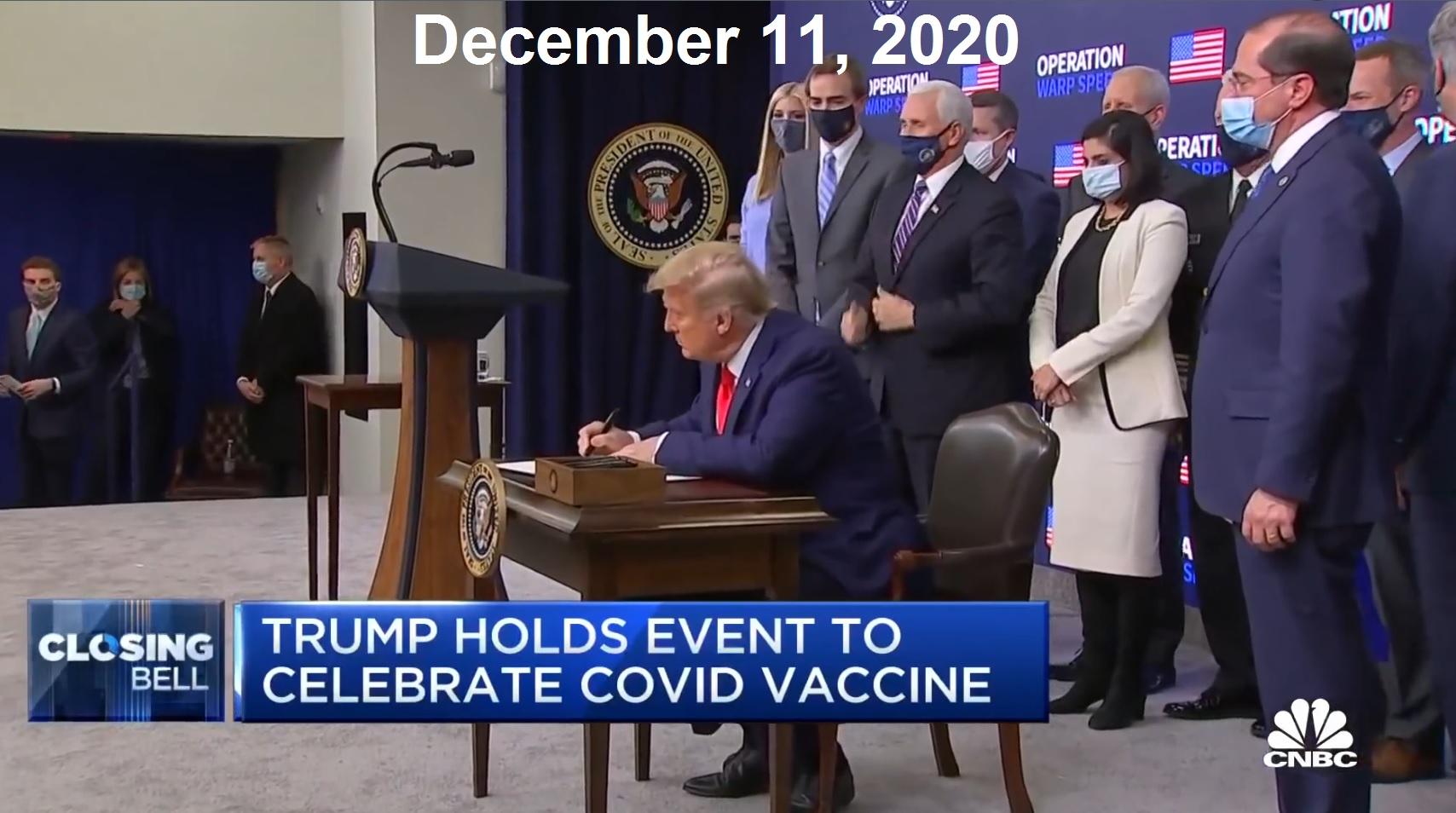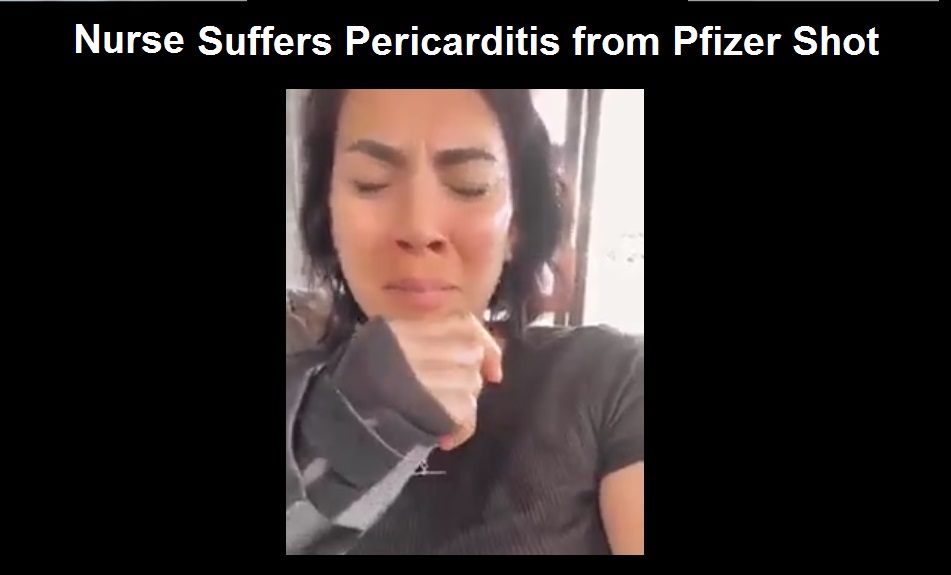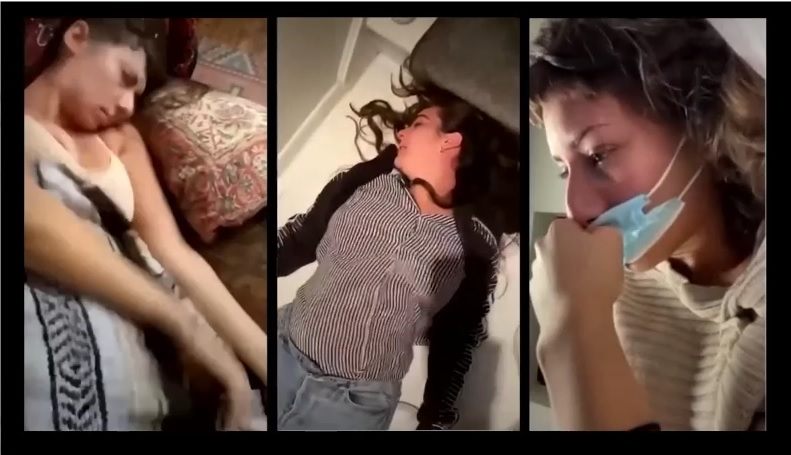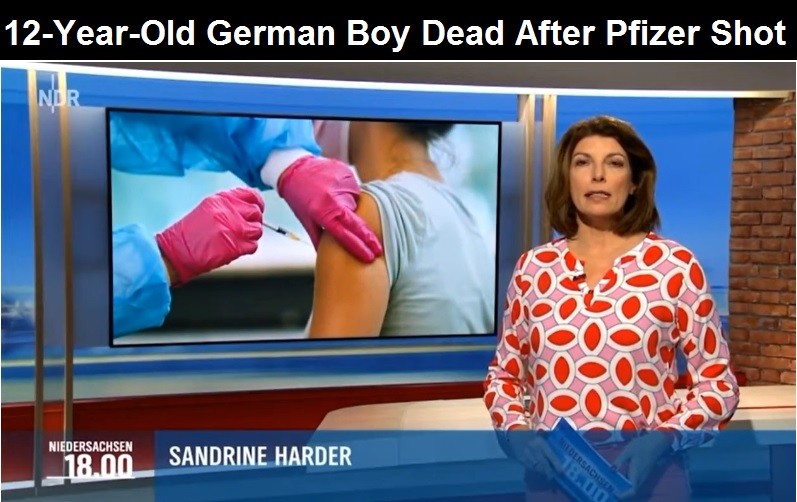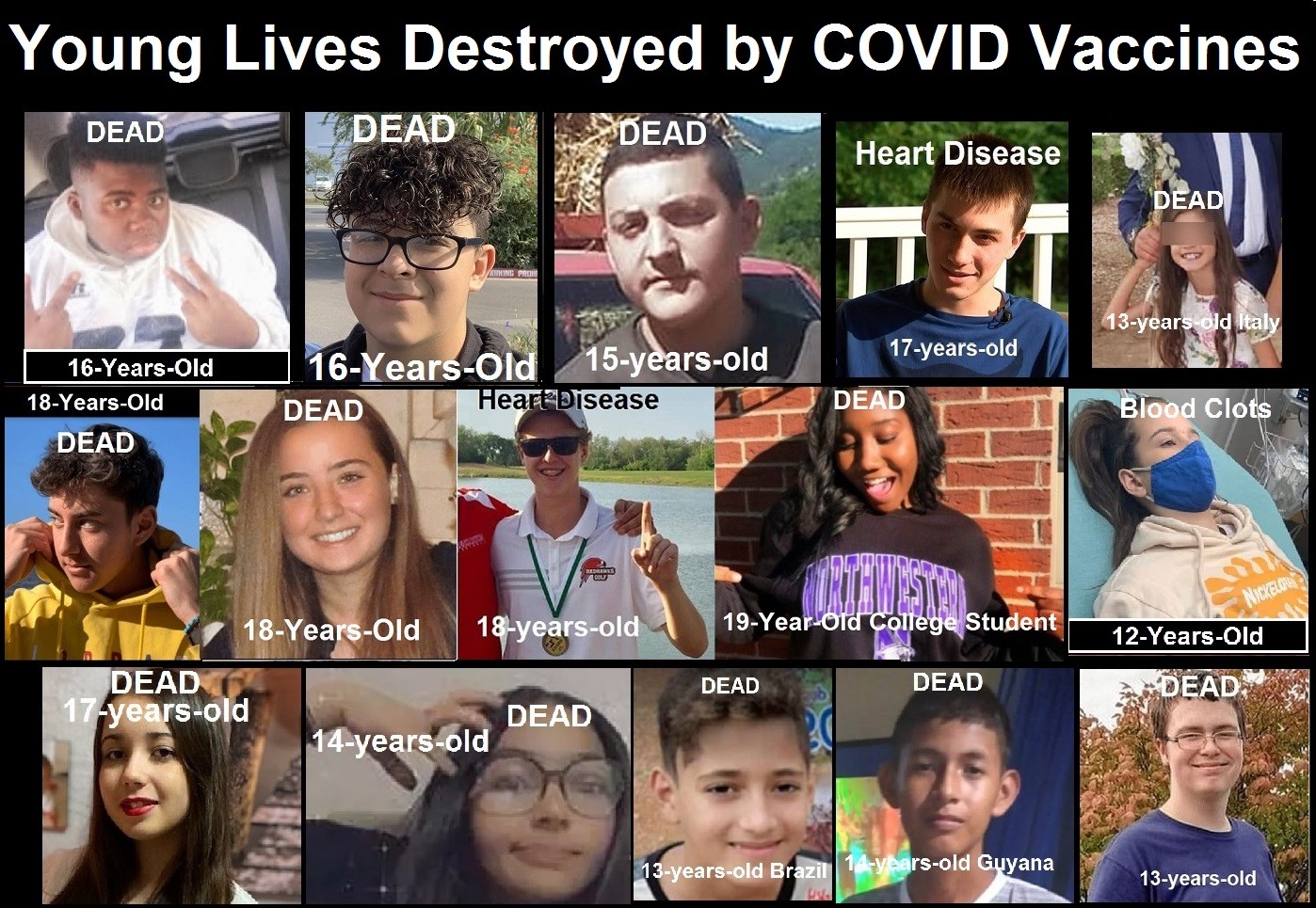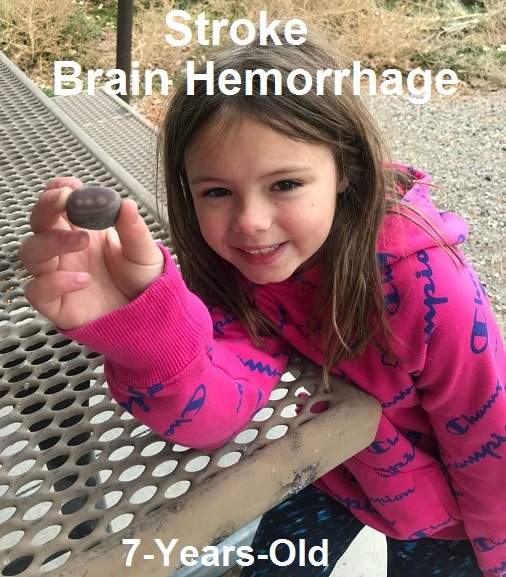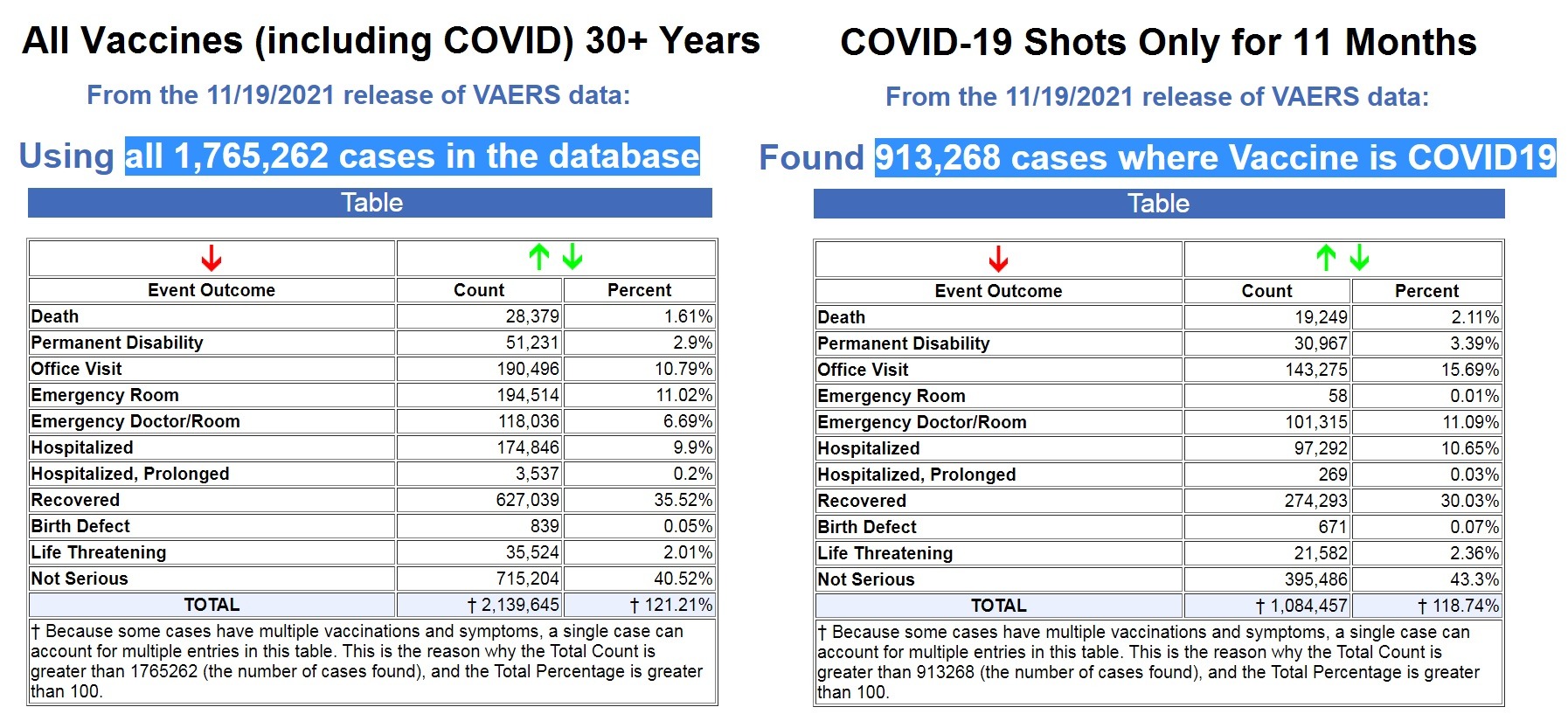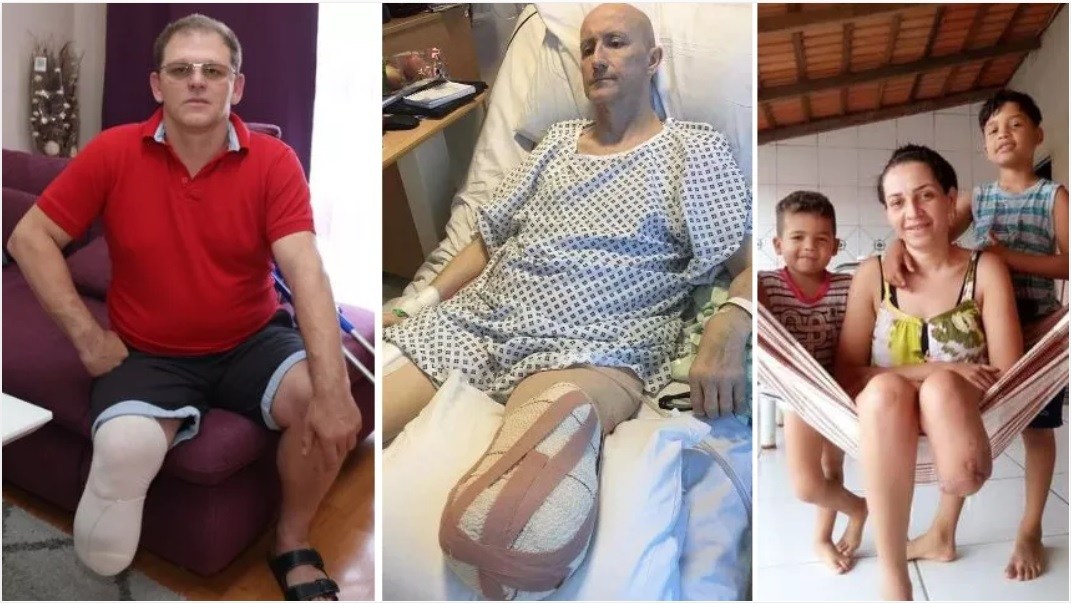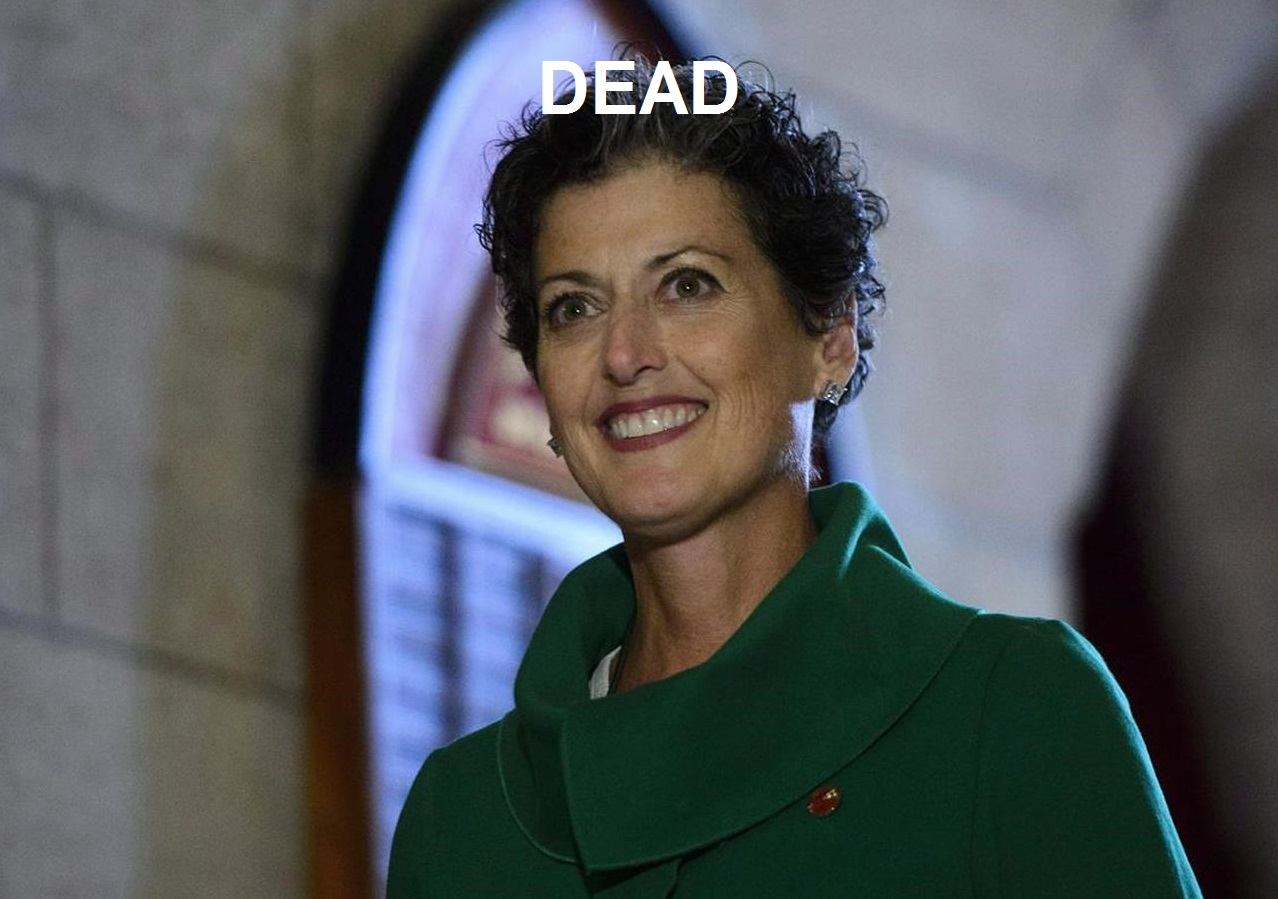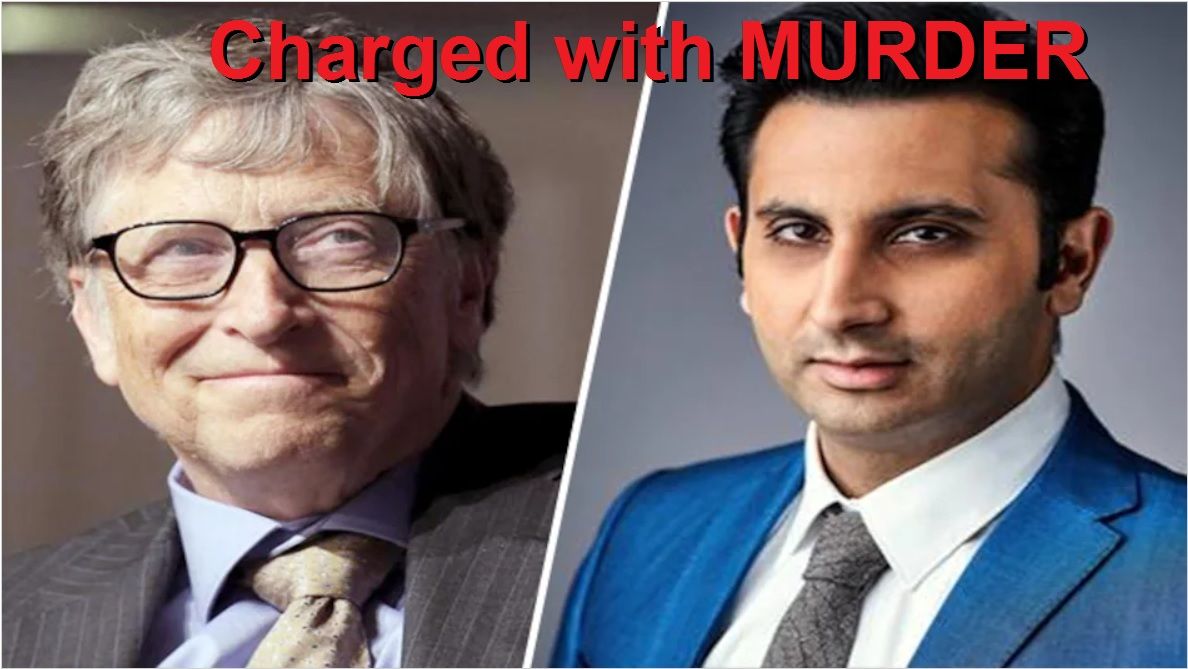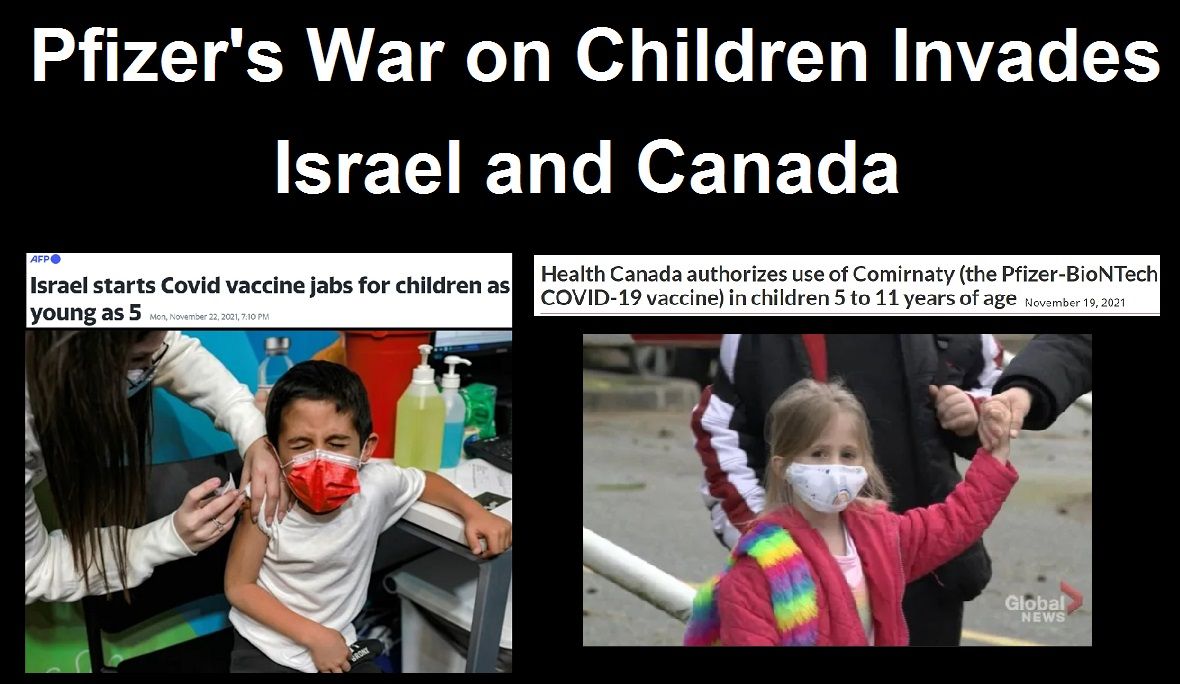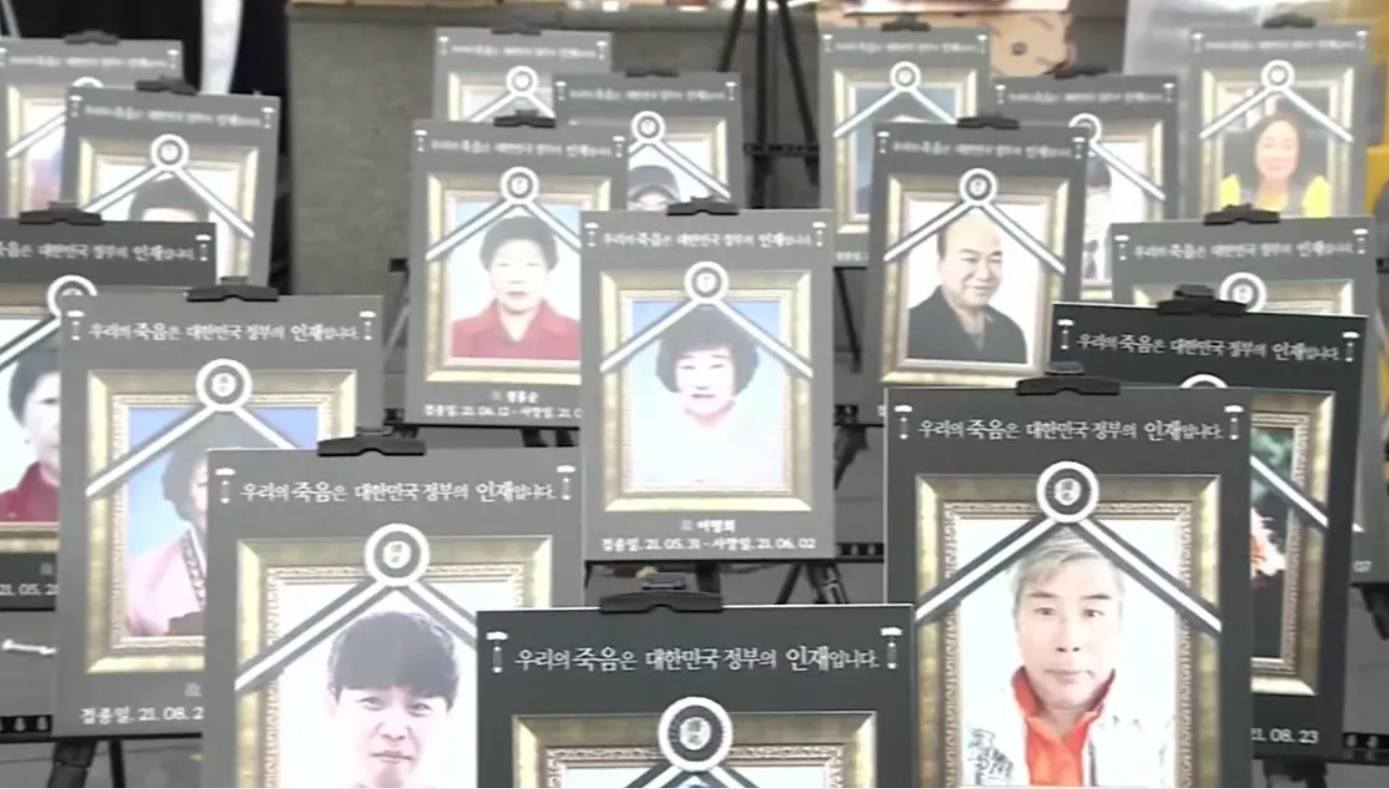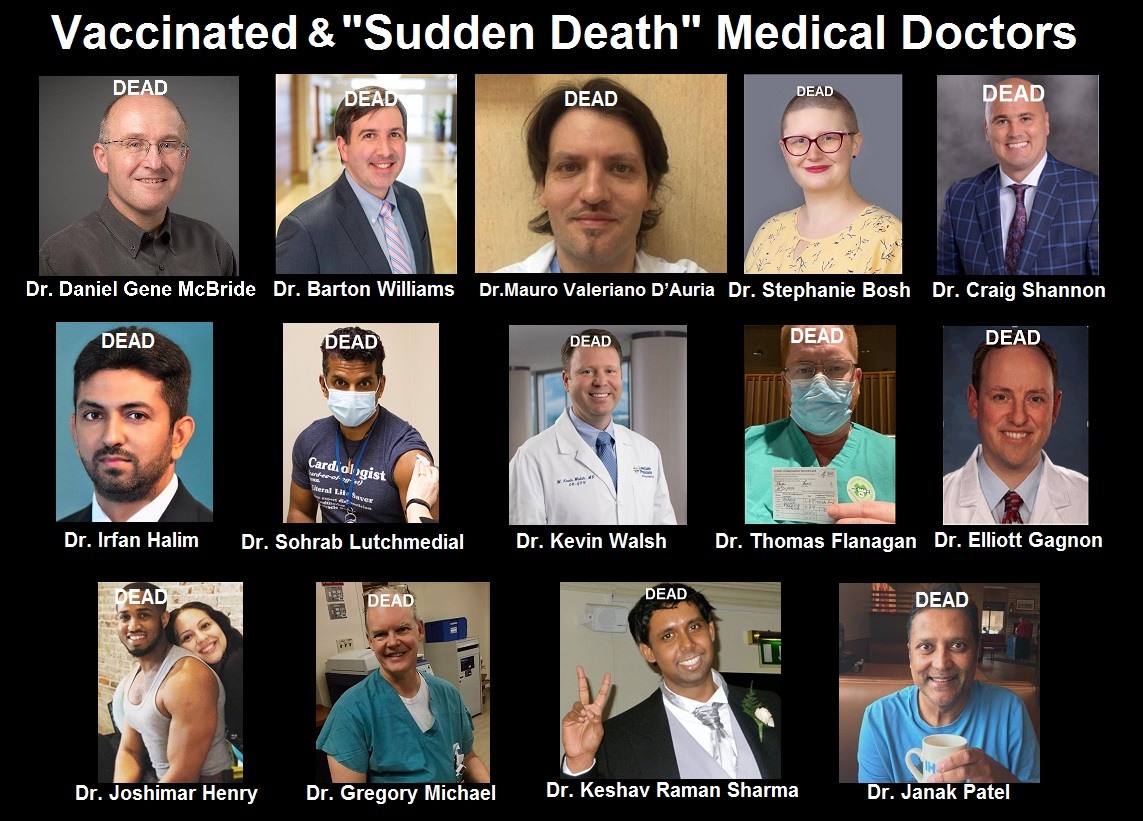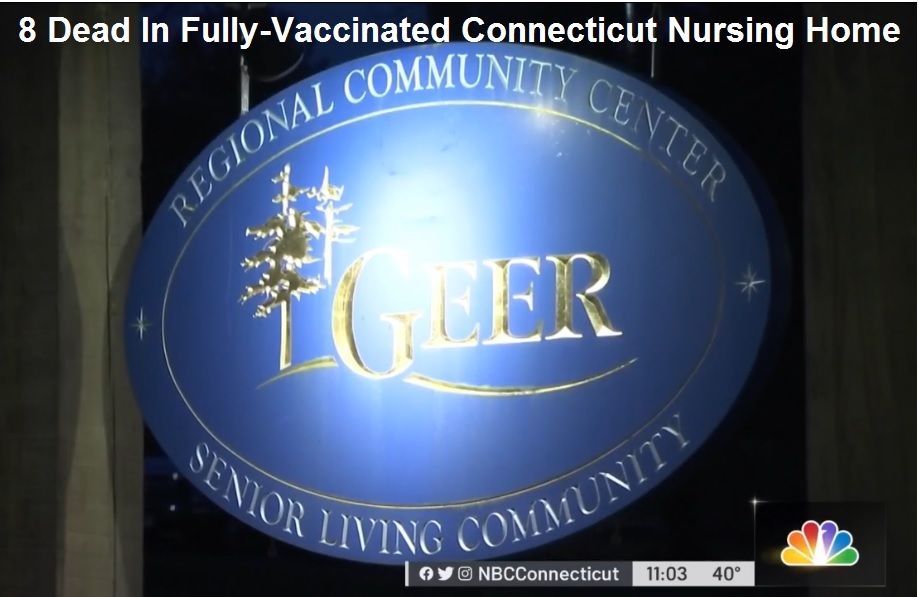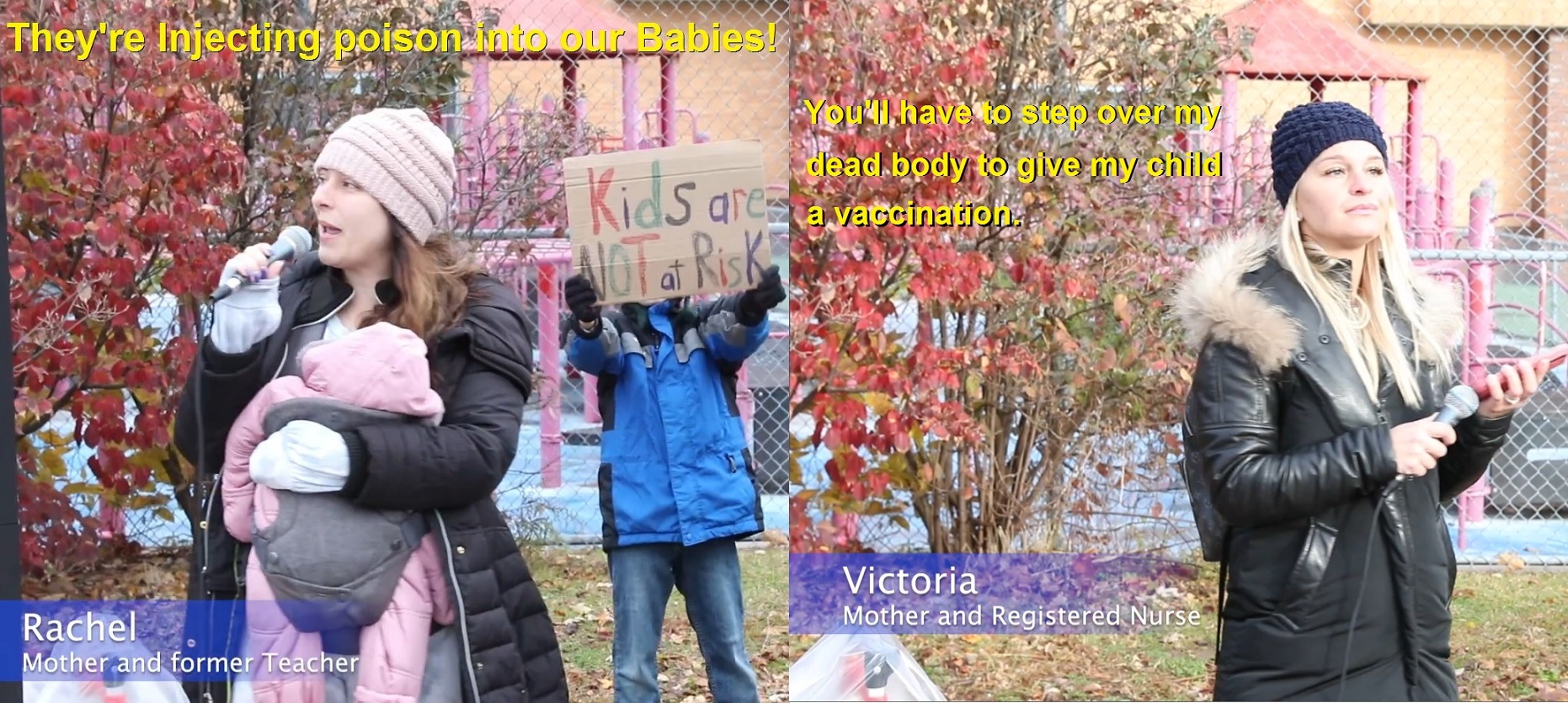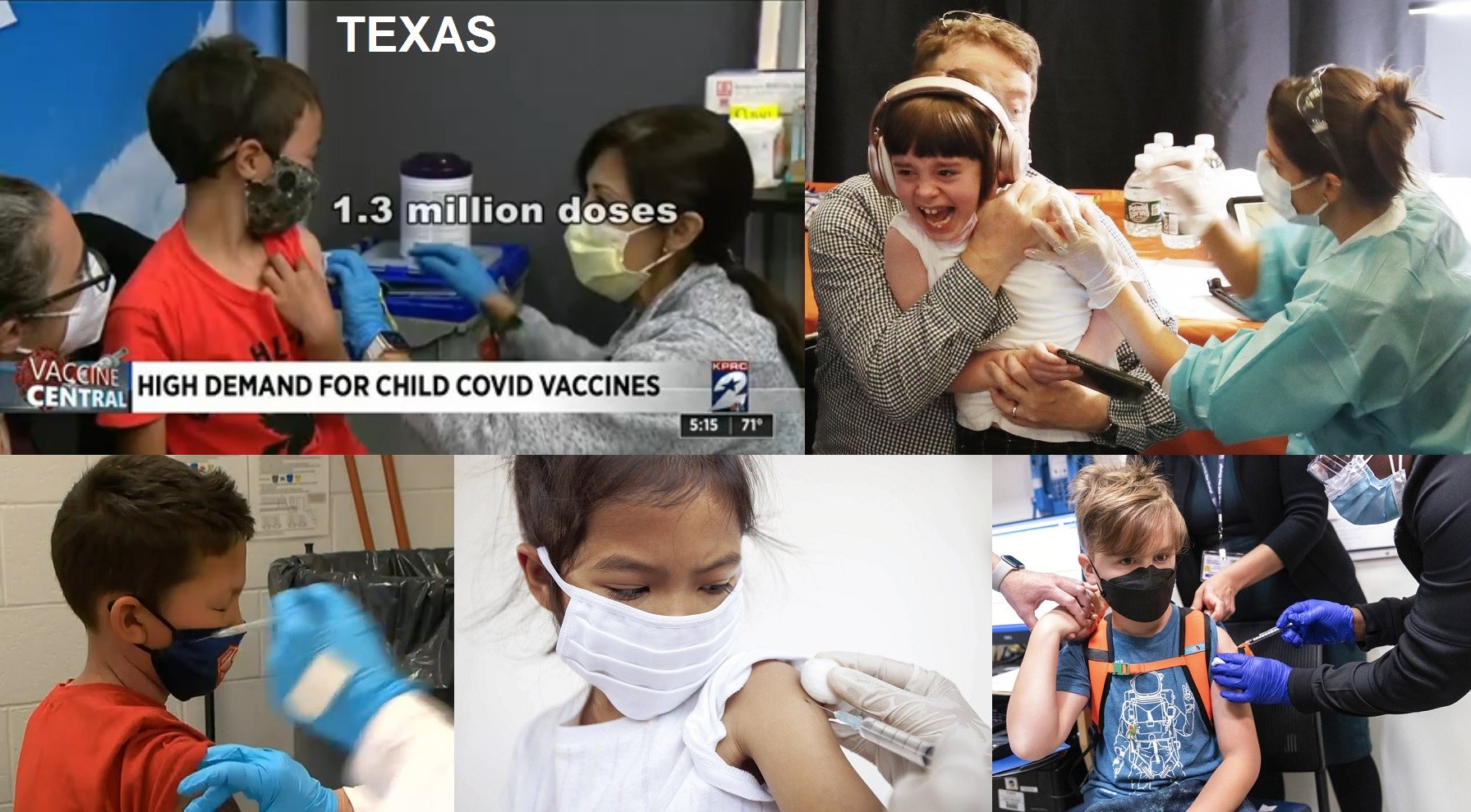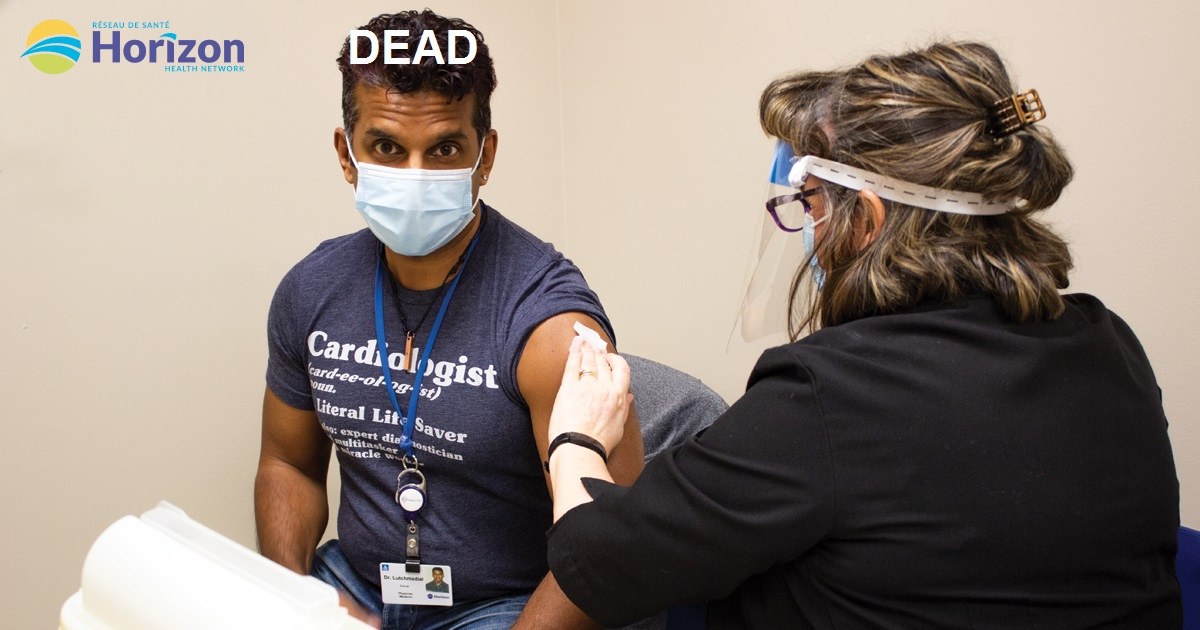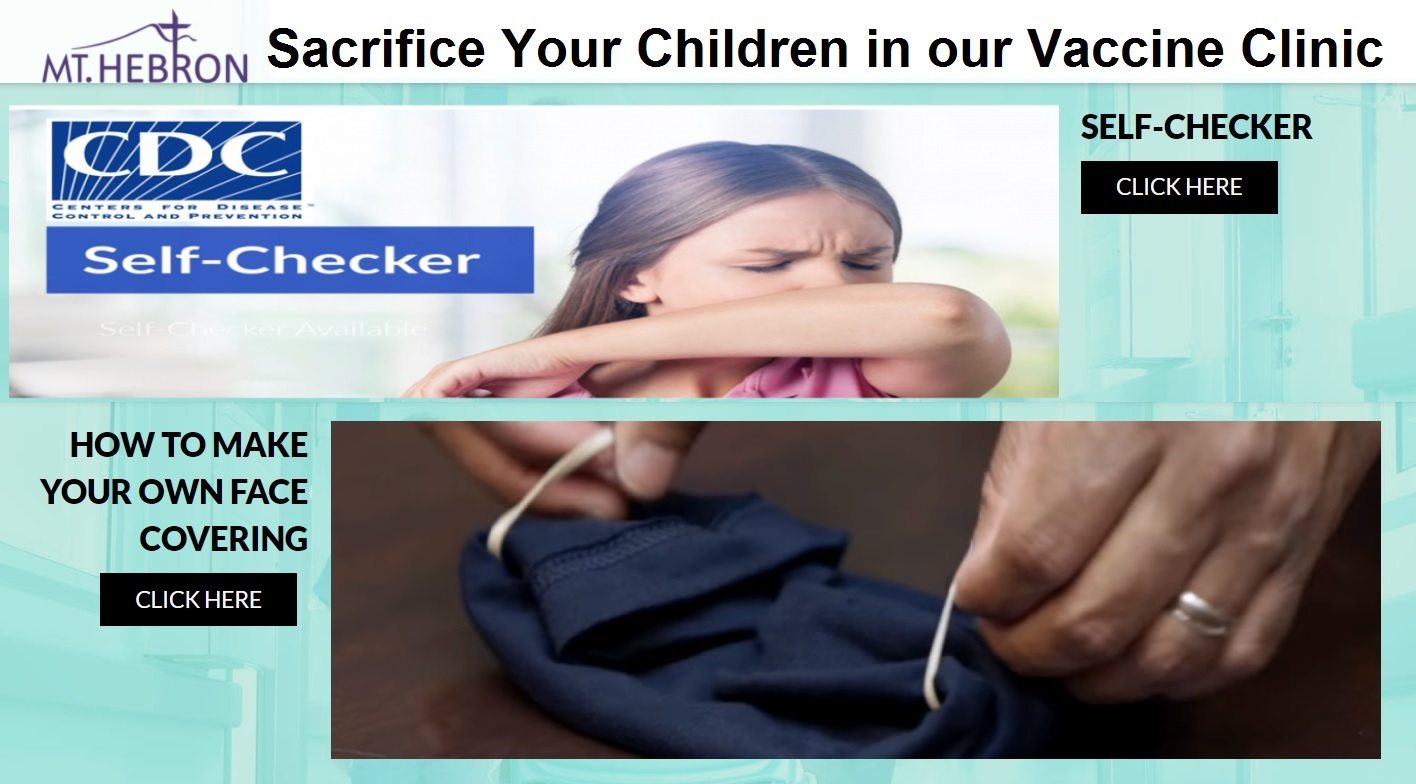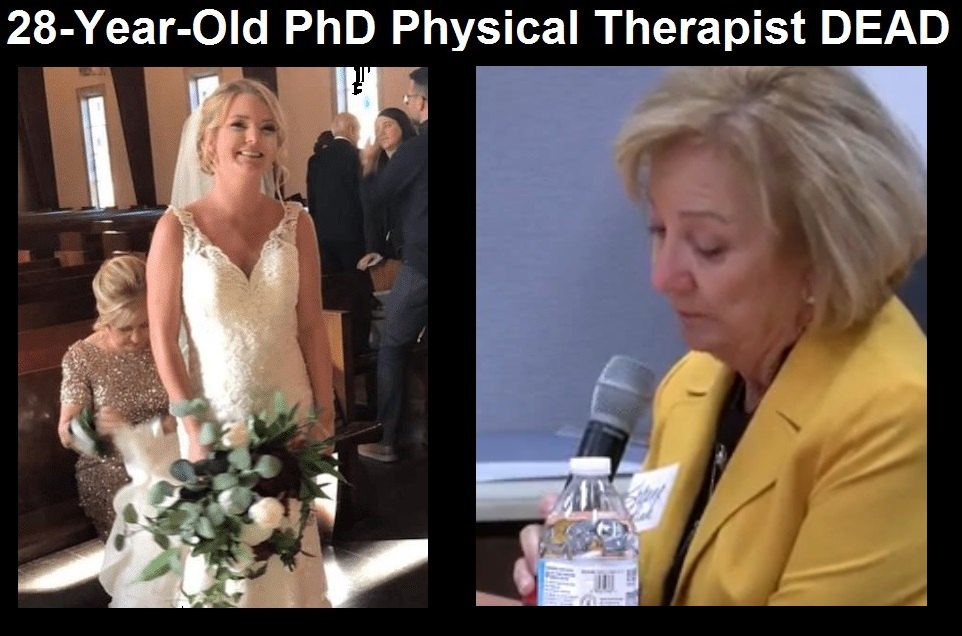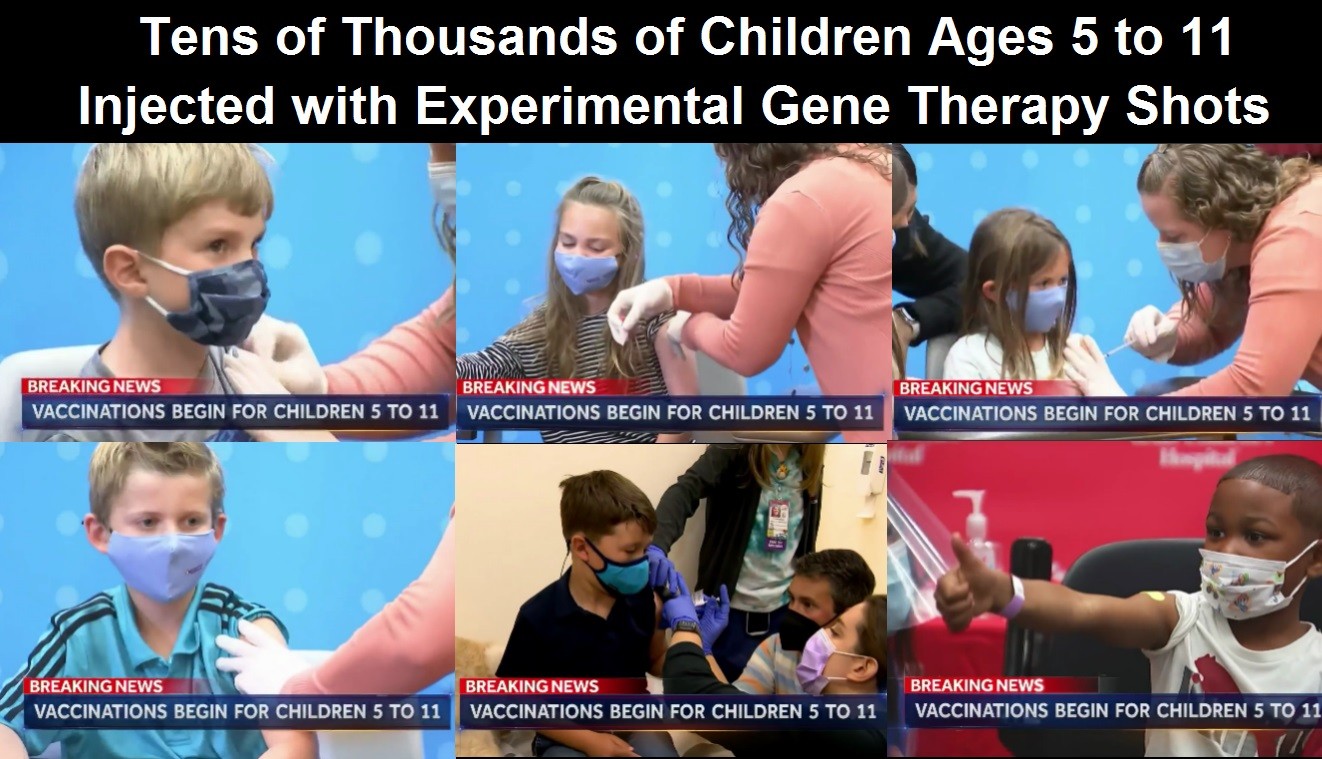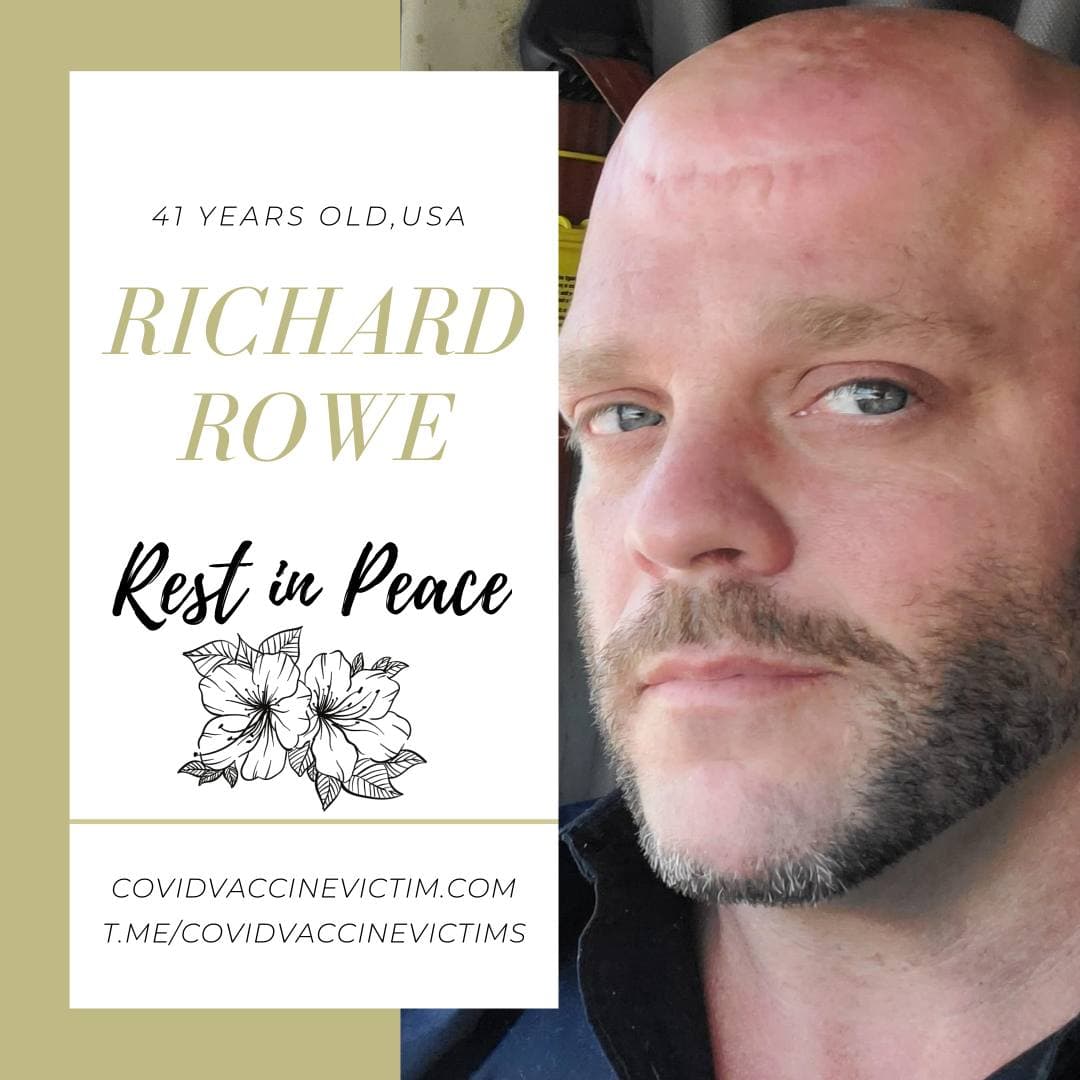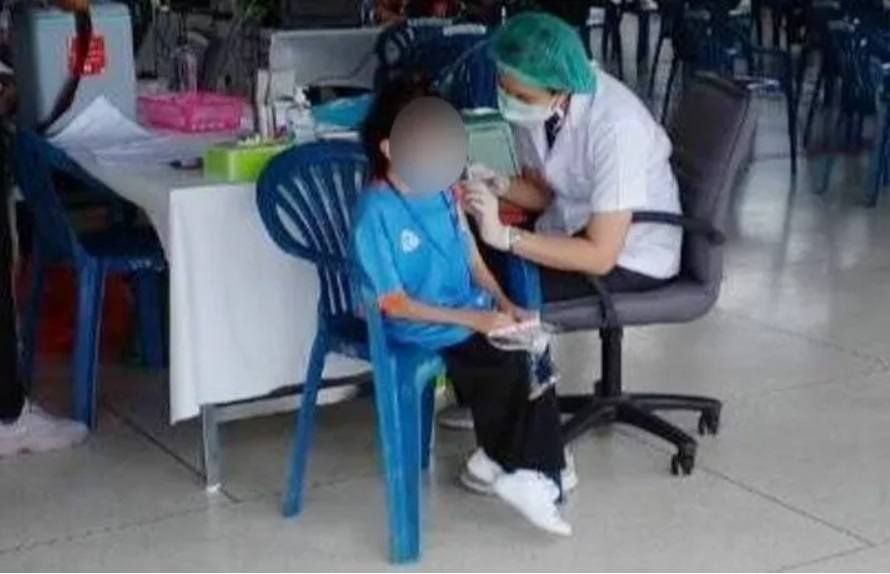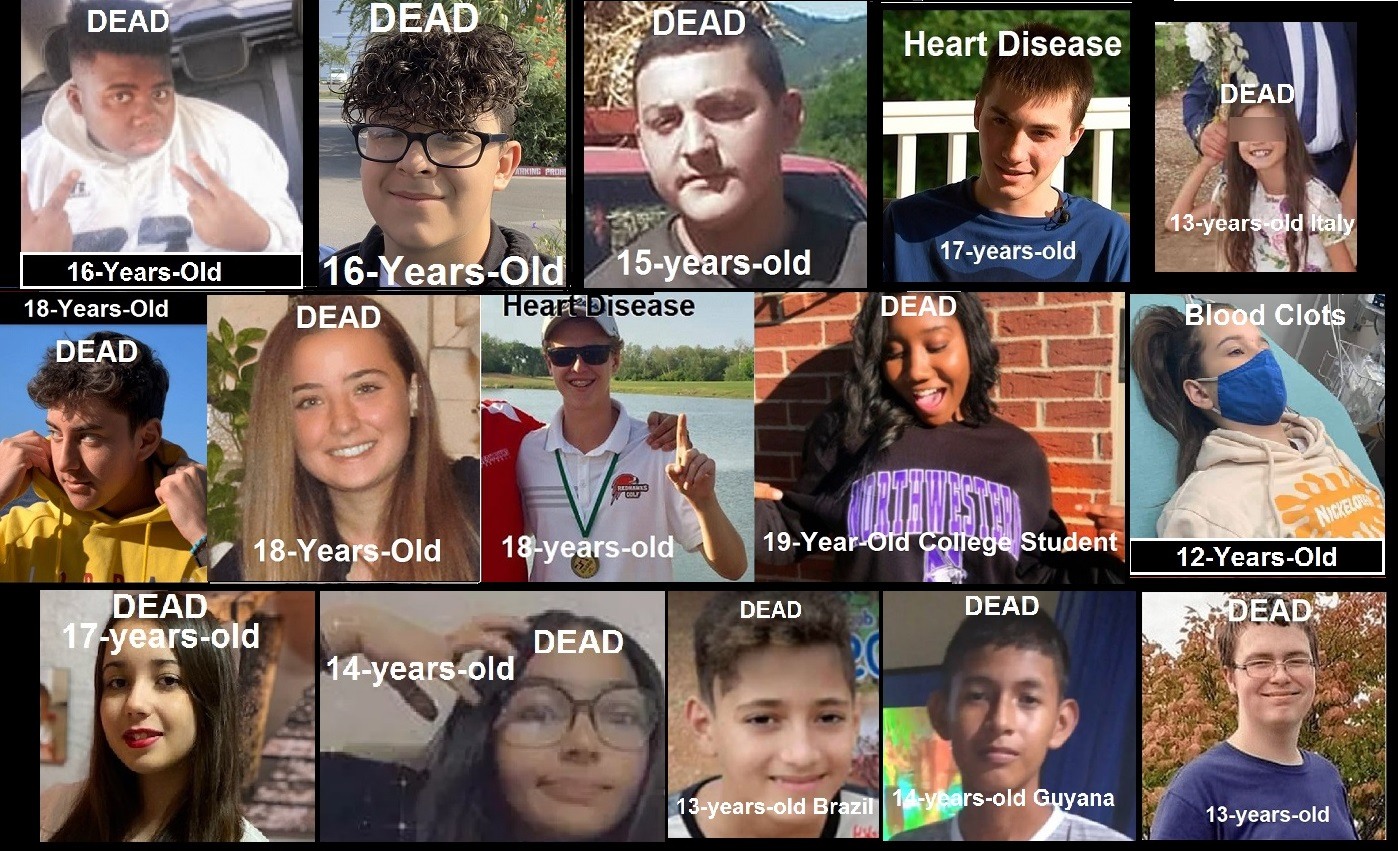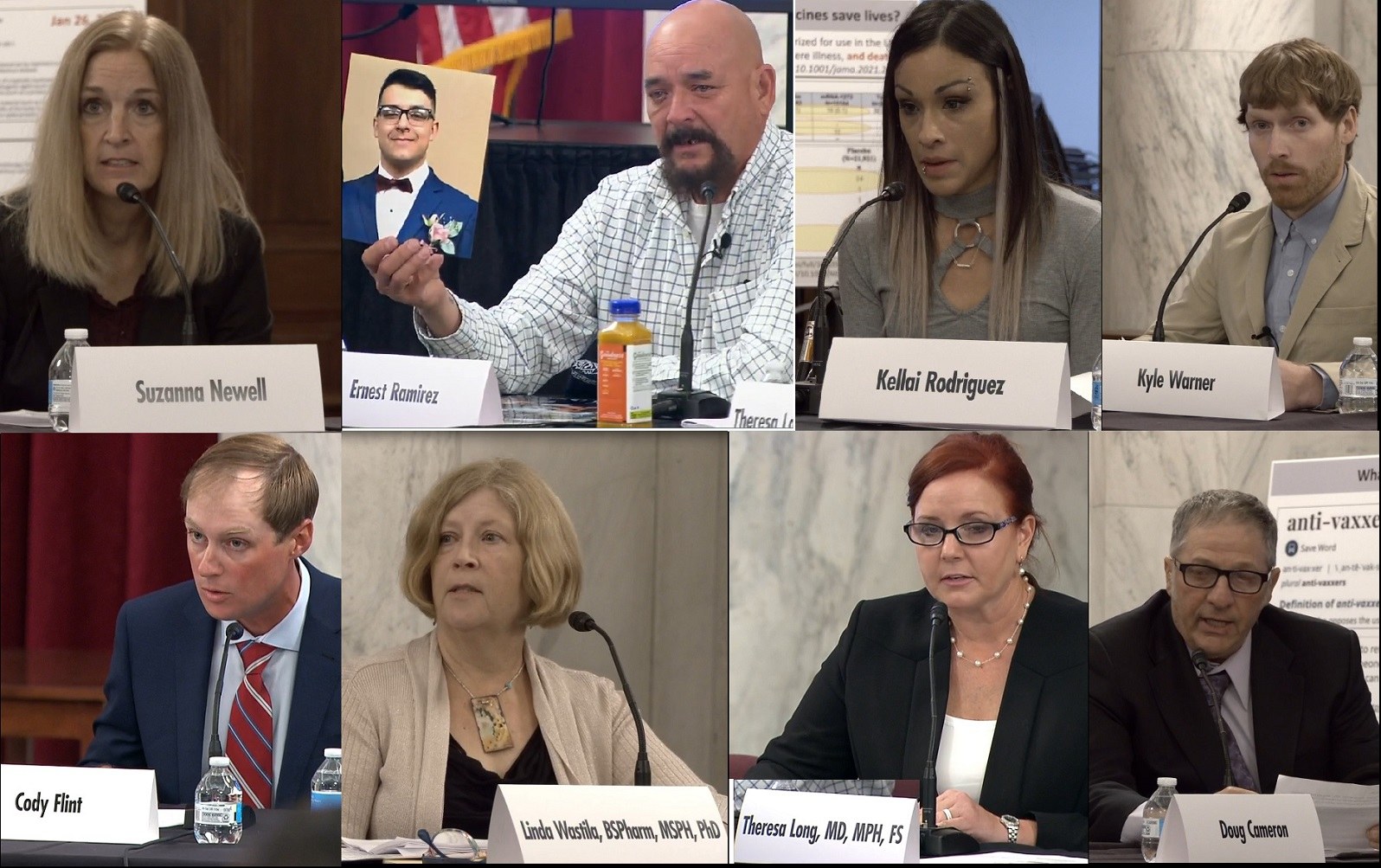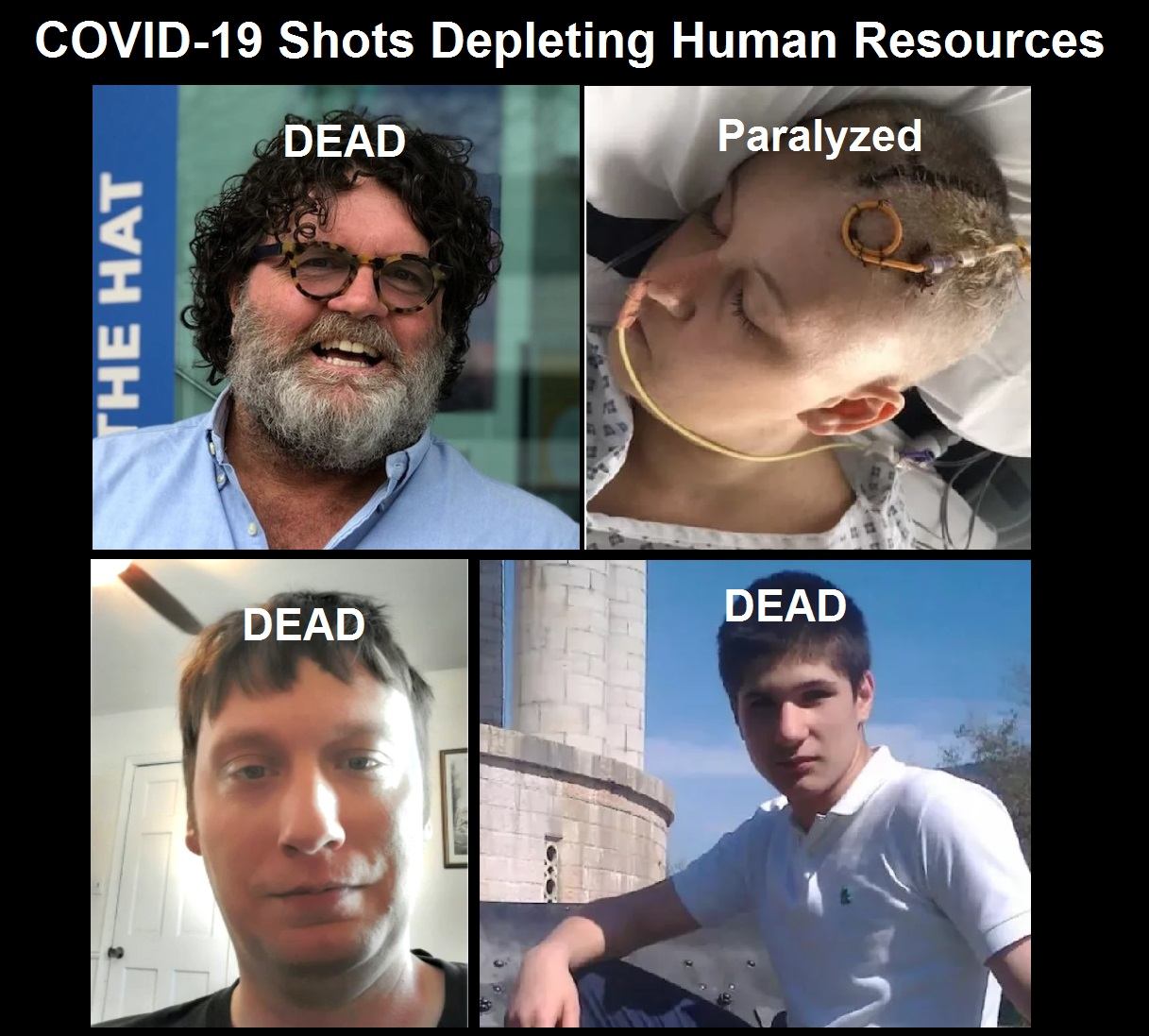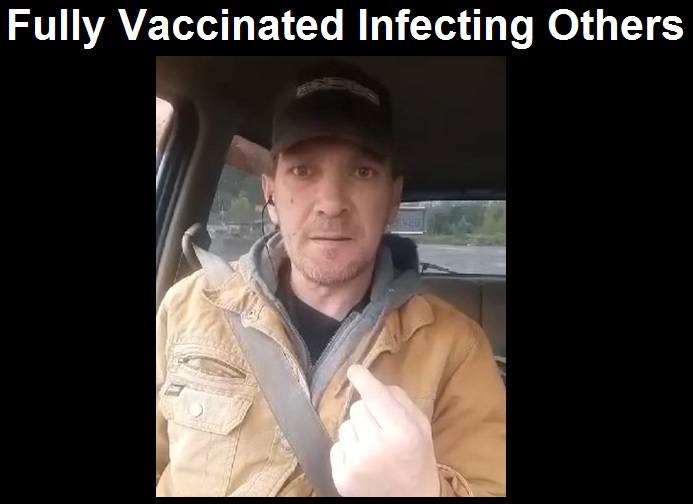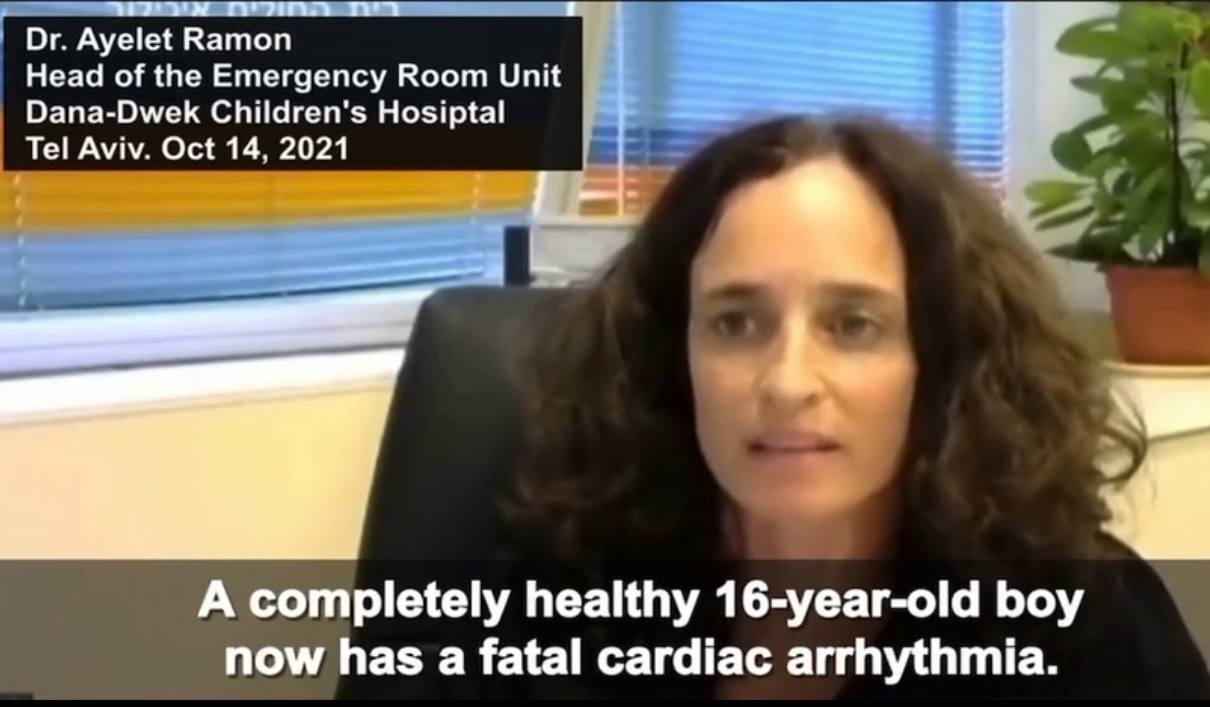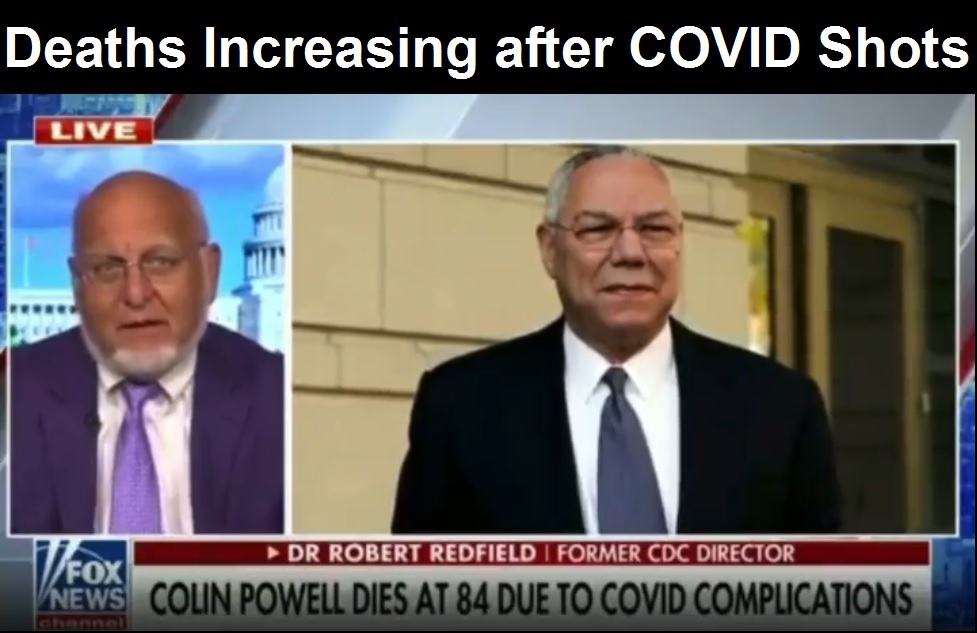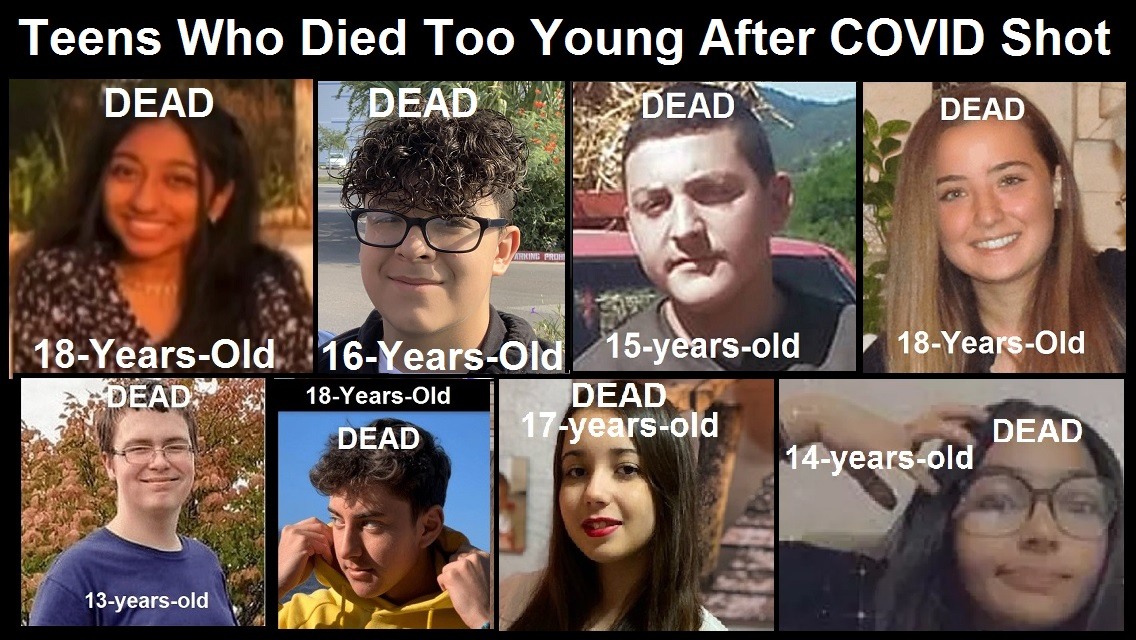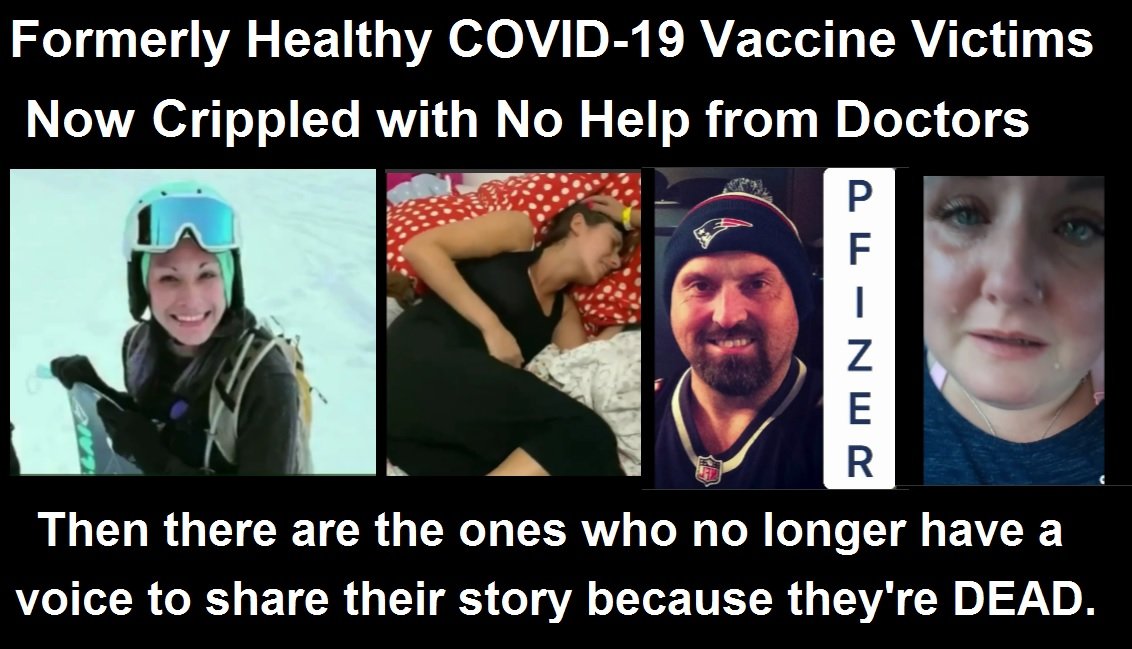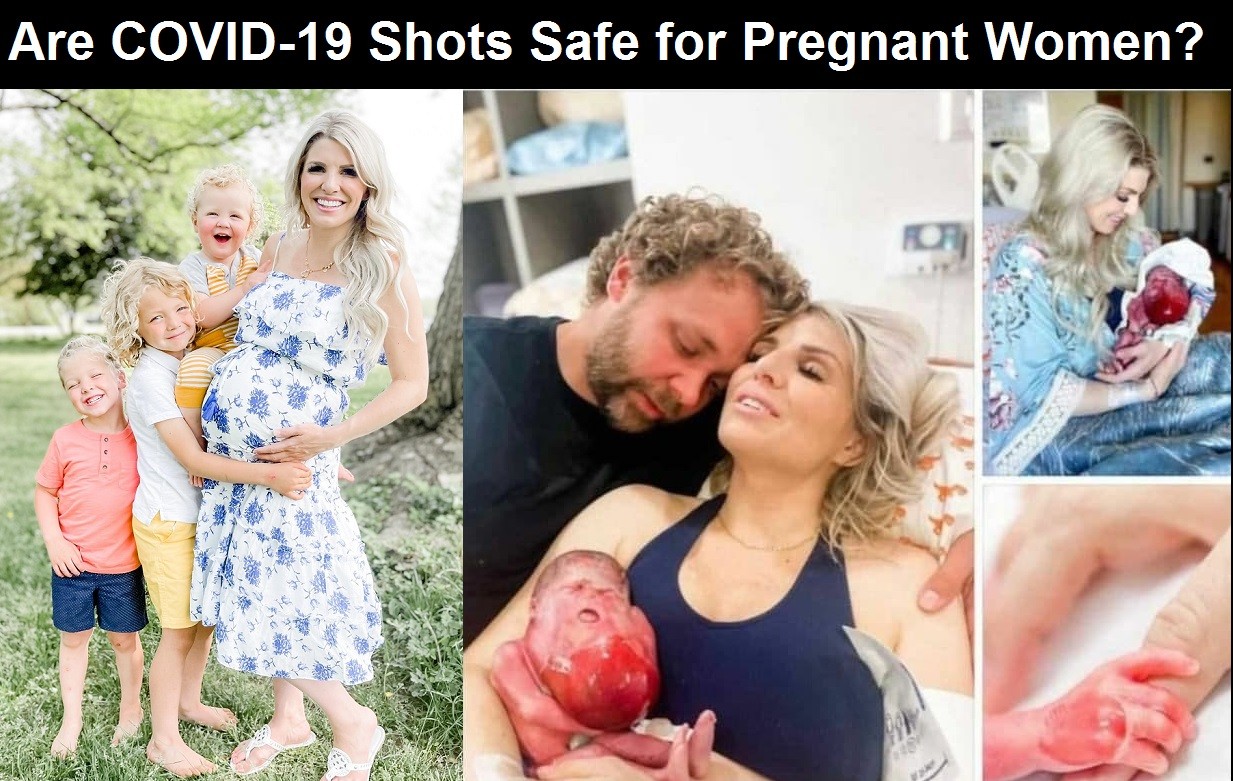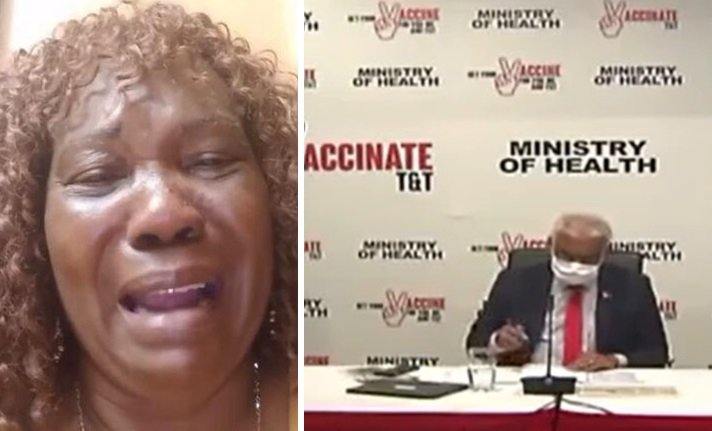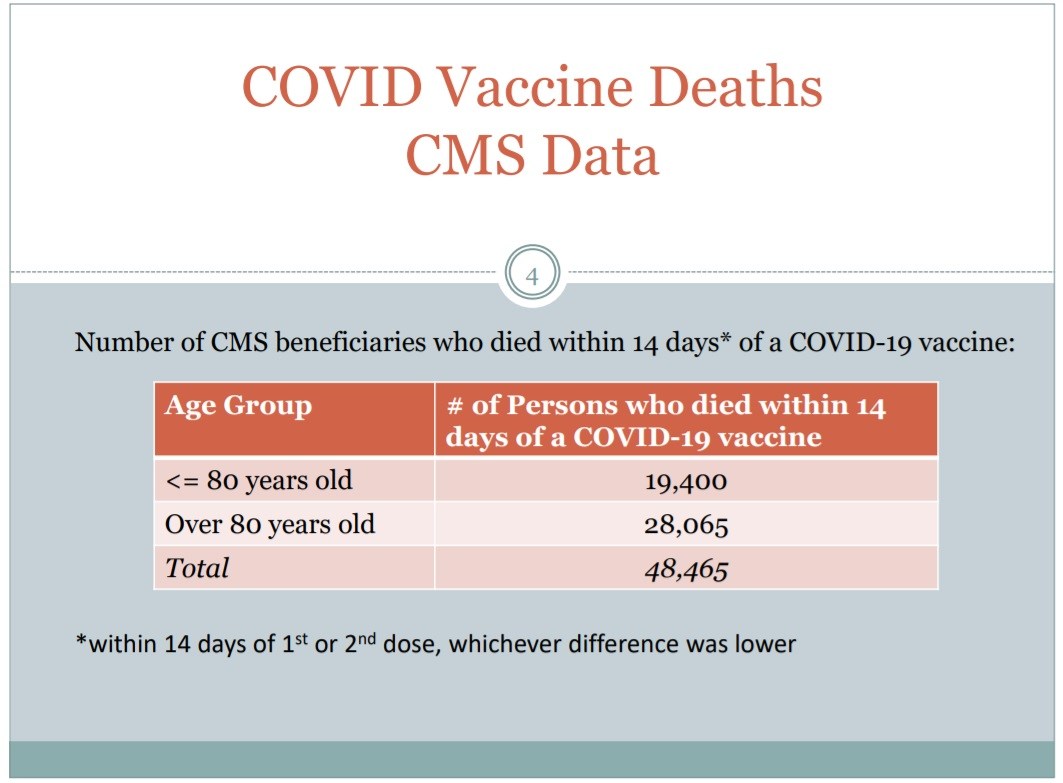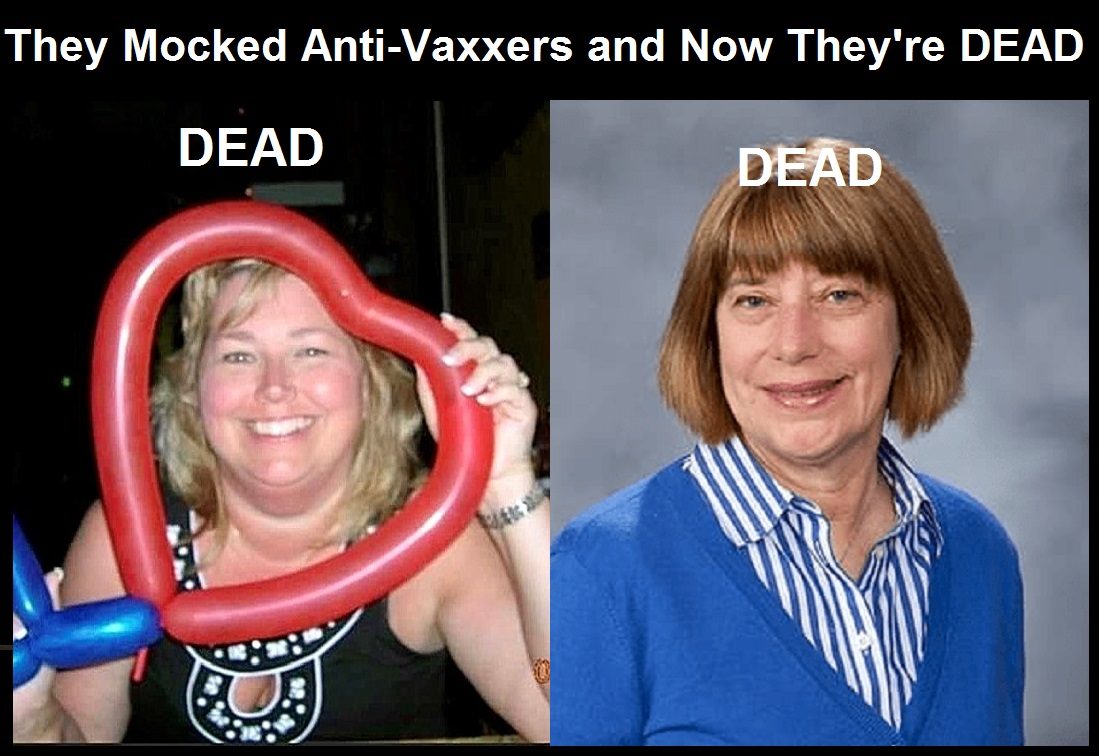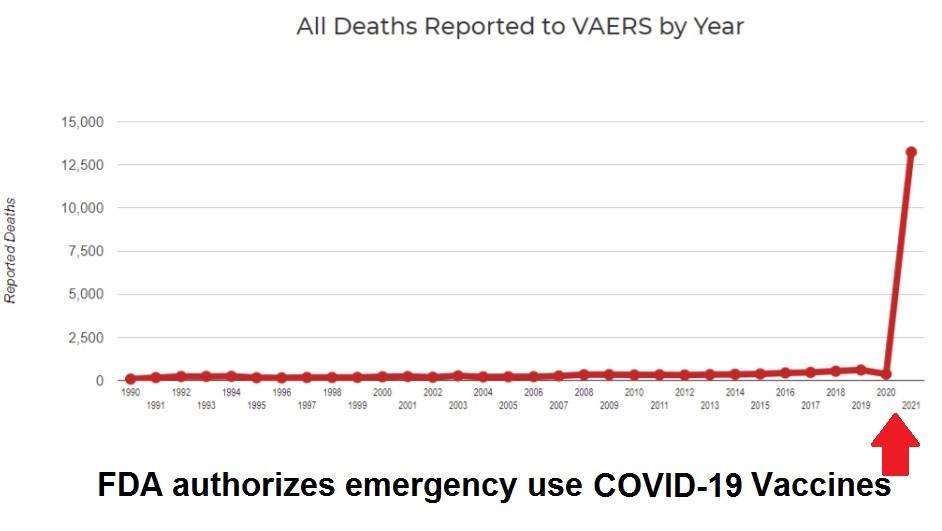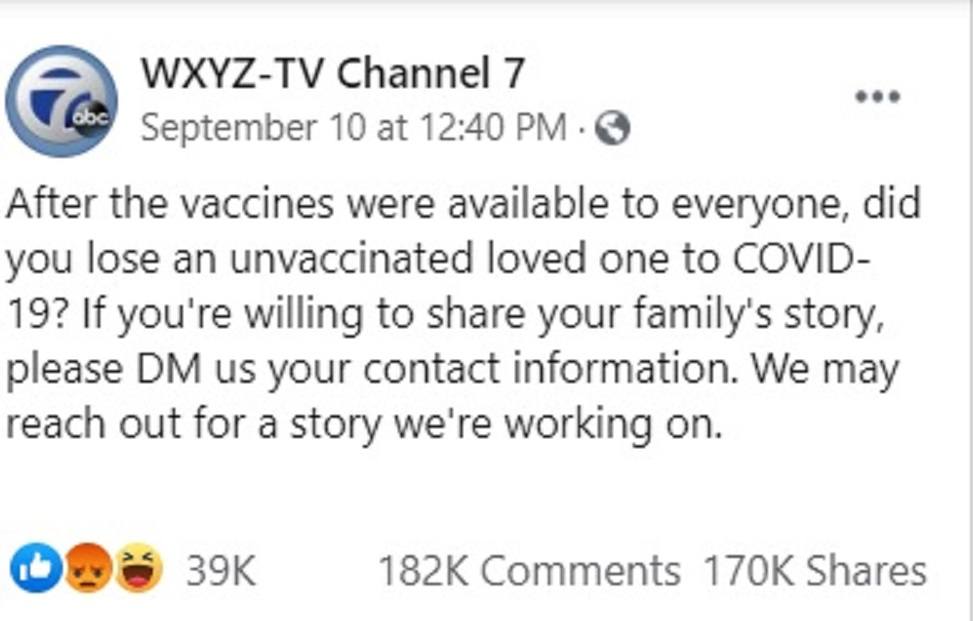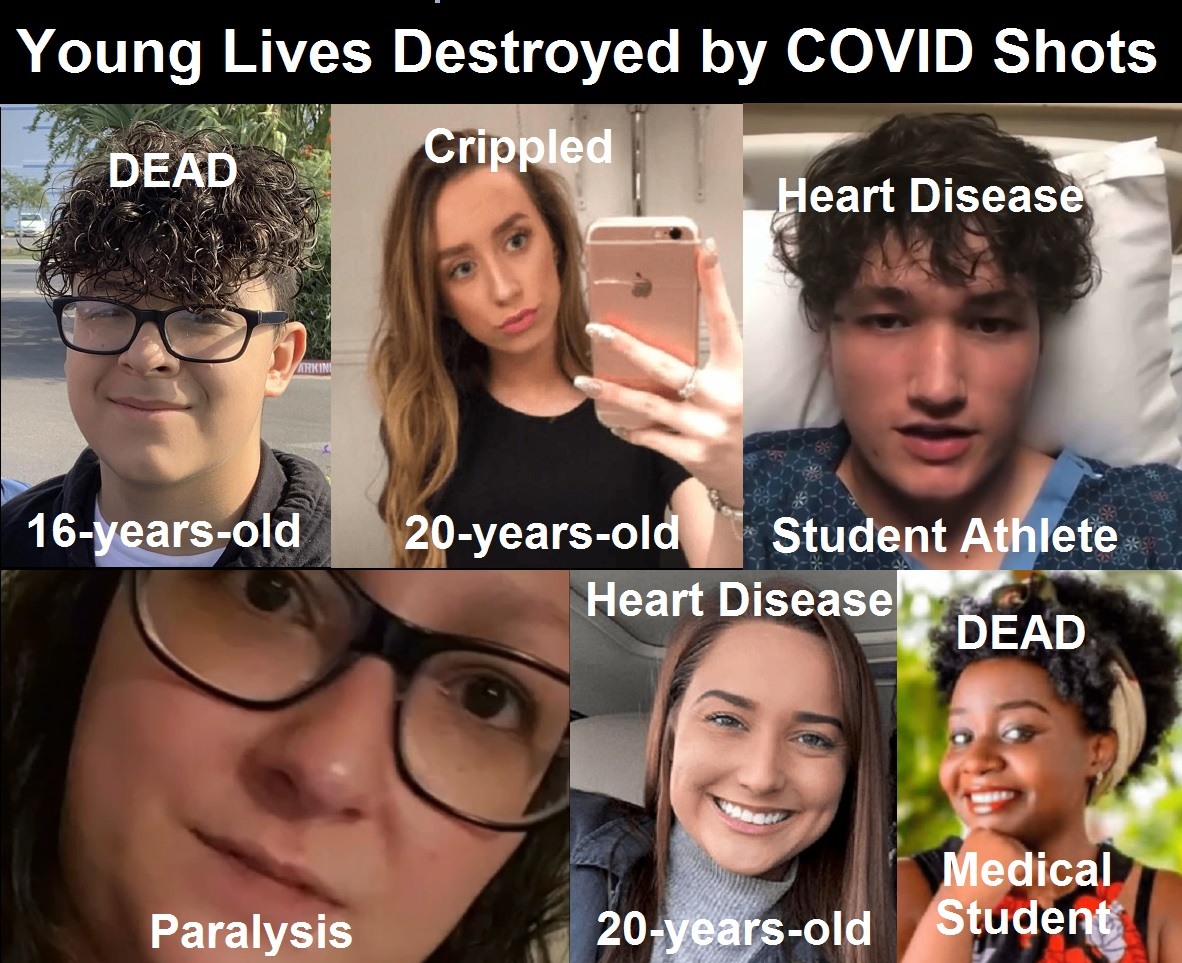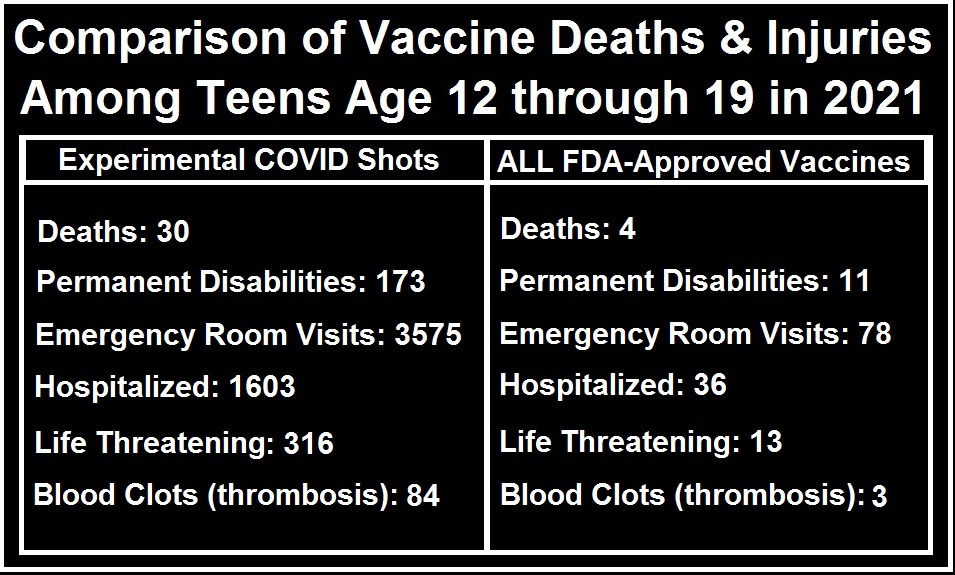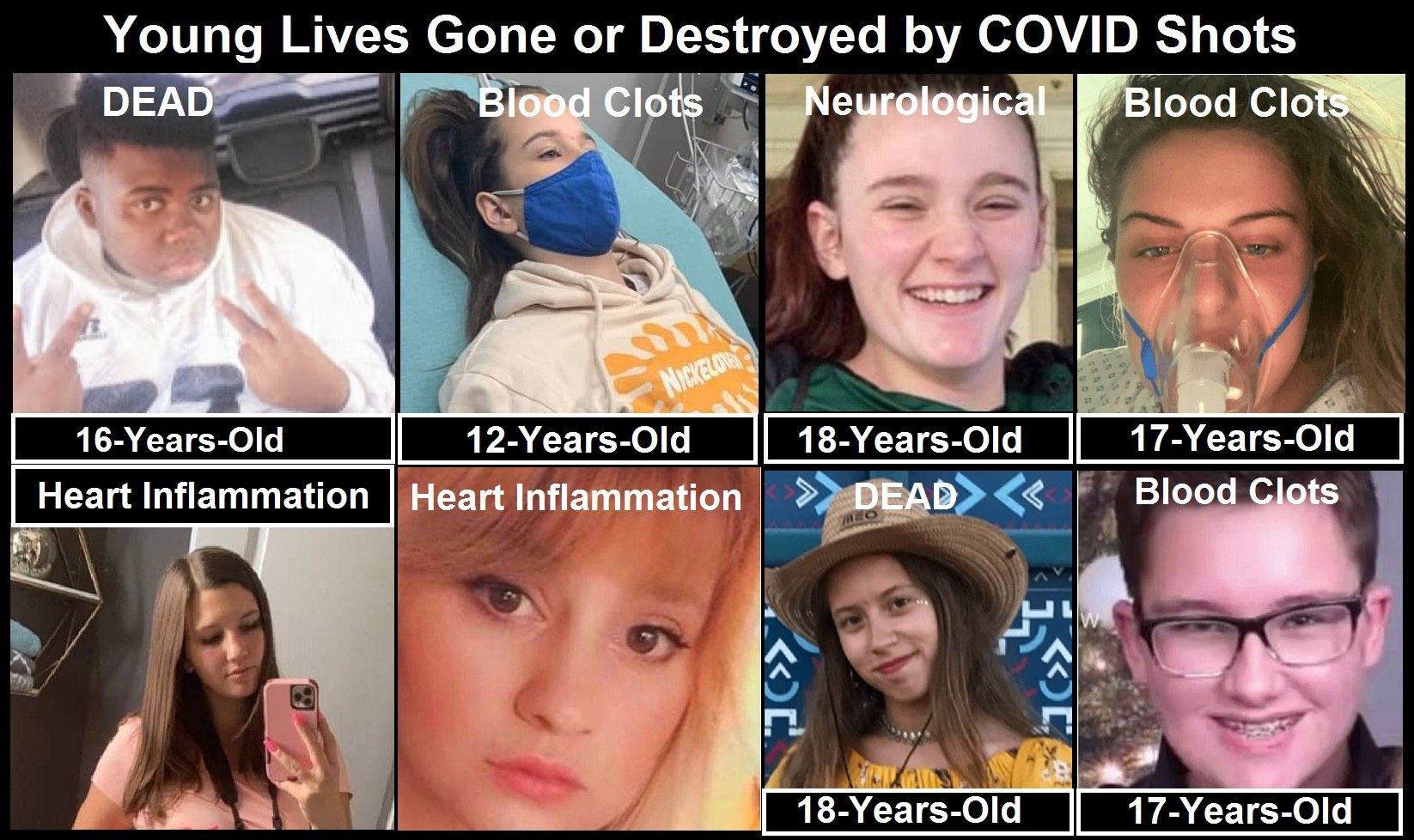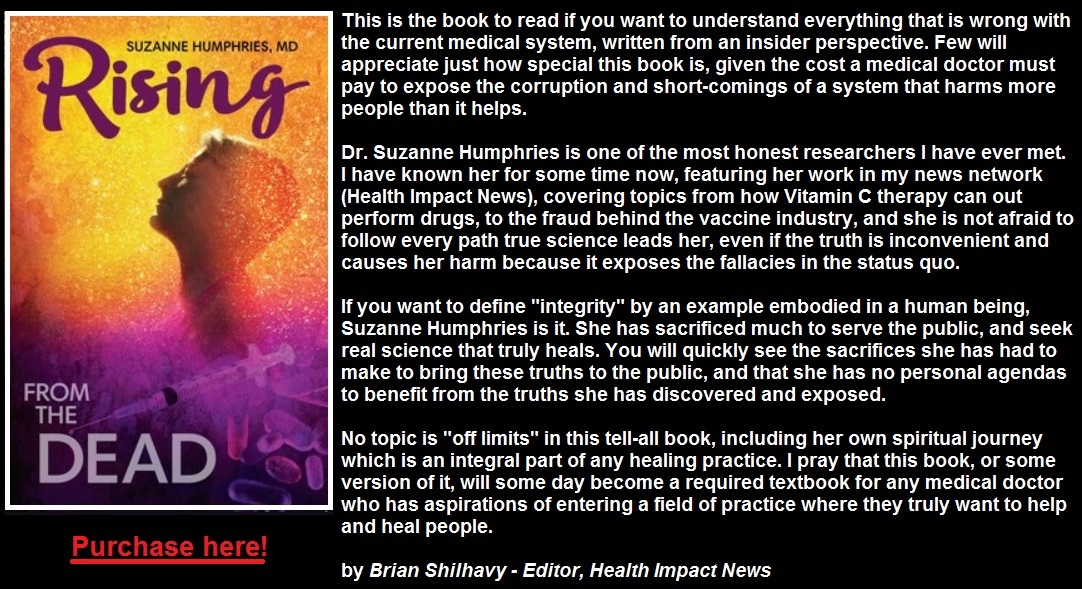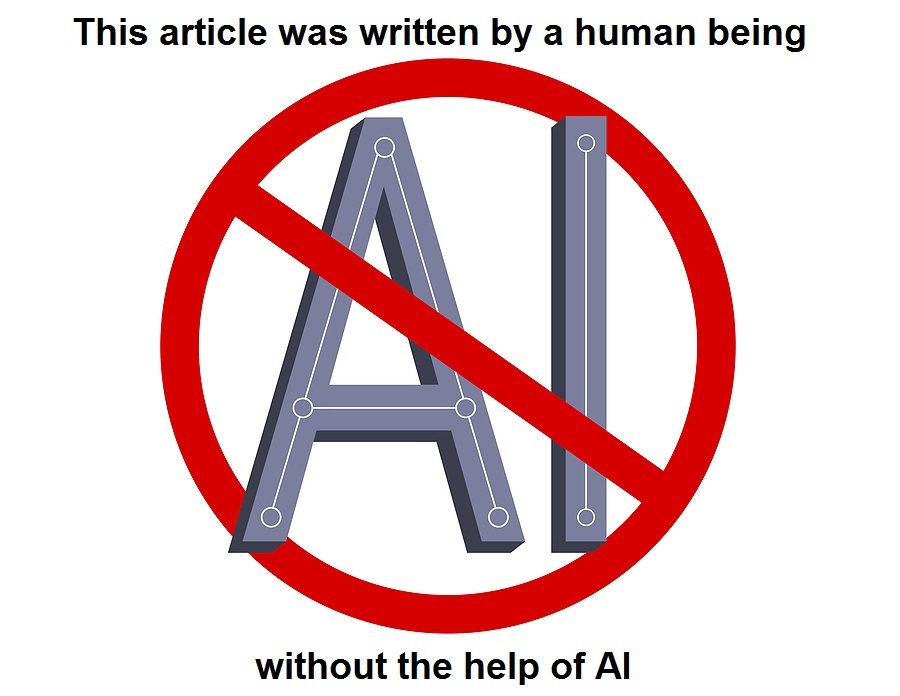 See Also:
Understand the Times We are Currently Living Through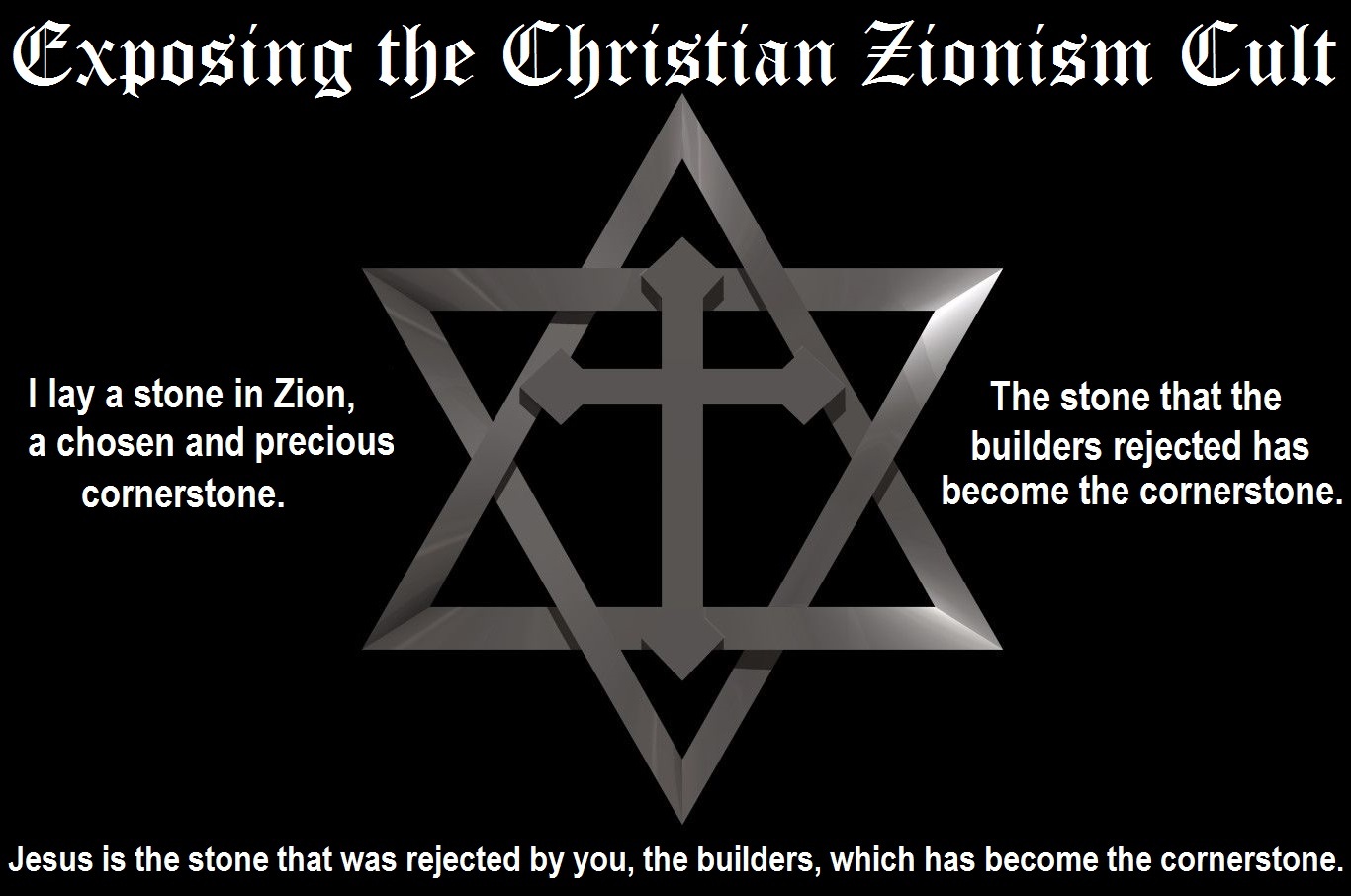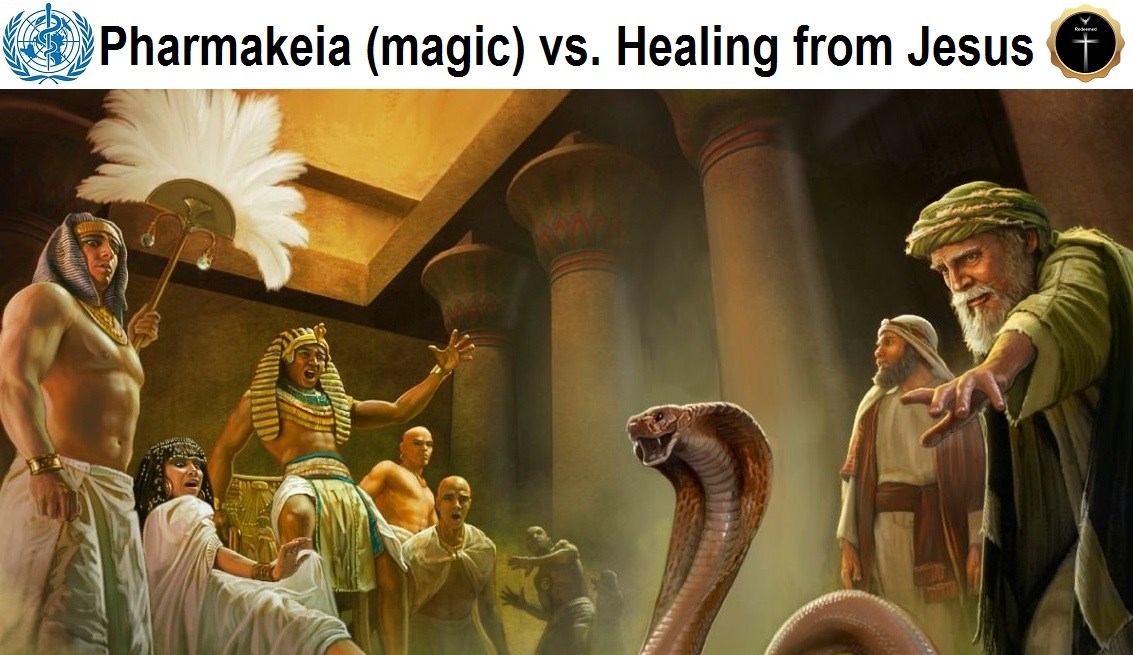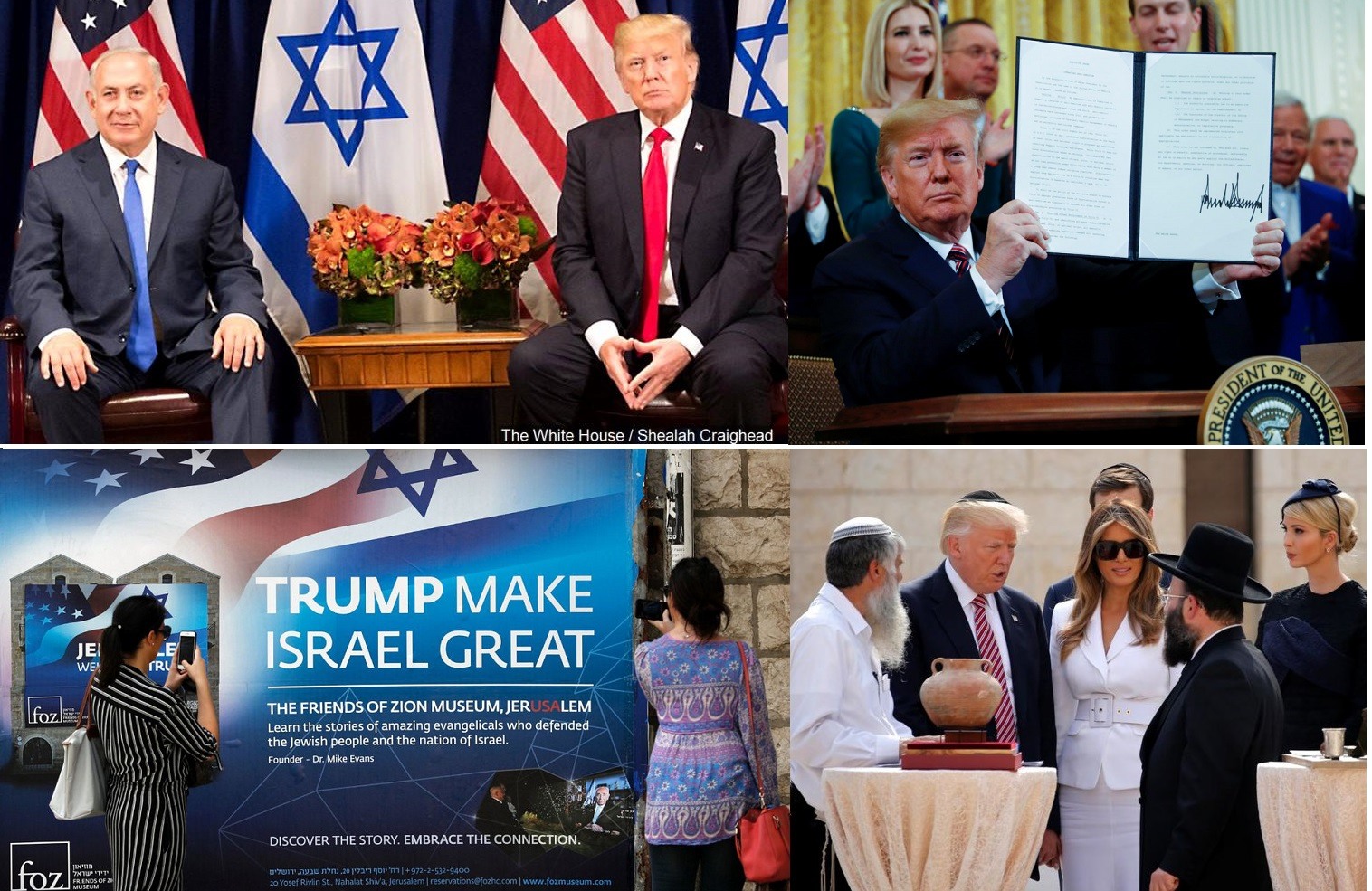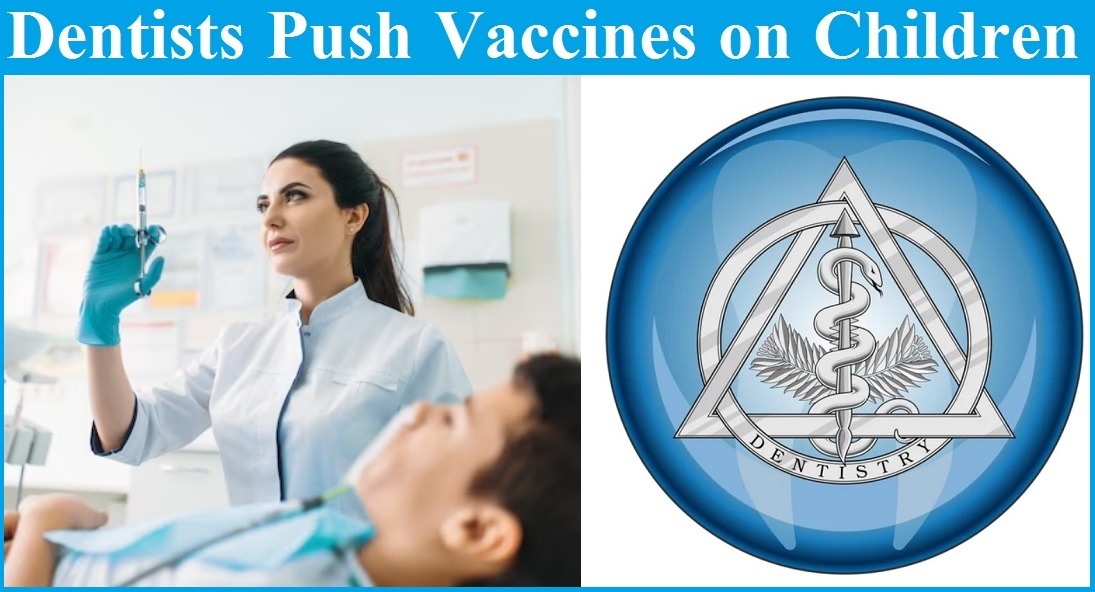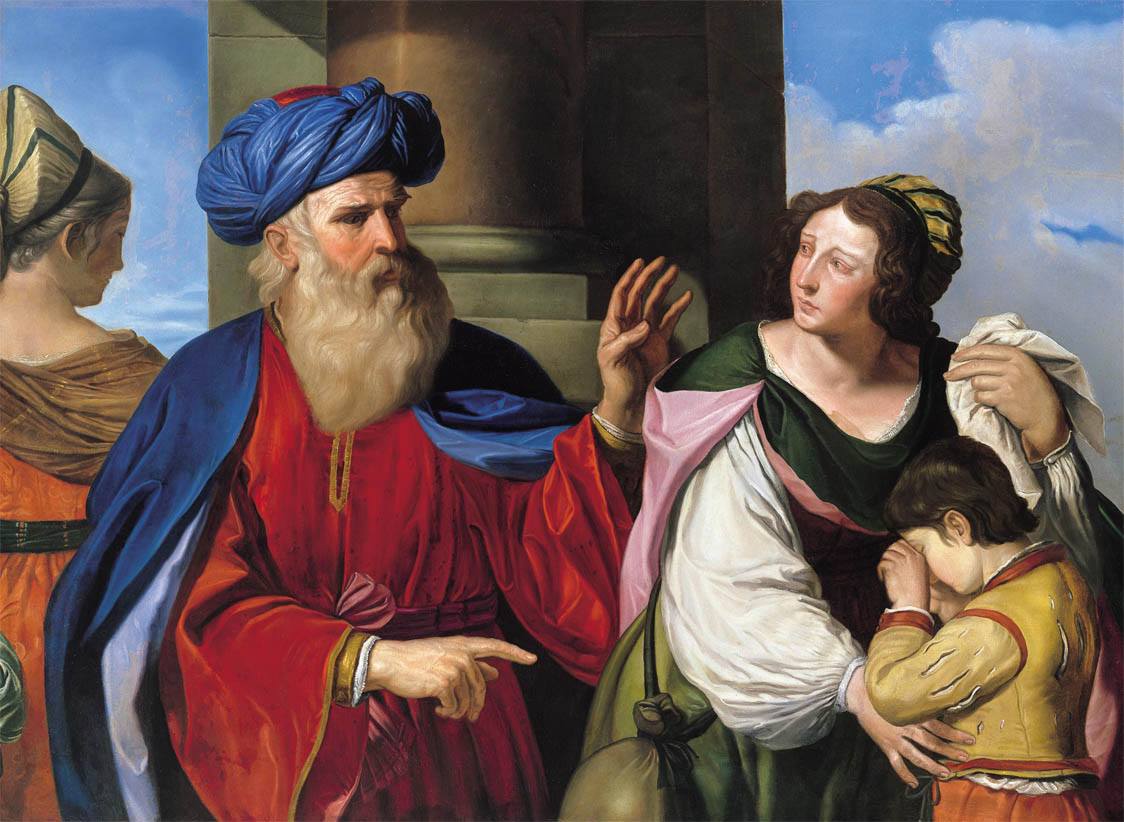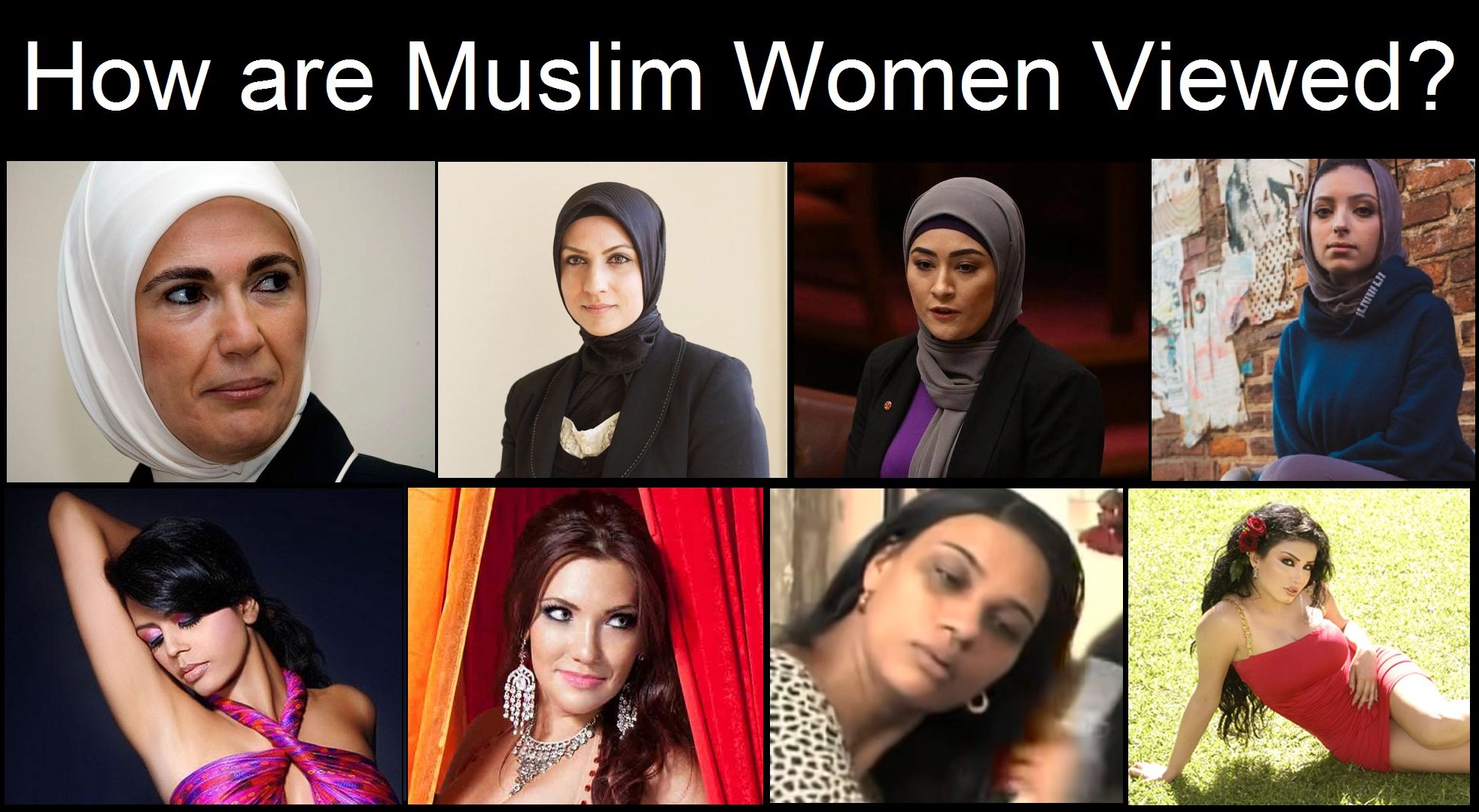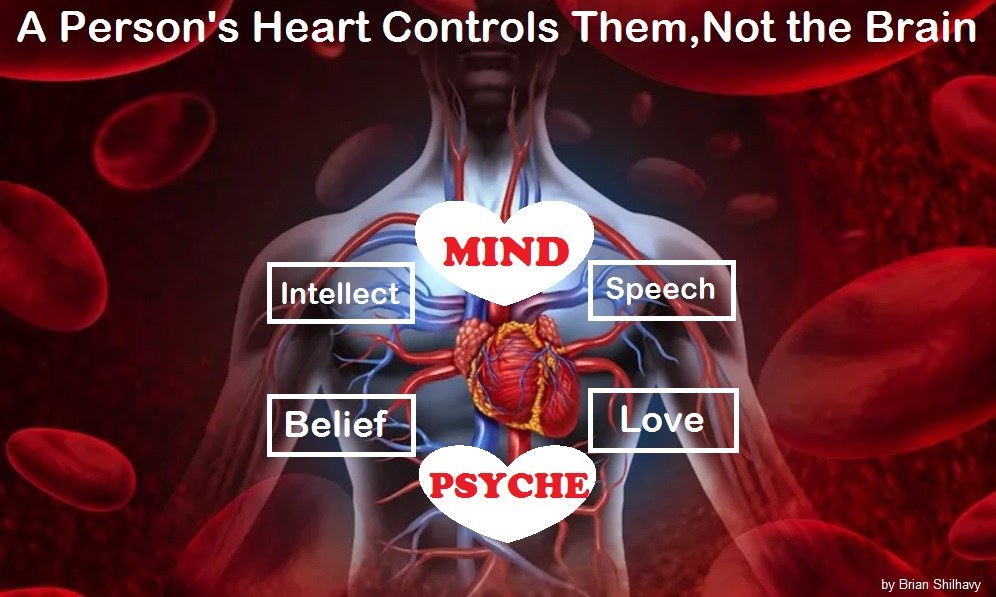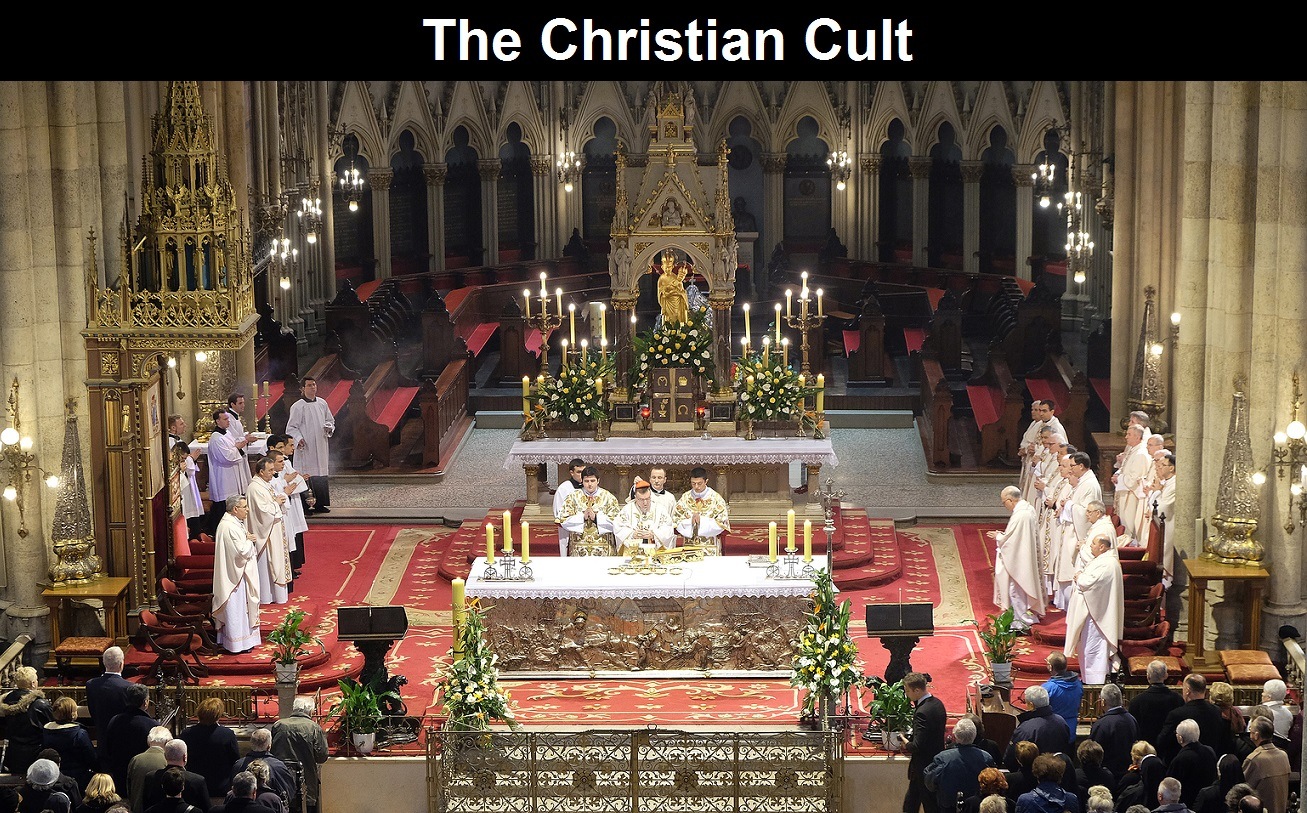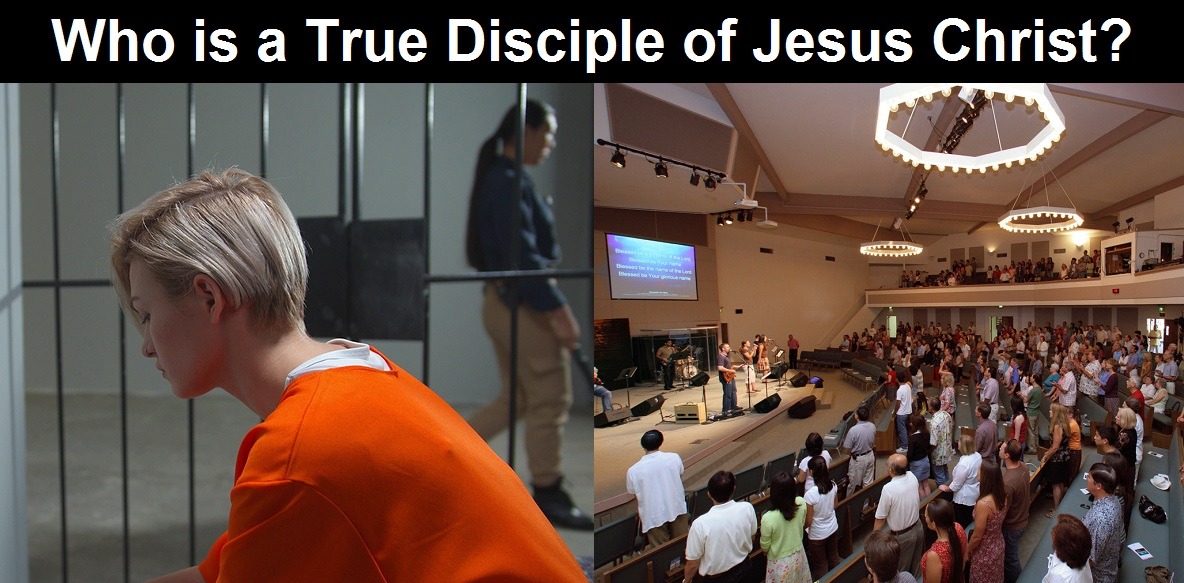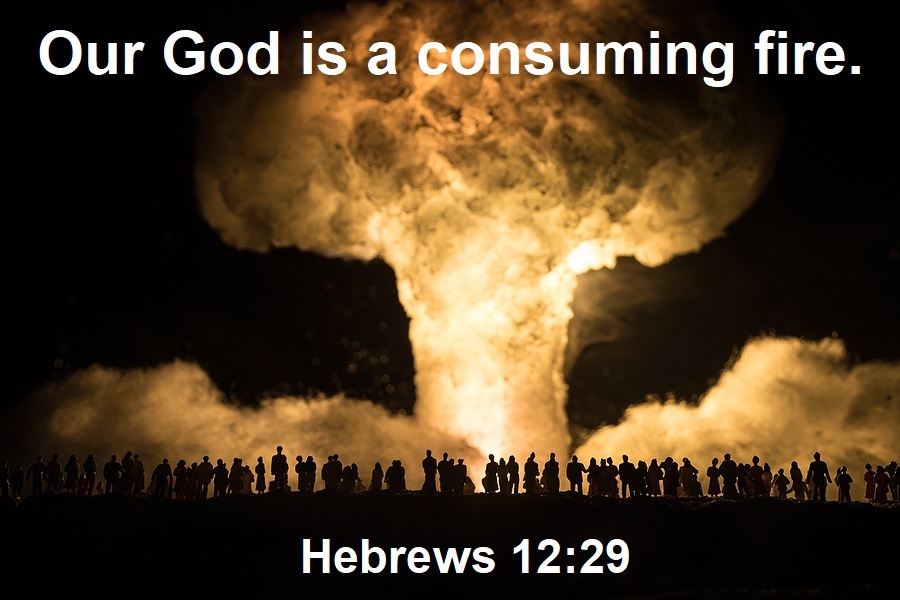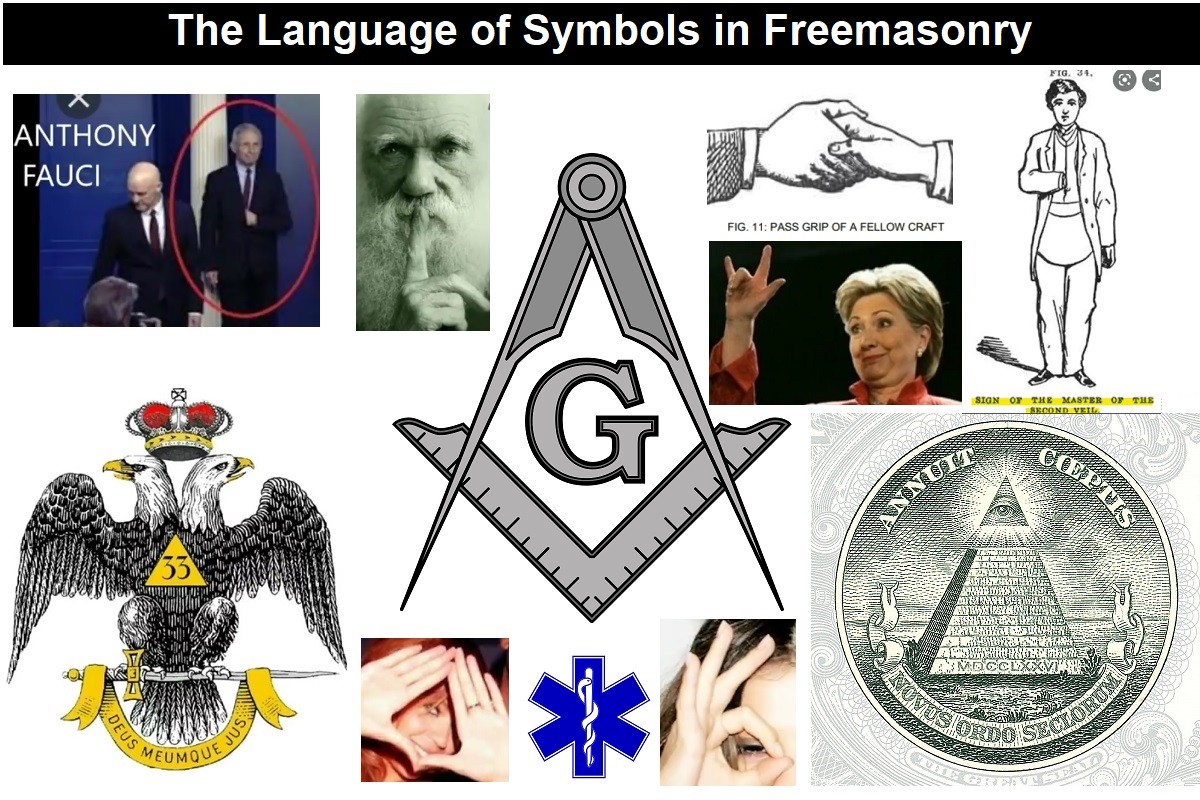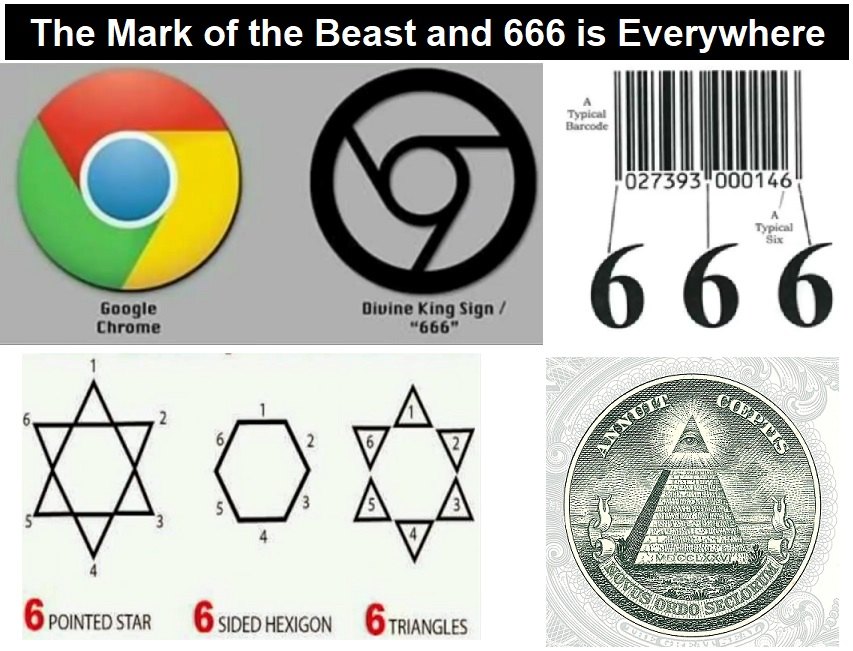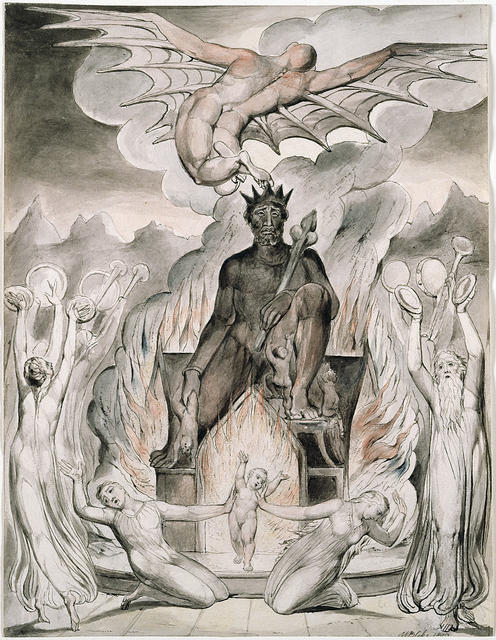 Having problems receiving our emails? See: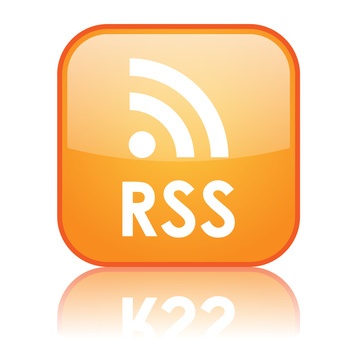 If our website is seized and shut down, find us on Telegram, as well as Bitchute and Odysee for further instructions about where to find us.
If you use the TOR Onion browser, here are the links and corresponding URLs to use in the TOR browser to find us on the Dark Web: Health Impact News, Vaccine Impact, Medical Kidnap, Created4Health, CoconutOil.com.
Published on May 26, 2021