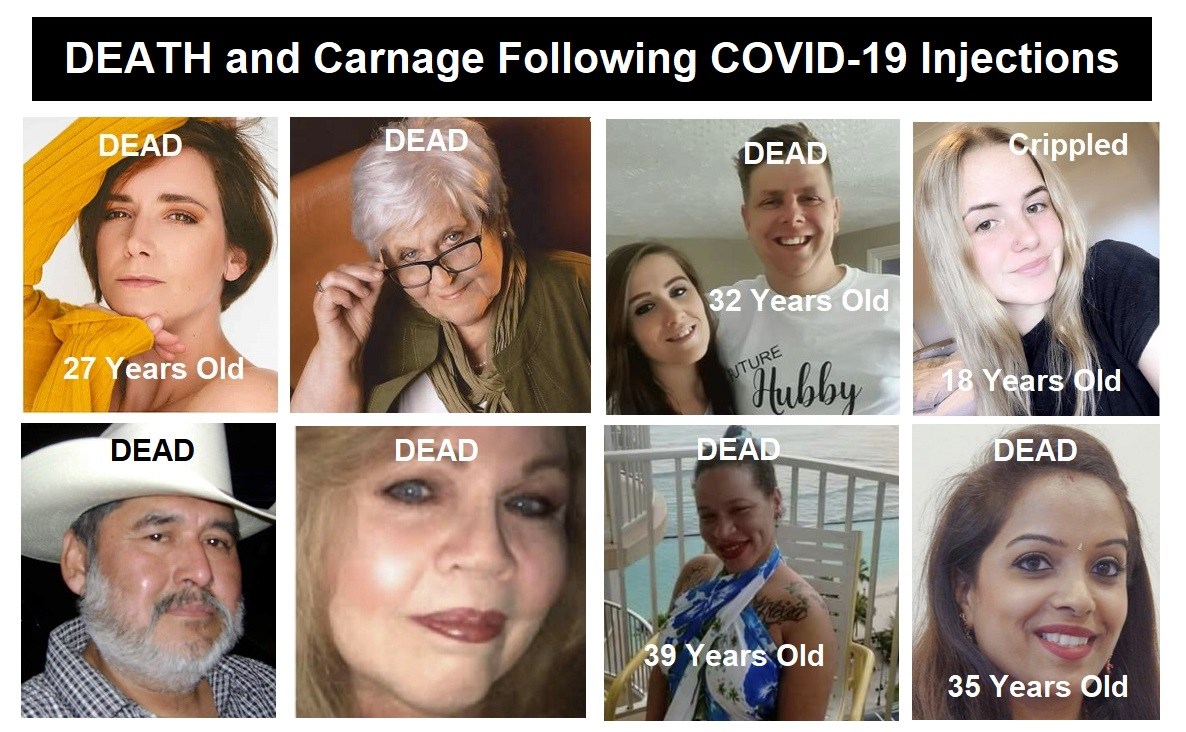 by Brian Shilhavy
Editor, Health Impact News
We are continuing to put names and faces on the statistics of those who have died or had their lives destroyed after taking one of the COVID-19 injections, which are now known to be bioweapons designed by Eugenicists to reduce the world's population.
As horrible as these stories are, just wait, because it is going to get much worse in the days and weeks ahead as these group photos will soon include children aged 12 to 15.
Here are the stories of 8 people who leave behind grieving families because they trusted the health dictators and took one of the shots.
27 Year Old Model Stephanie Dubois Dies After AstraZeneca Vaccine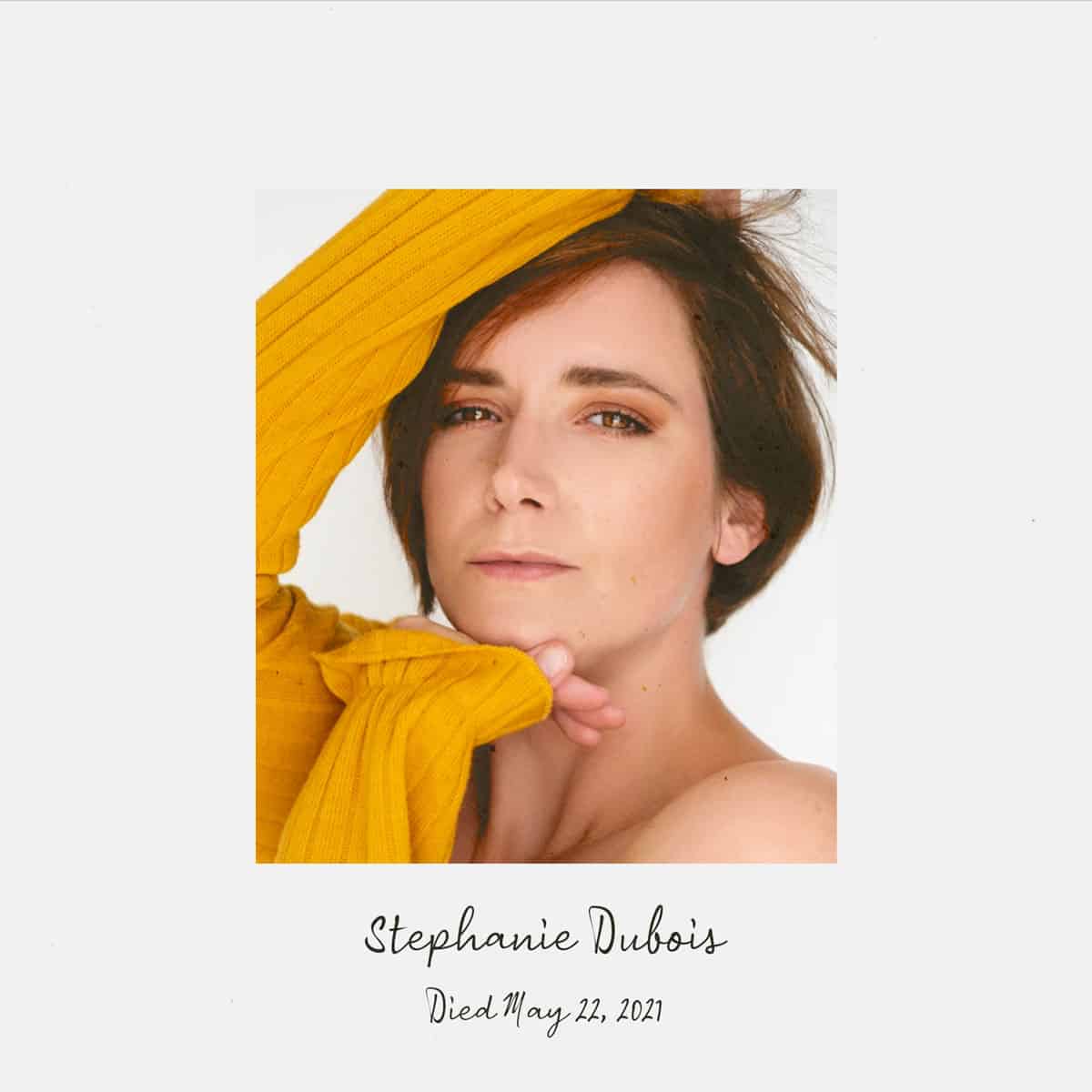 UK based freelance model Stephanie Dubois who lived also in Cyprus, has died following a reaction to the AstraZeneca vaccine.
She developed a brain hemorrhage, which has been documented to occur after all COVID vaccines, including the AstraZeneca jab she received.
The young model who was said to be 27, got the first dose of the vaccine on May 6.
After she wrote on social media that she felt horrendous and needed rest. Her symptoms worsened over the following days.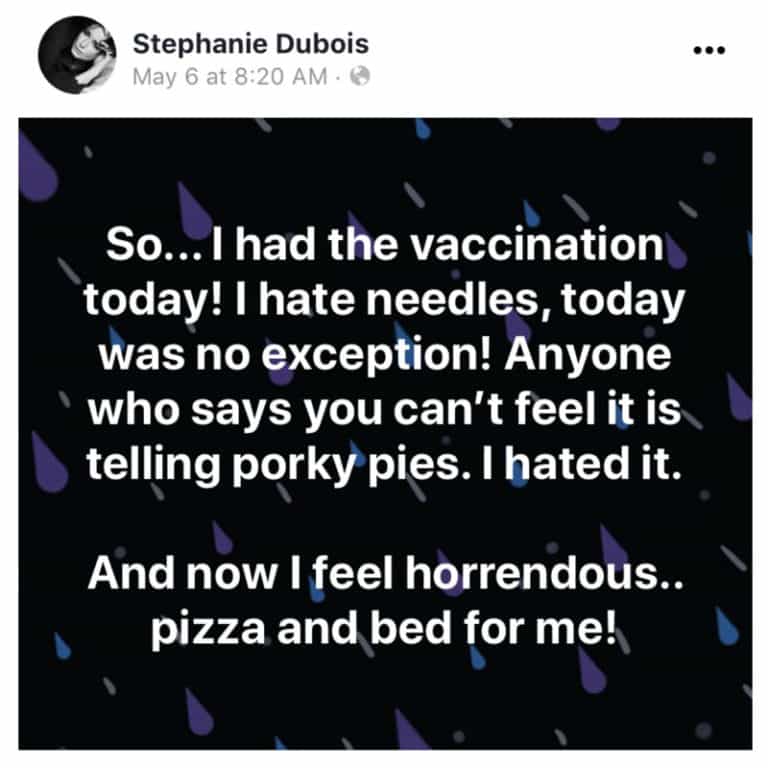 On May 14, Stephanie shared that she was suffering from headaches, shakes, and dizziness. She was worried she was coming down with COVID.
She wrote that she was having more testing done to diagnose her condition.
A little later she updated that she "had my bloods done and there is definitely something off as my white blood cell count is high, but they don't know what it is causing it."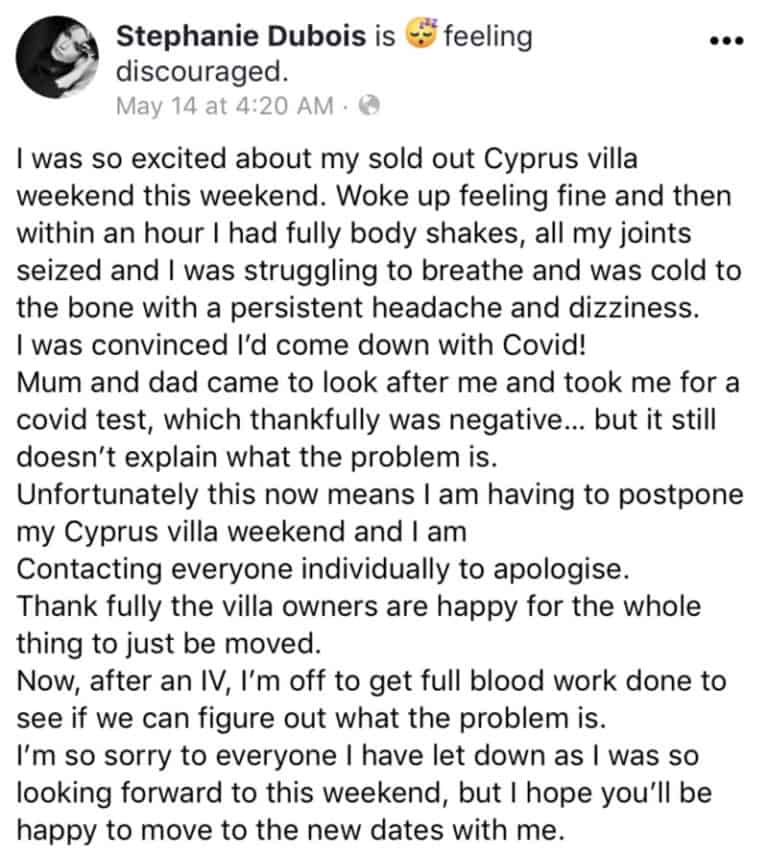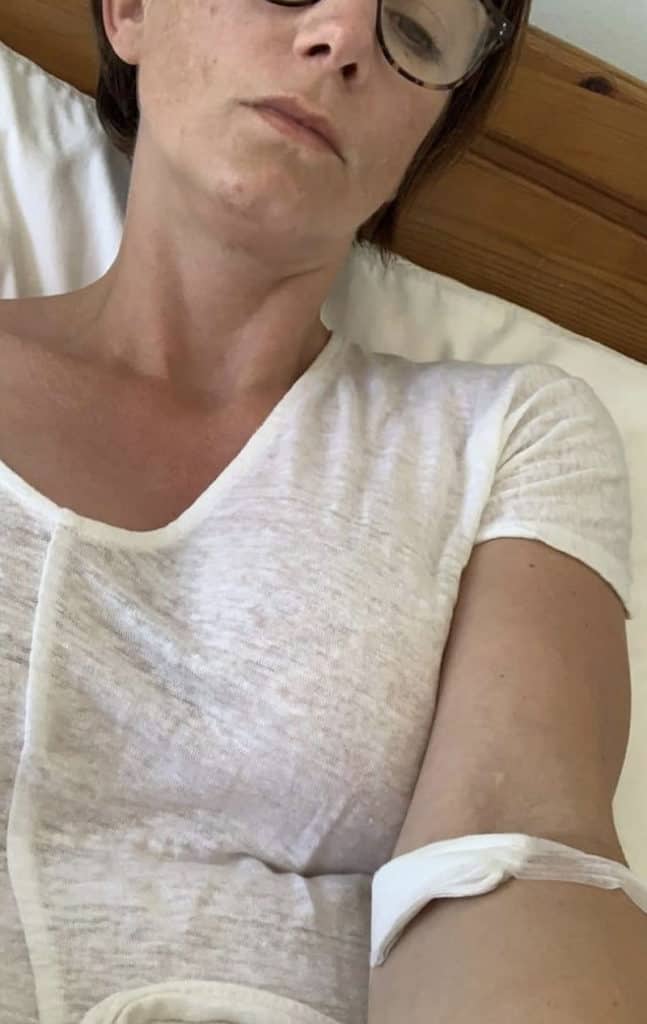 Stephanie wrote, "Maybe I'm having a prolonged reaction to my Covid jab last week, or maybe those side effects affected my immune system and I've caught something else in the process."
Sadly, she declined, and was soon admitted to the ICU, and eventually declared brain dead.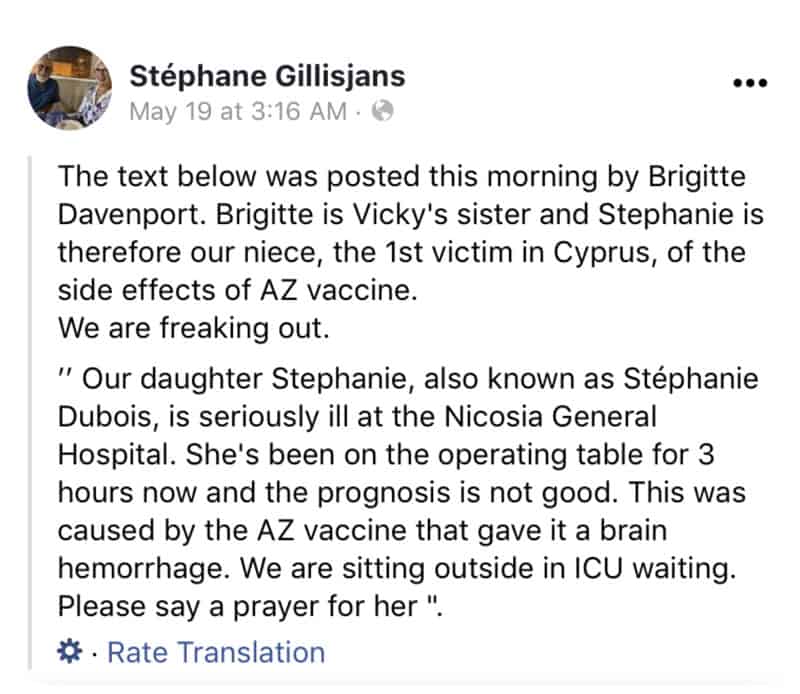 Sadly, model Stephanie Dubois died May 22, just 16 days after the AstraZeneca vaccine.
Read the full article at Circle of Mamas.
Helga Groening Passed Away A Few Days After Her Covid Vaccine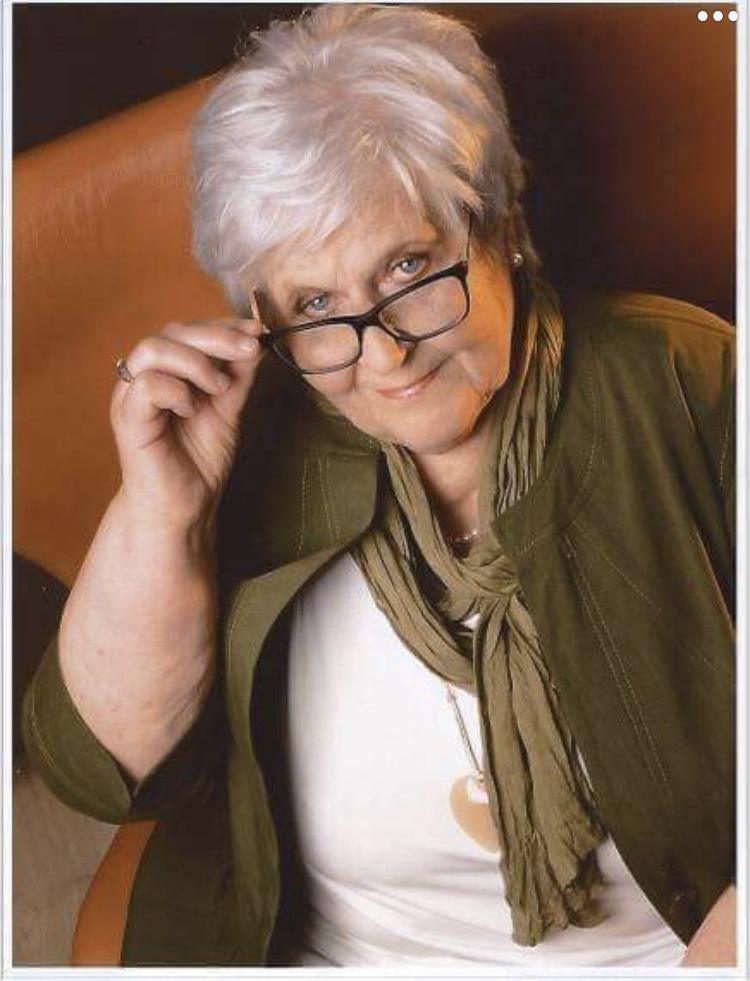 Social media posts announced the death of Helga Groening recently. Bettina Dooley, Helga's daughter, stated that she passed away on March 26, 2021.
Helga's daughter Bettina Dooley mentions that her mother had just had a covid vaccine a few days prior to her death. She states:
"Just a coincidence?? Not so sure!!"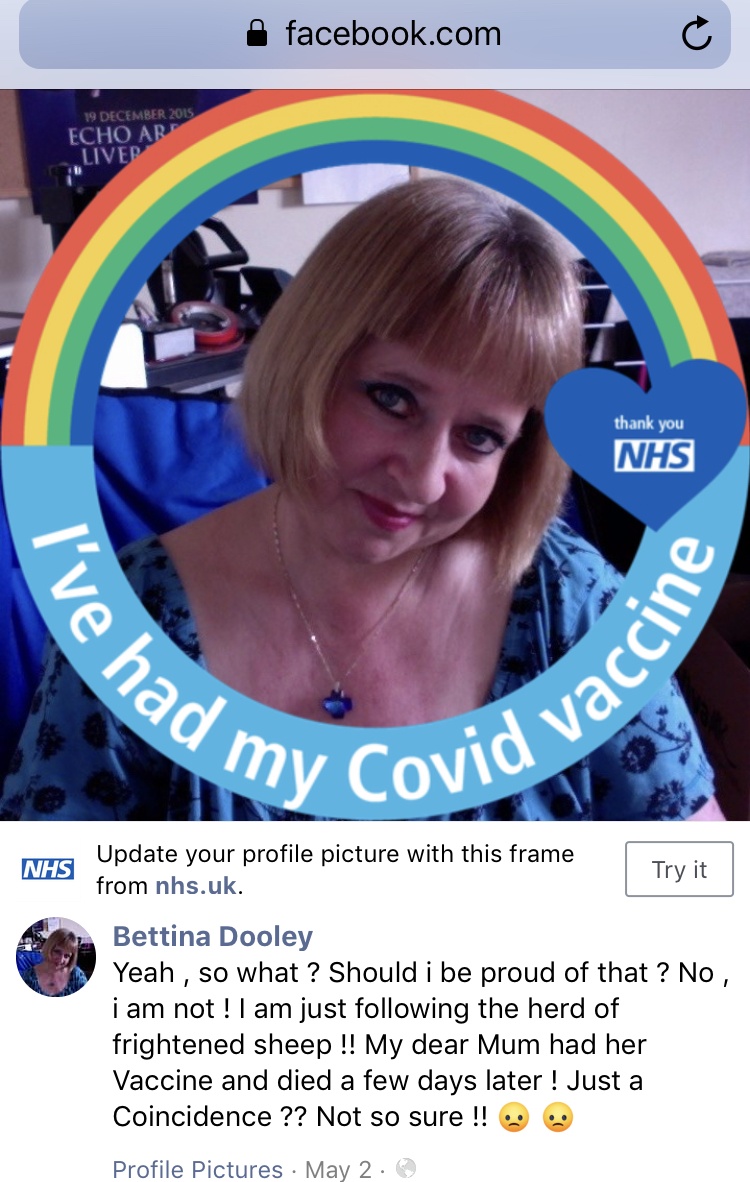 Helga's granddaughter Sammi Dooley wrote a heartfelt post on Facebook as well. Although she doesn't blame the vaccine entirely, she expresses "a very strong feeling it had something to do with it."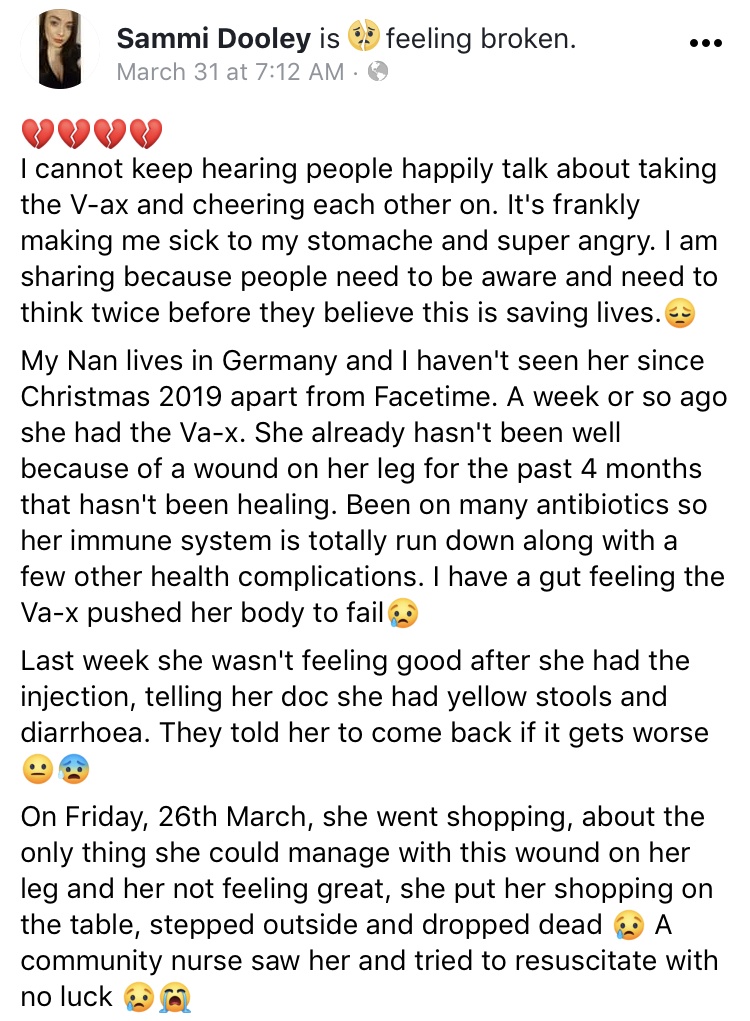 Our thoughts are with Helga's loved ones, as they grieve and mourn her loss. She appears to have been a lovely woman.
Read the full article at The Empowerer.
32 Year Old Daniel Spampanato Dead After Covid Vaccine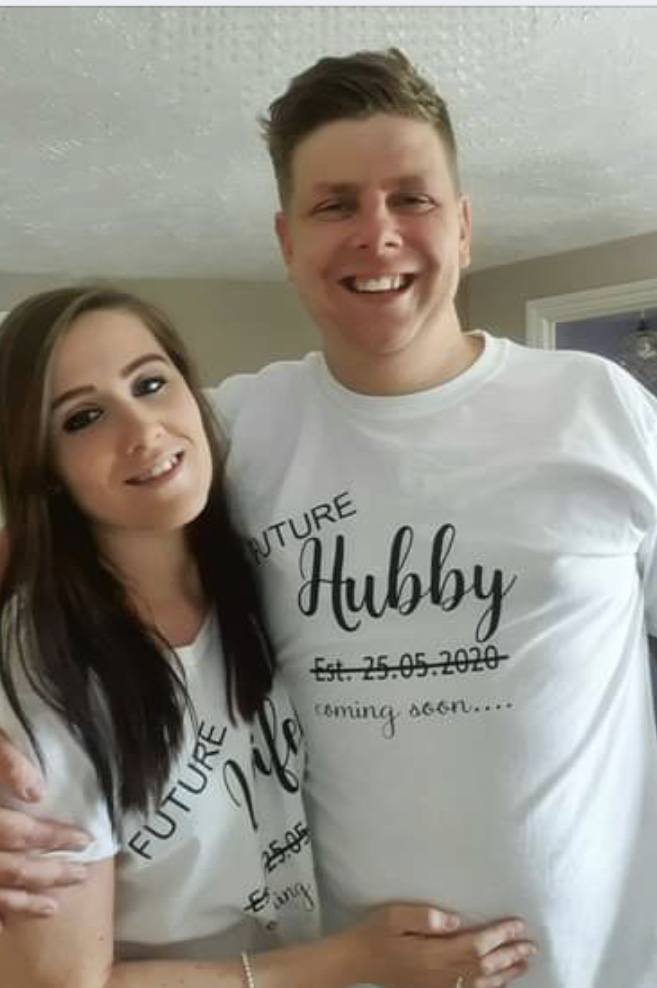 Daniel Spampanato passed away April 9, 2021 at the age of 32. He leaves behind his wife Holly, their two year old son Carter, as well as many friends and family members.
According to social media posts and different Fundraiser's held for Holly and Carter, Daniel suffered a stroke after his vaccine and did not recover. In the gofundme fundraiser, a relative by the name of Alison Engwell (cousin by marriage) states:
"On the morning of Tuesday 6th April, Holly woke to discover Daniel needed an emergency Ambulance. The paramedics took Daniel to Leicester Royal Infirmary, where he was diagnosed as having a major stroke.

On Wednesday the 7th, Daniel had deteriorated. He was transferred to Nottingham Queens Medical Centre for life saving surgery.

Unfortunately, the operation was not successful. Daniel spent his last days in intensive care surrounded by his loved ones. His life support was switched off on 9th April 2021."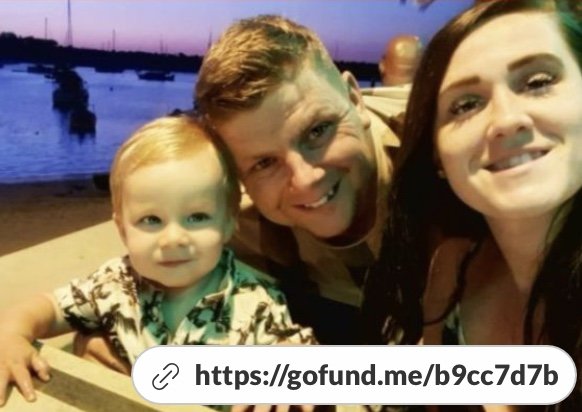 According to Linda Spampanato, a doctor did confirm that Daniel's stroke was due to the Astra Zeneca vaccine. She appears to be advocating to raise awareness so other families do not end up in the same situation.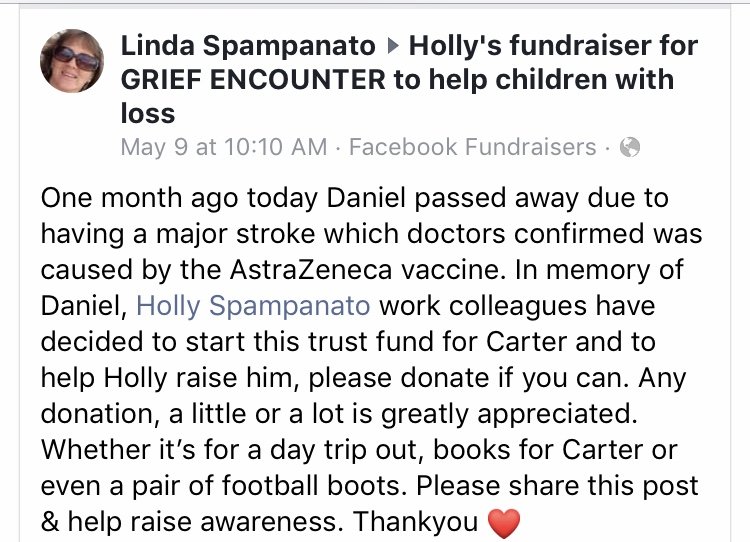 Another fundraiser was held on Facebook and was organized by Holly's Mother, Stacy Harris. The family seems very grateful on both fundraisers, for the generosity others showed during such a difficult time.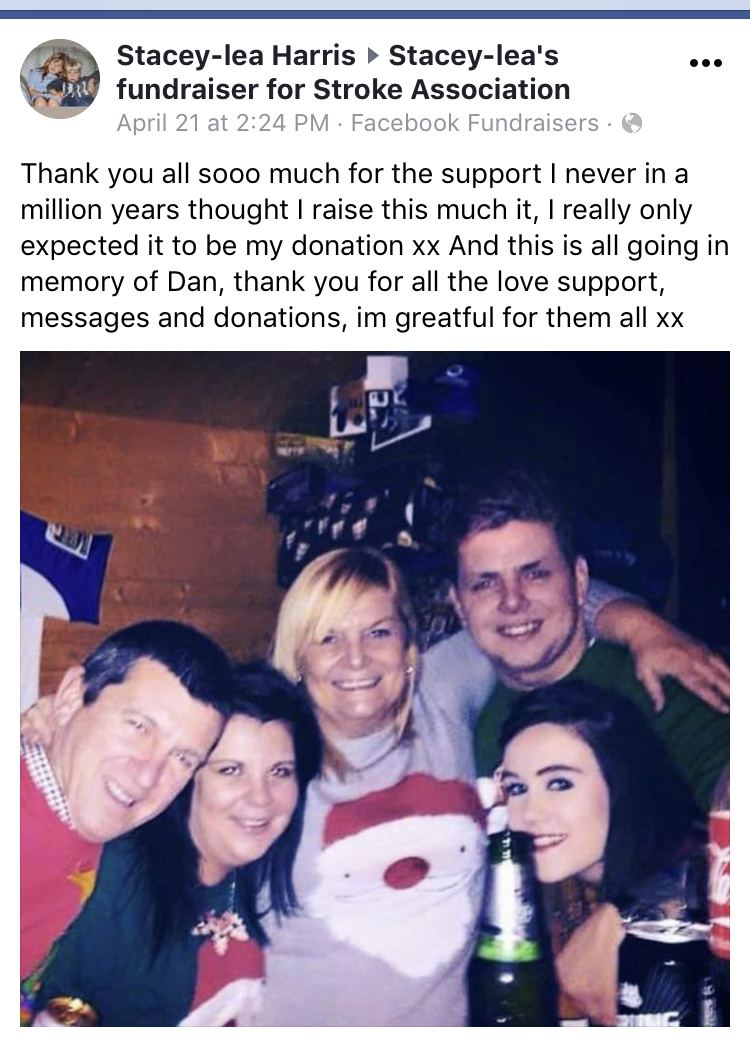 Comments on social media as well as all of the fundraiser donations reflect that Daniel and his family are very likable and loved. There is no doubt that he will be missed.
Although Daniel's wife and son appear to have a strong support system, nothing will ever fill the void of having Daniel taken so soon.
Read the full article at The Empowerer.
Ellie Peacock: 18-year-old Australian nurse in training develops three blood clots after AstraZeneca shot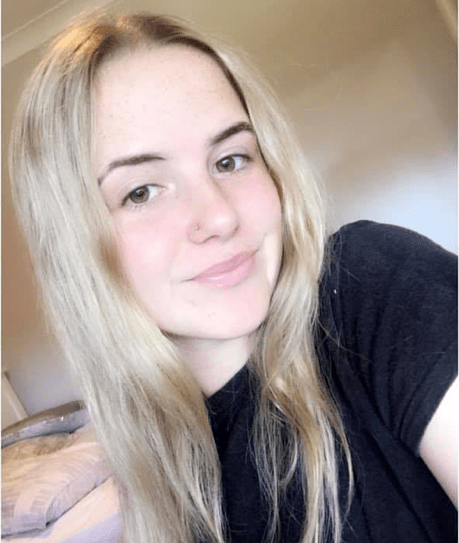 BRISBANE, QUEENSLAND — An 18-year-old nursing student is lucky to be alive after the medical establishment hung her out to dry after taking their "vaccines."
Ms. Ellie Peacock received the first dose of experimental AstraZeneca viral vector on March 31, according to her Instagram post. One week later, the Australia Therapeutic Goods Administration announced that people under age 50 were no longer eligible for AstraZeneca shots. It is unclear why said agency believes these lethal injections are safe for anyone regardless of age.
She experienced tightness and a throbbing pain, along with red spots, on her right calf muscle on April 18. Ms. Peacock told medical personnel that she likely has blood clots. But an ultrasound revealed nothing, so she was sent home. Her condition worsened to include pain in her chest and back while inhaling, along with severe headaches.
Thrombosis with thrombocytopenia syndrome (TTS)
A May 9 x-ray revealed she had pneumonia. She was rushed to the emergency room on May 11 because she could barely breathe. Doctors prescribed medication and sent her home again, and telling her the pain is normal. Ms. Peacock returned to her primary care physician on May 13. Her oxygen levels dropped to 90%. Note that 95 to 97% is considered normal, with anything at 90% or lower being considered a medical emergency. He sent her back to the emergency room.
Royal Brisbane Women's Hospital doctors finally took Ms. Peacock's condition seriously after her lobbying efforts. They discovered three blood clots in her lungs. Doctors diagnosed her with Thrombosis with thrombocytopenia syndrome, aka vaccine-induced prothrombotic immune thrombocytopenia (VIPIT). Ms. Peacock now needs regular CT scans and blood thinners for the foreseeable future. She also needs blood tests every four days and must take antibiotics for six months.
Despite the life-altering ordeal, Ms. Peacock said it was "nothing too serious" and that she "can't put the cause down to the vaccine yet." But she updated her May 13 Facebook status and wrote, "AstraZeneca caused the blood clotting."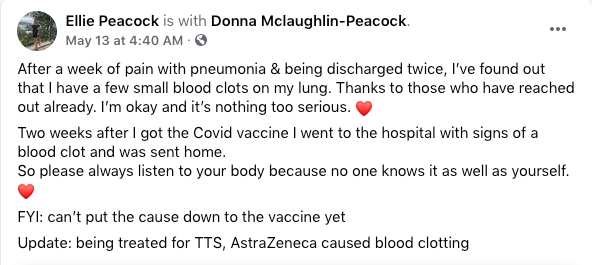 Ellie's mother, Donna Mclaughlin-Peacock, is also a healthcare worker. She seems to understand the inherent dangers of the AstraZeneca shots, but appears to be ok with the equally-dangerous Pfizer and Moderna shots.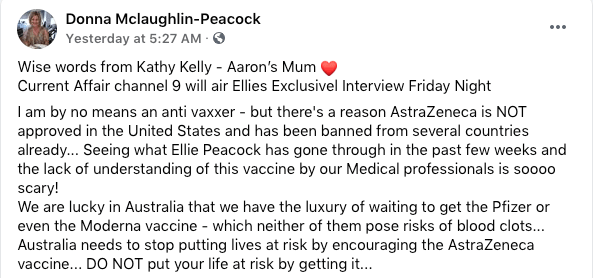 Another young life forever altered
Ms. Peacock may chalk this up as no big deal. But all she's experiencing right now is her body's immediate reaction to these viral vector DNA therapies. Emma Burkey is the 18-year-old Las Vegas woman who is unlikely to ever lead a completely-normal life again after Johnson & Johnson caused blood clots in her brain. We wrote about 24-year-old Texas nurse Tabatha McDonald last month. She had a brain aneurysm and seizures after the J&J shot. She was still complaining about it weeks after discharge from the hospital.
Read the full article at The COVID Blog
Ohioan Juan Ramirez Dies After Complications From Pfizer Vaccine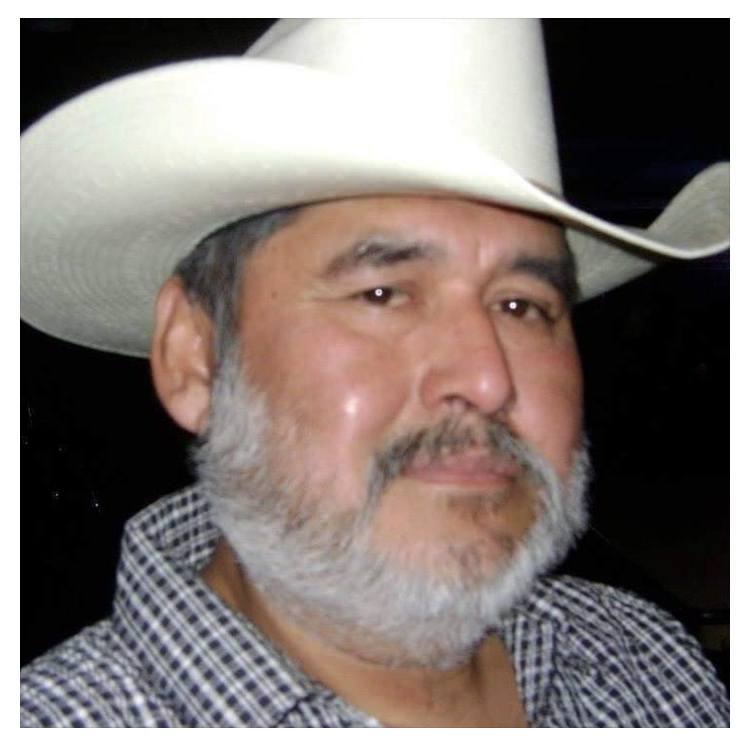 Juan Jesus Ramirez of Mansfield, Ohio passed away on May 17, 2021. It has been said that he was experiencing complications with his Pfizer covid vaccine and did not recover. Juan's obituary also states that his death was caused by "complications of the covid vaccine."
He is survived by his wife of 25 years Rosanna Jarvis Ramirez; and children, Alma Ramirez, Michelle Smith and Michael Pelletier; and many grandchildren and other family.
Rosanna had posted Juans story on Facebook May 3, 2021 and explained the complications he was having. Rosanna states that on March 10, 2021 Juan was in bed with a bad headache and had said he "felt like he was freezing." Within ten minutes she had to call an ambulance and before they could get him to the hospital, he flatlined.
After having spent time in ICU, on March 17 Juan was moved into an ICU stepdown unit. Once in that unit, Juan then began having seizures. He was placed back in the ICU, and never fully recovered from this experience.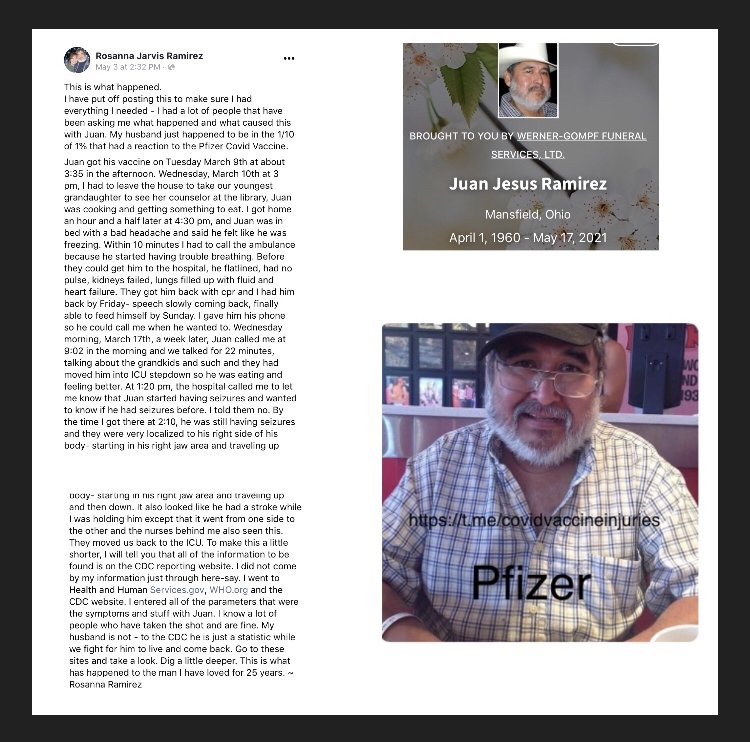 Juan appears to have been very loved, and will be deeply missed. Visitation will be Monday, May 24th, 2021 from 12:00. -2:00 p.m. Funeral services will be held at 2:00 p.m. at Werner-Gompf Funeral Services, Ltd., 1106 Park Avenue East, Mansfield, Ohio.
Read the full article at The Empowerer.
Brenda Lee Pettit Died Within 24 Hours Of Her Moderna Vaccine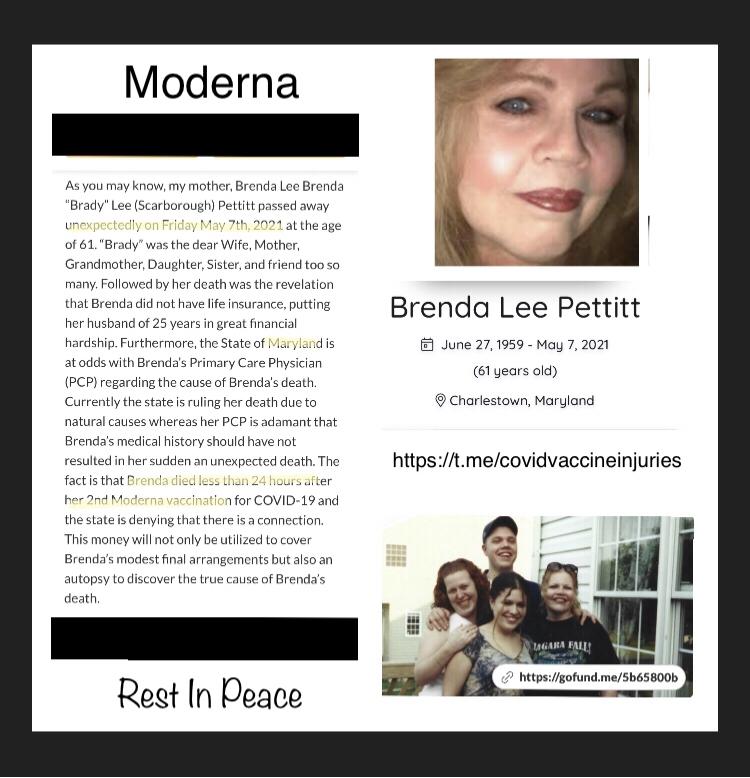 Brenda Lee Pettit of Charlestown, Maryland passed away on May 7, 2021, at the age of 61. According to a fundraiser organized by her son Chad Rapoza, she died within 24 hours of her covid Moderna vaccine.
The fundraiser states that:
"The State of Maryland is at odds with Brenda's Primary Care Physician (PCP) regarding the cause of Brenda's death. Currently the state is ruling her death due to natural causes whereas her PCP is adamant that Brenda's medical history should have not resulted in her sudden an unexpected death. The fact is that Brenda died less than 24 hours after her 2nd Moderna vaccination for COVID-19 and the state is denying that there is a connection."
According to her obituary, Brenda leaves behind her husband of 25 years Robert Pettitt of Charlestown, MD. She was the mother to Amie Rapoza of North East, MD, Chad Rapoza and his wife Monica of North East, MD, Kelly Rapoza of Waynesboro. She also had 8 grandchildren.
The family is currently raising funds to investigate Brendas death. May she rest in peace.
Read the full article at The Empowerer.
39 Year Old Marilyn Gotay Dead 12 Hours After Moderna Vaccine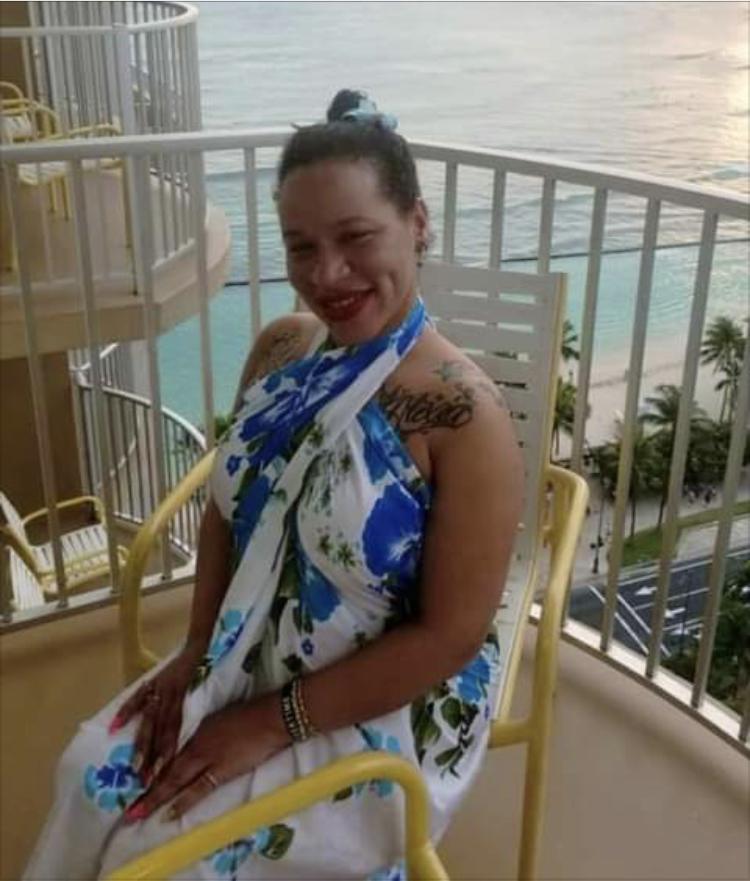 39 year old Marilyn Gotay received her covid Moderna vaccine as a prerequisite to donating an organ to her husband Amauriz "Mo" Gonzalez, who was going to be having transplant surgery. Having been deemed healthy enough to donate and being a good match for her husband, Marilyn went ahead and got the vaccine on April 9, 2021.
Approximately twelve hours after her vaccine, Marilyn passed away on April 10,2021 in her sleep. Her lifeless body was discovered face down by her youngest child. When help arrived, Marilyn was declared D.O.A.
According to one fundraiser;
"Marilyn was born on July 6, 1981 to Edward "Bolo" Gotay and Eva Roldan-Gotay. She met the love of her life, partner and best friend Amauriz "Mo" Gonzalez, January 5, 2000 and together they had two beautiful children; Edward (16 and autistic) and Alexia (11). Mo is currently on the NYC waitlist for a Kidney transplant as he suffers from end stage renal disease and is on dialysis and disability."
According to another fundraiser ran by Marilyn's sister, Blasina Sims, Marilyn was the youngest of five sisters and the life of the party. Marilyn's children were her pride and joy and she didn't like going places without them.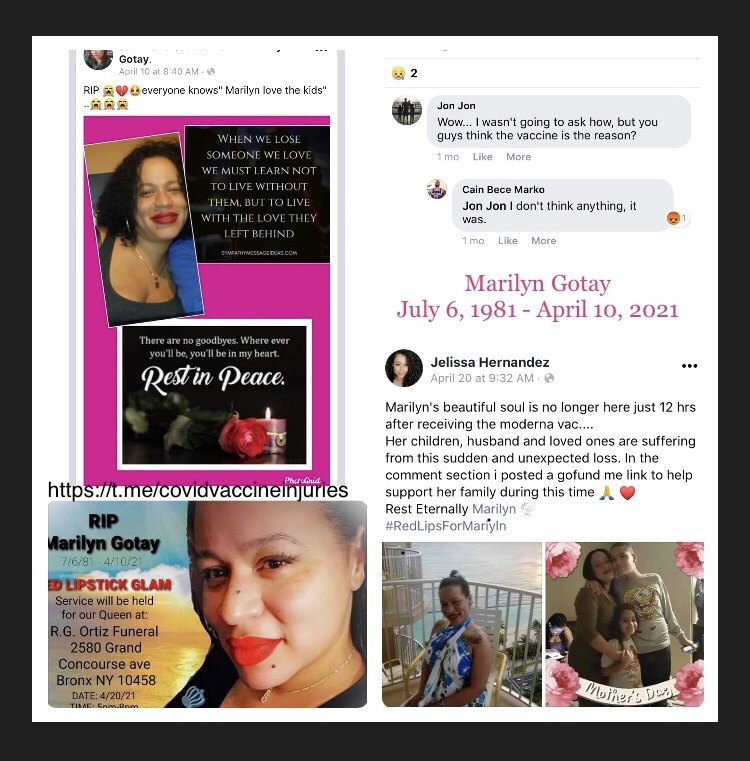 Marilyn's sister Josephine Sims, and many others shared their grief on social media. Many hearts are broken over the loss of Marilyn Gotay. She was a loving and generous person, who was taken from the world too soon.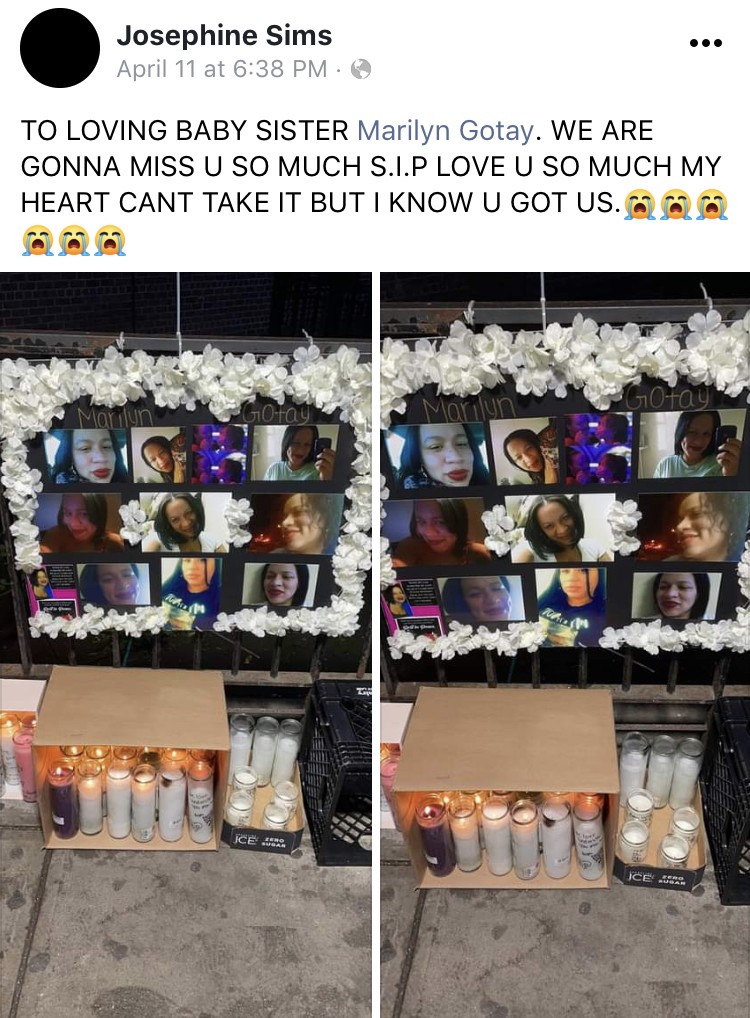 Read the full article at The Empowerer
35 Year Old Alpa Tailor Dies After Complications From Astra Zeneca Vaccine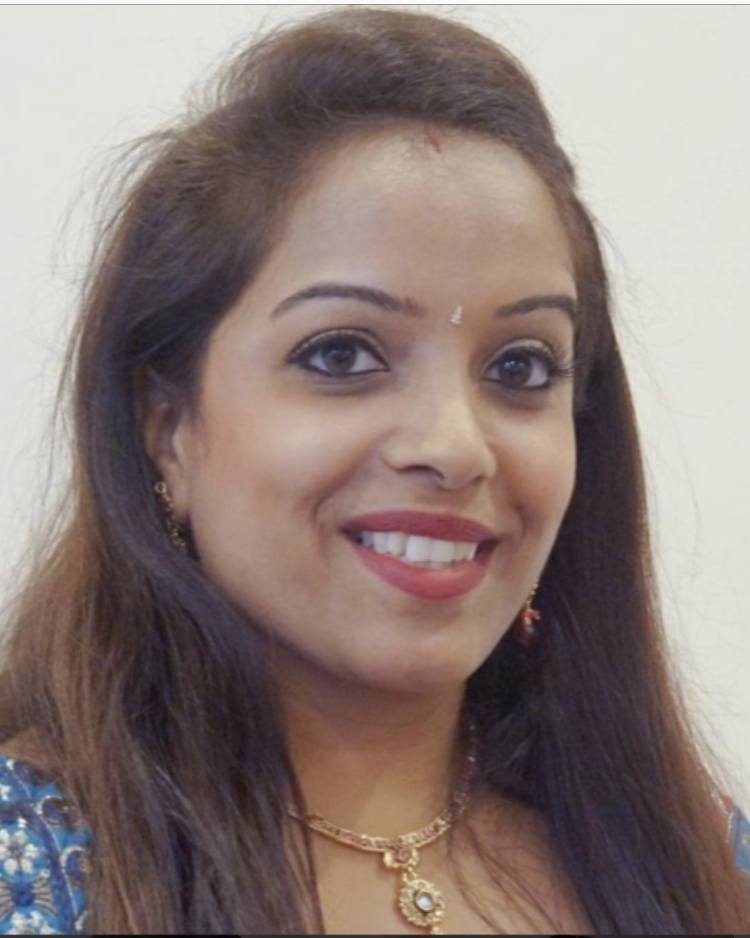 Alpa Tailor passed away Saturday April 24, 2021 at the age of 35. She leaves behind a husband and two young children.
According to a family member, Neha Tailor, Alpa died due to side effects from her Astra Zeneca vaccine. She had blood clot issues that turned into a need for brain surgery, from which she never fully recovered.
According to a Facebook post by Kavita Gandesha; a fundraiser was created for Alpa's husband and two young children, ages one and five. The donation amounts collected were twice the amount of the fundraiser's initial goal.
The fundraiser, organized by Neha Tailor states: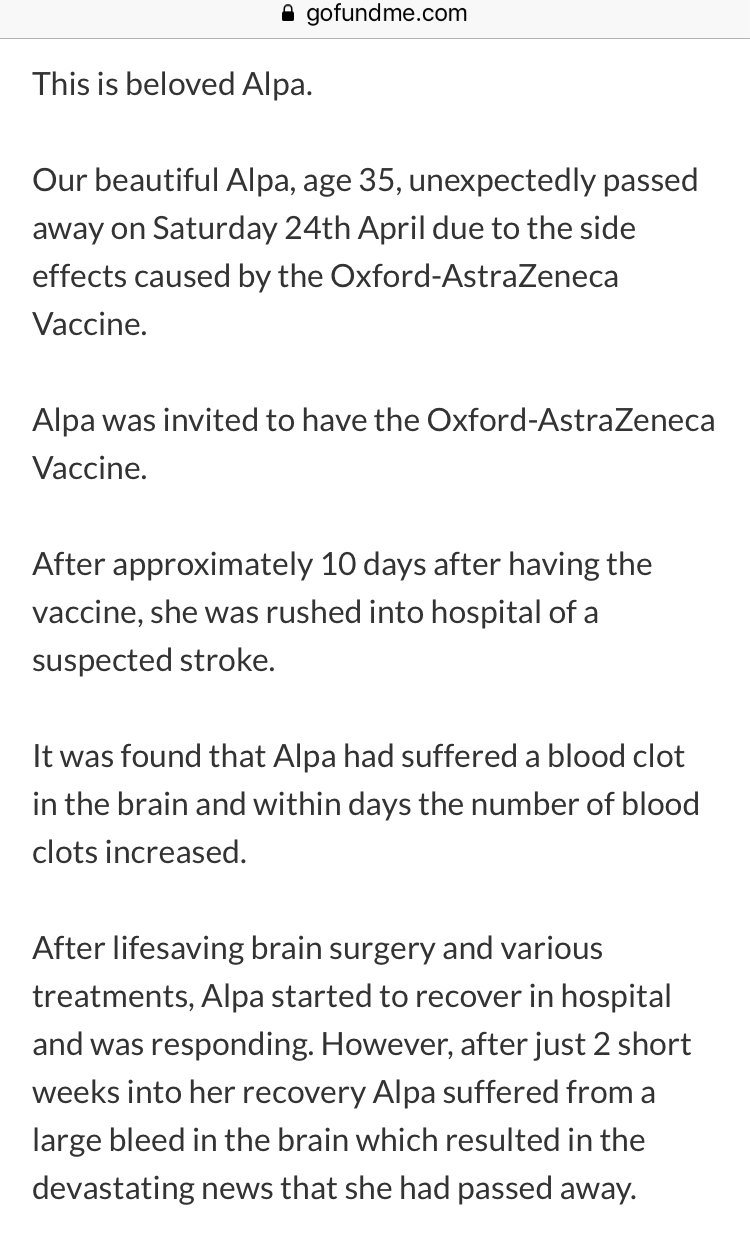 Alpa Tailor will be missed by many and is another life that is gone too soon. May she rest in peace.
Read the full article at The Empowerer.
See Also:
Over 11 MILLION Views!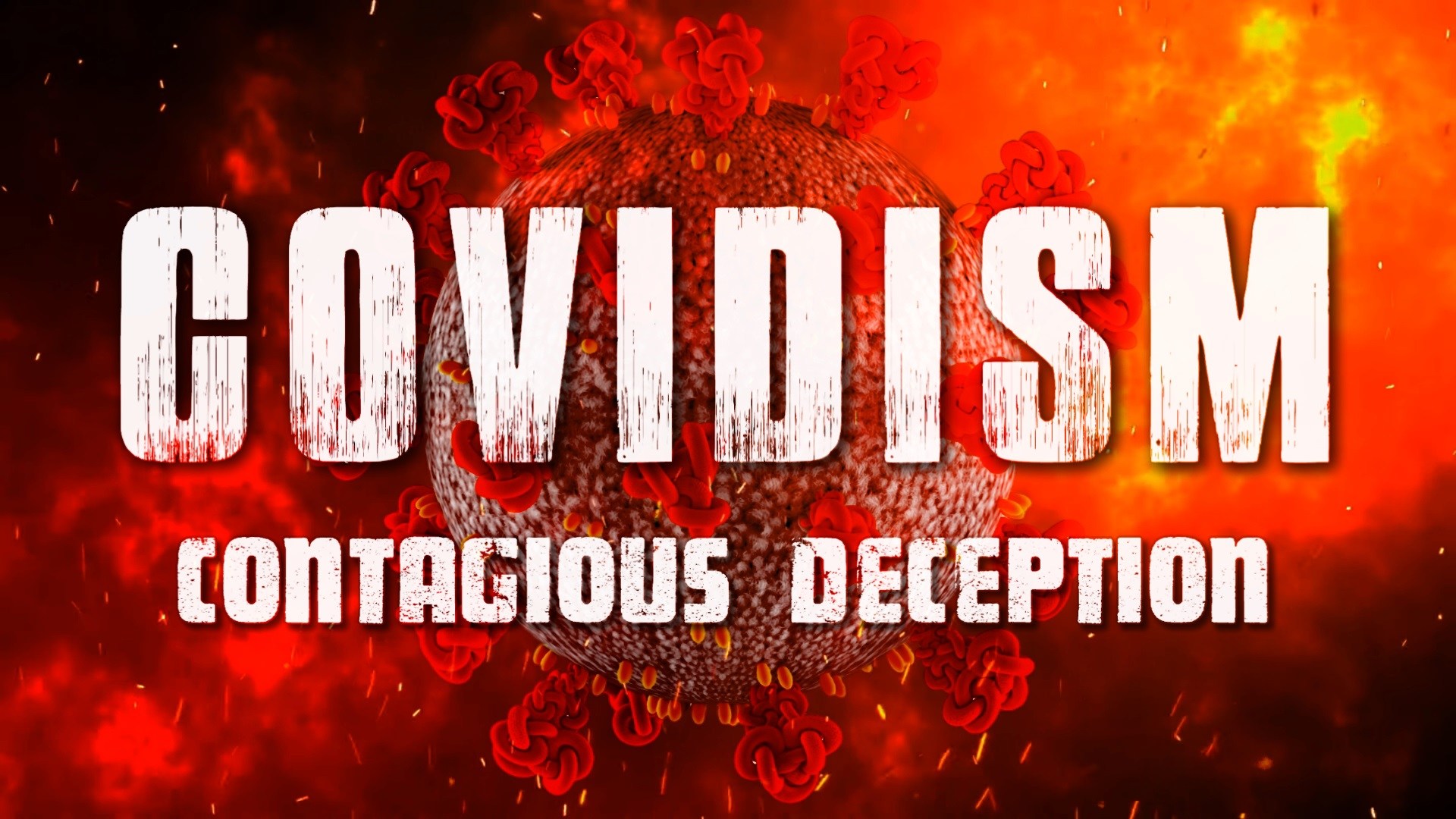 COVID-19 "Vaccine" Casualties List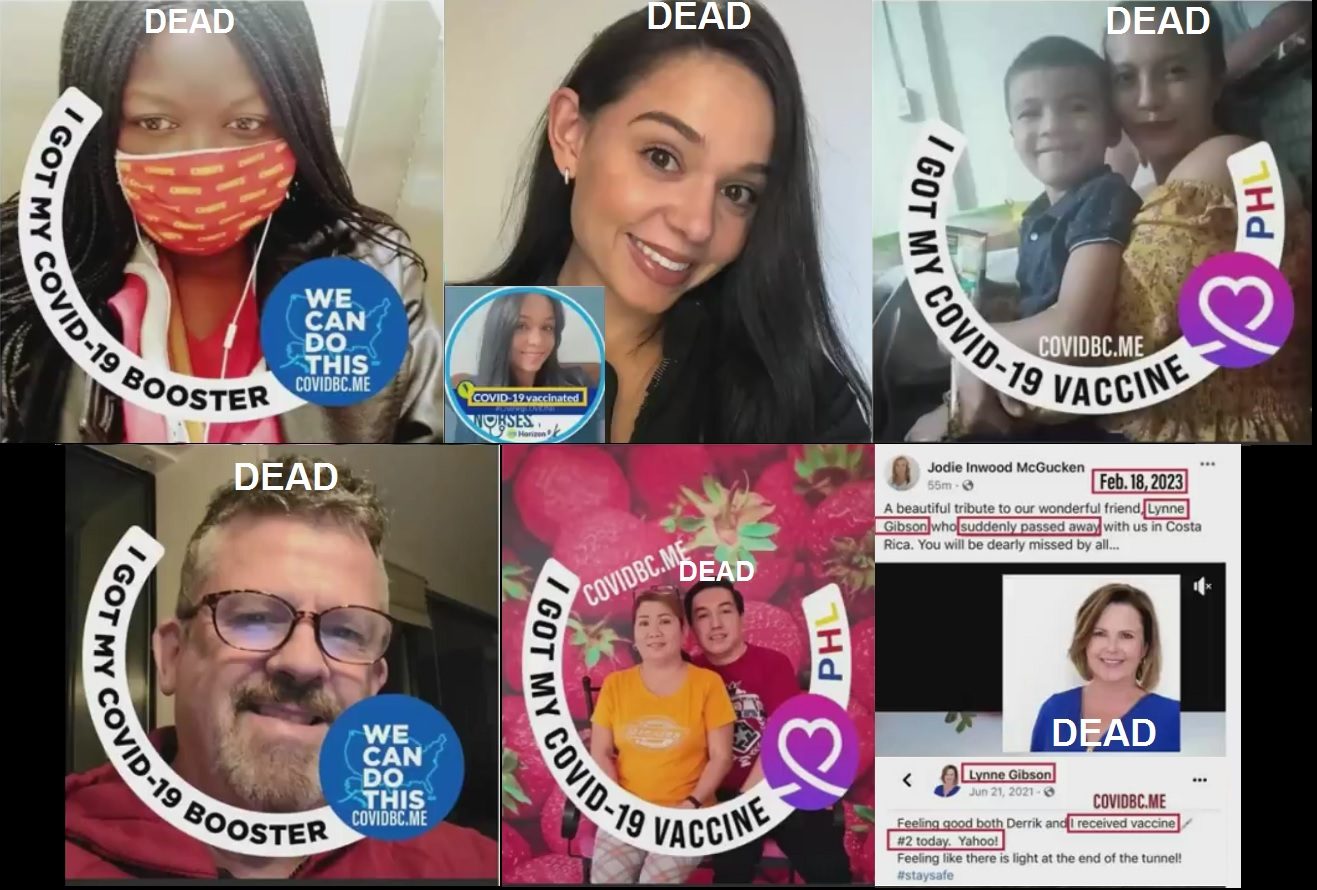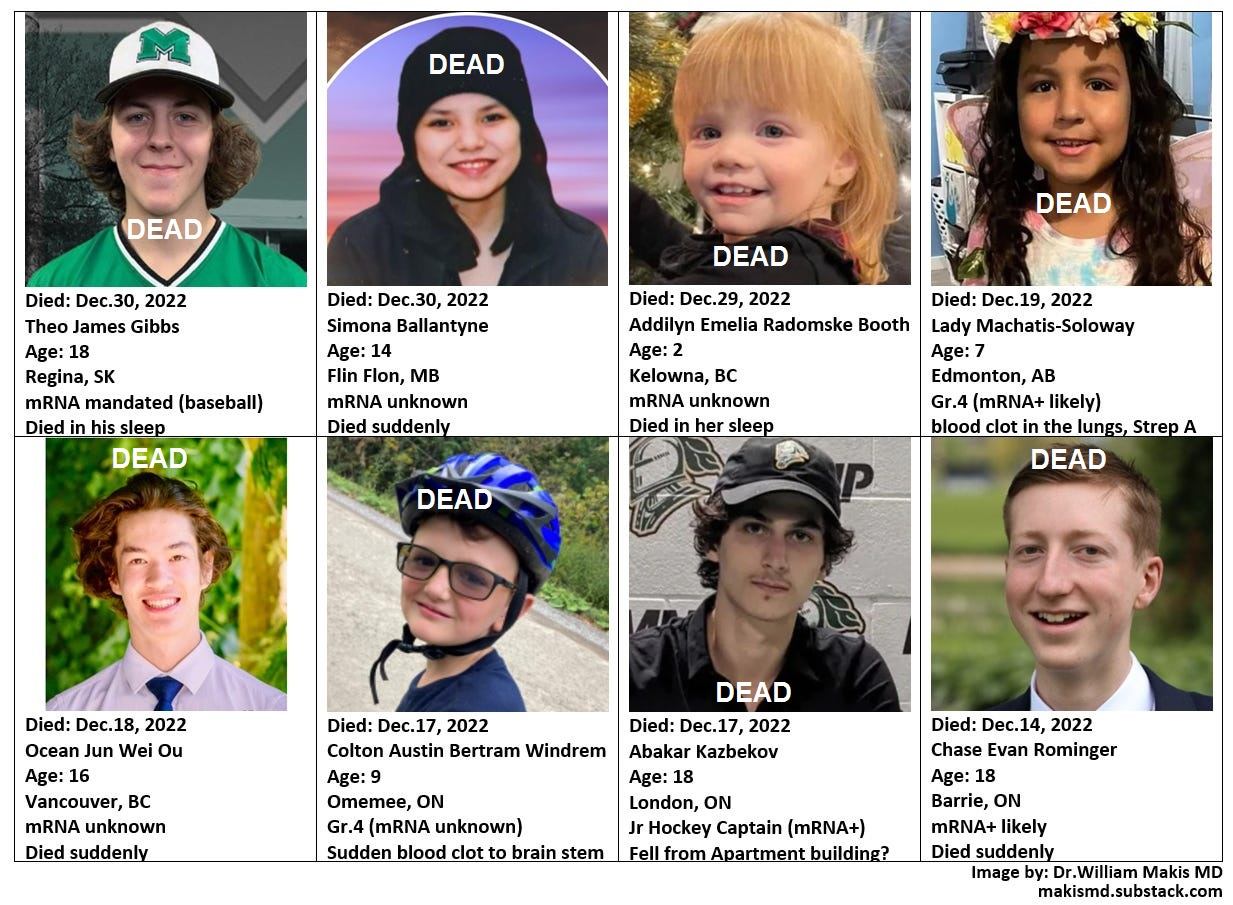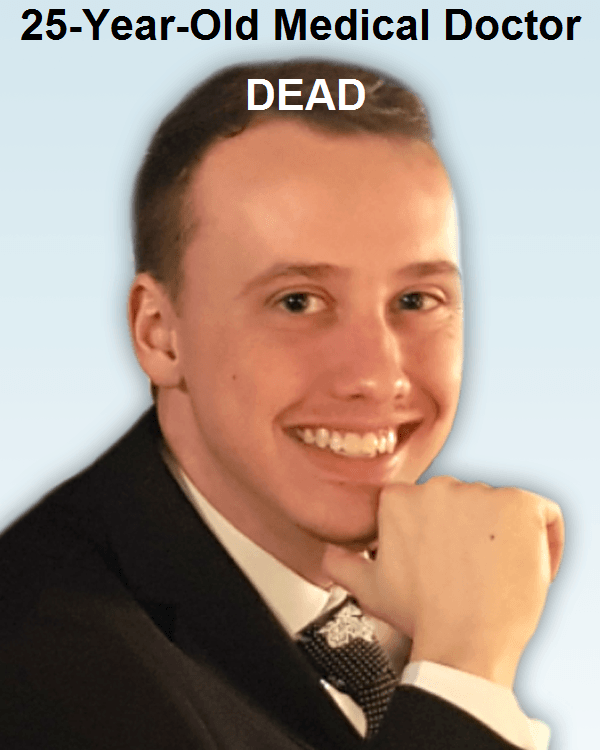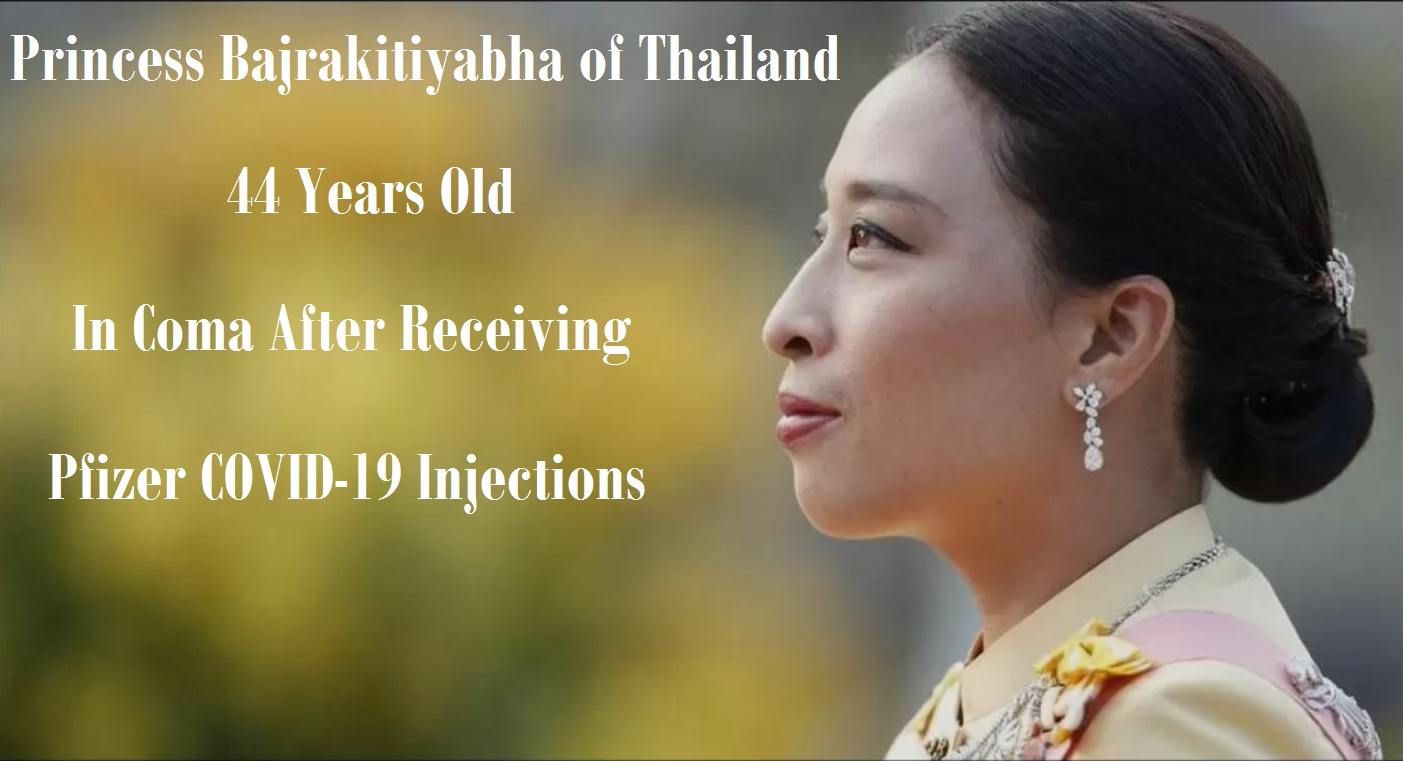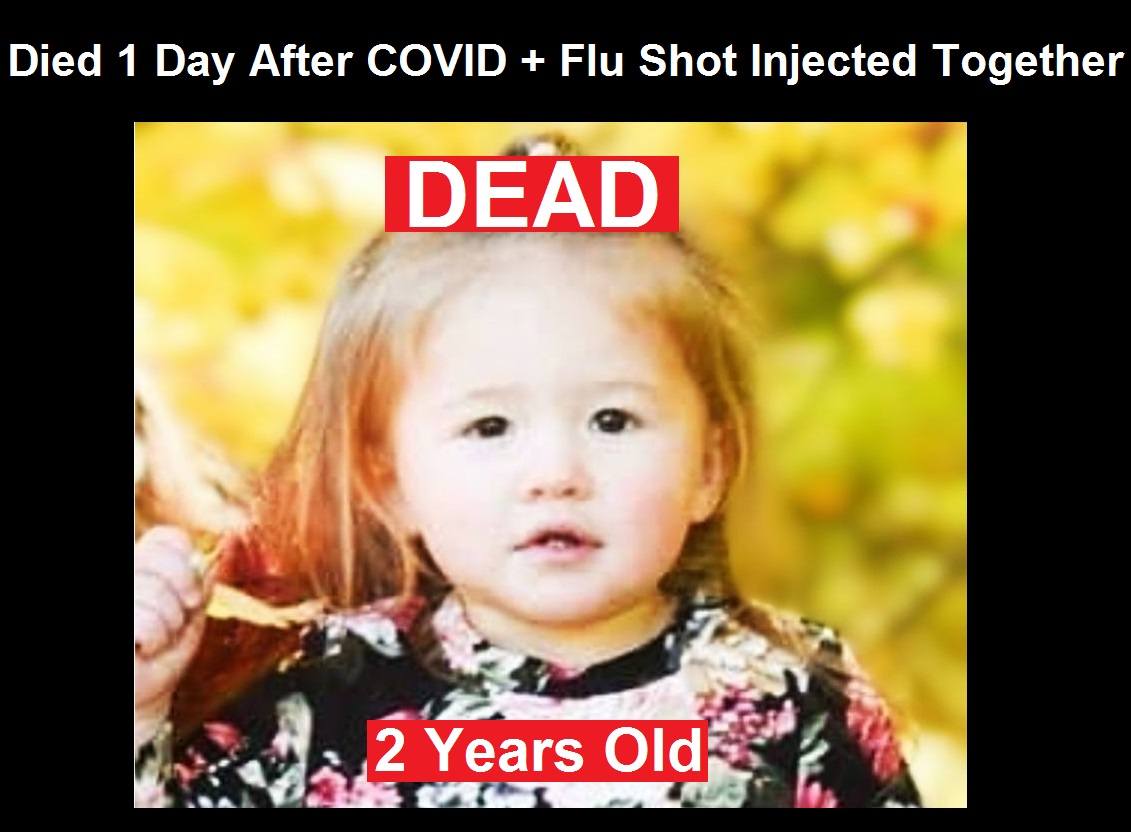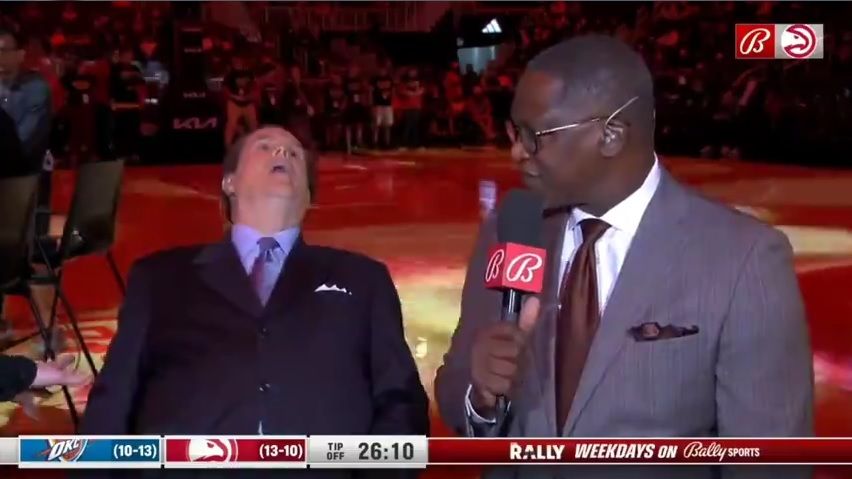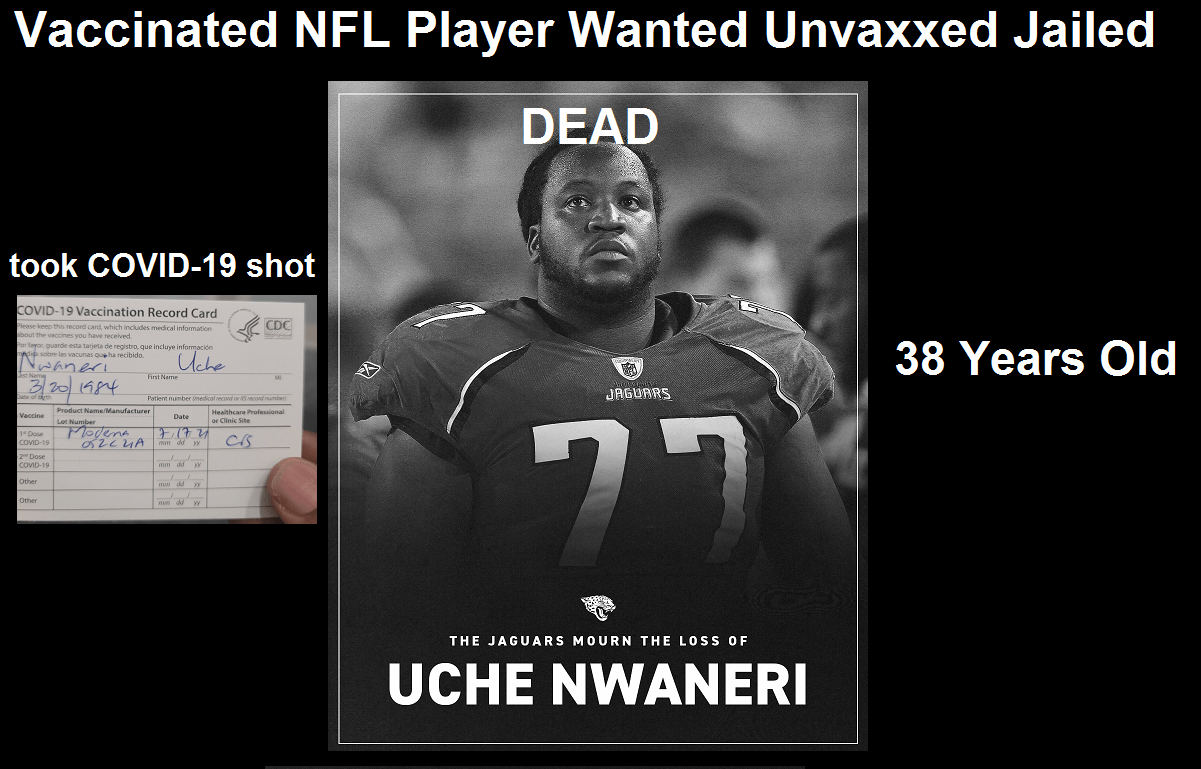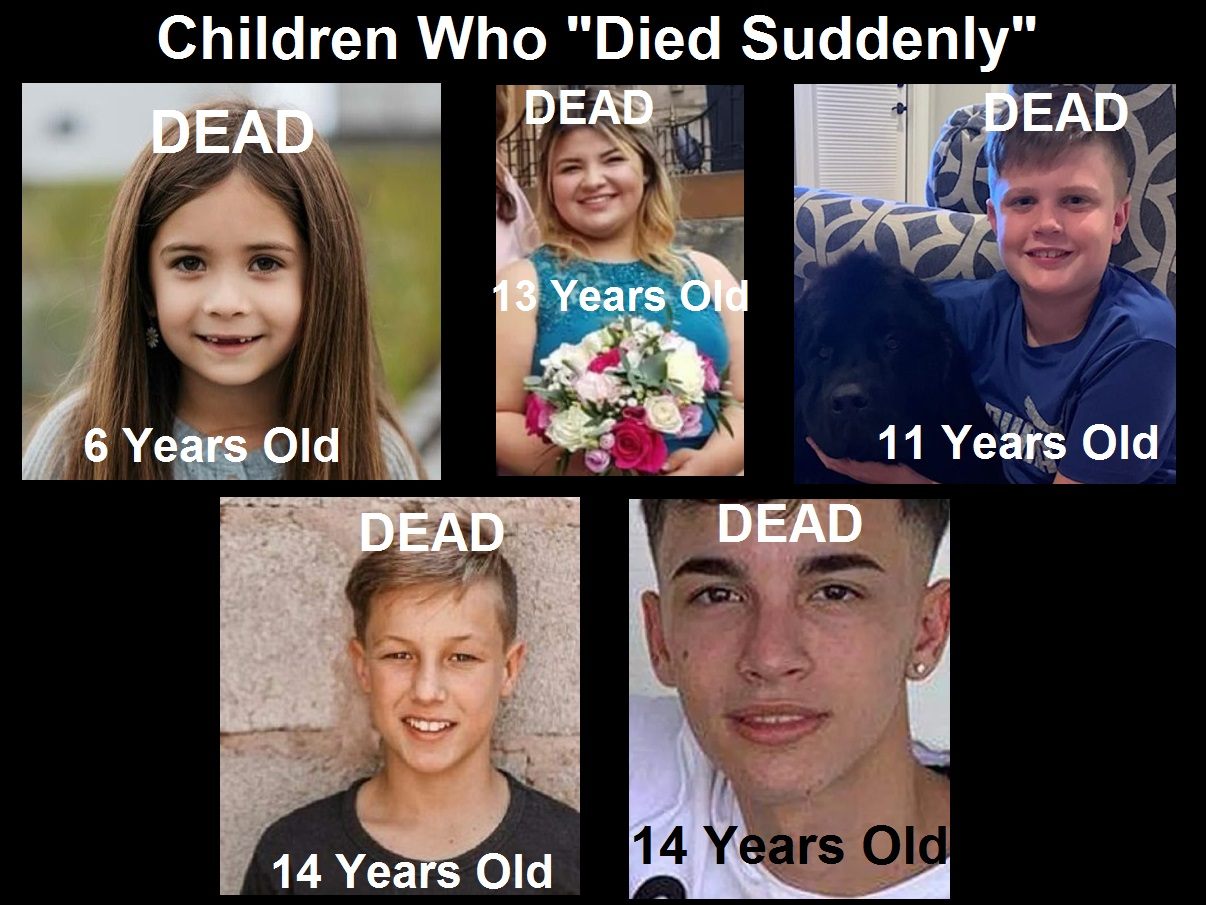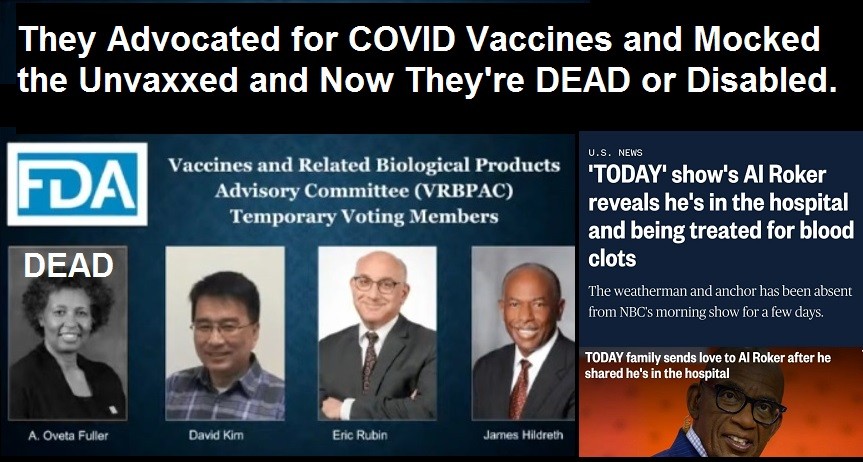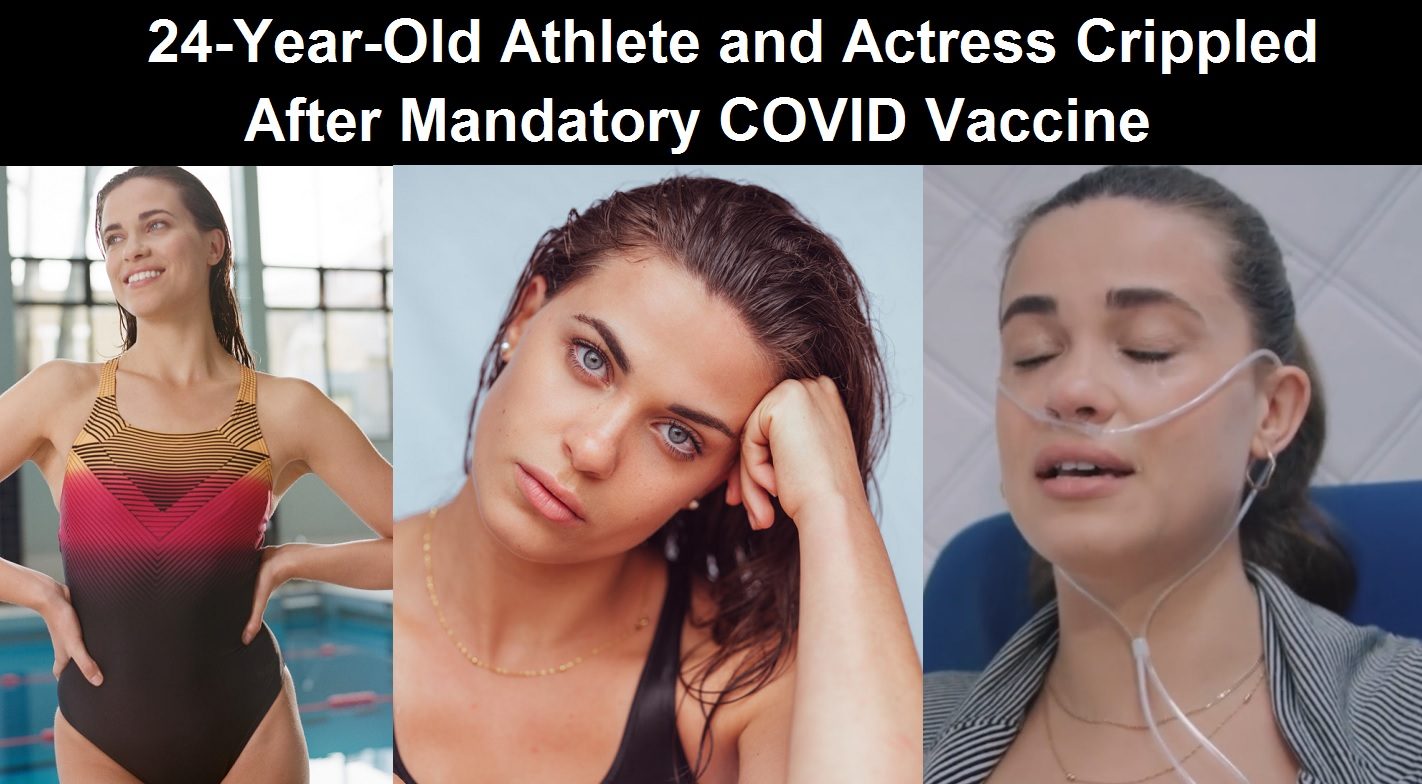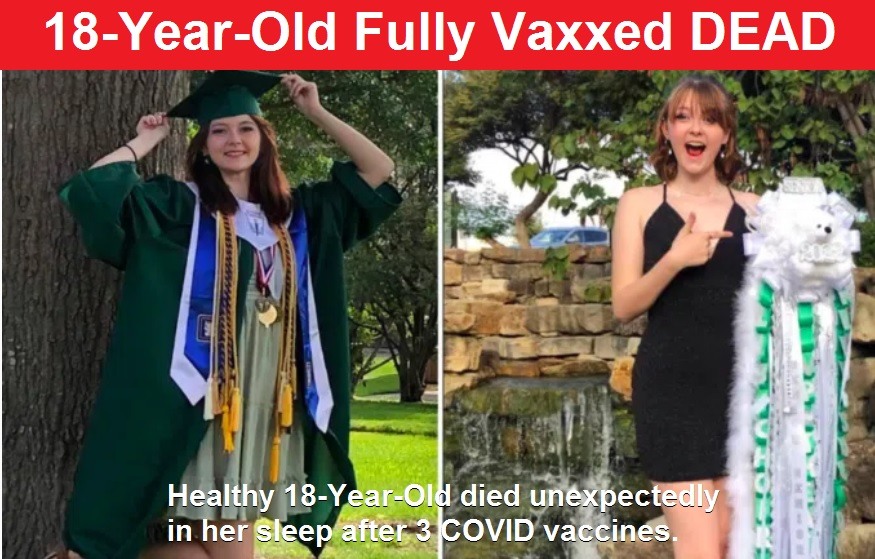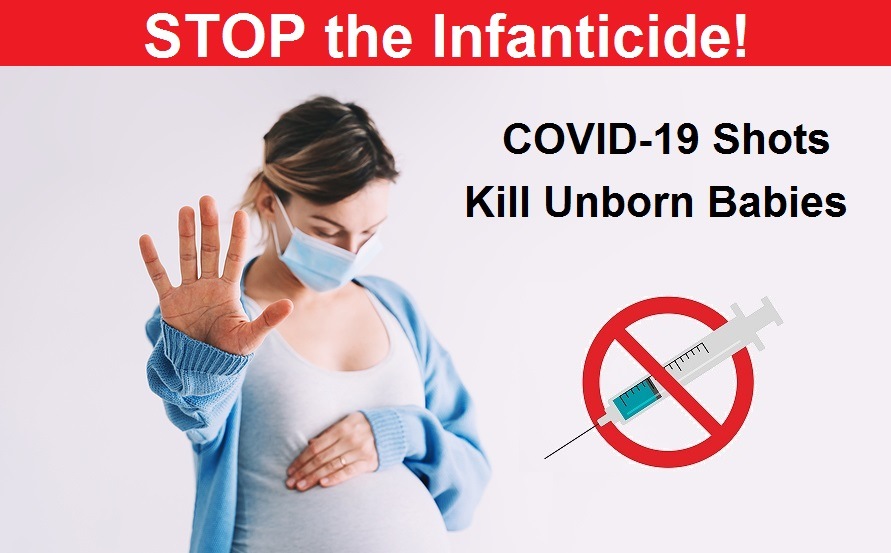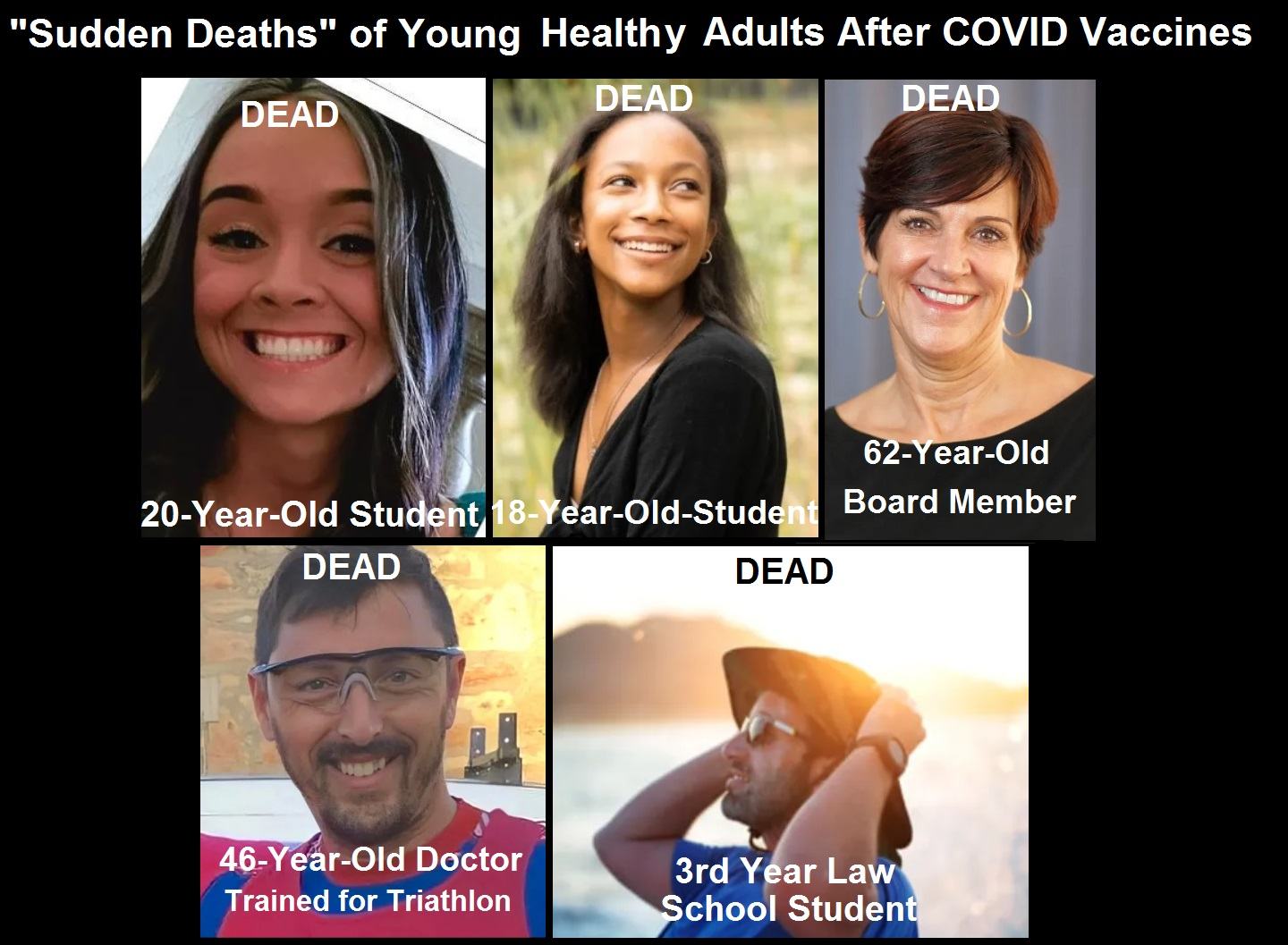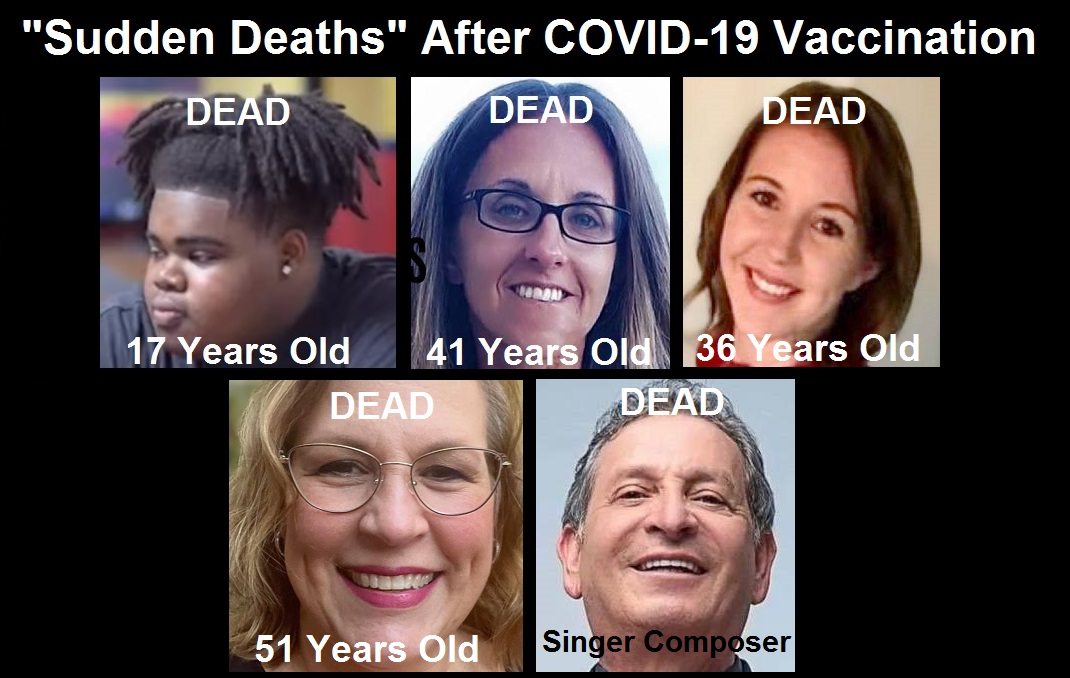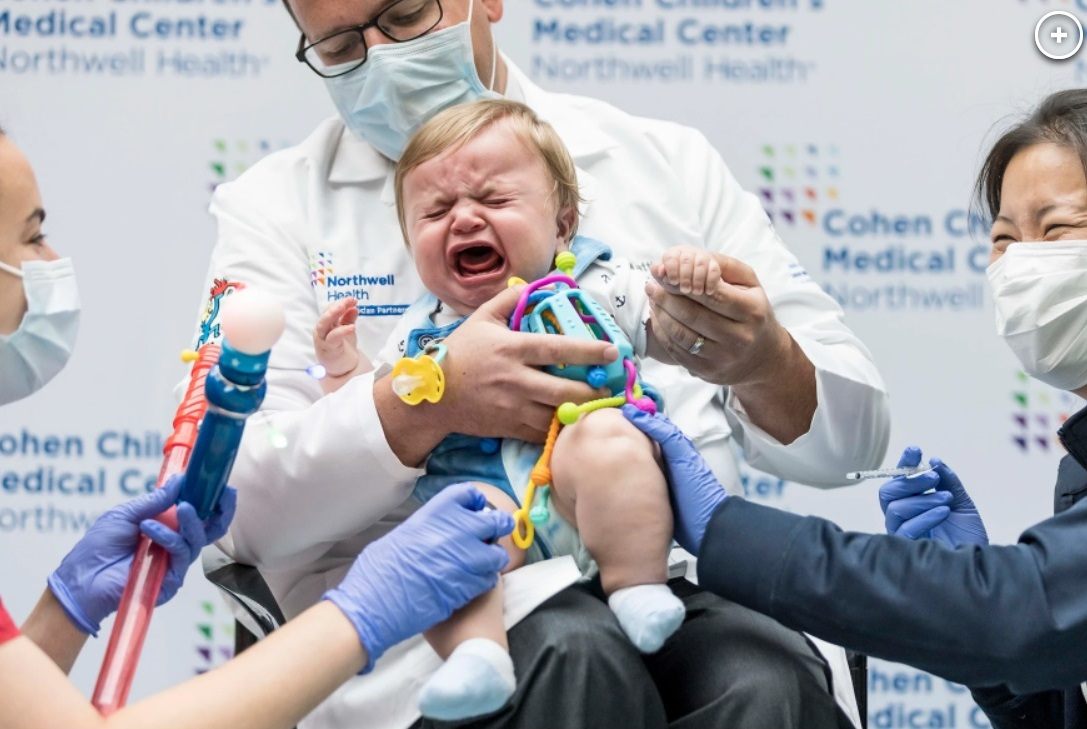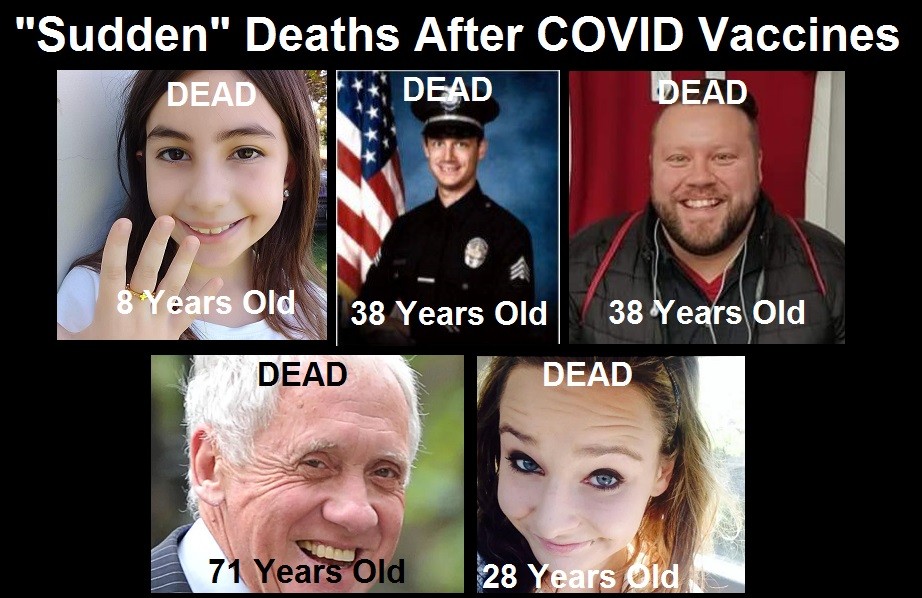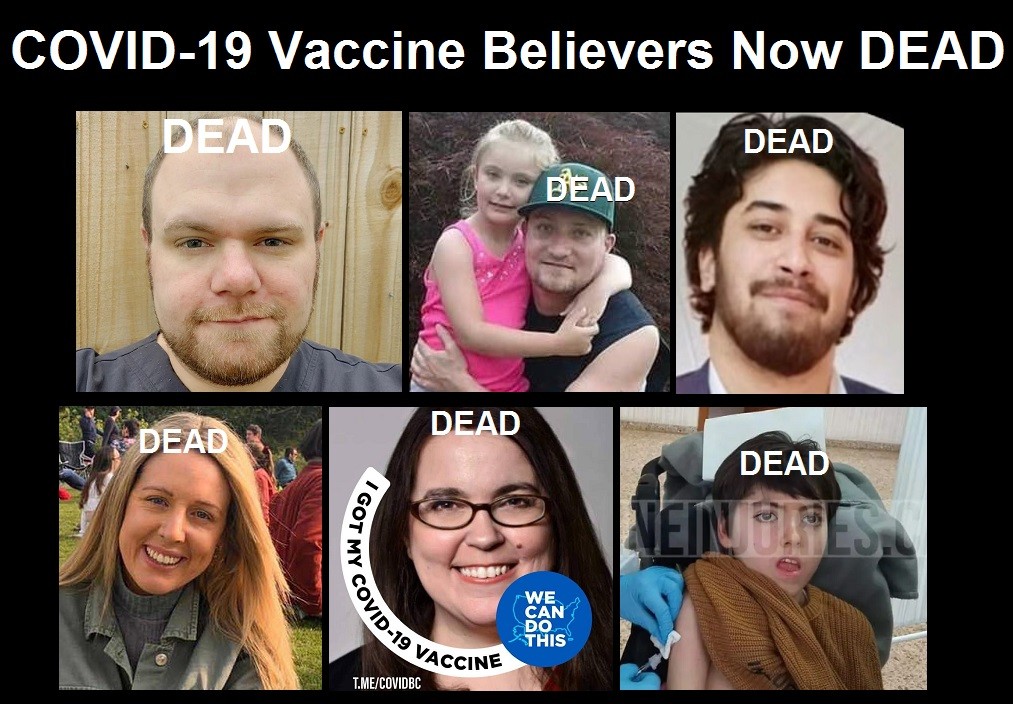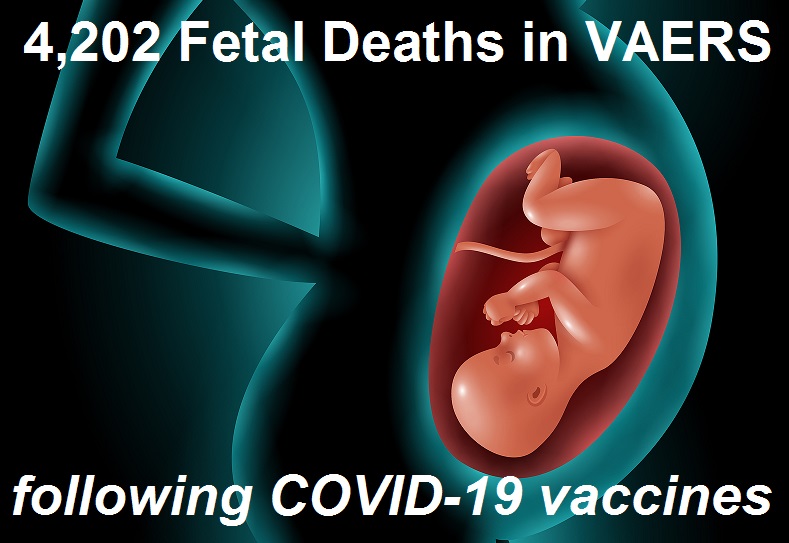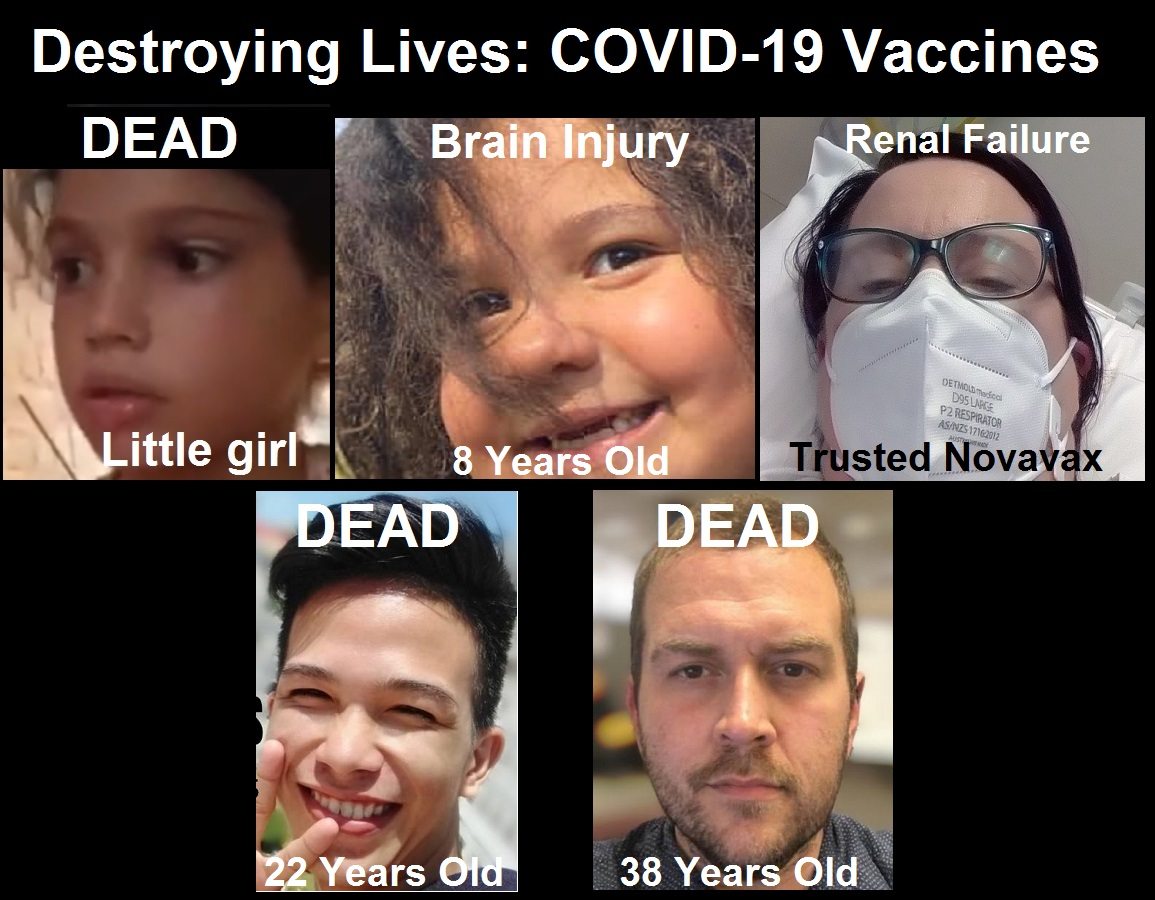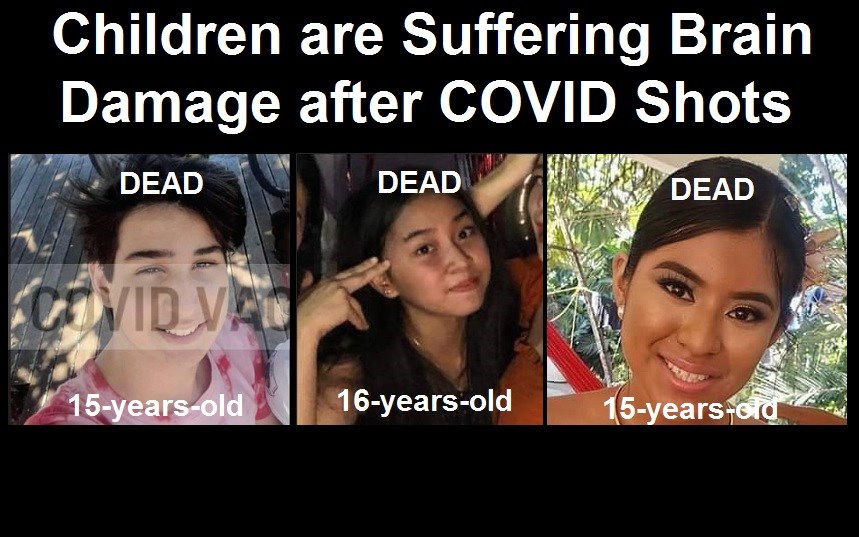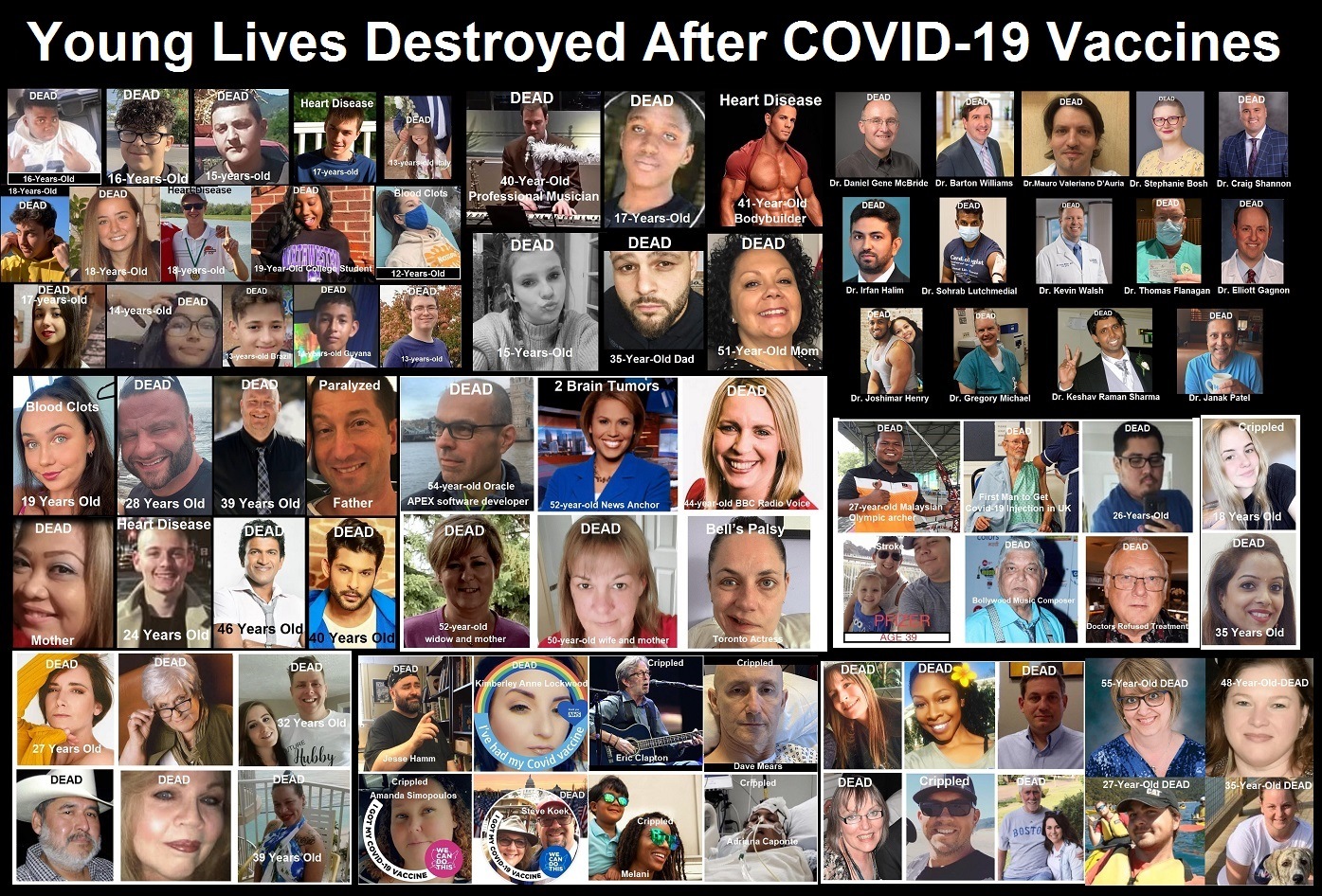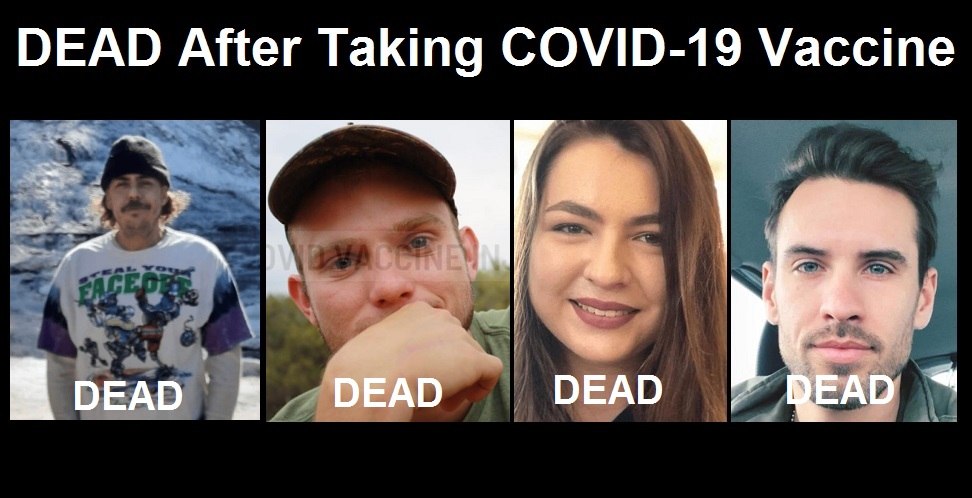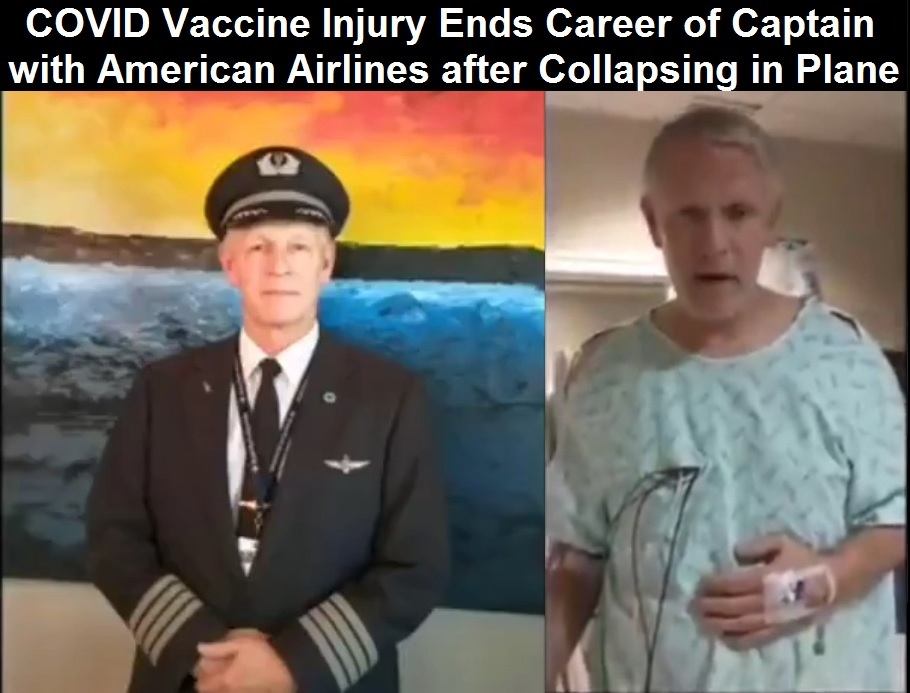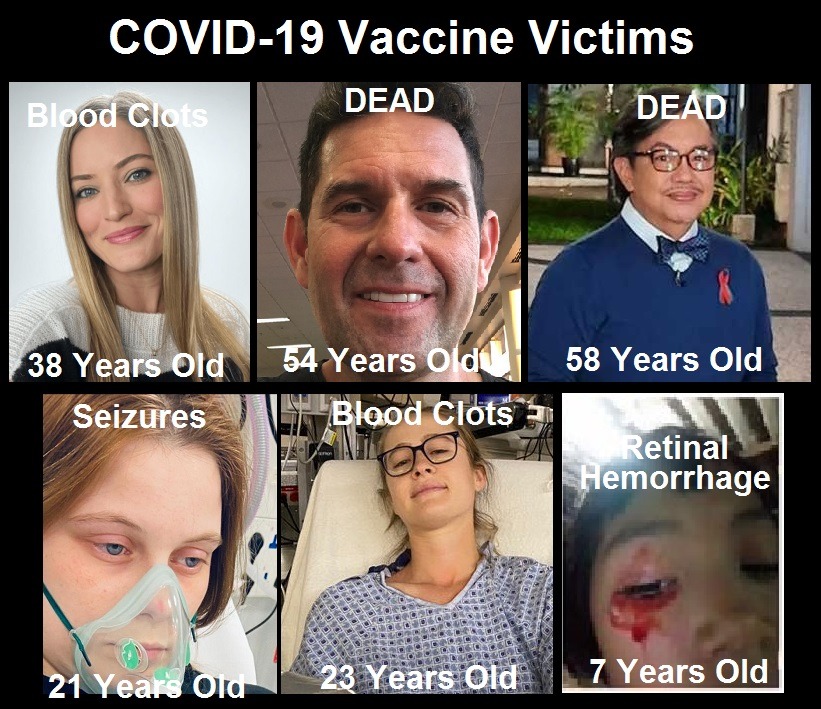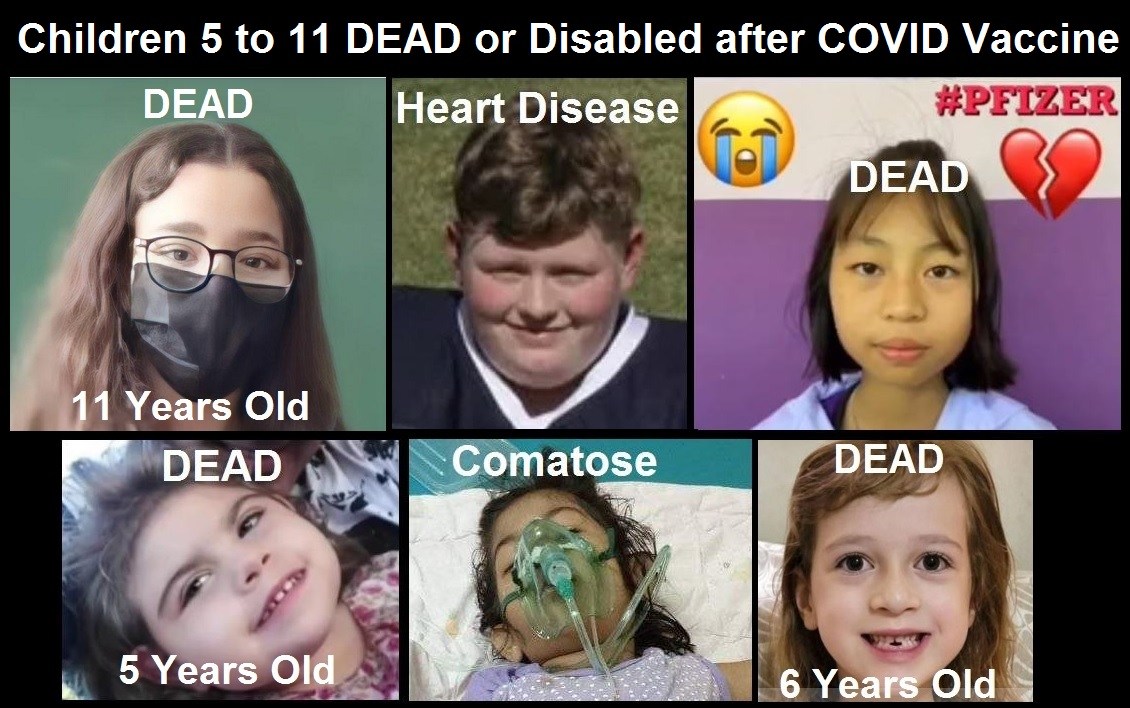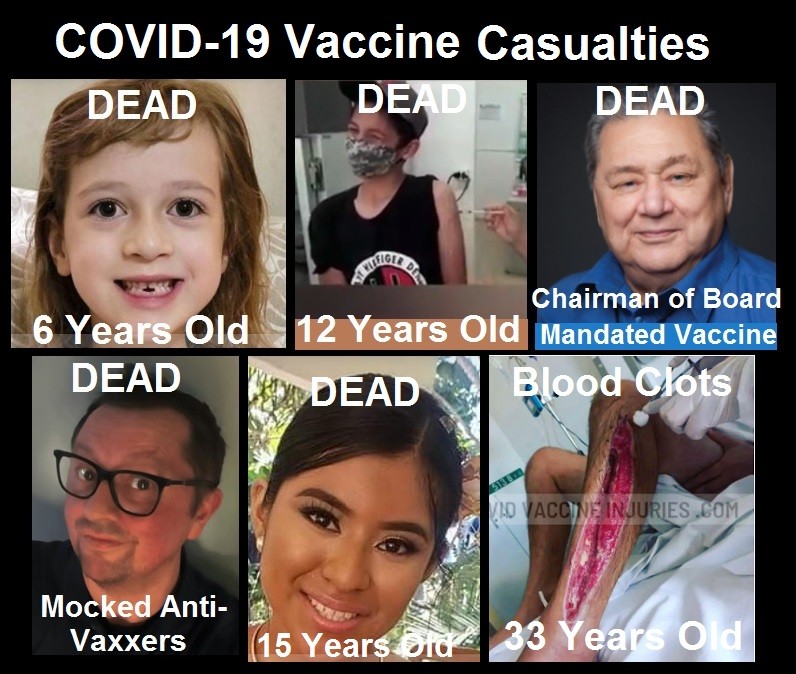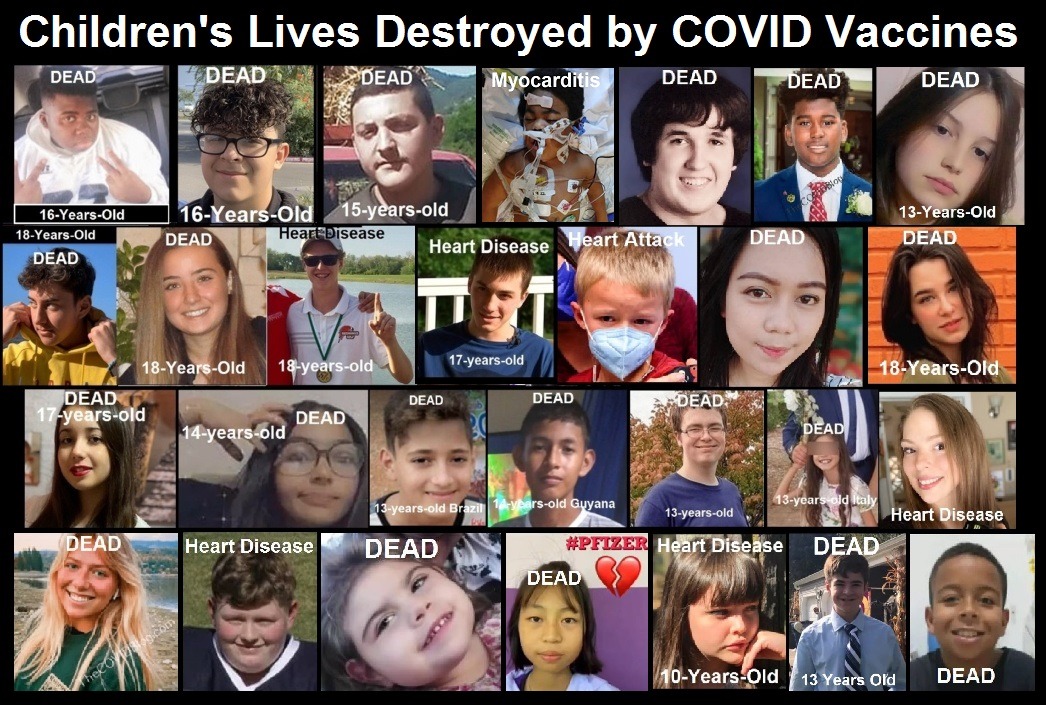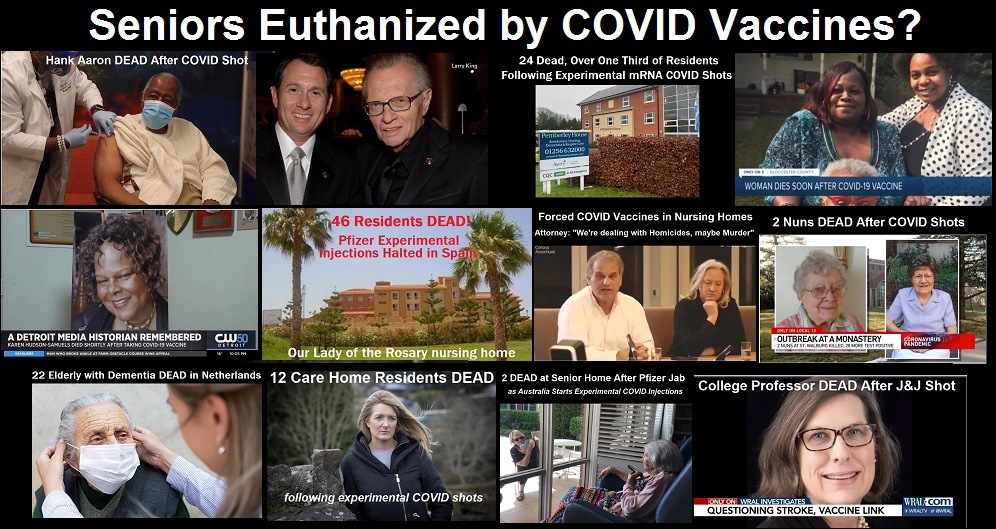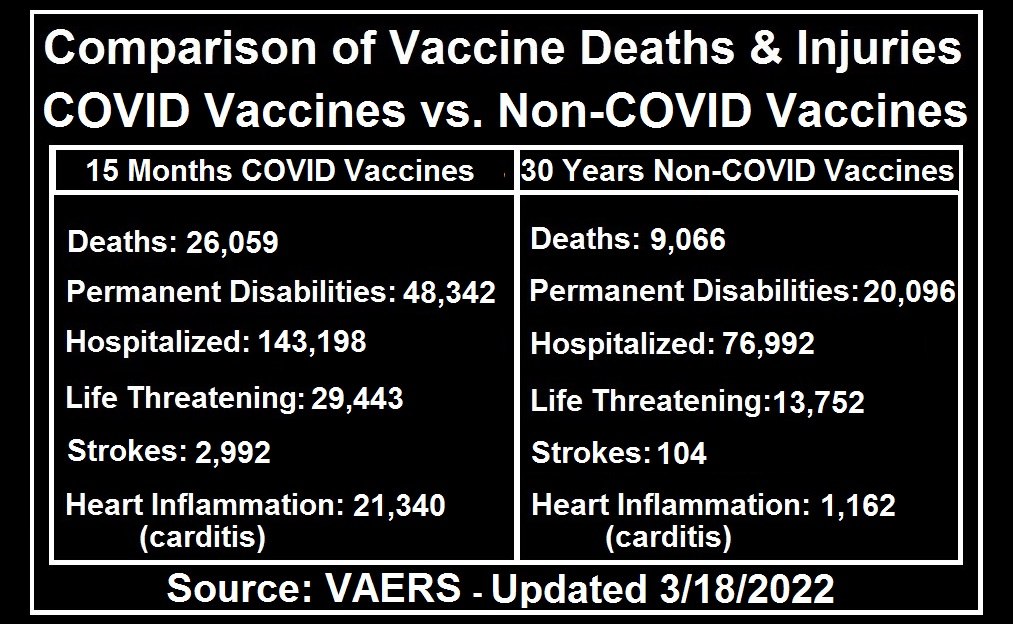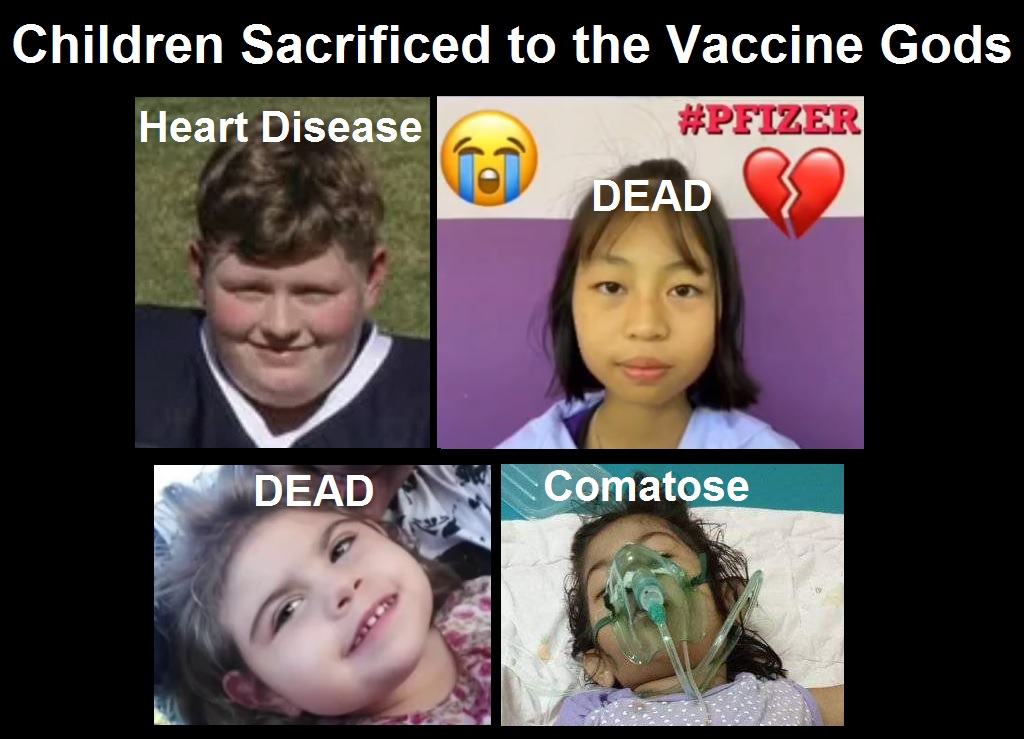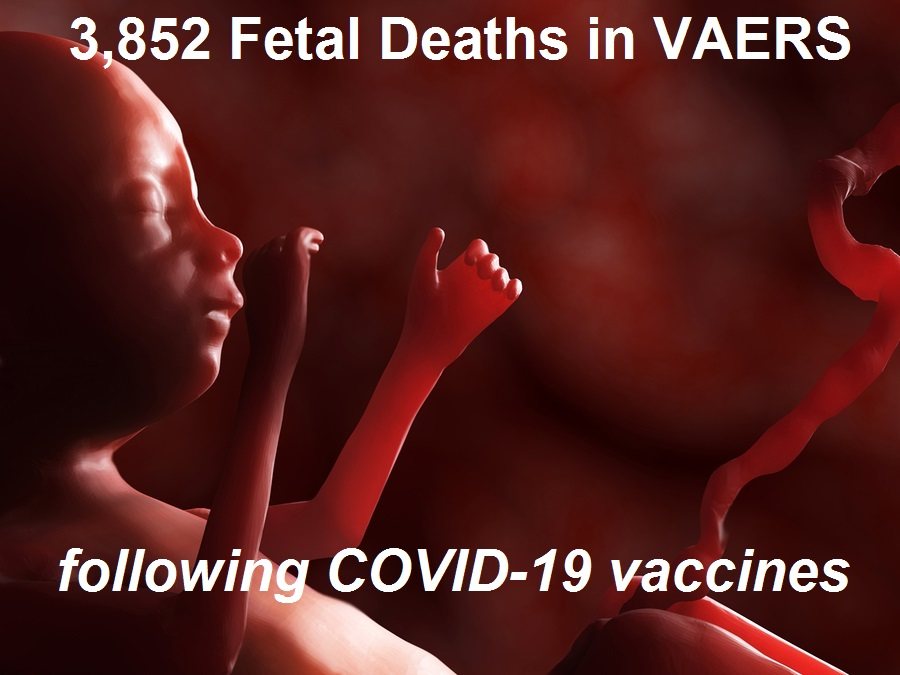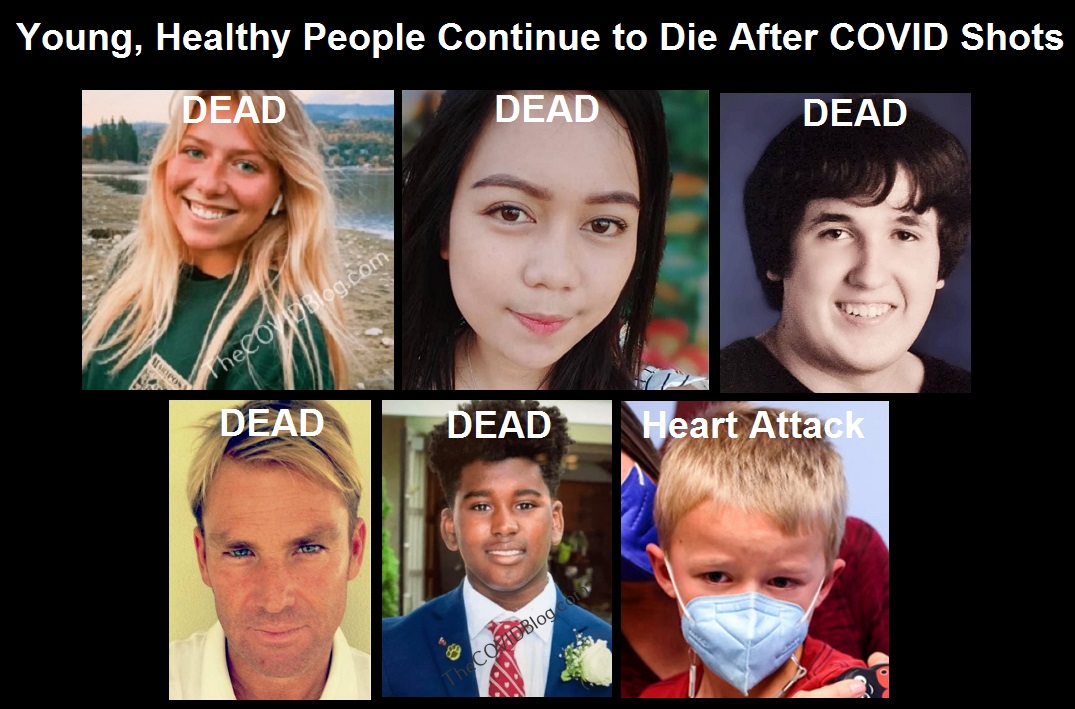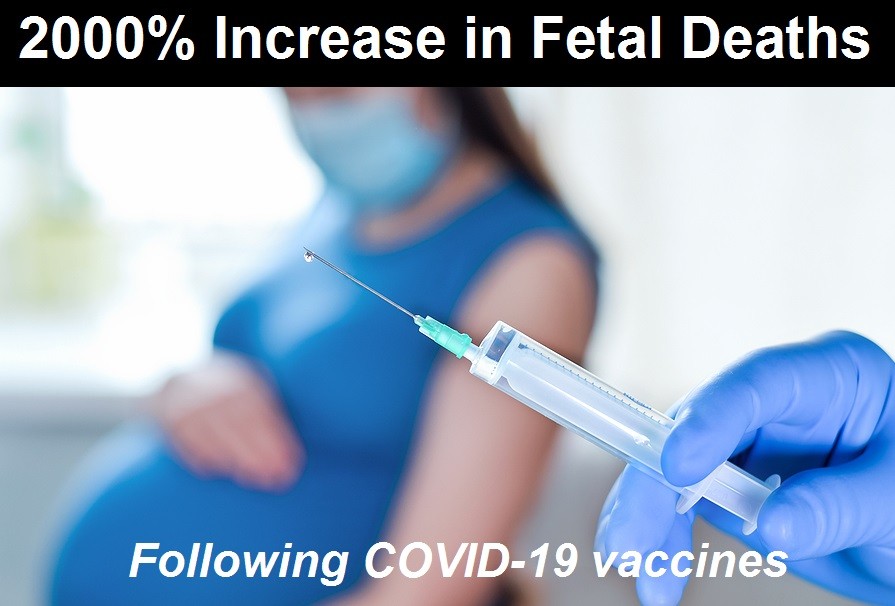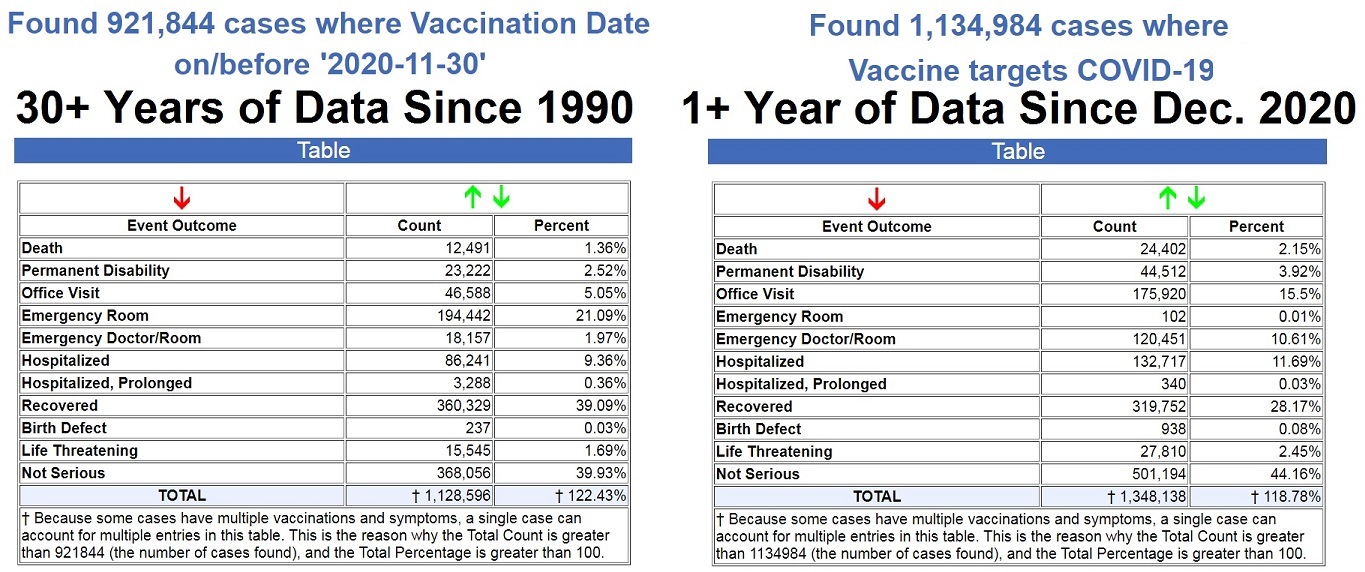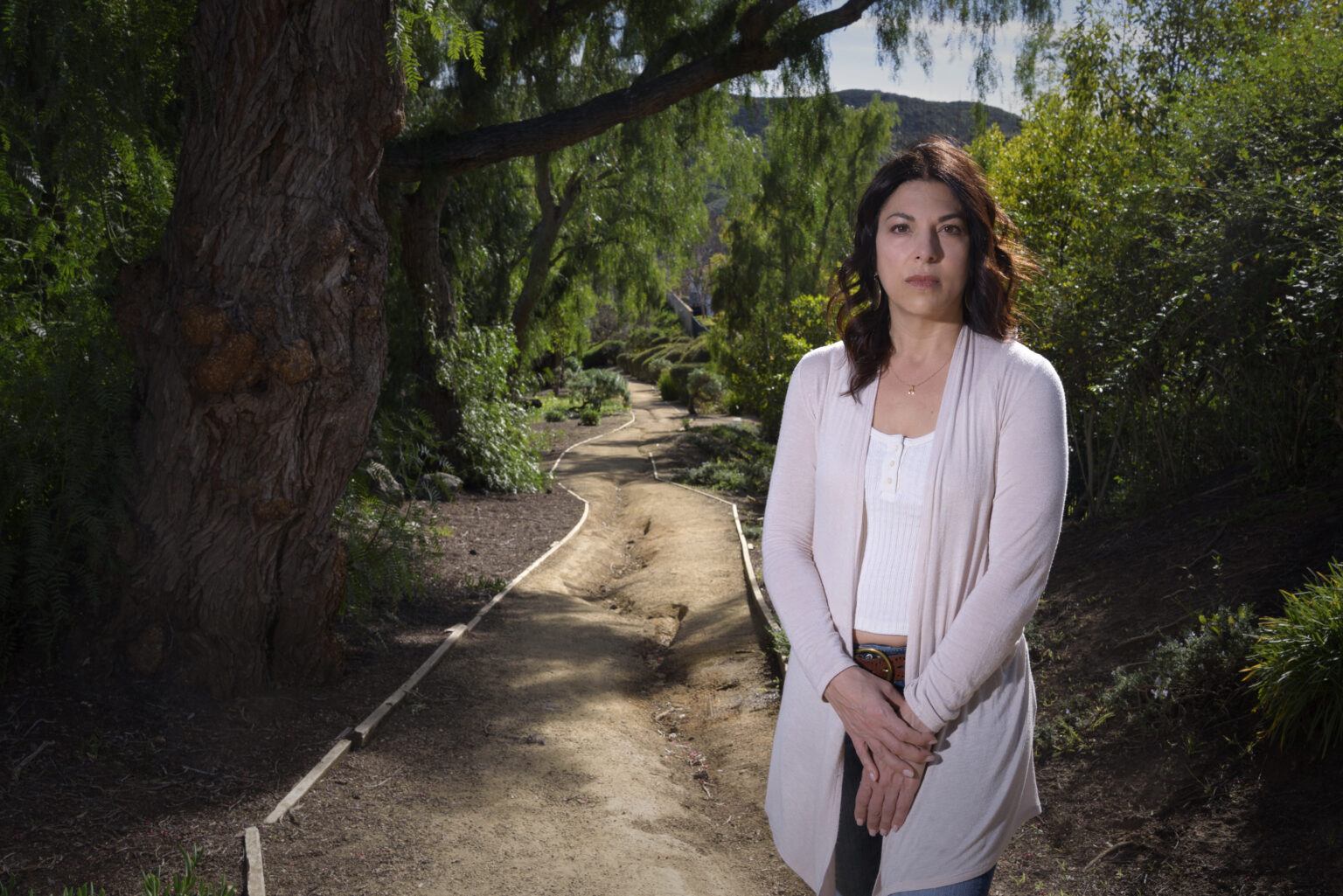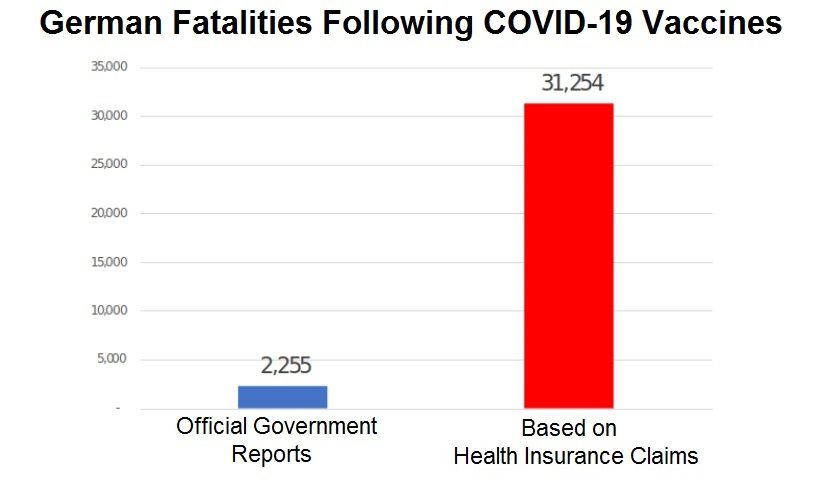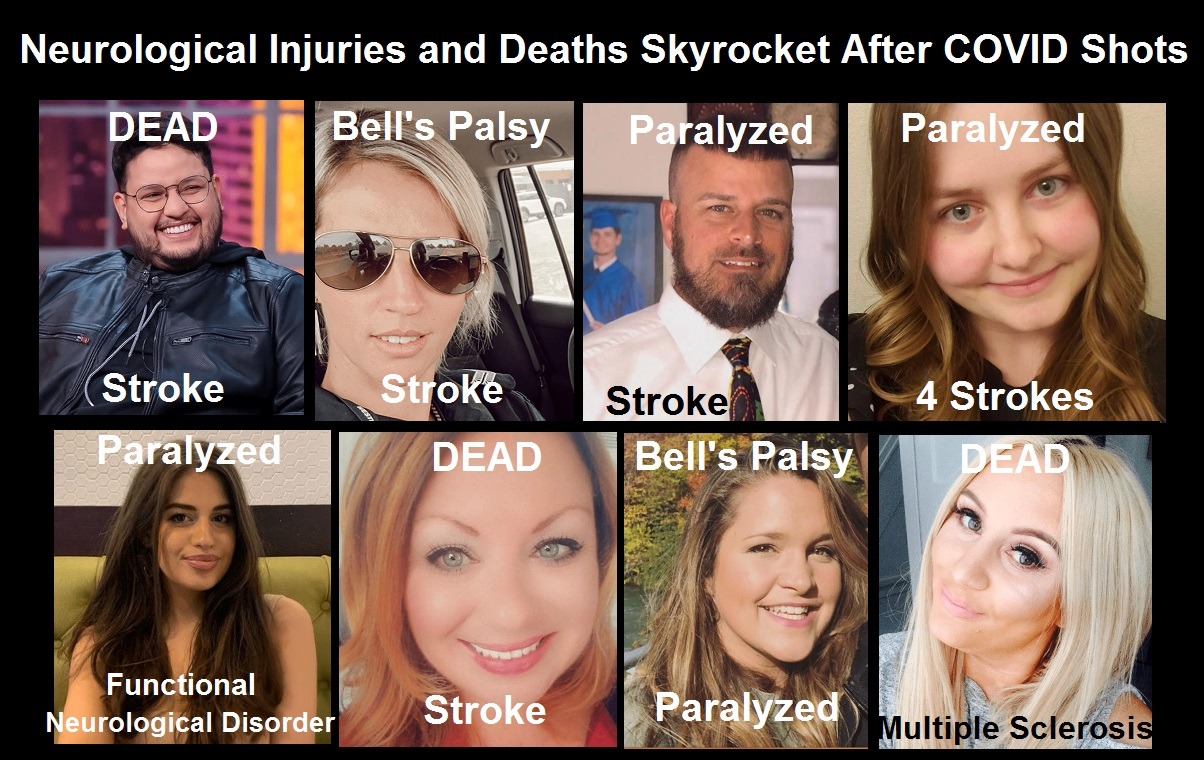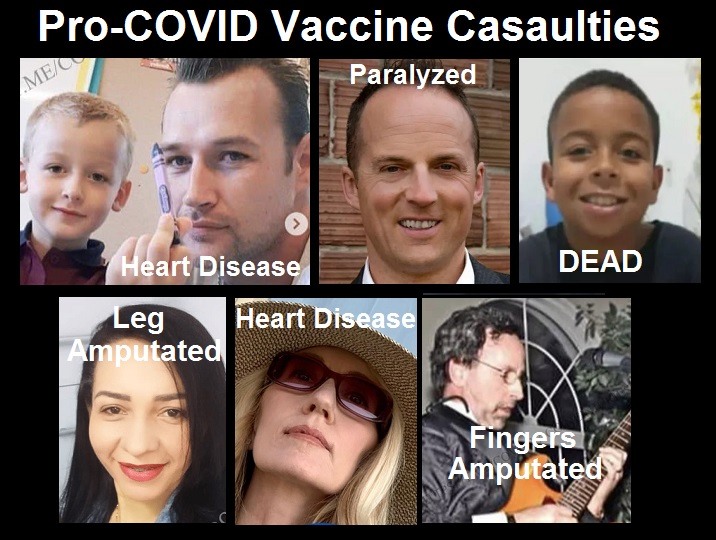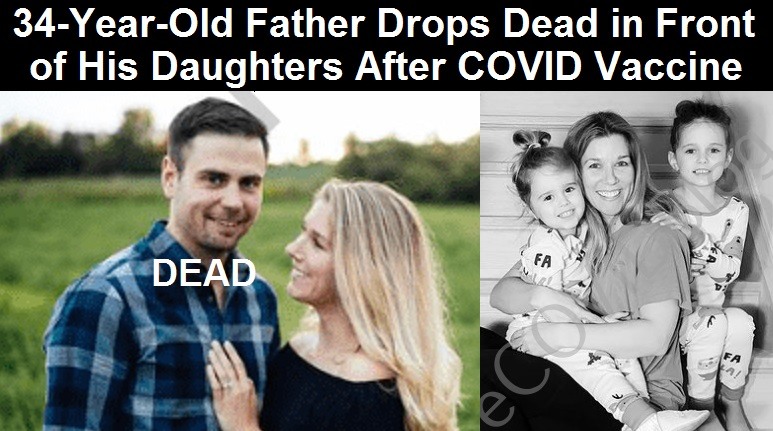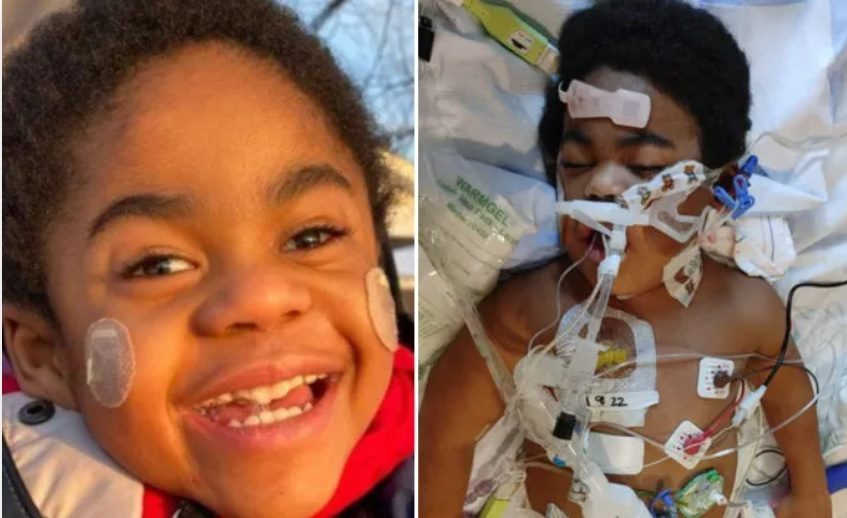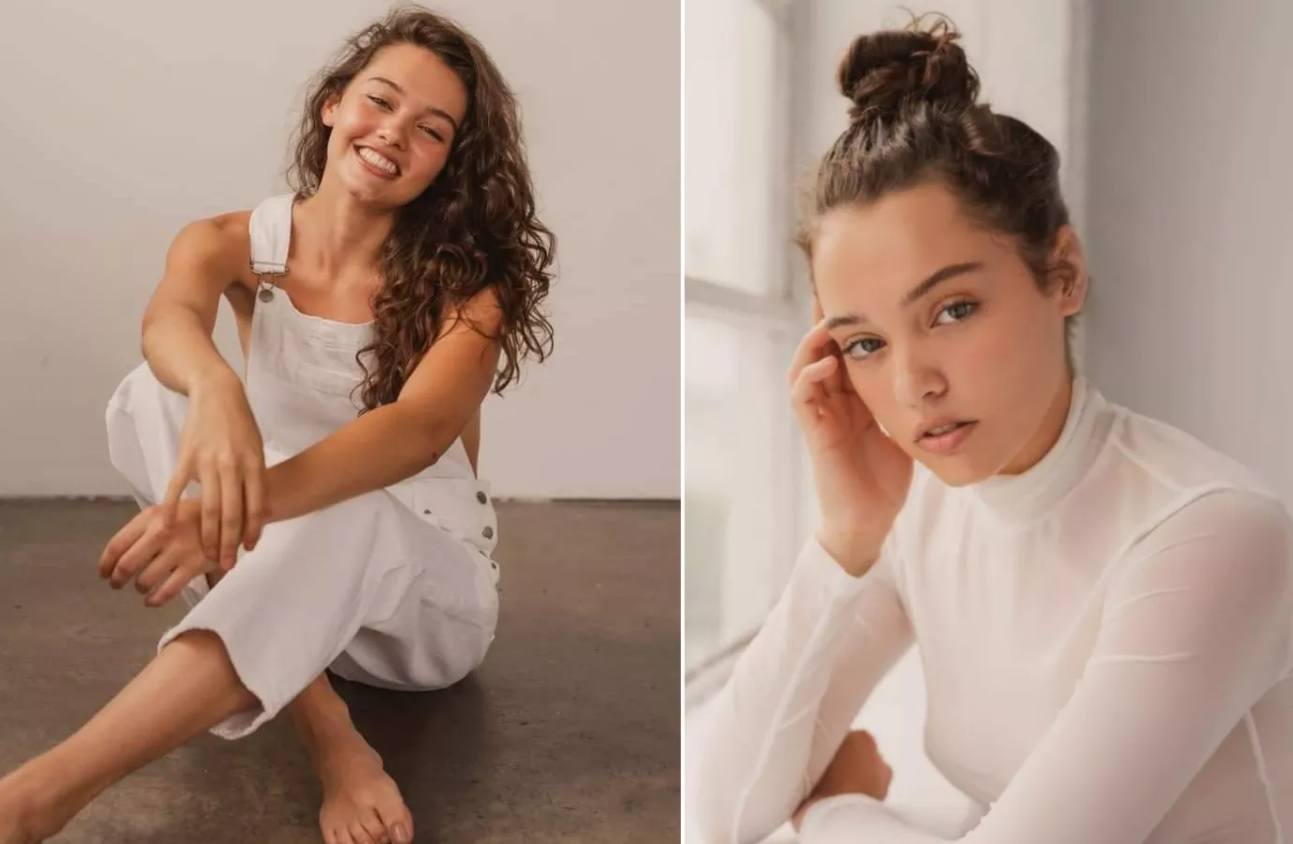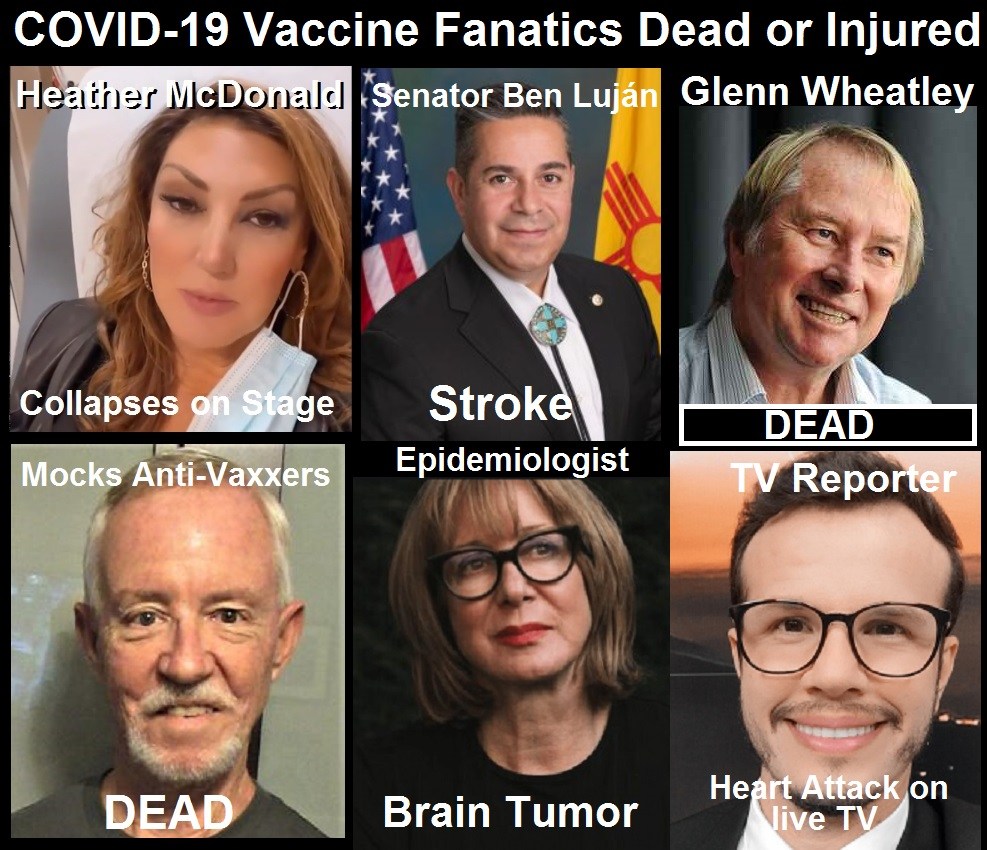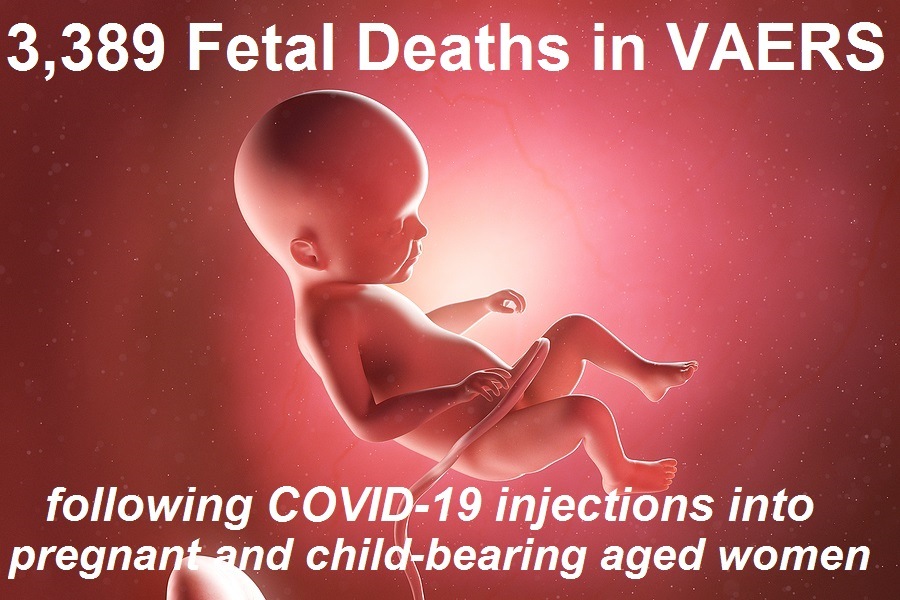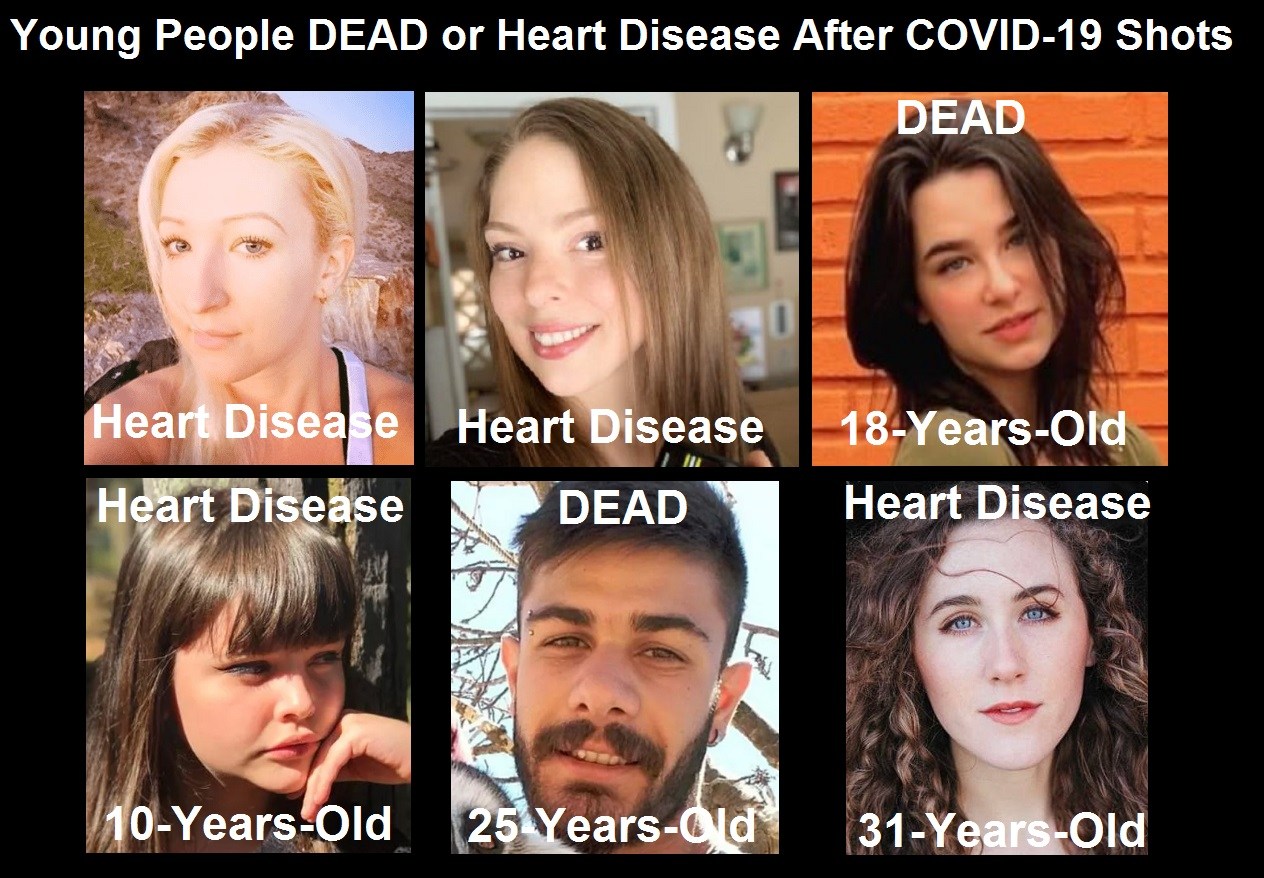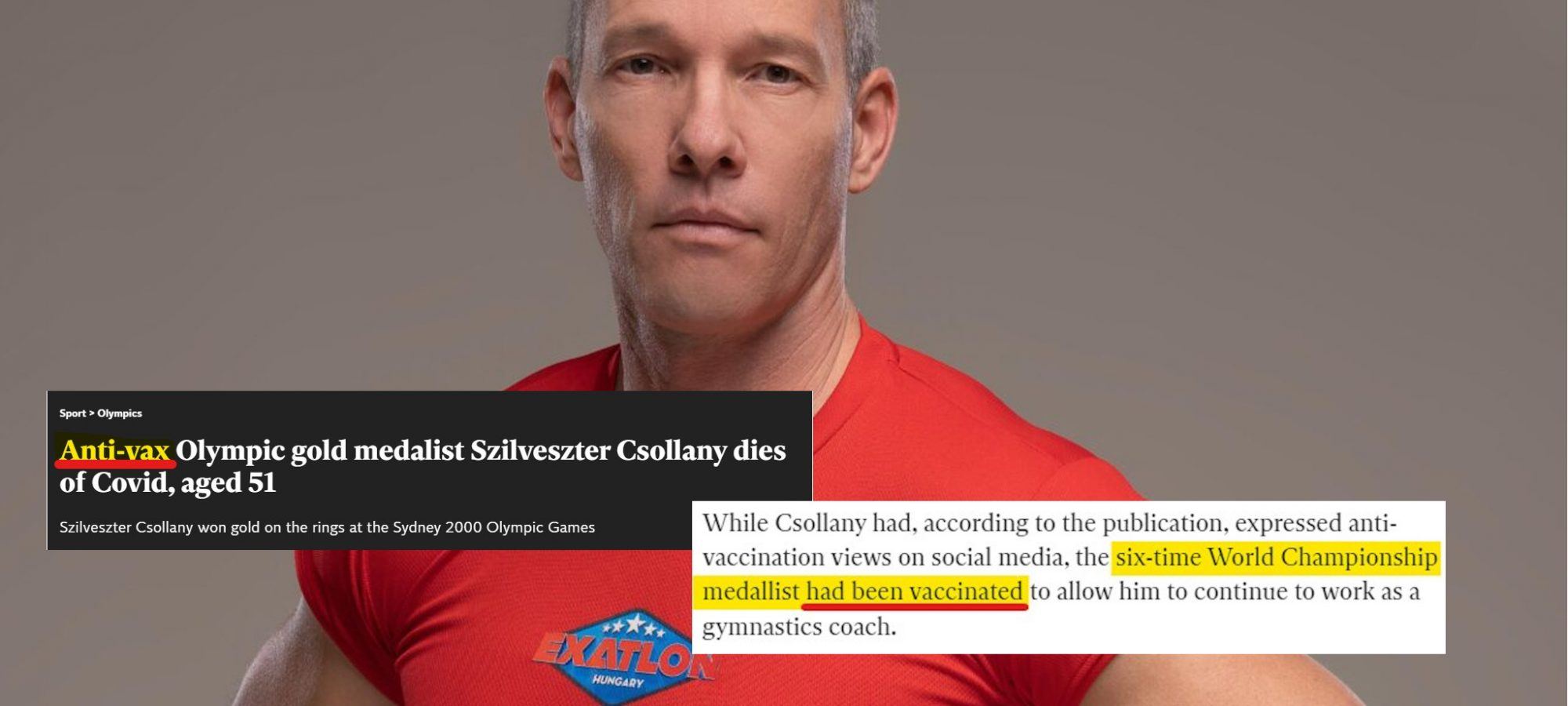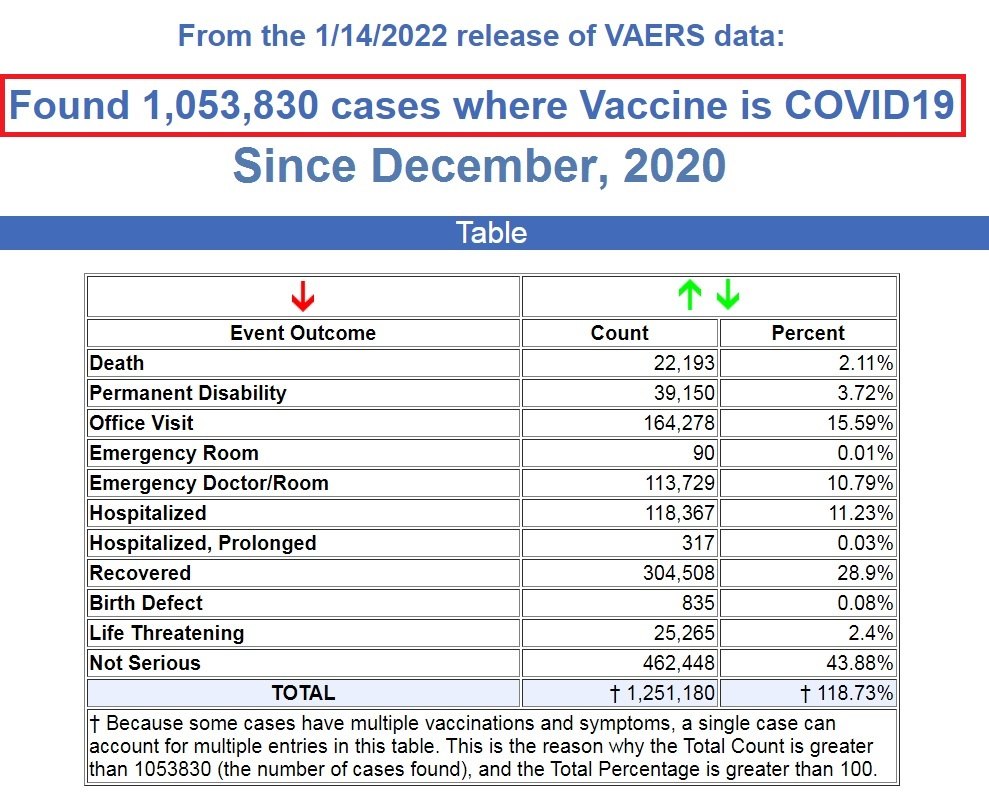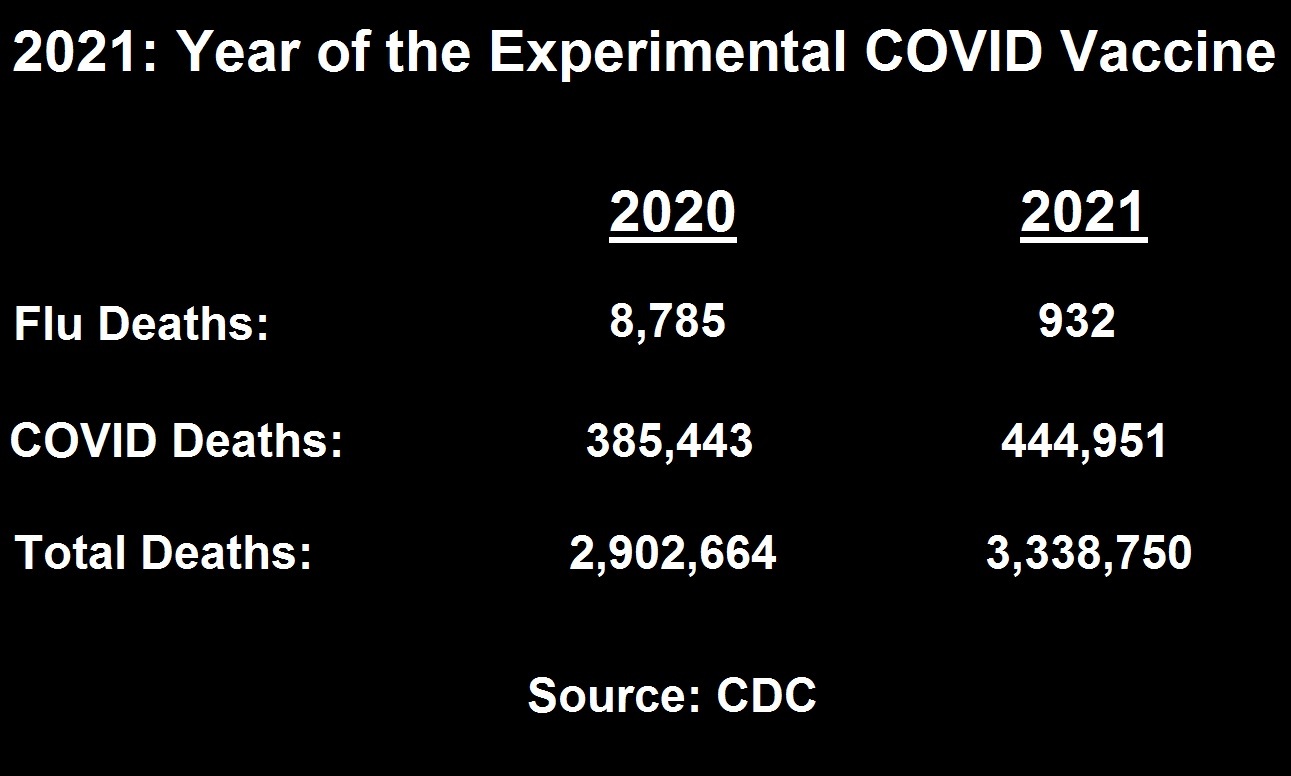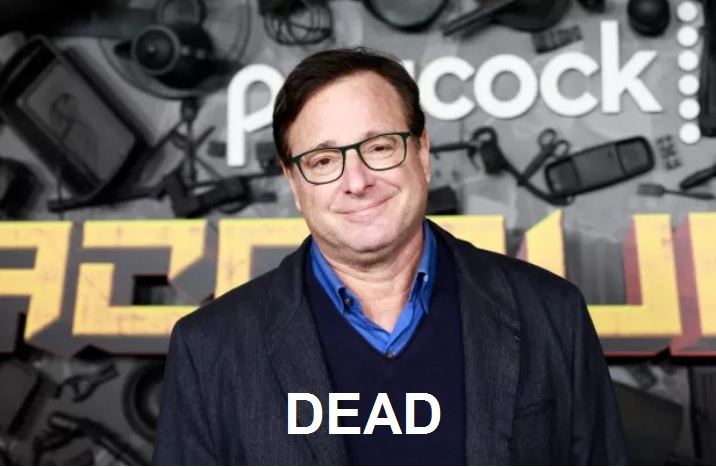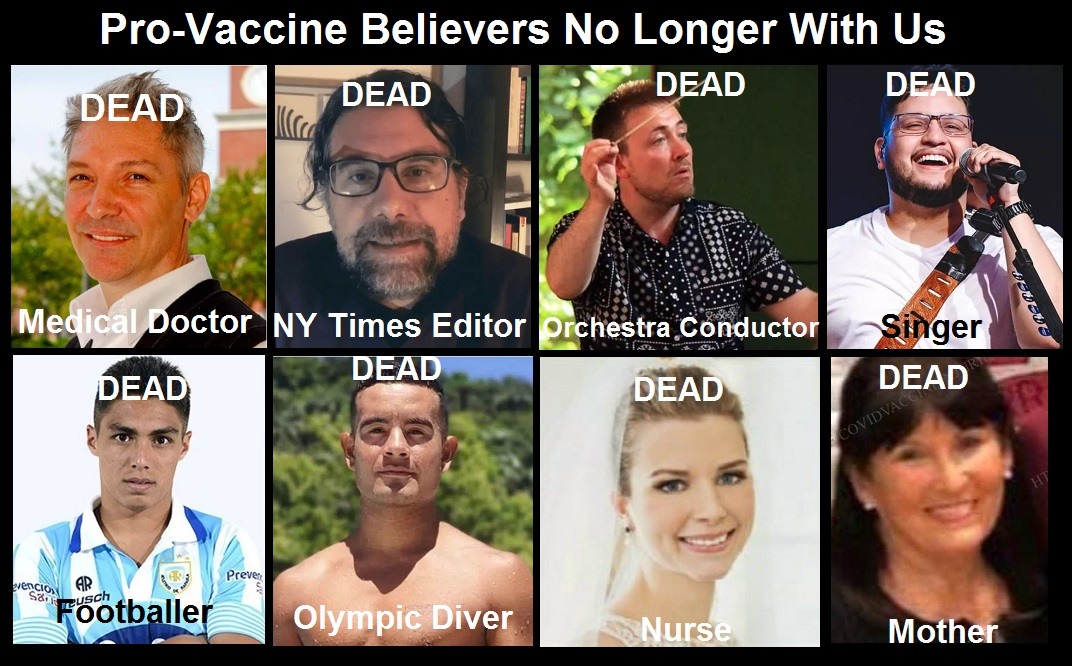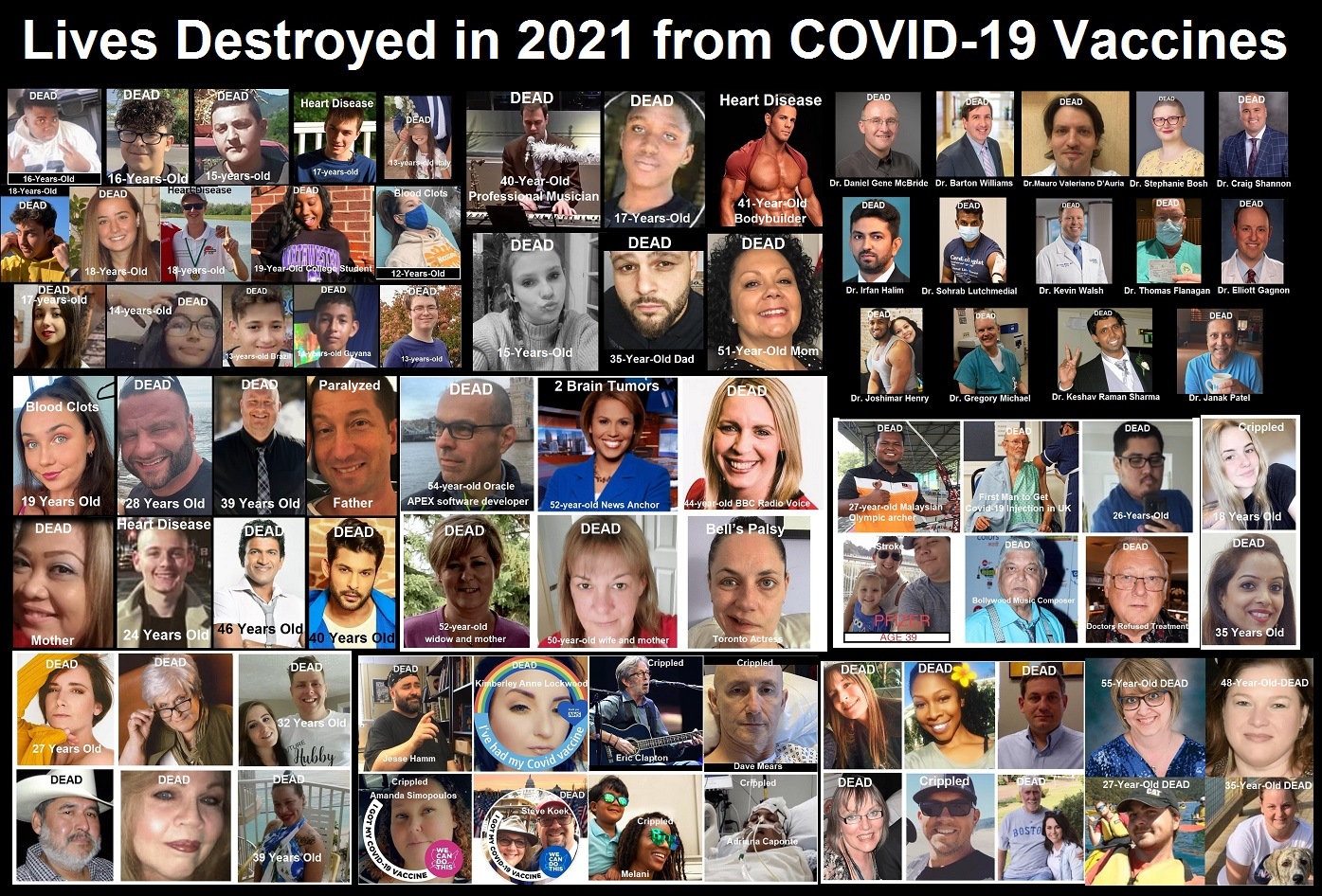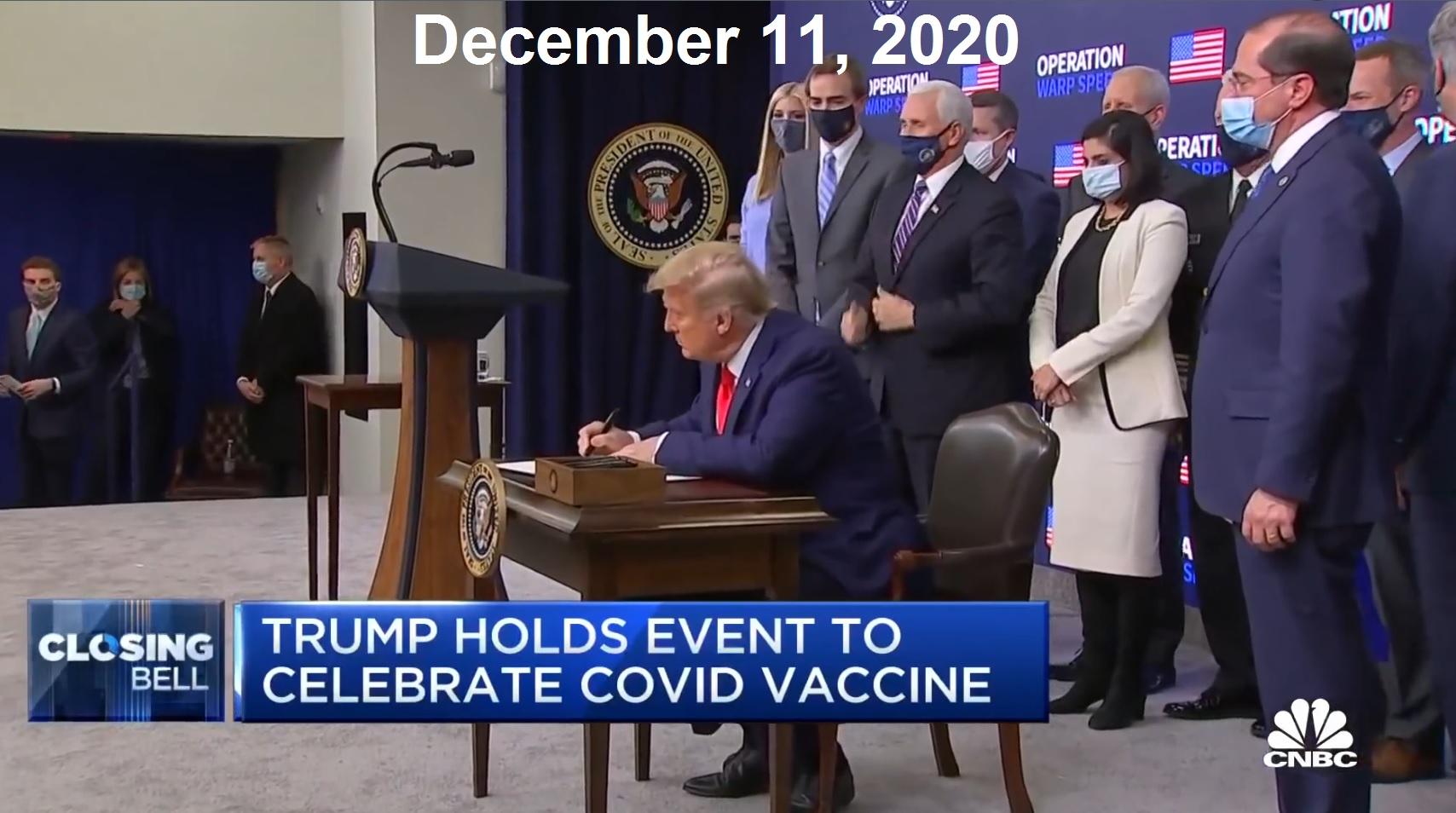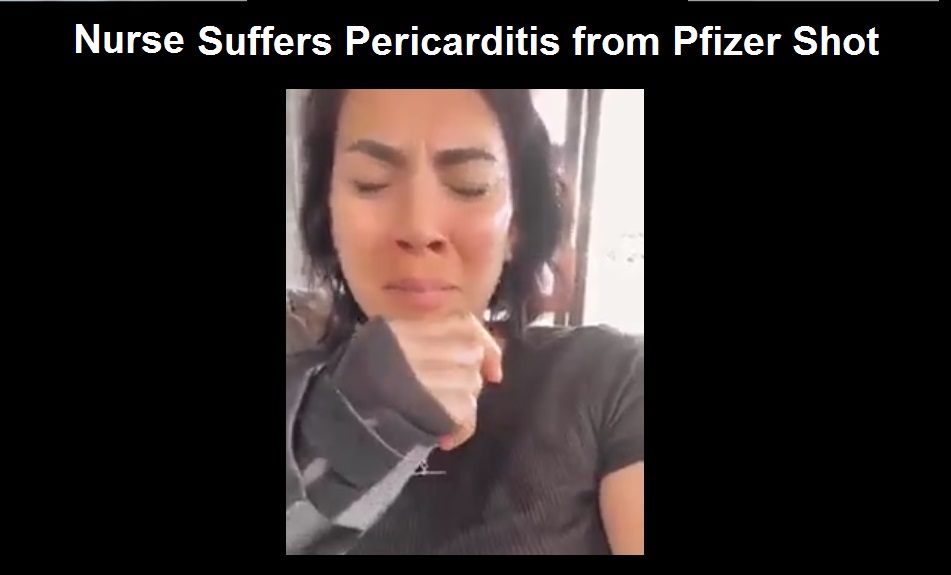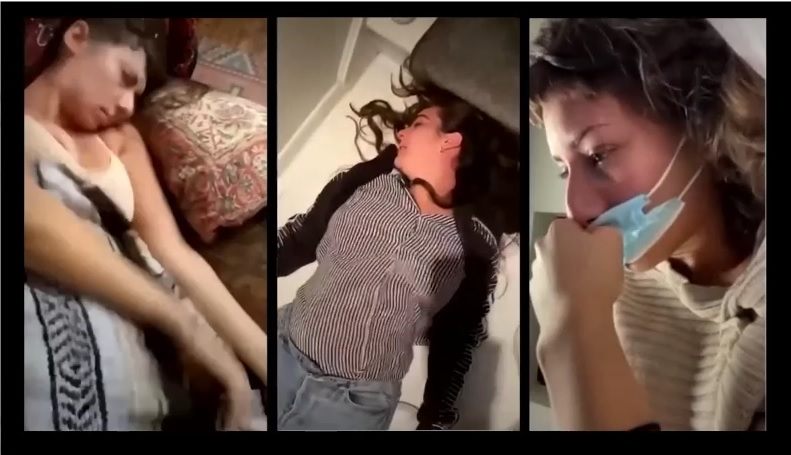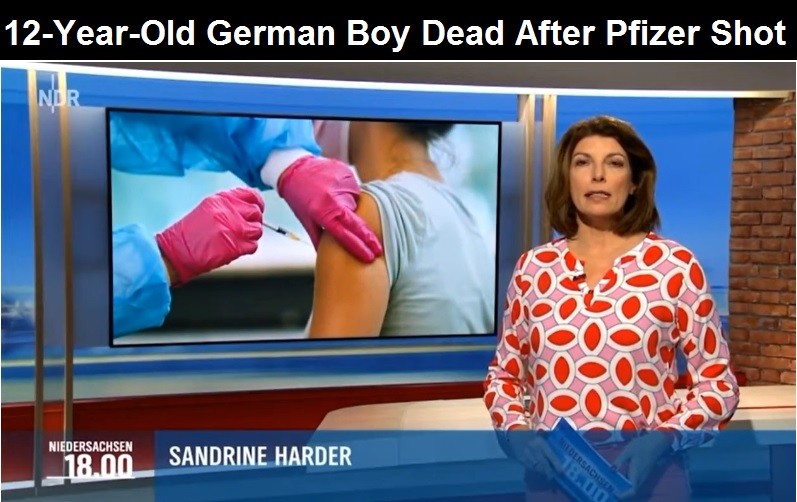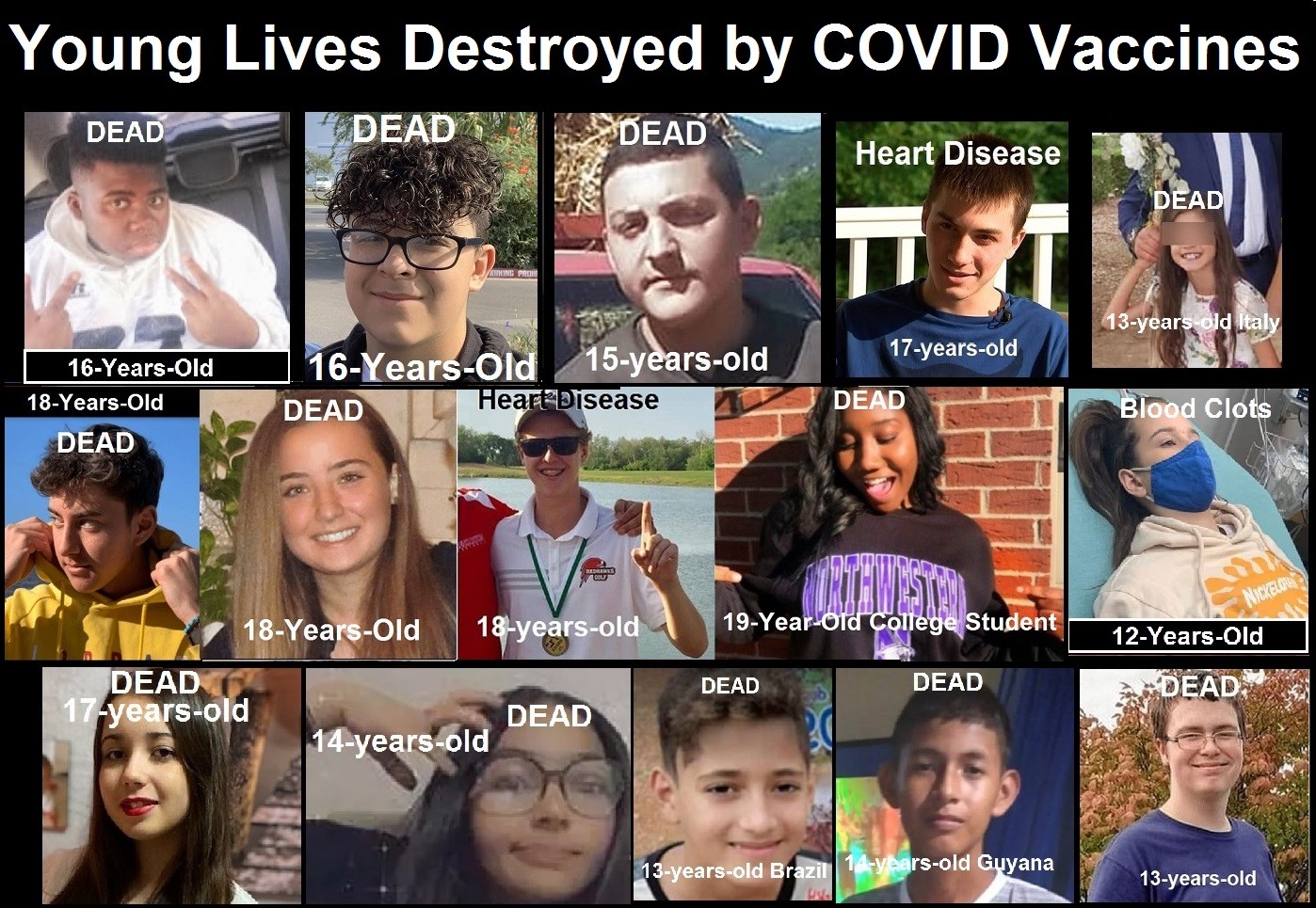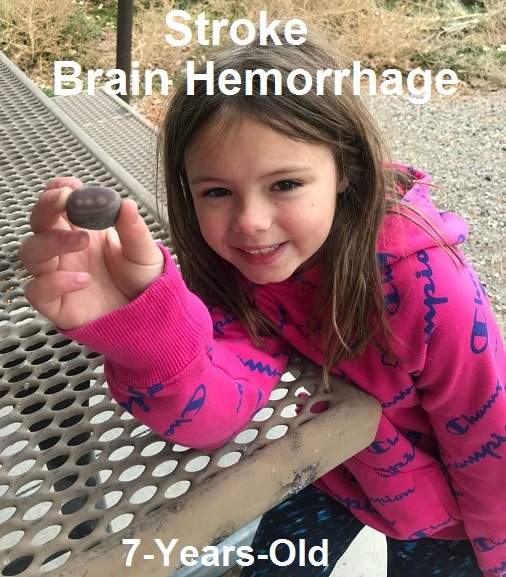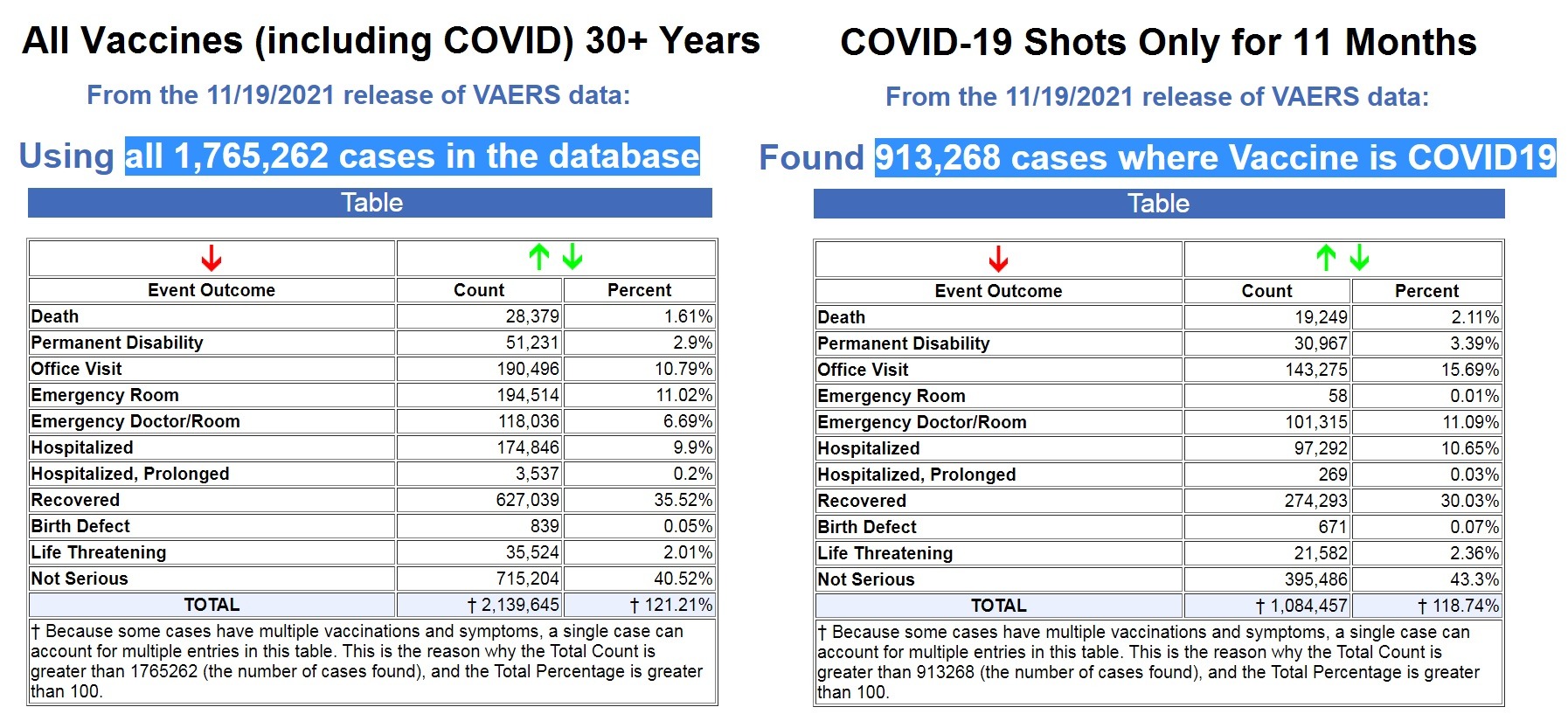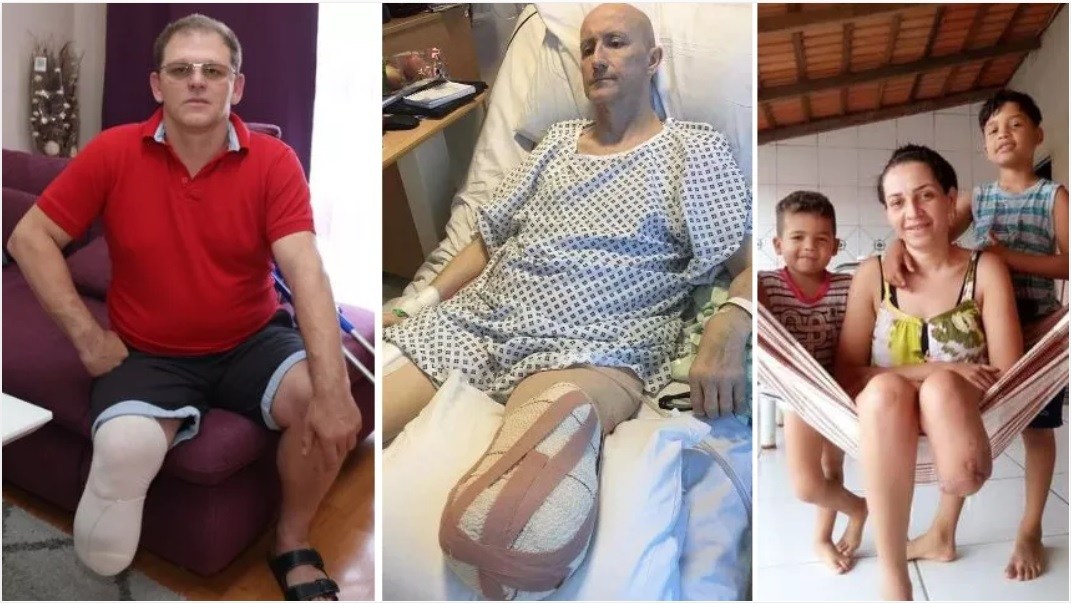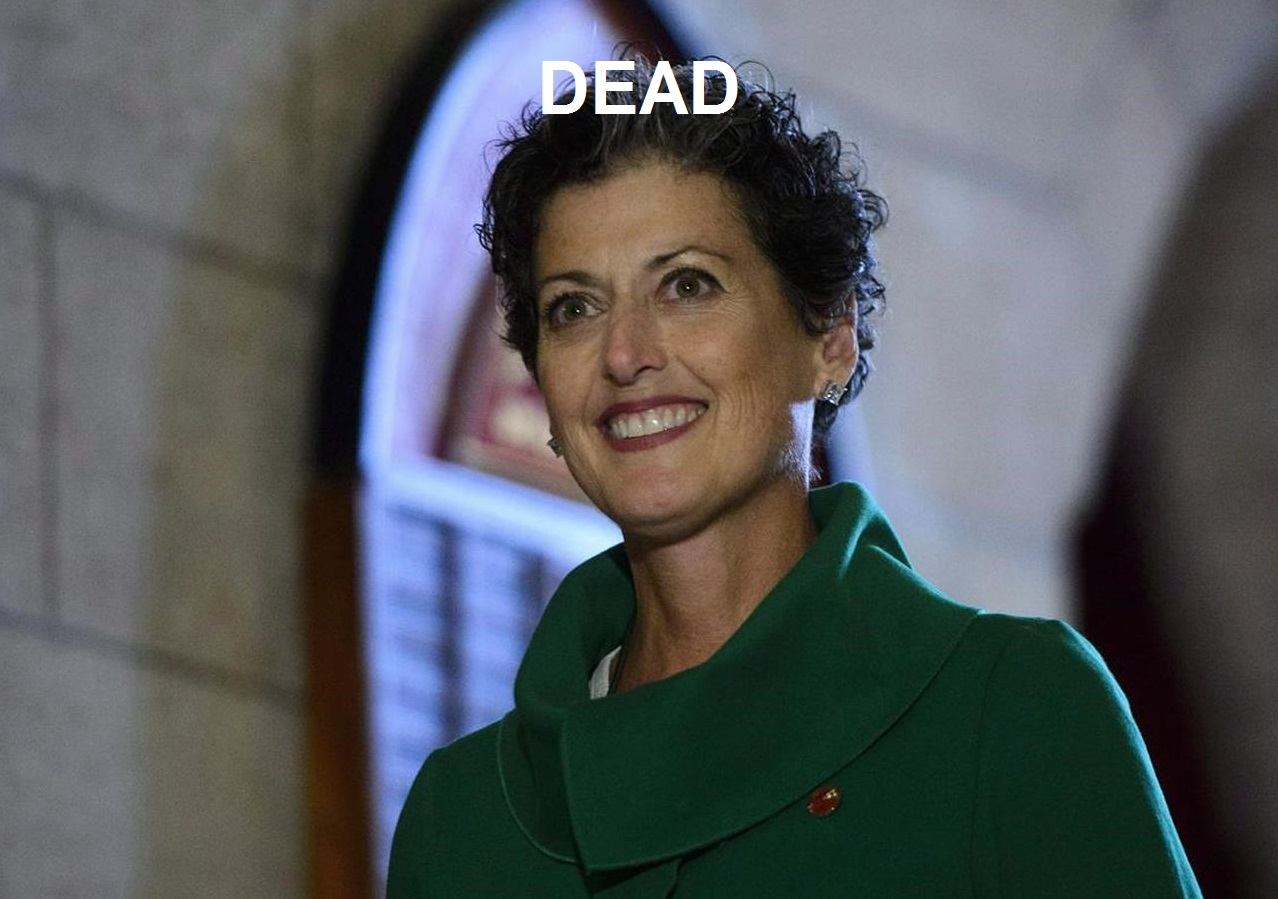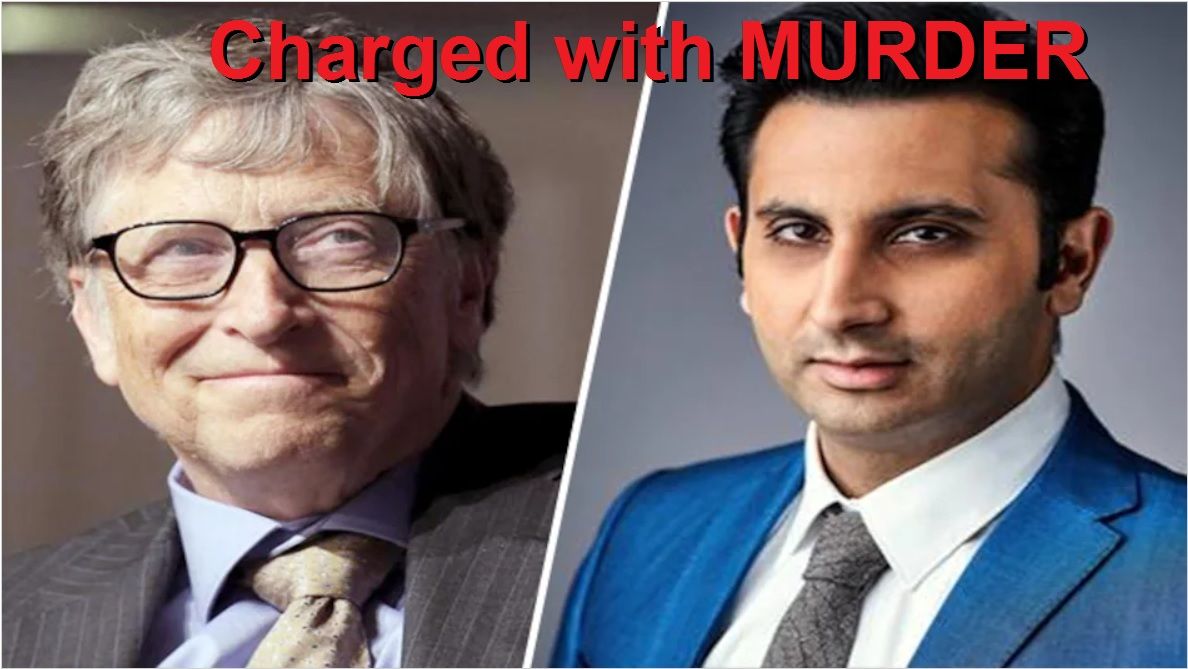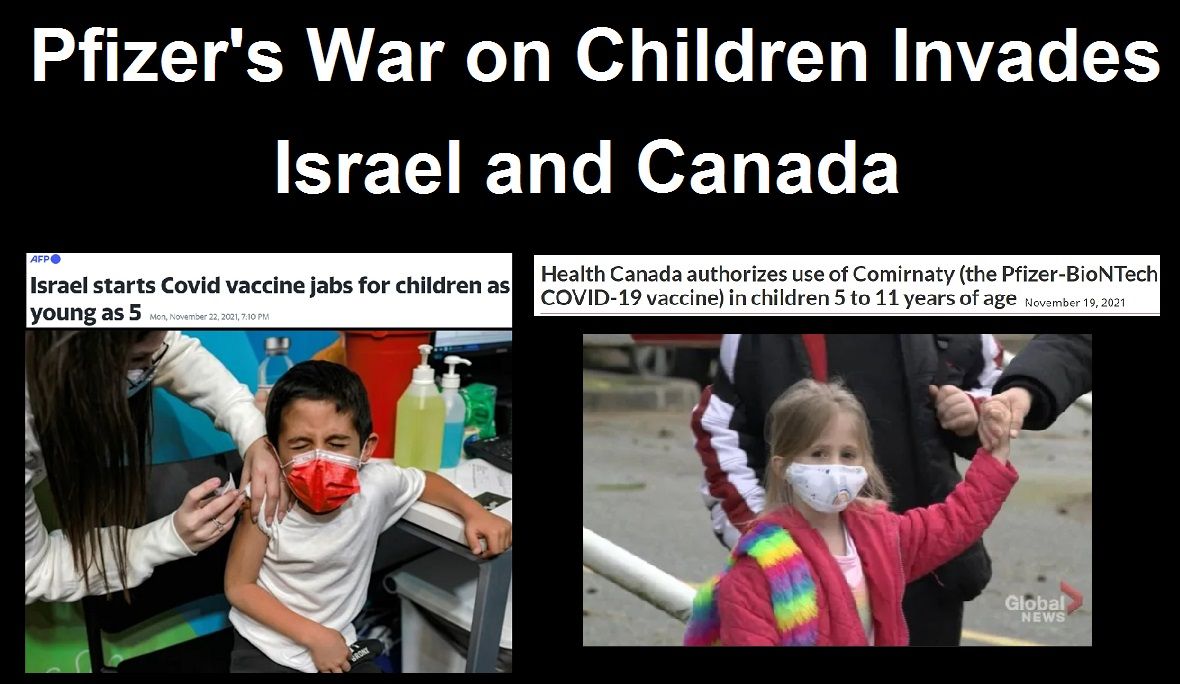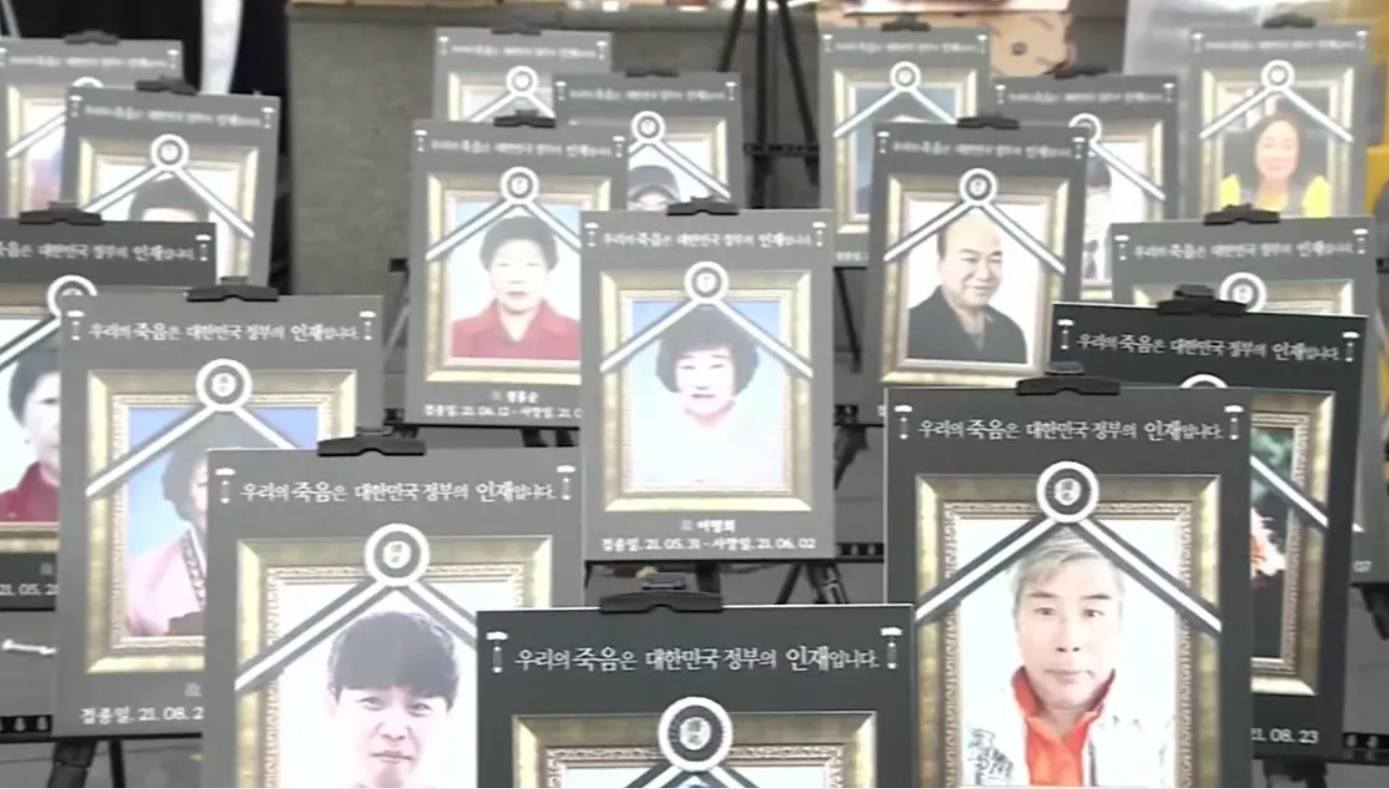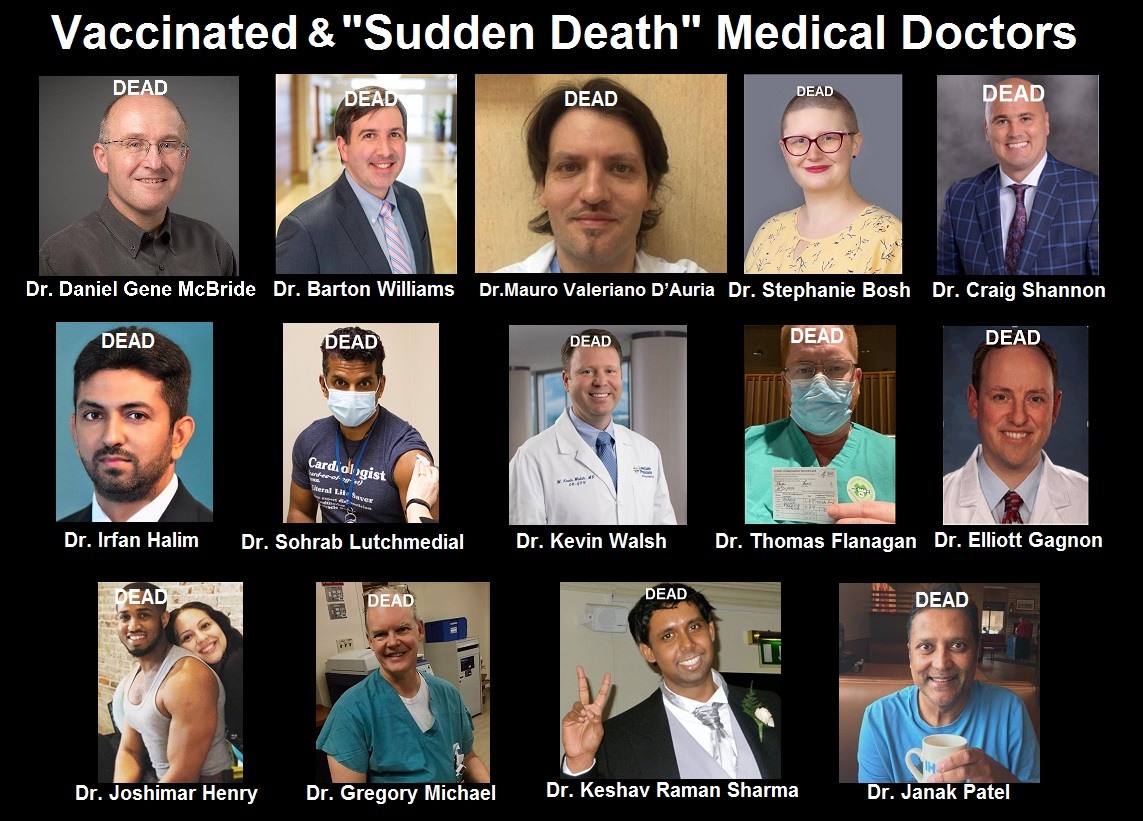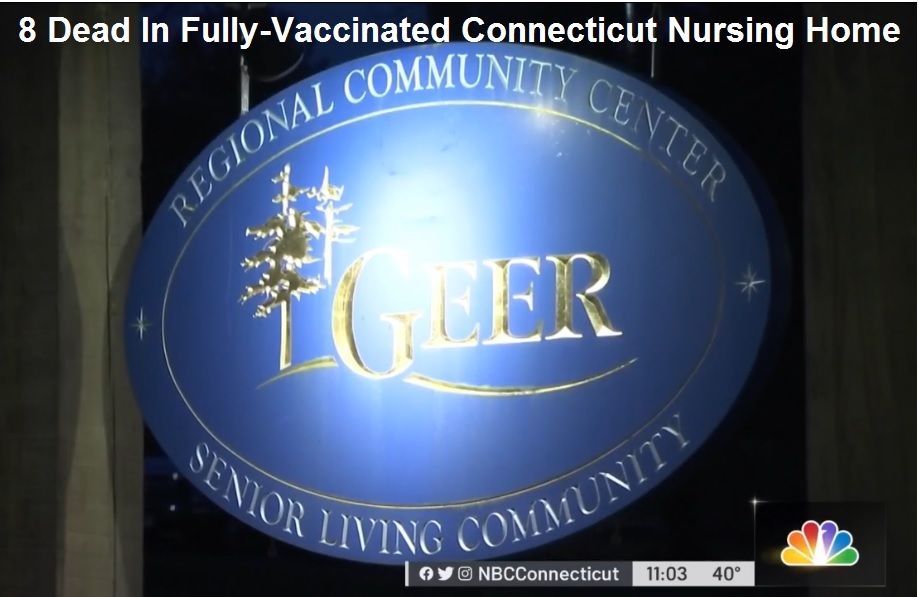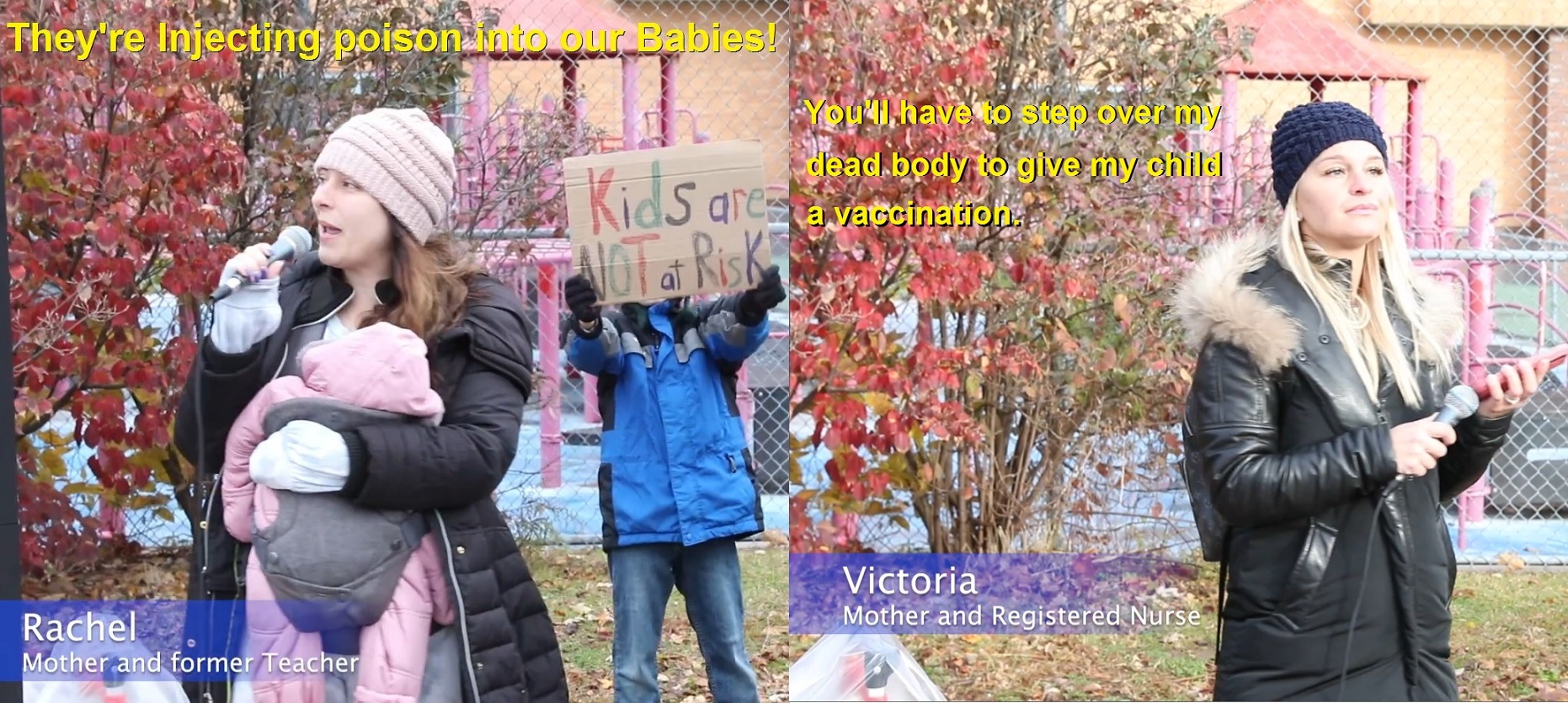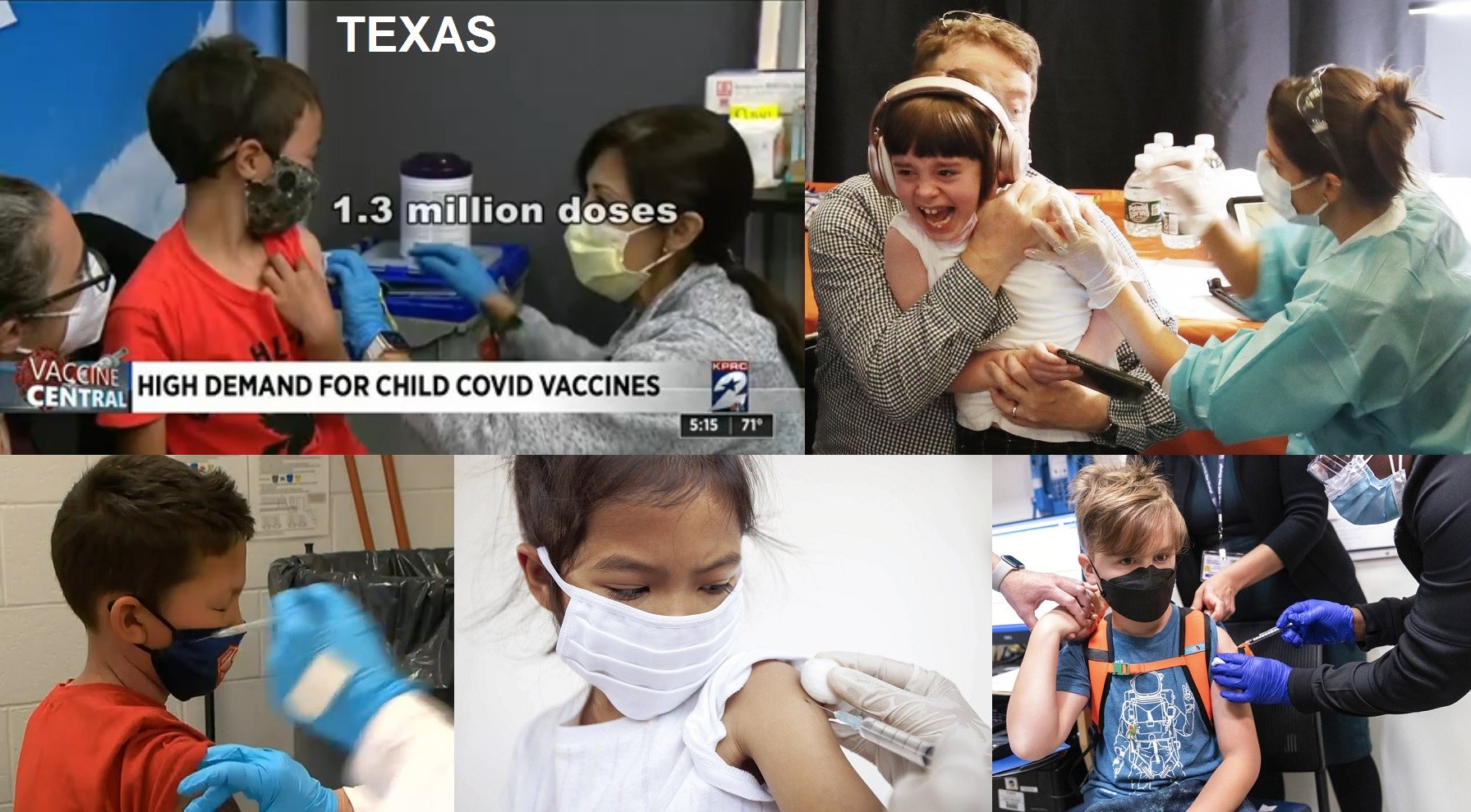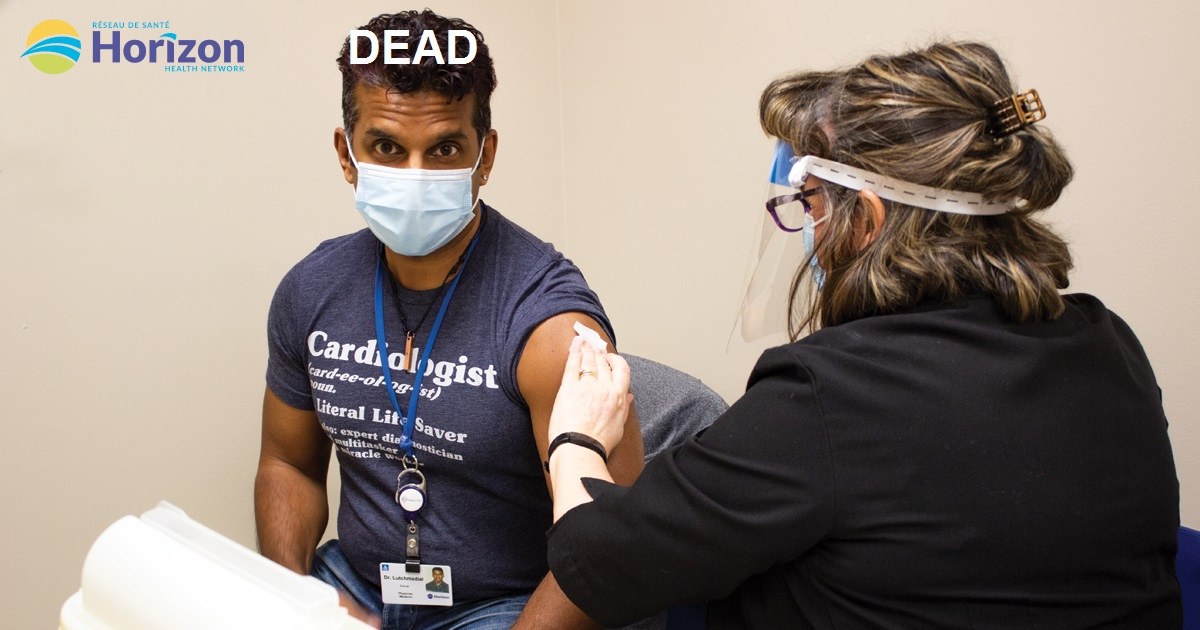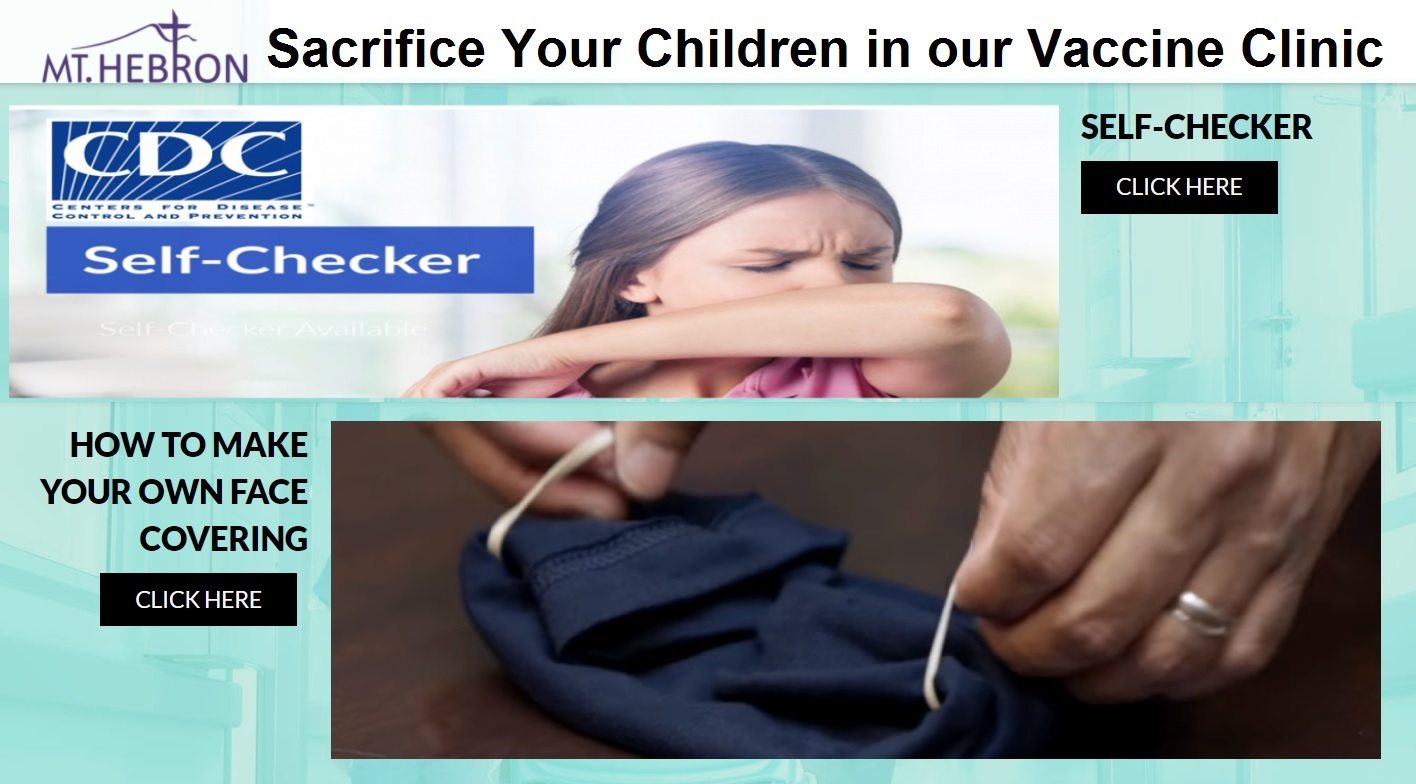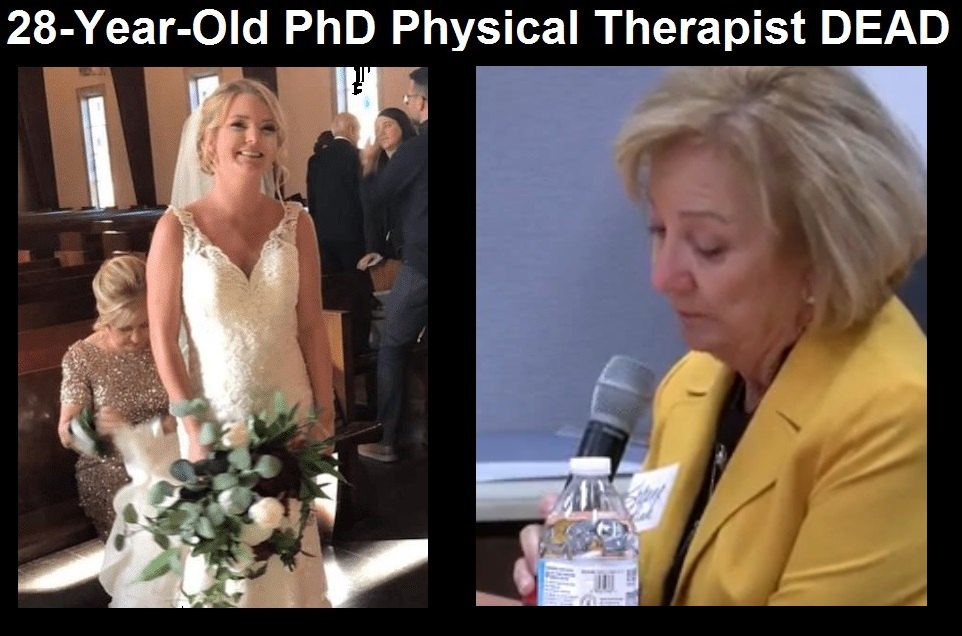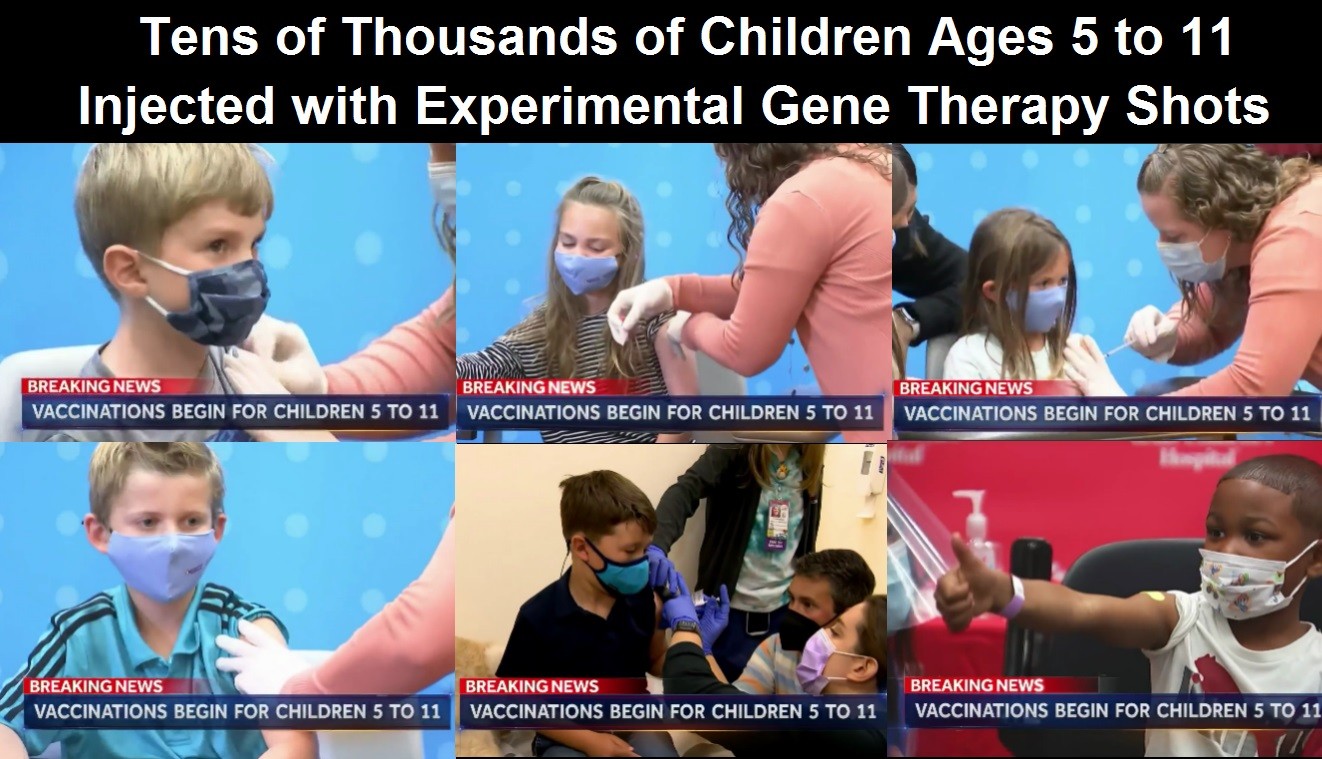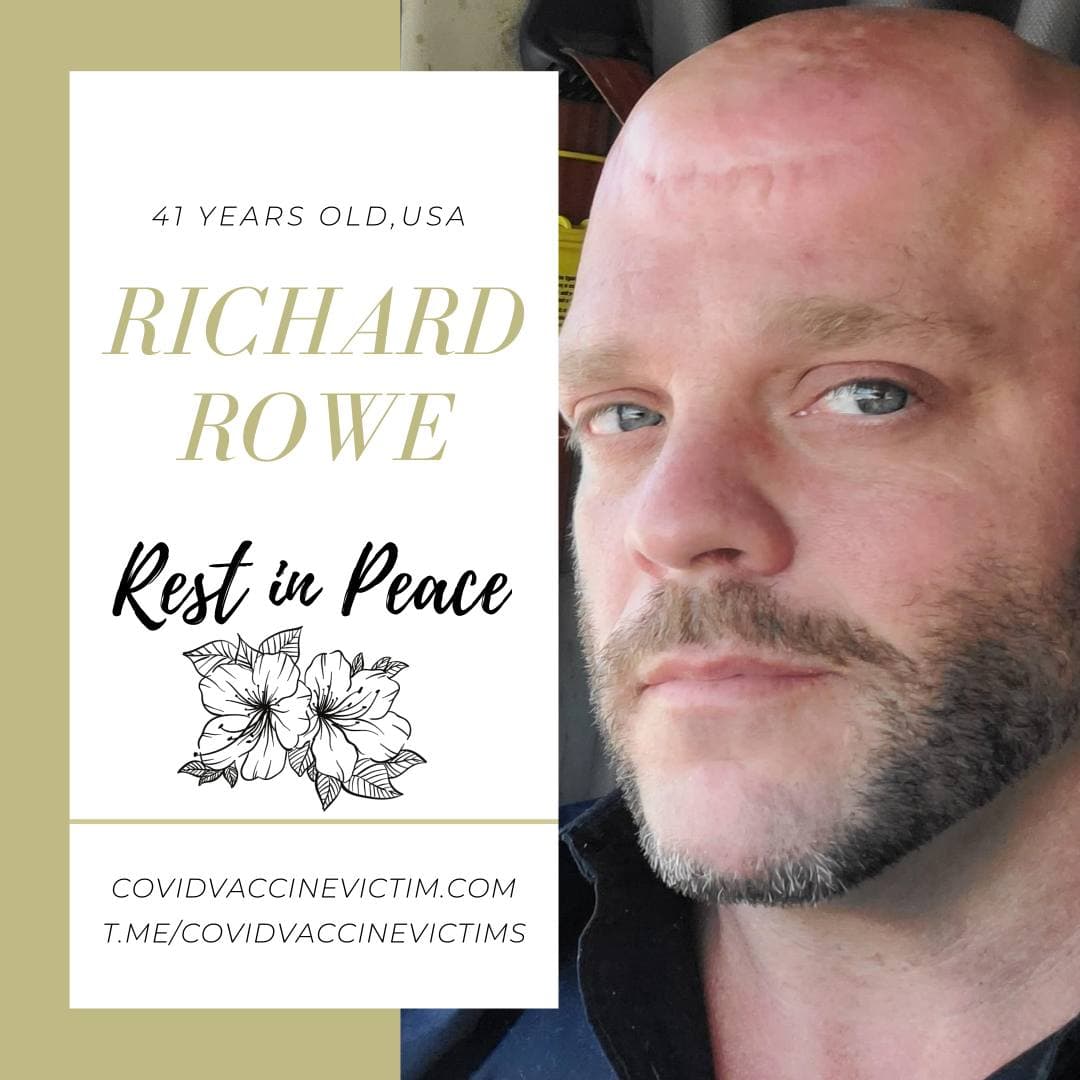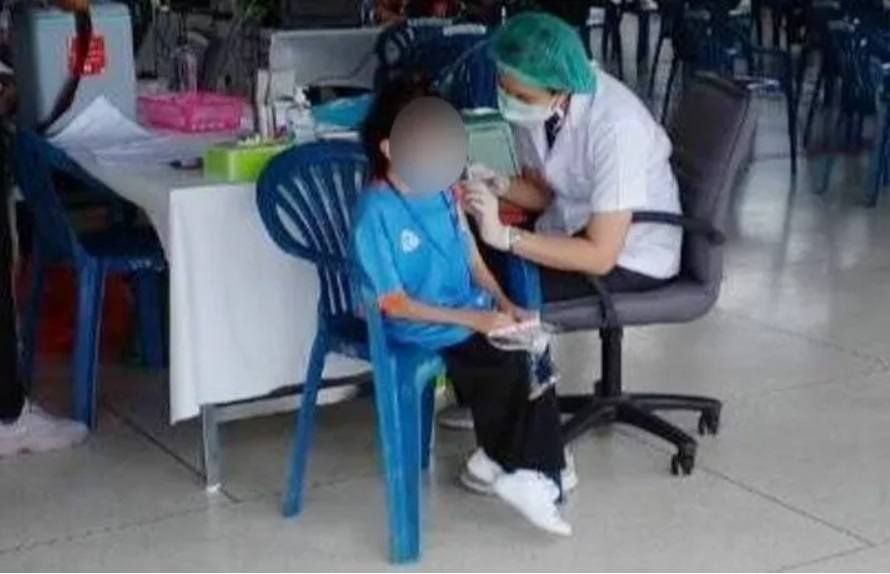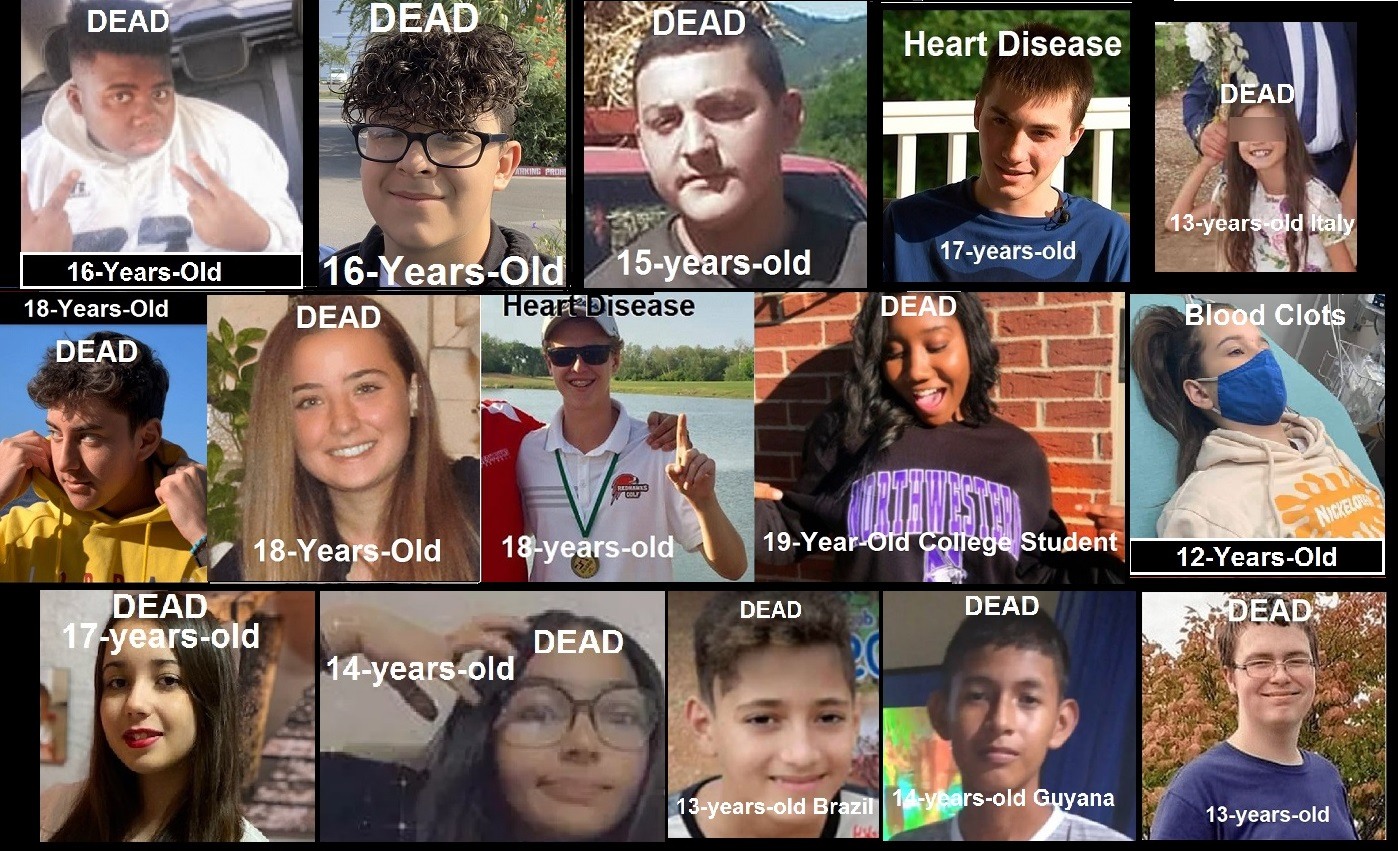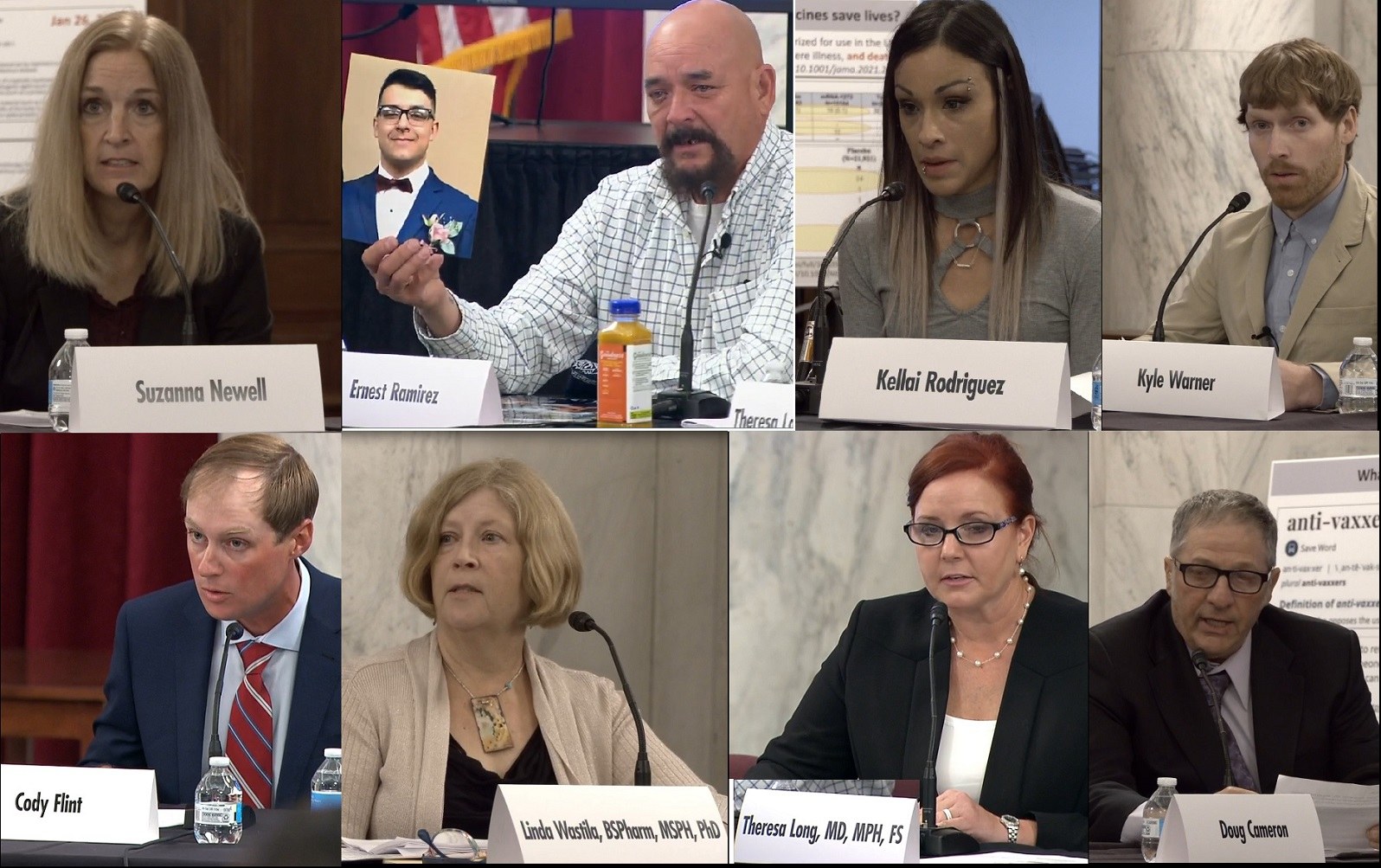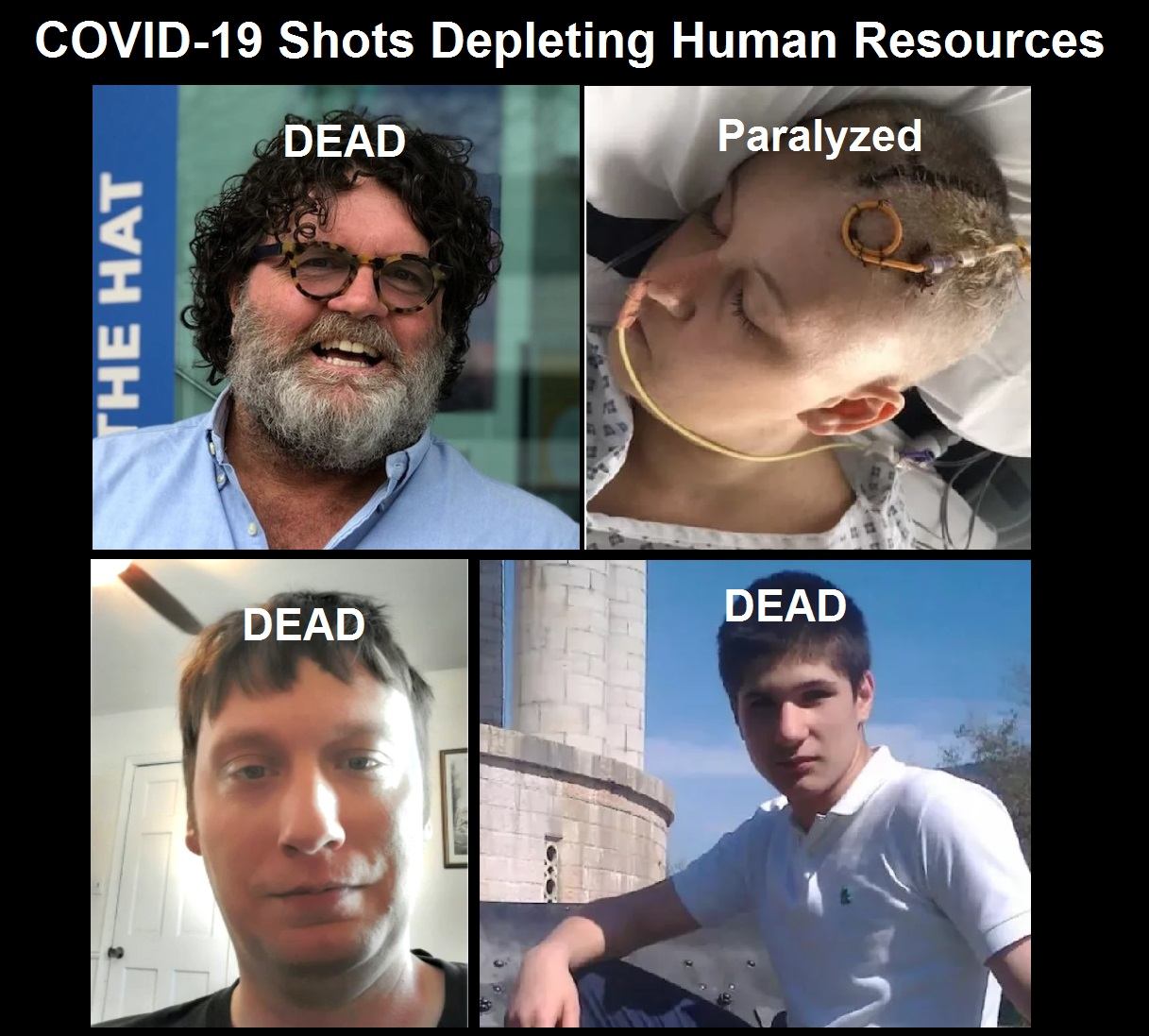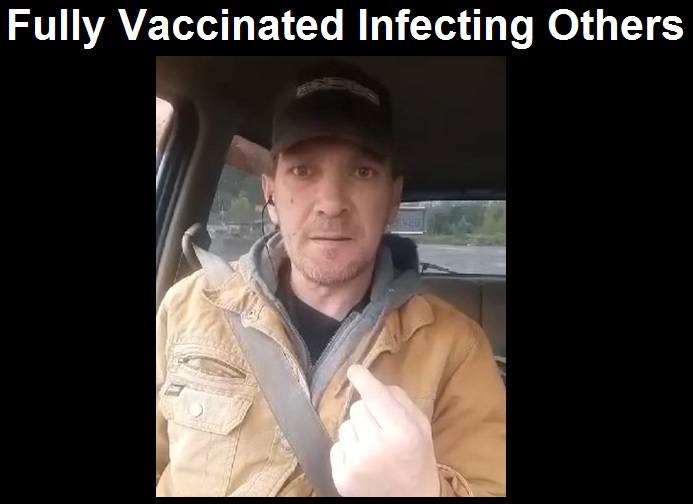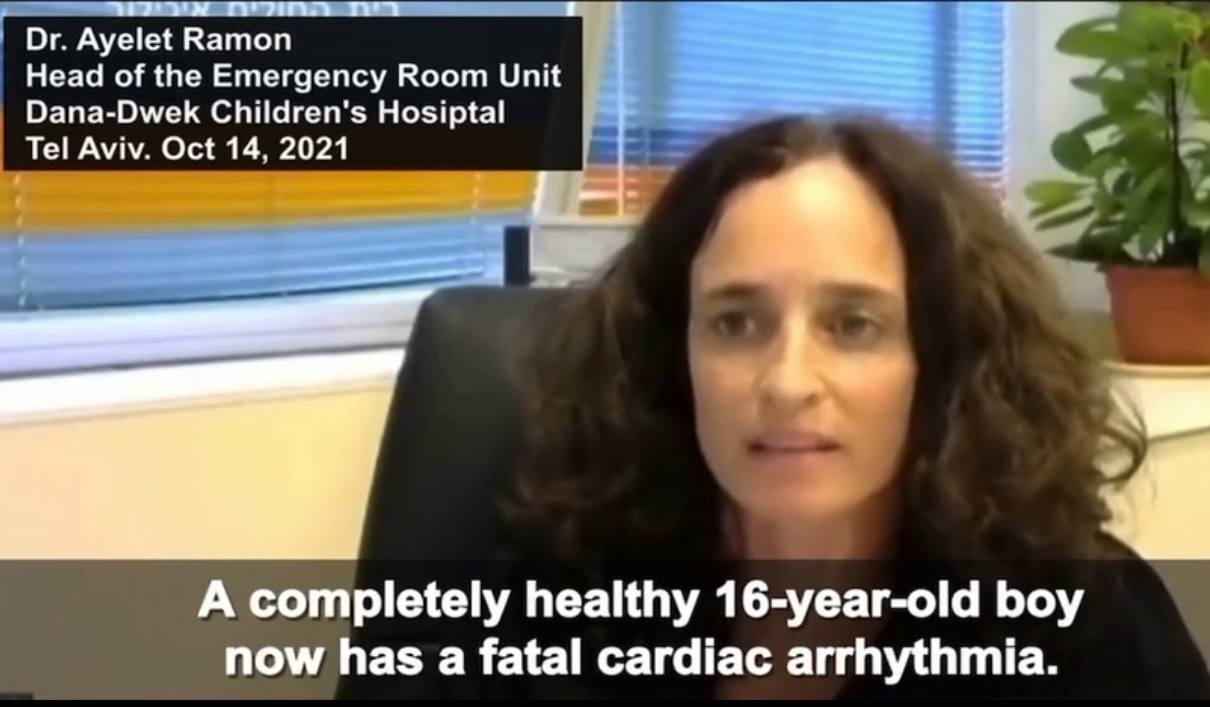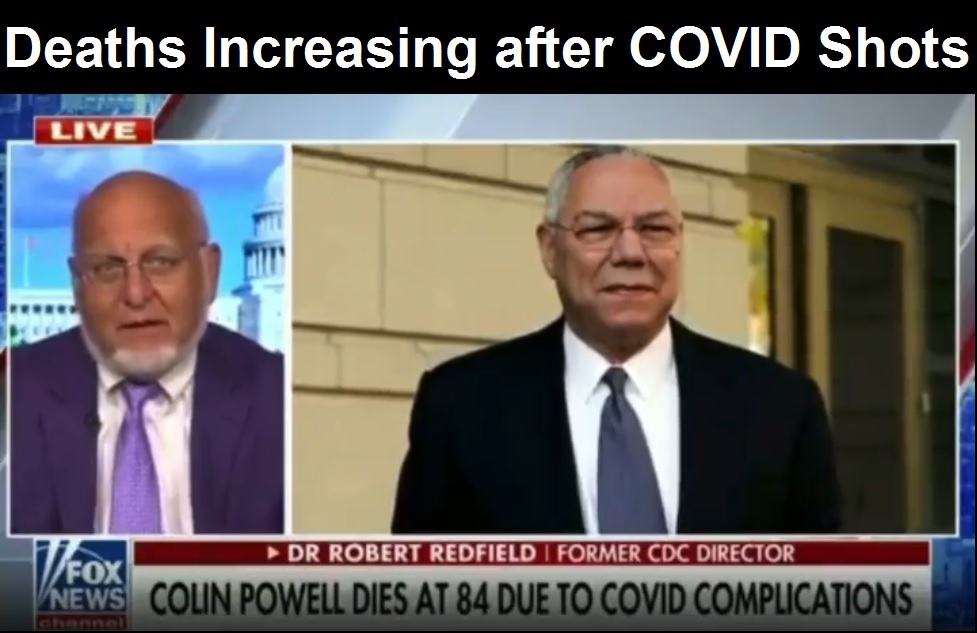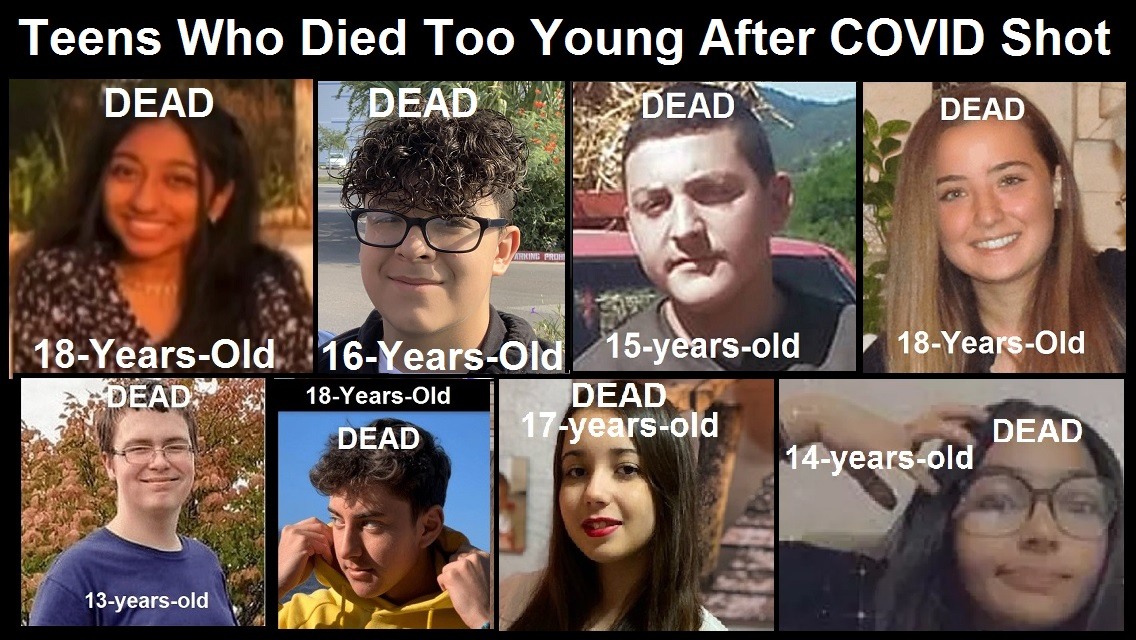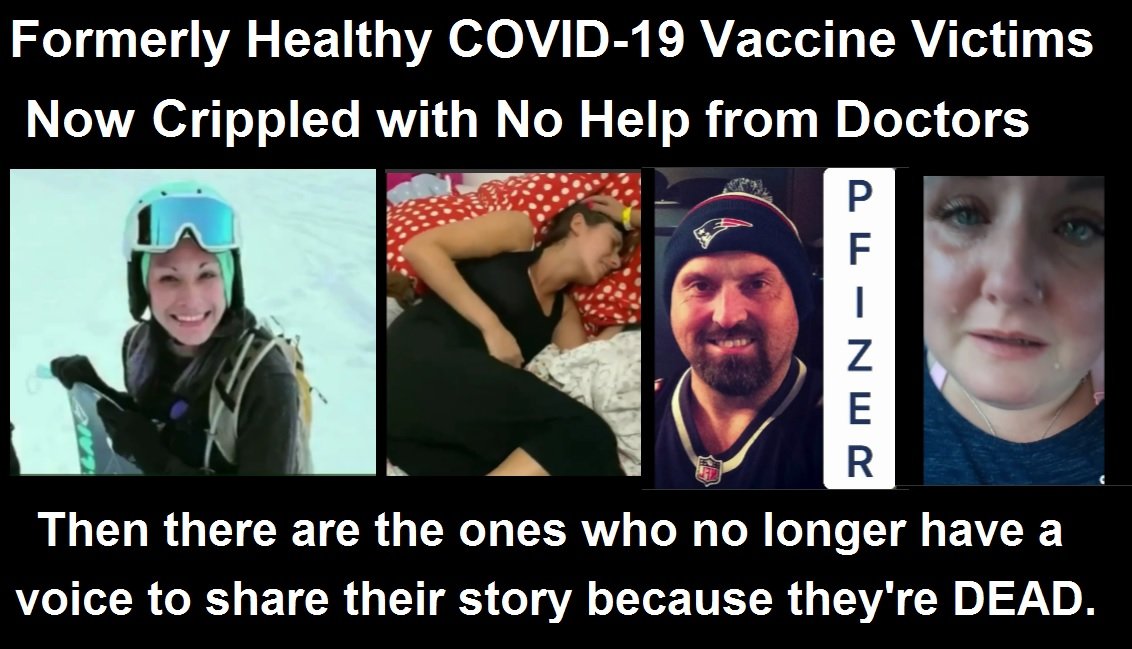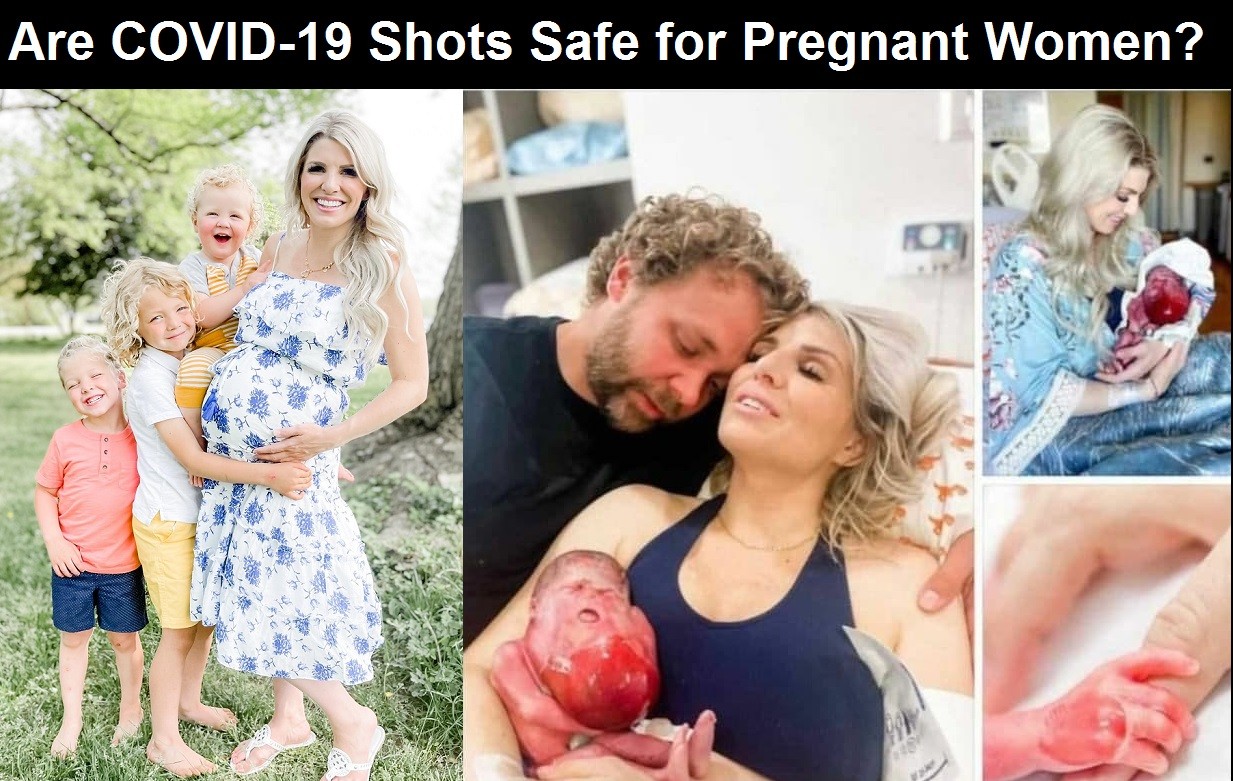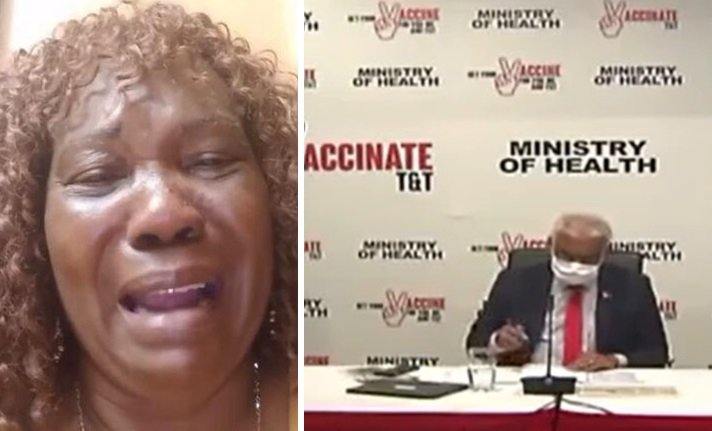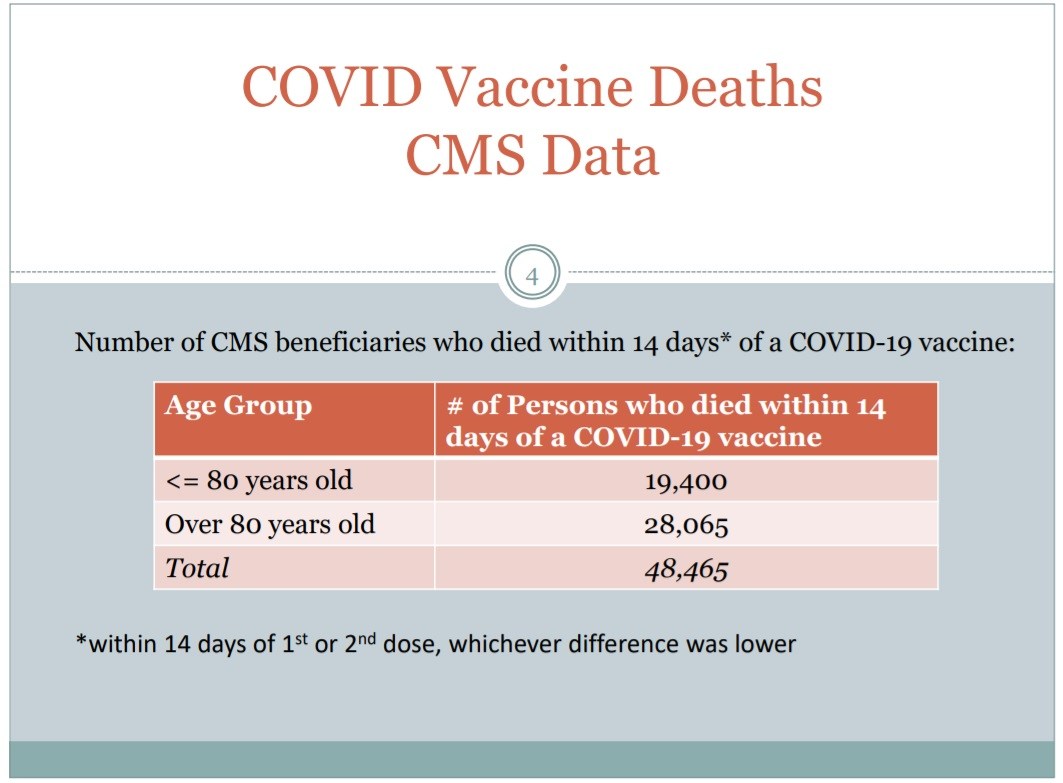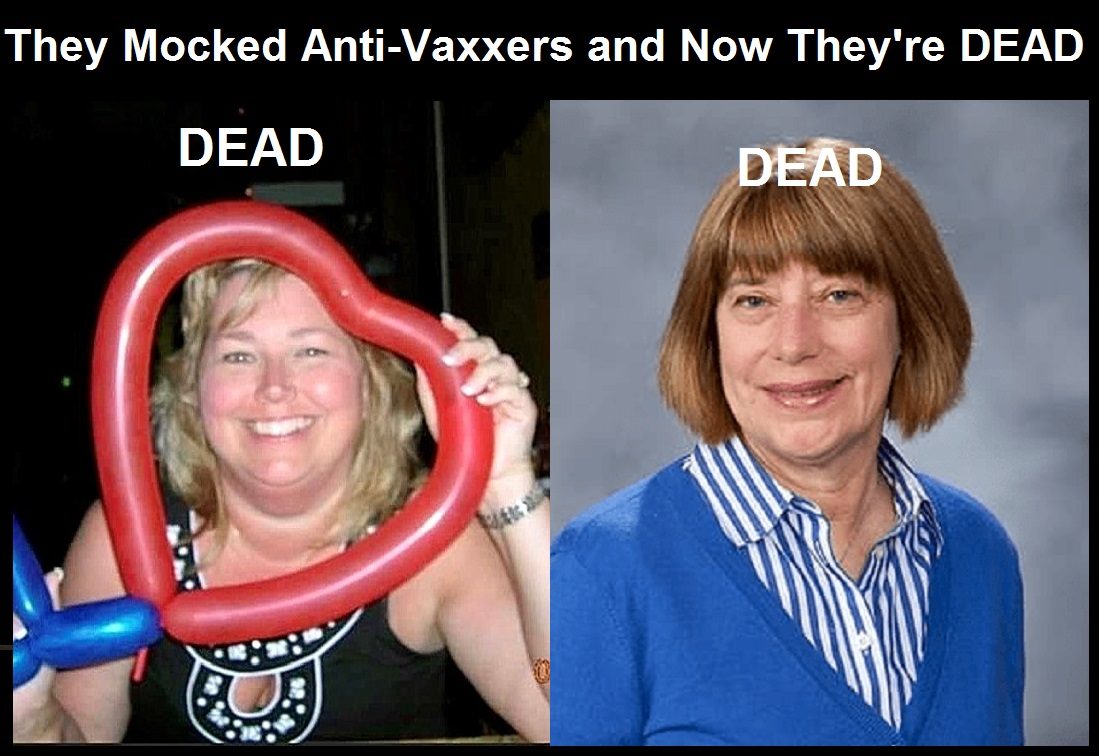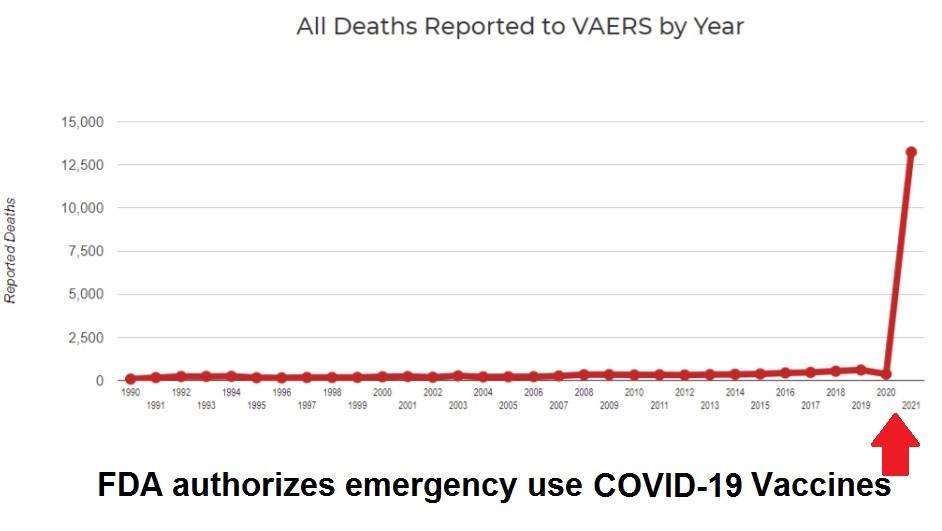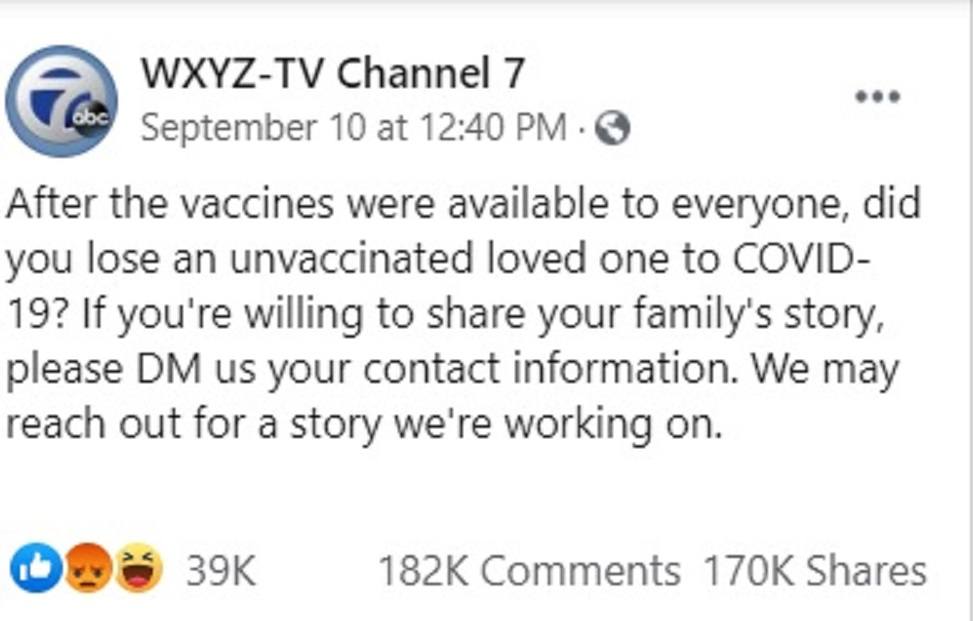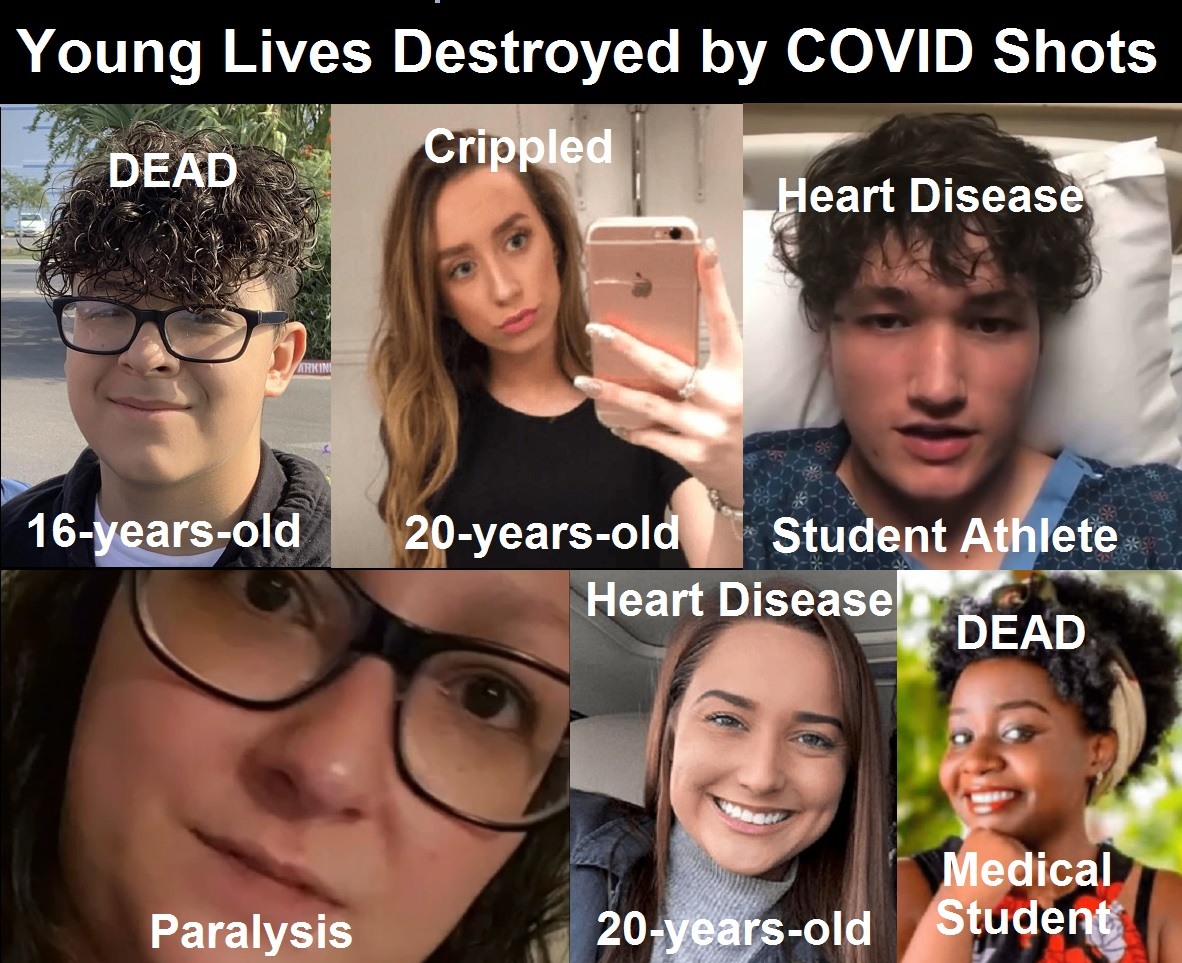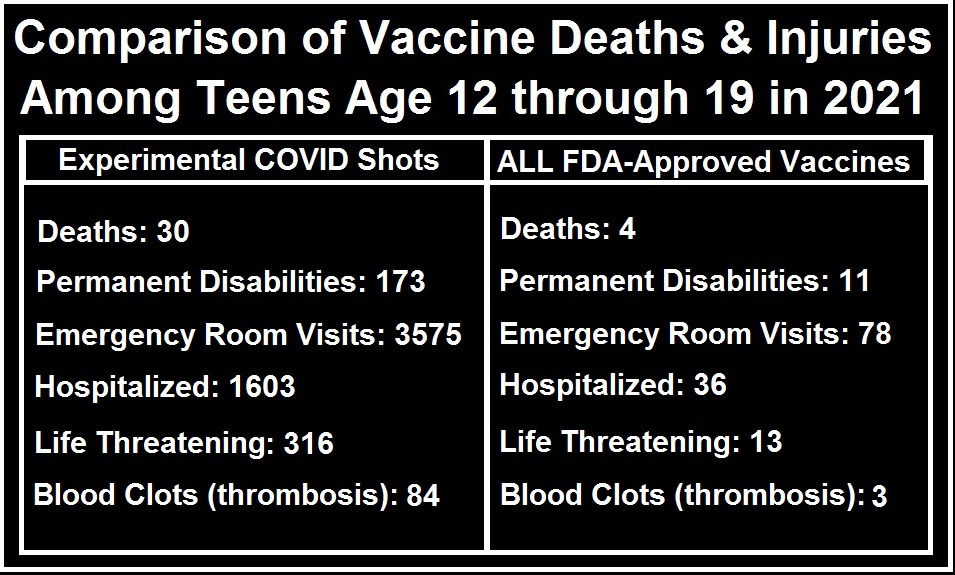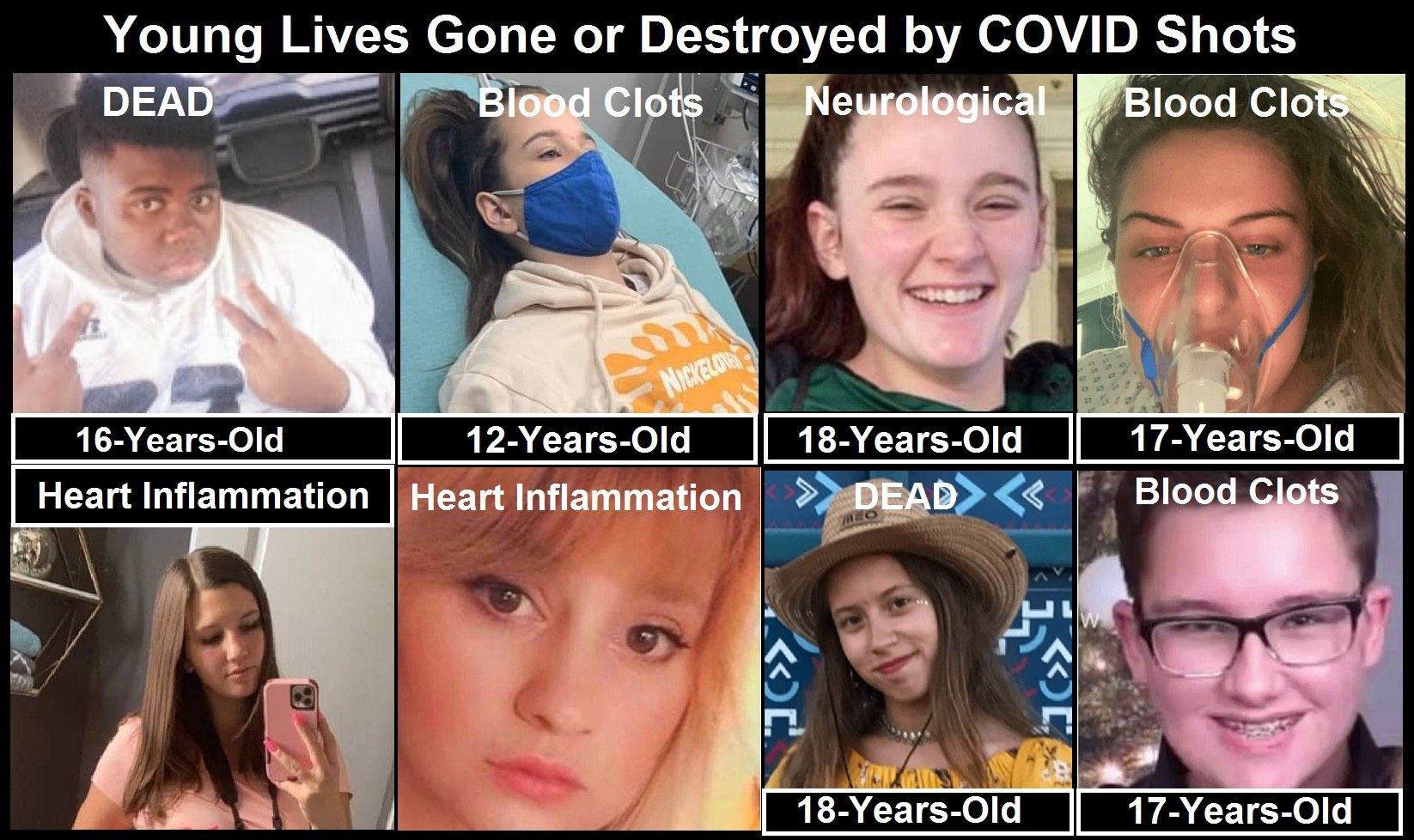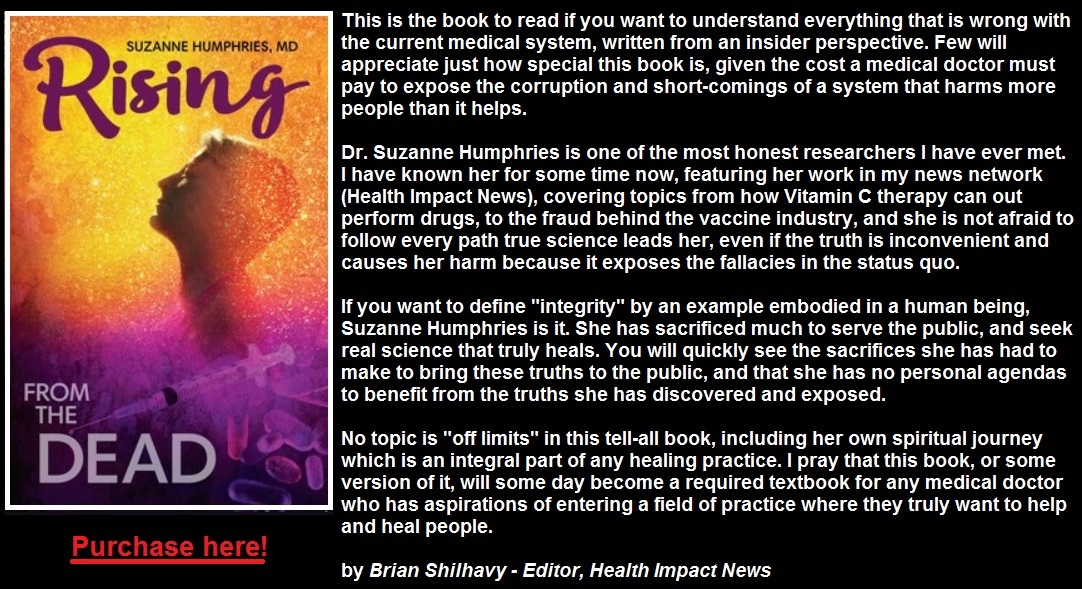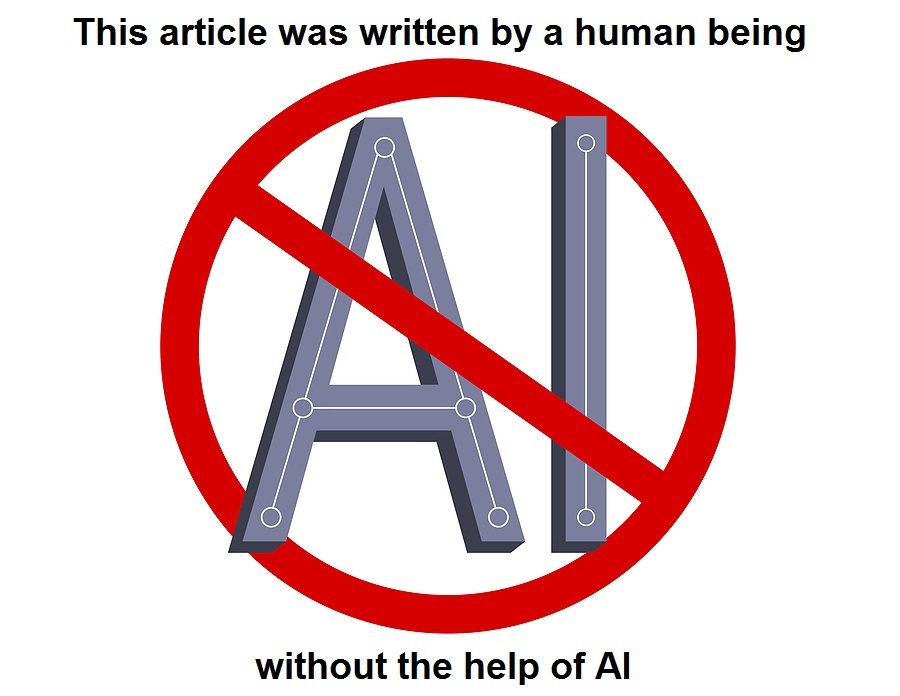 See Also:
Understand the Times We are Currently Living Through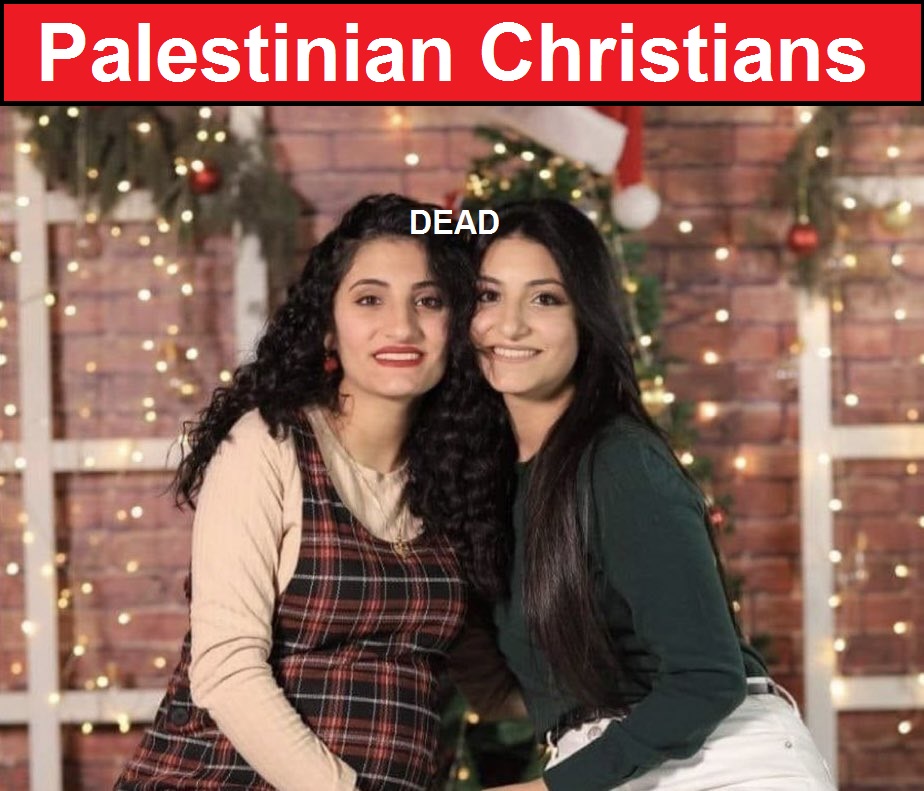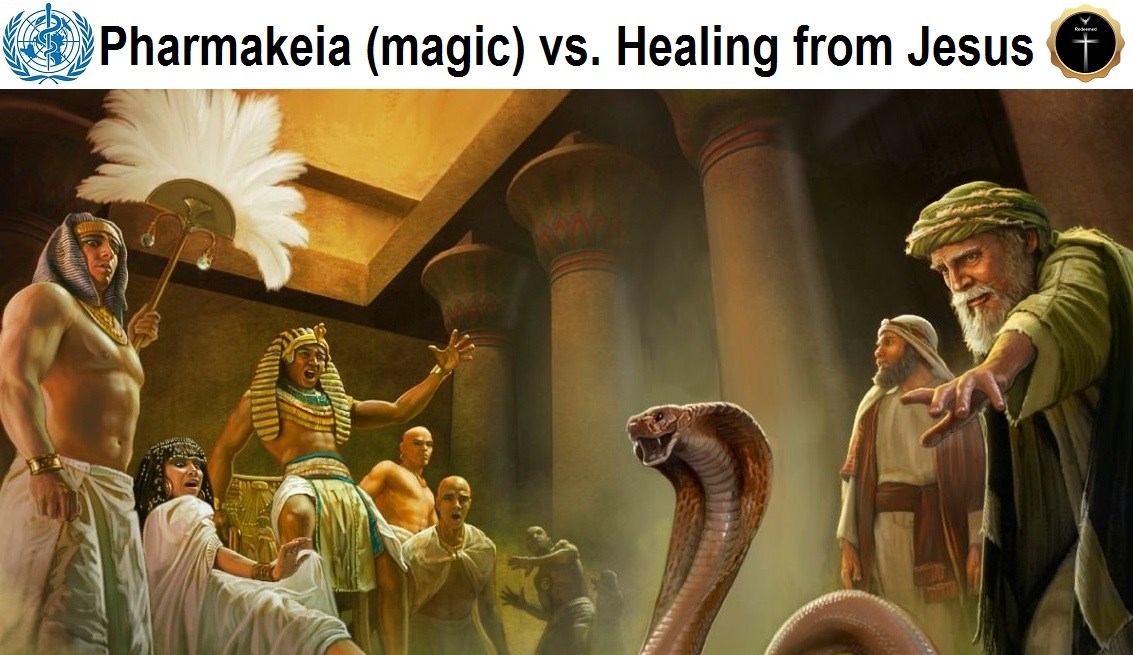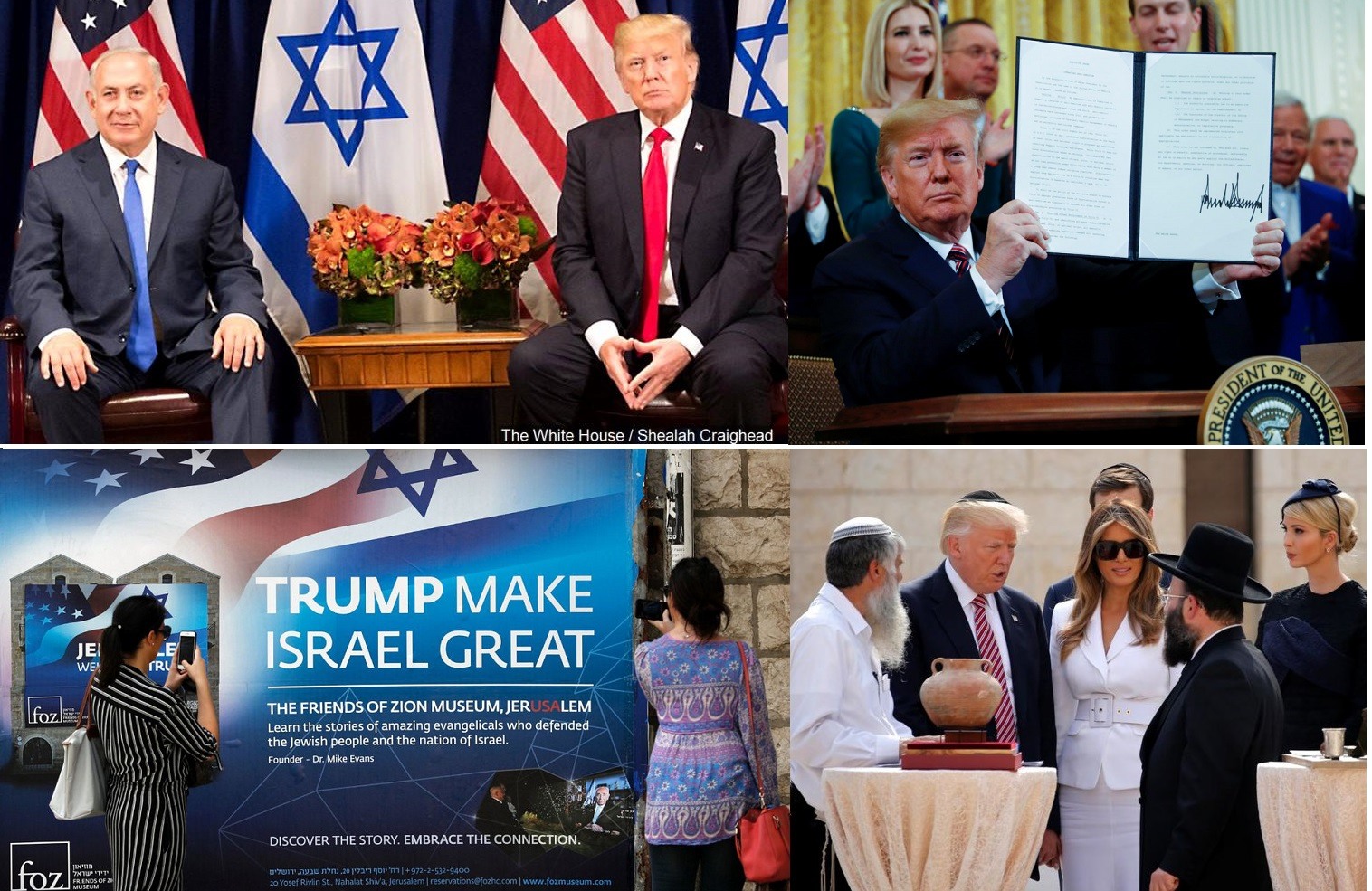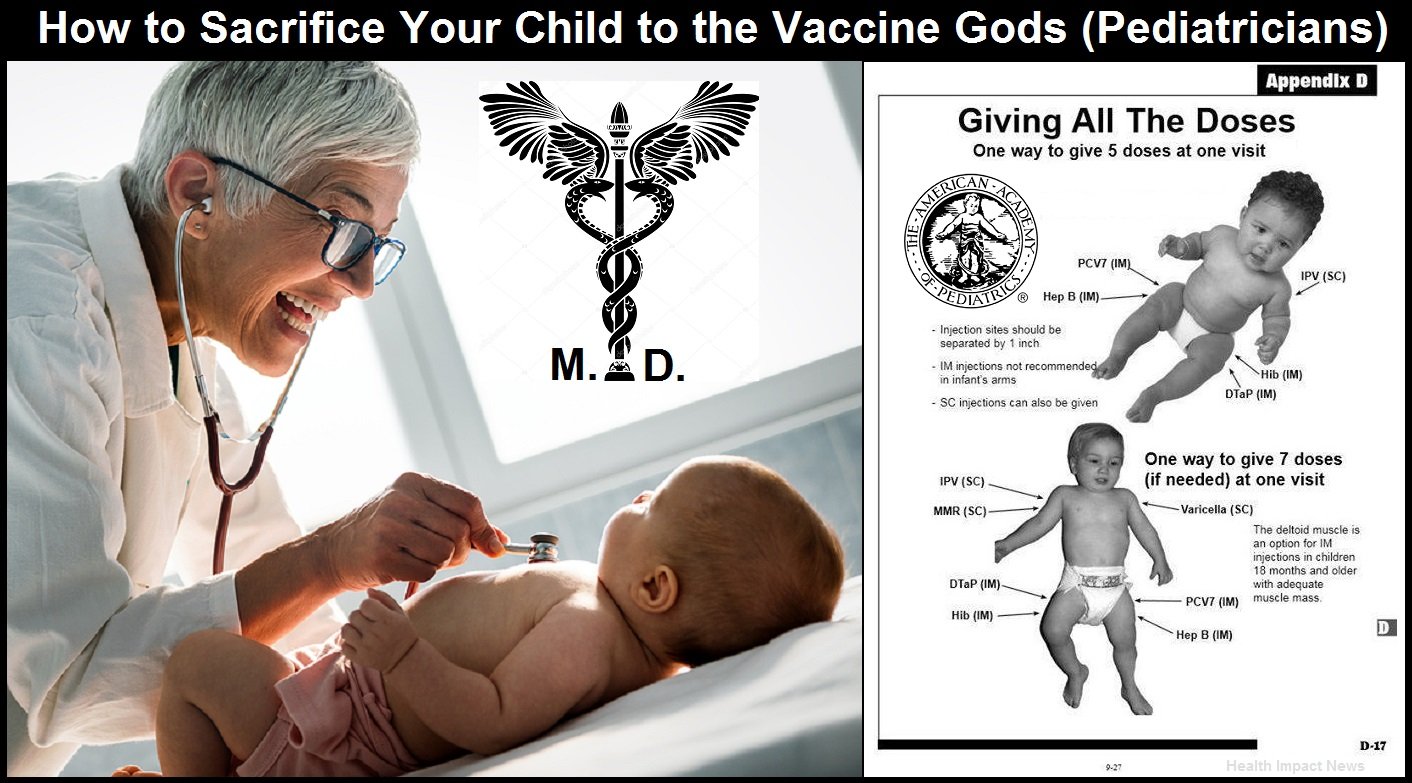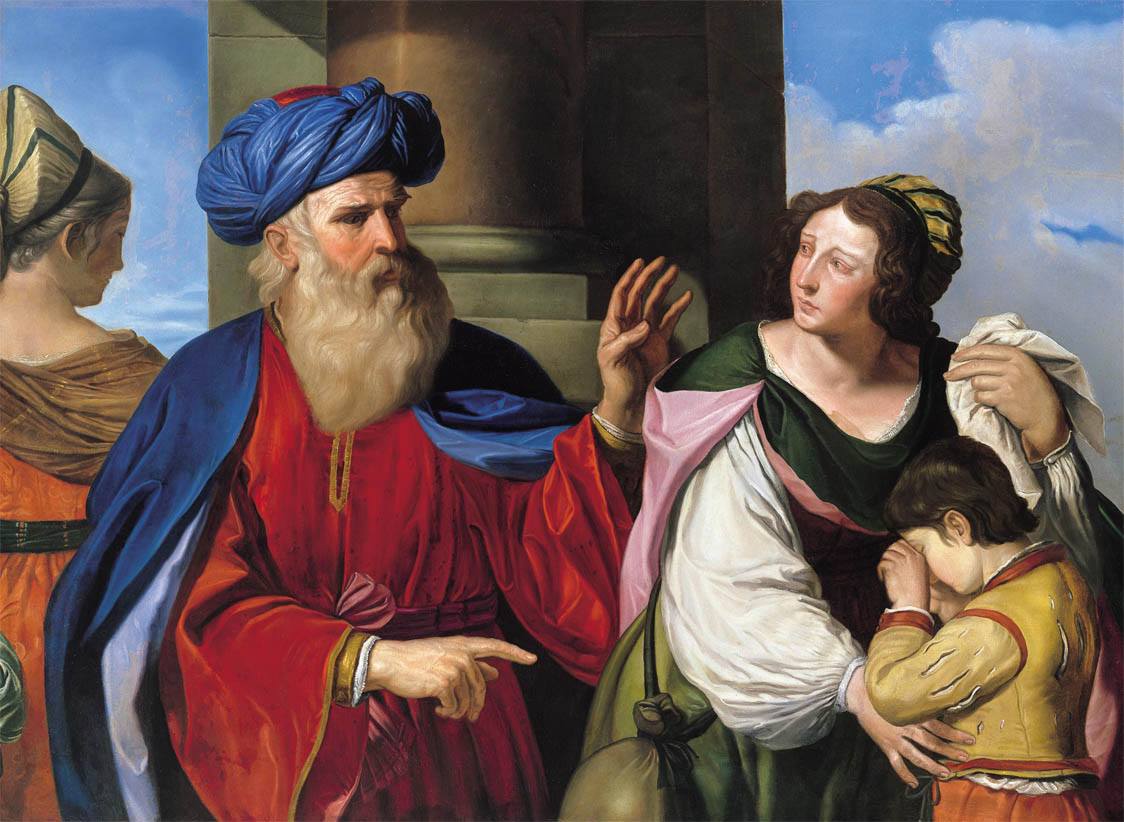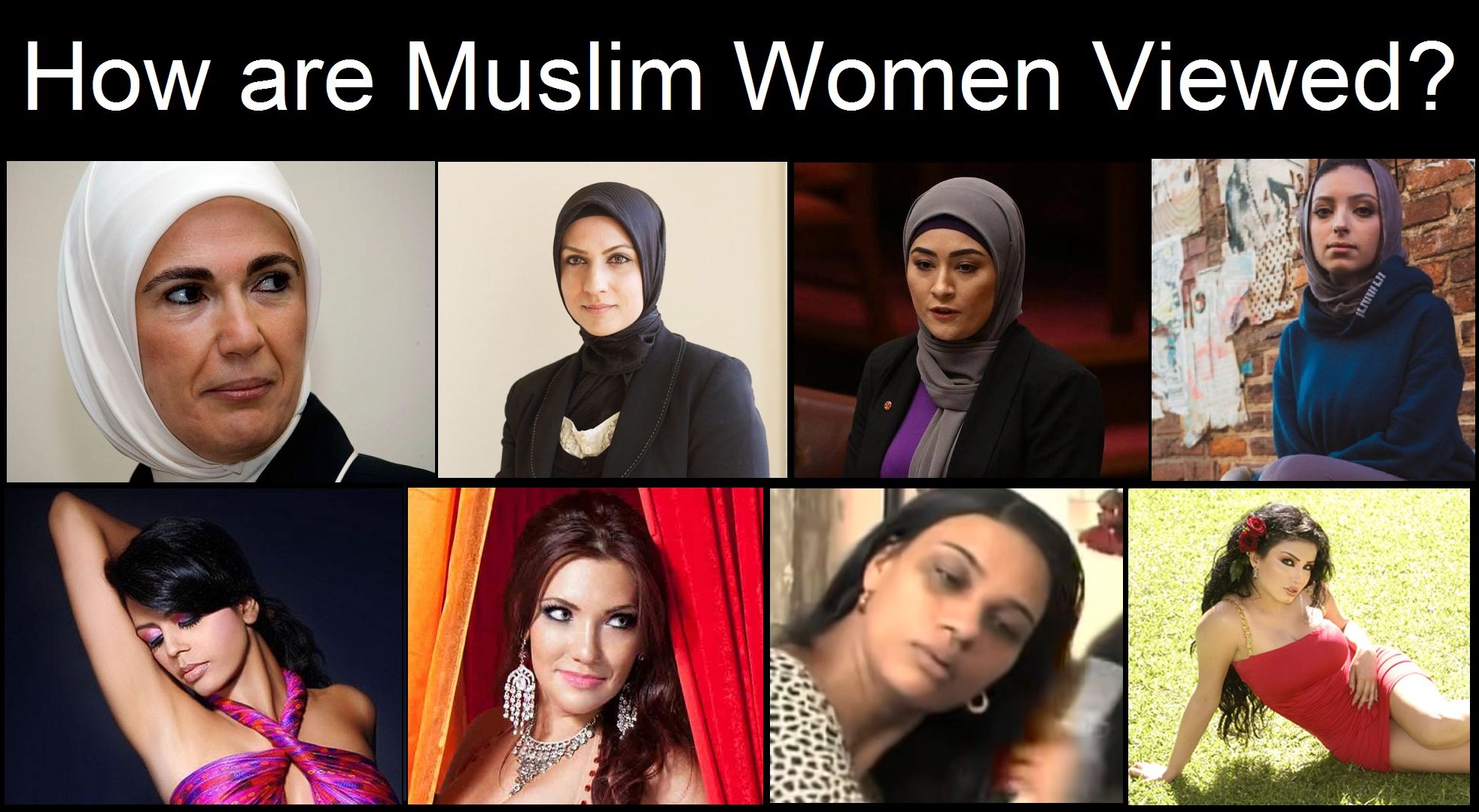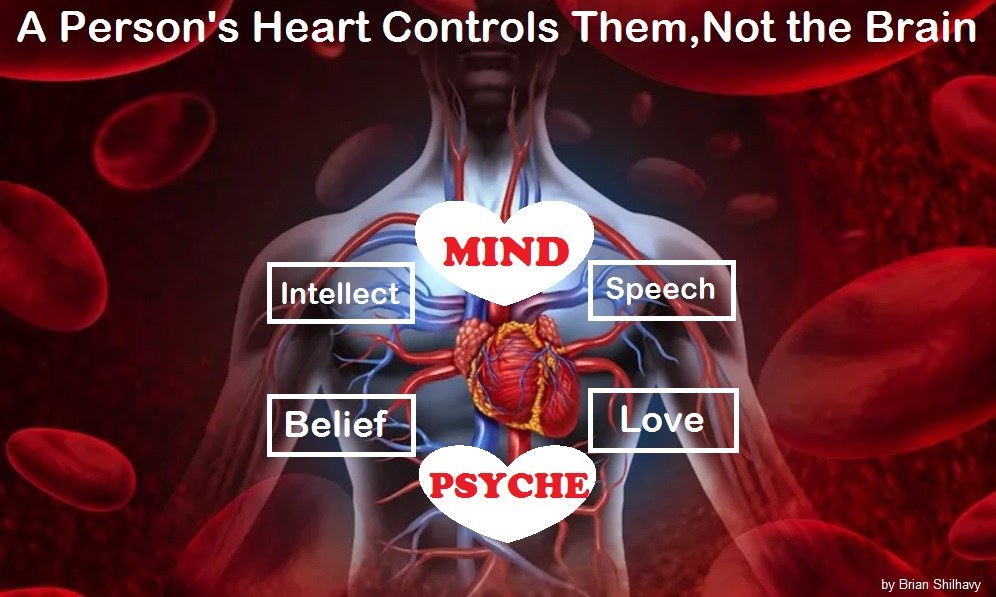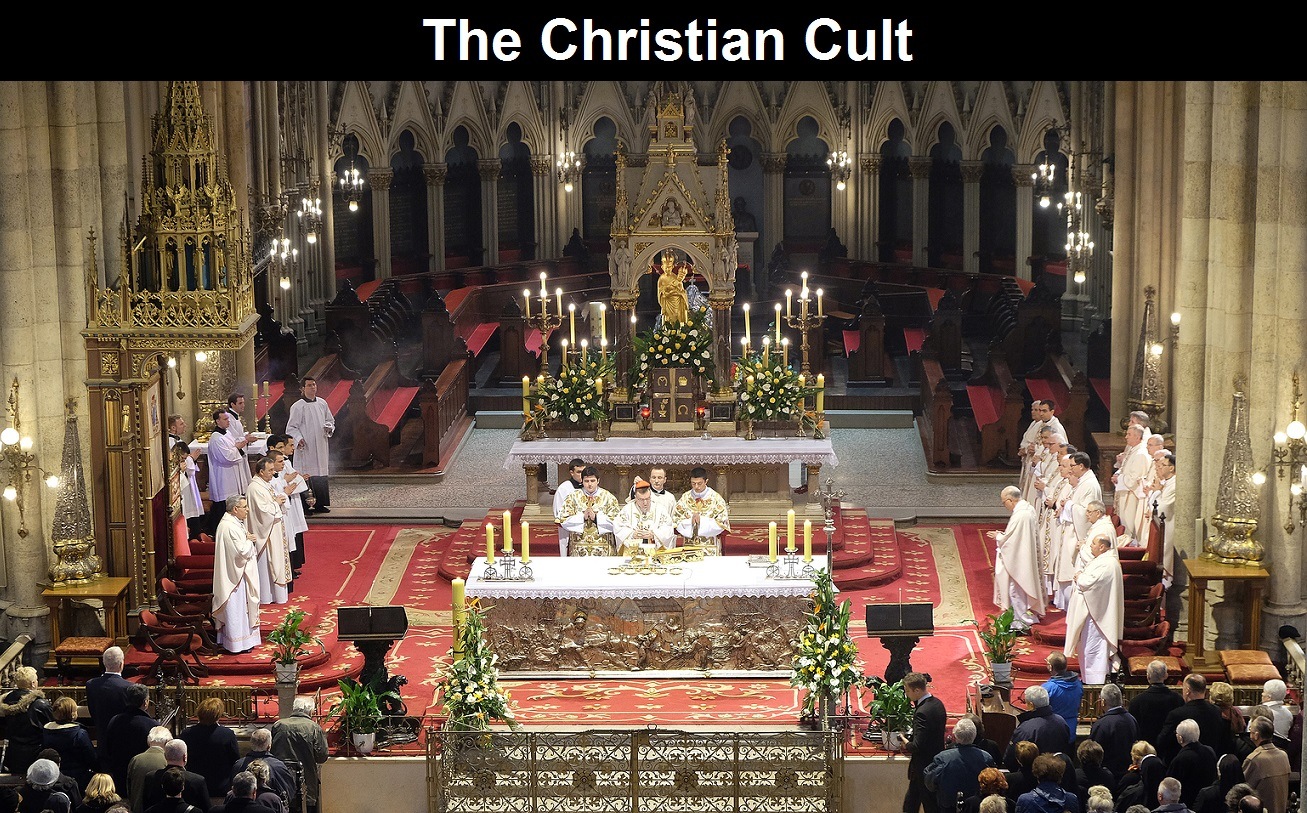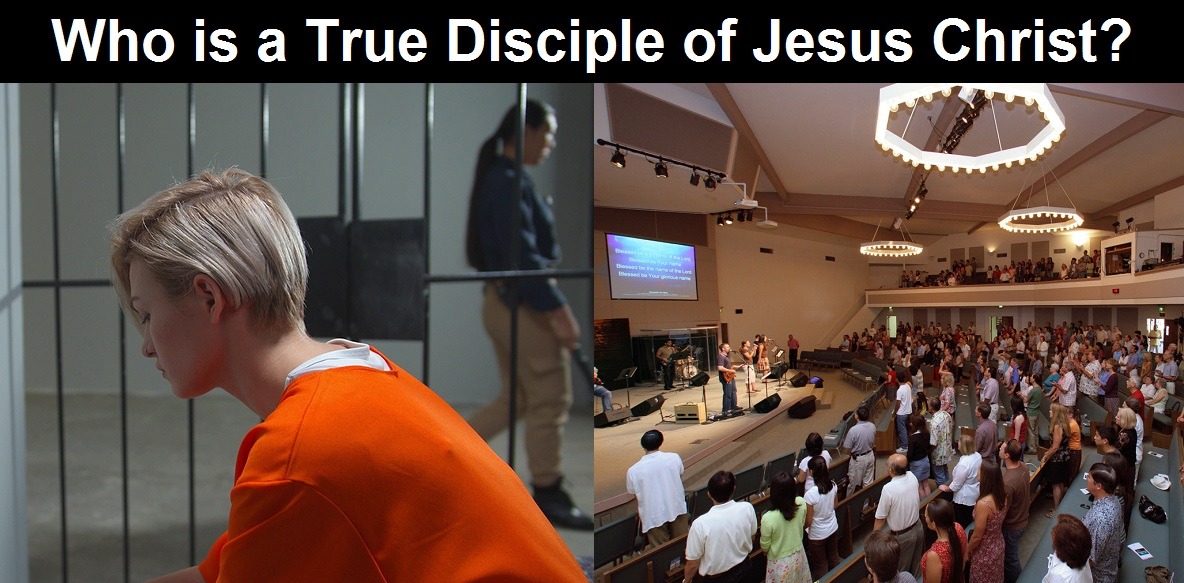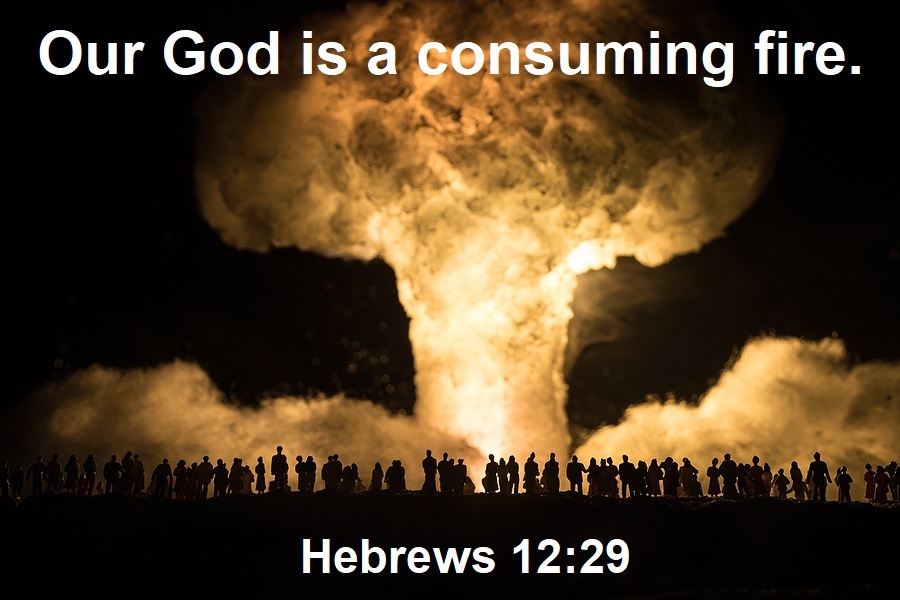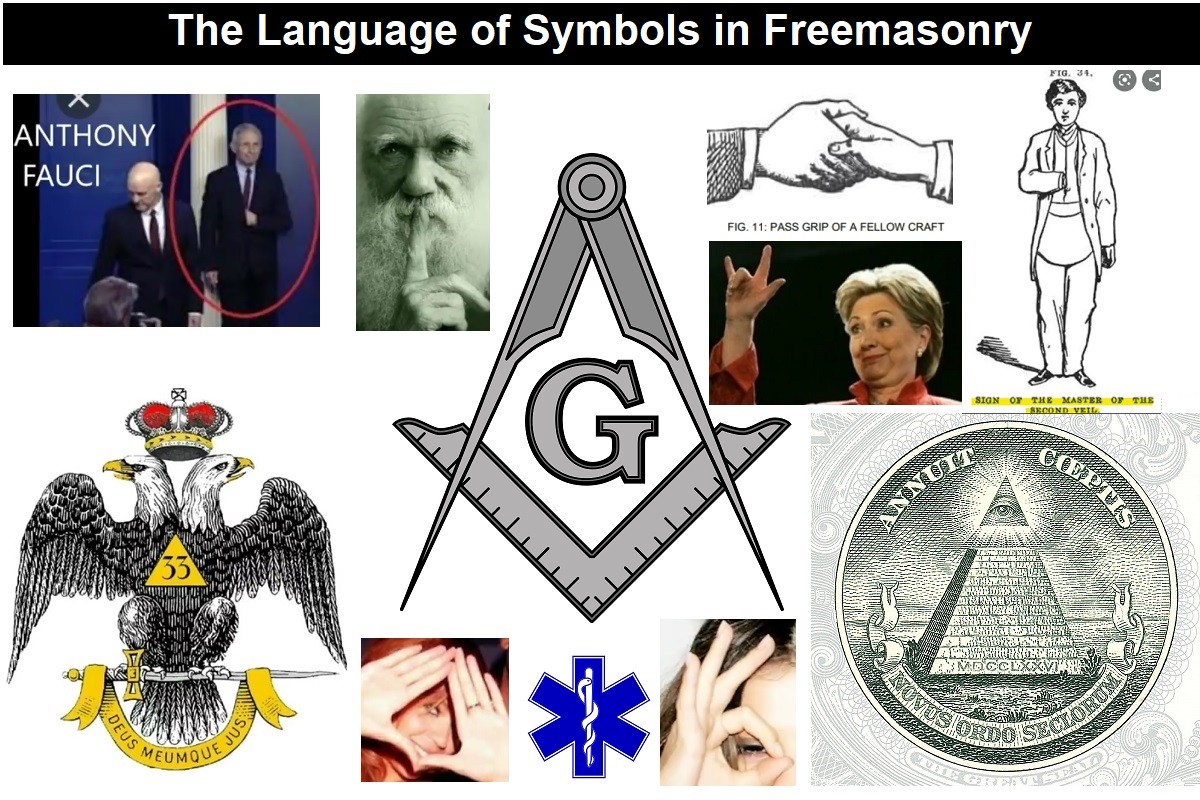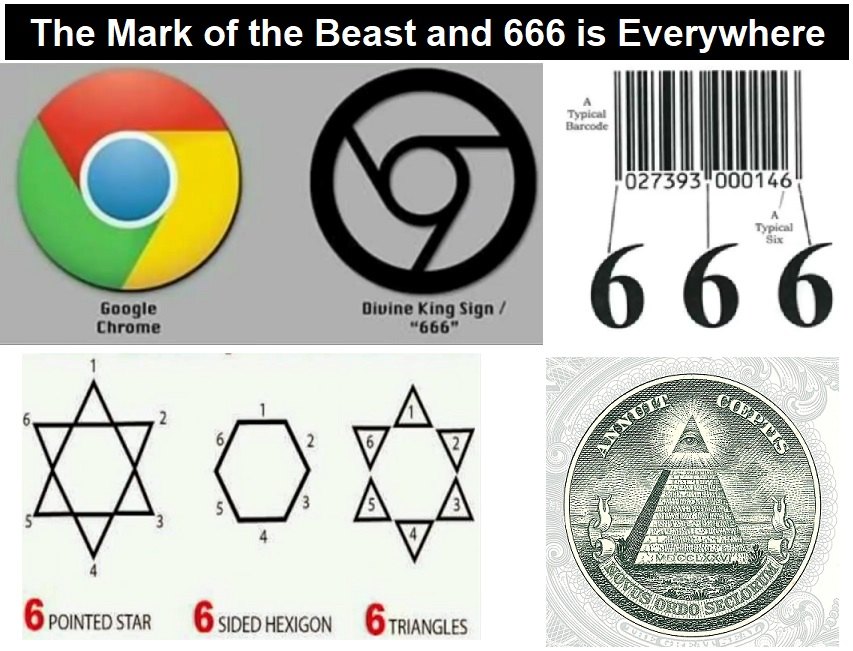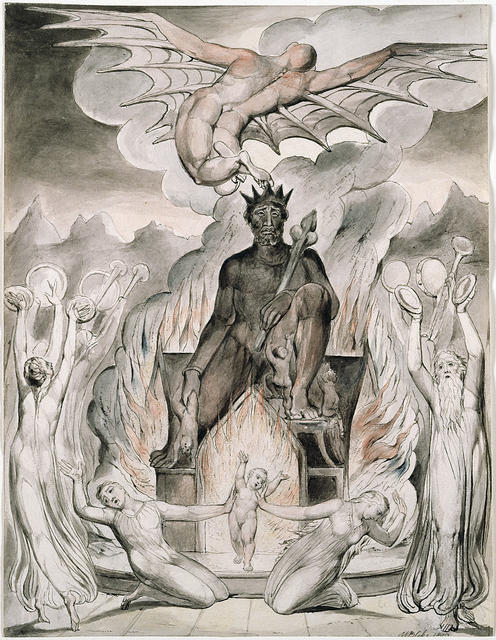 Having problems receiving our emails? See: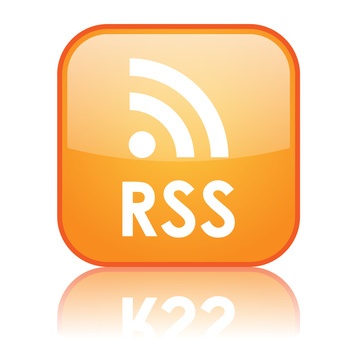 If our website is seized and shut down, find us on Telegram, as well as Bitchute and Odysee for further instructions about where to find us.
If you use the TOR Onion browser, here are the links and corresponding URLs to use in the TOR browser to find us on the Dark Web: Health Impact News, Vaccine Impact, Medical Kidnap, Created4Health, CoconutOil.com.
Published on May 24, 2021