by Brian Shilhavy
Editor, Health Impact News
Last week (April, 2020), we published a report on the state of America's hospital system in the midst of the Coronavirus outbreak, and I wrote then:
The so-called Coronavirus pandemic "crisis" is very quickly taking a back seat to more serious crises in the U.S. right now, and perhaps none more critical than the closure of hospitals and emergency rooms, along with doctors and nurses being laid off, which is happening all across the country.
See:
The other crisis facing the U.S. right now that may soon dwarf the Coronavirus "crisis" is the nation's looming meat shortage.
The nation now faces meat shortages, America's primary source of protein, as processing plants across the country have shut down or reduced operations. 80% of the U.S. meat processing plants are owned by only 4 companies. Some grocery stores have already begun to limit meat purchases in advance of the expected shortages.
At recent White House Coronavirus Task Force Press briefings, the nation has heard President Trump boast about how he had brokered a trade deal with China back in January of 2020, that includes China buying $12.5 billion of American agricultural products. Trump has been highlighting this as a great deal for American farmers.
So which agricultural products did China choose to increase in purchase and export to China after Trump negotiated the trade deal between the two countries back in January?
Pork seems to be at the head of the list.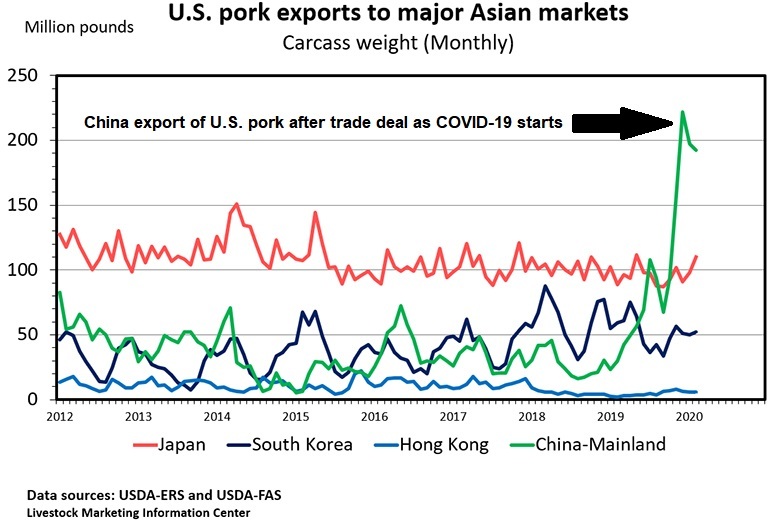 China has had major pork supply problems since last year (2019), due to an outbreak of "African swine fever." Some estimates claim that about two-thirds of China's swine herd has been lost to the disease. (Source.)
So being forced by President Trump into purchasing agricultural products as part of his trade deal, it is no surprise that pork is at the top of the list of exports China wanted.
U.S. livestock reports for last week (last week of April, 2020) show a five-week high in U.S. pork exports to China.
The U.S. Department of Agriculture reported export sales of U.S. pork in the week ended April 23 at 50,300 tonnes, a three-week high. China was the top buyer, booking 35,138 tonnes, while actual pork shipments to China totaled 20,683 tonnes, the most in five weeks. (Source.)
As U.S. pork sales soar due to the growing export market to China, U.S. customers are having an increasingly difficult time finding pork in their grocery stores, which may soon be bare of any pork products at all.
One has to wonder who got the better end of this trade deal with China?
The largest producer of pork in the world is Smithfield Foods, located in Smithfield, Virginia. According to their company website, some of the national brands they own include:
Smithfield®, Eckrich®, Nathan's Famous®, Farmland®, Armour®, Farmer John®, Kretschmar®, John Morrell®, Cook's®, Gwaltney®, Carando®, Margherita®, Curly's®, Healthy Ones®, Morliny®, Krakus®, and Berlinki®. (Source.)
Smithfield Foods was bought by the Chinese company Shuanghui International Holdings Limited in 2013.
According to a recent report at CNBC, Trump is aware of this problem, but is hesitant to restrict exports to China right now.
President Donald Trump's executive order this week requiring American meatpacking plants to stay open during the coronavirus pandemic is raising new questions about massive U.S. meat exports, particularly the export of pork to China.

The order has highlighted a debate inside the White House over whether to limit exports of pork to China, and what the president decides could have major implications for other U.S. exports.

On Wednesday, Trump held a private call with major meat industry CEOs, where he was asked about the prospect of export limits on meat, given that an imminent shortage for U.S. consumers was the justification for the executive order.

The president responded that he is not interested in restricting exports at this time, according to current and former White House officials who requested anonymity to describe a private call.

Still, there are some in the White House who are pushing for tighter export restrictions on meat, a former administration official told CNBC. (Source.)
The U.S. Agricultural Industry is not Sustainable or Secure – This is What Happens when a National Crisis Happens
The first 5 presidents of the United States were all farmers (the 6th president was the son of a farmer who was also the 2nd president) at a time when 90% of the population in the United States was involved in agriculture.
By the time Abraham Lincoln served as president of the United States in 1862, about 48 percent of the people living in the U.S. were farmers.
Today, that figure is less than 1%.
There has probably not been another period of history where so few people control a nation's food supply as what we see today in the United States, where less than 1% are responsible for feeding over 325 million people in the United States, and millions around the world as well.
Who are these people that make up less than 1% of our population?
They are mostly people who run multi-national corporations. Oxfam America lists 10 main corporations that control most of the food in the U.S. and around the world as can be seen in this infographic:
I have been writing on the dangerous problems with America's fragile food system for almost 20 years now, as have others.
In 2008, American filmmaker Robert Kenner produced a documentary on America's food system called "Food, Inc." It received great reviews, but really did not take off until 2010, when members of the film appeared on the Oprah Winfrey show, where a discounted copy of the film was promoted and sold through Amazon.com.
One of the more revealing portions of the film was regarding commercial chicken production in the U.S. Contract farmers with the big poultry producers like Tyson and Purdue were too afraid to go on camera and expose what the industry was doing, by basically indenturing poultry farmers to a lifestyle said to be similar to slavery.
One poultry farmer who may have already been on her way out of the industry did appear on camera. Her testimony can be found on YouTube. She was the only one brave enough to become a whistleblower.
The US Poultry and Egg Association has produced a video of their own version of their industry, probably produced as a rebuttal to the bad press the industry has received over the years, particularly since Food, Inc. was produced. Here is their side:
With meat shortages in America potentially affecting millions of Americans for the first time in modern history, it might be time for the American consumer to learn a bit more about how the food they have been purchasing and eating these past years has arrived on their table.
Civil Eats published an Op-Ed last week titled:
Contract farmers don't own the animals they're raising, so they can't sell them to another market. And the animals themselves haven't been bred to stay alive.
By Tyler Whitley
Some excerpts:
For decades, farmers and their advocates have warned us of the inherent weaknesses in our food system. Now, in the midst of the COVID-19 outbreak, those weaknesses are laid bare: Big Ag has built a food system house of cards that is collapsing on the farmers who feed us.
Rather than acknowledge the need for reform, and in an effort to shift blame, Tyson Foods recently took out full-page ads in several major newspapers claiming that "the food supply chain is breaking" because of plant closures. But as the architects of this devastation, Tyson Foods has profited in the billions for the last three years in a row, while spending millions on federal lobbying to maintain the status quo of a fragile food system that values corporate profits over people, land, and animals.
In the last two weeks, slaughter and meat processing plants have been shuttered across the country as hundreds of workers have fallen ill. Thirteen plants employing tens of thousands of workers have now closed, creating a predictable bottleneck. Restaurants and institutional cafeterias have closed, leaving contracts hanging, and driving up demand for products in supermarkets instead. As the supply chain reels from this massive disruption, farmers who raise chickens, hogs, and cows are left facing a costly crisis that could mean bankruptcy for many: They have nowhere to send the animals they've raised for companies like Tyson.
Last Friday, the U.S. Department of Agriculture (USDA) announced plans to have its Animal and Plant Health Inspection Service (APHIS) work with farmers to either find new markets, or euthanize and dispose of animals stranded in the supply chain. This plan offers too little, too late to farming families that depend on the companies to fill their barn. The USDA fails to address the fact that farmers under contract don't own the animals they are raising, and therefore cannot simply find a new market for them. Having failed repeatedly for over a decade to establish basic protections for farmers in contracts with the big meat packers, the USDA is clearly sidestepping responsibility and avoiding the problem.
Depopulation of pigs, cows, and chickens could mean the death of millions of otherwise healthy animals. To date, nearly 2 million animals have been culled. One estimate out of Iowa warns that farmers may be asked to euthanize 700,000 pigs a week due to the processing plant bottleneck.
This is not an unpredictable consequence; the supply chain was designed this way. The advent of the Confined Animal Feeding Operation (or CAFO) in the 70s and 80s led to a technological revolution in agriculture. Taking animals off of pasture and keeping tens of thousands in dark, closed barns seems counter-intuitive because of the added costs of feed and increased health problems. But public policies were established to subsidize cheap grain for animal feed, enable the heavy use of antibiotics, and funnel taxpayer dollars in an attempt to clean up the mess.
This has allowed big meat companies to reap profits without paying the full cost of doing business. As a result, farms raising animals on pasture and operating more sustainably was only possible for those farmers who had access to higher-end (mostly urban and suburban) markets.
The CAFO boom directly contributed to exponential corporate concentration in the meat sector. For the last 40 years, a handful of very large companies including Tyson, Smithfield, and Perdue have built the system we have today, buying up smaller family businesses and destroyed regional food systems in their wake.
As their vertical supply chains grew, independent auctions and processors went out of business. Farmers raising chickens and pigs independently had fewer places to sell or process their animals. Soon, the only way for most farmers to stay viable raising poultry or livestock was to get a contract with a big company. Today, contract farming is the norm for meat production. Ninety percent of the 9 billion chickens raised each year in this country are grown under contract. Fifty-seven percent of hogs are owned and slaughtered by just four companies.
Big multinational companies dominate the market for almost all the meat we eat in the United States. Companies like Tyson own every step in the supply chain, from the hatchery to the feed mill to the processing plant. The only thing the big companies don't own are the farms themselves.
Read the full article on Civil Eats.
Published on May 3, 2020