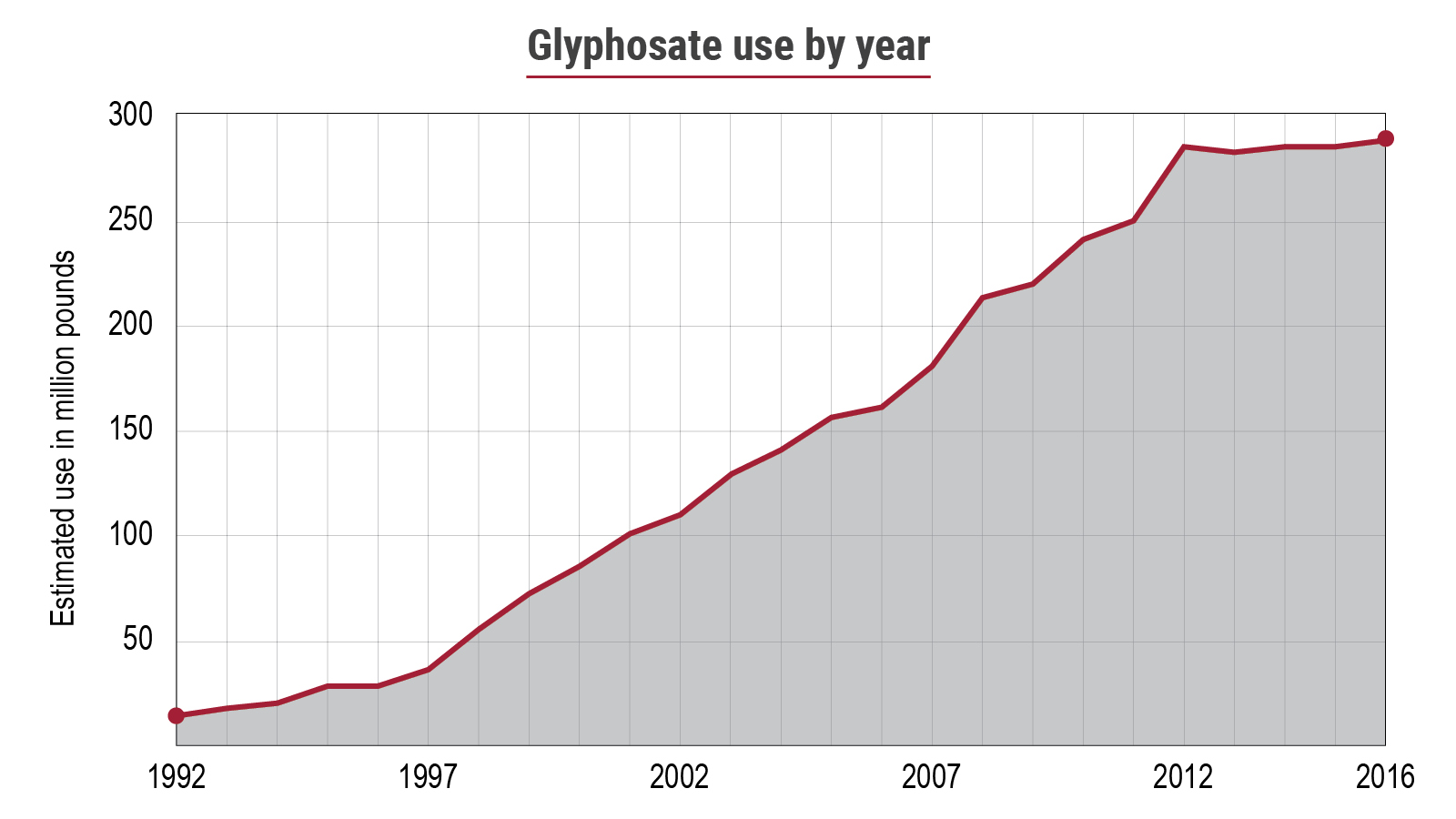 by Paul Fassa
Health Impact News
Our federal health and environmental agencies, like the EPA, have failed to protect the environment from glyphosate pollution. The result is many humans are contaminated with glyphosate.
Monsanto's herbicide Roundup's active ingredient is glyphosate with added chemicals to enhance its ability to penetrate plant tissue. These added chemicals are also toxic, creating a synergistic load beyond glyphosate's toxicity. 
Despite Monsanto's assertions the Roundup is bound by topsoil and does not threaten groundwater, independent scientific research has discovered it seeps into groundwater and nearby waterways. Its penetrating capacity has also been discovered to penetrate animal and human cells. (Source)
Some municipalities have recently responded to glyphosate's water pollution by banning the use of herbicides containing glyphosate. 
Glyphosate Use Banned by Miami City Council
On the last day of February 2018, the Miami City Council approved a resolution to ban glyphosate products on public property. The wording of the resolution is such that other city government departments, such as the parks and recreation and public school districts, have to adhere to the ban.
Miami City Council Commissioner Ken Russell initiated the proposal out of concerns for the decay from pollution observed in Biscayne Bay, a large body of water that separates Miami from Miami Beach and is connected by the Atlantic Intracoastal Waterway that flows inland along the coast from Boston to Miami. 
He discovered Biscayne Bay's pesticide and herbicide pollution was such that blue-green algae bloom surges that create red tide was beginning to overwhelm the bay. This not only kills fish and other aquatic wildlife, but it creates noxious fumes that are hazardous to nearby land animals and humans. (Source)
In 2009, an independently funded research project by scientists at Bowling Green State University had already linked glyphosate from farmers who spray glyphosate products on their crops as a phosphorous fuel that has expanded and hastened toxic green algae blooming in the Lake Erie of the Midwestern Great Lakes. 
The researchers commented:
It turns out that many cyanobacteria present in Lake Erie have the genes allowing the uptake of phosphonates, and these cyanobacteria can grow using glyphosate and other phosphonates as a sole source of phosphorus.

Our research is finding that Roundup is getting into the watershed at peak farming application times, particularly in the spring. (Source)
After the newly appointed director of resiliency and water works Alan Dodd had discovered the city had been dumping 4,800 gallons of glyphosate products annually on sidewalks and streets, he put a stop to that practice.
But Russell wanted to go beyond curtailing the city's glyphosate weed-killing process on city streets and sidewalks. He wanted to include the ban to cover all contracted workers and companies, city park maintenance, and school properties. 
City Commissioner Russell recognized that recommending private users curb their glyphosate use was impractical and insufficient due to the volume of glyphosate the city uses. He stated:
Water quality issues are so important to the city of Miami, and we can be one of the worst polluters as a municipality. We ask for residents to make a change in their habits and that they be conscious of what they put in their gardens, but when I realized the totality of what the city uses at any given time, we had to change our habits. (Source)
The Miami Glyphosate Ban Followed Two Other Bans by Florida Cities
Both Miami Beach and Miami border Biscayne Bay. Miami also has its own beaches that cater year round mostly to locals. The Miami Beach City Commission had passed a ban similar to Miami's a few months earlier in September of 2018. 
Miami Beach Commissioner Ricky Arriola didn't mince words when he asserted:
Glyphosate is a known carcinogen, and I'm pleased my colleagues unanimously agreed that we must eliminate its use to protect our community. As a father, especially, it is extremely important to know that when children are playing on our playgrounds or at our facilities, they are not harmed by this type of chemical. (Source)
Almost simultaneously with Miami Beach, but around 100 miles up the Florida coast, the small coastal city of Stuart's City Commission had also banned glyphosate. Stuart is the county seat of Martin County, which is rural with lots of farms and ranches. 
So the Martin County Commission worked out a plan to gradually reduce the amount of glyphosate spraying with the end sight of eliminating it completely within the county area outside of Stuart.  
Let the Bans Continue
Apparently, the recent International Agency for Research on Cancer's (IARC) classification of glyphosate as a probable carcinogenic and the even more recent court cancer lawsuit victory against Monsanto in California is motivating other municipalities and countries to ban glyphosate. See:
Maryland's largest county, Montgomery County, has initiated a temporary ban on using glyphosate herbicides on public properties while reviewing data to determine to what extent and for how long there should be any ban. 
Organic farmers who need to protect their crops from Roundup or other glyphosate formula drift have to exert pressure on their county councils to ban those herbicides throughout the county with some limited success. 
It's rumored that the Governor of California is considering moves toward restricting or banning glyphosate statewide. The anti-GMO grassroots activist group Moms Against Monsanto (MOM) has instigated campaigns since 2017 to create petitions demanding state governors ban glyphosate in their states.  
In January of 2017, Malta became the first country to outright ban herbicides containing glyphosate. Since then, there have been 26 other nations throughout Europe, the Mideast, and Asia including most provinces in Canada that are in various stages of restricting or eliminating glyphosate products at this time. (Source)
The federal government's EPA, whose department heads are usually from conflicting corporate interests and appointed by the president, keep rubber stamping approvals of hazardous pesticides and herbicides for agricultural purposes.
Just as the medical marijuana movement started on a state-by-state basis with only one state and more joining exponentially, the legalization domino effect created has now come knocking on the federal government's door with talks of legalizing cannabis nationwide through congressional legislation. 
The same can happen if local campaigns to ban glyphosate herbicides gather momentum. It could lead to more leaks in the mighty Bayer/Monsanto ship than it can handle and curb their quest to control the world's food supply with their chemical concoctions. 
Published on March 4, 2019