by Orissa Mora-Kent
Health Impact News
Valentine's day, among the other 364, is another good day to love well. We hope our Valentines Sweet-Heart Gift Guide will provide inspiration for year-round good gift giving to the ones you love: you'll find body-care recipes that are free from toxic dyes and perfumes, sweet treats that you can make at home with thoughtfully sourced ingredients and especially, words to live by, food for your spirit and your heart. Be equipped to love and be loved.

When I am hungry, when I think of nourishment, I think of a deep bowl of hearty stew with colorful veggies and freshly baked bread, broken and shared at the table with people I love; I also think of homemade ooey-gooey chocolate chip cookies wrapped up in a tiny little brown box with a bright shiny bow and a wildflower tucked in the top with a kind handwritten note.
It is the dessert after a meal that brings resolution to the event. That final note in the song. It's a small yet important act, of celebration of flavor and of life, to acknowledge and embrace sweetness in spite of the bitter taste that life experiences can leave. Love can do that. Love can remind us that life is for the living.
Show up somewhere today and feed someone. Give away love like you're throwing candy at a parade: reach down deep and scatter it generously.
Homemade recipe 1.
They're cute as a button and they're melt-in-your-mouth-prize-worthy: box 'em up, tie a love note on a string & put a smile on someone's face when you give away these sweet White & Dark Chocolate Candy Cups
Get More Creative Candy Recipes Here!
Homemade recipe 2.
When you're celebrating to the hilt, and you have together those you love under one roof, it's just the "raspberry on top" to serve up a cake like this Grain Free Vanilla Chocolate Fudge Marble Cake.
Get More Crumb Lickin' Good Cakes Here.
Homemade recipe 3.
Preheat your ovens, set out your baking sheets and bake, bake bake! Then go find out which one of your neighbors could use some cheering up: these Triple Coconut Oatmeal Cookies are good for pulling out smiles, especially when paired with an open heart and a listening ear.
Get More Scrumptious Cookie Recipes Here.
Homemade recipe 4.
Spend your time with the people you love: enjoying fresh air, exploration, and natural beauty in every season! Now staying nourished on-the-go is easy with these Pina Colada Bars.
Get More Sweet Bar Recipes Here.
Homemade recipe 5.
Whether you're planning a special night in just for two or hosting a Valentine's party – this special Valentines Day Gelatin is sure to hit that sweet spot after dinner dishes are cleared away.
Get More Gelatin Recipes Here.
Homemade recipe 6.
Sip beside your sweetheart, remember the good times, look forward to the future and share this present moment with a Coconut Cream Mocha.
Get More Creamy Coconut Coffee Recipes Here.
Do you have a great coconut recipe? You could earn $50.00 in gift certificates! Submit your coconut recipes here.

Handcrafting something puts a little bit of your heart into the gift that just wouldn't be there otherwise. It can mean repurposing what could have been cast away. It can mean researching to find the better ingredient. It often means customizing a gift, to be just right, instead of opting for generic store bought alternatives. It's also about seeing beyond the moment and thinking of the impact our everyday choices have upon the environment we're called to steward and the impact our make-up and body-care has upon our personal health and the health of our loved ones.
When we create and give handcrafted gifts, it's a gift that's steeped in our time + our love + resistance to do everything faster and easier.
A handcrafted gift is full-bodied, like a carefully curated tea blend, all the rich flavors extracted. When we slow down, we can see more clearly – as we remain steady the big picture comes back into focus. Love is a good steward of what's entrusted into its care.
Handcrafted recipe 1.
Refresh your skin and get on your glow with our Make Your Own Coffee and Coconut Oil Exfoliating Scrubs: with a word from Dr. Mercola.
Handcrafted recipe 2.
It's what's inside that counts, and that's true for lip balm too. Learn how to handcraft small batches of shimmery, healthy lip balm – only 5 ingredients, 100 percent organic: How to Make Your Own Naturally Tinted Coconut Oil Lip Balm.
Handcrafted recipe 3.
What better way to say you care than to give a healing salve? You can make and share Your Own Healing Salve with Plantain-infused Olive and Coconut Oils.
Handcrafted recipe 4.
Economical, safe for everyone in the family, and customizable with your favorite essential oil scents – this gift is practical and perfect to share with consumer-conscious Mothers you know who are looking for alternatives to store bought, chemical laden, overpriced store options. Now they can follow our easy recipe to make their own Coconut Milk Shampoo and Body Wash from the comfort of their own home.
Handcrafted recipe 5.
Would you like to pamper your skin without putting toxins into your body? Most store bought sugar scrubs contain unnatural ingredients that are harmful to our skin and when combined with hot water which opens up pores (making it easier for those toxins to enter your system) it's a recipe for disaster.

That's why we created this trio of safe sugar scrubs for you: Citrus Blast Sugar Scrub, Wake Up and Smell the Coffee Sugar Scrub and Honey Vanilla Chamomile Sugar Scrub. Scrub away your worries and relax with peace of mind.
Get More Health and Wallet Conscious DIY Recipes Here.

After the scrumptious ooey-gooey cookies are baked, and the fresh, fragrant flowers are arranged in a vase, and the sugar scrubs are all in a row with little bows on the lids in little jars waiting to be gifted-away… and you've smiled and you've hugged and you've spent time with people you really care for… you might still find yourself coming away from a wonderful long day of conversation and laughter and giving and receiving feeling hollow and asking yourself: why is there still an empty, sinking feeling?
"We have an epidemic of heart disease in our society today. Unfortunately, it is seldom diagnosed properly, and the cure is a very simple remedy." – Do You Have Heart Disease?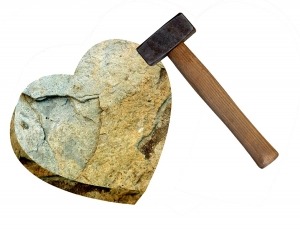 Heartfelt devotional 1.
Excerpt:
"Yes, while an entire medical empire exists today armed with expensive drugs and equipment to manage high blood pressure and heart problems in the physical realm, a far deadlier disease rages out of control threatening to destroy your very existence: the disease of an unbelieving, hardened heart." "…as the writer of Hebrews warns us: See to it, brothers, that none of you has a sinful, unbelieving heart that turns away from the living God. (Hebrews 3:12)" – Brian Shilhavy (emphasis added)
Therefore we do not lose heart, but though our outer man is decaying, yet our inner man is being renewed day by day. For momentary, light affliction is producing for us an eternal weight of glory far beyond all comparison, while we look not at the things which are seen, but at the things which are not seen; for the things which are seen are temporal, but the things which are not seen are eternal. 2 Corinthians 4:16-18
There are No Waiting Lists for a Spiritual Heart Transplant so What are You Waiting For?
Heartfelt devotional 2.
Excerpt:
"Are you suffering today from some sickness or disease that may have spiritual roots in unforgiveness? Love has the power to overcome that and make you well! But medicine and most doctors probably cannot help you in this area. You need to seek out friends who know God, who have a relationship with him and can pray for you, helping you to overcome the power of unforgiveness, anger, bitterness, and hatred in your life. God forgave us for our sins at the cross when Jesus died in our place. Now we can receive God's power and love in our life, a love so powerful that it covers up our sins and the sins of those who have hurt us. That's REAL healing that is available for free, and cannot be purchased with money!" – Brian Shilhavy (emphasis added)
Hatred stirs up strife, but love covers all offenses. Proverbs 10:12
Read More Devotionals Here.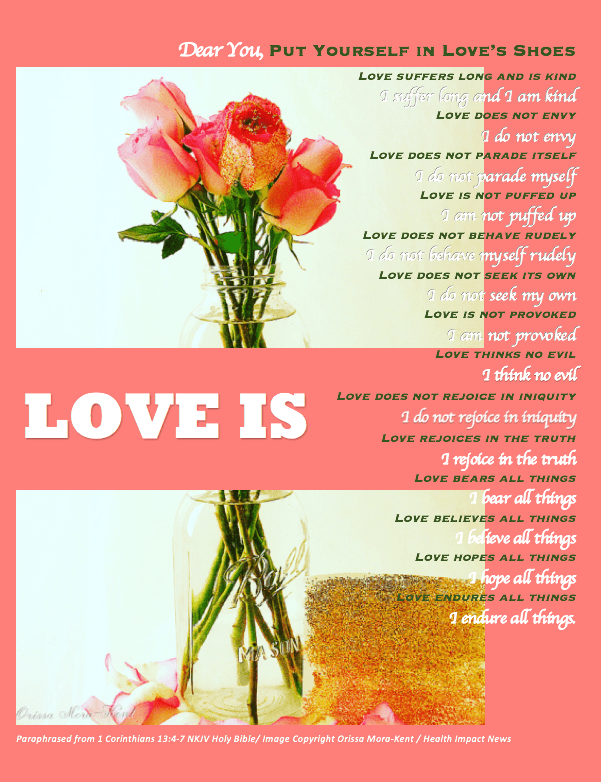 Print your Valentine's Keepsake: Free Valentine's Printable (best printing results on pink paper).
Published on February 13, 2017