by Paul Fassa
Health Impact News
While other nations are allowing medical allowances for cannabis or beginning to see the potential for cannabis applied medicinally, here in the USA dark clouds are forming federally that threaten existing medical marijuana states.
Meanwhile, the real drug epidemic of opioid painkillers goes not only unhampered, but encouraged by the same dark clouds in Washington, D.C. The Drug Enforcement Agency (DEA) has hampered legal action against pharmaceutical drug trafficking while the Rohrabacher-Farr amendment that protects medical marijuana states is in jeopardy.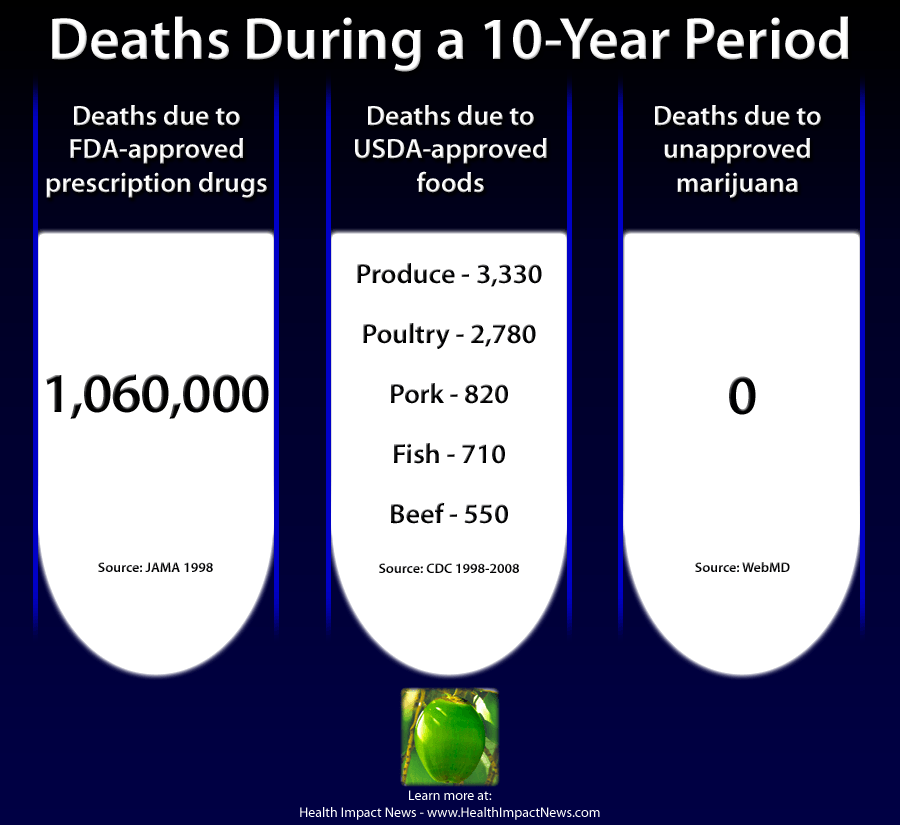 Attorney General Jeff Sessions is Concerned About Medical Marijuana But Not the Opioid Crisis
The Attorney General (AG) is the head of the Department of Justice (DOJ), which runs the DEA. Trump administration's AG Jeff Sessions has requested Congress in writing to not allow the Rohrabacher-Farr amendment to be in the 2018 federal spending bill.
He considers it an obstruction of the justice he needs to combat the current drug epidemic, which he views as increased marijuana use. But he never mentions the real crisis, which is opioid painkiller addictions.
See: Trump Administration goes After Medical Marijuana – Threat to Prescription Opioid Drug Sales?
Opioid painkillers eventually kill the users who need to increase their dosages as time goes on. Sometimes opioid painkiller addictions turn into heroin addictions. Either addiction eventually turns into death by overdose.
This never ever happens with cannabis even among "recreational" users.
This amendment prohibits the DOJ with its DEA from using funds to intervene with state sanctioned medical marijuana growers, distributors, and users as long as they comply with state laws regarding medical cannabis. The amendment was needed because the DEA was using federal law to override state laws and raiding, harassing, and intimidating all three aspects of medical marijuana use.
The final spending bill for 2018 comes into full consideration after the holidays. But in November, the House of Representatives did not include the amendment in their version of the 2018 spending bill.
Now it's hanging by a thread in the stopgap emergency spending bill to keep the federal government from shutting down during the holiday season. The 2018 spending (Appropriations) bill has to go through final Senate hearings.
It's a nervous time for many cannabis patients and the industry itself. Perhaps the rallying point among senators and representatives in Washington will be their states' economies boosted by more jobs and more taxes. (Source) 
Despite overwhelming statistical evidence that states with medical marijuana allowances have lower rates of opioid use and is useful for getting people off opioid painkillers, Sessions has expressed outrage over suggestions that cannabis would decrease the opioid painkiller crisis.
Sessions asserted,
"I am astonished to hear people suggest that we can solve our heroin crisis by legalizing marijuana – so people can trade one life-wrecking dependency for another that's only slightly less awful." (Source)
Notice he used the word heroin, not opioid painkillers, which is the real opiate related crisis by far. Is this an oversight or simply misspoken? Or does it represent a stance that considers cannabis more worthy of suppressing than opiate drugs?
He openly supported the "Ensuring Patient Access and Effective Drug Enforcement Act," an Orwellian doublespeak titled bill which effectively stopped the DEA, a department under his rule as AG, from enforcing pharmaceutical opioid drugs that were excessively being pumped into communities and winding up being used to foment further addiction on the black market.
Sessions stated publicly, after the bill was passed amid Congressional concerns surrounding it,
"I find it unconscionable that critics of the bill and representative [Tom] Marino [who introduced the bill] would flat out ignore the very real patient concerns that motivated this bill and my personal involvement with it."
Sessions was an Alabama senator during the 2016 hearings for this bill that was signed off by Obama. President Trump selected Sessions as his AG when he took office in 2017.
DEA Whistleblower Reveals Motive Behind Attacking Medical Cannabis and Protecting Subscription Pain Killers Flowing into Black Market
This bill was introduced into the House by Pennsylvania Representative Republican Tom Marino, who received $136,000 in campaign contributions from pharmaceutical companies since 2011. It was called the Marino Bill initially. But it was actually written up by a former DEA attorney who is now a drug company executive. (Source)
His name, Linden Barber, was revealed in a 60 Minutes investigative report.
According to former DEA Diversion Department Head, now whistle-blower, Joe Rannazzisi, the Marino bill gutted the DEA's most effective tool against larger opioid distributors and makers against their distribution into black markets.
The Marino bill that came to pass was the result of a concerted effort by politicians who received campaign contributions from pharmaceutical companies that lobby very heavily in Washington.
A conglomerate of vested interests, including drug companies, distributors, and pharmacy groups spent $106 million over two years lobbying in favor of the "Marino Bill," claiming the DEA was preventing patients access to their medications.
From the CBS 60 Minutes investigatory episode:
Whistle-blower Joe Rannazzisi says drug distributors pumped opioids into U.S. communities — knowing that people were dying — and says industry lobbyists and Congress derailed the DEA's efforts to stop it.

… the DEA signed off on the final version of the "Marino bill." A senior DEA representative told us [60 Minutes] the agency fought hard to stop it, but in the face of growing pressure from Congress and industry lobbyists, was forced to accept a deal it did not want.  The bill was presented to the Senate in March of 2016.
When the opioid epidemic began, Joe and his staff were focusing on unethical doctors and pharmacies involved with trafficking the opioid pain killers to those who were becoming addicted. But that didn't stem the rising tide of opioid related deaths, which had reached 200,000 since 1999.
Joe Rannazzisi said:
This was all new to us. We weren't seeing just some security violations, and a few bad orders. We were seeing hundreds of bad orders that involved millions and millions of tablets. That's when we started going after the distributors.
So Joe and his staff started investigating the large distributors and drug companies like Purdue Pharma and Johnson & Johnson with greater success. The legal tool they used to enable large fines against the three largest distributors of opioids centered on the DEA's ability to put a freeze on opioid pills being distributed if there was sufficient cause for concern.
This was stripped along with a general unwillingness to go after the large distributors and opioid pain killer drug companies.
It was common for millions of opioid pain killer pills to be distributed into communities of 5,000, for example, and thousands of pills would go into a community with a population less than 1,000.
The push for the Marino Bill into law followed an action the DEA took in 2012 against a major national wholesaler, Cardinal Health Inc., over millions of painkillers supplied to two CVS pharmacies in Sanford, Fla. Data showed enough pills flowing in every shipment to the small city for every man, woman and child to have 59 doses, according to court records.
According to court records, a CVS pharmacist described her oxycodone customers as "shady" and told DEA agents she had to set a daily limit on opioid prescriptions to ensure there would be enough for "real pain patients," the records stated."
CVS settled with a $22 million fine to the Justice Department and Cardinal Health was prohibited from shipping oxycodone drugs in Florida for two years. (Source)
Very little of this was known outside areas serviced by the LA Times and other local papers, until Joe Rannazzisi was fully interviewed by CBS 60 Minutes in 2017.
The 60 Minutes segment did a thorough investigation and very soon after it aired, Rep. Tom Marino withdrew from Trump's nomination as Drug Czar, a position that controls drug policies. Both Sessions and Marino were heavily involved with Trump's campaign for the presidency.
The main concern is not what happened with the DEA's Diversion Control Division, which oversees pharmaceutical distributions, but the government's developing trend toward protecting and promoting the pharmaceutical industry while discouraging a natural, safe and effective medicine – cannabis.
See: Study: Cannabis Prevents Premature Deaths – Cannabis Prohibition is a Major Cause of Premature Death in the U.S
The complete 60 Minutes investigative segment, very well done and worthy of a 27 minute viewing, with added short clips that were not part of the original presentation, may be accessed below.
See: Ex-DEA agent: Opioid crisis fueled by drug industry and Congress
Published on December 26, 2017