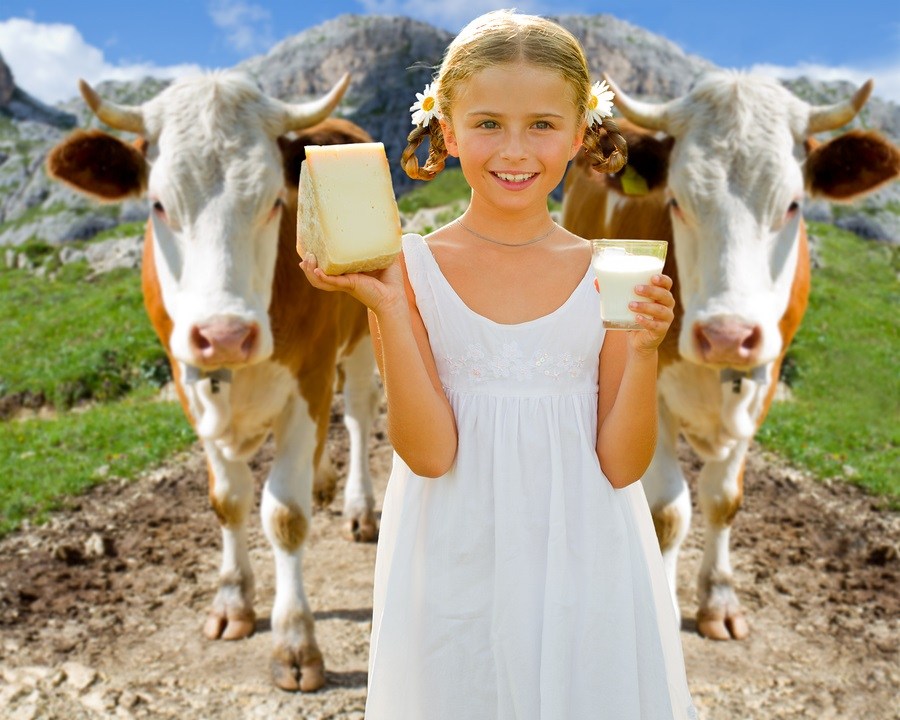 "omega-3 fatty acids contribute to the asthma-protective effect of unprocessed cow's milk"
by Orissa Mora-Kent
Health Impact News
Could the consumption of processed dairy products be a leading cause of childhood asthma? That is a question researchers in Europe recently looked at, and their results were just published in The Journal of Allergy and Clinical Immunology.
Significant reduction of risk for developing childhood-onset asthma is related to continuous consumption of unprocessed cow's milk, according to these European researchers. The longitudinal study looked at 1133 children from birth to age 6 years living in rural areas of 5 European countries: Austria, Finland, Germany, Switzerland, and France.
PASTURE-First Longitudinal Study of Its Kind
Protection of Farm Life
It is known that living on a farm provides natural preventative measures against development of allergies and asthma. This is observed as the "farm effect." The "farm effect" includes contact with animal feed, visits to animal sheds, and consumption of unprocessed farm milk. See:
The Milk Effect – You Don't Have to Live on the Farm – Drink Raw Milk
The researchers were interested in isolating and determining the effect of the difference in the fatty acid composition of unprocessed farm milk compared to heat treated shop milk, and whether or not continuous farm milk consumption carried independent asthma-protective properties, since its benefits alone could crossover to a non-farming community.
They found that the milk effect is independently asthma-protective, irregardless of other allergen-protective farm-related exposures.
This is significant because it means that children not living on a farm are able to receive one of the benefits of this "farm effect" through consumption of unprocessed cow's milk. The higher fat content found in farm milk is explained as part of the positive asthma-protective effect.
Protection Against Allergy-Study in Rural Environment
Their study, PASTURE (Protection Against Allergy-Study in Rural Environment), was the first prospective birth cohort study of its kind. During the last trimester of pregnancy, mothers were recruited and then separated into two groups. The first group contained women who lived on an animal husbandry farm, the farming group. The second set of women who did not live on a farm were assigned to the reference group.
Children who, as reported by their parents by 6 years of age, had a diagnosis of obstructive bronchitis at least twice or a lifetime diagnosis of asthma once were defined as cases. Children without those diagnoses were defined as the control group.
Prior to the PASTURE study, the effects of milk consumption upon asthma had only been observed from a cross-sectional design. PASTURE was the opportunity to (1) to determine the asthma-protective effect of consuming farm milk, (2) to untangle the effects of pasteurization and modification of fat composition, and (3) the evaluation of the role of specific components of milk fat.
To evaluate the role of specific components of milk fat, samples of milk usually consumed by both healthy control subjects and children with asthma were assessed for their fatty acid composition in a nested case-control design.
Types of Milk Samples Assessed
shop milk – any type of cow's milk one could buy from a supermarket or shop
farm milk – cow's milk obtained directly from a traditionally husbanded farm
unprocessed farm milk – farm milk without any prior boiling before consumption
boiled farm milk – farm milk usually boiled prior to consumption
Disentangling the Milk Differences
Full-fat Milk is Healthier
An aim of the researchers' analysis was to measure the farm milk effect with respect to the individual procedures used in processing industrial milk. Heating and fat content both exert independent and powerful effects on asthma. They found that when one chose to consume boiled farm milk over unprocessed farm milk, the choice inarguably mattered to ones health.
They stated,
"Moreover, adjustment for fat content weakened the effect of unprocessed farm versus shop milk on asthma substantially. This corresponds well to previous findings of inverse associations between asthma and the consumption of butter or full-fat farm milk."
Higher omega-3 polyunsaturated fatty acids levels and a lower omega-6/omega-3 ratio in unprocessed milk compared with industrially processed milk is largely responsible for the positive effect of fat content.
Asthma-Protective Effect Increases Over Time
According to the researchers,
"The effects on asthma of drinking unprocessed farm versus shop milk, unprocessed versus boiled farm milk, or high-fat versus low-fat milk tended to increase with age…
Regular unprocessed milk consumption was inversely related to asthma onset by age 6 years. The association was stronger with recent exposure compared with exposure in early childhood. This protective effect of native milk was explained partly by absent heating and partly by a higher fat content."
The researchers also noted,
"Recent consumption of farm milk seems to be more relevant than consumption in the first years of life, which extends the concept of early prevention to sustained prevention until school age and beyond."
Anti-inflammatory Treatment for Subclinical Asthma
Conclusion
The researchers explained,
"The major strength of this analysis is the longitudinal study design, with several points of exposure assessment before determining the outcome based on a physician's diagnosis."
In summary, the data obtained by the PASTURE study was able to demonstrate that "continuous consumption of unprocessed farm milk contributes to protection from childhood-onset asthma." Significantly, that effect is related to the higher omega-3 polyunsaturated fatty acids content that is found in unprocessed cow's milk.
The desirable omega-6/omega-3 ratio in cow's milk may change the equilibrium of eicosanoid synthesis to anti-inflammatory rather than pro-inflammatory mediators. Consequently, the farm milk effect evidently, in part, consists of an anti-inflammatory treatment of subclinical asthma.
Read the entire article on The Journal of Allergy and Clinical Immunology.
Published on February 7, 2016