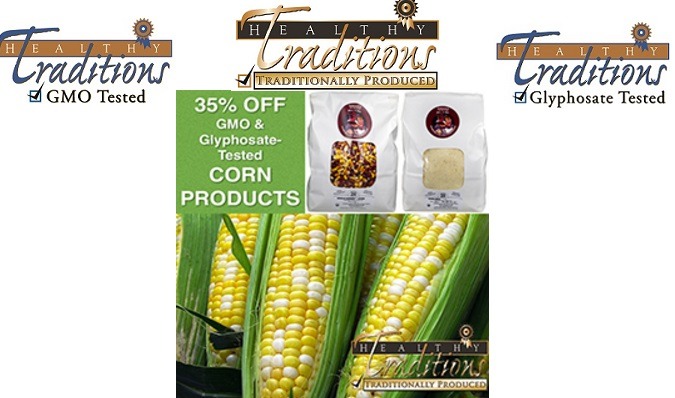 Health Impact News
Healthy Traditions announced earlier this year that they had added Mexican heirloom corn products to their line of GMO-tested and Glyphosate-tested products. They explained how truly GMO-free corn is almost non-existent in the U.S., as even corn that is USDA certified organic or verified to be GMO free is still contaminated with small amounts of GMO DNA, according to their own laboratory testing.
Over the past few years Healthy Traditions has tried to find corn in the United States that tested clean for the presence of genetically modified material and the herbicide glyphosate. We tested corn products that were USDA certified organic, and corn that also made claims to be GMO-free.

We found that all of them were contaminated.

We have been successful in some years growing clean corn with our farmers in Wisconsin, but often subsequent harvest years turned up positive results of GMOs in our testing, forcing us to find new sources of open pollinated heirloom corn. As a result, we did not have much corn to sell to our customers, and some years we had none.

But now, we have located some rural farms in Mexico that seem to have clean corn from native varieties.
The corn products, which include corn flour, corn meal, grits, and whole kernel corn, are on sale this week. They are thought to be unique to the U.S. corn market:
This corn is grown in the region where corn is thought to have originated, Central Mexico! In order to find a consistent supply of corn that tested negative for both GMO and glyphosate contamination, we began searching in Mexico, where commercial GMO corn production is currently banned because of the rich genetic diversity and cultural significance that corn has there.

This open-pollinated corn has been grown in a traditional fashion, much the same way it has been done for hundreds, if not thousands of years in this region. The family of the farmer that grew this corn has a connection to the land for over a century, and the seed he uses has been passed down from generation to generation.
Learn more about this corn and order some here.
In addition to the heirloom Mexican corn, Healthy Traditions also offers corn grown in remote areas of rural Wisconsin that is currently testing clean of any presence of GMOs or the herbicide glyphosate. Learn more here.
Healthy Traditions would like to secure as much of this unique corn as possible so that it does not simply enter the market as "organic corn" and become mixed in with corn that does not test clean.
If you are a business that uses corn in your products and are concerned about GMOs and glyphosate, and would like to have corn that tests 100% clean for GMOs and herbicides, contact Healthy Traditions.
Find more products sold by Healthy Traditions that are tested for GMOs and glyphosate.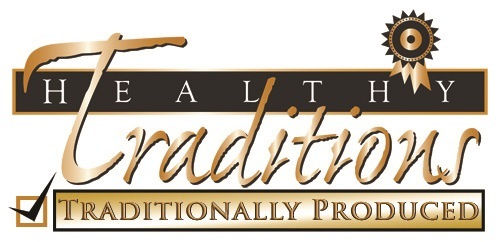 Published on September 15, 2016