By Moses Marasco
alternativehealthscience.com
Excerpts:
On the way back to school after Thanksgiving, freshman diver Bailey O'Brien noticed a change in a mole on her right temple. The next weekend she went home to Putnam Valley, N.Y., and had the mole removed. It wasn't until after finals that O'Brien's parents told her the results of the biopsy.
"They said I should sit down," She recalls. "My dad said, 'I think you know why.' I said, 'No, what's going on?' Then he told me the results were positive for cancer."
In January 2011, O'Brien was diagnosed with stage IV melanoma—"end-stage" as she describes it—with very little hope for survival.
"I just shut down," she says. "I wasn't sure what to do. I didn't qualify for the clinical trials that were most promising, which my doctor wanted me to be in—so I began the quest for a cure that I wasn't sure existed."
Desperate for answers, O'Brien's mother and a family friend discovered CHIPSA: An alternative cancer therapy center in Tijuana, Mexico, CHIPSA has established a 60 percent five-year success rate with melanoma patients. With financial help from her family and friends, O'Brien flew to Mexico and entered the three-week program. In addition to a regimen of natural and alternative vaccines, O'Brien started a modified form of the Gerson diet, which requires completely organic and unprocessed foods, fruits and vegetables, no added sodium, no red meat, and no refined sugars or grains.
By February, O'Brien thought the tumor in her chin appeared to be shrinking. She returned to the United States in March 2011 and continued with her treatment at home for the next month. "I knew that it was a possibility that while the tumor under my chin had gone away, the others could be the same size or even growing," she says. In late March, two days before her 21st birthday, O'Brien went to her doctor for another PET scan. All of the tumors had disappeared.
"That," she says, "was the most amazing moment of my life."
Read the full story at alternativehealthscience.com
Watch an interview with Bailey and Chris WarK
We Lost the War on Cancer – Review of Alternative Cancer Therapies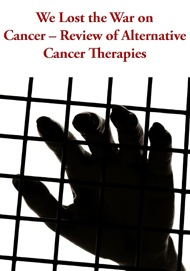 eBook
Retail : $999
Now : $599
We have lost the war on cancer. At the beginning of the last century, one person in twenty would get cancer. In the 1940s it was one out of every sixteen people. In the 1970s it was one person out of ten. Today one person out of three gets cancer in the course of their life.
The cancer industry is probably the most prosperous business in the United States. In 2014, there will be an estimated 1,665,540 new cancer cases diagnosed and 585,720 cancer deaths in the US. $6 billion of tax-payer funds are cycled through various federal agencies for cancer research, such as the National Cancer Institute (NCI). The NCI states that the medical costs of cancer care are $125 billion, with a projected 39 percent increase to $173 billion by 2020.
The simple fact is that the cancer industry employs too many people and produces too much income to allow a cure to be found. All of the current research on cancer drugs is based on the premise that the cancer market will grow, not shrink.
John Thomas explains to us why the current cancer industry prospers while treating cancer, but cannot afford to cure it in Part I. In Part II, he surveys the various alternative cancer therapies that have been proven effective, but that are not approved by the FDA.
Read We Lost the War on Cancer – Review of Alternative Cancer Therapies on your mobile device!
Published on June 22, 2016