Kimchi is one of the world's most popular fermented foods, but did you know that eating it daily can significantly impact your cancer risk? 
A new study published in the journal Oncotarget titled, "Dietary prevention of Helicobacter pylori-associated gastric cancer with kimchi," is the latest example of how a simple dietary intervention can make a world of difference in reducing the risk of one of the most lethal cancers.
Gastric or stomach cancer is the third leading cause of death from cancer (9% of all cancer deaths), and the fifth most commonly diagnosed form.1 It is believed that Helicobacter pylori (H. pylori) infection is a primary cause, though smoking, nitrates and nitrites found in cured meat, regular aspirin use, and a lack of vegetables and fruits (and associated antioxidant consumption), also contribute to this multifactorial condition.
In the new study, researchers set out to prove that kimchi, a traditional Korean fermented cabbage dish not unlike sauerkraut (though spicier), could prevent Helicobacter-induced atrophic gastritis (chronic inflammation of the stomach mucosa) and subsequent gastric cancer, by administering to mice a high salt diet and H. pylori. They created a special formula of kimchi, which they called cancer preventive kimchi (cpKimchi), and which added mustard leaf, pear, mushroom, Chinese pepper, and sea tangle juice in addition to the standard kimchi recipe (sKimchi).
First, the researchers compared the effectiveness of the two different types of kimchi in suppressing cancer cell growth in vitro (test tube studies). They found that the cpKimchi recipe was superior to the sKimchi recipe at reducing gastric cancer cell survival. Moreover, they found the cancer killing properties of the cpKimchi recipe was very specific:
All of these experimental results that cpKimchi selectively induced cytotoxicity in cancer cells, while no cytotoxicity in non-transformed cells were further validated with wound healing assay to find that cpKimch imposed capacity to limit the cell growth relevant to anti-tumorigenesis."
Selective cytoxicity is an extremely important property in juxtaposition to conventional cancer treatments like radiation and chemotherapy, which almost invariably harm both healthy and cancerous cells and tissue, leading to iatrogenic morbidity and increased mortality.
Next, the researchers evaluated the effects of the two Kimchi recipes in a rat model of atrophic gastritis. Mice received 24 weeks of a high salt diet and H. pylori infection, which lead to the development of both atrophic gastritis and erosive gastritis. They were next administered cpKimchi mixed with their drinking water up to 36 weeks, with their gastric lesions undergoing evaluation after 24 and 36 weeks, which included analysis of molecular changes that occurred during the intervention. In the cpKimchi group there was a significant decrease in all the adverse changes observed in the control group (e.g. chronic atrophic gastritis presenting with loss of parietal cells, inflammatory cells such as monocytes, lymphocytes, and macrophages replacing gastric glands, and erosive mucosal changes), leading the study authors to hypothesize the cpKimchi had a "rejuvenating effect" on their condition.
They explored the mechanism behind these regenerative effects further, and identified a range of positive molecular changes induced by the cpKimchi intervention, such as:
Down-regulation of the "inflammation enzyme" cyclo-oxygenase 2

Reduction in macrophage infiltration into the damaged mucosal tissue

Reduction in HF-KB p65 expression (a marker for stress associated immune response and inflammation)

Reduction in interleukin-6 (a chemical messenger associated with increased inflammation)

Reduction in STAT3 activation (increased STAT3 activity has been linked to cancer)

Reduction in PGE2 levels (a prostaglandin whose activity is linked to inflammation)

Reduction in Malondialdehyde (MDA) levels (a marker of oxidative stress and lipid peroxidation)

Increases in H0-1 and HSP70 (an indirect marker of improved oxidative stress)

Increases in gastric mucin (an indication of improved infection)
In the third phase of their research, they evaluated the long-term effect of cpKimchi intake on the prevention of H. pylori-induced gastric tumorigenesis by observing the effects of the dietary intervention for up to 36 weeks. The control animals developed significant gastric tumors at 36 weeks, whereas the cpKimchi group saw a significant decrease in their size and occurrence.
The researchers explored their findings, again, looking at molecular mechanisms and markers at play, finding:
Reduction in COX-2/ and F/80 expression

Reduction in COX-2 mRNA

Reduction in macrophage infiltration

Reduction in macrophage-related inflammatory mediators (including IL-1β, VEGF, IL-6, and MMP-2)

Reduction in transcription factors related to gastric inflammation (STAT3 and NF-KB)

Reduced apoptosis (indicating less H. pylori-induced cell damage/cell death)

Increased NQ10 and HO-1, indicative of increased antioxidative and cell-protecting function.
The authors of the study pointed out that previous observational research has confirmed kimchi's anti-gastric cancer properties:
A case-control study to assess the influence of Korean foods showed that kimchi significantly decreased the risk of gastric cancer, whereas intake of cooked rice with beans, charcoal grilled beef, pollack soup, and Dongchimi significantly increased the risks [5]. In a follow up study, they also found that gastric cancer risk could be decreased if those with H. pylori infection increase their intakes of antioxidant vitamins [6]."
The authors stated that while well-designed human clinical trials should be done to confirm these findings, it is possible that "long-term dietary intervention with cpKimchi can be an alternate effort of high risk country like Korea to rescue from troublesome H. pylori-associated gastric carcinogenesis."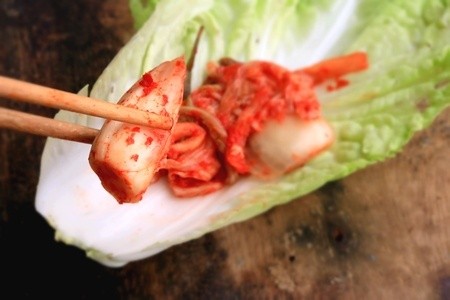 They also detailed the common ingredients in kimchi, all of which we have a significant body of research indexed on our database showing that they possess profound anti-cancer properties:
The common gradients of kimchi are pepper, garlic, black cumin, hyme, allspices, bay leaves, mustard leaf, rosemary containing carnosol, flaxseed in addition to Chinese cabbage, in which carotenoids, flavonoids, catechins, isothiocyanates, allicin, glucosinolate, and lignin are plentifully contained. We have added the following five ingredients (Supplementary table 1), pear, mushroom, red pepper, mustard leaf, and sea tangle juices upon common vegetables for kimchi in order to produce cpKimchi. One of core ingredients in cpKimchi, pear extracts, had been already reported to possess significant anti-mutagenic actions evidenced with anti-inflammation, anti-oxidation, and cell proliferation regulation. Feugang et al [20] have previously reported that aqueous extracts of pear significantly reduced gynecologic cancer cells growth through apoptosis induction and ROS-sensitive genes [21]. Though cranberry had the highest total phenolic content followed by apple, red grape, strawberry, pineapple, banana, peach, lemon, orange, pear, and grapefruit [22], these ingredients, except pear, are not usually included in kimchi. Next, special attention was paid to mushroom polysaccharides, since mushrooms are regarded as powerful pharmaceutical products against cancer. Numerous bioactive polysaccharides or polysaccharide-protein complexes from medicinal mushrooms had been described to either enhance innate and cell-mediated immune responses or exhibit antitumor activities in animals and humans [12, 23].
Kimchi, of course, is a Chinese cabbage-based food. And this one ingredient, alone, contains one of the most powerful anti-cancer and anti-H. pylori compounds known: sulforaphane. You can take a look at our research page on sulforaphane which presently includes 212 studies showing its value in over 150 different conditions, 63 studies of which specifically concern it's anti-cancer properties.
Another amazing aspect of kimchi as a fermented food is it's beneficial bacteria which can number in the trillions per serving, and which help to suppress, neutralize, or otherwise create balance with H. pylori, which technically inhabits about 50% of the world population's intestinal tract without causing any discernible harm to the majority.2  Given that triple drug therapies (usually two antibiotics + an acid blocker) focus on attempting to eradicate H. pylori but also destroy and/or alter the beneficial bacteria, fungi and viruses in the gut, it is possible that focusing on improving the terrain with kimchi-derived probiotic colonies offers an entirely different and more sustainable approach — especially given that triple drug therapy often fails and/or leads to the development of antibiotic resistant strains of H. plylori.
Consider also that kimchi has been identified to contain strains of beneficial bacteria that are actually capable of degrading highly toxic pesticides, as well as petrochemical toxicants such as bisphenol A, underscoring the broad way in which kimchi may be of value to those at risk or actively suffering from gastric cancer or pre-cancerous lesions. And don't forget that we have a number of ways to further enrich empower you, including a separate database page on kimchiwhich reveals research on its potential therapeutic value in over 20 health conditions, an anti-Helicobacter pylori research page, and a page dedicated to things that contribute to and prevent and/or treat gastric cancer naturally. You can also check out our recent article on 3 Natural H. Pylori 'Cures' That Are Clinically Proven.
Lastly, the best extrapolation of this data is the use of food for prevention, and the incorporation of healing foods into daily life.
Read the full article at GreenMedInfo.com.
Additional References
1 "Chapter 1.1". World Cancer Report 2014. World Health Organization. 2014. ISBN 9283204298.
2 Pounder RE, Ng D (1995). "The prevalence ofHelicobacter pylori infection in different countries".Aliment. Pharmacol. Ther. 9 (Suppl 2): 33–9. PMID 8547526.
We Lost the War on Cancer – Review of Alternative Cancer Therapies

eBook
Retail : $999
Now : $599
We have lost the war on cancer. At the beginning of the last century, one person in twenty would get cancer. In the 1940s it was one out of every sixteen people. In the 1970s it was one person out of ten. Today one person out of three gets cancer in the course of their life.
The cancer industry is probably the most prosperous business in the United States. In 2014, there will be an estimated 1,665,540 new cancer cases diagnosed and 585,720 cancer deaths in the US. $6 billion of tax-payer funds are cycled through various federal agencies for cancer research, such as the National Cancer Institute (NCI). The NCI states that the medical costs of cancer care are $125 billion, with a projected 39 percent increase to $173 billion by 2020.
The simple fact is that the cancer industry employs too many people and produces too much income to allow a cure to be found. All of the current research on cancer drugs is based on the premise that the cancer market will grow, not shrink.
John Thomas explains to us why the current cancer industry prospers while treating cancer, but cannot afford to cure it in Part I. In Part II, he surveys the various alternative cancer therapies that have been proven effective, but that are not approved by the FDA.
Read We Lost the War on Cancer – Review of Alternative Cancer Therapies on your mobile device!
Published on September 17, 2015