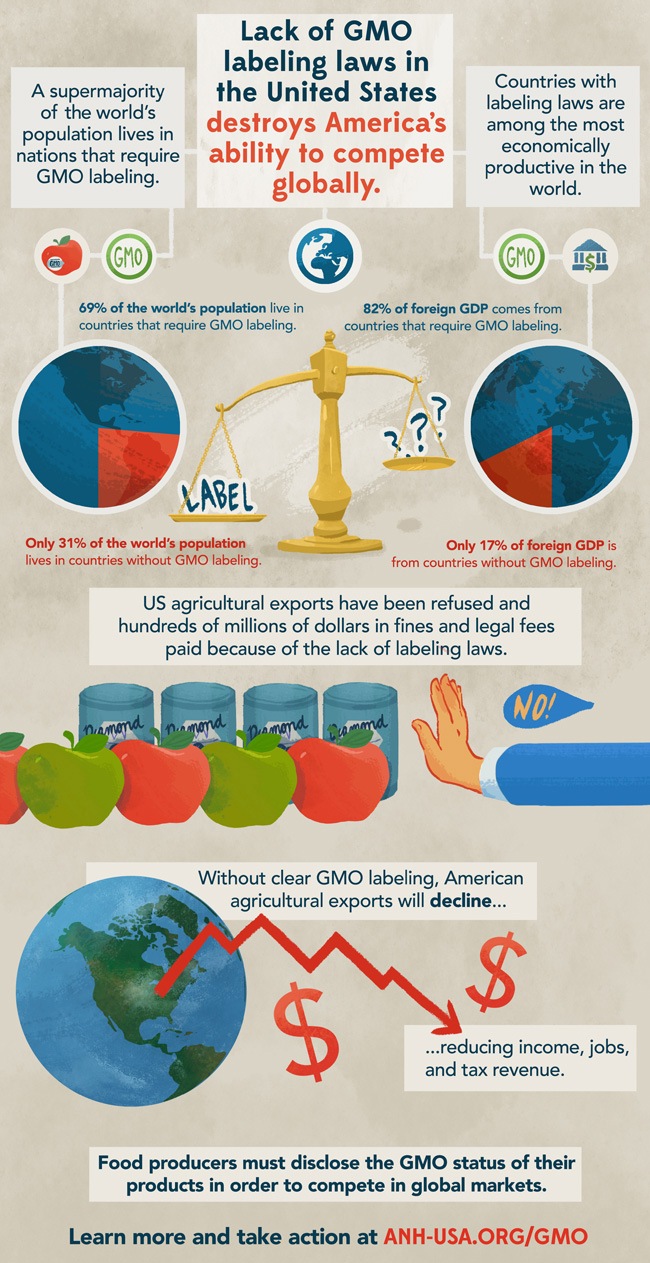 Health Impact News
U.S. GMO policy allows widespread use of GMO crops with very little oversight and no labeling for consumers who would generally choose non-GMO crops. This policy is in direct contrast to most other countries around the world where GMO standards and labeling are required.
As a result, the U.S. is quickly losing the export market for corn. The Wall Street Journal reports that China is rejecting U.S. corn:
China's tougher stance on imports of genetically modified corn is roiling U.S. agribusiness, largely halting trade in the biggest U.S. crop in its fastest growing market. By one industry estimate, exports are down by 85% compared with last year. Since mid-November, China repeatedly has refused shipments of U.S. corn, saying officials detected that some contained a genetic modification developed by Syngenta AG that Beijing hasn't approved. The rejections have hurt grain-trading companies such as Cargill Inc.
In the first full tally of the impact, a U.S. grain-industry group says the rejected shipments have come to nearly 1.45 million metric tons. That is far more than the 545,000 tons that Beijing has reported and the roughly 900,000 tons that has circulated in news media. The rejected shipments have cost grain companies $427 million from lost sales and reduced prices for China-bound shipments that must be resold elsewhere, the National Grain and Feed Association says in a report…(Source.)
So who stands to gain from China's rejection of U.S. GMO corn? According to a Reuter's report, Brazil:
China has allowed Brazilian corn imports to start this month, a further blow to U.S. exports to the world's No.2 consumer of the grain already hurt by the discovery of an unapproved genetically modified strain in shipments. China mainly imports corn from United States, but shipments from the country have been curbed after officials turned away about 1 million tonnes due to the presence of a genetically-altered strain that has not been approved by Beijing. (Source.)
In a move that may signal Brazil's intent to capitalize on the Chinese corn market, a Brazilian court recently banned the release of Bayer's GMO corn (report here.)
The pro-GMO biotech lobby may continue to be successful in getting their seeds into the soil of U.S. farms, and prevent labeling for consumers, but in the process they are losing the export market. The U.S. is the world's leader in corn exports, comprising about 60% of the world market.
We have previously reported how the U.S. has pressured other countries to accept their GMO products, but it appears the tide is now turning. China is rapidly advancing to take over as the world's #1 economy, opening the door for other countries to find new markets and new trading partners. The second biggest destination of U.S. corn is Russia, and relations with Russia are not exactly rosy these days due to the conflict in the Ukraine. This could be a huge opportunity for Latin America, where non-GMO traditional corn varieties are largely still uncontaminated by GMOs.
Can the U.S. continue on this path of GMO policy? Why is the rest of the world rejecting our GMO products?
Published on April 13, 2014