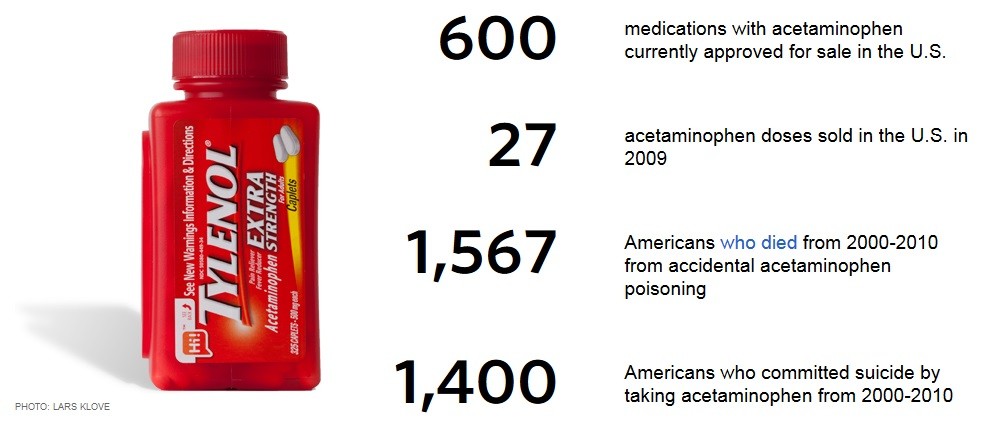 Health Impact News Editor Comments:
ProPublica rocked the world last week by publishing startingly news and stats about acetaminophen, the active ingredient in Tylenol, which is marketed as a safe, over-the-counter drug.
Health Impact News has published stats on Tylenol deaths in the past, and other reports actually put the death toll much higher than the stats ProPublica used from the CDC. A 2004 published study took statistics from poison control centers around the U.S. and found "458 deaths due to acute liver failure each year."
A study highlighted in the British media earlier this month showed that the U.K. brand of acetaminophen (Calpol) caused a 5-times higher rate of asthma among children who received only one dose per month!
Here are some highlights from the ProPublica coverage:
Use Only as Directed
By Jeff Gerth and T.Christian Miller 
ProPublica
During the last decade, more than 1,500 Americans died after accidentally taking too much of a drug renowned for its safety: acetaminophen, one of the nation's most popular pain relievers.
Acetaminophen – the active ingredient in Tylenol – is considered safe when taken at recommended doses. But in larger amounts, especially in combination with alcohol, the drug can damage or even destroy the liver.
Davy Baumle, a slender 12-year-old who loved to ride his dirt bike through the woods of southern Illinois, died from acetaminophen poisoning. So did tiny five-month-old Brianna Hutto. So did Marcus Trunk, a strapping 23-year-old construction worker from Philadelphia.
The toll does not have to be so high.
The U.S. Food and Drug Administration has long been aware of studies showing the risks of acetaminophen – in particular, that the margin between the amount that helps and the amount that can cause serious harm is smaller than for other pain relievers. So, too, has McNeil Consumer Healthcare, the unit of Johnson & Johnson that has built Tylenol into a billion-dollar brand and the leader in acetaminophen sales.
Yet federal regulators have delayed or failed to adopt measures designed to reduce deaths and injuries from acetaminophen overdose, which the agency calls a "persistent, important public health problem."
The FDA has repeatedly deferred decisions on consumer protections even when they were endorsed by the agency's own advisory committees, records show.
In 1977, an expert panel convened by the FDA issued urgently worded advice, saying it was "obligatory" to put a warning on the drug's label that it could cause "severe liver damage." After much debate, the FDA added the warning 32 years later. The panel's recommendation was part of a broader review to set safety rules for acetaminophen, which is still not finished.
Four years ago, another FDA panel backed a sweeping new set of proposals to bolster the safety of over-the-counter acetaminophen. The agency hasn't implemented them. Just last month, the FDA blew through another deadline.
Regulators in other developed countries, from Great Britain to Switzerland to New Zealand, have limited how much acetaminophen consumers can buy at one time or required it to be sold only by pharmacies. The FDA has placed no such limits on the drug in the U.S. Instead, it has continued to debate basic safety questions, such as what the maximum recommended daily dose should be.
[T]he data show that acetaminophen is linked to more deaths than any other over-the-counter pain reliever.
From 2001 to 2010, annual acetaminophen-related deaths amounted to about twice the number attributed to all other over-the-counter pain relievers combined, according to the poison control data.
In 2010, only 15 deaths were reported for the entire class of pain relievers, both prescription and over-the-counter, that includes ibuprofen, data from the CDC shows.
That same year, 321 people died from acetaminophen toxicity, according to CDC data. More than half – 166 – died from accidental overdoses. The rest overdosed deliberately or their intent was unclear. For the decade 2001 through 2010, the data shows, 1,567 people died from inadvertently taking too much of the drug.
Acetaminophen overdose sends as many as 78,000 Americans to the emergency room annually and results in 33,000 hospitalizations a year, federal data shows. Acetaminophen is also the nation's leading cause of acute liver failure, according to data from an ongoing study funded by the National Institutes for Health.
Behind these statistics are families upended and traumatized and, in the worst cases, shattered by loss.
Read the Full Report Here: http://www.propublica.org/article/tylenol-mcneil-fda-use-only-as-directed
Published on September 29, 2013