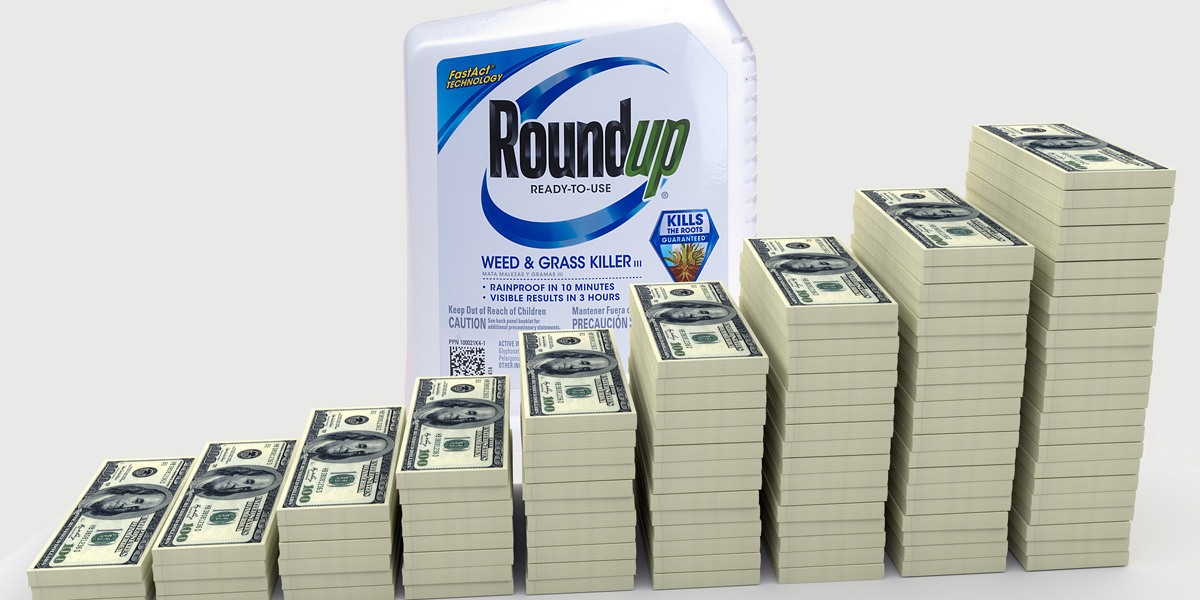 by Brian Shilhavy
Editor, Health Impact News
Bayer AG has suffered its second major legal defeat after purchasing Monsanto Co. and inheriting its controversial herbicide, RoundUp, the world's most popular weedkiller.
The active ingredient in RoundUp, glyphosate, has been linked to cancer and other health problems, while Bayer and Monsanto, along with the U.S. EPA (Environmental Protection Agency) have denied any links.
Earlier this week, a second jury in California has determined that a man who sprayed RoundUp on his property for decades is responsible for his non-Hodgkin's lymphoma.
According to Bloomberg, Bayer immediately lost $8 billion in market share after the verdict.
Bayer AG slumped after a second major defeat in U.S. litigation over claims that its Roundup weed killer causes cancer, shaving almost $8 billion from its market value and raising the likelihood of a costly settlement.

The legal woes Bayer inherited with its acquisition of Monsanto Co. have hammered the company's share price, which has dropped almost 30 percent since the $63 billion transaction was clinched in June, even as the company insists that the active ingredient in the herbicide is safe. The stock fell another 12 percent to 61.1 euros in Frankfurt on Wednesday.

The German company lost the first phase of a jury trial in San Francisco in the case of a man who sprayed the herbicide on his property for decades and said it caused his non-Hodgkin's lymphoma. It follows a separate California ruling in favor of a former school groundskeeper with cancer last year. Damages in that case were eventually reduced by a judge to $78.6 million. (Source.)
This recent defeat in court now opens up the door to another 11,200 cases pending against Bayer for harm allegedly caused by glyphosate. Settling these cases could cost Bayer billions more:
The latest ruling suggests Bayer is "the underdog in many of the reported 11,200 cases pending across the U.S.," Holly Froum, a legal analyst at Bloomberg Intelligence, wrote in a report. "Absent settlement, many cases over Bayer's Roundup weedkiller could go to trial." She estimated the settlement value of all cases at more than $5 billion. (Source.)
The trial now moves to the second phase to determine damages:
The trial now moves to a second phase to determine liability and damages. The next stage, starting Wednesday, will be a steeper climb for the defense: jurors will hear evidence, including damaging emails, that the company manipulated public opinion to bury health concerns and promote sales of the bestselling herbicide. (Source.)
Meanwhile, the evidence for harm caused by glyphosate continues to pile up.
A study just published in The BMJ links pesticides and herbicides, including the widely used glyphosate, during prenatal and infant exposure to an increased rate of autism. The study was conducted in the Central Valley of California, home to the world's largest agricultural area. See:
See Also:
Published on March 21, 2019