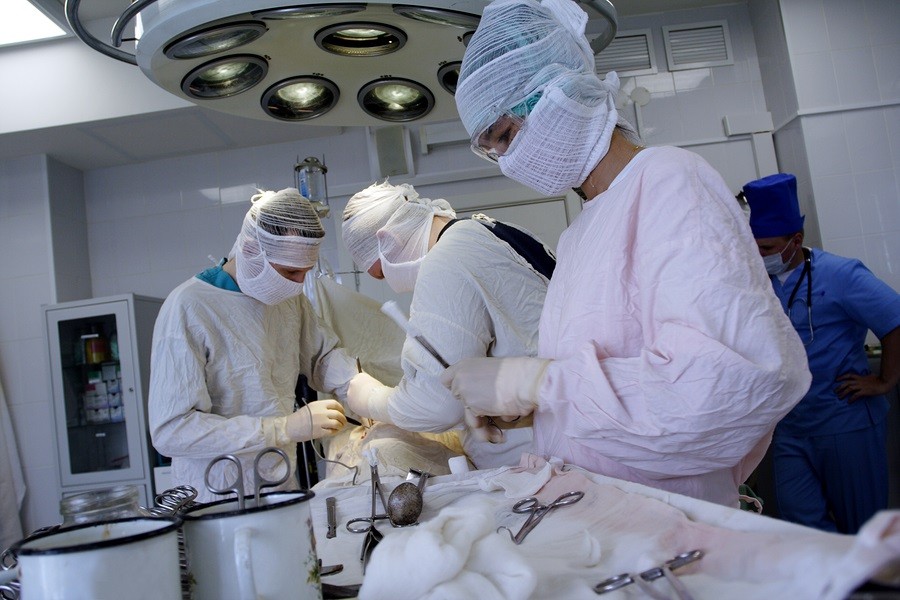 Wisconsin Representative Pushing Legislation to Make Surgery Room Recordings Available to Patients
by Paul Fassa
Health Impact News
There is a grass roots push to promote legislation that would allow surgeries to be recorded on camera if demanded by patients.
The purpose is to have third party evidence that can prove medical errors or even malpractice during surgeries, when the patient is unconscious due to anesthesia and cannot monitor medical procedures. Knowing that their work is being recorded would also keep medical personnel on their "best behavior" as opposed to medical procedures happening behind "closed doors" and not subject to third party accountability.
Some are pushing for a black box type of scenario, similar to what currently exists on commercial aircraft and can be used to determine causes of accidents, where mechanical and electrical operations are recorded.
A 2013 publication of the Journal of Patient Safety gave some alarming statistics regarding injuries and deaths related to hospital errors:
Using a weighted average of the 4 studies, a lower limit of 210,000 deaths per year was associated with preventable harm in hospitals. … the true number of premature deaths associated with preventable harm to patients was estimated at more than 400,000 per year. Serious harm seems to be 10- to 20-fold more common than lethal harm. (Source)
With such high numbers of deaths and lethal harm due to hospital errors, why is common-sense legislation designed to protect the rights of patients receiving so much opposition?
What Began this Grass Roots Movement for Third Party Monitoring of Surgeries?
Wade Ayer's sister, Julie Ayer Rubenzer, died after three months in a coma from a botched cosmetic surgical procedure that occurred in September 2003 in the Cosmetic Surgical Center of Sarasota, Florida. The procedure reportedly involved an out patient breast implant replacement in Dr. Kurt Stephan Dangl's office.
Dr. Dangl allegedly violated the Florida state medical rule which demands only a certified anesthesiologist administer general anesthesia drugs. Then he went on to allegedly administer an anesthetic cocktail that included propofol, a drug that's ideal for out patient surgeries because it is fast acting and allows a fast recovery to normal consciousness and activity.
Apparently propofol was given as a sedative for sleeping by Michael Jackson's physician, and that was reportedly the cause of his sudden death.
Julie was given way too much propofol for her body size and weight. Her heart stopped. The monitor flat lined and flashed a warning that "Chest compressions are needed."
But Dr. Dangl allegedly did nothing and did not allow anyone to perform chest compressions for over five minutes, long enough to starve her brain cells from oxygen carrying blood and cause enough brain damage to put her into a coma that ended in her death.
Several months later, the Florida state medical board revoked Dr. Dangl's license to practice medicine in Florida.
But there's nothing to stop him from moving to another state and getting licensed there, yet another issue that irked Wade Ayer. There's no national oversight to prevent doctors who shouldn't be licensed at all from picking up and starting all over elsewhere in the country.
After getting stories online from several patients, deceased patient survivors, and even some doctors who remained nameless or off the record, Wade realized he needed to get legislators on the issue.
He formed an alliance called National Organization for Medical Malpractice Victims and created this Facebook page for it on September 25, 2003.
The first attempt at drafting legislation was done, with Wade's assistance, by Wisconsin State Representative, Christine Sinicki, a Milwaukee Democrat. She had some bipartisan support, but the Assembly Bill 255, called the "Julie Ayer Rubenzer bill" didn't get out of committee.
After more complaints from Wisconsin patients, Rep. Sinicki has made her second attempt with a slightly amended version in late 2017 — tagged Assembly Bill 863. It was introduced into the state assembly in early 2018. Here's a copy of that bill.
If it goes into law, it would mandate that patients be given the option of having their surgery recorded in color with sound and date and time tracking. The recording would be offered for a minimal fee and recorded as part of that patient's medical record.
The issue that motivated Wade the most to start his online campaign for justice in the medical business was the fact that the legal system often doesn't get involved with medical errors or even malpractice, due to lack of evidence. Wade and their father Don wanted to prosecute Dangl, but were unable to do so.
Others have come forward to report similar circumstances where their attorney could not press charges when a medical error caused harm or death.
Fox News 6 in Milwaukee recently reported the story of Chris Nowakowski who lost his wife due to a medical error:
It's hard to blame Chris Nowakowski for wondering what really happened inside St. Vincent Hospital in Green Bay. It's where his wife went in for a low-risk procedure and never came out alive.

"How could she be gone? This doesn't make any sense?" Nowakowski wondered.

His wife, Laura Nowakowski, was already a medical miracle. Her heart stopped on Christmas Eve in 2009.

"They basically told me, 'She's not going to survive the day,'" he recalled.

The next day, Christmas day, she woke from a coma and got a pacemaker. She resumed her life as a wife, a mom and substitute teacher.

"All of the sudden, she's perfectly healthy," Nowakowski said.

Her miraculous recovery is what makes what happened four years down the road even harder to accept.

"I was very angry. Very confused," Nowakowski said.

In February of 2013, Laura's pacemaker malfunctioned and needed a new wire.

"We were made to feel very comfortable that this was not a big deal," Nowakowski recalled being told about the procedure.

During the procedure, the doctor accidentally sliced a large vein near her heart.

Nowakowski was in the waiting room unaware that the woman he married 17 years earlier was dying or that the surgeon who could save her was not in the building.

"So, now, they're making phone calls trying to get this surgeon in the hospital. Tick tock, tick tock," he said.

The length of time it took the surgeon to arrive is a matter of dispute.

"Was it 12 minutes? Was it 30 minutes? Was it 43 minutes? I just don't know," Nowakowski said.

The distraught husband and father desperately wanted to sue the hospital, but the day before filing a malpractice complaint, his attorney backed out writing that he was hampered by a "lack of documentation in the record… concerning the timing of certain events."

"The information I have is all written by the hospitals," Nowakowski said.

It's why he is now pushing for legislation that would put video cameras in every operating room in Wisconsin. (Full Story.)
Wade feels that using common electronic surveillance equipment that cannot be tampered with would provide third party testimony sufficient for a court of law and civil lawsuits without the potential of perjury and/or witnesses more concerned about keeping their jobs than telling the whole truth.
In Spite of Opposition from Doctors, Surgery Recordings Would Benefit Everyone
Though it could be seen that Wade's initial motivation was legally avenging his sister's tragic death by medicine, it's now seen as a win-win for all parties involved. If a patient sues wrongly, the defendant's evidence comes in a video tape, or perhaps sometime in the future from a black box type of apparatus that includes recording all or most of the machinery involved in the room.
In the likelihood that there was malpractice, court hearing expenses would be reduced with less paid expert witness expenses and less time consumed in court hearings. The tape, that the bill protects from tampering by hospital staff with stiff fines, would be almost all that's needed for a plaintiff or a defendant.
The total black box idea is on a back burner for now. Some, but not all the technology for operating room use has been fully developed for the equipment used today. But if it gets to the point of functionality and acceptance, there would be no way for tampering the evidence to occur since a black box type apparatus could be sealed.
According to Wade, legislators in other states are picking up on the idea and both the mainstream media and the alternative press have been promoting it.
This could eventually affect the VA medical system as well.
However, various medical boards and hospital administrators oppose the practice of giving the tapes to patients while at the same time being in support of recording operations for study purposes and self correction and improvement.
In other words, they don't want outsiders deciding whether they're doing their jobs correctly or not.
With increasing deaths and chronic illness or disability from medical interventions, keeping an independent eye on surgeries is one area that patients should be able to control and keep as part of their medical records.
Wade and his Facebook community are seeking support in their legislative lobbying efforts, primarily with petitions, not donations. The petitions would include short easy surveys of medical victims or closely related survivors of deceased patients that could create enough motivation for legislators to take action. Here's that survey.
Published on February 5, 2018