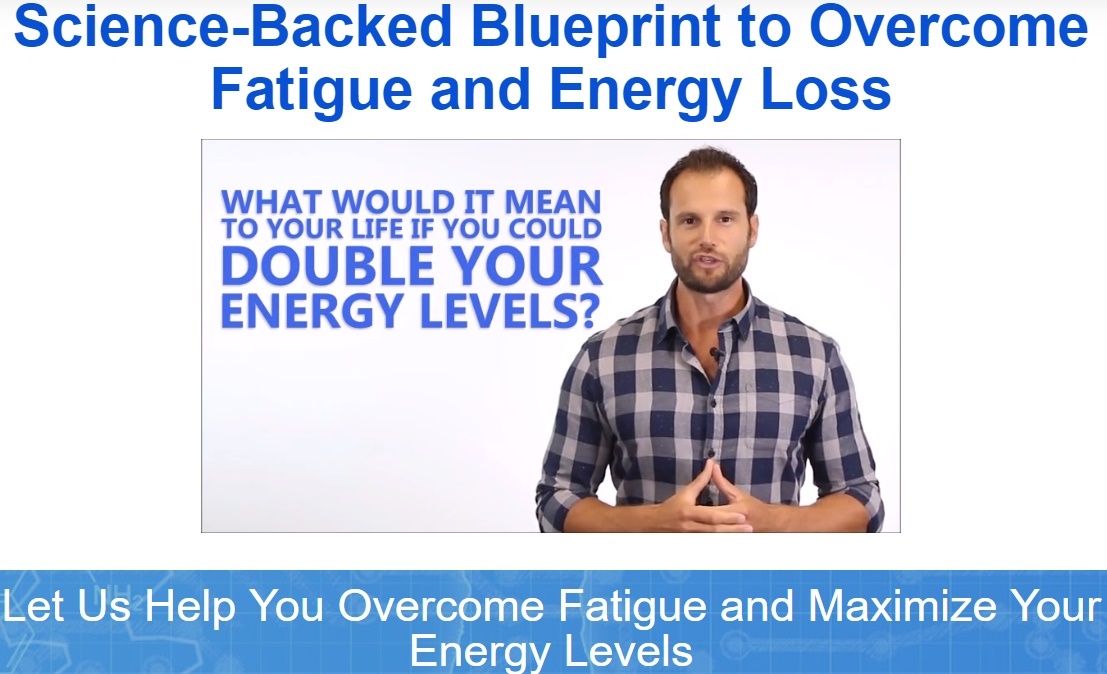 Health Impact News
Ari Whitten, a #1 best-selling author, nutritionist, and renowned fatigue expert is the founder of The Energy Blueprint.
He is offering a FREE online Masterclass Series to help you beat fatigue and double your energy.
Here is what you will learn:
The 6-Step Blueprint to Build REAL Energy at the Cellular Level – Stop borrowing energy from tomorrow to get through the day today by using caffeine and sugar. Instead, learn cutting-edge science to build REAL energy for life.
How to Build a Bigger and More Powerful Cellular Engine – This blows people away when they see it. Did you know that it is possible to literally build a bigger, stronger cellular engine (mitochondria) so your cells can pump out energy all day long?
How To Literally Charge Up Your Cellular Battery – There are special factors (not just diet and exercise) that can literally charge up the machinery in the cell that produces energy. This is information you cannot find from other sources.
How to Re-Wire Your Brain into "High Energy Mode" – Are you dependent on caffeine and sugar to get through the day? It's time to stop relying on caffeine and sugar and learn how to re-wire your brain to be in High Energy Mode all day long.
The Truth About Antioxidants (and an energy secret) – A secret hundreds of times more powerful than simply popping vitamin C and other antioxidant pills.
How to Supercharge Your Sleep – Poor sleep is called "the mother of all health issues" for a reason. You'll learn how to make your cells regenerate faster each night while you sleep, so you wake up filled with energy.
How To Regenerate Damaged Cells That Cause Fatigue – Damage to your mitochondria (cell energy generators) is the primary cause of fatigue. You'll learn special methods that repair mitochondria.
The REAL Cause of Fatigue and How to Fix It – Most information you can find on fatigue is completely outdated. Are you ready to get access to the cutting-edge science that can fix your fatigue forever?
TENS OF THOUSANDS OF PEOPLE HAVE ALREADY GONE THROUGH THIS TRAINING. HERE'S WHAT THEY'RE SAYING:
"For 20 years I have experienced various levels of chronic fatigue. Sometimes, not so bad, sometimes bedridden. I have spent a fortune on 20+ modalities of therapy including herbalism, homeopathy, nutritionists, acupuncture, naturopaths, various talk-therapies, way-out woo-woo things!, physio, massage, kinesiology, etc etc, etc and although some have helped to a degree, i feel for the FIRST TIME,:-) I am being given a guided tour that could be entitled 'your Human Body – a repair & maintenance guide.' This stuff is GROUND BREAKING!! It is LIFE CHANGING!!! Thank you SO much Ari. I have had glimpses of 'light at the end of the tunnel' for years on & off, but THIS course…:-) This is a pathway out into the sunshine of LIFE!! You are giving me my life back. :)" -Lisa B.

"Today I did my first full yoga class and I enjoyed every minute of it! I drove there and back myself. When I started the Energy Blueprint, I was only able to do 5 minutes of yoga and after just that, I was too tired to drive. I still have a way to go but after 2 + 1/2 years of despair, debilitating fatigue and doctors saying "you just have to accept that you're have fatigue"… I am celebrating! :)" -Marianne S.

""Three weeks in, and my energy levels are already way up. If I had to put a number on it, I would say it's something like 60% more energy than I had before, maybe more. The Energy Blueprint is brilliant!"" -Cameron D.

"Dear Ari, I usually don't take the time to review or make comments on courses/lectures/seminars I take… I can confidently say…hands down… your Energy Blueprint has been my favorite with a wealth of information (many I have never heard) in a concise, science based, well-communicated format. I've taken many courses in the pursuit of health for myself and my patients — even currently in a year long functional medicine course — and I am more excited about implementing your recommendations! I've been in practice 30 years with two busy offices in two different states…finally the stress and desire to feel health and energy again, motivated me to make some major changes…your course came at the perfect time and super charged this journey I am on. I am feeling so much better! I still have much more to do to find balance in my life…and have many more of your gems to add to my protocol… but I'm excited! I'm a big fan and will certainly sing your praises to all whom will listen. Thank you!" -Dr. Jane S., M.D.
Published on March 16, 2018