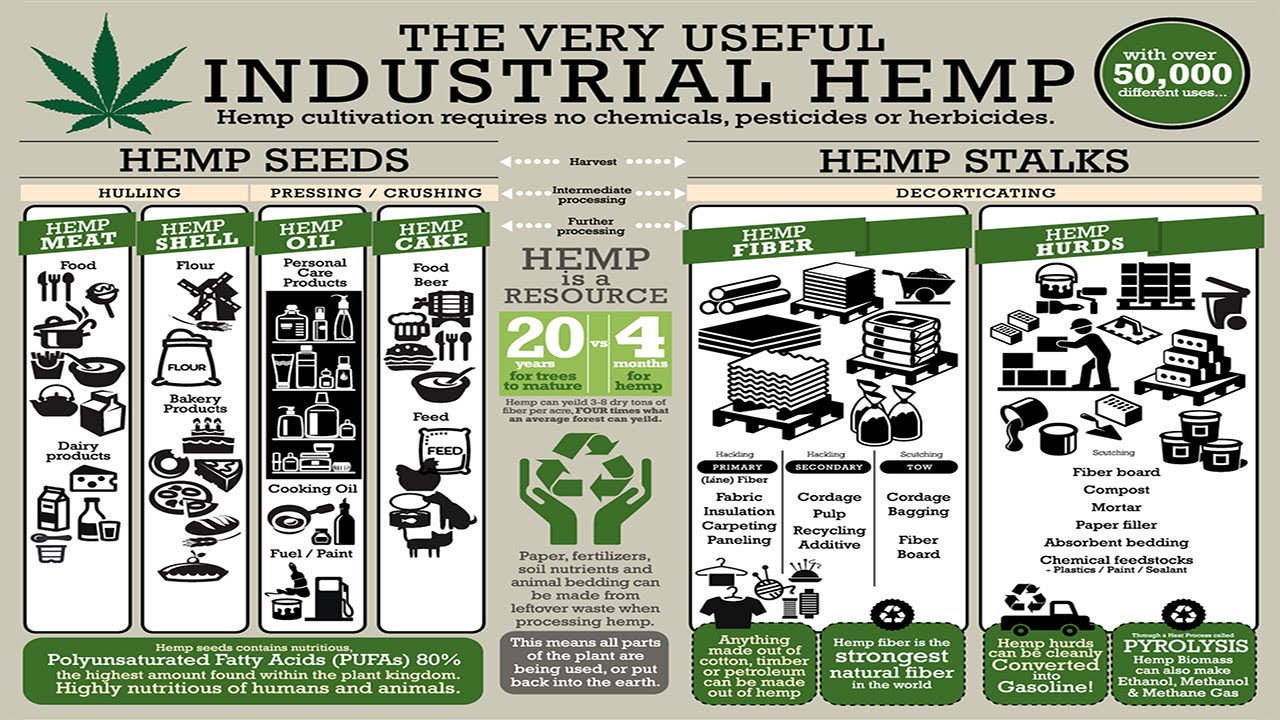 by Paul Fassa
Health Impact News
So far this year, 2018, the cannabis news has been mostly positive. In a recent Health Impact News report, many of the cannabis initiatives we discussed are now starting to become reality.
Perhaps the biggest surprise, seemingly out of nowhere, is the push for legalizing industrial hemp nationally. Efforts to legalize industrial hemp has actually passed in the Senate, but not as a stand-alone bill. 
The wording that would exempt growing industrial hemp from marijuana laws was included as a clause in the Senate Farm Bill of 2018.
Now it's the House's turn to haggle with the all-encompassing Farm Bill before it's signed by President Trump. 
A Clause in Current Senate Farm Bill Legalizes Hemp As Agricultural Commodity
Industrial hemp is perhaps the most primitive strain of the plant, Cannabis Sativa L, which is reported to have been cultivated five to ten thousand years ago in Asia. It contains almost negligible traces of THC, the psychoactive cannabinoid compound. 
Industrial hemp is known for its dense, strong fiber content that has many applications, such as making paper, cloth, rope, biodegradable plastics, and even strong, non-toxic building materials with their own innate insulation. The ramifications of its use for types of materials mentioned are more ecologically-sound.
It's also an agricultural asset. It's a hardy cash crop that can be planted and harvested twice in moderate climates. It can be used by organic and conventional farmers as a rotating crop that helps enrich the soil as it requires no synthetic fertilizers. More on hemp here.
The key state for promoting the legalization of industrial hemp and its cultivation has been Kentucky for the past few decades. It seems that as recent as WW II, Kentucky farmers enjoyed raising hemp for the war effort's material needs. They were not only allowed to grow hemp, they were encouraged to so.
After the war, hemp's 1930s illegal status was resumed, and the Kentucky farmers lost their cash crop.
For the longest time, even as Canada thrived from cultivating hemp for various consumer and health products sold in the USA, the DEA refused to reconsider its legal status.
Finally, last April (2018), a bill was introduced by Senator Mitch McConnell (R-Ky.), Senator Ron Wyden (D-Ore.), Senator Jeff Merkley (D-Ore.) and Senator Rand Paul (R-Ky.) to legalize industrial hemp. They introduced their hemp legislation as a stand-alone bill in April, before getting it included in the Senate's farm bill.
During the Senate Committee phase of structuring the current Farm Bill, there were concerns of using industrial hemp for CBD products that would not be regulated. 
Thanks to some skillful strategic political maneuvering and convincing rhetoric for supporting farmers by Senate Majority Leader McConnell, the Senate passed the latest Farm Bill (2018) with the inclusion of legalizing industrial hemp. 
This is great news for farmers and advocates of using hemp for environmentally-sound consumer and building products, as well as hemp-based CBD products.
It will create hemp independence from foreign hemp sources, which includes Canada and other nations. 
More Good Cannabis Legal News From Around the Nation
Despite a half-million dollars raised by prohibitionists to campaign against medical cannabis in Oklahoma, voters approved the state ballot to allow medical applications of marijuana. This is the 30th state to allow regulated medical cannabis cultivation, distribution, and use. (Source)
Vermont has been a legal medical marijuana state for only a few months, since January 2018. By the end of June 2018, Vermont became the ninth state to allow adult recreational sales and use beginning July 2018. (Source)
Senate Minority Leader Chuck Schumer (D-NY) recently introduced legislation that would end the federal government's prohibition of marijuana. The proposal is co-sponsored by Senators Bernie Sanders (I-VT), Tim Kaine (D-VA), and Tammy Duckworth (D-IL). 
The proposed Marijuana Freedom and Opportunity Act would maintain the federal government's authority to prevent trafficking of marijuana from states that have legalized it to those that have not. 
It also includes providing grants to state and local governments to help expunge prior marijuana convictions and direct some of the cannabis tax revenues for the Small Business Administration to financially assist cannabis entrepreneurs who are economically disadvantaged. Here's the full bill.
There may be some who view legalizing access to people over 21, much like alcohol, as something which could lead to abuses that damage the social order. Impaired driving is one concern. But recent testing has confirmed that driving skills are impaired more by alcohol than pot. The heightened awareness and environmental sensitivity tend to make pot users safer drivers.
What should be considered as positive for legalizing cannabis without medical guidance is that it widens medical applications more as well. Some legal medical cannabis states restrict disease applications to the point where cannabis is not allowed for some or several maladies, forcing those who want to use it medically into pharmaceutical drugs or black market cannabis purchases, unless they pack up and move to a state where it is approved for ALL medical uses, which usually means approving it for recreational use.
This is a lose-lose situation for those who would benefit from cannabis medically but are prohibited by state laws, and the state also loses tax revenue approving and regulating it.  
Studies Show Cannabis Benefits for Diabetes
Despite the traditional profiling of pot users' getting the munchies and gorging on sweets and junk food, there have been three studies from 2011 to 2016 that disprove the expected results of obesity from cannabis munchies. Instead, it helps reduce obesity, prevents diabetes, and resolves pre-diabetes or insulin resistance.
The two cannabinoids of the over 80 discovered in cannabis that have major impacts on areas that surround diabetes are CBD (cannabidiol), which does not have a psychoactive effect, and THCV, slightly different than THC, but it also does not produce psychoactive effects.
Here are those three studies:
1) The study Obesity and Cannabis Use: Results From 2 Representative National Surveys was published in 2011 in the American Journal of Epidemiology. The purpose was to determine if the propensity toward satisfying marijuana users' munchies was a factor in obesity.
After comparing BMI measurements between pot smokers and non-users, the authors concluded that the "prevalence of obesity is lower in cannabis users than in nonusers." 
2) The 2013 study Impact of Marijuana Use on Glucose, Insulin, and Insulin Resistance among US Adults utilized 4,657 men and women surveyed in the National Health and Nutrition Examination Survey from 2005 to 2010. Marijuana use was determined discreetly, and statistical adjustments were made according to use for this study.
After determining homeostasis model assessment of insulin resistance (HOMA-IR) from fasting blood samples, the researchers discovered: 
Current marijuana use was associated with 16% lower fasting insulin and 17% lower HOMA-IR. We found significant associations between marijuana use and smaller waist circumferences. We found that marijuana use was associated with lower levels of fasting insulin and HOMA-IR, and smaller waist circumference. (Source abstract)
3) Here's the human study that isolated the THCV factor's effect on diabetes, Efficacy and Safety of Cannabidiol and Tetrahydrocannabivarin [THCV]on Glycemic and Lipid Parameters in Patients With Type 2 Diabetes: A Randomized, Double-Blind, Placebo-Controlled, Parallel Group Pilot Study.
The study, published 2016 in the American Diabetes Association's journal, Diabetes Care, combined 62 subjects with type 2 diabetes randomized to five treatment methods: 
CBD (100 mg twice daily), THCV (5 mg twice daily), 1:1 ratio of CBD and THCV (5 mg/5 mg, twice daily), 20:1 ratio of CBD and THCV (100 mg/5 mg, twice daily), or matched placebo for 13 weeks.

Compared with placebo, THCV significantly decreased fasting plasma glucose (…) although plasma HDL was unaffected. Compared with baseline (but not placebo), CBD decreased resistin … and increased glucose-dependent insulinotropic peptide… None of the combination treatments had a significant impact on endpoints. CBD and THCV were well tolerated.

THCV could represent a new therapeutic agent in glycemic control in subjects with type 2 diabetes. (Source abstract)
These studies widen the medical applications of cannabis to include prediabetes and diabetes 2, as long as the right strains, high in CBD and/or THCV, are chosen. That's where consulting a cannabis health practitioner, someone with knowledge in the cannabis industry, is needed.
Published on July 3, 2018