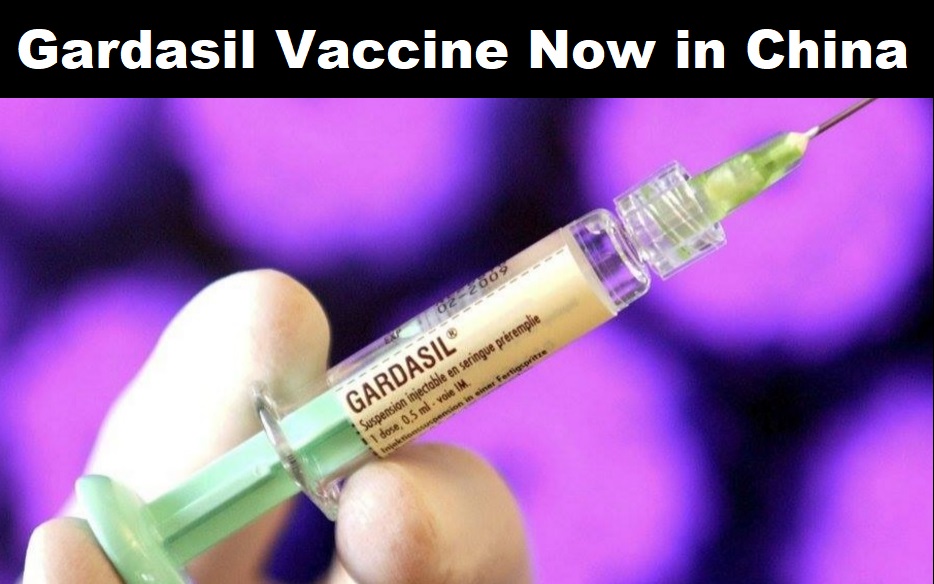 Health Impact News Editor Comments
The pharmaceutical marketing trade publication, Fierce Pharma, announced this month (May 2018) that Merck has beat Wall Street expectations for their Gardasil vaccine sales during the first quarter of 2018, achieving 24% growth with $660 million for the HPV vaccine.
The report notes that sales in the U.S. are declining, attributing the decline in sales to the CDC decision to reduce their recommendation of the Gardasil vaccine to be only two doses, instead of three.
Nothing is mentioned about declining public opinion regarding Gardasil, nor the numerous lawsuits against the company outside the U.S.
The increase in sales for Gardasil is attributed to their entrance into the China market.
Gardasil remains Merck's top vaccine by sales.
As we just reported in an article published at The Vaccine Reaction, U.S. taxpayers subsidized the development of Gardasil, and continue to fund their marketing of the vaccine. See:
Boosted by China launch, Merck's Gardasil turns in a big first-quarter performance
by Eric Sagonowsky
FiercePharma
Excerpts:
Even as Merck's Gardasil sales suffer in the U.S. from the CDC's decision to implement a two-dose regimen, the HPV vaccine franchise posted strong growth in the first quarter as a China launch begins to pay off.
Globally, Gardasil and Gardasil 9 revenues grew 24% in the first quarter to $660 million, pushing Merck's vaccine unit to more than $1.5 billion in sales, or about the same as during the period last year. Measles, mumps and rubella vaccine sales grew versus last year's first quarter, as did Merck's sales from pneumococcal shot Pneumovax 23.
Gardasil's performance beat Wall Street expectations by $73 million, according to a note from Barclays analysts. The original vaccine, which protects against four HPV types, won Chinese approval last year, following GlaxoSmithKline's Cervarix into the market. Late last month, the Chinese FDA granted Gardasil 9 a conditional approval only nine days into a review.
Gardasil remains Merck's top vaccine by sales, and the company's leadership is confident it can continue on its growth path thanks to the rollout in China.
Read the full article at FiercePharma.
Comment on this article at VaccineImpact.com.
Medical Doctors Opposed to Forced Vaccinations – Should Their Views be Silenced?
One of the biggest myths being propagated in the compliant mainstream media today is that doctors are either pro-vaccine or anti-vaccine, and that the anti-vaccine doctors are all "quacks."
However, nothing could be further from the truth in the vaccine debate. Doctors are not unified at all on their positions regarding "the science" of vaccines, nor are they unified in the position of removing informed consent to a medical procedure like vaccines.
The two most extreme positions are those doctors who are 100% against vaccines and do not administer them at all, and those doctors that believe that ALL vaccines are safe and effective for ALL people, ALL the time, by force if necessary.
Very few doctors fall into either of these two extremist positions, and yet it is the extreme pro-vaccine position that is presented by the U.S. Government and mainstream media as being the dominant position of the medical field.
In between these two extreme views, however, is where the vast majority of doctors practicing today would probably categorize their position. Many doctors who consider themselves "pro-vaccine," for example, do not believe that every single vaccine is appropriate for every single individual.
Many doctors recommend a "delayed" vaccine schedule for some patients, and not always the recommended one-size-fits-all CDC childhood schedule. Other doctors choose to recommend vaccines based on the actual science and merit of each vaccine, recommending some, while determining that others are not worth the risk for children, such as the suspect seasonal flu shot.
These doctors who do not hold extreme positions would be opposed to government-mandated vaccinations and the removal of all parental exemptions.
In this eBook, I am going to summarize the many doctors today who do not take the most extremist pro-vaccine position, which is probably not held by very many doctors at all, in spite of what the pharmaceutical industry, the federal government, and the mainstream media would like the public to believe.
Read:
Medical Doctors Opposed to Forced Vaccinations – Should Their Views be Silenced?
on your mobile device!
$0.99

Dr. Andrew Moulden: Every Vaccine Produces Harm
Retail: $13.99
Now: $9.99
Order Here.
Canadian physician Dr. Andrew Moulden provided clear scientific evidence to prove that every dose of vaccine given to a child or an adult produces harm. The truth that he uncovered was rejected by the conventional medical system and the pharmaceutical industry. Nevertheless, his warning and his message to America remains as a solid legacy of the man who stood up against big pharma and their program to vaccinate every person on the Earth.
Dr. Moulden died unexpectedly in November of 2013 at age 49.
Because of the strong opposition from big pharma concerning Dr. Moulden's research, we became concerned that the name of this brilliant researcher and his life's work had nearly been deleted from the internet. His reputation was being disparaged, and his message of warning and hope was being distorted and buried without a tombstone. This book summarizes his teaching and is a must-read for everyone who wants to learn the "other-side" of the vaccine debate that the mainstream media routinely censors.
Read Dr. Andrew Moulden: Every Vaccine Produces Harm on your mobile device or computer by ordering the eBook!

Say NO to Mandatory Vaccines T-Shirt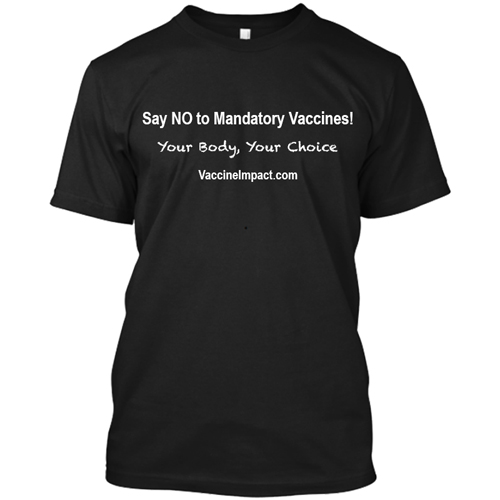 100% Pre-shrunk Cotton
Order here!
Make a Statement for Health Freedom!
Big Pharma and government health authorities are trying to pass laws mandating vaccines for all children, and even adults.
Show your opposition to forced vaccinations and support the cause of Vaccine Impact, part of the Health Impact News network.
Published on May 17, 2018