Healthy Traditions
Press Release
Regulators in Wisconsin have reportedly lifted the "cease and desist" order from a warning sent to Amish Wisconsin egg farmers in March. The 7-year operation where farmers shipped their eggs directly to consumers from their farm was temporarily shut down by an order from the Wisconsin Department of Agriculture from a complaint that allegedly originated from regulators in California. See:
After an outcry from customers and supporters who contacted the governor of Wisconsin and other officials, regulators reportedly told the farmers that they could continue shipping their eggs while they worked with them to bring them into compliance with the alleged violations.
The farmers are happy to be able to sell their inventory of eggs again because they would have had to shut down their operation at the end of this week due to the cost of feeding and maintaining their flocks while not being able to sell their eggs.
They are not sure yet if any new regulations or requirements placed on them will become a burden too costly to allow their operation to continue, so it is uncertain at this time if their 7-year direct-to-consumer egg operation will continue to operate into the foreseeable future. For now, customers can order the eggs from the Healthy Traditions' website.
Is California Behind the Action to Shut Down Small-scale Egg Operations in Wisconsin?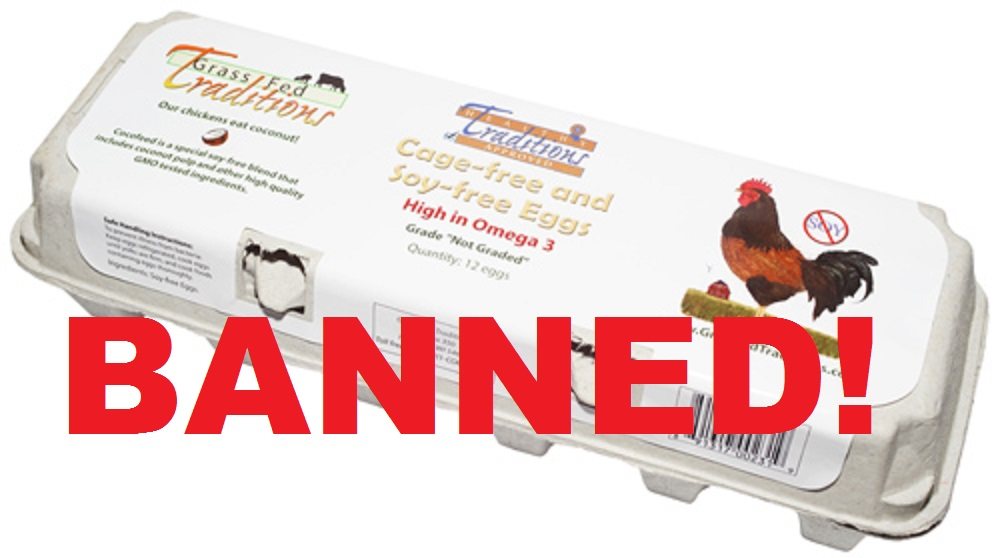 As was mentioned in John Thomas' previous article about the shutting down of this egg operation, when one of the farmers inquired as to "who complained" about their eggs, he was allegedly told that it "came from California."
California has a history of trying to protect their egg market and preventing eggs from entering their state. They previously tried to prevent Wisconsin eggs from being shipped into California, as John Thomas noted for Health Impact News:
In 2012 "Egg Safety Quality Management Central District Supervisor" John Ramos of the California Department of Food and Agriculture (CDFA) attempted to stop the shipment of eggs from the Wisconsin Pasturelands Cooperative into California.

CDFA had somehow obtained a box of eggs from a FedEx facility that was being shipped to a Tropical Traditions' customer.

Mr. Ramos sent a letter to Tropical Traditions demanding that they immediately stop selling eggs in California, stating that the package they found in the FedEx facility was not refrigerated properly. It should be noted that this action was taken after seizing a package in a FedEx facility in route to a customer, not because of any customer complaint about the eggs.
See: Wisconsin Shuts Down Soy-free Egg Market: Denies Consumers Choice to Purchase Healthy Eggs
Just this week, Tropical Traditions (the Internet company that provides the service for customers to purchase the eggs directly from the farm) received another warning from California regulators, suggesting that they were indeed the ones that complained to Wisconsin regulators about the farm eggs.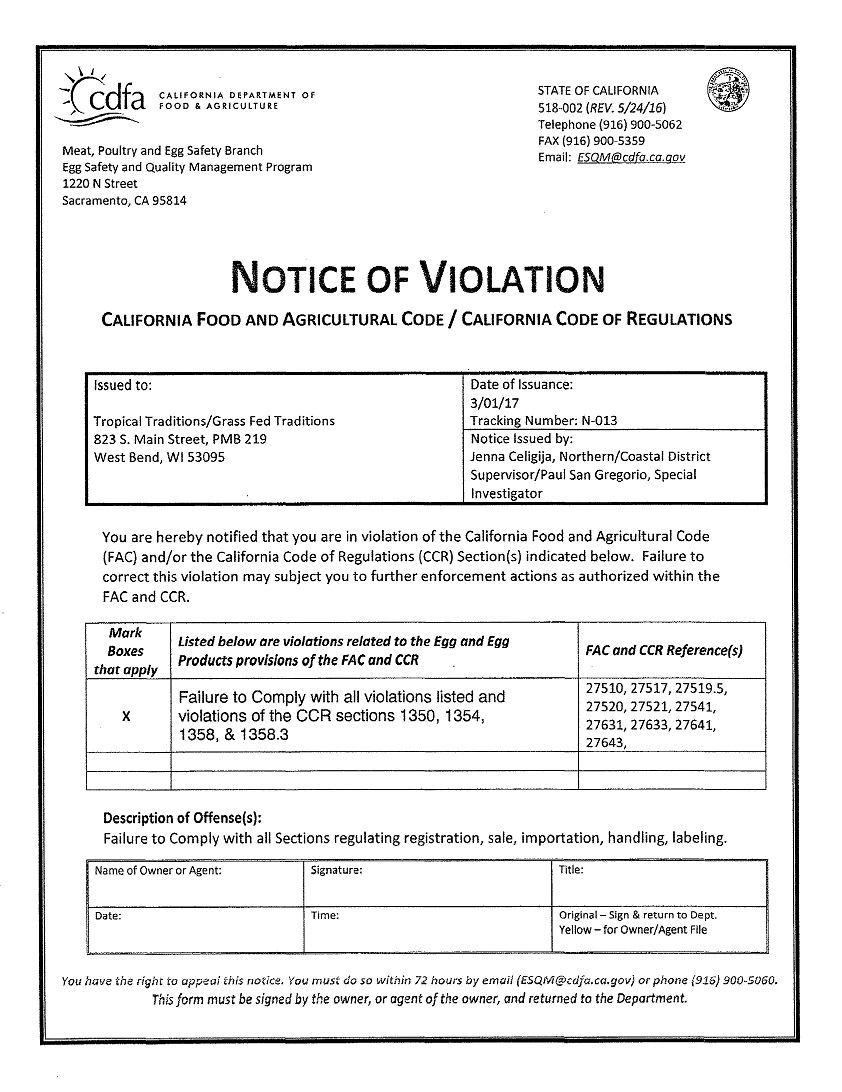 In a letter attached to this warning by Tony Herrera, ESQM Program Manager, he states:
You are hereby instructed to cease and desist all illegal operations and activities immediately and until you are fully registered by ESQM and all deficiencies identified are corrected.
The alleged "illegal" activities are:
Failure to register with ESQM as an egg handler/producer, shipping eggs to California without proper refrigeration, labeling, grading, or proper handling instructions.
Tropical Traditions, however, states that they still do not sell eggs in California. The customers simply use the Healthy Traditions/Tropical Traditions website to purchase the eggs directly from the farmers in Wisconsin, and then they choose a shipping service to have their eggs delivered to them. The eggs never come into their possession but are passed directly from the farmer to the consumer, the same as if they drove to the farm to purchase them.
If you are a consumer in California that has either purchased these eggs from the farmers or would like the freedom to do so, you might want to contact the number given in the warning letter above: (916) 900-5062. There is also an email address on the letter above.
You could also contact California Governor Jerry Brown: (916) 445-2841, or email him here.
Disclaimer: Brian Shilhavy is the founder and owner of Tropical Traditions, and the Editor of Health Impact News.
Published on April 13, 2017