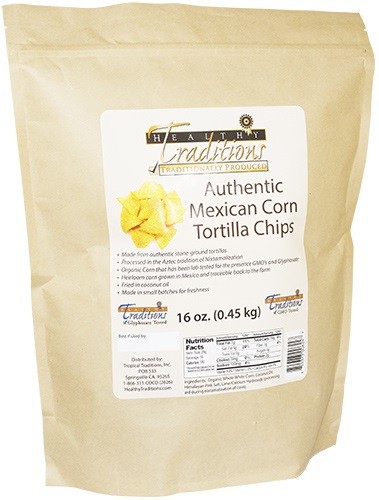 Press Release
Healthy Traditions
Healthy Traditions is proud to bring you our Authentic Mexican Corn Tortilla Chips; made with our GMO-tested White Corn from Mexico and fried in our Tropical Traditions Coconut Oil!
This hardy chip will stand up to any guacamole, salsa, or nacho recipe you can bring.
Our chip is very different from most other chips you will find in the market. These are made in small batches using authentic ingredients; the result is a chip that has a firm "bite" and won't break at the site of that cold hummus from the fridge.
These chips are crunchy and made from authentic tortillas, so they are not only satisfying, but filling as well. Perfect for nachos!
Made from GMO-tested and Glyphosate-tested Corn
We start by sourcing our corn from a farm in Central Mexico near what is thought to be the "birthplace" of corn.
We went to this region because GMO corn is banned, therefore the risk of cross contamination from GMO corn is much lower. We also appreciate that the farmers grow corn from seed that has been passed down from generation to generation.
By using heirloom corn we believe the real corn flavor comes through in our chip. The corn is grown using organic standards, but as an added assurance we have lab tested samples from the farm, with no trace of GMOs or glyphosate found in the batches we tested.
Authentic Tortillas Using "Nixtamalization" to Make "Masa"
Once we have the corn in the U.S. we send it to an expert tortilla maker in Austin, TX, where the corn is transformed into masa, through the traditional Aztec process of nixtamalization.
During this process the corn is soaked and cooked in an alkaline solution of limewater (calcium hydroxide and water), which allows the husk to "slip" from the kernel. This process is beneficial in several ways.
First, it allows bound nutrients such as niacin and iron to become bioavailable in the body.
Secondly, it removes virtually all the mycotoxin that can be present on corn. It also imparts calcium into the masa, as an added benefit, that wouldn't be found in the corn alone.
However, the best result from this ancient Aztec tradition is the taste! The traditional corn flavor and texture hold true from the first bite to the last.
Once the corn has been nixtamalized, the wet kernels are then stone ground into masa dough and pressed into tortillas. The next stage is something you won't find with very many tortilla chips and is part of what really makes our chips unique.
Fried in Tropical Traditions Coconut Oil
Once the tortillas are complete we then cut and fry them in our high quality Coconut Oil!
No more worrying if your chips have been fried in an unhealthy oil. These chips are fried in an oil that not only brings out the natural corn flavor, but one that you can rest assured is good for you!
We also add nutrient-dense Himalayan Pink Salt to give that right amount of saltiness.
The simple ingredients are: Organic Whole White Corn, Coconut Oil, Himalayan Pink Salt, Lime/Calcium Hydroxide (processing aid during nixtamalization of corn).
Special Packaging
When Healthy Traditions began to look at producing products in the U.S. from traditional sources, food that tested clean from GMOs, glyphosate, and other herbicides and pesticides, we were faced with a dilemma:
How do we package these high quality clean foods?
We began a search for packaging that did not contain harmful chemicals and was not harmful to the environment. What good is sourcing and selling high quality traditional food if it is going to be contaminated by the packaging?
The brown bags you see in our newest products, including our corn chips, reflect what we found was currently the best option for packaging our high-quality line of traditional products.
These bags harmlessly decompose anywhere that microbes are present (salt and fresh water, soil, landfills or in a backyard compost).
They decompose into organic matter without leaving any pollutants behind. (Independent Lab tests show – "None Detected.")
They have been lab tested for possible leaching of many heavy metals and pollutants, and none were found.
Shipped to you Fresh!
Our Authentic Mexican Corn Tortilla Chips are made in small batches to keep them as fresh as possible when they arrive to you. They are labeled with a "Sell By" date and will be good for weeks after this date, if unopened. Once opened, the convenient zipper closure will help keep your chips fresh for several days.
Our new Healthy Traditions Authentic Mexican Corn Tortilla Chips are:
Made from thick tortillas and have a hardy crunch
Fried in Tropical Traditions Coconut Oil
Organic Corn that has been lab tested for the presence GMO's and Glyphosate
Made by the traditional Aztec method of nixtamalization
From corn grown in Mexico and traceable back to the farm
Made in small batches for freshness
Published on March 22, 2017