Healthy Traditions
Press Release
Yes, You Can Make Pizza Again!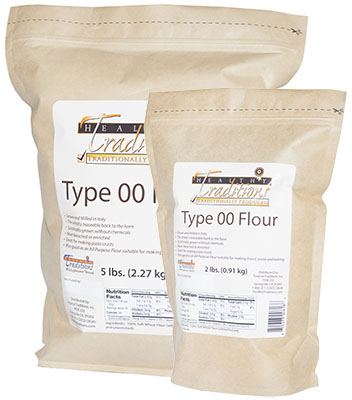 In 2014 when we tested our USDA certified organic grains, we found that almost all of them had traces of the herbicide glyphosate at levels similar to non-organic wheat. (See: ALERT: Certified Organic Food Grown in U.S. Found Contaminated with Glyphosate Herbicide.)
Some scientists and researchers believe that the epidemic of gluten-sensitive diseases we are seeing today are related to glyphosate, and not necessarily the gluten.(See: Common Weedkiller Used in Modern Agriculture Could be Main Factor in Gluten Intolerance.)
While anyone with gluten sensitivities definitely needs to avoid gluten, for the rest of us, we need to be consuming healthy grains that are not contaminated. After much research, we found a source in Italy that grows traditional soft wheat where batches we tested showed no trace of herbicides.
Healthy Traditions is excited to bring you this high quality Italian Type 00 Flour! This is the flour Italians use to make the absolute best pizza crust. It is also very versatile and can be used to make light and fluffy bread, cakes, fresh pasta and more! The light airy texture makes this flour a joy to work with and your creations will turn out fantastico!
This easy to use flour is from soft wheat grown on a single, organic, Italian farm that doesn't use any chemical pesticides or fertilizers.
The flour has been milled by one of the best family run mills in Italy. This flour has been sifted, but is NOT enriched, bromated, bleached or otherwise adulterated in any way. The only ingredient is soft wheat flour.
Published on April 9, 2017