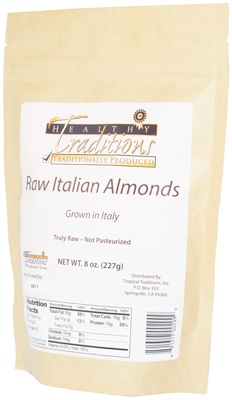 Healthy Traditions Press Release
Tropical Traditions announced this week that they have added Raw Italian Almonds to their Healthy Traditions product line.
Unlike almonds grown in the US, that are required to be pasteurized by law, these almonds, grown in Italy, are free from that regulation.
These almonds are grown by sustainable methods with no chemical pesticides, herbicides or fertilizers used on the almond trees. It carries Healthy Traditions' highest standards to earn the "Traditionally Produced" label. As an added security, they are tested for the presence of glyphosate for each batch.
The family-run farm that grows these almonds for us is a diverse farm, not an almond monoculture, and these almonds are never irradiated, so they are suitable for sprouting. The almonds can be purchased online at the Tropical Traditions website.
See Also:
Published on April 25, 2016