by Brian Shilhavy
Editor, Health Impact News
Mike Adams, known as the "Health Ranger" and the founder of one of the top Alternative Health media outlets in the United States today, was recently awarded the highest standard of international laboratory accreditation for his forensic food lab: ISO 17025.
Adams has served notice on the "Science Elite" and their exclusive club:
The achievement will not be believed by some scientists, for they labor under the delusion that science is an exclusive club, accessible only to the anointed few who spend years earning PhDs from academic institutions. They cannot imagine that a clean food activist, journalist, musician and creative comedy skit creator could launch a laboratory from scratch, master high-end analytical instrumentation and achieve the world's highest standard of laboratory accreditation… all in less than three years.
Adams goes on to explain to his massive audience:
SCIENCE belongs to all of us, not just the 'scientific elite.' We the People are each independently qualified to invoke the principles science in the quest for knowledge. Science is not solely the domain of wealthy corporations, universities, governments or arrogant members of the 'cult of scientism.' In fact, the more science gets conducted by independent scientists like you and me, the stronger and more authentic science becomes!

Welcome to a whole new era of independent food science conducted by grassroots activists working in the public interest. From this day forward, MY laboratory is now YOUR laboratory, meaning that we are applying the techniques of science to serve the interests of the people (rather than the incessant greed of the poison-pushing corporations).
Truly Independent and High Quality Lab Testing Now Available to the Public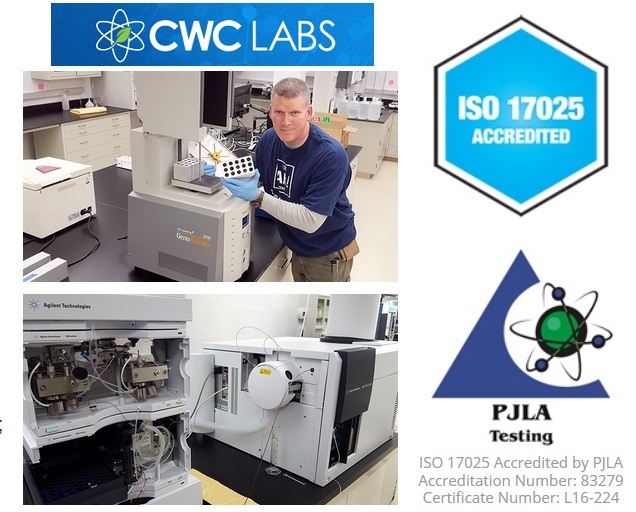 Mike Adams announced last month (June 2016) that CWC Labs is now open for business for commercial clients who need ICP-MS analysis (elements + heavy metals), and will soon be rolling out services for individuals to test their well water.
Here is a current list of CWC Labs' services:
CWC Labs can analyze foods, liquids, supplements and environmental samples.
(We do NOT handle hair, urine, blood or other body fluids. We do NOT handle soils or metal objects that require harsh acid treatments such as HF.)
ALL our analyses are quantitative and backed by ISO 17025 international accreditation and can be cited in a court of law as scientific evidence, anywhere in the world.
Lab services to be offered by CWC Labs (watch for announcement of service launch on this site):
Heavy metals analysis via ICP-MS
Nutritive minerals analysis via ICP-MS
Pesticide analysis via LC/MS-TOF
Phytochemical analysis via LC/MS-TOF
Screening for pharmaceuticals via LC/MS-TOF
Screening for recreational drugs via LC/MS-TOF
Fluoride, chloride and bromide analysis via IC
Identity testing via FTIR
Microscopy analysis of food, producing photos and videos
COMING SOON: Verification of cannibidiols in CBD oil via LC/MS-TOF
COMING SOON: Glyphosate testing via LC/MS-TOF
Independent Science Standing up for the Rights of Citizens
Earlier this year (2016), Mike Adams announced a public initiative in response to the Flint, Michigan municipal water scandal, showing how he could leverage the power of his forensic lab to protect individual rights against government corruption:
Two citizen scientists who lead a non-profit food and water laboratory in central Texas have teamed up to prevent children across America from being poisoned with lead in municipal water supplies. Forensic food scientist Mike Adams has teamed with a former NASA contract scientist to conduct nationwide scientific analysis of heavy metals in the tap water of U.S. cities.

The effort is being organized by the non-profit Consumer Wellness Center (ConsumerWellness.org), with executive director Mike Adams leading the scientific analysis. Over the next three months, the team plans to test the water of at least 100 large U.S. cities, reporting the results to the public on the website EPAwatch.org.

'In the spirit of citizen science and the democratization of science, we are taking on this task because the EPA has failed the citizens of Flint, Michigan,' explained Adams. 'When government regulators refuse to do their jobs, it is the duty and responsibility of citizen scientists to take on that task in the public interest. The health and lives of millions of children are at stake,' Adams explains. 'We don't have time to wait for the EPA to someday decide to do its job. We need to protect our children right now.'

Source: Pioneering citizen scientists launch non-profit water testing initiative to test every U.S. city water supply for lead: EPAwatch.org
Adams encouraged his audience to send in water samples from municipalities around the country to be tested. As of June 24, 2016 his lab has received 230 samples into their inventory for analysis: Progress: Over 230 tested water sample results now available to the public.
Conclusion: True Science Should Empower the People, Not the Government and Corporate Elites
As Editor of Health Impact News, we regularly expose the corruption in modern day "science" and how it is used by government and corporate entities to promote their own tyrannical agendas. Much of the "science" published in peer-reviewed journals is bought and paid for by the entities that benefit from such studies, such as Biotech corporations selling GMOs and chemical products such as agricultural pesticides and herbicides, and the pharmaceutical industry with their chemical-based vaccines and drugs. Independent research often finds much of this published "science" fraudulent.
This brand of "science" is not really true science at all, but a hijacked version of science used to manipulate and control people for financial and political power. The late great writer C.S. Lewis referred to this tyrannical version of science as "scientism," and warned about its consequences many years ago shortly after WWII and the rise of the Industrial Age:
As CEO and founder of Healthy Traditions, we now test all batches of food we sell to the public, checking for the presence of GMOs and herbicides such as glyphosate. Our GMO-tested and Glyphosate-tested programs depend upon high quality independent laboratories that can be trusted.
We welcome with open arms Mike Adams and his CWC Labs into the marketplace as a reliable source of laboratory testing, and his very high standards for quality as exhibited by their recent ISO 17025 certification.
I have had the pleasure to meet with and pray with Mr. Adams in the past, and I find him to be one of the truly brilliant minds of our generation.
As we celebrate Independence Day here in the U.S. this weekend, remembering those who have preceded us in the fight for liberty and freedom, let's also take on the fight for science freedom and thank men like Mike Adams for investing so much of his time and resources to serve the public with truly independent scientific research.
Published on July 1, 2016