Health Impact News Editor Comments:
We have recently reported on the FDA's renewed attacks against Dr. Burzynski in Texas. His cancer treatment has cured many people, but the FDA continues to attack him and restrict treatment. As a result, people who could benefit from the treatment are dying. The press release below from today (February 11, 2014) reports on two terminally ill young women, one aged 12 and the other 46, who have been denied this potentially life-saving treatment.
FDA Denies Treatment to Two Terminally Ill Young Women
Sammy Hagar, Sen. Kelly Ayotte & 100,000 concerned citizens plead for agency to grant 'Compassionate Use Exemption'
PRLog (Press Release) – Feb. 11, 2014 – BETHESDA, Md. — McKenzie Lowe, age 12, and Liza Cozad Lauser, age 46, are both battling diffuse intrinsic pontine glioma (DIPG), a type of cancer that attacks the brain stem. There are currently no effective, FDA-approved treatments for this disease. The one option that has shown promise, antineoplastons therapy, is being denied them by the US Food and Drug Administration.
"Antineoplastons, which are peptides and amino acid derivates that activate tumor-suppressing genes, have shown tremendous potential in battling DIPG," explained Gretchen DuBeau, executive and legal director of the Alliance for Natural Health USA (ANH-USA). "It is quite literally the only effective tool available to fight the disease, but in both these cases the FDA is preventing their use of the therapy. These young women have applied for Compassionate Use Exemptions, but neither has been granted permission to begin treatment," DuBeau said.
The "Compassionate Use" or "Single Patient Protocol" exemption via the FDA's expanded access rule allows for the case-by-case use of an experimental or unapproved drug outside of a clinical trial. To qualify, applicants must prove that they have a life-threatening condition; that no other treatment exists; and that the treatment offers no more risk than the disease. "Both candidates meet all these criteria," DuBeau noted, "yet the exemptions are being withheld."
The FDA's denial has evoked a media uproar and a groundswell of support for the women. Senator Kelly Ayotte (R-NH) sent the agency a personal letter requesting that the FDA grant Ms. Lowe's exemption. Two online petitions have garnered over 80,000 signatures asking the White House to intercede and pressure the agency to grant the exemptions.
"In addition," DuBeau said, "ANH-USA forwarded over 26,000 letters to Congress from its members, asking that action be taken. And Sammy Hagar, former front man for Van Halen, is hosting a rock legends concert on February 12 to raise money and awareness for Ms. Lauser, who is the wife of his drummer, David Lauser."
Lauser told reporters, "Why would you withhold something that would give her a chance?"
"Given the aggressive nature of this disease," DuBeau explained, "the FDA's failure to act swiftly to grant exemptions to these young women is seriously jeopardizing their ability to fight the cancer that has invaded their bodies. But since the FDA is not required to respond in any particular time frame," DuBeau said, "there are no guarantees that an answer will come in time."
See Also:
Purchase both DVDs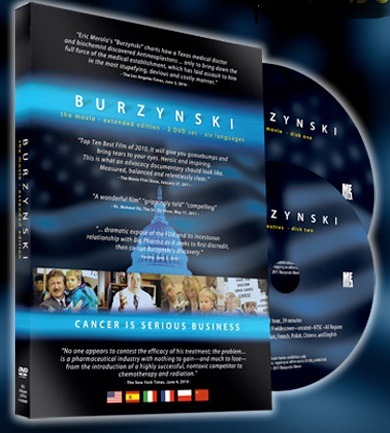 Free Shipping Available! Click Here.
Published on February 11, 2014