Health Impact News Editor Comments:
Please watch the video above (less than 4 minutes) to see the story of Dustin Kunnari, who was diagnosed with a stage 5 brain tumor at age 2. The doctors told his parents that when they began radiation treatment, if their son survived, he would be a vegetable because he was less than 3 years old.
The parents said "No thanks" to the standard medical protocol and asked for the boy's records. The doctors informed them that they had more authority over their child than the parents did, and a legal battle followed. The parents persisted, however, and brought their child to Dr. Burzynski in Houston, Texas, where the boy was totally cured.
Unfortunately, the FDA has relentlessly attacked Dr. Burzyinski, and now people are dying because they are not allowed to receive this potentially life-saving treatment like Dustin did, who is still alive today, years later.
Please watch these trailers of the award winning film produced on the life of Dr. Burzyinski below. You can purchase the full length film, including the new Part 2, below.
Police sergeant gives Congressional testimony of how Dr. Burzynski's treatment cured his daughter of cancer, but she died from chemotherapy.
Former patients treated by Dr. Burzynski testify before Congress.
Dying Patients Denied Access to Dr. Burzynski's Potentially Lifesaving Treatment
by Alliance for Natural Health
FDA tells Burzynski to seek approval. When he agrees, they use this as an excuse to let his patients die. Action Alert!
We tell you elsewhere about how USA Today's smear campaign against trail-blazing cancer doctor Stanislaw Burzynski inadvertently revealed an egregious violation of patient privacy laws by the FDA. But the story really begins with dying patients who are desperate for access to unique, innovative care.
Although his clinic utilizes a broad spectrum of cancer treatments, Dr. Burzynski is perhaps best-known for his discovery and development of antineoplastons, which are peptides and amino acid derivatives that activate tumor suppressing-genes. Antineoplastons have also been proven to be an effective cancer treatment via independent research by Japan's Dr. Hidaeki Tsuda of the Kurume University Hospital. Until the 1990s, Dr. Burzynski used antineoplastons, sometimes in conjunction with traditional oncology agents, to treat and cure cancer patients.
Over the past several decades, the conventional medical establishment, via a succession of relentless attacks, has slowly choked off patient access to antineoplastons. After 1998, and at the insistence of the FDA, treatment with antineoplastons was limited to patients in registered FDA trials. Despite the incredible expense of FDA-registered clinical trials and the small likelihood that—given the FDA's clear bias towards Big Pharma "cures" and their continued persecution of Dr. Burzynski—antineoplastons would ever win FDA approval, Dr. Burzynski has been able to treat patients with antineoplastons only via FDA clinical trials. This is yet another FDA "Catch-22": they've forced Dr. Burzynski to conduct expensive clinical trials, with the full knowledge and likelihood that even after trials, antineoplastons would not be approved!
In July 2012, after years of failed legal attempts to shutter the Burzynski clinic, the FDA stopped allowing Dr. Burzynski to accept children for treatment with antineoplastons. In January 2013, this ban was extended to adults. This means that under current FDA restrictions, no new patients can be treated with antineoplastons. Terminal cases who could be saved by them will instead die.
Since the FDA has constricted patient access to antineoplastons, the only hope of dying patients is to convince the FDA to grant a "compassionate use" or "single patient protocol" exemption via its expanded access rule. This rule allows for the case-by-case use of an experimental or unapproved drug outside of a clinical trial if a patient has a serious or immediately life-threatening disease or condition, and has no other treatment options left.
With the FDA's ban, many patients are desperately seeking FDA exemptions for access to antineoplastons. For example, shortly after a series of anti-Burzynski articles were published by USA Today, leading natural health pioneer Dr. Julian Whitaker's Health and Healing newsletter revealed the stories of two young brain cancer patients and their desperate and so far unsuccessful battle to win access to antineoplastons:
McKenzie Lowe, 12 years old, suffers from diffuse intrinsic pontine glioma (DIPG), an aggressive cancer of the brainstem. Because DIPG grows amidst healthy nerves, it is inoperable, and traditional radiation and chemotherapy is rarely effective. As detailed in McKenzie's Change.org petition—which currently has over 50,000 signatures—begging the FDA to grant a compassionate use exemption, antineoplastons are "the first and only medical cure for the type of tumor McKenzie has." As noted in a Huffington Post article about McKenzie's struggle for access, the FDA has already permitted 471 "compassion use" exemptions for other treatments. As she has no other options left to her, why won't the FDA grant her request?
Liza Cozad Lauser, 46 years old, was also diagnosed with DIPG (DIPG is rare in children, but seldom heard of in adults). She was told that her cancer was inoperable, and that radiation would only buy her a year or two more with her family and friends. Undaunted, Liza searched for a cure—and discovered antineoplastons. Like McKenzie, Liza is now petitioning the FDA to grant her a compassionate use exemption. And, with no other options and nothing left to lose, why shouldn't Liza be granted the chance to save her life? In the words of Liza's husband, "Why would you withhold something that would give her a chance?" (Read Liza's impassioned letter to the FDA pleading for access to Dr. Burzynski's treatment here).
Dr. Jonathan Wright, another natural health pioneer, also wrote a Letter to the Editor of the Tacoma News Tribune about the FDA's refusal to grant compassionate access.
In the course of its decades-long vendetta against Dr. Burzynski, the FDA has become deaf to the suffering of those patients for whom antineoplastons are their last shot at living a full, normal life. The FDA's refusal to grant McKenzie and Liza access to Dr. Burzynski's treatment is particularly egregious, considering the extremely limited treatment options for DIPG. As Dr. Wright told ANH-USA, "Dr. Stanislaw Burzynski has cured DIPG in some individuals with his 100% harmless antineoplastons, and FDA is denying this woman and this girl antineoplaston treatment!"
When other doctors refuse to help, and death is imminent, shouldn't patients have the option to try any treatment that could save their life?
Action Alert! Contact your senators and representative immediately and call for a full congressional investigation into the FDA's violation of patient rights, particularly its refusal to grant compassionate exemptions to dying patients. Send your message today!
See Also:
Purchase both DVDs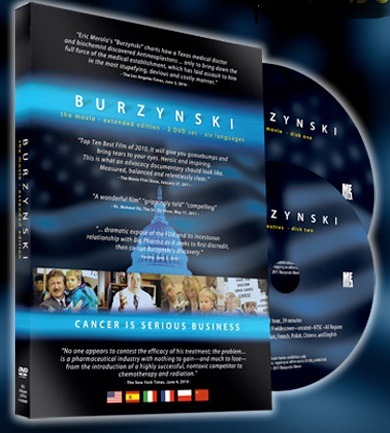 Free Shipping Available! Click Here.
We Lost the War on Cancer – Review of Alternative Cancer Therapies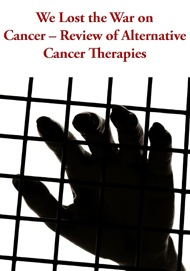 eBook
Retail : $999
Now : $599
We have lost the war on cancer. At the beginning of the last century, one person in twenty would get cancer. In the 1940s it was one out of every sixteen people. In the 1970s it was one person out of ten. Today one person out of three gets cancer in the course of their life.
The cancer industry is probably the most prosperous business in the United States. In 2014, there will be an estimated 1,665,540 new cancer cases diagnosed and 585,720 cancer deaths in the US. $6 billion of tax-payer funds are cycled through various federal agencies for cancer research, such as the National Cancer Institute (NCI). The NCI states that the medical costs of cancer care are $125 billion, with a projected 39 percent increase to $173 billion by 2020.
The simple fact is that the cancer industry employs too many people and produces too much income to allow a cure to be found. All of the current research on cancer drugs is based on the premise that the cancer market will grow, not shrink.
John Thomas explains to us why the current cancer industry prospers while treating cancer, but cannot afford to cure it in Part I. In Part II, he surveys the various alternative cancer therapies that have been proven effective, but that are not approved by the FDA.
Read We Lost the War on Cancer – Review of Alternative Cancer Therapies on your mobile device!
Published on January 8, 2014