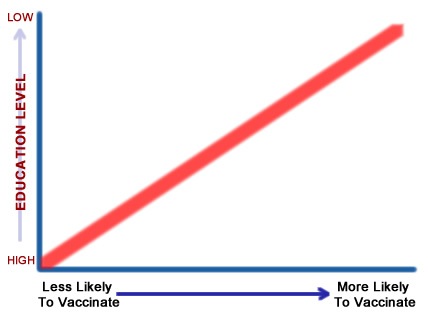 by Dr. Dave Mihalovic
PreventDisease.com
The education level of parents has an influence on the frequency with which their children eat foods linked to obesity and if they will be vaccinated. The children of parents with low and medium levels of education eat fewer vegetables and fruit and more processed food products including genetically modified foods. They are also 70 percent more likely to receive vaccinations.
Highly Educated Parents Are Avoiding Vaccines
Before 1998, highly educated parents were up to 8% more likely to take up the MMR vaccine than parents with lower education. By 2002, this gap had not only closed; it had actually been reversed, with highly educated parents being less likely to accept the MMR vaccine.
Controversies over specific vaccines also appears to have had effects on the uptake of other childhood vaccines: after 1998, highly educated parents also reduced their relative uptake of other non-controversial childhood vaccines.
The relative decline in uptake by highly educated parents also potentially has wider significance. Generally speaking, individuals with more education have better health. This is possibly because they are better informed about how to achieve better health outcomes. The finding that highly educated parents were the first to react to the information that the MMR had potential side effects is consistent with this hypothesis.
More encouraging for anti-vaccine advocates is the finding that highly educated parents also reduced their uptake of other non-controversial childhood vaccines, a good sign that most of the hidden toxins in vaccines are slowly being discovered by parents and the public in general.
Another finding published in the journal PLoS Medicine, showed that parents with more education were less likely to let their daughters get HPV shots. It also adds to a growing body of evidence that suggests vaccination efforts are being rightfully eroded not by people who are under-educated, but by upper-middle class folks with degrees.
People are slowly empowering themselves by cross referencing reputable information in the alternative media and questioning the frequent pseudoscience of public health officials, academics or doctors which make up the bulk of vaccination misinformation.
Other evidence is coming forth showing that there has been a sharp increase in the percentage of U.S. parents who are refusing to vaccinate their children or delaying vaccination against the advice of the medical community.
That study, presented at an international conference in Vancouver two years ago, found 39 percent of parents refused or delayed vaccinations for their children in 2008, up from 22 per cent in 2003.
Previous studies have shown that lower income families are at least 70 percent more likely to vaccinate than higher income families.
"The current statistics are much higher in favor of not vaccinating," said Dr. Josephine Campell commenting on the study. "According to my own practice and those of my colleages, at least 50 percent or more of parents are not vaccinating their children at all," she stated.
Another study in the journal The American Journal of Public Health, which surveyed 11,860 families, found that mothers who had not finished high school were 16% more likely to have completed the whole vaccination schedule for their children.
Children of mothers who had not completed high school were 16 percent more likely to have up-to-date vaccinations than children of college graduates. While black children were 11 percent less likely to be up to date than white children, Hispanic children were 11 percent more likely. The poorest children, without considering race or ethnicity, were just as likely as the richest to have completed their vaccination schedule.
Lower education levels and socioecomonic status was associated with higher completion rates for vaccination.
Rates of compliance were also higher in Hispanic and black low income families.
The authors found a drop in several routine childhood vaccinations. Measles, mumps and rubella (MMR) vaccines decreased from 93.5 percent in 2008 to 90.6 percent in 2009; diphtheria, tetanus and whooping cough rates fell from 87.2 percent to 85.4 percent in that one-year period; and the proportion of kids getting vaccinated for chickenpox fell from 92 percent in 2008 to 90.6 percent in 2009 (Source: US News Health, 3rd November 2010).
Less GMO Foods and Less Sugar For Those Who Are Most Educated
An international group of experts from eight European countries have analysed the relation between parents' levels of education and the frequency with which their children eat food linked to overweight.
The Identification and prevention of dietary- and lifestyle-induced health effects in children and infants (IDEFICS) study includes data from 14,426 children aged between two and nine from eight European countries: Italy, Estonia, Cyprus, Belgium, Sweden, Hungary, Germany and Spain.
The results published in the journal Public Health Nutrition confirm that parents with a lower level of education feed their children food rich in sugars and processed foods more often than those parents with a higher level of education, who feed their children more products of a higher nutritional quality, including vegetables and fruit.
Processed foods contain some of the highest percentages of genetically modified corn and soy which are also the most abundant foods in the world containing genetically modified organisms.
"The greatest differences among families with different levels of education are observed in the consumption of fruit, vegetables and sweet drinks", explains Juan Miguel Fernandez Alvira, the author of the work and researcher from the University of Zaragoza to SINC.
For the authors, this implies a greater risk of developing overweight and obesity in children from less advantaged socio-cultural groups. It may also result in a greater percentage of children where higher incidence of disease, specifically from nutrient deficient and GMO foods known to cause cancer, allergies and obesity.
Childhood Nutrition
Childhood, from two to fourteen years old, is a growth period during which the requirements for energy and nutrients increase. Nevertheless, the World Health Organisation warns of the importance of monitoring the diet of the youngest members of society, as almost 40 million children under the age of five suffered from overweight in 2010.
In fact, recommendations for children over two do not differ greatly from those for adults. Their diet should include fruit, vegetables, and the cleanest sources of organic lean meats, fish, eggs and nuts.
Dieticians and nutritionists recommend that parents offer children a wide variety of foods and avoid using food as a method to award or punish behaviour. Experts believe that this age group can decide how much to eat, provided the food is always healthy and nutritious.
Read the full article here: http://preventdisease.com/news/13/032813_More-Educated-Parents-Less-Likely-To-Vaccinate-and-Feed-Children-Sugar-and-GMO-Foods.shtml
Dave Mihalovic is a Naturopathic Doctor who specializes in vaccine research, cancer prevention and a natural approach to treatment.
Sources:
nytimes.com
scienceblog.com
winnipegfreepress.com
whystudyeconomics.ac.uk
Published on March 28, 2013