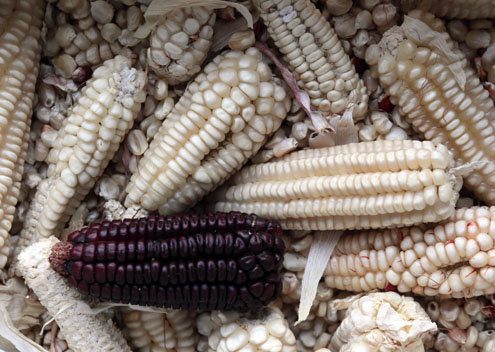 by The Organic & Non-GMO Report
Excerpts:
Farmers questioning the value of GMO traits in corn.
Interest and demand for non-GMO corn seed among US farmers is growing, according to seed suppliers who say that higher yields and returns, less cost, dissatisfaction with genetically modified traits, and better animal health are driving the demand.
Tim Schneider, a sales representative for Tom Eischen Sales in Algona, Iowa, said he is selling 20 times as much conventional, non-GMO corn seed as GM this year. "Demand has been steadily going up," he says.
"Demand has never been higher. We are growing faster than what we can handle," says Will Trudell, vice president of De Dell Seeds.
Mark Terpstra, owner of Mark Seed (www.markseed.com), says that four years ago, he was selling 70% GM corn seed to 30% non-GMO, but now those numbers are reversed.
One reason for the increased interest in non-GMO corn seed is higher yields. "Yields of non-GMO are comparable if not better (than GM)," Eischen says.
GM corn seed is increasingly "stacked" with multiple transgenic traits, and many seed suppliers say these stacked GM corn varieties aren't working as evidenced by increasing resistance by corn rootworm.
Read the Full Story Here: http://www.non-gmoreport.com/articles/january2013/Demand-growing-for-non-GMO-corn-seed.php
Published on January 28, 2013