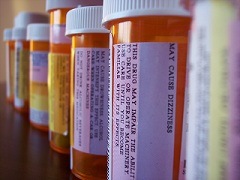 The woman leaning against a pillar didn't know more Americans — twice as many — take antidepressants than go to movie theaters weekly. She hadn't heard that a federal study found the meds are used by 23 percent of middle-aged women — almost one in four.
But she knows Prozac.
"Good stuff," she said, remembering how it helped her deal with a splintering marriage.
Data released by the U.S. Centers for Disease Control and Prevention in November showed that 11 percent of Americans ages 12 and older used Prozac, Zoloft, Paxil or other antidepressants.
Women were prescribed the pills more than men, according to national surveys that asked people over a four-year period ending in 2008 if they had taken the medication in the past month. Caucasians used more than minorities. Younger people used less than people 40 and older.
The most common consumers were women 40 to 59, in which 22.8 percent said they took the antidepressants. Nearly 19 percent of women 60 and older used the medicine.
Read the Full Article Here: http://www.standard.net/stories/2011/12/16/antidepressants-used-11-percent-americans
The Emperor's New Drugs
Exploding the Antidepressant Myth
by Irving Kirsch Ph.D.

Free Shipping Available!
More Info
Published on December 23, 2011