Merck's Vaccine Division President Julie Gerberding Sells $9.1 Million in Shares—Is She Jumping Ship?
by Robert F. Kennedy, Jr.
Children's Health Defense Chairman
SEC filings reveal that Merck's Vaccine Division President Julie Gerberding sold over half her Merck shares in January for $9.1 Million. That transaction followed a spate of bad news for Merck's flagship Gardasil vaccine.
Last month, Cancer Research UK announced an alarming 54% rise in cervical cancer among 24-29-year-olds, the first generation to receive the HPV jabs. The following day, the Journal of the Royal Society of Medicine published a withering critique of Gardasil's crooked clinical trials,
"It is still uncertain whether human papillomavirus (HPV) vaccination prevents cervical cancer as trials were not designed to detect this outcome."
As Gerberding knows, those trials revealed that Gardasil dramatically RAISES (by+44.6%) the risk of cervical cancer among women with a current infection or those previously exposed to HPV.
That may explain the cancer explosions in England and other nations with high inoculation rates in young girls up to age 18; Australia, Spain, Sweden and Norway. A 2019 study of Alabama girls found the highest cervical cancer rates in the state's most heavily vaccinated counties.
With Merck's efficacy pretensions circling the drain, a coalition of leading plaintiff's lawyers are already in discovery in a suit alleging that Merck fraudulently concealed serious illnesses affecting half, and autoimmune diseases affecting 1 of every 37 girls in Gardasil's clinical trials within 6 months of injection.
As Centers for Disease Control (CDC) Director from 2002-2009, Gerberding helped Merck paper over these efficacy and safety problems. In 2006 she gave Merck the CDC recommendation that made Gardasil a $5 Billion blockbuster.
Gerberding did other lucrative favors for Merck; blocking whistleblower Gary Goldman from disclosing that Merck's chicken pox vaccine was causing a deadly shingles epidemic, silencing and punishing whistleblower Dr. William Thompson when he told her that CDC bigwigs were destroying data linking Merck's MMR to autism, and allowing the company to illegally reformulate its MMR mumps component. Those courtesies earned her the Merck sinecure and stock options.
Merck is now fighting existential fraud lawsuits on both the MMR and Gardasil vaccines, that threaten licensing for those key products. Fat rats are always the first to jump ship.
Read the full article at ChildrensHealthDefense.org.
Comment on this article at VaccineImpact.com.
© 2019 Children's Health Defense, Inc.
This work is reproduced and distributed with the permission of Children's Health Defense, Inc.
Want to learn more from Children's Health Defense? Sign up for free news and updates from Robert F. Kennedy, Jr. and the Children's Health Defense. Your donation will help to support them in their efforts.
Leaving a lucrative career as a nephrologist (kidney doctor), Dr. Suzanne Humphries is now free to actually help cure people.
In this autobiography she explains why good doctors are constrained within the current corrupt medical system from practicing real, ethical medicine.
One of the sane voices when it comes to examining the science behind modern-day vaccines, no pro-vaccine extremist doctors have ever dared to debate her in public.
Book – The Vaccine Court, by Wayne Rohde – 240 pages

"The Dark Truth of America's Vaccine Injury Compensation Program"
Say NO to Mandatory Vaccines T-Shirt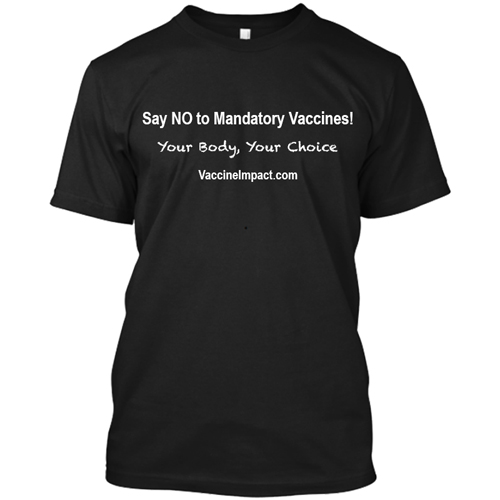 100% Pre-shrunk Cotton
Order here!
Make a Statement for Health Freedom!
Big Pharma and government health authorities are trying to pass laws mandating vaccines for all children, and even adults.
Show your opposition to forced vaccinations and support the cause of Vaccine Impact, part of the Health Impact News network.
Published on February 5, 2020