Vaccinated vs. Unvaccinated—Part 6
by Robert F. Kennedy, Jr., Chairman
Children's Health Defense
Part six in our series of studies comparing health outcomes among vaccinated vs unvaccinated populations. Once again, chronic illness plagues the vaccinated cohorts. CDC and Pharma make great efforts to block researchers from performing these studies and to prevent the journals from publishing them.
Nonetheless, independent scientists have persisted and their reports have evaded the censors. Public health advocates willing to search can find them in quiet abundance among the peer-reviewed literature on Pubmed.
Titles and Summaries from Part 6 Vaxxed/Unvaxxed Slides:
Vaccination increases the risk of asthma (11.4X) and hay fever (10X) in children with no family history of those disorders
"In multiple regression analyses there were significant (P<.0005) and dose dependent negative relationships between vaccination refusal and self-reported asthma or hay fever only in children with no family history of the condition and, for asthma, in children with no exposure to antibiotics during infancy."
Vaccination with DTP simultaneously with measles vaccine or DTP after measles vaccine increased risk of death (2.59X)
"Children who had received DTP simultaneously with MV or DTP after MV had significantly higher mortality (MMR=2.59 [1.32-5.07]) compared with children having MV-only as their most recent vaccination."
Hepatitis B Vaccination Increases the Odds (3.1X) of a Multiple Sclerosis Diagnosis
"The OR of MS for vaccination within 3 years before the index date compared to no vaccination was 3.1 (95% Cl 1.5, 6.3). No increased risk of MS was associated with tetanus and influenza vaccinations."
70% of SIDS Deaths Occur Within Three Weeks of DPT Vaccination
"In the DPT SIDS group, 6.5% died within 12 hours of inoculation; 13% within 24 hours, 26% within 3 days, and 37%, 61%, and 70% within 1, 2, and 3 weeks, respectively."
(See full-sized Part 6 slides or see the complete Vaxxed-Unvaxxed presentation, Parts 1-6.)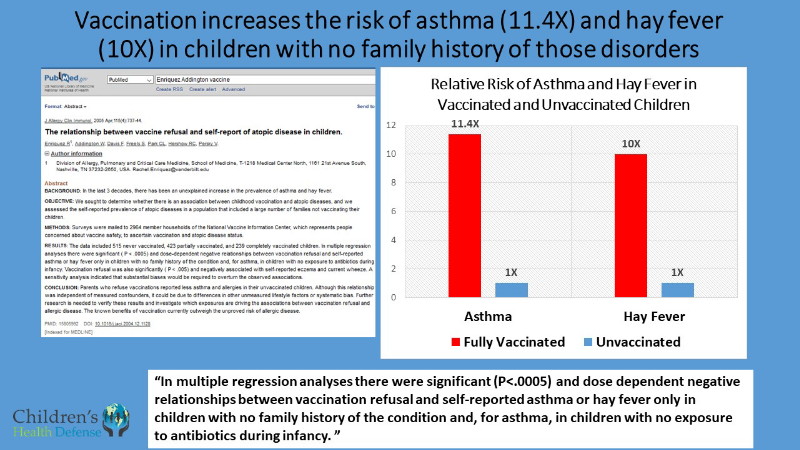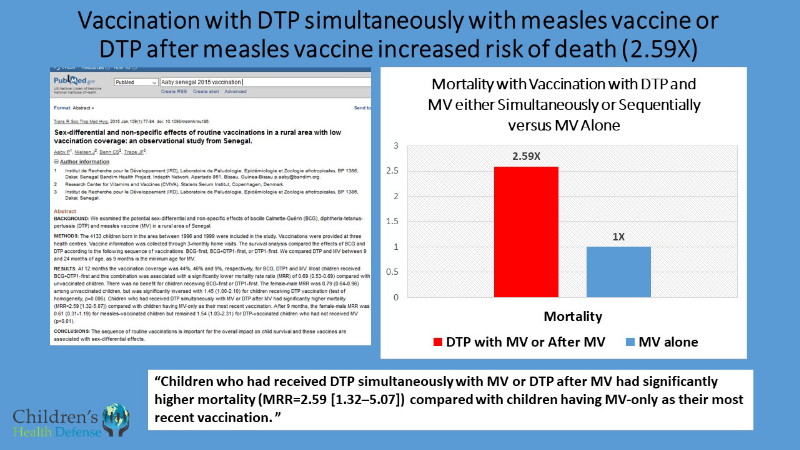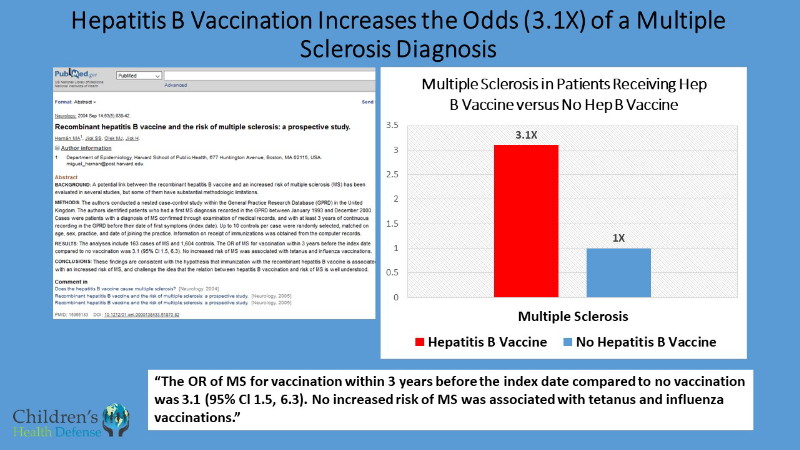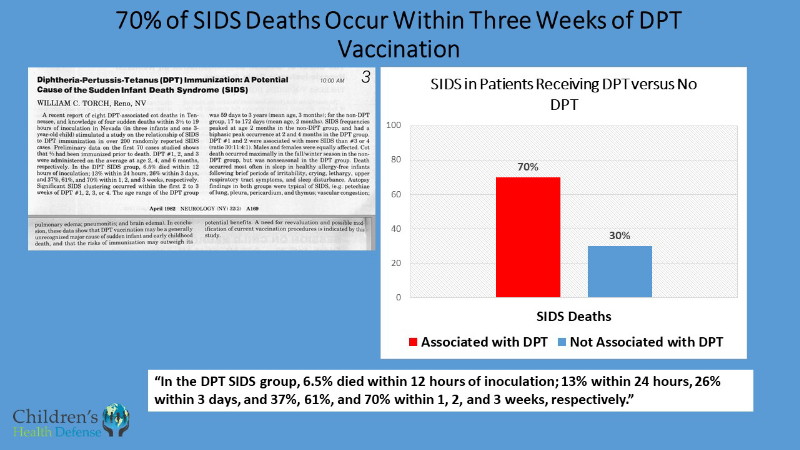 Read the full article at ChildrensHealthDefense.org
Comment on this article at VaccineImpact.com.
© 2019 Children's Health Defense, Inc.
This work is reproduced and distributed with the permission of Children's Health Defense, Inc.
Want to learn more from Children's Health Defense? Sign up for free news and updates from Robert F. Kennedy, Jr. and the Children's Health Defense. Your donation will help to support them in their efforts.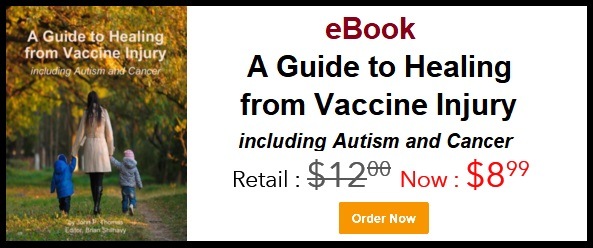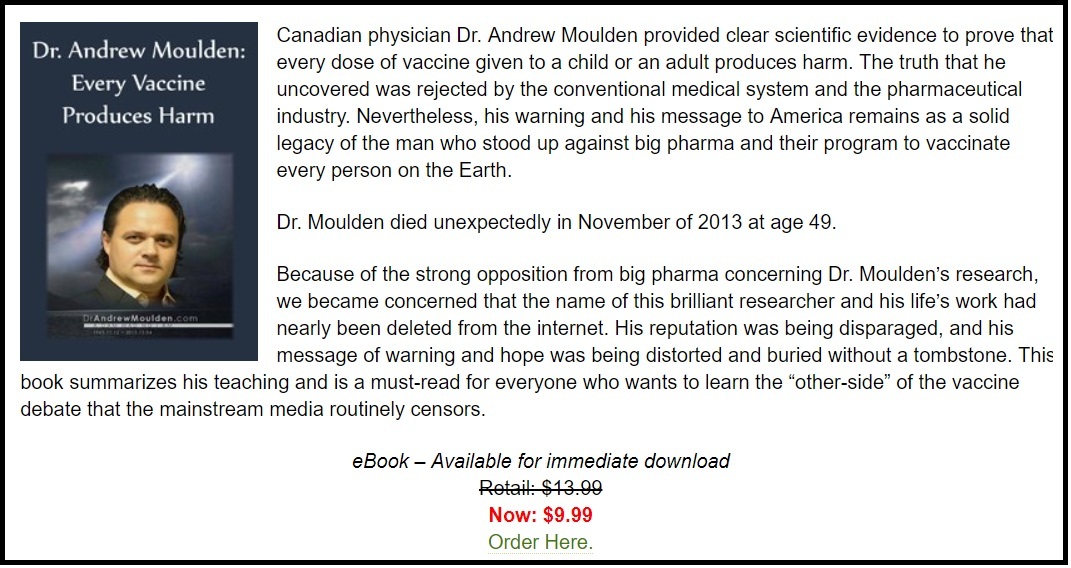 Leaving a lucrative career as a nephrologist (kidney doctor), Dr. Suzanne Humphries is now free to actually help cure people.
In this autobiography she explains why good doctors are constrained within the current corrupt medical system from practicing real, ethical medicine.
One of the sane voices when it comes to examining the science behind modern-day vaccines, no pro-vaccine extremist doctors have ever dared to debate her in public.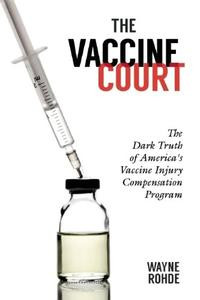 Book – The Vaccine Court, by Wayne Rohde – 240 pages

"The Dark Truth of America's Vaccine Injury Compensation Program"
Say NO to Mandatory Vaccines T-Shirt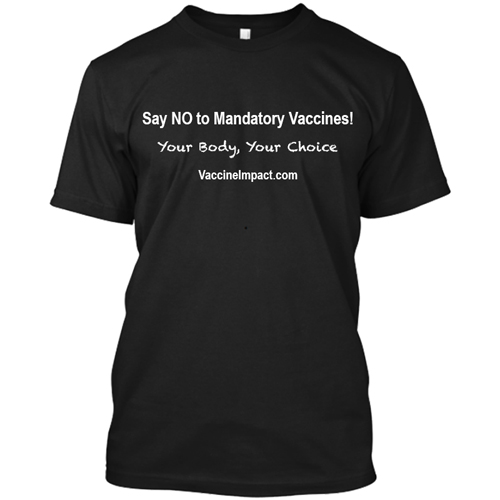 100% Pre-shrunk Cotton
Order here!
Make a Statement for Health Freedom!
Big Pharma and government health authorities are trying to pass laws mandating vaccines for all children, and even adults.
Show your opposition to forced vaccinations and support the cause of Vaccine Impact, part of the Health Impact News network.
Published on November 18, 2019