Pertussis: Vaccine Failure, Not Failure to Vaccinate
By the Children's Heath Defense Team
This is the latest peer reviewed science – not "vaccine misinformation."
These studies show that the Pertussis (whooping cough) vaccine has now failed. Worse, children receiving the vaccine have 15x the risk of contracting Pertussis than unvaccinated children.
This is why California schools are now suffering a Pertussis outbreak (3,455 cases in 2018 compared to 14 Measles cases) affecting only vaccinated children.
Moreover, vaccinated children are often asymptotic carriers spreading the disease among their classmates.
On the rare occasions that unvaccinated children contract Pertussis, they know they have the disease and stay home. Therefore children vaccinated with the DTaP vaccine are more likely to both get the disease and to spread it.
With mandates legislation sweeping across the nation, the stakes are too high for citizens to tolerate laziness, scientific illiteracy and a default to collegiality in our elected leaders. It's time for lawmakers to fact-check their sources.
The Research (Click on each image to see each full study or download the slides as a PowerPoint presentation):
Read the fill article at ChildrensHealthDefense.org.
Comment on this article at VaccineImpact.com.
© 2019 Children's Health Defense, Inc.
This work is reproduced and distributed with the permission of Children's Health Defense, Inc.
Want to learn more from Children's Health Defense? Sign up for free news and updates from Robert F. Kennedy, Jr. and the Children's Health Defense. Your donation will help to support them in their efforts.
Leaving a lucrative career as a nephrologist (kidney doctor), Dr. Suzanne Humphries is now free to actually help cure people.
In this autobiography she explains why good doctors are constrained within the current corrupt medical system from practicing real, ethical medicine.
One of the sane voices when it comes to examining the science behind modern-day vaccines, no pro-vaccine extremist doctors have ever dared to debate her in public.
Book – The Vaccine Court, by Wayne Rohde – 240 pages

"The Dark Truth of America's Vaccine Injury Compensation Program"
Say NO to Mandatory Vaccines T-Shirt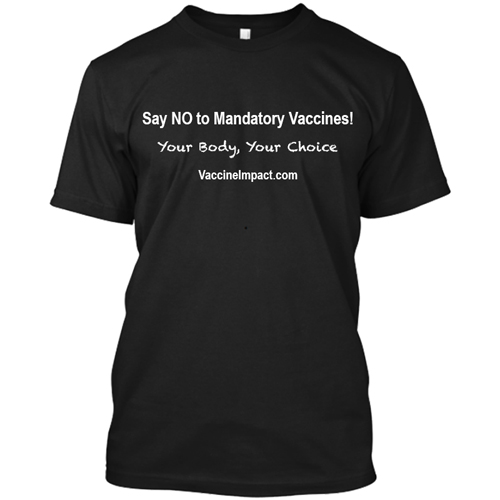 100% Pre-shrunk Cotton
Order here!
Make a Statement for Health Freedom!
Big Pharma and government health authorities are trying to pass laws mandating vaccines for all children, and even adults.
Show your opposition to forced vaccinations and support the cause of Vaccine Impact, part of the Health Impact News network.
Published on May 31, 2019