Dentists in Oregon Are Vaccinators Now
by The Vaccine Reaction Staff
TheVaccineReaction.org
Governor Kate Brown of Oregon signed a bill on May 6, 2019 that will allow dentists in that state to administer vaccinations.
House Bill 2220, which passed Oregon's House of Representatives on Mar. 28, 2019 and Senate on Apr. 25, will make it possible for dentists to give vaccines, including MMR, HPV and annual flu shots, to their patients during dental checkups.1 2 3
"Dentists are highly trained medical practitioners who are well-positioned to provide this additional preventive care service. Increasing our scope of practice to the administration of vaccines will help further integrate oral health with physical and behavioral health, ultimately better serving our patients," ODA president James McMahan, DMD said.3
HB 2220 requires dentists to take a continuing education training course on vaccination and comply with state vaccine storage and reporting regulations in order to be certified to become a vaccinator. Protocols and training rules will be developed by the Oregon Board of Dentistry, Oregon Health & Sciences University (OHSU) and the Oregon Dental Association (ODA).1 2 3
One of the issues that will have to be addressed by the implementation protocols will be determining for dentists which vaccines their patients have already received.
"They won't have all the vaccine history of a patient. They'll have to communicate with the primary health care provider or have access to those records. So that's one of those wrinkles we'll have to be addressing in rules," Board of Dentistry director Stephen Prisby said.4
Prisby says he believes the board will have protocols and training rules in place by Jan. 1. 2020.4
With the signing of HB 2220, Oregon becomes the first state in the U.S. to permit dentists to vaccinate patients of any age, including young children, with many types of vaccines. According to Oregon Public Broadcasting, dentists in Minnesota and Illinois can only give influenza vaccine to adults. The University of Minnesota's School of Dentistry offers a 10-hour, self-paced, online course to administer flu shots and also offers a more basic three-hour online course.5 6
Read the full article at TheVaccineReaction.org.
See Also:
References
Leaving a lucrative career as a nephrologist (kidney doctor), Dr. Suzanne Humphries is now free to actually help cure people.
In this autobiography she explains why good doctors are constrained within the current corrupt medical system from practicing real, ethical medicine.
One of the sane voices when it comes to examining the science behind modern-day vaccines, no pro-vaccine extremist doctors have ever dared to debate her in public.
Book – The Vaccine Court, by Wayne Rohde – 240 pages

"The Dark Truth of America's Vaccine Injury Compensation Program"
Say NO to Mandatory Vaccines T-Shirt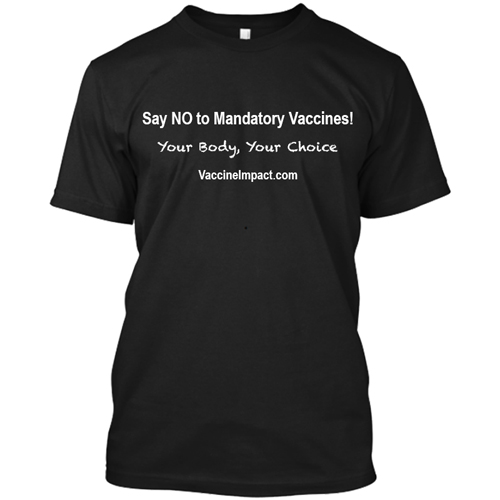 100% Pre-shrunk Cotton
Order here!
Make a Statement for Health Freedom!
Big Pharma and government health authorities are trying to pass laws mandating vaccines for all children, and even adults.
Show your opposition to forced vaccinations and support the cause of Vaccine Impact, part of the Health Impact News network.
Published on May 11, 2019