by Brian Shilhavy
Editor, Health Impact News
Prominent British cancer physician Martin Gore, MD died on Jan. 10, 2019 just hours after receiving a routine yellow fever vaccination.
The vaccine is recommended for people traveling to parts of Africa, the Caribbean and South and Central America.
Dr. Gore was 67, and suffered from total organ failure.
A professor of cancer medicine at The Royal Marsden NHS (National Health Service) Foundation Trust and the Institute of Cancer Research in the United Kingdom, Dr. Gore was considered a pioneer in cancer research.
Read more at The Vaccine Reaction.
Award-winning BBC foreign correspondent Malcolm Brabant also received the yellow fever vaccination in order to go on a business trip to the Ivory Coast in Africa in 2011.
His wife, Trine Villemann, wrote about their experiences for Sanevax.org:
Until April 15th 2011, I was a great believer in vaccines. My son was born prematurely and very ill and in order to protect him he had every vaccination available because I trusted the doctors and the pharmaceutical companies when they told me that vaccines are safe and prevent diseases and death.

Now I know better – because on that April afternoon disaster struck. My husband, BBC Correspondent Malcolm Brabant, went across a busy road to a vaccination-centre in a suburb of Athens, Greece, where we lived, to have a yellow fever vaccination in order to go on a business trip to the Ivory Coast in Africa.

20 minutes later he was back. I didn't know it at the time, but the vaccine had already begun its devastating journey through his body towards his brain. (Source: Vaccines: A descent into madness)
It has been a long road towards recovery for Malcolm, and they recently published a film about his experience. Here is the trailer:
A description of the film describes the "psychosis" he suffered:
After a routine yellow fever vaccine required for an assignment in Africa, award-winning BBC foreign correspondent Malcolm Brabant descends into madness.

Following a near fatal fever, subsequent hallucinations convince him he is the new Messiah.

The psychosis lasts for six weeks, but Brabant suffers several relapses, including the staunch conviction that the Second Coming must be broadcast on TV. With rare footage shot by Brabant and his wife, this doc is both a paean to love and family, as well as a unique window onto mental illness.

Malcolm is admitted to a private psychiatric clinic, where his religious fixation only intensifies. He believes that old friends are his Guardian Angels, preparing him for the Second Coming, and leaves his own blood on the wall in a sign of the cross. Six weeks later, the psychosis subsides, and Malcolm is allowed to return home for the first time since receiving the vaccine.

Shortly afterwards, he slips back into his psychosis. At one point he even convinces his young son Lukas that the family are under attack. "A child always thinks the parent speaks the truth. So when Lukas's dad told him we were under attack, he was terrified", Trine laments.

Following several further relapses, and finding themselves financially unstable, finally in July 2012 "I left hospital for the last time. I haven't been back".

Though Sanofi Pasteur have denied any responsibility for Malcolm's illness, the World Health Organisation have since altered its guidelines concerning the yellow fever vaccine; now only one shot is necessary in a lifetime. (Source.)
Writing for Sanevax.org, Trine told about her own experiences with Sanofi Pasteur after her husband's injury:
Sanofi Pasteur, the maker of the yellow fever vaccine, denies any link between the vaccine and my husband's illness.

However in May 2013 the vaccine-maker for the first time admitted that my husband is not the only one who has been sent mad by the yellow fever vaccine. Sanofi Pasteur admitted to "fewer than 10 reports of mental disorders related to the vaccine, including Mr Brabant's", but I have investigated this and found hundreds more.

At the WHO Monitoring Centre in Uppsala they have gathered at least 400 reports of yellow fever vaccine-related adverse events involving mental disorders over the past ten years.

Only about 3-10 percentage of all drug-related adverse events are reported, so there are bound to be thousands of people around the globe who have been sent mad by the yellow fever vaccine. I am in touch with people from several countries who have all suffered psychotic episodes after having Sanofi Pasteur's yellow fever vaccine.
Read the full story at Sanevax.org.
Comment on this article at VaccineImpact.com.
Leaving a lucrative career as a nephrologist (kidney doctor), Dr. Suzanne Humphries is now free to actually help cure people.
In this autobiography she explains why good doctors are constrained within the current corrupt medical system from practicing real, ethical medicine.
One of the sane voices when it comes to examining the science behind modern-day vaccines, no pro-vaccine extremist doctors have ever dared to debate her in public.
Book – The Vaccine Court, by Wayne Rohde – 240 pages

"The Dark Truth of America's Vaccine Injury Compensation Program"
Say NO to Mandatory Vaccines T-Shirt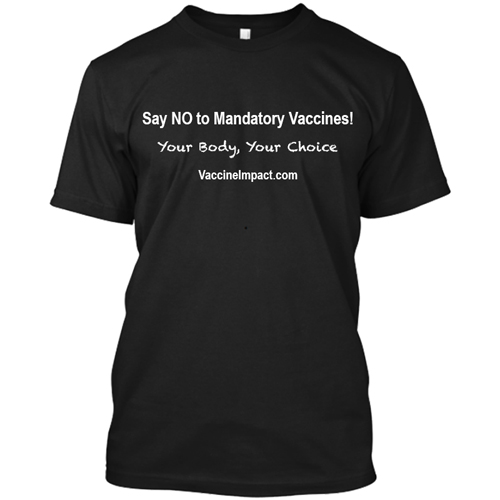 100% Pre-shrunk Cotton
Order here!
Make a Statement for Health Freedom!
Big Pharma and government health authorities are trying to pass laws mandating vaccines for all children, and even adults.
Show your opposition to forced vaccinations and support the cause of Vaccine Impact, part of the Health Impact News network.
Published on January 27, 2019