Doctors took a newborn baby from her parents after they refused a vitamin K shot for her. Now the couple is suing the hospital and DCFS.
By Elyssa Cherney and Jeff Coen
Chicago Tribune
Excerpts:
In the moments after Angela Bougher gave birth last winter, she and her husband, a suburban Chicago pastor, were eager to hold their new baby girl.
But as Bougher was being treated in the delivery room, the couple contends, a nurse picked up the infant to administer a vitamin K shot, a common practice in maternity wards across the country to help a baby's blood-clotting ability in case of emergency.
The Boughers said they are not "anti-vaxxers" or against any procedure they believe to be medically necessary, but they didn't think the shot was in that category. They had agreed to sign a waiver confirming their wishes that the new baby — their fifth child — not receive vitamin K, based on their beliefs that God's creation isn't automatically deficient or flawed at birth.
But instead of offering them a form, the Boughers allege, the nurse announced she was reporting the couple to the Illinois Department of Children and Family Services and left the room with the newborn. It would be about 12 hours before they got the child back, the couple said.
"I honestly could not understand what was going on," Angela Bougher said through tears in a recent interview. "I was in total shock. I've never not had my baby right away."
On Monday, the Boughers and several other parents filed a sweeping federal lawsuit accusing the agency, its current and former leaders, a number of doctors and three hospitals of violating their constitutional rights just after the births of their children. Hours that should have been filled with happiness and family photos were instead filled with uncertainty, they said, as children were temporarily taken into protective custody, DCFS caseworkers were called and the parents were made to feel like criminals.
The lawsuit contends DCFS and medical staff broke state and federal law by improperly seizing newborns or threatening to do so, said Richard Dvorak a lawyer for the families. It alleges that doctors continued to coerce parents, citing the inevitability of DCFS intervention, even though they knew the policy had been rescinded. The families said they were traumatized by their experiences and are seeking monetary damages and a stop to the practice once and for all.
The hospitals listed in the lawsuit are University of Chicago Medical Center, Advocate Christ Medical Center in Oak Lawn and Silver Cross Hospital in New Lenox.
James Holderman III son of a former chief judge at the federal courthouse in Chicago, and his wife, Courtney, are lead plaintiffs in the lawsuit. The Holdermans contend they were subjected to a DCFS investigation in May 2018 because they declined the vitamin K shot and other optional procedures — a blood screening and eye ointment — after the birth of their second child at a west suburban hospital that is not part of the lawsuit.
The doctors didn't take the newborn from them, but the Holdermans had to endure a five-week DCFS investigation, the lawsuit states.
"The moment they started investigating me, I knew that they were in the wrong, and I knew that the doctor was in the wrong," Holderman told the Tribune. "I did not know that this was widespread. … We thought it was just a one-off."
Read the full story at The Chicago Tribune
Comment on this article at MedicalKidnap.com.
Medical Kidnapping: A Threat to Every Family in America T-Shirt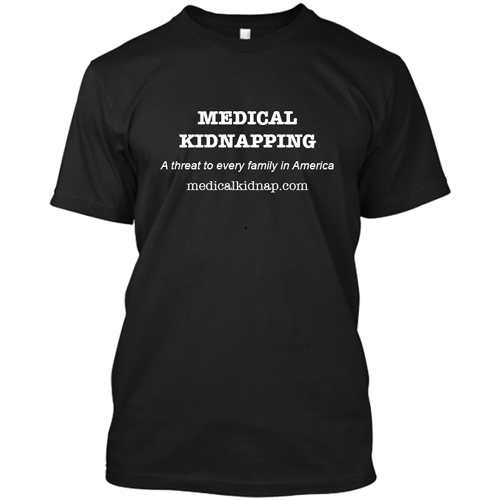 100% Pre-shrunk Cotton!
Order here!
Medical Kidnapping is REAL!
See: Medical Kidnapping: A Threat to Every Family in America Today
Help spread the awareness of Medical Kidnapping by wearing the Medical Kidnapping t-shirt!
Support the cause of MedicalKidnap.com, which is part of the Health Impact News network.
Support the cause against Medical Kidnapping by purchasing our new book!
If you know people who are skeptical and cannot believe that medical kidnapping happens in the U.S. today, this is the book for them! Backed with solid references and real life examples, they will not be able to deny the plain evidence before them, and will become better educated on this topic that is destroying the American family.
1 Book – 228 pages
Retail: $24.99
FREE Shipping Available!
Now: $14.99
Order here!
2 Books
Retail: $49.98 (for 2 books)
FREE Shipping Available!
Now: $19.99 (for 2 books)
Order here!
Published on September 25, 2019