by Health Impact News Staff
For the last month, Kristine McCreery has been working to bring truth to light in an extremely complex Idaho medical kidnapping involving her 16-year-old son, Brandon.
See:
When a public defender failed her in court, and she spent all of her resources on paid attorneys that she felt weren't speaking for her, Kristine reached out to her local legislators in desperation.
This led her to community organizations that teamed up to help her raise awareness of what was happening to her family. 
Upon learning their story, the community rallied around the family, demanding justice for the young man and his mother. 
See:
Kristine took it upon herself to start learning the system and how to speak for herself in court. 
However, after she had submitted a motion to discharge her attorney and requested an evidentiary hearing, Kristine learned that Judge Courtnie Tucker blocked her submission of any further motions, instructing the Canyon County Court Clerk to refuse any documents that Kristine attempted to submit to the court. She was not allowed to submit any evidence or even a declaration of fact for the judge, temporarily silencing her voice to the court once again.
On Tuesday, July 16th, Kristine appeared in court for a six-month review of the CPS case. 
In the week before court, Brandon's story had made a monumental impact in Idaho, garnering support from all over the state. Over fifty people showed up to the Canyon County Juvenile Justice Center in support of #BringBrandonHome, including representatives from local community organizations, as well as Idaho House Representative, Christy Zito, who said,
What impressed me the most is the community support. It is so important for our citizens to know their rights, to know what due process is and to make sure it is being followed.

I so admire Kristine for standing strong, for fight so hard for her son, for allowing her story to be put out there so that other parents can learn and know what to do if they are ever in this kind of a situation.
When it was time for Kristine's turn in court, the crowd of supporters filed into the courtroom to show their support. The crowd was still coming in through the door, when Judge Tucker ordered that everyone leave the courtroom immediately if they were not party to the case. 
This brought questions from the crowd, including from Eric Parker, President of the Real 3%ers of Idaho, who requested to know if the State legislator could stay to witness the proceedings, holding his camera up for the answer. A bailiff immediately prevented him from recording, and took away his phone. 
Realizing that several members of the gallery were recording from their phones, Judge Tucker demanded the bailiff remove them from her courtroom. Suddenly, the court went into an uproar, with bailiffs confiscating telephones and kicking people out of the room.
Eric Parker, and other members of the community, were taken behind closed doors where they were forced to give their names to the bailiff and delete any recordings – before they would have their property given back to them.
While Eric, and others, were being detained for video recording government officials, another bailiff placed the state's Administrative Rules on Recording Devices on a bulletin board outside of the courtroom – something that wasn't available before the hearing. 
When asked about his thoughts on what happened, Eric said:
The young man is 16. He's damn near an adult and to see him treated like someone we have to protect and can't make their own decisions is asinine.

I wanted to ask the young man, a citizen of the State of Idaho, if he was under duress. The fact of the matter for us is what we are witnessing is a weaponization of the judicial branch. We see it everywhere, not just family court.
Once the chaos of the supporters leaving the courtroom had ended, and the courthouse staff was determining what to do with confiscating their phones, Kristine was left alone in the courtroom, with only her attorney as a witness. 
Kristine says that after everyone else was forced out of the courtroom, she was left with nine people, including the judge.
Those who were allowed to stay included her attorney, Quentin W. Lackey; Shari Dodge, Canyon County prosecutor; as well as public defender, Bethany Harder, and representative of the Guardian Ad Litem program, Janet Cheney, who are supposed to be speaking for Brandon.
She noticed that also in attendance was Mike Dixon, chief supervisor for the Canyon County CPS office, and another unknown CPS supervisor.
Kristine says she had met with Mr. Dixon previously, to express concerns about her case and show him and Heather's supervisor, Brandi Barklow, medical documentation that proves the doctors were lying. However, they disregarded the documentation and Mr. Dixon has never appeared at a hearing before now. 
Kristine reports that the hearing began with Prosecutor Shari Dodge making complaint to the court regarding the family's facebook support page, reportedly citing issues such as it being a child protection case and it possibly violating the Idaho Child Protective Act.
There was discussion about MedicalKidnap.com and their recent articles, as well as the change.org petition, which has now gathered over 1,200 supporters demanding Idaho CPS bring Brandon home.
Obviously upset over the recent press regarding the case, Shari Dodge reportedly motioned for the CARES interrogation video of Brandon (found in the original MedicalKidnap.com article) be taken down. She argued that it was a violation of a court order because the department doesn't make those interviews public, citing concern over how it was being used. 
According to Kristine, Judge Tucker agreed, on the basis that posting the child abuse specialist interrogation "violates the CARES institution" and is "not acceptable."
Judge Tucker ordered for Kristine to take it down, despite the fact that the MedicalKidnap.com website is not within Kristine's control. 
Additionally, Kristine was ordered to take down the picture of Dr. Amy Barton from the original article, violating not just her freedom of speech, but the first amendment rights to freedom of the press retained by MedicalKidnap.com, as well as the family advocacy group, Fight for Lilly, which hosts the video on YouTube.
The department and court are worried about the vulnerability of CPS and the "CARES institution," but the public is more concerned about their accountability. 
Kristine said that the public support made such an impact that Shari Dodge voiced concern over navigating the crowd of people in the lobby to retrieve social worker Heather Newcomb for the hearing, and requested the bailiff do it in her place.
Heather Newcomb had prepared a six month report for the hearing, but neither Kristine, nor her attorney, had received it when court began, much less had time to prepare a response, once again violating Kristine's right to due process in court.
Kristine's attorney motioned for a 5-day continuance so that they would have adequate time to prepare, which was denied by the judge.
According to Heather's latest report, the intent of the department is to keep Brandon in their care for the next two years, until he ages out of the system at age 18, or upon approval of the department, be sent to live with an estranged father. 
Heather mentions frequently that Brandon cannot articulate any future goals, and continues to allege this must be because of "educational neglect."
However, as he said in the CARES video, Brandon verbally states that he is unsure of what is next because "this [the CPS case] is happening."
This young man, who originally had been working with his mom on plans to attend college for computer science and game design coding, once he graduated early from homeschool, is now forced to live with strangers and redo his homeschool education at local high school this fall.
Any child in such a situation would feel lost in not knowing what his future holds or if he'll ever be with his family again. This is an issue created by the Department by removing him from his mother's care, and then passing the blame on to his mother because of how he feels about it all.
Heather also states:
The Department has been made aware of a community page and website that Kristine began on June 28th that is for the purpose of bringing the community behind her to 'fight CPS.'

Additionally, Kristine has been engaged in 'fighting back' and requesting hearings to overturn the original ruling that brought Brandon into foster care.
Just as predicted in the original article about this case, Heather proceeds to raise concerns of the criminal charge that Shari Dodge fabricated to support the CPS case. Heather states:
Brandon is not able to return to his mother due to a criminal NCO [No Contact Order] and Kristine is actively working to reverse the original ruling that brought Brandon into foster care.
Heather also asserts a new allegation against Kristine – fraud. Heather states in her report,
"at times, it appears that she has edited medical or educational records to suit her purposes."
However, Heather fails to provide any example, instance, or evidence to support such an allegation, nor has this allegation ever once been mentioned in previous court documents.
Apparently, to the department, fighting back against what Brandon's mother declares to be lies by the doctors and social workers, while demanding due process in court to review her evidence, are "concerns" enough to be reason to withhold her child even longer.
For those following the case, it seems more like retaliation for showing the world Brandon's celiac diagnosis and contradicting the narrative of the department through medical records.
Serra Frank, family advocate from Fight for Lilly, points out:
Every time Kristine or Brandon say anything or provide any medical documents that counter the narrative of the Department, they are said to be liars, delusional, and have fraudulent paperwork.

All aspects of the department's recent behavior is obviously displacement of CPS' corruption onto this family. It can be logically assumed this is for the continuation of CPS involvement to keep this special needs teenager in the system; a common tactic of CPS in an effort to obtain more Title IV federal funding.
Additionally, the Guardian Ad Litem, Janet Cheney, submitted a six-month report to the court, stating Brandon should remain in foster care until he is eighteen for the same reasons that Heather mentions; despite also saying it isn't what Brandon wants:
Brandon has stated that he wants to return home to his mother, his grandmother, and his aunt. He misses his home and his cat.
Kristine says that, although she was denied her motions, things were definitely different this time. She felt that her attorney was finally fighting for her voice to be heard and that she was allowed to be heard quite often.
Judge Tucker let Kristine know she had every right to go pro-se. Despite this, Kristine's attorney is proving to her that he stands beside her and is willing to speak for her.
Mr. Lackey convinced the judge to allow him to file a motion for a new hearing, and with him actually fighting for her, she feels more confident in his representation, but has also stated she will demand to represent herself in the future if she must. 
Whether or not the judge will actually allow the new hearing is still unknown. Judge Tucker set the next status hearing for October 17th, 2019, a 9-month review. 
When Miste Karlfeldt, with Health Freedom Idaho, learned of the extended delay until the next CPS hearing she was disappointed with the outcome:
When Kristine first contacted me, telling me how, despite her best efforts while seeking medical care for Brandon, they accused her of medical abuse, I realized that this could happen to any one of us.

It saddens me to see that after six months, and six times in front of a judge with multiple delays in her cases, it doesn't seem that Kristine is any closer to being reunited with her son.
Kristine's criminal charges are still pending. Her preliminary/probable cause hearing, originally scheduled for July 11th and then continued to July 25th, has once again been postponed due to Dr. Amy Barton's failure to be available and give testimony.
Kristine reports that she still does not have a date for this hearing; which, according to Idaho law should have been held within 21 days of Kristine's arrest and initial appearance in the beginning of June. 
An additional delay that only painfully continues the No Contact Order between Kristine and Brandon, and keeps Brandon from his home and family. 
Kristine says,
My son should be back home with his family: to be with his mom, his aunt, his nana…the people who have always been there for him, who love him and have always provided for him. This should be a time for healing, not fighting in court for the truth to be heard.
HOW YOU CAN HELP
Support the Family – www.facebook.com/bringbrandonmccreeryhome
Change.org Petition – https://www.change.org/p/idaho-cps-bring-brandon-home
Court Support/#BringBrandon Home Rally – October 17th, 2019 Canyon County Juvenile Justice Center, 3:30pm MST – https://www.facebook.com/events/380031696244972/
Contact GOVERNOR OF IDAHO Brad Little – governor@gov.idaho.gov or (208) 345-8356
Contact LT. GOVERNOR Janice McGeachin – janice.mcgeachin@lgo.idaho.gov or (208) 334-2200
Contact Mike Crapo – Idaho Senator – https://www.crapo.senate.gov/contact/email-me Boise – (208) 334-1776 or Washington DC – (202) 224-6142
Contact Jim Risch – Idaho Senator – https://www.risch.senate.gov/public/index.cfm/contact Boise – (208) 342-7985 or Washington DC – (202) 224-2752 
Contact Mike Simpson – Idaho Representative – https://simpson.house.gov/contact/ Boise – (208) 334-1953 or Washington DC – (202) 226-8000
Contact Russ Fulcher – Idaho Representative – https://fulcher.house.gov/email-me Boise – (208) 888-3188 or Washington DC – (202) 225-6611
Contact Representative Brent Crane – bcrane@house.idaho.gov (208) 332-1058 or (208) 466-0613
Contact Representative Greg Chaney – gchaney@house.idaho.gov or (208) 332-1055
Contact Senator Jim Rice – jrice@senate.idaho.gov (208) 332-1423 or (208) 891-4178  
Contact Senator Jeff Agenbroad – jagenbroad@senate.idaho.gov (208) 332-1329, (208) 501-7472 , or (208) 466-9315 
Contact Representative Christy Zito – czito@house.idaho.gov (208) 332-1181 or (208) 590-4633
Contact Representative Heather Scott – hscott@house.idaho.gov (208) 332-1190 or (208) 920-3120 
Comment on this article at MedicalKidnap.com.
Medical Kidnapping: A Threat to Every Family in America T-Shirt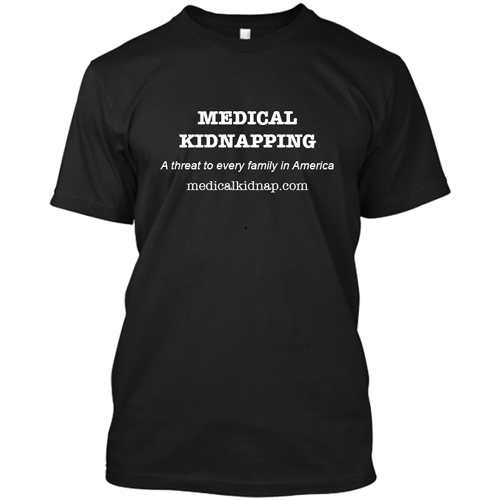 100% Pre-shrunk Cotton!
Order here!
Medical Kidnapping is REAL!
See: Medical Kidnapping: A Threat to Every Family in America Today
Help spread the awareness of Medical Kidnapping by wearing the Medical Kidnapping t-shirt!
Support the cause of MedicalKidnap.com, which is part of the Health Impact News network.
Support the cause against Medical Kidnapping by purchasing our new book!
If you know people who are skeptical and cannot believe that medical kidnapping happens in the U.S. today, this is the book for them! Backed with solid references and real life examples, they will not be able to deny the plain evidence before them, and will become better educated on this topic that is destroying the American family.
1 Book – 228 pages
Retail: $24.99
FREE Shipping Available!
Now: $14.99
Order here!
2 Books
Retail: $49.98 (for 2 books)
FREE Shipping Available!
Now: $19.99 (for 2 books)
Order here!
Published on July 23, 2019