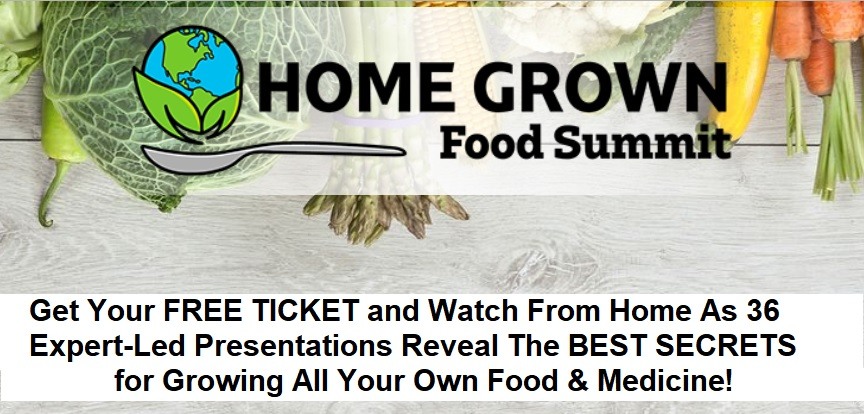 [Health Impact News]
Starting Monday, March 18th until Sunday, March 24th The Homegrown Food Summit will stream LIVE every night, and registration is FREE!
36 presentations from leading experts will help you become free of supermarkets and drugstores!
Here's Just A Small Sample Of The Practical Skills And Knowledge You Can Expect To Gain During This Exciting FREE Global Event:
Can't wait 5+ years? Learn about 5 fruit trees you can start from seed that will produce in LESS than two years!
Growing without soil? Discover the differences between hydroponic and soil-based gardens, and how to choose the type of hydroponic system that is best for you.
Lasagna for your garden? Learn to sheet mulch like a boss!
The coming job losses due to AI, and why growing your own food is more important than ever before.
Learn the most efficient way to grow high protein, organic chicken feed – for pennies!
How to turn your local restaurant refuse into black gold, and the best worms for the job.
Beyond Bread: innovative ways to use whole and ancient grains (even if you eat a low-carb diet).
A gardening method that kicks weeds out from the beginning, and hoards water in your soil.
10 Habits of centenarians, and the reason elders have noticed big changes in the taste of food.
Get free bees! Learn how to get bees for free with your own swarm traps, and everything you have to know when beginning beekeeping.
The essential tools, supplies, and knowledge you need to assist goats in giving birth.
How to create stories that change lives and get people to recognize the value of soil.
Home gardener's most burning questions . . . answered by a Pro!
Rediscover a 500-year-old hand tool that is better than a weed whacker.
Irrigation Design: 4 Keys to Success and Installation Tips and Tricks.
How to put fresh food on your plate in 7 days anywhere, anytime!
The cooking differences on wood stoves versus gas or electric, and how to maintain a stove to last for generations.
Greenhouses – How to plan and achieve success from the start!
The powerful healing properties of common spices – discover the medicinal value of your spice rack.
Learn to easily incorporate delicious medicinal herbs into your meals to improve health and wellness of your entire family.
3 Experiments that prove plants learn, remember, and communicate.
How to prune tomatoes for disease control and increased harvest yield (and when you shouldn't prune).
Back to Eden – in-depth interview with the founder of this famous gardening method.
Bake a tray of muffins with only 2.5 lbs. of wood – Explore what's possible when cooking with a rocket stove.
Why, even if you love what you do, creating a "Saleable" entity should be your business goal.
Get years of painstaking research on root systems in less than an hour! Improve your yields with insight into the secret world of roots.
The edible found everywhere – A quick method for harvesting and preparing delicious acorns.
#1 Easiest strategy to start growing herbs and vegetables indoors today.
How to setup and run a successful side business selling laying hens.
Grow your family's health (and increase your garden's productivity) with medicinal herbs.
10 Strategies you must learn now for growing in a changing climate.
Make your own cheese in less than an hour! Plus, all the tools and supplies needed for home cheese making.
How growing your own food can improve sleep, reduce anxiety, and eliminate depression
Never buy flour from the grocery store again! The easy way to start milling grain at home.
Be inspired by a 13-year-old chicken whisperer.
Celebrate the new generation of entrepreneurs, consumers and investors who switched Making A Killing to Making a Living.
Plus so much more…!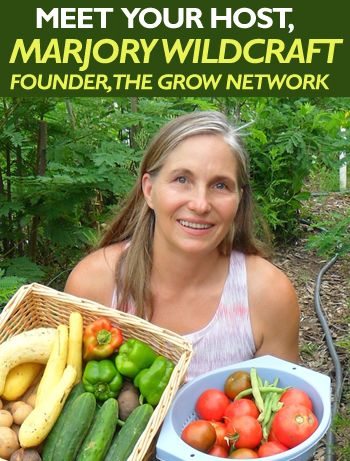 Hello, my name is Marjory Wildcraft, founder of The Grow Network.
And in case we're meeting for the first time, I'd like you to know that we're the online home of a global network of people who produce their own food and medicine.
We like to think of ourselves as "backyard researchers"; we're constantly experimenting and sharing our discoveries with one another — testing new paths for sustainable livingwhile reconnecting with the "old ways" that seem to be slipping away too quickly in our modern world.
Our catalyzing statement, the thing that gets us up every morning, is "Homegrown Food On Every Table!"
We value soil, water, sunlight, simplicity, sustainability, usefulness, and freedom.  And we strive to be the most useful site on the web for producing, preparing, and preserving your own food and medicine.
We also like to have a bit of fun! 😉
We are open to all religions, diets, and political parties.  And we grow food for many reasons including health, spirituality, and preparedness. 
Join us, won't you?  And let's learn how to grow food and medicine, together!
Published on March 8, 2019