by Brian Shilhavy
Editor, Health Impact News
A federal judge in Texas appears to be getting fed up with Texas government officials who are delaying in abolishing the State's foster care and child protective services agency and establishing a new one.
This week she started fining the state $50,000.00 a day for not implementing the reforms she ordered back in 2015 when she ruled that the Texas foster care system was unconstitutional. See our previous coverage:
In her original ruling, Judge Jack wrote:
Texas's PMC (Permanent Managing Conservatorship) children have been shuttled throughout a system where rape, abuse, psychotropic medication, and instability are the norm.
Judge Jack documented how the Texas Department of Family and Protective Services (DFPS) is deliberately deceptive and inefficient in its management of the Foster Care system, and is severely flawed, causing harm to children.
Plaintiffs have proven, by a preponderance of the evidence, that DFPS's policies and practices amount to structural deficiencies that cause an unreasonable risk of harm to all class and subclass members.

[A]s  the system currently stands, foster children often age out of care more damaged than when they entered.

Years of abuse, neglect, and shuttling between inappropriate placements across the State has created a population that cannot contribute to society, and proves a continued strain on the government through welfare, incarceration, or otherwise. Although some foster children are ableto overcome these obstacles, they should not have to.
Judge Jack concluded that the system was completely broken, and issued an injunction to completely overhaul the Texas Foster Care system (PMC):
Texas's foster care system is broken, and it has been that way for decades. It is broken for all stakeholders, including DFPS employees who are tasked with impossible workloads. Most importantly, though, it is broken for Texas's PMC children, who almost uniformly leave State custody more damaged than when they entered.

Plaintiffs have a Fourteenth Amendment substantive due process right to be free from an unreasonable risk of harm caused by the State. Texas currently violates that right.
The public interest will not be harmed by an injunction requiring Texas to conform its foster care system to the Constitution. With all four factors met, the Court holds that injunctive relief is appropriate in this case.

The State shall establish and implement policies and procedures to ensure that Texas's PMC foster children are free from an unreasonable risk of harm. To effect this injunction, the Court will appoint a Special Master to help the State implement the Goals outlined below.

Further, the State shall immediately stop placing PMC foster children in unsafe placements, which include foster group homes that lack 24-hour awake-night supervision. Foster group homes that immediately require 24-hour awake-night supervision may continue to operate while the Special Master and the State craft and enforce the Implementation Plan.
Rather than comply with her ruling, however, the State of Texas wasted taxpayer funds in fighting against the injunction.
Now, Judge Jack is apparently tired of waiting, and has announced fines of $50,000.00 a day which will double in the near future if the State does not comply with her orders.
Judge fines Texas $50K a day over 'shameful' foster care
Excerpts:
A federal judge who ruled that Texas' embattled foster care system was unconstitutionally broken said Tuesday she will fine the state $50,000 a day for ignoring her orders to have foster children in group settings supervised around-the-clock by an adult who is awake.
At a hearing in Dallas on the case focused on those in long-term foster care, U.S. District Judge Janis Graham Jack on Tuesday rebuked the state's actions as "shameful." The fines will begin Friday and double later this month until court-appointed monitors confirm compliance.
She said Tuesday that she no longer finds the Texas Department of Family and Protective Services "credible" and that the state has "lied to me at almost every level."
During the hearing, Jack scolded officials with DFPS who testified because they could not answer questions concerning the conditions in placements for foster care children.
Read the Full Story at CBS Austin.
See Also:
Comment on this article at Medical Kidnap.com.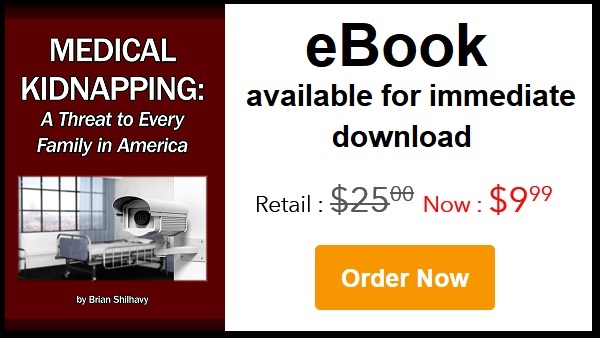 Medical Kidnapping: A Threat to Every Family in America T-Shirt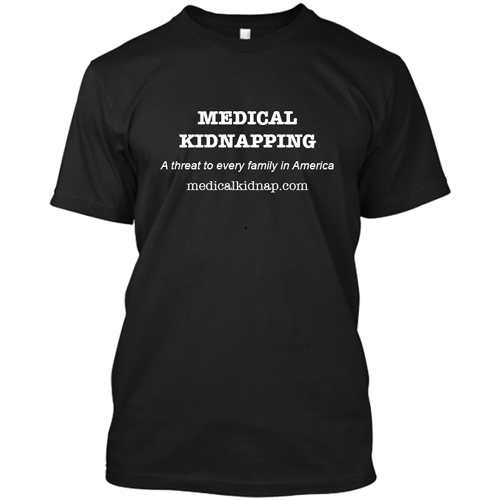 100% Pre-shrunk Cotton!
Order here!
Medical Kidnapping is REAL!
See: Medical Kidnapping: A Threat to Every Family in America Today
Help spread the awareness of Medical Kidnapping by wearing the Medical Kidnapping t-shirt!
Support the cause of MedicalKidnap.com, which is part of the Health Impact News network.
Support the cause against Medical Kidnapping by purchasing our new book!
If you know people who are skeptical and cannot believe that medical kidnapping happens in the U.S. today, this is the book for them! Backed with solid references and real life examples, they will not be able to deny the plain evidence before them, and will become better educated on this topic that is destroying the American family.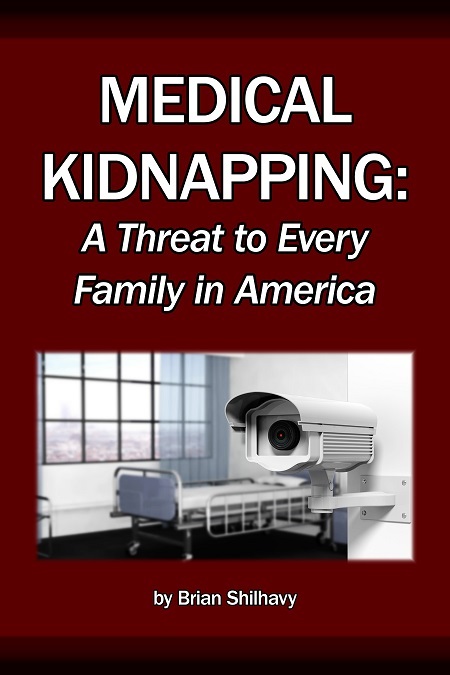 1 Book – 228 pages
Retail: $24.99
FREE Shipping Available!
Now: $14.99
Order here!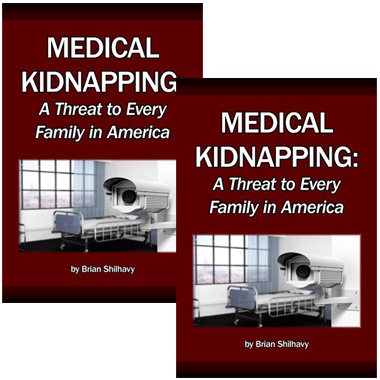 2 Books
Retail: $49.98 (for 2 books)
FREE Shipping Available!
Now: $19.99 (for 2 books)
Order here!
Published on November 7, 2019