by Brian Shilhavy
Editor, Health Impact News
Earlier this month (November, 2019) the FDA approved the Fluzone® High-Dose Quadrivalent influenza vaccine produced by Sanofi Pasteur Inc.
Fluzone is approved for adults 65 years old and above.
Fluzone® High-Dose (Influenza Vaccine) was approved by the FDA in 2009 as a trivalent influenza vaccine, including two influenza A strains and one influenza B strain. Fluzone High-Dose Quadrivalent contains an additional influenza B strain. Fluzone High-Dose Quadrivalent is given to people 65 years of age and older to help prevent influenza disease caused by influenza A and B strains contained in the vaccine.

This approval is the final step toward the company's complete transition to quadrivalent influenza vaccines in the U.S. Fluzone High-Dose Quadrivalent will be made available for immunization efforts during the 2020-2021 influenza season. Sanofi Pasteur will continue to deliver and offer the trivalent formulation of Fluzone High-Dose through the end of the 2019-2020 influenza season.(Press Release Here.)
The package insert for the new Fluzone® High-Dose Quadrivalent flu vaccine states that there was one clinical study conducted to evaluate the safety of this new high dose flu shot for seniors.
The study did not compare the new flu vaccine to a placebo, but to previous versions of the Fluzone vaccine:
Study 1 (NCT03282240, see https://clinicaltrials.gov) was a randomized, active-controlled, modified double-blind pre-licensure trial conducted in the U.S.

The study compared the safety and immunogenicity of Fluzone High-Dose Quadrivalent to those of Fluzone High-Dose (trivalent formulation). The safety analysis set included 1777 Fluzone High-Dose Quadrivalent recipients, 443 Fluzone High-Dose recipients, and 450 investigational Fluzone High-Dose containing the alternate B influenza strain recipients.

The most common reactions occurring after Fluzone High-Dose Quadrivalent administration were injection-site pain (41.3%), myalgia (22.7%), headache (14.4%), and malaise (13.2%). Onset usually occurred within the first 3 days after vaccination.

Unsolicited non-serious adverse events were reported in 279 (15.7%) recipients in the Fluzone High-Dose Quadrivalent group and 140 (15.7%) recipients in the Fluzone High-Dose group. The most commonly reported unsolicited adverse event was cough.
Both study groups (the older flu vaccine and the newer one) suffered serious adverse events (SAEs):
Within 180 days post-vaccination, 80 (4.5%) Fluzone High-Dose Quadrivalent recipients and 48 (5.4%) Fluzone High-Dose recipients experienced a serious adverse event (SAE).

The following additional adverse events have been spontaneously reported during the postmarketing use of Fluzone High-Dose, Fluzone, or Fluzone Quadrivalent and may occur in people receiving Fluzone High-Dose Quadrivalent.

Because these events are reported voluntarily from a population of uncertain size, it is not always possible to reliably estimate their frequency or establish a causal relationship to vaccine exposure.

Adverse events were included based on one or more of the following factors: severity, frequency of reporting, or strength of evidence for a causal relationship to Fluzone High-Dose, Fluzone, or Fluzone Quadrivalent.

• Blood and Lymphatic System Disorders: Thrombocytopenia, lymphadenopathy
• Immune System Disorders: Anaphylaxis, other allergic/hypersensitivity reactions (including urticaria, angioedema)
• Eye Disorders: Ocular hyperemia
• Nervous System Disorders: Guillain-Barré syndrome (GBS), convulsions, febrile convulsions, myelitis (including encephalomyelitis and transverse myelitis), facial palsy (Bell's palsy), optic neuritis/neuropathy, brachial neuritis, syncope (shortly after vaccination), dizziness, paresthesia
• Vascular Disorders: Vasculitis, vasodilatation
• Respiratory, Thoracic and Mediastinal Disorders: Dyspnea, cough, wheezing, throat tightness, oropharyngeal pain, and rhinorrhea
• Gastrointestinal Disorders: Vomiting
• Skin and Subcutaneous Tissue Disorders: Stevens-Johnson syndrome
• General Disorders and Administration Site Conditions: pruritus, asthenia/fatigue, chest pain, chills
Besides the viruses contained in the vaccine, the other ingredients listed include:
Sodium phosphate-buffered isotonic sodium chloride solution
Formaldehyde
Octylphenol ethoxylate
Gelatin
Is this New Flu Shot Effective for Seniors?
According to the package insert of the new Fluzone® High-Dose Quadrivalent influenza vaccine, there were no efficacy studies done on the new flu vaccine.
The single study that was conducted compared the safety and immunogenicity of Fluzone High-Dose Quadrivalent to those of Fluzone High-Dose.
For a measure of effectiveness, they simply quoted the results for the older Fluzone High-Dose vaccine.
The efficacy of Fluzone High-Dose (trivalent formulation) is relevant to Fluzone High-Dose Quadrivalent since both vaccines are manufactured according to the same process and have overlapping compositions.
The relative efficacy of the older study for primary endpoints ranged from 11% to 27.4%. The secondary endpoint had an efficacy rate of 51%.
A secondary endpoint of the study was the occurrence of culture-confirmed influenza caused by viral types/subtypes antigenically similar to those contained in the respective annual vaccine formulations in association with a modified CDC-defined ILI, defined as the occurrence of a temperature >99.0°F (>37.2°C) with cough or sore throat. The efficacy of Fluzone High-Dose relative to Fluzone for this endpoint was 51.1% (95% CI: 16.8; 72.0).
Again, this study was not for the new flu vaccine just approved by the FDA, but for the older flu vaccine against specific virus strains.
The new vaccine added a new strain, but this flu vaccine will not even be available until the 2020-2021 flu season.
Pharma-Sponsored Mainstream Media Working Hard to Suppress Flu Vaccine Facts
Everything we just printed to this point comes straight from the manufacturers package insert for the flu vaccine, a package insert you are not likely to have access to if you were to walk into a drug store like Walgreens, CVS, Rite Aid, and others and request to see before receiving a flu shot.
And for simply printing facts like this that are easily found online (the FDA government website is required to have vaccine package inserts online), we have been branded by the corporate media watch dogs as "fake news."
Health Impact News, and specifically our VaccineImpact.com website, generates a lot of traffic for readers searching for facts related to vaccines in general, and the flu vaccine specifically. If this particular article starts receiving too much traffic, Facebook and others will come in and label it as "fake news" to immediately reduce the amount of traffic it receives.
This has already happened a few times during the current flu season. See:
The most recent example that was brought to our attention by one of our readers occurred on an NBC TV station. The reader saw the report while watching television, and sent us a link to the report that claimed we were misleading people about the flu vaccine:
They were criticizing one of our articles reporting the facts from the federal government's DOJ regarding settlements from the U.S. Vaccine Court which was getting a lot of traffic. See:
Yet, everything written in this report is quoted from government sources, just as the text we printed above in this article is quoted directly from the vaccine manufacturer's own package insert for their flu vaccine.
Isn't it obvious that there is a concerted effort to conceal this information from the public?
Anyone with a general understanding of logic should be able to quickly see how they contradict their own criticisms as they try to discredit these facts.
The NBC report says:
THE QUESTION:

Does the U.S. Government pay millions to "flu shot victims?"

THE ANSWER:

No.
But as soon as they write "No" they continue:
The U.S. does have a program that offers compensation to some people who feel that a vaccine caused them to be sick or injured, but the program has only made pay outs in a very small amount of cases for the influenza vaccine.
But those "very small amount of cases" that they claim, do add up to millions of dollars, and they even admit this later in their report:
The program does pay millions of dollars every year to people or families who are found to have been injured by a vaccine covered through the program.
What follows is a typical argument the pharmaceutical industry and the corporate media present as basically saying: "Yes, this is true, but it happens very seldom, and it is still worth getting vaccines since it is so rare."
They accuse me of "cherry picking" the data, but "cherry picking" is exactly what they do, by quoting government statistics regarding the National Vaccine Compensation Program that they believe prove vaccines are actually safe and effective due to the sheer volume of flu vaccines distributed in the U.S. each year.
What they fail to report (but we do) is that in November of 2014, the Government Accounting Office (GAO) issued the first report on America's "Vaccine Court," known as the National Vaccine Injury Compensation Program (NVICP), in almost 15 years.
Congress gave the pharmaceutical companies immunity against lawsuits for injuries or deaths resulting in vaccines in 1986. Prior to this time, there were so many lawsuits pending against pharmaceutical companies for injuries and deaths due to vaccines, that the pharmaceutical industry basically blackmailed congress and told them that if they did not grant them legal immunity against the liabilities of vaccines, that they would quit making them. These vaccine products cannot survive in a free market.
The November 2014 GAO report criticized the government for not making the public more aware that the National Vaccine Injury Compensation Program exists, and that there are funds available for vaccine injuries.
Therefore, the settlements represented by vaccine injuries and deaths included in the DOJ report probably represent a small fraction of the actual vaccine injuries and deaths occurring in America today.
So to our critics in the corporate media that are attacking us and trying to refute our factual reporting on the flu vaccine we just have one thing to say to you: Thank you! We appreciate the exposure and the opportunity to present, as the late great Paul Harvey used to say: "the rest of the story."
This NBC report is doing the public a service by letting them know that there are other facts in the vaccine debate. They presented some of these facts themselves, which is rare, as Big Pharma and their media outlets seem to prefer that the public not even know about the government Vaccine Court, or the fact that pharmaceutical companies cannot be sued for vaccine injuries and deaths since 1986.
The only thing they did wrong was lie by answering the question "Does the U.S. Government pay millions to flu shot victims?" as "No."
But then, telling the truth has never been a strong characteristic of the corporate sponsored "mainstream" media which is quickly losing their credibility, and their audience.
More Info on Seniors and the Flu Vaccine
If you came here for information regarding the effectiveness of the flu vaccine for seniors, here is some more information from Dr. Joseph Mercola that he recently published.
Dr. Mercola's information about the flu vaccine is so accurate and so well documented, that he and his website, which has been around for over 20 years, has been completely de-listed by Google in their search engine.
When the corporate media takes such huge efforts to suppress this information, just ask yourself this question:
What is their motive in suppressing vaccine information?
Is it because they feel they have to spend a large amount of time and money disproving this information solely to protect the public from "fake news"?
Or is it because their corporate sponsors are losing money due to fewer people wanting to get the flu vaccine?
Flu Shot Fails to Protect Seniors and May Increase Miscarriages
Excerpts:
There are widespread calls to get your annual flu shot, despite the fact that, year after year, this strategy turns out to have an abysmal rate of effectiveness across the board.
One group that consistently turns out to draw the short end of the stick when it comes to influenza vaccine failures is the elderly. U.S. Centers for Disease Control and Prevention (CDC) data have repeatedly demonstrated that the flu vaccine does not work for seniors.
The 2018/2019 flu vaccine had an adjusted effectiveness rating of just 12% for those ages 50 and above,24 but the full range was between a negative 12% to a positive 31% for ages 50 to 64 and a negative 29 to 41 in those over age 65.
That means that for some people, vaccination actually made them more susceptible to infection. Unfortunately, the 9- to 17-year-old group also had a negative confidence interval.
For infections caused by the A(H3N12) virus, the statistics were even more worrisome, with a mere overall adjusted effectiveness of 9% for all ages. For A(H1N1) the numbers were better at 44% — but it's worth noting that the CDC chose to lump all ages together in that report, rather than breaking them down by age (something they had done earlier in the year, and which they had done for all past years). For example:
In 2017/2018, the adjusted influenza vaccine effectiveness for all vaccine types against influenza A viruses for people aged 50 through 64 was 20% (range: -5% to 39%); for those over the age of 65 it was 11% (range: -8% to 38%)

In 2016/2017, the adjusted effectiveness for all vaccine types against influenza A or B viruses for those aged 50 through 64 was 40% (range: 24% to 53%), and those over 65 was 20% (range: -11% to 43%).

This despite the fact that the vaccine for the 2016/2017 season was well-matched to the viruses in circulation.
Studies have also demonstrated that influenza vaccination has no impact on mortality among the elderly. As noted in one such study,
"Because fewer than 10 percent of all winter deaths were attributable to influenza in any season, we conclude that observational studies substantially overestimate vaccination benefit."
Read the full article at Mercola.com.
Comment on this article at VaccineImpact.com.
Book – The Vaccine Court, by Wayne Rohde – 240 pages

"The Dark Truth of America's Vaccine Injury Compensation Program"
Leaving a lucrative career as a nephrologist (kidney doctor), Dr. Suzanne Humphries is now free to actually help cure people.
In this autobiography she explains why good doctors are constrained within the current corrupt medical system from practicing real, ethical medicine.
One of the sane voices when it comes to examining the science behind modern-day vaccines, no pro-vaccine extremist doctors have ever dared to debate her in public.
Say NO to Mandatory Vaccines T-Shirt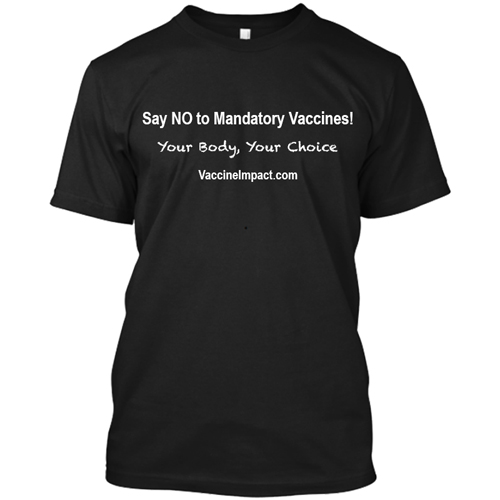 100% Pre-shrunk Cotton
Order here!
Make a Statement for Health Freedom!
Big Pharma and government health authorities are trying to pass laws mandating vaccines for all children, and even adults.
Show your opposition to forced vaccinations and support the cause of Vaccine Impact, part of the Health Impact News network.
Published on November 13, 2019