by Brian Shilhavy
Editor, Health Impact News
The flu season is upon us, and Facebook is working hard to keep information from being shared on their platform educating people how to fight the flu using anything other than flu vaccines.
A 2017 article written by Dr. Joseph Mercola that was republished on Health Impact News started going viral earlier this week:
When it had been shared on Facebook by about half a million people, it apparently kicked off a censorship alarm as being too popular to be allowed to have that many views.
By mid-afternoon Friday we were alerted by some of our readers that they were being threatened by Facebook for "posting false claims" when they tried to share the story.
They were being redirected to a website called Lead Stories where this appeared:
The author employed by Facebook, Alan Duke, is a former CNN Entertainment reporter.
What is interesting in Duke's write-up is that while he puts big bold red letters saying "No Science!" – he then proceeds to write an article….. debating the science!
Duke apparently uses his own definition of "study" to try and downplay the references to peer-reviewed articles.
The second citation is from a paper (not a study) by Dr. Cannell titled "On the epidemiology of influenza"…..

This article next cited a 2017 meta-analysis (not a study) of 25 published studies into the protective benefits of vitamin D supplementation in relation to upper respiratory infections….
Reading the comments to Duke's article, it appears that many were not impressed with his "journalism":
Did Facebook's warning and threats work?
Censorship accomplished. At least for the masses who believe Facebook is a trustworthy arbiter of truth.
The Flu Shot Kills and Injures People, While Vitamin D Does Not
By the CDC's own admission, the annual flu shot is seldom effective for the majority of the population, as they have to guess the correct flu strains each year.
Also, as we report every three months when the DOJ issues their quarterly reports on vaccine injuries and death settlements in the Vaccine Court, the flu shot is the most dangerous vaccine in the U.S., accounting for the majority of vaccine death and injury settlements.
Through August of 2019, the Government Vaccine Court has paid out over $206 million so far this year, and most of that is for the flu shot. See the latest report here:
If these DOJ reports start trending on Facebook, will they also be labeled as "Fake News," even though the statistics are supplied by the U.S. Government?
I am not aware of even one single death due to overdosing on Vitamin D.
By Facebook and Alan Duke's standards of "fake news" then, here is some more "fake news" from a pro-vaccine medical doctor who has a Ph.D. in genetics, spent 10 years working at the National Institute of Health, was a professor at Johns Hopkins University as a geneticist, and is also the author of over 150 peer-reviewed publications.
In this video he shares the truth about the flu vaccine:
See Also:
Comment on this article at VaccineImpact.com.
Book – The Vaccine Court, by Wayne Rohde – 240 pages

"The Dark Truth of America's Vaccine Injury Compensation Program"
Say NO to Mandatory Vaccines T-Shirt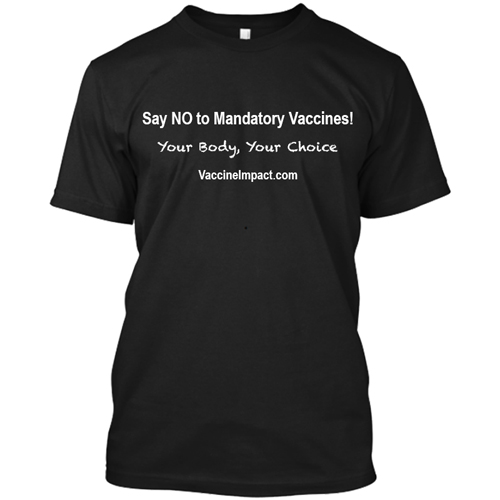 100% Pre-shrunk Cotton
Order here!
Make a Statement for Health Freedom!
Big Pharma and government health authorities are trying to pass laws mandating vaccines for all children, and even adults.
Show your opposition to forced vaccinations and support the cause of Vaccine Impact, part of the Health Impact News network.
Published on September 28, 2019