Health Impact News
On Friday, September 18, 2019, Mainers for Health and Parental Rights held a press conference at the Capitol of Maine to announce they had obtained 93,000 signatures to support their grass-roots effort, Veto 798 Maine.
According to their website, 798 is:
a bill that was pushed through the legislature despite overwhelming opposition from the citizens of Maine, and then quietly signed into law by Governor Mills in May of 2019.

LD798 threatens all of our rights including:

Informed consent for medical decision making
Parental rights
Equal access to education
Religious freedom

LD798 eliminates religious and philosophical exemptions to vaccination, prohibiting parents, staff and healthcare workers from exercising their right to decline one or more vaccines required by schools and employers. If Maine citizens do not comply with the new law, they face expulsion from all public, private, parochial and online schools and will be terminated from employment.
To get the "Peoples' Veto" on the ballot for March, 2020, they were required to obtain 64,000 signatures from Maine residents within 90 days, September 18th.
With 800+ volunteers, they obtained over 93,000 signatures – nearly 7% of the population of Maine.
The people of Maine will now apparently have the opportunity to vote and veto this law next March.
Watch the press conference:
Comment on this article at VaccineImpact.com
Book – The Vaccine Court, by Wayne Rohde – 240 pages

"The Dark Truth of America's Vaccine Injury Compensation Program"
Say NO to Mandatory Vaccines T-Shirt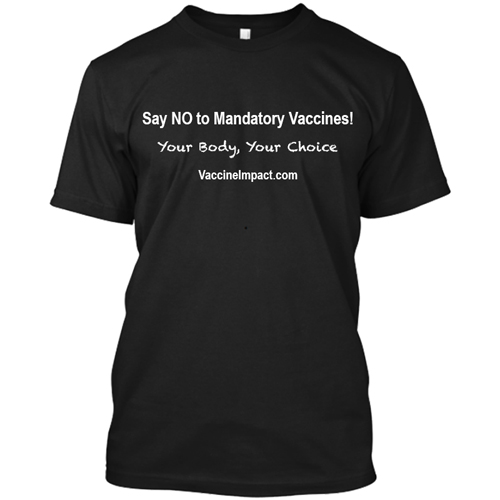 100% Pre-shrunk Cotton
Order here!
Make a Statement for Health Freedom!
Big Pharma and government health authorities are trying to pass laws mandating vaccines for all children, and even adults.
Show your opposition to forced vaccinations and support the cause of Vaccine Impact, part of the Health Impact News network.
Published on September 22, 2019