by Health Impact News/MedicalKidnap.com Staff
A Texas jury decided Thursday afternoon, June 21, to terminate the parental rights of a mother whose 4-month-old baby was injected with the Gardasil-9 vaccine in error.
Anita Vasquez is devastated. She and her friends and supporters are shocked that this could happen.
Instead of doctors and social workers considering the possibility that the symptoms her daughter, Aniya Blu Vasquez, experienced could be related to the vaccine that is not approved for children under 9-years-of-age, Anita was blamed, and her daughter was taken from her by Child Protective Services (CPS).
See their original story:
Anita tells us that there was important information that the jury did not hear before making their decision. There were things that she believes her attorney should have presented but did not. When she was on the stand, Anita reports that the judge threatened her with contempt of court when she tried to give complete answers. Of CPS and the doctors who testified, Anita says:
They lied and they lied and they lied.
Munchausen Syndrome by Proxy – Diagnosis or Cover-Up?
A Child Abuse Specialist doctor from Texas Children's Hospital in Houston reportedly diagnosed her of having Munchausen Syndrome by Proxy, a extremely rare mental condition where a parent, usually a mother, makes a child sick in order to gain attention. Anita told Health Impact News:
I wasn't even their patient!
A later psychologist, one who does psychological evaluations for CPS, reportedly based his diagnosis on the previous diagnosis from the doctor at Children's.
This is a common scenario that we have seen in our research at Health Impact News. The "diagnosis" of Munchausen Syndrome by Proxy appears to almost universally be a cover up for vaccine injury or medical malpractice.
Instead of medical professionals admitting that a vaccine could be causing symptoms or that a doctor made a mistake, it seems to be easier to deflect blame by accusing the mother of Munchausen Syndrome by Proxy, or the newer refashioned title for the same thing – "Medical Child Abuse."
See more on the Medical Child Abuse diagnosis and the doctors responsible for influencing policies and practices from coast to coast in this article:
The very fact that the mother blamed the Gardasil vaccine for Aniya's illness was used as evidence of her having Munchausen. Doctors and investigators seemed determined to deny that the vaccine could have caused harm. Because of their belief system, Anita must have been mentally ill, because the vaccine, in their opinion, could not have made Aniya sick.
It appears that the belief that all vaccines are safe all the time for everybody was a forgone conclusion in court.
According to the Victoria Advocate:
A Texas Children's Hospital physician testified on the second day of trial that he did not think a mistakenly applied HPV vaccine was the cause of an infant's recurring illnesses.

Dr. David Paul, an endocrinologist or hormone specialist, said of the estimated 100 documented cases of babies receiving the HPV vaccine, the most severe symptoms were "fever and fussiness."
Anita wanted to bring in expert testimony from doctors who challenge the doctrine of complete vaccine safety and rebut these claims, but her previous court-appointed attorney told her that the judge would only allow local expert witnesses.
Expert Witness Not Allowed to Testify – Writes that Gardasil Can and Does Cause Harm
Dr. Toni Bark is one such witness who was not permitted to appear as an expert witness, because she is not a Texas doctor. However, she sent a letter that could have been presented in court but wasn't. CPS was presented last year with a copy of the letter which reads as follows:
To whom it may concern,

The Gardasil vaccine comes with certain risks. From Merck's own data, we know syncopal episodes, anaphylaxis autoimmunity and even deaths occurred at rates 3 times higher than the general public in their post surveillance studies.

The vaccine was tested girls and then boys, age 12-26 and then approved for those as young as 9. It is not approved for those younger than 9 and certainly not for infants.

The aluminum adjuvant content is higher than in any other vaccine and seems to be one of the true culprits for serious adverse reactions.

Many girls around the globe are documented as suffering from POTS or postural orthostatic tachycardia syndrome. This syndromes due to the dysautonomia or abnormal autonomic tone which results from aluminum making its way into the brain. Part of the syndrome is the autonomic system's in ability to regulate itself and therefore, many bizarre signs and symptoms can be found.

Currently, there are lawsuits against Merck in other countries which don't give blanket protection from torte law. One example is Columbia where a law suit on behalf of 750 girls from one town who all suffered with this autonomic dysfunction syndrome. Another example is the government of Japan opened a government office just to keep an eye on Gardasil injury and the vaccine was removed from the list of recommended vaccines.

The government of Israel has also removed its recommendation of that vaccine as well as Spain and a few other countries.

It is very likely Gardasil could be causing poor regulation of electrolytes and fluid control in an infant who inadvertently received the vaccine but since the vaccine has never been studied in or approved for young babies, we have no published data on this issue.

Thank you,

Toni Bark MD MHEM LEED AP
Health Impact News has covered the Gardasil vaccine scandal for many years now. The fact that the vaccine, even when administered to the appropriate age levels it was intended for, does in fact have many side effects. This is a fact that is not even in dispute.
Some of the issues that Aniya suffered included electrolyte imbalances and low sodium levels.
Though doctors admitted to the court that they don't know what caused Aniya's sodium levels to drop to dangerous levels, they felt that somehow, it had to be the mother's fault.
Child Got Better When Mom Wasn't Around – Or Did She?
CPS and their doctors argued that evidence of Munchausen was the fact that Aniya got better when her mother was not around and that she is healthy and thriving now.
But is that true?
Anita has reported numerous times that CPS kept medical records from her. There were times that she would learn later than her daughter had been sick or taken to the hospital when she was in CPS care.
When CPS initially seized custody of Aniya on May 2, 2017, she was in Texas Children's Hospital. Child Abuse doctors accused Anita of having Munchausen Syndrome by Proxy.
The following day, social workers with Victoria, Texas CPS reportedly told Anita that the hospital was going to run tests and labs to find out if she was still sick when her mother was not with her. If they found her to be ill, they would return her to her mother's custody, but if they didn't find anything wrong, they said they would need to investigate further and keep Aniya in their custody.
The baby was alone with no loved one to comfort her at the hospital for almost 2 weeks. Meanwhile, on May 14, Texas Children's Hospital diagnosed Aniya with adrenal insufficiency, which can cause low sodium levels. It was only much later that Anita learned of the diagnosis. It was apparently not reported to CPS either, because Aniya was released to a foster home, not her own home, on May 18.
She was again diagnosed with adrenal insufficiency on September 11, 2017, and prescribed steroids and medications. On October 15, she went to the ER for high blood pressure, fever, and refusal to eat. In November, she was referred to an ENT doctor, and in January, 2018, she was referred to neurosurgery. In March, she had surgery for tubes in her ears.
Yet, the Victoria Advocate reports that CPS and their witnesses testified that Aniya got better after she was removed from the care of her mother. The Victoria Advocate reported the jury verdict last Thursday. (Article link here.)
During his closing argument, [CPS attorney Allen] Lowe pointed to a timeline that showed Aniya's health sharply improved when she was under observation and out of her mother's custody. He described that timeline, despite its inability to explain exactly how Vasquez harmed her child, as clear and convincing evidence.
The timeline presented to the court left out a number of illnesses and diagnoses that happened after Aniya was no longer in the custody of her family. Anita asked her attorney to submit the complete timeline, but he did not. According to the Victoria Advocate:
[Aniya] is now healthy, happy and thriving, caseworker Megan Morales testified.
The alleged misrepresentation of facts convinced the jury.
Mother Not Charged with a Crime
It did not, however, convince the police department, who are charged with requiring actual evidence of crimes:
Although the department has forwarded their findings to the Victoria Police Department, Vasquez is not charged with a crime relating to harming her child.
Case Plan Sabotage
Anita was accused of not completing her "case plan," a serious problem in the eyes of CPS that renders a parent unworthy of getting their child back.
According to testimony from social workers, Vasquez was ordered to follow the recommendations of a psychiatrist and a plan outlined by the department. She did not, a case worker testified.
That assertion is not true, Anita told us. The case plan, which she did not sign, stated that she was to go to a psychologist chosen by CPS, which she did. His recommendation was that Anita either receive counseling or take medication, and the choice was hers.
Even though she chose counseling, CPS never made the necessary arrangements to schedule an appointment. If they had, Anita says that she would have been there. If it meant getting her daughter back, she would have even taken medication. It was never set up.
This is consistent with reports by countless other parents whose children are taken by CPS. They are told that they must complete various requirements that social workers write on the case plan or safety plan, yet the social workers fail to schedule necessary appointments or secure the services demanded.
If parents try to do them on their own with providers they choose, many times they find that they don't "count." The services have to be the ones the social worker orchestrates with providers contracted through CPS.
If a parent fails to jump through the hoops, even if social workers fail to do their part, parents are held accountable. Some have lost their children permanently because social workers essentially run the clock out.
The Clintons' Adoption and Safe Families Act of 1997 shortened the time that parents have to meet the case plan demands of CPS. If a child remains in custody for 18 months, parental rights can be terminated and children's lives destroyed, simply for failure to complete the case plan.
Where Do They Go From Here?
Anita Vasquez told us that she is considering her options, but she doesn't know yet what she will do. She does not intend to give up fighting for her baby girl.
Unless this decision can be overturned, Aniya Blue Vasquez has been cut off from her family. Because she had the misfortune of getting sick after she was given a vaccine that is not intended for babies, she continues to suffer the loss of being separated from her mom and her brothers.
This may seem like a case of "how can this happen in America?" Perhaps a better question would be: "How many more families will be destroyed by CPS before Americans demand change?"
To continue to follow their story, see the Facebook page set up by supporters: Justice for Aniya.
Comment on this article at MedicalKidnap.com.
See additional coverage of Aniya's story:
Medical Kidnapping: A Threat to Every Family in America T-Shirt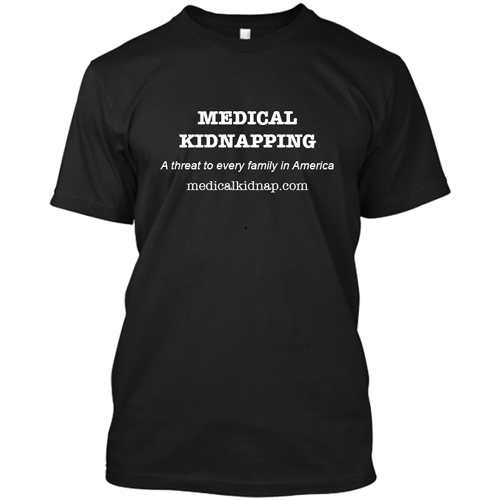 100% Pre-shrunk Cotton!
Order here!
Medical Kidnapping is REAL!
See: Medical Kidnapping: A Threat to Every Family in America Today
Help spread the awareness of Medical Kidnapping by wearing the Medical Kidnapping t-shirt!
Support the cause of MedicalKidnap.com, which is part of the Health Impact News network.
Support the cause against Medical Kidnapping by purchasing our new book!
If you know people who are skeptical and cannot believe that medical kidnapping happens in the U.S. today, this is the book for them! Backed with solid references and real life examples, they will not be able to deny the plain evidence before them, and will become better educated on this topic that is destroying the American family.
1 Book – 228 pages
Retail: $24.99
FREE Shipping Available!
Now: $14.99
Order here!
2 Books
Retail: $49.98 (for 2 books)
FREE Shipping Available!
Now: $19.99 (for 2 books)
Order here!
Published on June 26, 2018