by Health Impact News/MedicalKidnap.com Staff
A father accused of shaking his baby to death has been exonerated, but not until after he spent 16 years of his life in prison for a crime that didn't happen.
Zavion Johnson of Sacramento, California, was just 18 years old and the oldest of 7 children at the time that a tragic accident happened. He and his wife were parents of 4 month old Nadia. While he was bathing her in the shower, he dropped his baby and she hit her head on the bathtub.
Nadia died not long afterward from her injury. Her father was arrested at her funeral and was charged with "second-degree murder and assault on a child resulting in death."
Doctors and investigators testified that the short fall could not have caused her death. They argued that the only explanation was that she had been violently abused. Shaken Baby Syndrome was their verdict.
According to the National Center on Shaken Baby Syndrome, there are about 1300 cases of Shaken Baby Syndrome (SBS) reported every year in the U.S., and about 25% of those result in death.
Their organization and the American Academy of Pediatrics assert that there is medical consensus on the science of Shaken Baby Syndrome.
As we have reported numerous times at Health Impact News, the science is NOT settled.
A growing number of medical and scientific experts dispute the SBS theory, and there is increasingly more evidence that there are frequently other explanations for the symptoms that have been chalked up to abuse.
Convictions are being overturned on an ever increasing basis as courtrooms are presented with evidence that there are other conditions and situations that can account for the "triad" of symptoms that doctors have long asserted were undeniable proof of abuse.
Other conditions that can cause brain bleeding, brain swelling, or retinal hemorrhage include induced labor, stroke, short falls, prematurity, vaccine injury, oxygen use, or even a difficult labor.
See:
Abuse Was Out of Character for the Accused
Zavion Johnson's devastated family testified in court on his behalf, describing him as loving, gentle, and patient, with plenty of experience in caring for children. They couldn't believe that he would have intentionally harmed his baby.
According to The National Registry of Exonerations:
The judge said the case was "one of those situations where an otherwise decent individual has one moment in their lives when they act out of character." The judge also said that the medical evidence "was overwhelming that this was not an accident."

The judge then sentenced Johnson to 25 years to life in prison.
Conviction Based on "Junk Science" Thrown Out – Many Years Later
After years of fighting as his own attorney (pro se) for his freedom, the Northern California Innocence Project got involved. Evidence was presented showing that there are other scientific explanations for the symptoms of Shaken Baby Syndrome. According to a petition filed by the Innocence Project:
It is now…indisputable that scientific research and medical advances since the time of trial have undermined the prosecution's two claims that were the basis for Mr. Johnson's conviction…that Nadia's injuries could not have been the result of an accidental short fall and that only SBS could have caused Nadia's injuries.
The conviction was vacated on December 18, 2017, and Zavion Johnson was released from prison. On January 19, 2018, the prosecution dismissed all of the charges against him.
Zavion Johnson is now a free man, exonerated from a crime that he didn't commit, a crime that didn't actually happen.
Not only did he lose his baby girl, he lost his freedom based on a medical theory that is now considered by many to be "junk science."
How many more innocent fathers, mothers, and caregivers will be sentenced to prison, or lose their children to Child Protective Services, based on the medical myth of Shaken Baby Syndrome?
Excerpts:
On November 24, 2001, 18-year-old Zavion Johnson called 911 in Sacramento, California when his four-month-old daughter, Nadia, stopped breathing. Emergency personnel managed to get the girl breathing again and rushed her to the hospital.

When Nadia arrived, doctors discovered she was suffering from serious head trauma. They suspected she had been physically abused and notified police.

… he admitted to his wife, Racquel, that Nadia slipped from his grasp and hit her head on the bathtub when he had been bathing her in the shower.

By the next day, Johnson had told the rest of his family. He was crying and extremely distraught. His family believed him because they knew how well he cared for his own siblings as well as for Nadia. When Johnson said he wanted to tell the doctors, his family advised him to speak to a lawyer first.

However, before that occurred, a nurse told police that Racquel's aunt reported that Johnson had admitted that he dropped Nadia in the shower. By then, the baby had been declared brain dead. Johnson was holding her in his arms when life support was disconnected and she died. Johnson fainted on the spot.

In November 2002, Johnson went to trial in Sacramento County Superior Court. The prosecution's case consisted primarily of the testimony of three medical experts who concluded that Nadia had been violently shaken—that she was a victim of Shaken Baby Syndrome.

Shaken Baby Syndrome (SBS) is a term coined to describe a condition first articulated in 1971. SBS arises when an infant is shaken so hard that the brain rotates inside the skull, causing severe and potentially deadly brain injury, but often without any external signs of harm. SBS is said to involve a telltale "triad" of symptoms—brain swelling, brain hemorrhaging, and retinal hemorrhaging. When present in an infant who has no outward signs of abuse, this triad of symptoms indicates that the child has been violently shaken.

According to prevailing medical wisdom at the time of the incident, no other injuries or pathologies could cause these three symptoms to occur at the same time. Moreover, it was thought that a victim of SBS became unresponsive immediately, and therefore the last person to have physical care of the baby must have caused the injuries.

Dr. Gregory Reiber, a forensic pathologist who performed Nadia's autopsy, testified that he found bleeding behind her eyes, which was associated with a "rotational head injury, what some people call Shaken Baby Syndrome." He was unequivocal in saying that the injuries could not have been the result of a fall.

Dr. Claudia Greco, a neuropathologist, testified that she found a brain injury near Nadia's spine that was the "most convincing" evidence that the baby died from SBS and not from a fall of four feet.

Dr. Kevin Coulter was the pediatrician at University of California Davis Medical Center who treated Nadia in the hospital. He testified that physicians only see the constellation of injuries observed in Nadia in SBS cases, falls from "great heights" of 10 feet or higher, motor vehicle accidents, or similar events where there is a "really significant high velocity impact."

There were no grip marks or broken bones associated with grabbing and shaking an infant, but the prosecution experts pointed to Nadia's bruising as evidence of abuse. They did not mention, however, that the bruising only appeared after medical intervention, in locations consistent with that intervention.

The defense called one expert, Dr. Richard Robertson, a biomechanical consultant who spent five hours preparing for his testimony. He told the jury that the injuries were consistent with a short fall onto a hard surface—such as Johnson had described. Robertson based much of his opinion on an article that Greco testified had been "torn apart basically because of the poor quality."

… Johnson testified and denied shaking Nadia. He maintained that she had slipped out of his hands while he was bathing her and fell, striking her head on the tub. He said that she did not have any mark on her. Because her breathing seemed raspy, Johnson asked his mother, Gatoi, to examine the child. She assured him Nadia was fine.

Nadia took a nap and when she awoke, she seemed tired. By the early afternoon, Johnson and his mother decided to take Nadia to a clinic near the home of Racquel's stepmother. However, that clinic was closed. They tried another clinic, but it was closed too. By the time they arrived at the stepmother's home, Nadia was nonresponsive and Johnson called 911. He attempted CPR, but broke down crying. The paramedics arrived at 3:20 p.m. and grasped Nadia by the head to intubate her.
Johnson was convicted on December 12, 2002, almost a year after his baby's death.
The California Court of Appeal upheld the convictions in 1994. Over the next several years, Johnson, acting without a lawyer, filed several state law petitions for a writ of habeas corpus challenging his conviction on various grounds, primarily related to his trial defense lawyer failing to properly investigate the case. All were denied without a hearing.

In April 2017, lawyers from the law firm of Keker, Van Nest & Peters and the Northern California Innocence Project filed a state law petition for a writ of habeas corpus. The petition asserted that medical research had subsequently shown that the same triad of symptoms said to be SBS could be caused by a fall.

…two of the prosecution experts at Johnson's trial provided sworn affidavits recanting their trial testimony. Dr. Greco, the neuropathologist who examined the brain and spinal cord after the autopsy, repudiated her testimony that only shaking could have caused the microscopic injury she observed in Nadia's spinal cord.

In a report submitted in support of the petition, Dr. Reiber, who conducted the autopsy, said, "While the consensus view at the time of the autopsy, which I shared, led to a conclusion that the manner of death was homicide, the current reassessment has led me to conclude that accidental injury cannot be excluded and therefore the manner (of death) should be considered as undetermined.

In addition, Dr. Judy Melinek, a forensic pathologist who reviewed the case under the most recent medical and forensic standards, also concluded that Nadia's injuries were consistent with the fall Johnson described. She said there was "insufficient medical evidence based on the most current forensic science to support a determination of an intentionally inflicted traumatic injury."

A fourth expert, Dr. Roger Haut, director of Orthopaedic and Biomechanics Laboratories at Michigan State University, reviewed the evidence in light of his studies on skull fractures. He concluded that Nadia's skull fracture was consistent with a three-foot fall onto a hard curved surface.
Read the full story at The National Registry of Exonerations.
Comment on this article at MedicalKidnap.com.
See stories of other families impacted by allegations of Shaken Baby Syndrome:
Medical Kidnapping: A Threat to Every Family in America T-Shirt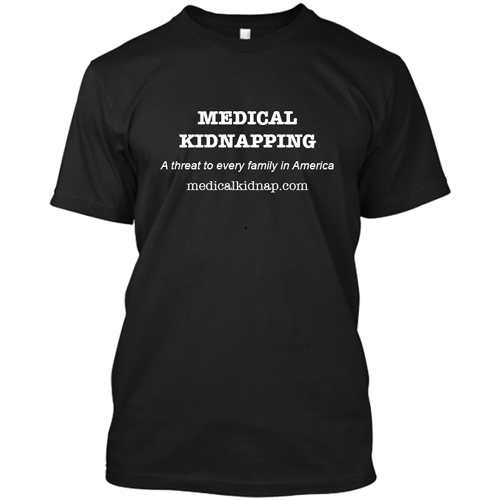 100% Pre-shrunk Cotton!
Order here!
Medical Kidnapping is REAL!
See: Medical Kidnapping: A Threat to Every Family in America Today
Help spread the awareness of Medical Kidnapping by wearing the Medical Kidnapping t-shirt!
Support the cause of MedicalKidnap.com, which is part of the Health Impact News network.
Support the cause against Medical Kidnapping by purchasing our new book!
If you know people who are skeptical and cannot believe that medical kidnapping happens in the U.S. today, this is the book for them! Backed with solid references and real life examples, they will not be able to deny the plain evidence before them, and will become better educated on this topic that is destroying the American family.
1 Book – 228 pages
Retail: $24.99
FREE Shipping Available!
Now: $14.99
Order here!
2 Books
Retail: $49.98 (for 2 books)
FREE Shipping Available!
Now: $19.99 (for 2 books)
Order here!
Published on January 29, 2018