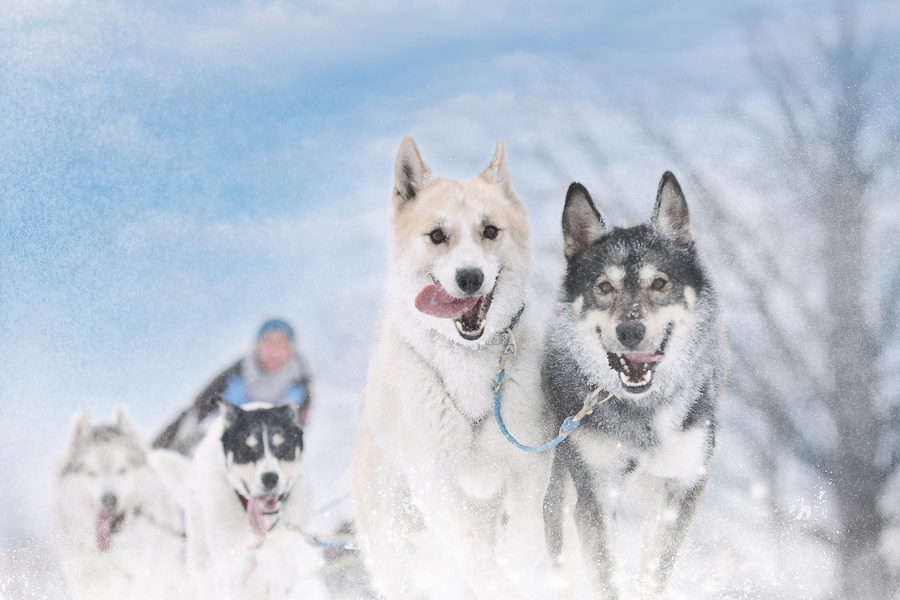 by Paul Fassa
Health Impact News
Once upon a time dog sledding was a common mode of rural overland travel and transporting goods among the colder regions of North America from upper Midwest states and New England throughout Canada and into Alaska. Now those regions feature races among dog sled teams. Dog team sleds are handled by one person, known as a musher.
Dog sledding races range from "sprints" of 12 miles to the grueling 1,000 mile Alaskan Iditarod Trail Sled Dog Race. These long distance dogs need an easy to digest high density nutrient food supplement to assist their needs.
Jim Blair, an ethical musher, mushing teacher, and owner of Eden Mountain Lodge in Vermont, feeds his dogs a tablespoon of coconut oil daily and has noticed great results in their performance and overall health!
One of Jim's concerns for his dogs was their paws. Pulling a heavy sled at running speeds with other dogs in the snow and ice is hard on their paws. Their paws collect ice and get skinned up, becoming too tender to run on as well as leading to potential infections.
Jim became dissatisfied with using zinc oxide salves externally on the dogs' paws. Dogs licking zinc oxide creams off their paws can harm them and they would become ill. He also thought it would be better if their paws didn't become skinned up and inflamed in the first place.
Jim found that using coconut oil internally with his dogs solved that external problem. Jim is now spreading the news of how coconut oil improves dogs' stamina running through snow and ice while also protecting their paws from painful inflammation.
Jim's ethically run dog sledding teams have been winning dog sledding races in Quebec's Sled Dog Club competitions recently, and he's spreading the word to other sled dog owners and mushers about coconut oil.
More About Dog Sledding Teams
The amount of dogs in a dog sledding team usually ranges from six to sixteen. The dogs are hitched two by two in line with other couples. Alaskan huskies, most commonly used for sledding, are not pure bred. They are hybrid for racing by combining Alaskan malamutes and Siberian huskies or other northern breeds.
How Jim Keeps His Team Healthy with Coconut Oil
As a saturated fat, coconut oil is solid below 76 degrees F (24 C), but starts liquefying above that temperature. If you put it in your refrigerator at all, make sure you monitor it closely. It can get too hard and unwieldy for most immediate normal use unless you keep it out for some time.
Jim lets the oil go to liquid by storing it in a warm area. As a liquid, Jim says it is easy to pour a tablespoon of coconut oil and mix it into his dogs' food at their morning feeding.
More about Ethical Dog Sled Racing
Jim teaches and promotes ethical dog sled racing by treating his dogs well and allowing them to remain with the other dogs when they are no longer fit for racing. Jim calls his racing dog teams "unchained gangs" because they are allowed to be comfortable among humans in the house, roam the premises, and are never chained to posts or trees, unlike the way some mushers treat their dogs.
Jim doesn't pay the bills with dog sled racing. He conducts dog sled tours on a 140 acre wilderness area, with lodges for those who stay overnight, to make ends meet. His tours are done during warmer months with sleds on wheels.
If you're interested in taking one of Jim's wilderness sled dog tours with lodging on site, find out more here and here.
More and More Dog Owners are Feeding their Pets Coconut Oil
More and more dog owners are feeding their pets coconut oil while some are using it topically with excellent results. Your veterinarian may not be privy to the value of feeding pets coconut oil or using it topically on them, but this practice will keep your dogs happy and healthy and prevent too many vet visits.
For more information about how much coconut oil to give your dog, see:
If you've read some coconut oil articles featured in Health Impact News (HIN) and archived at CoconutOil.com, you'll already know how medium chain fatty triglycerides (MCT), often called medium chain fatty acids (MCFA), are easily converted to energy, providing ketones.
The liver's conversion of these fatty acids to energy means the fatty acids aren't stored as fat in the liver or other areas of the body. This is one of the benefits of ketogenic dieting. Losing weight while enjoying foods with saturated fats is a byproduct of ketogenic dieting.
An even more important aspect of creating ketones, which can be accomplished by consuming two to four tablespoons of virgin coconut oil daily, is restoring memory among those suffering from dementia or Alzheimer's disease.
Coconut oil has been reported to improve brain function in older dogs as well, as the MCTs can provide an alternative brain energy source for the dogs.
One of the most reported benefits of adding coconut oil to one's dog's diet is improved skin condition, leading also to a healthier coat of fur.
A 2014 study looked at certain essential oils in a base of coconut oil as a way to relieve dermatitis in dogs.
Comment on this article at CoconutOil.com.
Published on January 25, 2018