Vaccine Awareness Week 2017
Learn About the Need to Protect Voluntary Vaccine Decision-Making in America
This week from November 5-11, 2017 Mercola.com and the National Vaccine Information Center (NVIC) are co-sponsoring the Eighth Annual Vaccine Awareness Week (VAW), a week dedicated to raising awareness about vaccines and informed consent rights.
With all the uncertainty surrounding the risks and failures of vaccines, it's critical to protect your legal right to make independent health choices and exercise voluntary informed consent to vaccination.
It is urgent that everyone stand up and fight to protect flexible medical, religious and conscientious belief vaccine exemptions and expand informed consent protections in state public health and employment laws.
During this week, Dr. Joseph Mercola will double match your donations up to $100,000 to the National Vaccine Information Center (NVIC), a non-profit charity advocating for vaccine safety and protection of the ethical principle of informed consent to medical risk taking, including vaccine risk taking.
NVIC's mission since 1982 has been to prevent vaccine injuries and deaths through public education and to defend your legal right to exercise informed consent to vaccination.
You can also donate directly to NVIC by CLICKING HERE to help support our mission and join the vaccine freedom of choice movement today!
Click the video below to watch an interview with Dr. Joe Mercola and Barbara Loe Fisher about what is at stake in America's Vaccine Culture War.
Comment on this article at VaccineImpact.com.
Say NO to Mandatory Vaccines T-Shirt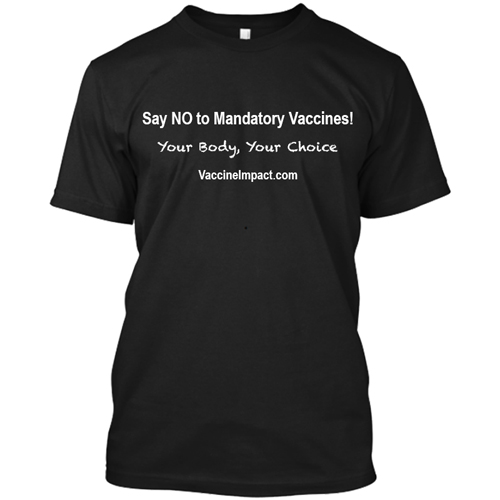 100% Pre-shrunk Cotton
Order here!
Make a Statement for Health Freedom!
Big Pharma and government health authorities are trying to pass laws mandating vaccines for all children, and even adults.
Show your opposition to forced vaccinations and support the cause of Vaccine Impact, part of the Health Impact News network.
Leaving a lucrative career as a nephrologist (kidney doctor), Dr. Suzanne Humphries is now free to actually help cure people.
In this autobiography she explains why good doctors are constrained within the current corrupt medical system from practicing real, ethical medicine.
One of the sane voices when it comes to examining the science behind modern-day vaccines, no pro-vaccine extremist doctors have ever dared to debate her in public.
Medical Doctors Opposed to Forced Vaccinations – Should Their Views be Silenced?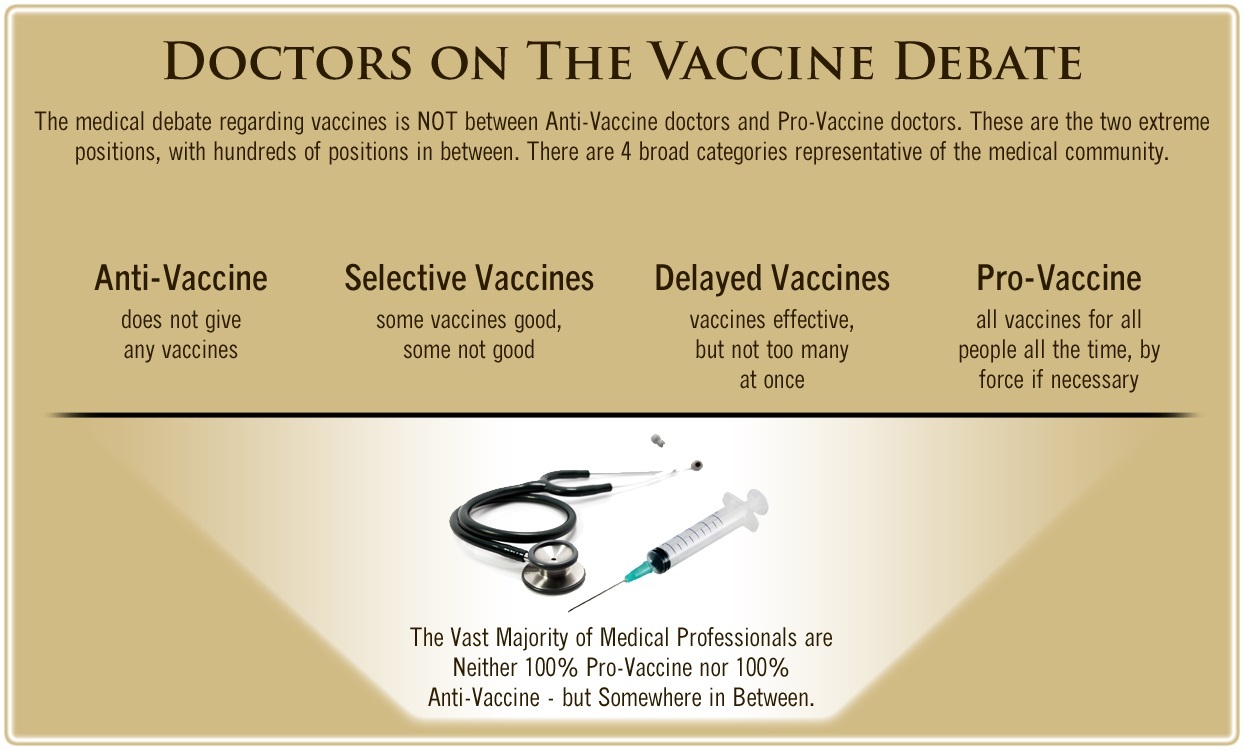 One of the biggest myths being propagated in the compliant mainstream media today is that doctors are either pro-vaccine or anti-vaccine, and that the anti-vaccine doctors are all "quacks."
However, nothing could be further from the truth in the vaccine debate. Doctors are not unified at all on their positions regarding "the science" of vaccines, nor are they unified in the position of removing informed consent to a medical procedure like vaccines.
The two most extreme positions are those doctors who are 100% against vaccines and do not administer them at all, and those doctors that believe that ALL vaccines are safe and effective for ALL people, ALL the time, by force if necessary.
Very few doctors fall into either of these two extremist positions, and yet it is the extreme pro-vaccine position that is presented by the U.S. Government and mainstream media as being the dominant position of the medical field.
In between these two extreme views, however, is where the vast majority of doctors practicing today would probably categorize their position. Many doctors who consider themselves "pro-vaccine," for example, do not believe that every single vaccine is appropriate for every single individual.
Many doctors recommend a "delayed" vaccine schedule for some patients, and not always the recommended one-size-fits-all CDC childhood schedule. Other doctors choose to recommend vaccines based on the actual science and merit of each vaccine, recommending some, while determining that others are not worth the risk for children, such as the suspect seasonal flu shot.
These doctors who do not hold extreme positions would be opposed to government-mandated vaccinations and the removal of all parental exemptions.
In this article, I am going to summarize the many doctors today who do not take the most extremist pro-vaccine position, which is probably not held by very many doctors at all, in spite of what the pharmaceutical industry, the federal government, and the mainstream media would like the public to believe.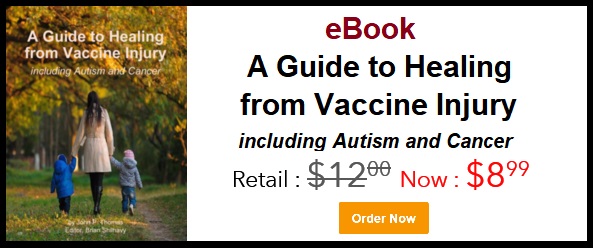 Published on November 6, 2017