by Health Impact News/MedicalKidnap.com Staff
When Lisa Mitchell contacted Health Impact News in 2016 about the medical kidnapping of her son Samuel, she recounted horrific acts of abuse that her son suffered at the hand of El Pueblo Boys and Girls Ranch, where he was forced to stay by Child Protective Services for 6 years. Now, that facility has been shut down by the state of Colorado – permanently.
It is a measure of vindication for the Mitchells and other families who suffered at El Pueblo, but the years that they lost can never be replaced. Samuel told Denver's ABC 7 that:
They pretty much [expletive] up my life.
Samuel suffered a traumatic brain injury during his birth in 1997, which left him intellectually impaired. Doctors placed him on 6 different psychotropic drugs when he was only 6 years old. In 2007, Child Protective Services seized him from his home.
There were never any allegations of abuse or neglect of any kind. The justification for him to be medically kidnapped was that the state could allegedly "provide" more services than his family could for his mental health issues. Lisa Mitchell has been fighting this tyrannical overreach of governmental power ever since.
Samuel was placed into a couple of different facilities, and then was placed into El Pueblo Boys and Girls Ranch in 2009, where he spent the next 6 years.
See their original story:
His mother fought relentlessly for his freedom as she heard increasingly disturbing tales of abuse that occurred in the facility. For years, she and other parents of children held in El Pueblo were ignored.
According to ABC 7, even a former staff members allegations of abuse were ignored. David Gonzales worked for El Pueblo for 6 months and reported witnessing abuse of the children. His allegations were consistent with the stories told by residents.
Lisa reports that the children were drugged, abused, and starved – "treated like guinea pigs for profit." Children got into trouble for sneaking food, but they were hungry. They were reportedly not being give adequate food.
Children were put into restraints and illegal holds. While several news reports about El Pueblo allude to fights between the residents, Lisa said that it went much deeper than that. She alleged that the staff would drug the kids, then pit them against each other to fight – much like cock fights or dog fights, only with children.
While Samuel was in the facility, Lisa says that they broke his arm, his foot, and his leg. When he didn't use his crutches, "they hurt him again." She says that they repeatedly reinjured her son.
The ACLU got involved in 2013. Based on their allegations of children being held in solitary confinement, the "reflection cottages" were temporarily shut down. It wasn't long, however, before things were back to the same and the cottages were reopened.
Children Fear Retaliation for Speaking Out about Abuses
Dozens of children, including Samuel, were interviewed by the ACLU and other investigators about the abuse they endured. Though many of the children and parents tried to report the abuse, they had been ignored. The staff and the doctors who prescribed their psychotropic drugs were mandated reporters, responsible by law to report abuse; yet they remained silent.
Apparently it didn't set well with the higher-ups of El Pueblo that the children began speaking out. One by one, the kids who reported wrongdoing by the staff found themselves accused of crimes, many of which were fabricated. Lisa says that many of those kids went straight from El Pueblo to jail as they approached the age where they should have been able to get free:
This is how they shut us up.
In Samuel's case, he was accused of a crime that didn't happen. Even the prosecutor admitted in court:
The prosecuting attorney does not have any evidence of the charge ….
There was no evidence that a crime had even occurred, and there was exonerating evidence. Samuel, who functions on a 5th grade level, has been declared "incompetent" 3 times and had Social Security benefits for his mental disability. Yet, for his trial, the prosecutors were able to find a doctor who declared him competent to stand trial.
He was later again found to be incompetent, but that was not sufficient to keep him from serving 2 years at Lookout Mountain Juvenile Correctional Facility for a crime that didn't even occur.
That case is on appeal. Samuel was released on July 23, 2017, and is now home. His mother has been appointed as his guardian.
Lisa is asking for the state to exonerate her son as well as all of "the rest of the El Pueblo kids" who were all locked away and silenced with what she says are "bogus charges." She points out that when the Kids for Cash scheme in Pennsylvania came to light, the kids involved were exonerated.
These kids aren't criminals; they are VICTIMS of criminals.
Since he has been home, Lisa Mitchell says that her son has been very scared of retaliation by people associated with El Pueblo, including police, CPS, and El Pueblo staff and board members. He went so far as to put alarms on his doors.
He is less fearful now that several local media outlets are involved in investigating and exposing the actions of El Pueblo staff.
El Pueblo Shuts Down Permanently
The Denver Post reported on November 1, 2017, that El Pueblo Boys and Girls Ranch has had its license revoked by the Colorado Department of Human Services amidst numerous allegations of abuse, after having the license temporarily suspended in September.
The private, non-profit organization has been in operation for 57 years. Among its board members are a police chief, a judge, pharmaceutical reps, bankers, and realtors.
Lisa Mitchell is asking the questions of how deep the conflicts of interests run among those involved with El Pueblo. Who made money at the children's expense?
Her son was one of many children at El Pueblo who was prescribed many psychotropic drugs by the doctor who saw El Pueblo children, Dr. John T. Hardy. She says that her son's Guardian ad Litem (GAL) once told Samuel:
You're worth a lot of money.
Samuel told Molly Hendrickson of ABC 7 that he felt like his childhood was stolen from him.
Lisa Mitchell is very thankful that the facility which caused such harm to her son has finally been permanently shut down.  She says that the Child Protective System and the health care system is "trafficking children." Now, she wants to see the people who are responsible for the rampant abuse shut down.
Local Colorado media will be covering more of this story as it unfolds, and we will continue our coverage as well.
Abuses Finally Published in Local Media 8 Years Later
There is a Facebook page called Denied Innocence: Exonerate Samuel Mitchell, where Lisa Mitchell continues to dig into the financial motivations for children being placed at El Pueblo Boys and Girls Ranch. She first blew the whistle on the facility in 2009.
Finally, her diligence is paying off. El Pueblo has been shut down for good. Never again will children be abused or be medical lab rats through this particular Colorado facility.
Comment on this article at MedicalKidnap.com.
Medical Kidnapping: A Threat to Every Family in America T-Shirt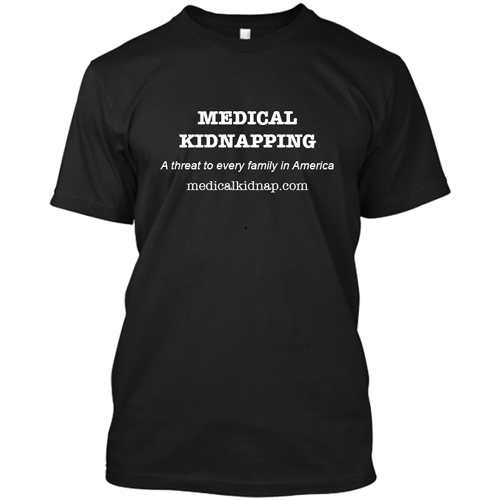 100% Pre-shrunk Cotton!
Order here!
Medical Kidnapping is REAL!
See: Medical Kidnapping: A Threat to Every Family in America Today
Help spread the awareness of Medical Kidnapping by wearing the Medical Kidnapping t-shirt!
Support the cause of MedicalKidnap.com, which is part of the Health Impact News network.
Support the cause against Medical Kidnapping by purchasing our new book!
If you know people who are skeptical and cannot believe that medical kidnapping happens in the U.S. today, this is the book for them! Backed with solid references and real life examples, they will not be able to deny the plain evidence before them, and will become better educated on this topic that is destroying the American family.
1 Book – 228 pages
Retail: $24.99
FREE Shipping Available!
Now: $14.99
Order here!
2 Books
Retail: $49.98 (for 2 books)
FREE Shipping Available!
Now: $19.99 (for 2 books)
Order here!
Published on November 5, 2017