by Health Impact News/MedicalKidnap.com Staff
A little girl's life literally hangs in the balance in Georgia. Nhyariah Mack's mother wants her to be transferred back to their hometown hospital in Pensacola, Florida, but Child Protective Services and Egleston Children's Hospital at Emory refuse to allow her mother to transfer her or get a second opinion.
For months doctors at Egleston have been telling Jasmin Mack that Nhyariah doesn't have long to live and will need to go into hospice care soon. This week, a new cardiologist told Jasmin that they have a heart for her daughter and they want to do a heart transplant.
At first Jasmin was hopeful, thinking that maybe, finally, doctors were going to try to save her child's life. Then she says that she saw the doctor "skipping down the hallway" toward the front desk. That was when it hit her like a ton of bricks:
They want my baby's heart!

These people are still trying to research my child!
To understand how the custody of children, especially children with rare medical diseases, are removed from their families and placed into state custody for the purpose of medical research, legally, see our investigative report:
Child With Rare Medical Condition Seized by CPS
Nhyariah is a very special child. She was born in Florida with Trisomy 9 mosaic, an extremely rare chromosomal abnormality. Only a little over a hundred children in the world have been diagnosed with this condition.
See original story:
She was tiny, as part of her medical condition, but she was doing well in her mother's care. Everyone who has met Nhyariah loves her, and her smile lights up the room.
In late 2015, Jasmin moved to the Atlanta, Georgia, area at the request of her sister, after their mother passed away. Jasmin thought that it might be a good move for them.
At that time, Nhyariah was not on any medications. She had a feeding tube and was in a wheelchair.
Her mother hoped that having access to the bigger hospitals in Atlanta would help Nhyariah move to the next step – walking on her own.
Instead, she found a nightmare.
For the first several months, they traveled back and forth to their regular doctors in Florida until they could get insurance switched over.
The very first doctor visit in Georgia forever changed their lives. It was supposed to be a routine appointment with a GI (gastroenterology) doctor, Dr. Gayathri J. Tenjarla.
When Dr. Tenjarla walked into the room, Jasmin says that she didn't even look at her daughter. She just picked up the chart, and said:
Oh! I have some friends next door that would LOVE to see you!
Next door was Henrietta Egleston Hospital for Children in Atlanta, the pediatric teaching hospital affiliate for the Emory University School of Medicine, located on the campus of Emory University. The hospital is just around the block from the CDC (Centers for Disease Control).
Even though Nhyariah wasn't sick, Dr. Tenjarla insisted that Jasmin admit her to the hospital immediately over concerns about her weight. This was despite the fact that Nhyariah's previous doctors in Pensacola were well-aware of her tiny size and recognized that it was part of her chromosomal disorder.
During the next week, doctors changed the feeding regimen for Nhyariah three times and ran numerous tests. By the end of the week, doctors at the Emory-affiliated hospital called the Georgia Division of Family and Children Services (DFCS) and accused Jasmin Mack of medical neglect.
They alleged that Jasmin had missed some doctors appointments, though she could easily prove that was false if only she had the opportunity. Their other allegation was that Nhyariah was underweight. She was, but it was in no way her mother's fault.
Based on those allegations, DFCS seized custody of Nhyariah and kicked Jasmin out of the hospital.
Experimental Surgeries Without Mother's Consent
By the time Jasmin was allowed to see her daughter again, doctors had already performed their first unnecessary experimental surgery on Nhyariah.
They removed her tonsils, which had never caused a single problem before in her life. The explanation later given to Jasmin was that the doctors hoped taking out her tonsils would help her sleep apnea. (It didn't.)
During the course of that surgery, her lung collapsed. She has battled the resultant pneumonia and lung problems ever since.
Jasmin did not give her consent for that surgery, or for the next one that followed. Nor was she even informed that the surgery was going to be performed on her child.
It was as though Nhyariah's body now belonged to the hospital and DFCS, and her mother was not informed or allowed to make medical decisions.
On paper, she still retained medical parental rights, but as many other parents report to Health Impact News, those rights seemed invisible.
During the next experimental surgery, Nhyariah "coded" for 2 hours and needed resuscitation. Her health has never bounced back after that point, and doctors at Egleston Children's Hospital have told her that Nhyariah is not likely to survive.
All of this experimentation is something that Jasmin Mack has always wanted to avoid for her daughter. She knew that Nhyariah's medical condition is rare and that some people would like nothing more than to turn her child into a science experiment.
When Nhyariah was 3 years old, Jasmin fended off doctors from Gainsville, Florida, who reportedly offered her money to conduct medical experiments with her. She told them that was absolutely not a possibility.
Then, she moved to Georgia 5 years later, and ran into doctors who appeared willing to cut her out of the picture by calling Child Protective Services.
Heart Condition Worsens After Taken Into State Custody
Ironically, there was never any mention of a heart condition during Nhyariah's first year in DFCS custody. On July 13, 2017, the day before her story was originally published, Jasmin met with doctors who told her that they didn't realize that her daughter had a heart condition. Since she had been at the Egleston Children's Hospital at Emory in Atlanta, she had never once seen a cardiologist.
Jasmin says she learned that day that they had never consulted Nhyariah's records from Pensacola. Had they done so, they would have known that she was born with a common congenital heart defect called patent ductus arteriosus, and that she had surgery when she was 2 years old to close it. Doctors in Florida monitored her condition from that time until she went into Georgia state custody.
She never showed symptoms of a heart condition until recently. On Sunday, Jasmine said:
The doctors are expecting her to go into cardiac arrest any day now, causing her heart to stop.
At that point, Jasmin was told that there was nothing that the doctors at Children's could do.
Transfer for Second Opinion Denied, Mother Silenced
All along, Jasmin has petitioned the court and has begged for them to transfer her daughter back to her previous hospital in Pensacola. While doctors in Atlanta have offered no hope for Nhyariah's survival, doctors in Pensacola have seemed to be more optimistic.
Two months ago, on July 19, a doctor from Nemour's Children's Specialty Care in Pensacola sent a letter stating that they would be willing to see Nhyariah. This was just 5 days after their original story was published.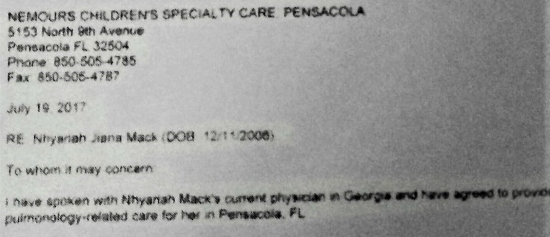 Jasmin has always believed that, if she could get her daughter out of Georgia's custody and back home to Pensacola, Nhyariah would live. She has requested to the court at least 5 times for her to be transferred, especially after doctors at Egleston made it clear that they were giving up on Nhyariah's survival.
These requests have been denied by Judge Fatima El-Amin, who reportedly told Jasmin in court in July, after seeing the letter:
You can forget about a transfer. A transfer is never going to happen.
Unfortunately, most of the court hearings have been about the media rather than about Nhyariah's condition. Shortly after the Health Impact News article about the Mack family was published, supporters issued a press release on July 24. (See press release.)
Jasmin was kicked out of the hospital later that day.
The Guardian ad litem (GAL) was reportedly quick to show Judge El-Amin the Facebook posts, but this person hired by the state to represent "the best interests of the child" neglected to mention even a single thing about Nhyariah's health or the possibility of a transfer to doctors who had not given up on her.
The judge reportedly demanded that Jasmin take down all of her posts about Nhyariah's story and anything mentioning anyone in the courtroom, as well as her GoFundMe account. Jasmin was warned about contacting media; thus, she has been hesitant to allow an update to her story until now.
This amounts to an unconstitutional gag order, something we have addressed numerous times at Health Impact News. See:
Doctor Offers Heart Transplant
As horrific as her daughter's care has been under DFCS custody, nothing prepared Jasmin Mack for the encounter that she had this past Tuesday (9/26/17).
It was only in the past couple of weeks that doctors have shown any concern about Nhyariah's heart. Always before, the focus has been on her declining lung function, pneumonia, and the MRSA, which has now resolved.
About that same time, Jasmin noted that a baby in the room next to Nhyariah's coded. There was reportedly a flurry of activity with multiple doctors, and the baby was whisked away to ICU. Jasmin hasn't seen the baby or the baby's caretaker since.
The events may be unrelated, but the timing seems a bit odd to Jasmin. When the doctors told her that Nhyariah's heart could fail at any point, she felt like that came out of nowhere because "she doesn't even LOOK like she is in critical condition." The only visible sign is that she now needs her BiPAP breathing machine during the day, not just at night.
On Tuesday, a new cardiologist said she needed to speak with Jasmin about Nhyariah's rapidly declining heart. The doctor told her that they have a heart for Nhyariah and want to do a heart transplant. She said they would have to run further tests to make sure that it would be compatible, but she offered hope to Jasmin that they could save Nhyariah.
Jasmin admits that she was, for a brief moment, hopeful that they were finally interested in saving her baby's life.
Then, she saw the cardiologist literally "skipping down the hallway" toward the front desk, excited that they might be doing the heart transplant. Her own heart sank as the realization hit her like a ton of bricks:
They want her heart.

I could not believe it! They aren't interested in saving my child's life, or they would have sent her to Pensacola when she still had a chance to be saved.

After all this, they are still trying to research my child!
She told us that Nhyariah is not even stable enough to undergo a heart transplant.
Mother Refuses to Allow Her Child to Be a Medical Lab Rat
Distraught but determined that her child will not continue to be a medical experiment, Jasmin told the doctor when she returned that she did not want her baby cut on anymore. She signed a form stating that she refuses for any of Nhyariah's organs to be donated.
After her refusal, doctors reportedly suggested that she "just think about it and talk it over."
She has since learned that the heart condition that the doctors say Nhyariah has does not normally result in such rapid deterioration. She wants to know what else is going on.
Jasmin is afraid that the only reason that they are suggesting the transplant is so that they can get her daughter's heart, the heart of a child with an extremely rare chromosomal disorder, which would be of great value to medical researchers.
As Jasmin has stated, her child is human, not a lab rat. As Nhyariah's mother, she still has the right to refuse to allow such experimentation.
Through ethical, legal, and semantical juggling, the child welfare system has created for themselves a legal loophole whereby they are able to use children who are wards of the state for such experimentation because, as the legal guardians, the state is able to consent on behalf of the children in their custody. Attempts by legislators to change this legal loophole have been unsuccessful.
See:
After the Holocaust, where millions of Jews, Gypsies, and others were used as commodities to be requisitioned for medical experimentation, some of which were horrific in nature, the Nuremburg Code was developed to ensure that what happened at Auschwitz and other concentration camps never happened again. Yet, it is apparent that involuntary experimentation continues to happen in some American hospitals.
Court Theatrics: Judge Quits Case – Justice Denied
Her new attorney filed documents recently stating that Jasmin Mack wants to file suit against parties who are holding her child captive.
Suddenly, the judge on her case quit.
Jasmin went to court Monday, hoping the judge would hear her request for a transfer again and look at the evidence that she did not miss any doctor appointments and that it was Nhyariah's Trisomy 9, not medical neglect on her part, that was responsible for her small size.
Instead, she found that the judge had removed herself from the case.
She had court again on Wednesday, September 26, but she never saw a judge. A sheriff simply gave her a piece of paper informing her of yet another court date – October 18. Jasmin doesn't even know if her daughter will live that long.
DFCS continues to oppose Jasmin's every effort to bring Nhyariah back to Florida. They continue to talk about sending Nhyariah to a foster home with hospice, "to die with strangers."
Mom – "I Feel Like I Let Her Down"
Jasmin Mack is heartbroken over her daughter and is desperately trying to get Nhyariah transferred back to Pensacola, where there may be hope for her. She truly believes that God is big enough to turn this around:
Deep down in my heart, I believe there is hope for her.
She feels like the doctor at Egleston Children's Hospital offered only "false hope" with the heart transplant.
They are playing a dirty, dirty game. They just want me to agree to this heart transplant.

You don't expect this from doctors. These doctors and judges are people that you put your trust in to do what's right.
Jasmin broke down into tears as she said:
I feel like I let her down because I brought her here [to Georgia].
How You Can Help
There will be a rally for Nhyariah on Friday, October 6, at the hospital. The family welcomes any and all supporters to help them to call for Nhyariah to be released to go to Pensacola for a second opinion and a chance at life. Check the Facebook event page for details and for confirmation of the time for the Free Nhyariah Rally.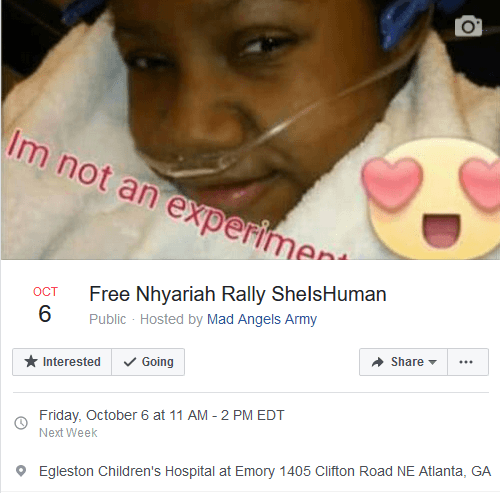 Governor Nathan Deal is the governor of Georgia, where Nhyariah is being held by DFCS and the hospital. He may be reached at 404-656-1776, or contacted here.
Senator Emanuel Jones represents the district where Nhyariah was taken into custody. He may be reached at 404-656-0502, or contacted here.
Representative Renitta Shannon is their House Representative. She may be reached at 404-656-7859, or contacted here.
The Twitter hashtag the mom is using is: #SheIsHuman
Comment on this article at MedicalKidnap.com.
Medical Kidnapping: A Threat to Every Family in America T-Shirt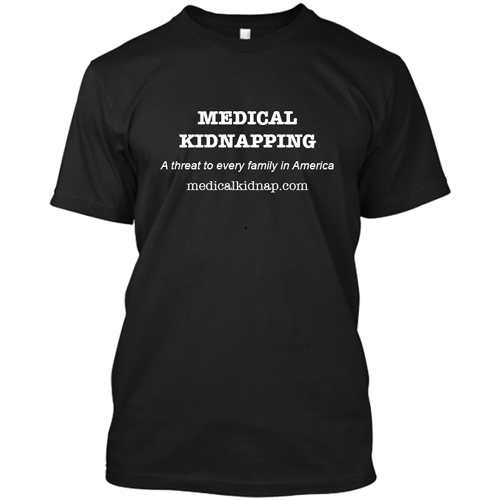 100% Pre-shrunk Cotton!
Order here!
Medical Kidnapping is REAL!
See: Medical Kidnapping: A Threat to Every Family in America Today
Help spread the awareness of Medical Kidnapping by wearing the Medical Kidnapping t-shirt!
Support the cause of MedicalKidnap.com, which is part of the Health Impact News network.
Support the cause against Medical Kidnapping by purchasing our new book!
If you know people who are skeptical and cannot believe that medical kidnapping happens in the U.S. today, this is the book for them! Backed with solid references and real life examples, they will not be able to deny the plain evidence before them, and will become better educated on this topic that is destroying the American family.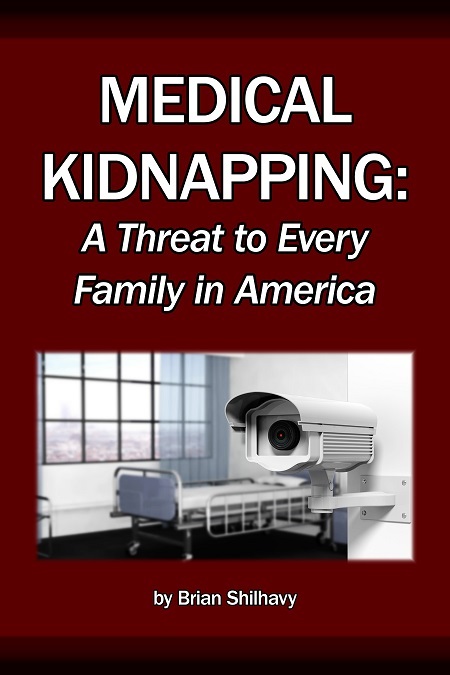 1 Book – 228 pages
Retail: $24.99
FREE Shipping Available!
Now: $14.99
Order here!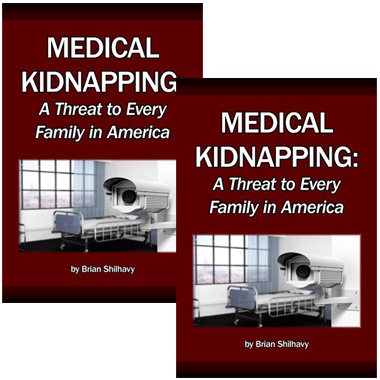 2 Books
Retail: $49.98 (for 2 books)
FREE Shipping Available!
Now: $19.99 (for 2 books)
Order here!
Published on September 29, 2017