Time For A Flu Vaccine? Fugetaboutit!
by Dr. Brownstein's
Holistic Medicine
The flu and cold season is upon us.  I have already seen numerous patients suffering with upper respiratory illnesses and even weathered my first bout.
The CDC and the Powers-That-Be would have you believe that you should receive the influenza vaccine on a yearly basis. (1) They claim that the flu vaccine can save thousands of lives.  Of course, I have written to you many times that there is not a single study that has ever supported the claim that the flu vaccine saves any lives.  In fact, the history of the flu vaccine shows clearly that it fails nearly all who take it.
A recent article in Family Practice News (September 1, 2017, p. 10) was titled, "Inactivated quadrivalent influenza vaccine safe, effective."  The article states, "An intramuscular inactivated quadrivalent influenza vaccine reduced the risk of laboratory-confirmed influenza by up to 69% in previously unvaccinated children aged 6-35 months in a large randomized trial, reported at the annual meeting of the European Society for Paediartic (sic) Infectious Diseases."
Wow. I have studied the influenza vaccine for years and I know that there is not one study that has shown the flu vaccine very effective for preventing the flu.  Is this something new?
I pulled the study and read it. Here's what I found.
The study included 5,806 healthy 6-35-months-olds.  More than 5,400 were randomized to two doses of the quadrivalent vaccine (Fluzone) or placebo .  The trial was conducted in Europe, Asia, South America and Africa between March 2014 and September 2016.  The incidence of any laboratory-confirmed strain of influenza illness during the period from 14 days post-vaccination to the end of the flu season was 1.01% in the Fluzone group and 3.28% in those who received the placebo.
How did they get the 69% efficacy rate?  They used the relative risk statistical analysis by simply dividing 1.01 into 3.28.  When I lecture to health care professionals about statistics, I tell them that the relative risk analysis is used by the Big Pharma Cartel to make a poorly performing drug or therapy look better than it actually is.   Relative risk analysis should never be used when making clinical decisions about whether to prescribe a drug or therapy.  Sadly, most doctors and other health care professionals have no knowledge about how to properly review a medical study because they do not understand statistics.
The more accurate way to determine the effectiveness of the flu vaccine in this study (and all other studies as well) is to use the absolute risk difference.  In the Fluzone study, the absolute risk difference between the Fluzone and the placebo group was 2.27% (3.28%-1.01%). That means that Fluzone was nearly 98% ineffective in preventing the flu as there was only a 2.27% benefit received for those who were vaccinated. In other words, this study showed that injecting Fluzone failed nearly 98%–they received no protection from the flu.
Folks, this is another study showing a flu vaccine failing the vast majority who receive it.  This study is consistent with other flu vaccine studies.  Why would anyone prescribe–much less take–a therapy that fails nearly 98% who receive it?
Flu season is approaching.
Should you get a flu vaccine that fails the vast majority–98%–of the time?
Fuggetaboutit!
1)     http://www.medscape.com/viewarticle/885567?src=WNL_infoc_170924_MSCPEDIT_TEMP2&uac=83217PG&impID=1439801&faf=1
Read the full article at blog.drbrownstein.com.
Comment on this article at VaccineImpact.com.
Say NO to Mandatory Vaccines T-Shirt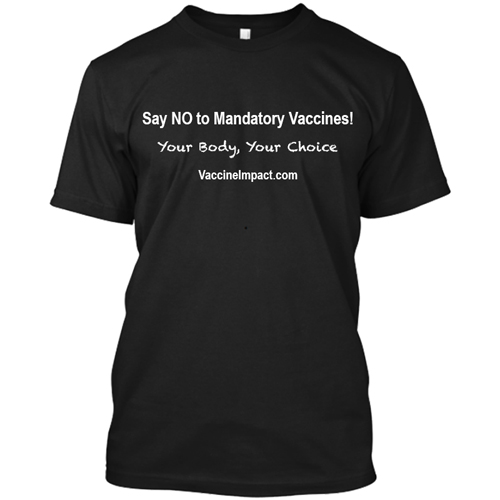 100% Pre-shrunk Cotton
Order here!
Make a Statement for Health Freedom!
Big Pharma and government health authorities are trying to pass laws mandating vaccines for all children, and even adults.
Show your opposition to forced vaccinations and support the cause of Vaccine Impact, part of the Health Impact News network.
Leaving a lucrative career as a nephrologist (kidney doctor), Dr. Suzanne Humphries is now free to actually help cure people.
In this autobiography she explains why good doctors are constrained within the current corrupt medical system from practicing real, ethical medicine.
One of the sane voices when it comes to examining the science behind modern-day vaccines, no pro-vaccine extremist doctors have ever dared to debate her in public.
Medical Doctors Opposed to Forced Vaccinations – Should Their Views be Silenced?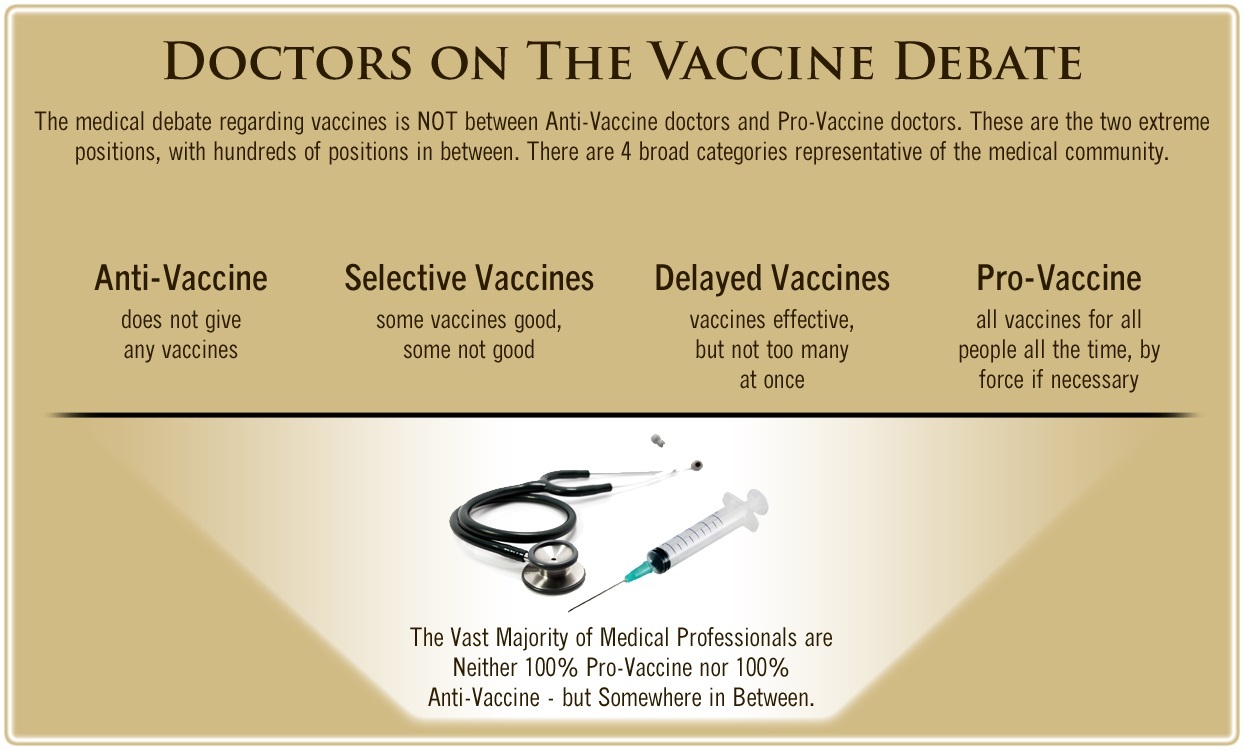 One of the biggest myths being propagated in the compliant mainstream media today is that doctors are either pro-vaccine or anti-vaccine, and that the anti-vaccine doctors are all "quacks."
However, nothing could be further from the truth in the vaccine debate. Doctors are not unified at all on their positions regarding "the science" of vaccines, nor are they unified in the position of removing informed consent to a medical procedure like vaccines.
The two most extreme positions are those doctors who are 100% against vaccines and do not administer them at all, and those doctors that believe that ALL vaccines are safe and effective for ALL people, ALL the time, by force if necessary.
Very few doctors fall into either of these two extremist positions, and yet it is the extreme pro-vaccine position that is presented by the U.S. Government and mainstream media as being the dominant position of the medical field.
In between these two extreme views, however, is where the vast majority of doctors practicing today would probably categorize their position. Many doctors who consider themselves "pro-vaccine," for example, do not believe that every single vaccine is appropriate for every single individual.
Many doctors recommend a "delayed" vaccine schedule for some patients, and not always the recommended one-size-fits-all CDC childhood schedule. Other doctors choose to recommend vaccines based on the actual science and merit of each vaccine, recommending some, while determining that others are not worth the risk for children, such as the suspect seasonal flu shot.
These doctors who do not hold extreme positions would be opposed to government-mandated vaccinations and the removal of all parental exemptions.
In this article, I am going to summarize the many doctors today who do not take the most extremist pro-vaccine position, which is probably not held by very many doctors at all, in spite of what the pharmaceutical industry, the federal government, and the mainstream media would like the public to believe.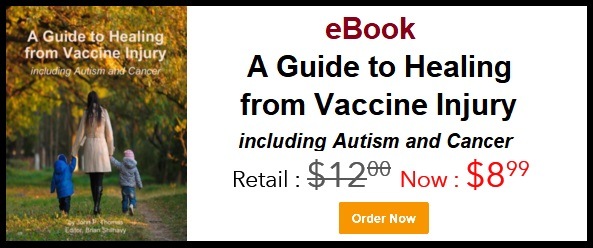 Published on October 13, 2017