by Health Impact News/MedicalKidnap.com Staff
Matthew Marble is a disabled dad who loves his daughter very much, and claims he has never done anything to harm her.
When the state of Tennessee terminated his right to parent his child, he was shattered. Requests by family members to care for her were denied by the Department of Children's Services (DCS).
Recently, he learned the devastating news–on Facebook–that his little girl has been adopted out. The news came right before Hailey's 5th birthday. Several family members saw the public posts with her adoption photos. Matthew's mother, Kim Trackwell wrote:
To find out over Facebook that his daughter was adopted … the tears just won't stop. I love you, Hailey!
Bobbi Dubois is Matthew's aunt, who has tried to help bring Hailey back home with her family. She told us that she learned that Child Protective Services is under no obligation to tell the biological parents that their child was adopted if their parental rights were terminated.
Matthew's family has long held out hope that he could win the right to be in his daughter's life through the appeals process, but their appeal was denied. There have been two lawsuits filed in the case, but one of those was recently denied.
Matthew and his close-knit family are trying to comprehend how all of this could happen.
He recognizes his limitations, but he doesn't believe that his daughter is in the best place for her. She has a whole extended family that she is now cut off from.
See original story:
Matthew suffers from several cognitive and physical disorders, conditions which DCS was made aware of from the beginning of the case. When he was in 3rd grade, he was hit in the face with a soccer ball and was knocked out when he fell backward onto a block of ice. Since that time, he has suffered from a seizure disorder.
He is partially blind in one eye, and he suffers from chronic knee pain from a disorder which caused one leg to grow faster than the other. He was fully vaccinated as a child, and these symptoms are possibly related to vaccine injury.
Despite his handicaps, family members describe him as being full of love. He is the kind of person who brings joy to those around him.
When he was in high school in Michigan, he learned that he and his girlfriend Aren Stuber were going to have a baby. He told Health Impact News that he was very excited about becoming a father. The couple's relationship didn't last, but he was determined to be a part of his baby's life.
Before Hailey was born, Aren and her family moved to Tennessee. Matthew was there for his baby's birth, and was listed on the birth certificate as her father.
Though they lived in different states, he made several trips to Tennessee for visits, and Aren traveled to Michigan as well. Hailey was able to bond with both parents as well as the extended family – grandparents, aunts, uncles, and cousins.
The relationship was there, but there were no legal custody or visitation documents in place to secure his right as a parent to be involved in his child's life.
He had begun the process of applying for joint custody when the unthinkable happened. Hailey was abused and suffered a head injury while in her mother's care.
Matthew and his family raced to Tennessee to be there for Hailey. When the Guardian ad litem, Virginia Thomkins, saw him at the first meeting, Matthew says she asked:
Who the hell are you?
Matthew and his family learned at that time and during the months that followed that strangers had more rights in Hailey's life than her own biological father.
Ineffective Defense by Court-Appointed Attorney
DCS refused to allow him to take his daughter home with him, even though he was hundreds of miles away when the abuse happened. DCS substantiated allegations against him of "severe abuse," because they said that he didn't protect his daughter from the abuse that happened in her mother's care.
He was given a list of things that he had to do in order to get his daughter. Without jumping through all the hoops, DCS told him that he would not be able to be a part of his own child's life.
There were never concerns that he had done anything to harm her.
It was made clear to everyone involved from the beginning that Matthew had disabilities. Because of the Americans with Disabilities Act (ADA), accommodations should have been made, but they were not. Even something as basic as allowing him to have help filling out paperwork was denied him.
Tennessee Family Law Attorney Connie Reguli became involved later in the case. She says that his original court-ordered attorney failed to mount an effective defense.
He was set up for failure when DCS required him to do the permanency plan steps to get Hailey back, because there were never any accommodations made for his disabilities. Requirements were placed on him that should not have been placed on anyone as a condition for reunification, much less someone with his limitations.
Matthew Marble and his family point out that he wasn't asking to parent alone. He would have had the help of his mother and aunt and uncle. He didn't even mind if other family members had custody, as long as he was involved in her life.
Connie Reguli filed a lawsuit on his behalf against his first attorney for inadequate defense based on his disabilities. She said that the system set him up for failure. At the end of August 2017:
The lawsuit against the court appointed attorney got dismissed since his parental rights were terminated.
This was a crushing blow to Matthew and his family. Connie Reguli says that this demonstrates a fatal flaw in the Child Protective Services system for families:
Basically, parents have no remedy for a bad attorney.
This is apparent not just in Tennessee. Numerous parents around the country have found the same lack of accountability or recourse for poor or inadequate representation.
While legislative task forces and bureaucrats pat themselves on the back and reassure themselves that there are "checks and balances" protecting families within the family court system, the reality is that it is a case of the foxes guarding the hen house.
There is only an illusion of accountability within the system. Those within the system write the rules in such a way that they win, and outsiders, the parents, come into the game at a strong disadvantage.
There is still a pending Americans with Disabilities Act lawsuit in federal court. All the other attempts for justice have failed.
Impact of Grief on Matthew's Health
Matthew's aunt Bobbi Dubois is worried about him. She told us that her nephew had been free from seizures for the 3 years prior to DCS involvement, but:
All this has taken a toll on him.
He has started having seizures again, which she says are caused by all the stress of losing his daughter. He is on medications but he cannot drive. Bobbi says that he has suffered from depression since his rights were terminated. Matthew told us:
It kills me that I haven't been able to see her for over a year.
Even after his rights were terminated, he kept asking for visits, but he was rebuffed at every turn. His tone turned hopeless as he said:
Somewhere along the line, I gave up asking because no matter how hard I tried, I wasn't getting anywhere.
Bobbi Dubois believes that her nephew is a good father who loves his child very much. She has a hard time comprehending the corruption she sees in the DCS system and the injustice that she sees happening to Matthew, who she describes as "very loving."
Sweet Memories of Daddy and Daughter Times
Ever since Matthew found out that he was going to have a child, he knew he wanted to be a part of his child's life. He wants to be his daughter's father, to support her, love her, and guide her.
But now, it doesn't look like that will happen.
Despite his heartache, he wants to remember the good times with his little girl. He holds those memories close to his heart.
He shared how they would play together at visitation. He would play tea party with her. Hailey liked the kitchen playset at the DCS visitation room.
We had like this silent language thing going on, and they [social workers] hated it. I liked it. It was fun.

As her father, I already knew what to do, because she's just like me.
At one visit, he said that his mother convinced Hailey that she wanted to play pony. She "had a ball" riding on his back. Another time, she found some tutus and put one on.
She wanted me to get into one, too. So I did. Anything for my little girl!
They enjoyed playing on the slides and the playground together.
I know she loved it! I'm like a big kid sometimes.
His favorite memory with Hailey happened around Halloween when they visited a pumpkin patch. Hailey got to paint a pumpkin, and then:
she wanted to paint ME, which was adorable.

She pulled my beard hairs, which was entertaining to her. It's attached to my face, so of course, I had to follow!
He laughed as he shared the tender memories:
All in all, those were some really good days.
Those visits ended all too soon. He said that, when it was time to leave, she would get angry. Like so many parents, Matthew described how difficult it was to get her into the car to go back to the foster parent's house.
The System Wins – The Parents Lose
In the end, the system beat them. Even though he loved his daughter and had never done anything to hurt her, DCS had more power. No matter what he did, it wasn't enough.
His disabilities hindered him from being able to do everything that the social workers wanted him to do. Despite the requirements of the Americans with Disabilities Act, social workers demanded that he be able to support himself, including a job, housing, and utilities, on his own, and to pay child support. He has always had the support of his family, but DCS insisted that he provide as though he were not disabled.
His family believes that DCS never had any intention of returning blond-haired, blue-eyed Hailey to her biological family. They learned that the adoptive family is heavily politically connected in Tennessee. There is court testimony that the woman who later adopted Hailey shouted to the DCS workers at the courthouse:
You promised me this baby!
After they found out on Facebook that she was adopted, Bobbi wrote:
Our hearts have been ripped wide open and nobody will ever understand how this has ripped her loving father apart. She is allowed to see the mother who abused her but not allowed to know the father who fought years for her that didn't harm her at all. Tennessee is AWFUL!
More than anything, Matthew Marble wants Hailey to know that he fought for her:
I just really want her to know that I love her, and that I didn't give up on her. I have been through hell and back to try to get her back.
How You Can Help
Governor Bill Haslam may be reached at (615) 741-2001, or contacted here.
Senator Mae Beavers formerly represented the district where Hailey's case is held. She recently resigned in order to campaign for the governors race for 2018 against Governor Bill Haslam. She may be contacted here.
Representative Kelly Keisling represents their district. He may be reached at (615) 741-6852, or contacted here.
Comment on this article at MedicalKidnap.com.
Medical Kidnapping: A Threat to Every Family in America T-Shirt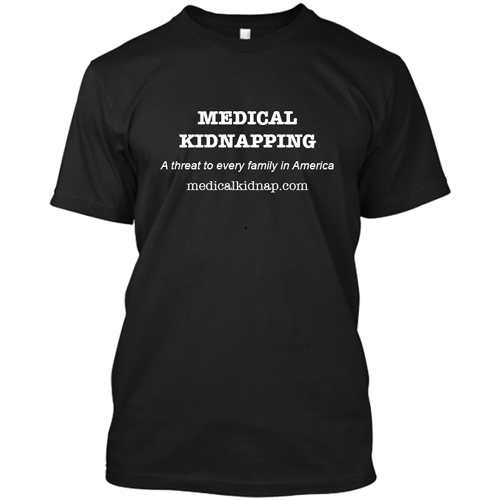 100% Pre-shrunk Cotton!
Order here!
Medical Kidnapping is REAL!
See: Medical Kidnapping: A Threat to Every Family in America Today
Help spread the awareness of Medical Kidnapping by wearing the Medical Kidnapping t-shirt!
Support the cause of MedicalKidnap.com, which is part of the Health Impact News network.
Support the cause against Medical Kidnapping by purchasing our new book!
If you know people who are skeptical and cannot believe that medical kidnapping happens in the U.S. today, this is the book for them! Backed with solid references and real life examples, they will not be able to deny the plain evidence before them, and will become better educated on this topic that is destroying the American family.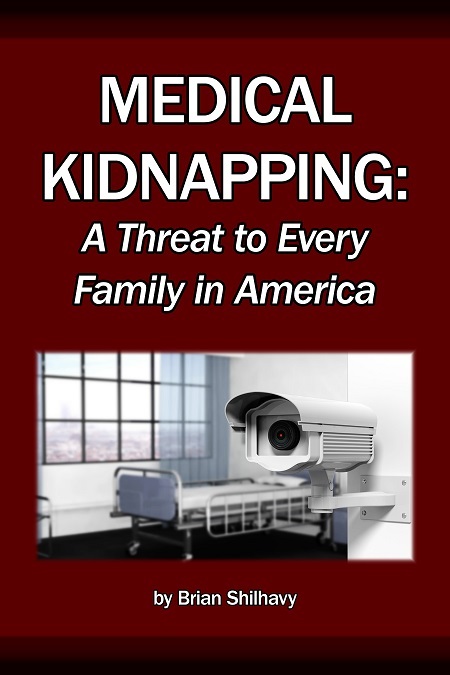 1 Book – 228 pages
Retail: $24.99
FREE Shipping Available!
Now: $14.99
Order here!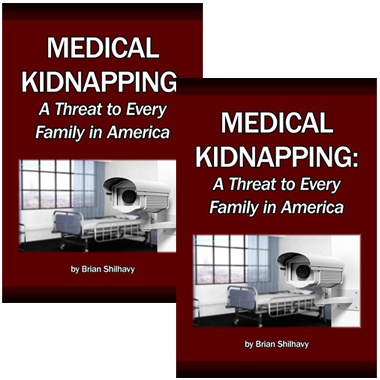 2 Books
Retail: $49.98 (for 2 books)
FREE Shipping Available!
Now: $19.99 (for 2 books)
Order here!
Published on September 7, 2017