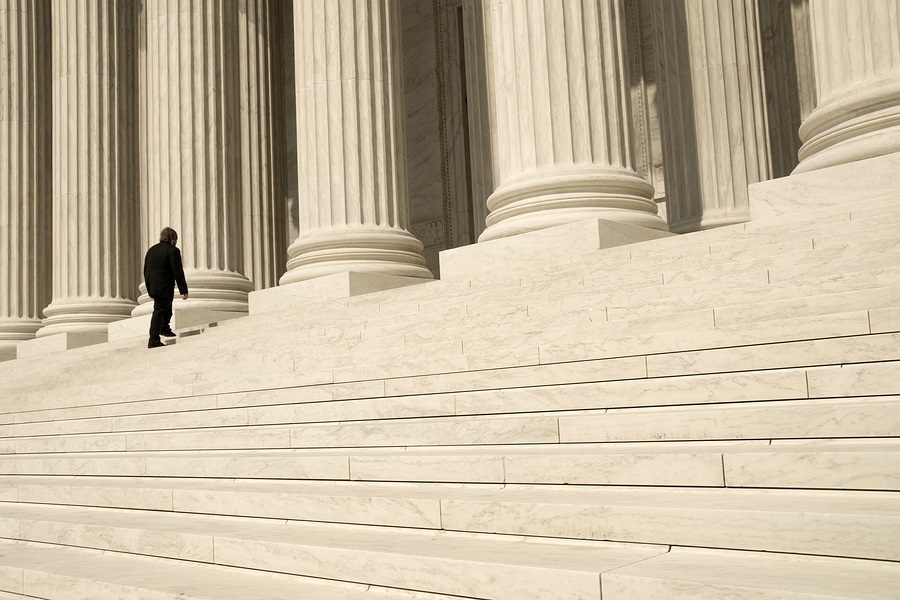 Health Impact News Editor Comments
Since Health Impact News started reporting on medical kidnappings taking place in the United States, we have briefly touched upon the topic of corrupt judges and the courts that allow this to happen. See:
I recently was privileged to have a conversation with one of the top American legal minds of our day and age, Dr. Richard I. Fine, who lost his career and was unjustly put in prison for 18 months as a political prisoner. He was never even charged with a crime.
His story is not widely known, and it gives the public an insider perspective to the depth of the corruption in the American judiciary.
Health Impact News investigative reporter John P. Thomas recently interviewed Dr. Fine, and his report is below. Dr. Fine's message is a message every American needs to know.
Dr. Richard Fine's Experience with Corrupt Judges in California
by John P. Thomas
Health Impact News
There have been many articles published on the websites of Health Impact News and Medical Kidnap which mention judicial corruption. In this article, we take an in-depth look at one man's attempt to expose judicial corruption, and the destruction of his legal career that followed. It destroys the myth that judges are always people of integrity who seek a fair outcome for those who appear in their courtrooms.
To be fair, there are still some genuinely honest people who work in the courts. However, the presence of good people is being overshadowed by those who routinely misuse the authority that has been given to them for personal gain. Corrupt judges do not identify conflicts of interest and do not step aside from cases where their personal connections might cause them to give an unfair judgement. Corrupt judges provide advantages to those who have given them money and power, while they disregard the rights of those who seek justice for acts of wrongdoing perpetrated against them.
One Honest Attorney's Ten Year Battle with Corruption
A ten year battle with judicial corruption cost Dr. Richard I. Fine his freedom and his license to practice law. He was not punished because he did wrong, but he was attacked because he did the right thing.
The right thing was to expose the paying of illegal money to Los Angeles County judges and other California Superior Court judges after he learned about the practice in 1999. The right thing was to use his extensive legal training and experience to confront the pattern of corruption in the California judiciary and to do battle with the system that was corrupting judicial integrity.
California Superior Court judges in Los Angeles County began to receive large amounts of money from the county every year starting in 1985. In recent years, the annual payment made to each judge was in excess of $57,000. These annual payments were in addition to the regular salary paid to the judges by the state of California. Los Angeles County officials claimed that the purpose for the payments was to attract and retain high quality people to work as judges. However, another purpose – an illegal purpose – has been revealed. [1]
Dr. Fine showed that these payments were illegal, and fostered judicial corruption among Los Angeles County judges. The payments did not attract and retain judges, rather, they became a source of corruption. A very different word can now be used to describe the intent of these payments. [2]
Judges and Court Decisions Affected by Bribe Money
As will be explained by Dr. Fine, these payments can be called bribe money, because the decisions made by these judges followed a very predictable pattern, which benefited Los Angeles County. In cases involving the county of Los Angeles, the county almost always won the cases brought before these judges. This pattern of decision making is evidence that the payments to judges were functioning as bribes.
I had the pleasure of speaking with Dr. Fine at the end of 2015. He was the first attorney to challenge the system of judicial corruption in California and the first to expose it to public view. He told me how the judges conspired to attack him and bring him down once he started to reveal the corruption.
Los Angeles judges denied him the payment of fees for work he had done. They imprisoned him for 18 months. They took his law license. Even after it was proven that corruption did in fact exist, and he did nothing wrong by exposing it, the California Supreme Court still refused to restore his license.
But before I get into more details about the betrayal of trust that Dr. Fine experienced, I want to introduce you to this remarkable man.
Dr. Richard Fine is a Man of Persistence and Courage
I spoke with Dr. Richard I. Fine, Ph.D.; JD, on December 29, 2015. The information in this article came from this conversation and from his presentations and interviews that have been archived on the internet.
Dr. Fine is a recognized leader in exposing governmental and judicial corruption. He is working hard to create a more just global society by providing expertise on issues relating to abuses of power, governance, international and comparative law, human rights and litigation oversight. Professionally, he is now working as a Strategic Consultant, and a Certified Mediator. He is the Chairman and Founder of the Campaign for Judicial Integrity, a grassroots movement dedicated to ending judicial corruption, reforming the judicial system and restoring our constitutional rights to due process and a fair trial. He also is the Co-Chairperson of the Judicial Reform Committee of DivorceCorp.
The educational background of Dr. Richard I. Fine is extensive. He earned a Ph.D. in Law with a specialty in International Law from the London School of Economics and Political Science (1967). He earned a Doctor of Law (JD) degree from the University of Chicago Law School (1964). After completing his Ph.D. he obtained a Certificate of Public International Law and a Certificate of Private International Law from the Hague Academy of International Law, a Certificate of Comparative Law from the International University of Comparative Science in Luxembourg, and obtained a Higher Diploma of Comparative Law from the International Faculty for the Teaching of Comparative Law, Strasbourg, France.
Dr. Fine pursued a wide range of studies in college. His major was psychology. He had a heavy emphasis in pre-med courses and actually took more courses in economics than in his major. He also accumulated credits toward a master's degree in labor.
The combination of his education and professional training gave him an unusually broad view of how the legal system, the political system, and the personal ambition and self-interest of leaders come together to shape the systems that manage life in our society.
Dr. Fine described himself. He stated:
I am a broad thinker. Lawyers aren't that. Many weren't that even when I was practicing law, because so many lawyers began developing into the specialties. Lawyers look to solve the problem within the confines of their expertise and that doesn't necessarily solve the problem. [3]
Dr. Fine's Outstanding Legal Career
Dr. Fine was a member of the state bar association in at least one state from 1964 through 2011. Early in his career, he worked in the U.S. Department of Justice, Anti-Trust Division. He was the founder and chief of the first municipal anti-trust division in the United States for the Los Angeles City attorney's office. In 1974 he founded the law offices of Richard I. Fine and associates.
A few highlights of his career include: the indicting and prosecuting of General Motors and Ford for price fixing, the Investigation of the Pulp Paper and Newsprint International Cartel for international price fixing, and the representation of the Department of Justice in its first appearance before the Tariff Commission, which later became the International Trade Commission. He litigated the case of IAM versus OPEC, which was the case against OPEC nations for manipulating U.S. gas prices. He changed the way United Way functions by requiring it to allow donors to designate the charities where their donations would go. He forced local governments in California to return a billion dollars of illegally used funds to California taxpayers. He closed down the California State Government and required it to have authorization before paying anyone including the Governor, state legislators, and judges. The action he took against the State of California in 1998 regarding its spending practices ended 26 years of political budget crises.
Dr. Fine received various certificates of special recognition such as the California State Assembly Certificate of recognition, and was honored as the lawyer of the decade and champion of court reform.
From the abbreviated list of accomplishments and honors mentioned above, it is clear that Dr. Fine was, and continues to be, an outstanding advocate for justice in America.
His Ordeal Began when He Sued Los Angeles County for Wrongdoing
In 1999 Dr. Fine sued the county of Los Angeles three times. The first suit challenged the county's diversion of 250 million dollars of transportation monies to solve a problem in its hospital system. The second case involved the diversion of 45 million dollars of fees paid to the county. The fees were designated for environmental purposes, but were being diverted to the county's general fund. The third case involved 14 million dollars of child support payments that were being illegally held by the district attorney and which were not being paid to women and children.
Dr. Fine won these cases, and the county suddenly had a 314 million dollar budget hole to fill, because they couldn't use these funds as they had planned.
According to Dr. Fine,
The county was now on the hook for 314 million dollars. They wanted to do something, and what was that something going to be? That something was, to use the judges they were paying to go against me. [4]
Responding to Judicial Corruption Lands Dr. Fine in Jail Without Even a Warrant
Supreme Court Justice Also Questions the Legality of Payments to Judges
Dr. Fine's life unexpectedly began to change on September 15, 2000, when he read a quotation in the Metropolitan News from Ronald M. George, the Chief Justice of the California Supreme Court. Justice George had spoken to judges attending the annual Meeting of the California Judges Association. Dr. Fine explained that Justice George told the judges that he thought the payments to judges were wrong and maybe unconstitutional. It was through this newspaper article that Dr. Fine found out about the existence of payments made to judges by the counties, and began to consider the implications.
Dr. Fine Takes Action that Leads to Incarceration
Dr. Fine didn't ignore the matter, but began to challenge judges in court regarding the illegal payments they were receiving from Los Angeles County. He described what happened when he began to shine the light of the law on the corrupt judiciary. He stated:
The judges, because of their insulated situation, just got so angry that they went out into full retaliation. I didn't know this literally until 2012 when it came out that they had admitted: they had a "visceral hatred" against me; they wanted "revenge against me;" they wanted to "silence me;" they wanted to "take me out of circulation;" and they knew every courtroom that I was in – "they followed me." [5]
Dr. Fine explained to me that he began to expose the judicial corruption in 2000. The retaliation against him went on for more than a decade. He learned what the judges had been doing when Alan Parachini, the former public information officer for the Los Angeles Superior Court, revealed the secret plans of the judges to Leslie Dutton of Full Disclosure Network in 2012. [6]
Alan Parachini explained that the retaliation against Dr. Fine was "for his exposing and keeping the judicial benefits [illegal payments] issue before the courts and legislature. Parachini also admitted that these were the reasons that LA Superior Court Judge David P. Yaffe ordered the illegal coercive, solitary incarceration of Fine in the LA County Jail and kept him there for 18 months." [7]
CNN Interviewed Dr. Richard Fine while he was in jail:
Dr. Fine's Career was Destroyed – California Bar and State Legislature Protected the Corrupt Judges Instead
The final step in the retaliation plan to take down Dr. Fine commenced in 2006 with a California State Bar complaint secretly instigated by the judges. The State Bar ordered him "involuntarily inactive" in 2007 and recommended disbarment in 2008.
However, before the recommendation became final, the California Court of Appeal vindicated Dr. Fine's position regarding illegal payments to judges.
The appellate court found in the case of Sturgeon versus the County of Los Angeles that the county's payments to the judges were illegal and violated Article 6, Section 19 of the California Constitution.
Dr. Fine explained that in response to the decision in the Sturgeon case, the judges prevailed upon the California Legislature to pass SBX2 11. This legislation gave the judges, the counties, county supervisors and government employees "retroactive immunity from criminal prosecution, civil liability and disciplinary action for having taken payments or having paid judges with county or court funds prior to July 1, 2008. Furthermore, it allowed current judges to continue receiving the illegal payments at the option of the counties.
Dr. Fine provides additional explanation about SBX2 11. He stated:
You know what this means? The legislature has now said that these payments by the counties and the courts are criminal, because they are giving them retroactive immunity from criminal prosecution. This is unheard of. In fact, literally, when you look at the history of the world, there are very few countries that have done this. You have Libya under Kaddafi, Egypt under Mubarak, Tunisia, some South American countries, South Africa under apartheid, and some of the death squads. California stands with that small group of totalitarian nations that has wiped out the rights of its people and has given immunity from criminal prosecution to criminals on a wholesale level. Those criminals are the members of the California judiciary who have accepted these payments.

I am going to take this a step further. SBX2 11 required the California Judicial Council to come up with a report on these payments. That report came out in 2009 to the state legislators. That report said that 90% of the judges in California receive these illegal payments. [Dr. Fine repeated the point for emphasis] An official report has now confirmed that 90% of the judges in California have received criminal payments – effectively tagging them as criminals. That report also said that 20 counties gave these criminal payments to these 90% of judges and 34 courts gave these payments.

The report said how much the payments were worth (pages D9-D12) in the appendix of this report. Basically, the payments were 33 million dollars per year as of the year 2007-2008 — 30 million by the counties and 3 million by the courts. The last thing that we saw for Los Angeles County — LA County is giving 25 million dollars per year.

From 1985 through the present, it is estimated that LA County alone has paid out over 350 million dollars in illegal payments. This is the largest judicial scandal in American history. [8]
In short, the California legislature provided immunity for the wrongdoing that took place over several decades, and enabled the counties to legally keep on paying money to judges in the future. Even though these payments were associated with a pattern in which judges rarely ruled against the county of Los Angeles, the payments were allowed to continue.
An Even Bigger Picture of Corruption is Revealed in LA County
Dr. Fine describes an even larger picture of corruption. It involved real estate developers, county officials, and the court. He explains how the money and influence flowed. He stated:
By 2008 and 2009 I had exposed the money trail from developers to the LA County Supervisors, who then would vote illegally on the developer's programs – from the LA County Supervisors to the judges who then decide the cases in favor of LA County. So, we have the total line of the money trail. [9]
Dr. Fine used the reports from Los Angeles County to prove his point regarding corrupt decision making by judges. He stated:
The LA County council files annual litigation reports. The annual litigation reports at that time for the fiscal years 2005-2006 through 2007-2009 [shows] that of all the cases filed against LA County, only 3 cases were won by a person suing LA County when a LA County judge made the decision. On an average, 650 to 850 cases per year were filed against LA County. The percentage is unbelievable!

Now these cases also affect not only regular cases against LA County – this affects every family law case – this affects child custody cases – this affects child support cases – this affects criminal cases – eminent domain cases – zoning cases – literally every case that is existing in the court is affected by these payments. [10]
Dr. Fine described the contents of a letter dated November 10, 1988, which was sent from the legal counsel of Los Angeles County to the Clerk Executive Officer for the Los Angeles Court. The letter admitted that they knew the payments to the judges were illegal. Dr. Fine stated:
It was shown that the County admitted that Article 6 section 19 [showed] that the judges were not employees of LA County and that the judges and the county knew that these payments were illegal. In fact, they said that the payments were being made to attract and retain qualified people to serve in LA County.

Now here is where the farce begins. You can't attract a judge to serve who is already sitting. And you can't retain a judge to serve that has to run for re-election. So, you know at this point in time that the payments are a fraud. [11]
Dr. Fine Vindicated but not Restored
Despite the admission of wrong doing by the California legislature and the vindication in the Sturgeon case, the California Supreme Court denied Dr. Fine's request for a review of his disbarment, and ordered him disbarred in 2009.
In 2011, the State Bar admitted in court papers that the real reason Fine was disbarred was for bringing lawsuits against the judges for taking illegal payments from counties, which was not part of the charges in the disbarment complaint or proceedings.
Subsequently, Dr. Fine made three motions in the California Supreme Court to remove the wrongful disbarment. Even though the State Bar did not oppose these motions, the California Supreme Court still refused to remove the wrongful disbarment and kept in place the fraudulent actions of corrupt judges.
Dr. Fine Still Cannot Practice Law – Call to Action
So, here the matter rests for the moment. At the beginning of 2016, Dr. Fine still does not have his license to practice law. He is working as a strategic consultant and mediator, while continuing to advocate for judicial reform.
As a strategic consultant, Dr. Fine assists attorneys and clients in developing winning strategies for their legal cases. Dr. Fine explains:
I get called in by people who have lawyers. They will call and say, look we have a problem and what do we do about the problem. Lawyers think in tunnel vision. A family lawyer thinks only in terms of family law. They don't think in terms of solving the overall problem.

I get called into situations where the lawyers have said, 'We will take this case if you get Richard to do the strategic consulting, because this is beyond our expertise. This requires looking at the big picture and we don't know what the big picture is.' [12]
Dr. Fine continues to be a national leader in the effort to reveal judicial corruption. He encourages citizens to speak out about the abuse of judicial power, and to call for independent oversight to stop the abuse of that power.
The professional conduct of judges is governed by state laws and professional codes of conduct, but these rules are not being enforced by anyone sitting in an oversight capacity. No one is judging the judges.
Dr. Fine commented on the overall need for judicial reform by putting it into the context of a civil rights movement. He stated:
I classify this as the continuation of the ongoing civil rights movement that started in 1776 – [it] continued in 1789 with the drafting of our constitution, and has been ongoing throughout the history of the United States.

What happens every once in a while in that people get lulled into a place of complacency. However, when others attempt to establish totalitarianism and remove our liberties and our rights – the people of the United States tend to wake up. So, this is not a new civil rights movement – this is just the reawakening of that movement that has always existed in this country. [13]
According to the estimates of Dr. Fine, approximately thirty of California's fifty-eight counties are still giving money to Superior Court judges, which is in addition to their normal state compensation. This means that 80% to 90% of the Superior Court judges who have worked in California in the last ten years have received illegal money. Additionally, the same percentages apply to appellate justices, who received illegal county payments while they were Superior Court judges. They all have retroactive immunity.
I asked Dr. Fine if he had any prospect of having his law license restored. He stated:
I don't know. I don't know if the Supreme Court would do this on its own motion, which I doubt. I think the hatred is still so great that I don't think they are going to come up with the idea themselves. Maybe if all your readers write into the California Supreme Court and say, you know it is about time that you do something — then something might happen. [14]
Supreme Court of California
350 McAllister Street
San Francisco, CA 94102-4797
Contact information for each of the current California Supreme Court Justices, including email addresses, can be found here.
Other Medical Kidnap articles on LA County:
References
[1] "Congressional Testimony, Dr. Richard Fine, to Bill Windsor of Lawless America." https://www.youtube.com/watch?v=Txv1vWZvN8c and https://www.youtube.com/watch?v=nHIm4tcdmRE
[2] IBID.
[3] John P. Thomas Interviewed Dr. Richard Fine on December 29, 2015 by phone.
[4] "Congressional Testimony, Dr. Richard Fine, to Bill Windsor of Lawless America." https://www.youtube.com/watch?v=Txv1vWZvN8c and https://www.youtube.com/watch?v=nHIm4tcdmRE
[5] John P. Thomas Interviewed Dr. Richard Fine on December 29, 2015 by phone.
[6] "LA Court Retaliates Against Dr. Fine," Campaign For Judicial Integrity, CFJI Videos. https://www.campaignforjudicialintegrity.org/#!judicial-retaliation/c198q and https://www.campaignforjudicialintegrity.org/#!cfji-videos/c165b
[7] IBID.
[8] "Congressional Testimony, Dr. Richard Fine, to Bill Windsor of Lawless America." https://www.youtube.com/watch?v=Txv1vWZvN8c and https://www.youtube.com/watch?v=nHIm4tcdmRE
[9] IBID.
[10] IBID.
[11] IBID.
[12] John P. Thomas Interviewed Dr. Richard Fine on December 29, 2015 by phone.
[13] "Interview: Richard Fine with Bill Windsor of Lawless America" https://www.youtube.com/watch?v=nHIm4tcdmRE
[14] John P. Thomas Interviewed Dr. Richard Fine on December 29, 2015 by phone.
Comment on this article on MedicalKidnap.com.
Published on January 19, 2016